The John Report: WWE Smackdown Live 01/22/19 Review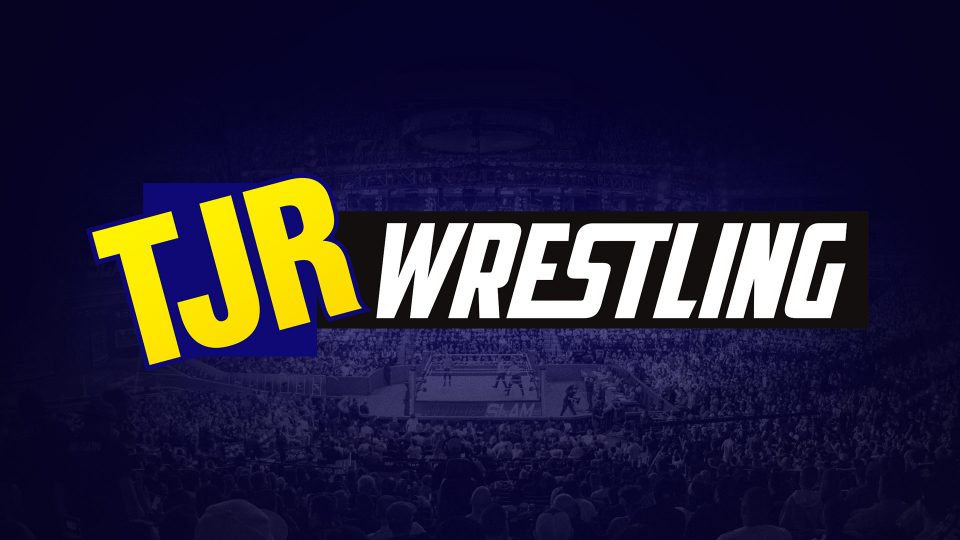 Live from Wichita, Kansas, this is Smackdown Live for episode #1014. Follow me on Twitter @johnreport. If you want to support us at TJRWrestling, here's a Donate Link for our Paypal where anything you send will go towards building the site. Thanks to Melo Man for the banner up top.
The show began with a shot of the crowd in Wichita while Tom Phillips welcomed us to the show. Becky Lynch's music hit to start the show.
Let's Hear from "The Man" Becky Lynch
Lynch got a big reaction for her entrance as she appeared to be in her ring gear, which included her wearing "The Man" t-shirt. The announce team shilled what was still to come. The crowd greeted Lynch with the familiar "Becky" chants.
Lynch said that there is nothing that she likes doing more than standing in the ring and fighting, but The Man has something to say. Lynch said that everybody has an opinion about The Man. She said that the only thing that The Man should be doing is main eventing WrestleMania. The fans cheered. Lynch said that she should slap the heads off every person that gets in her way. Lynch said that journey starts in five days at the Royal Rumble.
Lynch talked about Asuka noting that she is undoubtedly one of the best in the world, but Lynch is better. Lynch noted that Asuka never beat her for that title and the fact that isn't eating Asuka up tells Becky everything she needs to know about Asuka. Lynch claimed that she's taking her title back because she's already dethroned the queen (Charlotte) and she's going to break the Empress…and there's Asuka right on cue.
Asuka made her entrance to a solid ovation, but not nearly as loud as Lynch. Asuka had the Smackdown Women's Championship around her waist.
Asuka went into the ring and held the title in the air in front of Lynch. Asuka did some yelling in Japanese that most of us couldn't understand, of course. Charlotte Flair's music hit.
Charlotte Flair made her entrance in street clothes, so I guess she's not going to be put into an impromptu match. She was looking very good in black.
Flair said that as much as she's enjoying this and excited for their match on Sunday, nothing is going to be more exciting than when she tosses 29 women over the top rope and win the Women's Royal Rumble. Flair said then she'll have choices like Sasha or Ronda while noting she's beat Sasha a lot and she thinks Ronda still has bruises from the last time Charlotte faced her. Flair mentioned that she broke Asuka's undefeated streak at WrestleMania last year. Fans chanted for Becky, so Flair did a "Woo" to try to silence them and it worked after a few moments. Flair mentioned Lynch by noting that Lynch may have owned her recently, but Flair has owned the division for four years and Flair claimed she is the main event.
Asuka attacked Lynch from behind with punches. Lynch recovered and punched Asuka repeatedly as well. Officials and producers ran out to ringside to try to break it up. Flair walked back up the ramp with a smile like she's happy to see Lynch and Asuka brawl. The refs did a poor job of breaking it up as Lynch sent Asuka over the announce table and into the chairs that were there. Lynch stood on top of the announce table and jumped off with a forearm to knock Asuka down. The refs and producers managed to separate Lynch from Asuka, so Lynch left.
Analysis: The promos were solid with Lynch doing very well in terms of getting the crowd behind her as usual. Charlotte's promo was the generic "I'm going to win the Rumble" promo we usually get this time of year and I think she has a very good chance of winning it. The brawl by Lynch and Asuka was pretty intense with the action spilling to ringside where Lynch was in full control. It was an effective way to promote Asuka vs. Lynch at the Rumble. That's going to be an outstanding match.
Up next is Naomi vs. Mandy Rose.
(Commercial)
When the show returned, Lynch and Asuka continued their brawling in the backstage area. They were separated by the referees with the women screaming.
The announce team of Tom Phillips, Byron Saxton and Corey Graves were shown at their table at ringside.
A video aired to set up the Naomi vs. Mandy Rose match with Mandy taunting Naomi's husband Jimmy Uso, which led to a Naomi fight with Mandy in a hotel room. It was all a ploy from Mandy to get in Naomi's head. There was a women's voice as the narrator of the video.
Naomi made her entrance with the glow lights and the crowd giving her a big ovation. Mandy Rose was up next looking fantastic as usual and she had her buddy Sonya Deville with her.
Naomi vs. Mandy Rose (w/Sonya Deville)
Naomi attacked Mandy on the ramp and tossed her into the ring. Rose came back with a slap to the face. Naomi with a backhand slap to the face led to Rose bailing to the floor.
(Commercial)
The match returned with a Naomi kick to the face. Naomi did a weak looking clothesline and back elbow. Rose came back with a clothesline. Rose drove her knee into the throat of Naomi. Naomi came back with a kick to the head followed by forearms and a headscissors that sent Rose across the ring. Rose put Naomi on the apron, Deville grabbed Naomi's foot while the ref was distracted and Rose sent Naomi into the ring post. Rose pinned Naomi to win the match after about seven minutes.
Winner by pinfall: Mandy Rose
Analysis: *1/2 It was a decent match with a clever finish to give the heel Rose the pin. They did their best to have an intense match by not grabbing headlocks or anything like that, but there were some sloppy moments in there too. Rose winning gives her some positive momentum going into the Rumble where I expect her to do well. She won't win, but I can see Rose lasting near the end.
Post match, Naomi's husband Jimmy Uso checked on her. She said she was fine, but she looked disappointed about the loss.
Rey Mysterio did a pre-tape promo talking about how in 2006 he won the Royal Rumble after lasting over one hour. He said that Sunday is about repeating history. He said tonight is about respect where he noted that Zelina Vega is banned from ringside, so the playing field is even. Mysterio said Andrade will learn that in order to gain respect, you need to earn it.
The Miz was shown backstage getting ready for his match with his tag team partner walking with him. Miz faces Cesaro next.
(Commercial)
The Miz made his entrance with Shane McMahon. It was Shane's music that played briefly first followed by Miz getting his full entrance. They challenge Sheamus and Cesaro for the Smackdown Tag Team Titles on Sunday at the Royal Rumble.
Cesaro made his entrance with his tag team partner Sheamus and they are known as The Bar. A clip aired from last week's Smackdown with Miz pinning Sheamus with a rollup while 49-year-old Shane saved Miz from Sheamus and Shane hit a Coast to Coast dropkick into a kick on Sheamus' face.
The Miz (w/Shane McMahon) vs. Cesaro (w/Sheamus)
Cesaro unloaded on Miz with several uppercuts to the face. Cesaro with gutwrench suplex followed by a backbreaker that got a two count. Miz with a rollup that he turned into a Figure Four Leglock submission that he locked in. Sheamus pulled Cesaro out of the ring, Miz went after Sheamus and Cesaro decked Miz with an uppercut while on the floor.
(Commercial)
The match continued with Miz getting some momentum with kicks followed by a running corner dropkick. He used to get booed for this stuff, but he's getting cheered now. The second dropkick looked very weak. Some people shouldn't do dropkicks. Corner clothesline by Miz. Miz went up, jumped off and Cesaro hit him with an uppercut. Cesaro pin with feet on the ropes, Shane knocked the feet off and Sheamus sent Shane into the barricade. Cesaro sent Miz against the ropes, Sheamus hit a cheap knee to the head of Miz that the ref never saw and Cesaro hit a Neutralizer on Miz for the pinfall win at nine minutes.
Winner by pinfall: Cesaro
Analysis: ** A cheap win to put Cesaro over going into the Tag Team Title match at Royal Rumble. Babyface Miz is boring to watch in the ring, so hopefully this is only a temporary thing for this angle. Heels winning cheap seems to be a popular finish on this show so far.
Post match, Shane with a running shoulder tackle that shoved Sheamus into the steel steps. Cesaro went after Shane and Shane sent Cesaro into the post. Shane gently placed Cesaro on the announce table. Shane climbed to the top rope teasing a dive, but Sheamus shoved Shane off the top and into the barricade at ringside. Sheamus whipped Miz into the ring post. Cesaro held Shane up and Sheamus hit a Brogue Kick to put Shane down. Miz actually went on top of Shane to protect his partner. Miz was put on the table. Sheamus and Cesaro picked up Shane and slammed him onto Miz to break the table. That was like a double team Powerbomb by the champs to take out their challengers.
The champs left while referees and medical personnel checked on the fallen Miz and Shane duo at ringside.
Analysis: Good heat segment to show how well The Bar works together. I think I'm picking Miz and Shane to win the titles even though it seems absurd. That's the story that WWE likely wants to go with.
A clip aired of Samoa Joe attacking Mustafa Ali last week before the match could begin, so they are having that match this week.
Vince McMahon was shown watching on a TV as his son Shane and The Miz were being checked on at ringside. The replay of the Brogue Kick by Sheamus on Shane looked nasty. Vince is up next.
(Commercial)
A commercial aired for NXT Takeover Phoenix. We will have a preview up on TJRWrestling on Thursday and then our NXT reviewer Kurt Zamora will review the show on Saturday. I will have a review up on TJRWrestling on Sunday morning most likely.
Daniel Bryan and AJ Styles Face to Face Moderated by Vince McMahon
Vince McMahon made his entrance to a good ovation with the fans respecting the WWE Chairman. Vince said he'll reserve comment for what just happened to Miz and Shane, but said it will be a hell of a match. Vince said speaking of the Royal Rumble, that brings us to two of the most competitive WWE stars of all time.
Vince introduced the "Phenomenal" AJ Styles, who received a big ovation from the crowd. Styles was in his wrestling gear. Vince also introduced the WWE Champion, the "new" Daniel Bryan, who was booed as he walked out to the ring in street clothes.
Bryan walked out to ringside. Vince told him to come into the ring. Bryan stood on the floor to say he's not stepping into the ring with a sociopath like AJ Styles, who slammed him into processed animal carcasses (hot dogs) last week. Bryan said he's too embarrassed to step in the ring with Styles. Bryan said he had a vision for a future with AJ Styles as the WWE Champion and he said that it looks like an ignorant, impotent and illiterate future. He said it's why he can't allow Styles to take that title from Bryan. Bryan said that Styles uses his power to get fame and money while Bryan uses his power for the greater good. Styles asked if the greater good means talking like a jackass. Bryan said that's why these people want Styles to be their champion because you make them laugh, cheer and jump up out of their seats. Bryan said that Styles doesn't make them think or feel guilty about their actions that they should feel guilty about every single day of their lives. Bryan said he didn't care about their feelings because he is not the People's Champion, he is the Planet's Champion! The crowd booed. Bryan said that the planet needs him to use this platform to be the planet's voice.
Styles said that if a planet had a voice then it would be screaming at Bryan to shut up. Styles added that Bryan didn't pedal his bicycle to get there, he jumped on a plane just like Styles did. Good point. Styles said the word for that is fickle, which is a favorite word of Bryan. The fans chanted "Fickle" at Bryan, so Bryan said that they are fickle, not him. Styles said that Bryan is afraid of standing across the ring from him and Bryan is afraid of getting into the ring with him tonight, just like in five days at the Royal Rumble. Styles said that Bryan should be afraid. Styles wondered what Bryan will have left when he takes the WWE Title from him…nothing.
Bryan spoke up again, so Vince said he's tired of this and told Bryan to get into the ring. Bryan said that of course, Vince doesn't want to listen because Vince and the baby boomer generation are the parasites of this world. Bryan said that Vince and his generation put profits over the planet every single time. Bryan ranted about the economic and environmental debt that they've created while the people are satisfied by Instagram, Facebook and social media stuff. Bryan said that people ignore it while Vince has created an environment where AJ Styles has become a hero, so Vince yelled: "DAMMIT I'm not gonna tell you again, get in the ring!" Styles said that if a face to face is what Vince wants, it doesn't necessarily have to happen in the ring.
Styles left the ring and they got into a brawl at ringside. Styles whipped Bryan into the stairs and rolled Bryan into the ring. Styles went for a Phenomenal Forearm, but Bryan hid beside Vince, so Styles stopped and Bryan hit a running knee to the face of Styles to put Styles down. Bryan left with his WWE Title and went up the ramp.
Analysis: That was great with Bryan continuing to shine as a very entertaining heel. The physical stuff was only brief, but it was booked well with Bryan standing tall by using heel tactics when he hid behind Vince. I liked the way Bryan interacted with Vince by not giving Vince want he wanted and Bryan handled it how he wanted. The "new" Daniel Bryan is my favorite character on any WWE show. These heel promos are so great and having him interact with Vince makes it even better. I'm so happy for Bryan considering what he's been through with his health. It's the delivery, the tone and the words. It's like CM Punk's heel gimmick in late 2009. It's not always what you say, but how you say it. Nobody wants to be spoken down to and that's what he is doing. I was hoping Vince would announce a stipulation to Bryan/Styles like a Street Fight or Falls Count Anywhere to try to make it a different match than what we've seen, but as of now, it's still a regular match. I would be surprised if Bryan lost the title back to Styles because I think Bryan is doing a great job as WWE Champion. I hope it continues.
Carmella and R-Truth were shown backstage talking about how they are going to enter their Royal Rumble matches at #30. Truth said he's going to win the Rumble, then face Styles or Bryan at WrestleMania. Carmella asked what about Brock Lesnar and Truth said he didn't want Brock to take him to "Sioux Falls City" because it is Truth's gimmick to get things wrong. She said it was Suplex City, so Truth said that too. Truth mentioned challenging the Cruiserweight Champion, she said there's a weight limit and Truth got offended by her thinking he was fat, so he left.
Carmella's walk continued as she walked over to Charlotte Flair standing there. They got into some trash talk with Carmella saying that the Rumble isn't just a match, it's a tornado while other women are trying to throw you out. Carmella said that she's the Gatekeeper in Gucci because she's #30 in the Rumble and nobody is going to go through her. Charlotte said that Carmella should be confident at #30 while Charlotte doesn't know what number she is going to draw, but she is confident too because she is Charlotte Flair. Flair said with a trip to WrestleMania on the line, the Rumble isn't the tornado…she is.
Analysis: Good trash talk by the ladies that were former champions last year. Truth was funny with some of his lines. I think Charlotte's going to remain my pick to win, but I may change my mind. There are less options in the women's Rumble than there is in the men's Rumble.
Samoa Joe made his entrance for his match up next.
(Commercial)
Mustafa Ali made his entrance for the match with Joe. Both guys are in the Rumble match. A replay aired of Joe attacking Ali last week.
Samoa Joe vs. Mustafa Ali
Joe was aggressive early on as he knocked Ali out of the ring. Ali came back with a forearm off the ropes. Back in the ring, Ali hit a dropkick. Joe hit an elbow to the head, headbutt and a corner splash missed. When Ali went up top, Joe hit him in the throat leading to Ali bumping to the apron and to the floor.
(Commercial)
Joe was still in control of the action as he whipped Ali into the turnbuckle followed by a jumping kick to the head. Ali came back with a punch to the head followed by an X-Factor sending Joe face first into the mat. Ali with a dropkick that sent Joe out of the ring followed by a suicide dive that took out Joe on the floor. Ali with a cross body block off the apron that took out Joe on the floor. Ali with a kick to the face, two more superkicks and a Tornado DDT out of the corner for a two count. Ali went up top, but Joe tripped him up and slapped in the Coquina Clutch submission. Ali tapped out to give Joe the win after about nine minutes.
Winner by submission: Samoa Joe
Analysis: *** It was a pretty good match that told the story of Joe looking dominant going into the Rumble. It would have been nice if they got a few more minutes. Ali is great at selling, so they worked well together with Joe's power offense making him look dominant.
There was a shot of Andrade warming up for his match against Rey Mysterio up next with Graves hyping it up as another classic.
(Commercial)
The announce team plugged the Royal Rumble Kickoff show that will include Shawn Michaels, John Bradshaw Layfield, Jerry Lawler, Booker T and Beth Phoenix. Here's some news on the commentary team for the Rumble PPV in case you missed it.
Two matches were announced for the Kickoff Show: WWE Cruiserweight Championship: Buddy Murphy (c) vs. Akira Tozawa vs. Kalisto vs. Hideo Itami and United States Championship: Rusev (c) vs. Shinsuke Nakamura.
Analysis: The Rusev/Nakamura feud has no momentum after the great title change they did on Christmas Smackdown. Since then, it was a month of barely anything at all from them.
The New Day trio of Big E, Kofi Kingston and Xavier Woods were watching clips of Kofi's exciting near elimination spots over the years. Kayla Braxton showed up for an interview where she asked if they would eliminate eachother. Woods mentioned that every year somebody asks that saying it was Tom Phillips, then Renee Young, then Mike Rome and Woods asked if Tony Chimel would ask them next, so Chimel showed up asking them the question! New Day told Tony to leave with Big E saying "do you see Edge here?" That was funny because of Tony's "Rated R Superstar" intro with the voice crack over the years. Kingston said that when one of us wins the Rumble, they all win the Rumble. Big E said that they will dogwalk everybody in the Rumble. Kingston said this might be the year where he can't find a way to keep his feet off the ground. His buddies told him to keep his head up with Kingston saying he had an idea. When Kayla asked what it was, they told Kayla there would be no insight into their strategy, so we have to wait until the Rumble.
Analysis: That was fun. Big E yelling at Chimel was the highlight. Kingston avoiding the elimination is always a Royal Rumble highlight every year.
Rey Mysterio made his entrance for the main event and he got a big ovation from the crowd. Andrade was next by himself because his manager Zelina Vega is banned from ringside for this match.
Analysis: There were rumors that Andrade was unhappy in recent months. I'm not sure if the rumors are true, but putting him against his idol Rey Mysterio and in a main event match is a nice way of making him happy.
Two out of Three Falls Match: Rey Mysterio vs. Andrade
Mysterio with a headscissors takedown that sent Andrade out of the ring leading to Mysterio doing a springboard into a hurricanrana on the floor. That was sweet. They went to break there.
(Commercial)
Back from break, Mysterio with a kick to the head while he was on the apron. Mysterio with a seated senton off the ropes, but when he went for a cross body block, Andrade got a dropkick to block it and got a two count out of that. Mysterio with a sunset flip into a Powerbomb for a two count. Mysterio went for another leaping attack, but Andrade countered leading to a two count. Mysterio was on the turnbuckle and Andrade tripped him up against the ropes. Andrade went up, Mysterio tripped him up and Andrade was crotched on the top rope. Mysterio went for a top rope hurricanrana, but Andrade stopped him on the middle rope, stepped up to the top rope and hit a Powerbomb off the top for a three count. What a move! That was an awesome spot.
Andrade leads 1-0
Analysis: That was a nice to give Andrade the first fall. A sitout Powerbomb off the top is rare, but they did it perfectly.
Mysterio took about one minute to get to his feet, the referee kept Andrade back and started the second fall. Andrade hit a slingshot into a Powerbomb for a two count. Andrade went for another Powerbomb, but Mysterio countered into a flipping Canadian Destroyer piledriver for the pinfall win on the second fall. Wow. That was great too.
Rey Mysterio ties it up 1-1
Both guys were down selling the pain as the show went to break.
(Commercial)
The match continued with Andrade going for a running knee, Mysterio moved and Andrade bumped over the top to the floor. Mysterio went for a sliding body attack, Andrade caught him and Mysterio drove him into the barricade. Mysterio with an enziguri kick to the head. Mysterio went for a sliding attack under the bottom rope, Andrade was back to his feet, so Mysterio gave him a Powerbomb into the barricade. That was beautiful. Very innovative. Mysterio had a drink of water at ringside to show that he was exhausted. Mysterio went back to the apron leading to a springboard hurricanrana into a pinfall for a two count. That was called the West Coast Pop earlier in Rey's career. The fans chanted "619" for Mysterio as Andrade slapped on an armbar using the ropes. Andrade whipped Mysterio left arm first into the turnbuckle. Andrade with a forearm to the face, they battled on the apron, Mysterio tried a powerbomb on the floor, Andrade landed on his feet (wow!) and Andrade gave Mysterio a Powerbomb into the ring post! This is awesome! Back in the ring, Andrade hit the Hammerlock DDT on Mysterio for a two count because they were by the ropes with Mysterio grabbing the rope to break the count. Andrade grounded Mysterio with an armbar on the left arm. They tried a spot by the ropes where Rey was going to jump on his shoulders, but they missed up a bit, which led to a rollup. I'm not going to fault them for a mistake because it's a high risk spot. Andrade put Mysterio on his shoulders, which led to a reverse hurricanrana from Mysterio, so that was likely the spot they were going for. That led to a two count for Rey. Mysterio sent Andrade into the ropes, Rey went for 619 and connected with the boots to the face. As Rey was about to go for a springboard attack, Samoa Joe showed up and he gave Rey a Powerbomb into the apron. That led to the disqualification ending after 21 minutes.
Winner by disqualification 2-1: Rey Mysterio
Analysis: ***3/4 Great match even with the non-finish. The chemistry these two guys have is incredible with a nice mix of power wrestling, the speed of Mysterio and some smooth counter wrestling from both men. Last week's match was a bit better (I went ****1/4 for it), but it's still an awesome match worthy of the main event. The non-finish likely pissed off some people and that's the point when you have a heel like Joe attack Mysterio like that. As much as I love Rey vs. Andrade, I'd love to see them build to their next match for a PPV (WrestleMania if they can wait for it) rather than doing it on Smackdown again. Then again, I'll never complain about them doing this match again. I'm just saying that saving it for a bigger show is a good idea too.
Joe went into the ring and whipped Andrade into the steel ring post. Graves said this is about eliminating potential Royal Rumble threats. Joe brought Rey into the ring and slapped the Coquina Clutch on him. Rey sold it like he was passed out. Replays aired of Joe's attack on both guys.
Analysis: It's a great way to get some heat by ending an awesome match like that. It's cheap, but it works.
Joe did a promo saying that he came here to make a statement. Joe said that what you see in this ring is exactly what he'll do to the other 29 superstars in the Royal Rumble. He said his name is Samoa Joe and right on cue…there's Randy Orton with a RKO out of nowhere. The crowd was cheering even though Orton is a heel. Orton was fired up as he flashed a "3" with his fingers because he's a two-time Royal Rumble winner looking for his third Rumble win. Orton's music played as replayed aired of the perfect RKO out of nowhere.
Orton did his posing on the turnbuckle to end the show.
Analysis: This was Orton's return to Smackdown after being off TV for several weeks. It was a smart move to keep him fresh.
Three Stars of the Show
Rey Mysterio
Andrade
Daniel Bryan
Great job by Samoa Joe and Mustafa Ali too.
The Scoreboard
7.5 out of 10
Last week: 5
2019 Average: 6.88
Last 5 Weeks: 5, 8, 7, 6.5, 7
2019 High: 8 (January 8)
2019 Low: 5 (January 15)
Final Thoughts
I give this week's Smackdown a 7.5 out of 10.
It was a great Smackdown this week with an awesome main event match even with the non-finish. I'm not going to ignore over 20 minutes of great in-ring action just because of a cheap ending done to get heat on Joe. Give Rey and Andrade a lot of credit for the match they had. Bringing back Orton the way they did was smart as well because he has a lot of credibility.
I liked the Bryan/Styles/Vince segment with Bryan really shining as an annoying heel that he is. Samoa Joe had a strong night with the impressive match he had with Mustafa Ali and the intensity he showed as well.
Becky Lynch was her usual awesome self in the promo she had with Asuka. I liked their brawl too. That's going to be an outstanding match on Sunday. The Naomi/Mandy match felt a bit awkward with some of the things they tried, but I think the right woman went over with Mandy getting the win. The angle that was done to further the Tag Team Title story was effective as well.
Smackdown was clearly better than Raw this week.
The next WWE pay-per-view is Royal Rumble this Sunday, January 27 in Phoenix. Here's what we know so far.
30 Man Royal Rumble Match – Randy Orton, Dean Ambrose, Seth Rollins, Samoa Joe, Drew McIntyre, Kofi Kingston, Big E, Xavier Woods, Apollo Crews, Baron Corbin, Elias, Jinder Mahal, Jeff Hardy, Bobby Lashley, Titus O'Neil, Andrade, Rey Mysterio, Mustafa Ali, John Cena (questionable), R-Truth (#30).
30 Woman Royal Rumble Match – Alexa Bliss, Natalya, Bayley, Ember Moon, Ruby Riott, Sarah Logan, Liv Morgan, Mickie James, Alicia Fox, Mandy Rose, Sonya Deville, Zelina Vega, Charlotte Flair, Naomi, Tamina, Peyton Royce, Billie Kay, Dana Brooke, Lana, Nia Jax, Lacey Evans, Nikki Cross, Carmella (#30).
WWE Universal Championship: Brock Lesnar (c) vs. Finn Balor
WWE Championship: Daniel Bryan (c) vs. AJ Styles
Raw Women's Championship: Ronda Rousey (c) vs. Sasha Banks
Smackdown Women's Championship: Asuka (c) vs. Becky Lynch
Smackdown Tag Team Championships: The Bar – Sheamus and Cesaro (c) vs. The Miz and Shane McMahon
United States Championship: Rusev (c) vs. Shinsuke Nakamura (KICKOFF SHOW)
WWE Cruiserweight Championship: Buddy Murphy (c) vs. Akira Tozawa vs. Kalisto vs. Hideo Itami (KICKOFF SHOW)
That's probably the whole show. Our full preview will be up on Friday.
—
Thanks for reading. My contact info is below. Go Los Angeles Rams, Toronto Raptors and Toronto Maple Leafs. They're all good!
John Canton
Email mrjohncanton@gmail.com
Twitter @johnreport
Personal Facebook and TJRWrestling on Facebook