The John Report: WWE Smackdown Live 01/08/19 Review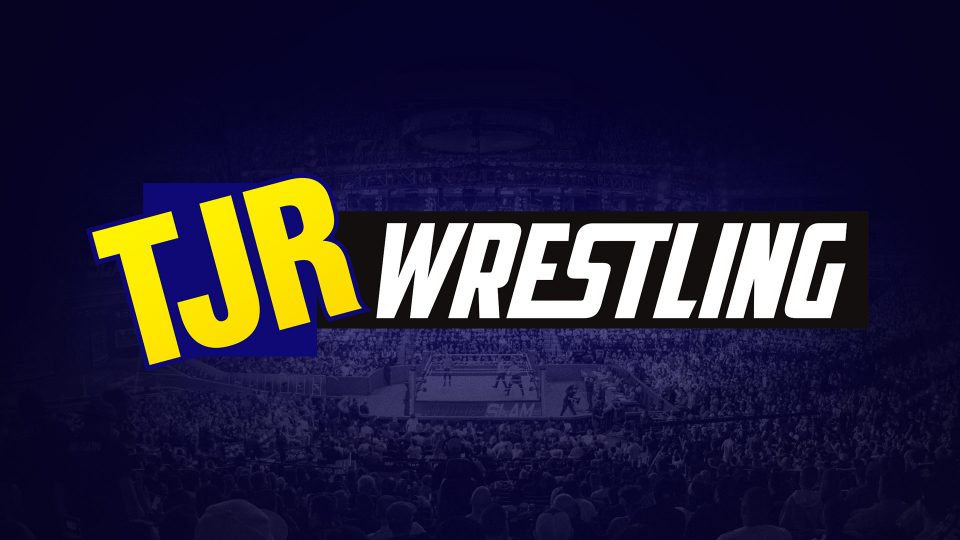 Welcome to TJRWrestling for the first live WWE Smackdown of the year. Last week's show that aired on New Year's Day was taped. They've announced a big women's triple threat with Charlotte Flair facing Becky Lynch and Carmella with the winner getting a Smackdown Women's Title shot against Asuka at the Royal Rumble. Plus, The Usos face The Bar in tag team action and AJ Styles is going to confront the WWE Champion Daniel Bryan.
Live from Jacksonville, Florida, this is Smackdown Live for episode #1012. Follow me on Twitter @johnreport. If you want to support us at TJRWrestling, here's a Donate Link for our Paypal where anything you send will go towards building the site. Thanks to Melo Man for the banner up top.
Daniel Bryan Has Some Advice for Us
The show began with Daniel Bryan wearing his WWE Title around his waist. He was at a concession stand with fans surrounding him. Bryan ripped on the people for eating bad food and drinking things like beer. A guy was eating a hot dog, Bryan pulled it from the guy and the guy was wondering what he was doing as Bryan tossed the hot dog on him. Bryan grabbed a giant soda from a fan and tossed the drink onto the guy. Bryan called the guy fickle. Bryan continued the tour at the merchandise stand. Bryan asked for the "Yes Movement" t-shirt and reminded us there are no more of those shirts because he killed it. Bryan mocked the AJ Styles merchandise that was there to make AJ Styles feel better. Bryan said it was plastic, useless garbage. Bryan made his way into the arena and walked down the steps to the ring with a microphone in his hands.
Bryan said that he is out here changing the world and making the world a better place. Bryan said to create change, he needs us to change. Bryan said that all of these people are weak, submissive and impotent. Bryan told people to change. Bryan grabbed a "House of AJ Styles" sign and said that's not what this is. Bryan said that Styles fills a void for about 30 seconds while Bryan will tear apart that void and fill it with something meaningful, valuable and something we can be proud of. Bryan said that he can fill this world with something that these children are proud of. Bryan made his way to ringside. Bryan said that he's changing the planet for the better while we're changing it for the worse.
R-Truth showed up at ringside and he attacked Bryan with a clothesline on the floor. Truth tossed Bryan into the barricade as official Mike Chioda told Truth to get back because they have a match after the break.
Analysis: Awesome promo from Bryan like usual. He's so great at riling up the fans and the gimmick he's doing now is working very well. R-Truth attacked because Bryan attacked him on the Christmas Smackdown two weeks ago.
(Commercial)
The match started during the break.
Daniel Bryan vs. R-Truth
This is not for Bryan's WWE Title.
Truth was in control with a jumping side kick for a two count. Bryan came back with a hard kick to the back. Bryan yelled at Truth telling him that he was the problem as Bryan hit him with a forearm to the chest. Bryan hit two running corner dropkicks on Truth, but Truth blocked a third attempt with a running forearm to the head. Truth picked up Bryan for a suplex into a jawbreaker like a Stunner for a two count. Truth missed a corner splash when Bryan moved and Bryan hit the running knee for the pinfall win after about three minutes.
Winner by pinfall: Daniel Bryan
Analysis: *1/2 It was entertaining for the time given, but it was also a short match that had a predictable ending. At least the champion Bryan didn't lose non-title like some champs in this company tend to do. Truth showed good intensity in the match and took it seriously without the "dance break" spot, so that made it seem like an important match.
After the match was over, Bryan was on the ramp with the WWE Title. AJ Styles showed up when Bryan was at the top of the ramp and he decked Bryan with punches. Security showed up to hold Styles back. Styles shoved Bryan into the video screen. Styles grabbed a chair, but Bryan managed to escape by running to the back. The fans cheered most of that with Styles getting the upper hand.
The announce team of Tom Phillips, Byron Saxton and Corey Graves were shown on camera welcoming us to the show.
Rey Mysterio entered for a tag team match up next.
(Commercial)
Rey Mysterio and Mustafa Ali vs. Samoa Joe and Andrade "Cien" Almas (w/Zelina Vega)
Joe was in control early with a running shoulder tackle on Ali. Joe charged at Ali, who moved and Ali hit a dropkick. Mysterio tagged in with a double team dropkick by the faces on Joe. Almas tagged in, Mysterio with an arm drag takedown and an incredible headscissors attack. Almas did his spinning back elbow spot for a two count. Joe sent Mysterio into the turnbuckle. Mysterio took down Almas by tripping him up and sending him face first into the mat. Ali tagged back in with a headscissors takeover. Ali with a kick to the head followed by an X-Factor face first into the mat for a two count. Joe made a blind tag, Ali kicked Almas into Joe, which knocked Joe on the floor and then Ali jumped over the top onto Joe, but Joe caught him and tossed Ali onto the announce table. Ali bumped across the table (it did not break) and went crashing into the barricade. That led to a break.
(Commercial)
The match returned with Almas on the top rope and Ali brought him down with a hurricanrana off the top. Mysterio got the hot tag and hit a springboard hurricanrana, a hard kick to the face of Almas and Joe went in with a missed attack against the turnbuckle. Mysterio with a seated senton off the top to take out Joe. Mysterio hit a spot that was like Canadian Destroyer into a piledriver. Piledrivers are banned in WWE, but Mysterio did it. Mysterio hit the 619 on Joe and Ali hit a 450 Splash on Joe. Ali hit a somersault dive over the top to Joe while Mysterio went for the 619 on Almas, but Almas caught him. Almas hit a gutbuster on Mysterio and a Hammerlock DDT for the pinfall win after 11 minutes.
Winners by pinfall: Samoa Joe and Andrade "Cien" Almas
Analysis: ***1/4 That was a fun tag team match. They put over Almas big time by having him block the 619 followed by the pinfall win over Mysterio. Joe was barely a factor in the match because I think they wanted the focus to be on Almas. Ali looked good when he was in there too. I think a feud between Almas and Mysterio would be incredible. Let them go for 15-20 minutes. The chemistry is there between the two guys that know how to work the Mexican style and incorporate it in WWE. As the announcers said, Almas idolized Mysterio, so I'm sure Almas would enjoy it as much as anybody.
https://twitter.com/totaldivaseps/status/1082812299461779456
There was a promo from Carmella talking about how nobody thinks she's going to win. She noted she was Smackdown Women's Champion for 130 days, she beat Asuka twice and she beat Charlotte twice. She said she'll prove what she says she is because Mella is money.
Analysis: When Carmella was champion, the matches were so bad. She tries hard, but she's not at the level of the others in the ring. As a character, I like her. It's just a big difference when the bell rings.
The Usos did a promo about how they are going to beat The Bar and they welcomed them to the Uso penitentiary.
(Commercial)
Shane McMahon was in his office when The Miz showed up to complain about The Usos being a match away from a title match. Miz wanted Shane to get the min the title picture. Shane said that they had to train, work hard, scout and become a great team. Miz mentioned wearing white outfits, which Shane wasn't fond of, so Shane grabbed his phone from his pocket and left.
Let's Hear from Rusev
Rusev was in the ring with the US Title around his waist. He was looking somber in the ring. Rusev said that last week Lana, his wife, got hurt and while she's at home resting, he stands before us not as the United States Champion. He said he stands before us not as a Bulgarian Brute, he's a husband and fans sang the "Lana is the best" song. Rusev said that Shinsuke can mess with him all he wants, but once you mess with his wife, you crossed a line. Rusev said that Nakamura crossed a line that you cannot come back from. Rusev called him out.
Shinsuke Nakamura was shown on the screen in the control room. He said he didn't hit Lana and he cued up a replay of what happened. The replay showed that Rusev kicked Nakamura when Lana was on Nakamura's back. Nakamura said that Rusev crushed Lana.
Rusev said that if Nakamura won't come to him then Rusev will come to him. Rusev ran up the ramp and went backstage. The announcers talked about what happened.
When Rusev got backstage, Nakamura was there waiting for him and shoved an equipment case into Rusev. Nakamura kicked Rusev to knock him down. Referees and agents showed up to break it up. When Rusev got back to his knee, Nakamura returned with a Kinshasa knee to the head.
Analysis: The angle is okay, but the reality is that Lana's bump was similar to most bumps wrestlers do in the ring. She's a trained wrestler that took the bump the right way with her arms extended. The only difference was she fell off a guy's back. I think they could have made it look more devastating because it was a pretty tame bump. With that said, I like that there's a storyline for the US Title and the last Nakamura/Rusev match was excellent, so they should be able to have a great rematch too.
Still to come: Charlotte Flair vs. Carmella vs. Becky Lynch.
Becky Lynch did a pre-taped promo saying that she has to jump through hoops to get back the title she never lost. She said she made the title important and at the top of the world. She said she's going to win while Asuka knows she is on borrowed time until The Man comes around to settle the score.
The Bar duo of Cesaro and Sheamus, who are the Smackdown Tag Team Champions, made their entrance.
(Commercial)
There were highlights shown from Raw about the tribute to "Mean" Gene Okerlund with Hulk Hogan talking about his friend. They showed the video package tribute to Okerlund that aired on Raw.
Analysis: I have no problem with WWE spending four minutes on this show to honor Okerlund. He was a big part of WWE's history and he deserves that kind of tribute. As I remarked in my Raw review, what really stood out is that Gene had a smile on his face during a lot of these clips. He loved what he did and we loved him for it.
There was a shot of the crowd in Jacksonville applauding the end of the video.
The Usos made their entrance for the tag team match.
The Bar (Sheamus and Cesaro) vs. The Usos (Jimmy and Jey Uso)
This is not for the Smackdown Tag Team Titles held by The Bar.
Jey and Sheamus started with neither side getting the advantage. Cesaro and Jimmy entered the match with Jimmy hitting a headscissors takedown. Sheamus pulled Cesaro out of the ring to prevent an attack against the turnbuckle. Back in the ring, Jey hit a forearm on Cesaro, but Cesaro hit a knee to the ribs and the heels took over. Sheamus tagged in with uppercuts to Jey, Sheamus ran the ropes and Jey decked him with a clothesline. Sheamus drove Jey to the heel corner, Cesaro drove Jey's neck into the top rope and Sheamus hit a clothesline as the show went to break.
(Commercial)
The match returned with Jey trying to fight out of the corner, but Sheamus hit a rolling senton. Cesaro tagged in with an elbow drop off the middle ropes. Sheamus worked over Jey with forearms to the chest. Jey came back with an enziguri kick to the head. Jimmy got the hot tag against Cesaro with Jimmy hitting an enziguri kick and Cesaro did an impressive flip bump after that. Jimmy hit a Samoan Drop on Cesaro. Jimmy charged in with a running hip attack against the turnbuckle. Jey sent Sheamus out of the ring and Jey hit a dive over the top on Sheamus. Jimmy hit a suicide dive on Cesaro to send him over the barricade and into the crowd. Back in the ring, Jimmy went up top and hit a cross body block on Cesaro for a two count. Sheamus tagged in, both Usos hit a kick to the head on him and Jey hit a superkick for a two count leading to another break.
(Commercial)
Cesaro was in control of Jey with a Cesaro Swing followed by a Sharpshooter in the middle of the ring. Jey managed to crawl to the bottom rope. Sheamus hit Jey with a knee to the face leading to Cesaro getting a two count. Sheamus was yelling that he couldn't believe it. Jey fought out of the corner with headbutts. Sheamus came back with a running knee. Sheamus was on the middle rope with Jey, but Jey broke free and hit Sheamus with a superkick. Cesaro made a tag before that, Cesaro jumped off the top and Jey nailed Cesaro with a superkick. The crowd was fired up as Jimmy wanted the hot tag. Mandy Rose's music hit to cause the distraction and she was in a towel at the top of the ramp. Mandy asked Jimmy to help her and she wondered if she left her tiny gold shorts and her tiny gold top in his hotel room. Jimmy was distracted by those accusations, so Sheamus hit Jimmy off the apron. Cesaro hit the Neutralizer on Jey for the pinfall win after 18 minutes.
Winners by pinfall: The Bar (Sheamus and Cesaro)
Analysis: ***1/2 Awesome match as usual between these teams. If they didn't have that finish it would have been around four stars, but I have to take it down a notch. The story makes sense with Mandy showing up to taunt Jimmy since she's feuding with Naomi, but I think some fans will be mad about it since it happened during a match that went nearly 20 minutes. In a shorter match, nobody will care, but when it ruins a long match then people will get upset. I don't mind it because it fits the story. Plus, the action before it was great.
After the match was over, The Miz showed up to congratulate The Bar on their win. The Miz went into the ring and said he wanted The Bar to face The Miz and Shane McMahon at the Royal Rumble. Cesaro bragged about how great they were as a team after beating everybody on Raw and Smackdown, so he didn't think Miz and Shane were worthy of it. Sheamus decked Miz with a Brogue Kick. Cesaro said that that they accept and dropped the microphone on Miz.
Analysis: I think there's going to be a title change with Miz and Shane as the champions. They can do the split after that followed by a likely build to a WrestleMania match with Shane facing Miz. That's just my guess on how it will play out.
Mandy Rose and Sonya Deville were shown walking backstage with Mandy revealing she had on her gold top and shorts under the towel. Naomi showed up to attack them. Mandy and Sonya got the advantage because it was 2 on 1, but then Jimmy Uso showed up to save his wife, which led to the heels leaving.
Analysis: They are doing a good job of building to a Mandy vs. Naomi match. I like that there's a slow build to it rather than rushing it.
Charlotte Flair did a promo about the main event. Flair said that she's a 7-time champion, she's main evented Raw and Smackdown and multiple PPVs. She said tonight her focus is on Becky Lynch and Carmella while at the Royal Rumble, her focus is on Asuka. She told the ladies to get ready to get humbled by the Queen. That match is next.
(Commercial)
Daniel Bryan was interviewed by Kayla Braxton. He complained about AJ Styles attacking him from behind. Bryan said he didn't care why Styles attacked him. Bryan said that wasn't vicious and it's not half as vicious as the new Daniel Bryan. The promo continued with Bryan ranting about how Styles is not going to take the WWE Title from him because Bryan's fighting for a cause that's bigger than them and the new Daniel Bryan will be WWE Champion forever.
Analysis: The "new" Daniel Bryan is on fire during these promos. He's so entertaining in this role. I love it.
The same video package aired that has aired for several weeks about the NXT stars coming to the main roster.
The Miz was shown backstage holding his chin. Shane showed up, Miz said Shane's plan worked, Shane said what plan and Miz said they had to challenge competitors. Shane said that's not what he meant. Miz said he's ready and he believes in this team. Miz talked about what this would mean to him and his dad. Shane said this is not how he wanted this to go down, but then he asked Miz if he thinks they can win. Shane: "Let's do it at the Rumble." It's on.
Analysis: I'm predicting a title change there with Shane and Miz leaving as the Smackdown Tag Team Champions. It sounds funny, but I think it's going to happen.
The entrances took place for the main event: Becky Lynch was first as she wore her "The Man" shirt for her wrestling gear. Carmella was up next to a pretty good ovation. Charlotte Flair was last. All three women are faces, so plenty of cheers from the crowd. There are about 22 minutes left in the show as the match was set to begin.
Becky Lynch vs. Carmella vs. Charlotte Flair
The crowd chanted "Becky" as the crowd rang, so Flair did the "woo" and fans did that too. Lynch and Flair went after eachother with forearms. Lynch kicked Carmella out of the ring and she kicked Flair in the stomach. Lynch jumped off the apron with a punch for Carmella. Lynch with a running clothesline on Flair on the floor, which led to a break.
(Commercial)
The match returned with Flair going up top and Lynch slammed Flair off the top onto Carmella. Ouch. Lynch faced off with Flair as Carmella was sent out of the ring. They exchanged forearms and chops with Flair getting the advantage, but Lynch came back with a Thesz Press leading to punches. Carmella back in the ring with a kick to Charlotte's back. Carmella hit a flatliner on Lynch. Carmella slapped on the Code of Silence submission with her legs around Flair's neck. Flair powered out of it, Lynch went up top and hit a missile dropkick on Carmella. Flair hit an overhead suplex on Lynch followed by a backbreaker to Carmella and a boot to the face. Flair set up both women for a moonsault, but Lynch popped up and Flair kicked her down. Flair jumped off the top with a moonsault leading to pin attempts on Lynch and Carmella, but both women kicked out at two.
Analysis: The moonsault by Flair is okay, but she lands on her knees and that affects the way the move looks. When wrestlers do that move where they extend their legs, it looks a lot more impressive. I like Charlotte a lot and she's an awesome performer that has earned her position. I'm just saying that spot could be better.
(Commercial)
There were about eight minutes left in the show as Flair and Lynch battled on the top rope. Carmella hit Lynch in the back to knock her out of the ring. Carmella hit a hurricanrana off the top on Flair for a two count. Carmella kicked Lynch down and then followed up with a suicide dive. Flair was on the top rope and she jumped off with a moonsault, but Becky and Carmella moved. Lynch hit a Bexploder suplex on Carmella on the floor. Lynch whipped Carmella into the barricade. Lynch was on the apron, so Flair hit a running kick to the face to knock Lynch down. Flair went up top and hit a Natural Selection on Lynch, but Carmella was there with a superkick on Flair. Carmella tried to pin Lynch, but Flair broke it up while saying "I don't think so." All three women were down in the ring. Carmella slapped Flair repeatedly, so Flair came back with a harder slap to the face. Flair slapped on a Figure Eight submission on Carmella. Lynch broke that up with a leg drop off the top onto both women. Lynch with a Dis-Arm-Her submission on Flair, but Carmella was there with a superkick on Lynch. Carmella dumped Flair out of the ring. Flair went back in the ring and hit a Spear. Carmella with another superkick on Flair, which led to Flair leaving the ring. Lynch slapped on the Dis-Arm-Her on Carmella and Carmella tapped out to give Lynch the win after 19 minutes.
Winner by submission: Becky Lynch
Analysis: **** That was an excellent main event. They really executed in the final few minutes. I think we all know that Becky and Charlotte are two of the best in WWE while Carmella is not known for great matches, but to Carmella's credit, she proved she belonged here. The crowd was into the whole match and were really loud towards the end of it because of all the exciting spots they did to build up to that finish. Sometimes triple threats can be repetitive or boring with the nearfalls, but in this match, I was very entertained by it. I'm not surprised that Carmella was the one that tapped out because it protects Flair by not having her be the one to tap. They stopped doing automatic rematches for former champions, yet here's Lynch getting that rematch, which is certainly fine with me because she is awesome.
After the match was over, Lynch was in the ring celebrating the victory. Asuka's music hit as the Smackdown Women's Champion entered the ring with the title around her waist. Asuka posed with the title. Lynch and Asuka had a staredown in the ring with Asuka holding up the title and Lynch talking trash to her. Smackdown ended with a staredown between the two ladies.
Analysis: The match was announced a few weeks ago, then it became unofficial days later and now it's back on. I don't know what the plan is because I figured Lynch was going to win the Royal Rumble. Now? She may not even be in the Rumble. Perhaps they'll do something where she loses to Asuka, then enters the Rumble anyway and wins it. I don't know what they plan on doing, but I'm certainly intrigued by what might happen.
Three Stars of the Show
1. Becky Lynch
2. Charlotte Flair
3. (tie) Rey Mysterio
3. (tie) Andrade "Cien" Almas
The Scoreboard
8 out of 10
Last week: 7
2019 Average: 7.5
Last 5 Weeks: 7, 6.5, 7, 7, 8
2019 High: 8 (January 8)
2019 Low: 7 (January 1)
Final Thoughts
I give this week's Smackdown a 8 out of 10.
Awesome show this week. Three matches over ten minutes and all of them were above average. The main event was outstanding. I liked the two tag team matches as well. It's not that difficult to book a show where you give three matches a lot of time and let your talents do their thing. It also helps when they are great performers and they have plenty of those on Smackdown.
There wasn't a lot of talking, but when there was, it was kept to a minimum. By that I mean they didn't do any long-winded promos that were boring. Everything served a purpose here. That's something I say about Smackdown often because they always find a way to make the most of their time.
When I write about these shows every week, sometimes I get bored by stuff. Not this show. It was fun for the whole two hours and it went by quickly.
Here's the lineup for the Royal Rumble on January 27 from Chase Field in Phoenix.
30 Man Royal Rumble Match (John Cena, Dean Ambrose, Seth Rollins, Samoa Joe, Finn Bálor, Drew McIntyre, Kofi Kingston, Big E, Xavier Woods, Apollo Crews, Baron Corbin, Elias, Jinder Mahal, Jeff Hardy, Bobby Lashley, Andrade "Cien" Almas, Rey Mysterio, Mustafa Ali, R-Truth at #30)
30 Woman Royal Rumble Match (Natalya, Naomi, Bayley, Ember Moon, Ruby Riott, Sarah Logan, Liv Morgan, Alicia Fox, Mandy Rose, Sonya Deville, Zelina Vega, Carmella at #30)
WWE Universal Championship: Brock Lesnar (c) vs. Braun Strowman
WWE Championship: Daniel Bryan (c) vs. AJ Styles
Raw Women's Championship: Ronda Rousey (c) vs. Sasha Banks
Smackdown Women's Championship: Asuka (c) vs. Becky Lynch
Smackdown Tag Team Championships: The Bar – Sheamus and Cesaro (c) vs. The Miz and Shane McMahon
WWE Cruiserweight Championship: Buddy Murphy (c) vs. Akira Tozawa vs. Kalisto vs. fourth competitor TBA
—
Thanks for reading. My contact info is below. Go Los Angeles Rams, Toronto Raptors and Toronto Maple Leafs. They're all good!
John Canton
Email mrjohncanton@gmail.com
Twitter @johnreport