The John Report: WWE Smackdown 01/07/22 Review
This is the first WWE Smackdown episode of 2022 featuring a confrontation between the Universal Champion Roman Reigns and the new WWE Champion Brock Lesnar.
This week's show is the first Smackdown in two weeks since they had the Best Moments of 2021 special in its place last week. That was followed by WWE Day 1 (the first "premium live event" of 2022) on Saturday night with an advertised main event of Roman Reigns defending the Universal Title against Brock Lesnar. Unfortunately, Reigns missed Day 1 due to testing positive for COVID-19. Thankfully, Roman recovered quickly (as some people tend to do) and he's back for Smackdown tonight. Meanwhile, Lesnar was put in the WWE Title match at Day 1 and he left that Fatal 5-Way match with the championship. On Monday's Raw, Lesnar was back together with his "Advocate" Paul Heyman, who was fired by Reigns as the "Special Counsel" to the Tribal Chief a few weeks ago. Also on Raw, we found out Lesnar will defend the WWE Championship against Bobby Lashley. Lesnar is allowed to be on Raw and Smackdown since he's a free agent due to the contract that Heyman negotiated for him.
From the Mohegan Sun Arena in Uncasville, Connecticut, this is Smackdown for episode #1168. Follow me on Twitter @johnreport. Let's get to it.
The opening video package showed highlights from Day 1 with Brock Lesnar winning the WWE Title. It also showed Lesnar reuniting with Paul Heyman on Raw.
The commentary team of Michael Cole and Pat McAfee welcomed us to Smackdown. The graphic said Mohegan Sun Arena instead of the city name.
Let's Hear from Roman Reigns…and Brock Lesnar
Roman Reigns made his entrance as the Universal Champion. It was weird seeing him with that title on his shoulder without Paul Heyman by his side. McAfee said that Roman was "done beating the hell out of COVID" and that's a good line. Reigns was wearing his "Needle Mover" shirt again as the Tribal Chief took his time getting into the ring as usual.
Reigns started with two words for New England: "Acknowledge me." Reigns said he misses one week and it all falls apart. Reigns talked about how when you're in isolation you do a lot of thinking while noting there were things he wanted to do and see as well as people to see, except for two people. Reigns said that those two people that he never wants to see again are Brock Lesnar and Paul Heyman. That led to Brock's music.
Brock Lesnar made his entrance as the WWE Champion with the advocate Paul Heyman by his side. Lesnar was wearing a jacket, black shirt and jeans. No overalls this time for the champ. Lesnar did his usual walk around the ring before getting into the ring. Lesnar was cheered as he posed with the WWE Championship. Heyman was going to introduce Brock, but Lesnar took the microphone.
Lesnar got in Reigns' face leading to Lesnar introducing himself. Lesnar did a Heyman-like introduction for himself while he was in Roman's face. The fans loved that. Lesnar told Reigns to acknowledge him. Lesnar said that last Saturday, he got what he wanted – the WWE Heavyweight Title while Reigns has what he wants – the Universal Championship. Lesnar said that they should give everybody what they want. Lesnar wanted to do title vs. title and champ vs. champ. The fans cheered.
Reigns said that it's a good idea, but it's not his idea. Reigns told Lesnar this is "my show" and they do what he says on his time. Reigns said that he won't do business with people who do business with trash like Paul Heyman. Paul wondered how Reigns can talk that way. Heyman told Reigns that he helped him, he protected him and Reigns was the Tribal Chief that Heyman loved. Lesnar told Heyman to shut up. Reigns told Lesnar not to talk to him that way. Heyman didn't want Lesnar to talk to Reigns that way. Lesnar told Heyman to shut up, so then Reigns hit a Superman Punch on Lesnar and Reigns left the ring. Cole and McAfee wondered what was going on with Heyman as Reigns left. Lesnar was down in the ring with a smirk on his face.
Analysis: It was an interesting segment as usual when the top guys are involved. Lesnar challenging Reigns to a title vs. title match is interesting to see if that's going to be the long-term direction for this storyline or if it's just something to say at this point. They could be going for that at WrestleMania, but it's also possible that one of them (most likely Brock when Heyman costs him a match) loses their title before WrestleMania. I liked Heyman's involvement because you can tell he's not happy about being fired by Reigns, Lesnar kept telling Paul to shut up and Reigns took advantage with the cheap shot. Lastly, I liked Brock introducing himself. That was funny.
Rick Boogs and Shinsuke Nakamura were shown rocking out backstage since Boogs is in action up next.
A commercial aired for the Royal Rumble on January 29.
(Commercial)
A replay aired of what happened before the break.
Sami Zayn was interviewed by Megan Morant saying that he has earned a shot at the Intercontinental Title and talked about how the conspiracy against him started when he lost that title. Zayn said that IC Champion Shinsuke Nakamura was avoiding him while Rick Boogs is no match for him. Zayn walked over to Johnny Knoxville, who said he was there to talk to management about being in the Royal Rumble. Zayn said this isn't Jackass – you need technical wrestling skills. Knoxville said all he needs is to throw somebody over the top rope. Zayn said that Knoxville has not qualified for the Royal Rumble. Zayn claimed if Knoxville showed a veteran like Zayn something then maybe he'll be considered.
Analysis: The Intercontinental Title has become the most poorly booked IC Title in WWE. It is not Nakamura's fault. They just don't put him in title matches enough. I hope things change for the better in 2022. As for Knoxville, hopefully his spots in the Rumble are funny. I don't mind celebrities getting involved once in a while.
Sami Zayn entered for his singles match. Rick Boogs was on the electric guitar for his match and he's joined by Intercontinental Champion Shinsuke Nakamura. Pat McAfee did his usual dance routine on the commentary table.
Sami Zayn vs. Rick Boogs (w/Shinsuke Nakamura)
Boogs hit an impressive overhead suplex two times a row. Boogs with a press slam, so Zayn rolled to the floor to regroup. They went to break one minute into the match.
(Commercial)
Boogs was still in control with a gutwrench suplex. Zayn sent Boogs throat first into the top rope followed by some choking across the middle rope. Zayn hit a forearm to the head. Zayn jumped off the middle rope, Boogs caught Zayn in a bearhug, then he turned it into a suplex attempt, but Zayn hit some knees to the head. Boogs was able to power Zayn back up and hit a suplex. That was a cool spot. Zayn left the ring to try to get away, then Boogs was on the apron and Zayn kicked him from the apron to the floor. Zayn stared at Nakamura on the floor, then back in the ring and Boogs got an inside cradle on Zayn for the pinfall win after about six minutes.
Winner by pinfall: Rick Boogs
Analysis: ** It was okay, but we only got to see about three minutes of action. If they timed it better, they could have shown the whole match. Poor Zayn losing even though he's the number one contender for the IC Title. That's the kind of booking that WWE loves to do where a guy has already earned a title shot, so they have him lose a match without the title on the line. Boogs gets a big win, but I'm not sure if he'll get pushed that much. That suplex spot was really cool because it showed off Boogs' power while Zayn did a nice job of balancing while he was being lifted by the big guy.
Post match, Zayn was frustrated about the loss. Zayn went to the ropes to look at Nakamura. That led to Johnny Knoxville going to the ring and he lifted Zayn from behind to send Zayn over the top to the floor. The fans liked that. It was announced by ring announcer Mike Rome that Knoxville has now qualified for the Royal Rumble match. Johnny celebrated.
Analysis: That will probably mean there's a Zayn/Knoxville spot in the Royal Rumble assuming that Sami is in the match. Nice job by Johnny with the lift over the top.
A graphic was shown of Royal Rumble participants including Austin Theory, Rey Mysterio, Dominik Mysterio, Montez Ford, Angelo Dawkins and Johnny Knoxville.
The New Day duo of King Woods and Kofi Kingston were interviewed by Kayla Braxton. It was noted by Kayla that it was New Day's "final opportunity" to take the Tag Team Titles from The Usos in a Street Fight. Kofi said that they will deliver a royal beating. Woods said that they have taken the bait. Woods said when this match reaches its conclusion, they'll stand tall as the actual and factual WWE World Tag Team Champions.
Charlotte Flair made her entrance in her ring gear with the Smackdown Women's Championship around her waist. She's up next.
(Commercial)
This Monday on Raw, RK-Bro defends the Raw Tag Team Titles against Alpha Academy. Plus, it's a triple threat match between Bianca Belair, Liv Morgan and Doudrop to earn a shot at the Raw Women's Championship at the Royal Rumble.
Let's Hear from Charlotte Flair
Charlotte Flair wished us all a Happy New Year while saying that her New Year's Resolutions make history. Charlotte talked about how the Women's Royal Rumble will take place with the winner earning a shot at a Women's Champion for a "main event" match at WrestleMania. Charlotte called for a video about women in the Royal Rumble Match: Rhea Ripley, Nikki A.S.H., Brie Bella, Nikki Bella, Shotzi, Natalya, Michelle McCool, Carmella, Queen Zelina, Mickie James, Tamina, Kelly Kelly, Aliyah, Summer Rae, Naomi, Shayna Baszler and Lita. McAfee mentioned Mickie James is the Knockout Women's Champion in Impact Wrestling, which is a bit of a surprise that he would say that, but I love that.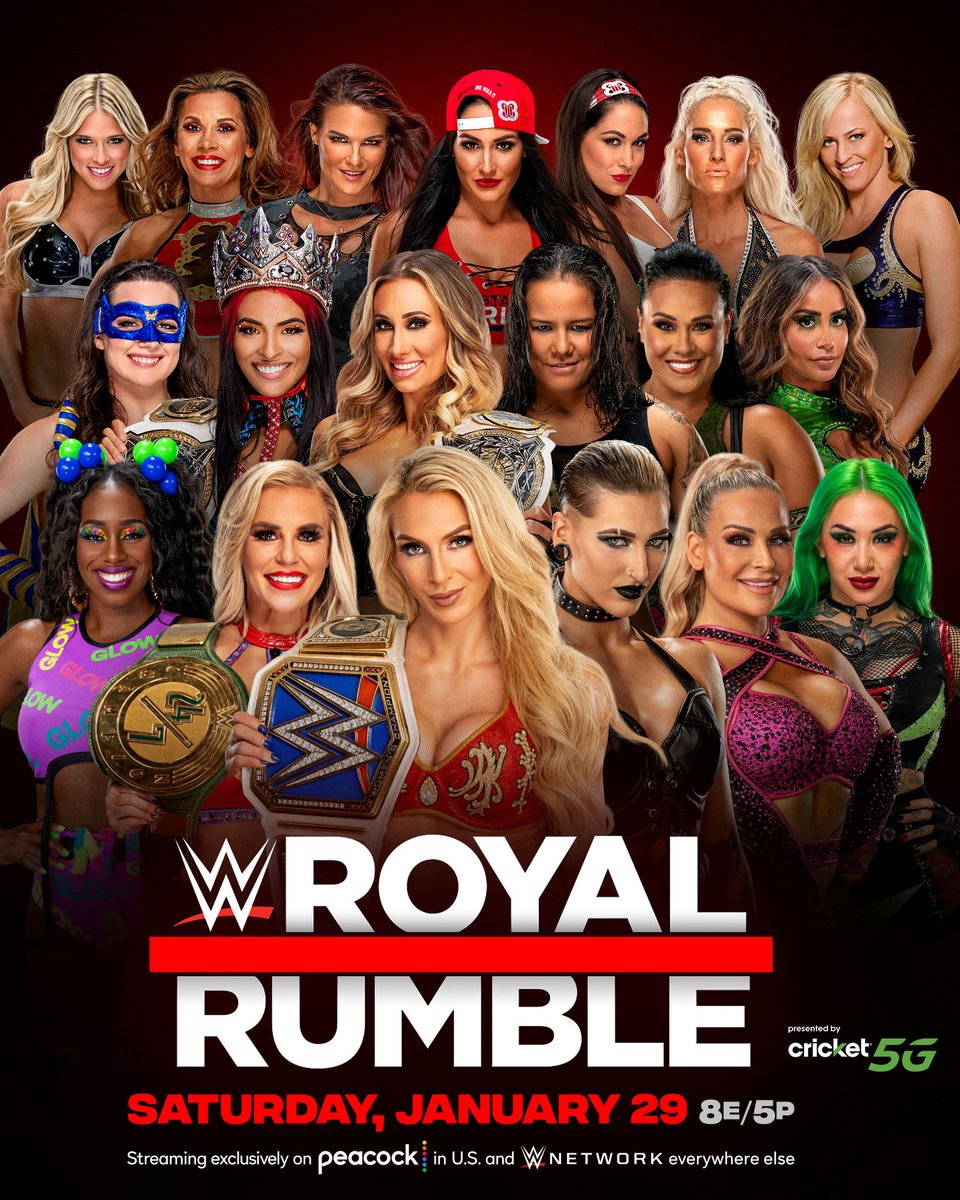 Analysis: It makes me very happy to see Mickie James back for the match as well as others like Lita and Michelle McCool. Mickie's a close friend, I run Mickie's website and we did a post about it here. Did I know beforehand? Maybe I did. Maybe I didn't. I'm just glad it didn't leak out early. I'm sure The Bellas are excited to be back too. Kelly Kelly wasn't really a favorite of mine, but she was popular. Since WWE doesn't have close to 30 women on the main roster, they need to use legends as well as some women from NXT to fill out the match. They also have more spots to announce and there can be room for some surprises too.
Charlotte Flair said that he had the pleasure of announcing somebody very special about being in the Royal Rumble match. Charlotte said she's a gamechanger, she's a former Raw & Smackdown Women's Champion, she is somebody you all admire and she is Charlotte Flair. That led to Charlotte saying she's going to be in the Royal Rumble match and then choose the wrestler to main event against.
Naomi made her entrance doing a promo saying that Charlotte should put her title on the line tonight. Charlotte said she knows Naomi was a champion a few years ago, but she hasn't done anything recently to deserve a match with Charlotte Flair. Naomi said she knows she's done this and she slapped Charlotte in the face. Charlotte ran at Naomi, so Naomi sent her out of the ring. A referee appeared at ringside meaning there's a match coming up.
Analysis: A simple way to set up a match. Naomi hasn't been booked well, so what Charlotte said to her made sense.
(Commercial)
The match started during the break.
Charlotte Flair vs. Naomi
This was not for Charlotte's SD Women's Title. Charlotte was in control with a backbreaker. Charlotte did her spot using her knees to drive Naomi's face into the mat repeatedly. After Naomi was able to break free, she went up top and Charlotte kicked Naomi off the top rope to the floor. Charlotte sent Naomi over the barricade at ringside. Naomi came back with a kick to the head followed by a Blockbuster neckbreaker on the floor. The referee was counting, he reached about eight and Sonya Deville walked out saying that this match can't be won by countout. Naomi had it won and Sonya prevented it. Charlotte went back into the ring with a forearm to the back. They went to break.
(Commercial)
Charlotte was in control with a chinlock while the announcers put over the story that Sonya cost Naomi the match already. Naomi with a kick to the head followed by a cross body block. Naomi hit a springboard kick to the head for two. Naomi with a cross body block off the ropes. Naomi went for the Rear View, but Charlotte turned it into a rollup for two. Charlotte applied the Figure Eight submission, Naomi got to the ropes and Sonya Deville announced no disqualification. Sonya said you can only win by pinfall or submission. Naomi with a kick to the head, then she tried a sunset flip and Charlotte stomped on her. Charlotte did her double moonsault Andrade spot for a two count. It's one of those moves that you should do occasionally, but not every match. At least it looked better this time. Naomi got a rollup attempt. Then they did a spot where they each hit a boot to the head at the same time. Naomi did a move that was like a Full Nelson slam for a two count. Naomi charged, Charlotte sent her into the turnbuckle and then a backbreaker connected. Charlotte with a lift into a Powerbomb, but Naomi countered with a move like an X-Factor for two. That was a bit sloppy. Naomi went for a split-legged moonsault, Charlotte blocked it and sent her into the turnbuckle. Charlotte with a belly-to-back suplex and the Natural Selection for the pinfall win after 14 minutes.
Winner by pinfall: Charlotte Flair
Analysis: *** The match was good while also having some sloppy moments a bit like on that Powerbomb counter spot and a few other small things. With that said, they are both great athletes and you could tell that by watching them work. Naomi was screwed out of the win because she should have won by countout and instead the match kept on going leading to Flair getting the win. The story with Naomi/Sonya just keeps going without any end in sight. I'm not sure if it was smart to go as long as they did because the crowd seemed to lose interest. Maybe ten minutes would have been better.
The Usos, the Smackdown Tag Team Champions, were interviewed by Kayla Braxton. Jimmy and Jey talked about how they beat The New Day with a classic finisher called the 3D that they call the 1D. They said that this ends tonight and New Day will find out why The Usos are called "The Ones." The Usos left.
Happy Corbin made his entrance alone to host his awful talk show.
(Commercial)
There was another replay of Brock Lesnar and Roman Reigns earlier in the show.
Adam Pearce and Sonya Deville were talking in the hallway with Pearce saying that management wants Pearce to pick somebody to face Universal Champion Roman Reigns at Royal Rumble. Pearce and Deville went to go talk about it.
Happy Talk
Happy Corbin was in the ring hosted his talk show. He said he's out there by himself while talking about how you have to be careful with COVID-19 out there. Corbin mentioned taking out Drew McIntyre. A replay was shown of Day 1 when Corbin and Moss attacked Drew McIntyre in a backstage attack with Drew selling a neck injury. Corbin introduced Drew McIntyre.
Madcap Moss made his entrance to Drew McIntyre's music while wearing a neckbrace, some suspenders, a kilt and a toy sword that didn't have much air in it. McAfee called it a "flaccid sword" while mocking Moss for wearing pants under the kilt.
Corbin asked how "Drew" was walking after what happened at Day 1. Moss did a bad impression saying after eating mess like Haggis, he can survive anything. Moss said that Corbin would murder "Drew" because he'd soil his kilt and he'd smell the same as always. Corbin asked when "Drew" can compete again. Moss said that he can never compete again, so he's going to milk it and write poetry about the Loch Ness Monster. Moss took off the neckbrace to say it was Madcap Moss. McAfee ripped on this being bad.
The Viking Raiders went out to the ring since they have a match against Corbin and Moss after the break.
Analysis: Bad comedy. One of Vince McMahon's go to comedy routines is to do a bad parody to get some heat from the crowd. They think if a heel does an intentionally bad parody that it's great TV. It's not, but that's what they think. They have been doing that for decades. It was lame here too. I don't think there's been a good edition of their "Happy Talk" talk show yet.
(Commercial)
Viking Raiders (Erik & Ivar) vs. Happy Corbin & Madcap Moss
Erik slammed Ivar onto Moss. Corbin tagged in, Ivar with a boot and Erik with a dropkick into the turnbuckle. Erik slammed Ivar into Corbin's head against the turnbuckle. Moss with an elbow to the head and Corbin hit a Deep Six slam, but Ivar broke up a pin attempt. Corbin tagged in Moss, who ran the ropes with a running shoulder tackle. Erik with a running attack, Moss caught him and hit a fallaway slam. Corbin with an elbow to the head and Moss with punches on Erik to work him over in the corner. Moss with more punches. Moss charged, Erik sent Moss out of the ring and Moss back in with Erik hitting a knee to the face. Corbin pulled Ivar off the apron to prevent a tag and sent Ivar into the ring post. Moss with a shoulder to Erik's gut. Moss hit a neckbreaker called the Punchline for the pinfall win after four minutes.
Winners by pinfall: Happy Corbin & Madcap Moss
Analysis: *3/4 Just an average match here. They did a similar finish on Raw when Riddle couldn't tag out to Randy Orton and his team lost, so it was similar here with Moss getting the win when Corbin took Ivar off the apron. I guess it's possible that Corbin/Moss could get a mild push as a tag team.
The update on Drew McIntyre is a "cervical neck strain" and he's having a follow up examination on his neck on Monday.
Sheamus did a promo saying he didn't care about Drew McIntyre. Sheamus talked about Ricochet stepping on Ridge Holland's nose and it broke Ridge's nose. They showed a photo of Ridge. Sheamus said he's entering the Royal Rumble and he's going to win so that he can go on to face the champion of his choosing at WrestleMania. Cole reminded us that Sheamus did exactly that when he on the 2012 Royal Rumble ten years ago.
The New Day duo of King Xavier Woods entered with Kofi Kingston while they were pulled on a throne. Their title match was next.
(Commercial)
They showed Roman Reigns in his dressing room with WWE Official Adam Pearce there to tell Roman he gets to pick Roman's opponent for the Royal Rumble. Roman said there isn't anybody he has yet to smash. Reigns said he wanted to watch his cousins' match and Pearce left.
The Usos entered as the Smackdown Tag Team Champions. Roman Reigns was shown watching on a TV backstage. The introductions took place for this main event tag team match.
Street Fight for the Smackdown Tag Team Championships: The Usos (Jimmy & Jey Uso) vs. The New Day (King Xavier Woods & Kofi Kingston)
Jimmy started with Kofi, then Woods tagged in and they did some double team moves on Jimmy. I don't know why they were doing tags, so then Jey went into the ring and saved his brother from a double team attack. Kofi went up top and hit a trust fall dive onto both Usos on the floor. That led to a break.
(Commercial)
It looked like more of a Street Fight now because they were brawling by the entrance area. Kofi sent Jimmy into the LED board and Woods sent Jey into an LED board as well. They went down to ringside, Woods with a superkick that knocked down Jimmy, then Woods with a kick on Jey and Woods hit a DDT on Jey in the ring. Jimmy back in with a popup Samoan Drop on Woods for two. The Usos did the Alley Uce move that's a double team Samoan Drop. Jey tossed Jimmy some duct tape, so Jimmy taped Xavier's left arm to the top rope. Kofi hit a reverse suplex on Jimmy and then a pin attempt on Jey. Kofi freed Woods from the duct tape. Usos sent to the floor, they pulled New Day out of the ring. The Usos sent Woods over the top of the barricade to the floor. The Usos hit Kofi with the steps while on the floor. The Usos also hit Woods with the steps while Woods was in the crowd. The Usos worked over Kofi with punches, but then Woods came back with a cross body block on both Usos to knock them down. That led to a break with all four guys on the floor.
(Commercial)
There were about ten minutes left in the show. Woods was limping a bit on his right knee, he held Jimmy on his shoulders and Kofi jumped off the top for a cross body block on Jimmy for a two count. Woods found a knight helmet and Kofi had a steel knight's chest. Woods with the helmet to Jimmy, Kofi hit Jimmy with the steel chest and Jey hit a superkick on Woods, who no sold it since he was wearing a helmet. New Day threw their steel objects at The Usos for a two count. The fans chanted "we want tables" so Wood grabbed a table from under the ring and that drew a big pop from the crowd. The table was set up in the corner. The four guys exchanges punches, kicks and Jimmy hit a superkick on Kofi. McAfee said that The Usos know about tables because their cousin is the head of it. Cole said that was good. Jey set up in the corner, he ran at Kofi, who moved out of the way and Kofi hit a Trouble in Paradise kick on Jey for two because Jimmy made the save. Woods slowly climbed up top, so Jey knocked him down on the top. The Usos hit a double superkick on Woods against the ropes. The Usos with a double superkick on Kingston. The Usos set up the table in the ring. The Usos signaled with the 1 in the air and The Usos hit the 1D (or the 3D) on Kofi to put him through the table. Jimmy covered Kofi on the broken table for the pinfall win after 18 minutes.
Winners by pinfall: The Usos (Jimmy & Jey Uso)
Analysis: ***1/2 The usual good match between these teams. It wasn't as exciting as the match at Day 1, but it was a decisive win for The Usos to put an end to the rivalry for now. The table spot was a big way to end it. They destroyed both New Day guys before that. As much as I like both teams, if they don't have a match against eachother for several months, that's probably a good thing. Let's see them against other teams.
Roman Reigns was shown in his dressing room. There was some knocking at the door. When Reigns got out of the chair, the camera panned over to show Seth Rollins. Reigns stared at his former fellow Shield member and Rollins laughed loudly. Reigns had a serious look on his face. End show.
Analysis: It was mentioned earlier in the show by Adam Pearce that he would pick Roman's opponent for Royal Rumble by the end of Smackdown, so now we know it will be Raw's Seth Rollins. Interesting choice since they are both heels right now. It's been a long time since the last Reigns/Rollins match. I'm looking forward to it.
Three Stars of the Show
Brock Lesnar/Roman Reigns
The Usos
The New Day
The Scoreboard
7 out of 10
Last week: 6.25
Final Thoughts
A good show for the most part. I liked the opening segment. It was probably the best part of the show. The last 30 minutes was mostly the Tag Team Title match if you count all the intros. I didn't like Sami Zayn losing to Rick Boogs, but that's how Sami gets booked by WWE. Charlotte Flair and Naomi had a solid match. The Happy Corbin/Madcap Moss stuff was lame as usual. It's just hard to get into the act.
The end of the show with Seth Rollins going face to face with Roman Reigns is a nice tease for their match at Royal Rumble.
The next WWE pay-per-view (or Premium Live Event) is the Royal Rumble on Saturday, January 29 from St. Louis. Here's what we know so far:
WWE Championship: Brock Lesnar (c) vs. Bobby Lashley
WWE Universal Championship: Roman Reigns (c) vs. Seth Rollins
30-Man Royal Rumble Match
Edge & Beth Phoenix vs. The Miz & Maryse
30-Woman Royal Rumble Match
You can watch WWE Royal Rumble streaming LIVE on Saturday, January 29 at 8pm ET / 5pm PT on WWE Peacock in the United States and WWE Network everywhere else.
—
Thanks for reading. Please check out my reviews of every WWE PPV ever listed in order. Go Los Angeles Rams, Toronto Raptors and Toronto Maple Leafs. My contact info is below.
John Canton
Email mrjohncanton@gmail.com
Twitter @johnreport