The John Report: The WWE Raw Deal 11/16/15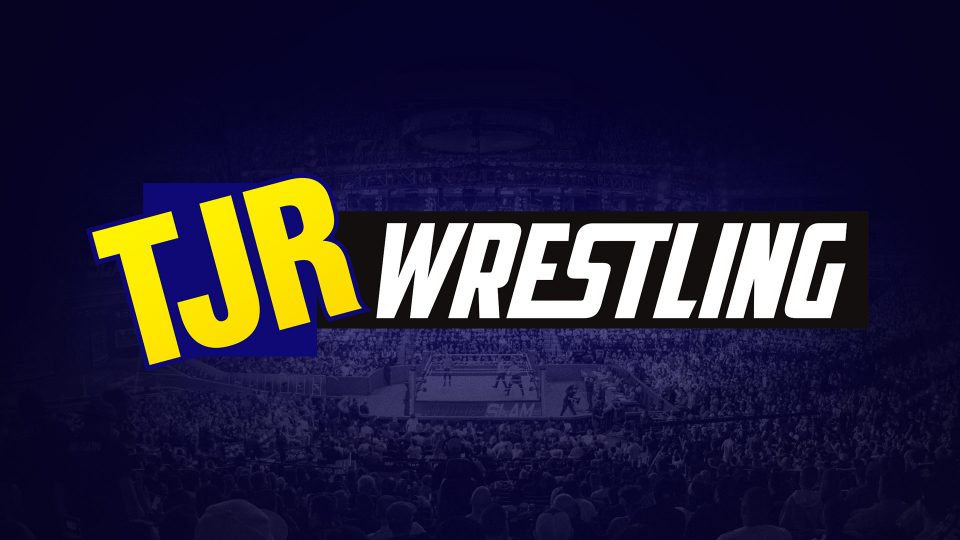 Live from Greenville, South Carolina this is the Raw Deal for episode #1173. Follow me on Twitter @johnreport. The banner is very sarcastic in case you can't tell. You should be able to tell, but I like to remind people to avoid getting ridiculous emails that I sometimes receive.
There was a moment of silence at the start of Raw with the French flag and the Paris peace logo on the screen. Most of the WWE superstars and divas were standing at the top of the ramp. Aside from the active roster that you would expect there, Dustin Rhodes was there in street clothes. He's been out of action for much of the year after shoulder surgery.
The announce team of Michael Cole, John Bradshaw Layfield and Byron Saxton welcomed us to the show. Cole didn't mention Greenville by name because I guess it's not a big enough city. WWE is weird about stuff like that.
Tournament matches to come on Raw: Kevin Owens vs. Neville and Dean Ambrose vs. Dolph Ziggler on the right side. Then there's Alberto Del Rio vs. Kalisto and Roman Reigns vs. Cesaro on the left side.
The show begins with the some hymns with druids walking out. That led up to The Undertaker's music as The Undertaker appeared on the stage along with Kane. They slowly made their way to the ring. No robe for Undertaker. As they took their time going to the ring, Cole plugged Undertaker Week on WWE Network. The Brothers of Destruction walk so slowly that there's time for replays of stuff from last week.
Analysis: They really took their time. I know they are nearly 100 years old combined, but that was a slow stroll by Undertaker and Kane.
The lights were purple in the ring as The Undertaker said that standing in the ring is the true army of darkness. Vengeance awaits the Wyatt Family. Undertaker said they took their bodies and tried to claim their souls, but there is no one living or dead that can take the power of the dark side. Kane said that when you try to steal the flames of hell you will get burned. Fans cheered because hell is a fun place? Okay. Speaking of hell, Kane said they have reserved a place for the Wyatt Family in hell. He's so nice.
Undertaker said that Wyatt's kind of evil is no match for theirs. He said they have been tested over and over again, so this is what's going to happen. Undertaker told Wyatt to choose whatever two of his family that he wishes to sacrifice because the Brothers of Destruction have already decided their destiny. "And they will never rest in peace."
The Wyatt Family made their entrance, but they stopped at the top of the ramp. Wyatt said that for 25 years The Undertaker has instilled fear, but he thinks that 25 years is enough. He said that his army is ready to emerge. Wyatt told them that they no longer dictate things. Wyatt called himself the face of fear. He told them that they will be remembered as the brothers that he destroyed. He said he is the one, he is Bray Wyatt, then he put out his hand and there was some thunder noises along with flashing lights. Wyatt said that the creatures of the night are his.
When the lights came on, Wyatt was in the rocking chair. The druids had sheep masks on. JBL said that the druids had been loyal to Undertaker, so somehow Wyatt has manipulated him. So we are to believe that the druids have been the same people for all those years? Undertaker and Kane each hit a Chokeslam on a druid each while tossing the others out of the ring.
That led to Harper, Rowan & Strowman walking to the ring, but Wyatt told them to stop because Survivor Series is on Sunday. He ended it with "follow the buzzards." A graphic told us Owens vs. Neville is up next.
Analysis: There's the typical 15 minute opening segment, but at least it had a different feel to it with Undertaker, Kane and Wyatt Family out there. That's not what we're used to, so I'm certainly okay with that. As I pointed out, JBL's line about the druids was pretty silly. I know that they are trying to say that symbolically the druids are usually with Undertaker, but it's still really cheesy. A complaint is that the Wyatt Family didn't get any revenge after being attacked from last week. I liked the promos although they really didn't accomplish much in terms of saying who the two Wyatt Family members will be in the tag match at Survivor Series. Perhaps that won't be addressed until Sunday.
(Commercial)
WWE Title Tournament Quarterfinals: Kevin Owens vs. Neville
Fast paced offense by Neville with a headscissors and boot to the face. Neville went up top, but Owens went to the floor. Neville took him out with a moonsault to knock down Owens for a two count. He makes it look so easy. They went to break two minutes into it.
(Commercial)
Back from break, Owens was in control with a chinlock. Neville tried to fight back, but when he was on the apron, Owens nailed a standing side kick to knock him to the floor. Neville got back in the ring just before the count of ten. Neville avoided a corner charge, hit a snap German Suplex, a kick to the head and then a corkscrew splash off the middle rope for two. Really good nearfall there. Neville up top, Owens to his feet, Neville with an enziguiri kick and then Owens tripped up Neville when he was on the top rope. Neville avoided the Popup Powerbomb, hit a kick to the head and then a reverse hurricanrana for two! Wow! What a spot. Crazy spot and bump that they made look easy. Neville up top again, Owens avoided it, Neville charged in and Owens connected with the Popup Powerbomb for the win after 11 minutes.
Winner by pinfall: Kevin Owens
Kevin Owens moves on to the semifinals of WWE Title tournament. He will face Ziggler or Ambrose in next round.
Analysis: ***1/4 Fantastic match by two of my favorite performers that did a great job of making the most of the time they were given. I loved how Neville got in a couple of nearfalls that were very believable. He didn't connect with the Red Arrow, but that splash off the middle rope and the reverse hurricanrana were awesome moves that the crowd bought into. Owens really didn't get in a lot of believable nearfalls. It was a case of a big man hitting his finisher and that was it. A good story told by two of the best in-ring performers in WWE. I don't expect Owens to win in the semifinals, but I'd love to be wrong on that.
There was a clip of Paige debuting on Raw in April 2014, which Cole called "a couple of years ago." Last year is not a couple of years ago. Later on Raw is Charlotte and Paige in a Divas Title contract signing.
(Commercial)
After the break, Owens was shown talking to Triple H backstage. We couldn't hear what they were saying, but they shook hands.
Speaking of Triple H, here's a replay of Hunter asking Roman to be "his man" again and Reigns telling him no thanks. Then they showed Roman's win, which is WWE's way of reminding you that he's more important than anybody else in the tournament. This is what you call shoving somebody down people's throats.
There were photos shown of Seth Rollins having knee surgery in Birmingham, Alabama. They repeated the 6-9 months of recovery time for Rollins. They showed a tweet from Rollins about his comeback. I think it will be nine months with a return right around SummerSlam. I already miss him a lot.
Tyler Breeze entered with Summer Rae for a match.
(Commercial)
Here comes R-Truth to remind us he's employed. Remember when he was main eventing four years ago? Times are better in WWE today even though people complain a lot.
Tyler Breeze (w/Summer Rae) vs. R-Truth
R-Truth hit a body slam and a leg drop, so he just nailed 40% of Hulk Hogan's offense. Hip toss by Truth on Breeze. Summer put some lip gloss on Breeze during the match. He could use some Arrogance perfume too. Shoutout to Rick Martel. Breeze attacked the knee of Truth to take control. Half crab by Breeze, which is a nice tribute to Lance Storm, who trained him. Truth hit a front suplex followed by the scissors kick for a two count. Breeze tossed Truth into the ropes, hit the Beauty Shot spin kick and that was enough for the win after five minutes.
Winner by pinfall: Tyler Breeze
Analysis: *1/2 That is Breeze's first win on Raw, which wasn't mentioned, but I'm happy for my fellow Canadian. It was an okay match. They found somebody for Breeze to beat, but it's not like this is a meaningful win since Truth is barely on television. I would have liked to see Breeze on offense more so that the audience could get used to his offense more.
After the break it's Ambrose vs. Ziggler in the WWE Title tournament.
(Commercial)
Dolph Ziggler made his entrance first and here comes Dean Ambrose. Winner gets Kevin Owens in the semifinals.
WWE Title Tournament Quarterfinals: Dolph Ziggler vs. Dean Ambrose
It's a face vs. face match, so it should be pretty even in terms of the crowd support. Ambrose sent Ziggler to the floor and there wasn't a commercial. What a swerve. Ziggler got back into the ring to avoid the suicide dive. Ziggler nailed a dropkick. Ambrose came back with a backbreaker. JBL wondered when was the last time the divas had a contract signing. Cole didn't seem to know because it would be wrong to say that the company didn't care about the divas. Ziggler rolled through to counter the flying elbow of Ambrose. Ziggler with a sleeper and then they each got a couple of nearfalls. They did a double crossbody spot that knocked them both down. They battled on the top rope with each man hitting punches to the face and they fell to the floor. Vintage commercial break time.
(Commercial)
Ziggler hit a kick to the knee and then a Fameasser for two. No more Billy Gunn references from the announcers since he was fired last week. Don't overdo the steroids in your powerlifting competitions, kids. Kevin Owens was shown watching a monitor backstage. Ambrose blocked a superkick and sent Ziggler into the turnbuckle with a slingshot for two. Ambrose with a sleeper, Jawkbreaker by Ziggler and Ambrose connected with a massive clothesline for two. Ambrose to the top, Ziggler jumps up there and nails a top rope X-Factor. Ambrose rolled to the floor to avoid the pinfall while Ambrose was selling the left knee injury from last week. Ambrose inside cradle for two and then a Ziggler superkick gets two. Both guys were staggering as they exchanged punches in the ring. I like Ambrose, but his punches don't look great. Ziggler with a headbutt. They had another exchange of holds that ended with Ambrose hitting the Dirty Deeds DDT for the win after 14 minutes.
Winner by pinfall: Dean Ambrose
Dean Ambrose will face Kevin Owens in the semifinals of the WWE Title tournament. That was the expected matchup in the semifinals in that side of the tournament.
Analysis: *** A very good match with some solid nearfalls although it was a bit sloppy at times. Just like the Owens/Neville match, the first man to hit their finisher got the win with Ambrose hitting Dirty Deeds. I'm not sure if they messed up the sequence leading up to the finish, but it looked a bit weird. I liked how they did that spot with the top rope X-Factor and then Ambrose rolled to the floor out of instinct. It shows that even though Ambrose is a wild man, he's a smart guy. Ziggler winning would have been great. I just didn't expect it to happen. He'll likely have a match with Breeze at Survivor Series.
Post match, Ambrose said if he wins the WWE Title at Survivor Series we're going to change things up. He said there will be more action and less talking. He wants more pyro. He said they'll replace Michael Cole with a fish tank. Ambrose said we'll turn this whole place into the Ambrose Asylum.
Analysis: Good promo by Ambrose, who really doesn't get to talk enough. They need to have him doing more promos to really get his character over more. My feeling in the tourney is that Reigns beats Ambrose in the finals and then Ambrose turns heel after the loss, but I'm not sure on that.
Up later is Del Rio vs. Kalisto and Reigns vs. Cesaro.
A clip of Stephanie McMahon introducing the Divas Revolution four months ago was shown. Divas contract signing is later.
(Commercial)
PLUG TIME: We launched the brand new, weekly TJRWrestling Podcast recently. My good friend Rey is co-hosting with me. Go check out and bookmark our Podbean page where we will upload new episodes every Wednesday morning. For iTunes you can click here or do a search for "TJRWrestling" (all one word) or "John Canton" and it should come up. All of our new episodes as well as previous episodes go up on our Podbean page so make sure you check that out on a regular basis.
Don't You Dare Be Sour…New Day Time!
The New Day entered. Big E said "South Cakalaky" for South Carolina, so again WWE not wanting to say Greenville. Xavier Woods and Kofi Kingston were wearing New Day hats. They said that people are talking about The Undertaker (Woods mentioned he's 29, which is more than 25 like Undertaker's anniversary), but they should be talking about the one year anniversary of The New Day. They complained about not being on The Tonight Show like Undertaker and not on Sportscenter like The Usos. Big E said "when I say Uce…you say ow" to make fun of Jey Uso's injury. Clever as always. Big E said that when life gives you booty…make booty-ade. Then they said "New Day Rocks" to end it.
Analysis: Happy anniversary to The New Day. They are awesome together and have found something special as a team. I love their chemistry. Here's hoping they are together for three or four years, but I'm not sure WWE can go that long without splitting them up.
The Usos made their entrance followed by Ryback. That six man tag is up after the break.
(Commercial)
The New Day (Kofi Kingston, Xavier Woods & Big E) vs. The Usos (Jimmy & Jey) & Ryback
It's so nice of Jimmy to wear blue and Jey to wear red to make it easier to tell them apart from a distance. Cole mentioned the Twitter exchange of actress Melissa Joan Hart and Kevin Owens, which led to Owens blocking her. Good for him. She follows me, but she follows over 200,000 people so I doubt she looks at her timeline much. I thought Sabrina The Teenage Witch was a dumb show, for the record. Back to the match, Jey hit a dive over the top rope to take out two New Day guys. The heels were able to isolate Jey in their corner. Woods was doing some trombone work while Big E was gyrating on the apron. Huge dropkick by Kofi on Jey kept him in the New Day corner. Saxton said this has become a "dire situation" for Jey even though every tag match has this same formula. Jey made a tag that the ref didn't see due to New Day distraction. Big E attacked Ryback on the apron, then Ryback went in the ring and he shoved the ref out of the way. It went six minutes.
Winners by disqualification: The New Day
Post match, Ryback cleaned house on New Day as he took all three guys down including when he suplexed Kingston onto Woods. There's the Meat Hook Clothesline on Big E. Usos hit a double superkick on Woods. They tossed Woods out of the ring and the faces celebrated even though they lost the match.
Analysis: *1/2 It was shorter than I would have liked, but it was fine for the time given. The finish was awkward with faces getting disqualified, but it will probably lead to a rematch on Smackdown. I like New Day getting a win because WWE books champions to lose so often. What the tag team division needs right now is better story development because we don't really know if there's a Tag Title match at Survivor Series.
The announcers plugged WWE Network.
There was a clip from two months ago at Night of Champions when Charlotte won the Divas Title from Nikki Bella. Contract signing later.
(Commercial)
Cesaro was in the locker room getting ready for his match. Triple H pulled up a chair to talk to him. Hunter wanted Cesaro to know what was at stake. Hunter said Cesaro has everything it takes and very few guys can do what Cesaro does in the ring. Hunter thinks that it might be his time to grab that brass ring as Cesaro looked at his hand with the black tape on the ring finger. Hunter said he'll watch the match with Reigns in his own personal Cesaro Section. Hunter said that maybe it's time for Cesaro to be the man.
Analysis: It's another instance of Triple H trying to tease somebody joining The Authority in order to get to the top in this tournament. I like it for the sake of storyline continuity. Cesaro would do well as a heel, but he has a lot of momentum as a face and I hope he succeeds on the current path that he is on.
Roman Reigns entered the arena for his match to a pretty good reaction as they did a close-up of a kid with a sign for him. Reigns said he earned the right to get a WWE Title shot at Survivor Series. Reigns mentioned that he couldn't take Triple H's deal to go to the finals. He doesn't sell out and never will. He spoke about going through everybody and that this ride ends on Sunday with him as WWE World Heavyweight Champion. "And you can believe that." His match is after the break.
Analysis: I'm fine with Reigns having short promos. Don't put him out there for ten minutes, but two minutes is okay for him.
(Commercial)
Cesaro made his entrance. If you're wondering why this match aired at this point in the show instead of later, it's because this was at halftime of the NFL game so WWE figured that if people flipped over to Raw they could see a main event level match. Plus, hour three has done poorly.
WWE Title Tournament Quarterfinals: Roman Reigns vs. Cesaro
They did a solid exchange on the mat leading to them slapping hands out of respect. Cesaro did this amazing spot where he was on the top rope, Reigns went after him and Cesaro avoided it with a cartwheel. Wow! What a move that was. Cesaro hit a gutwrench suplex. Reigns hit a tilt-a-whirl slam. Cesaro ducked a clothesline and then hit a springboard uppercut. Reigns missed a corner charge, went shoulder first into the post and Cesaro gave him a dropkick to send Reigns out of the ring. Cesaro nailed him with a running uppercut shot to send Reigns into the barricade. Commercial time.
(Commercial)
Back from break, Reigns was outside the ring again and when Cesaro charged in, Reigns knocked him down with a boot to the face. Back in the ring, Reigns hit a clothesline and took some time to sell his shoulder injury from earlier. Cesaro nailed Reigns with some uppercuts, but Reigns came back with his clotheslines in the corner. There's a big clothesline by Reigns followed by a suplex. When Reigns went for the Drive By, Cesaro moved, grabbed Reigns by the legs and did the Cesaro Swing for a few spins. Cesaro followed that up with the Sharpshooter. When Reigns got close to the ropes, Cesaro turned it into a Crossface in the middle of the ring. Cesaro's so damn good in the ring. Reigns got out of it with a Samoan Drop for a two count. Reigns gave Cesaro a back drop that caused Cesaro to hit his right arm on the apron and Cesaro's arm was already taped up after last week's match with Sheamus. Reigns hit the Drive By dropkick.
Back in the ring, Reigns hit a leaping clothesline. Reigns hit a sitout powerbomb for a two count. JBL said if the average person wanted to try that it's possible while Cole said that people shouldn't try it and leave it to the pros in the ring. JBL said he's correct and that he was trying to make a point. That was awkward. Got to plug those "don't try this at home" ads I guess. Cesaro countered a Superman Punch with a huge uppercut for a two count. Cesaro hit a dropkick while Reigns was seated on the top rope. Cesaro wanted a superplex, but Reigns blocked it and nailed a Superman Punch. Uppercut by Cesaro. He wanted the Neutralizer, Reigns slipped out and Cesaro had a perfect backslide for two. That was close. Love that Reigns kicked out at the last second. Little things like that help make the match more believable. Reigns hit a Superman Punch to stun Cesaro. Reigns hit a Spear leading to the pinfall and victory after 21 minutes.
Winner by pinfall: Roman Reigns
Reigns will face Alberto Del Rio or Kalisto in the WWE Title tournament semifinals.
Post match, both guys were selling exhaustion on the mat. That's something I like because it was a very competitive match and if Reigns got up celebrating right away it would have taken away from that.
After the replays of the win, Reigns stared at the WWE Title at ringside. Then he shook hands with Cesaro outside the ring.
Analysis: ***1/2 A fantastic match that was given a lot of time with some outstanding nearfalls throughout the match. I think most people watching this assumed Reigns would win, so that part of it wasn't a surprise at all. I'm sure fans are going to be mad about it, but it's not like this was shocking. Cesaro's arguably the best in-ring performer in WWE. He proved it again in this match. I hope that one day he breaks through to become a true main event talent because he deserves it. It's not like he's being buried since he was put in a 20 minute match. I just want him to get a bigger push as I'm sure a lot of fans reading this want as well. Reigns did a good job of hanging with Cesaro. It's pretty obvious that Reigns isn't at the level as Cesaro in the ring, but they booked it in such a way to make it look they were at the same level. People that don't like Reigns will point to his reliance on punches and clotheslines too much. I'm not a hater because I appreciate the effort he has put in to get better, but he still has to improve. Reigns is my pick to win the tournament as a babyface although I'd be fine if somebody else got the win.
Clips were shown of Paige attacking Charlotte a few weeks ago to set up her heel turn.
(Commercial)
There was a graphic shown "In Memory Of Nick Bockwinkel" who passed away at the age of 80. He is a WWE Hall of Famer who JBL called the greatest AWA Champion ever. For more, visit WWE.com now.
The Dudley Boyz vs. The Ascension
Bubba Ray nailed a suplex on Viktor followed by a boot to the face. Konnor tagged in and hit a boot to the face. Viktor got a jumping kick to the face. The crowd doesn't seem to care about this match very much. Konnor tagged in, talked trash to Devon and Bubba took him down with a one armed slam. Tag to Devon against Viktor with Devon nailing a shoulder tackle, clotheslines, a running corner splash and a shoulder block. Clothesline by Devon sent Konnor out of the ring. Here comes Bubba and the Dudleys hit 3D on Viktor for the win. The match went three minutes.
Winners by pinfall: The Dudley Boyz
Analysis: * It was just a short match to fill up a few minutes of airtime. The Dudleys have no storyline going for them now.
Alberto Del Rio and Zeb Colter were shown walking backstage as Renee Young interviewed them. Colter called her "Rayleen" because he's awesome. Colter spoke about the greatness of MexAmerica. Triple H walked up to them to say that with the right allies, you can do just about anything. Hunter told him that Del Rio could go from being a man of the people to being just "the man." Hunter left as Del Rio looked at Colter.
Analysis: Another tease of somebody joining Triple H. Del Rio's already a heel, so it wouldn't be a shock if he were to join Hunter. It's probably not going to lead to anything, though.
(Commercial)
Kalisto entered as they showed a replay of his upset win over Ryback. There was an "Earlier Tonight" interview with Kalisto saying he's been fighting his whole life and he'll fight harder to become WWE Champion. If you're wondering, he's from Chicago and speaks perfect English. He has a really bright future in WWE.
WWE Title Tournament Quarterfinals: Alberto Del Rio (w/Zeb Colter) vs. Kalisto
Del Rio was aggressive early, but Kalisto got the advantage with a hurricanrana off the apron that sent Del Rio outside the ring. Of course it's time for a commercial.
(Commercial)
Back from break, Del Rio hit a backbreaker for two and then Del Rio tossed him into the turnbuckle, which Kalisto sold sternum first. There's a backstabber by Del Rio on Kalisto. They went to the top rope where Del Rio accidentally yanked off the mask of Kalisto. Then he put it back on him. Oops. That wasn't meant to happen. There was a brief shot of Kalisto's face, but it wasn't that obvious. Del Rio got in some kicks. Kalisto moved during a charge, so Del Rio hit the ring post. Kalisto with a corkscrew attack off the middle ropes, but Del Rio slowed him down with a punch to the head. Kalisto nailed a kick followed by his snap hurricanrana that sent Del Rio head first into the mat. Kalisto went for his finish, but Del Rio avoided it and set up Kalisto upside down against the turnbuckle. Kalisto came back with a kick to the head. De Rio blocked a hurricanrana, then trapped Kalisto upside down again and Del Rio hit a double foot stomp off the top rope for the win after 10 minutes.
Winner by pinfall: Alberto Del Rio
Alberto Del Rio will face Roman Reigns in the WWE Title tournament semifinals.
Analysis: ** A basic match with a predictable outcome. I don't think anybody believed Kalisto had a shot and they really didn't give him any believable nearfall spots. Del Rio controlled most of it. It would have been more exciting if Kalisto looked stronger or if they built up a moment where it looked like Kalisto could get an upset win. There really wasn't anything like that in the match, which prevented it from being better.
The announcers plugged WWE Network again. They mentioned JBL's interviews with Steve Austin, Shawn Michaels and Triple H for Undertaker Week on WWE Network.
A clip was shown of Paige winning a fatal fourway two weeks ago to earn the Divas Title shot against Charlotte. Contract signing is up next.
(Commercial)
This week on Smackdown is a Miz TV segment with Owens, Del Rio, Ambrose and Reigns. It will probably open the show and then lead to a tag match main event. This company is very predictable.
Divas Championship Contract Signing
Michael Cole was in the ring to moderate this Divas Title contract signing that is in the main event slot. Paige was interviewed first followed by Divas Champion Charlotte. They were in street clothes as opposed to wrestling gear. Paige has some really big…eyelashes. They are very noticeable.
They started the segment by standing up. Cole said he was there when they had their WWE tryouts. Paige said there is no room for friendships. Paige signed the contract. Charlotte said that it must be exhausting being this bitter. Charlotte wondered what happened to Paige. Charlotte admitted that she wanted to be like Paige. She's six years older than her. Charlotte mentioned they didn't grow up like normal kids because they watched their parents sacrificing their bodies in the wrestling ring. Charlotte mentioned her late brother (Reid – she didn't say his name) and said that Paige was there for her. Charlotte says that she's there because of him – to fulfill his dream.
Paige said that this isn't a sorority house and that she has been using her. Charlotte said she sucks at doing that because Charlotte has the Divas Title. Charlotte claimed that it's about who has your back and Paige wondered where she learned that. Charlotte spoke about Team Extreme, Degeneration X, the Four Horsemen and said PCB was going to change the divas division until Paige turned on them. That's laughable, but I get what she was going for.
Charlotte yelled at Paige for not being a champion because a champion is somebody that the little girls sitting at home want to be like. Charlotte said that she won't be champion forever, but when she loses that title it won't be this Sunday and it damn sure won't be to somebody like you.
Paige told Charlotte that she is so naive. Cole told Charlotte to sign the contract as Paige continued to rant. Paige said nobody will have Charlotte's back this Sunday, not even her daddy Ric Flair. She wanted him to come out there to drop an elbow on his jacket because "it is so impressive, you old fart." I'm not sure if "old fart" has been used in a Raw main event before. Charlotte told her to shut her mouth or else Paige won't make it out of this building to get to Survivor Series.
Charlotte said she'll continue to fight every day just like her dad and just like her little brother did. She still didn't sign the contract. Paige: "You know what Charlotte, you're wrong sweetheart, because your little baby brother – he didn't have much fight in him, did he?" For those unaware, Reid died of a drug overdose a few years ago. Saxton said that was uncalled for and JBL agreed with him.
Charlotte attacked Paige aggressively. Referees were out there to try to break it up. They went outside the ring where Charlotte went after her by the barricade. Charlotte tossed Paige over the announce table. Paige tried to escape, but Charlotte kept going after her. They went into the ring where Charlotte attacked her in the corner. Paige managed to escape up the ramp while Charlotte was in the ring.
Raw ended with Paige standing at the top of the ramp while Charlotte was in the ring with the Divas Title in her hands. The announcers didn't say anything while Charlotte's music played to wrap it up.
Analysis: That was very…average. I don't want to say it's bad because I like that they are giving the women more attention, but I don't think it was done very well. Part of it was the dialogue because at one point Charlotte said it's not about the Divas Title, which is stupid to say because it's a title match. I get wanting to make it personal. I just don't think you should say something as specific as it not being about the title.
They went for the shock factor with that promo. I wouldn't have mentioned Reid's death there because it was very tragic and he was in his early 20s. Ric was with him when he died too, so for Ric I'm sure it's a tough subject. As a wrestling family, though, I would assume that they were okay with it since it furthered the storyline and will add to Sunday's match or at least that's the idea behind doing something like that. It's not like this is the first time WWE went for cheap heat since they mentioned Paul Bearer's death right after he died as a way for CM Punk to get heat for his match against Undertaker. Randy Orton did it in 2006 when feuding with Rey Mysterio when he said that Eddie Guerrero was in hell.
Also, here's a tweet from Reid and Charlotte's (Ashley) mom Elizabeth showing that she wasn't happy about it.
@WWE@StephMcMahon@VinceMcMahon@TripleH WWEWriters really, that lazy! #CheapHeat#disgusting#disrespectful#cruel#sad 😥#RawGreenville

— Elizabeth Fliehr (@EFliehr) November 17, 2015
@solomonster no, I did not

— Elizabeth Fliehr (@EFliehr) November 17, 2015
I don't think that line by Paige was necessary, but this is WWE and they will always try to do stuff like that to get attention. Would I have done it? No. It also isn't something that is going to make me turn off the show or hate them for it. If Charlotte is okay with it then I assume Ric was too. I'd be very surprised if Ric wasn't aware of it. It is disappointing that Reid's mom was unaware because she lost a son too.
I thought the promos were okay although I would have had Paige talk more since she's the heel. Their brawl wasn't that good. I know that they were probably told to rush it and only had about two minutes to end it. It was also weird that Charlotte didn't actually sign the contract, but they had her sign it in a video on WWE's Youtube channel, so there ya go.
The problem with Charlotte is they rely on mentioning her father too much. We get it, WWE. Her dad is the legendary Ric Flair. They mention it so much that it takes away from her accomplishments and her career.
It's interesting that the women would get the main event spot. It doesn't happen that often although I remember Stephanie McMahon and Brie Bella in that spot two times prior to SummerSlam 2014. Since hour three is the least watched hour of the show, being in the main event isn't as important as it used to be. Traditionally speaking, it should still be considered the most important segment of the night.
Three Stars of the Show
1. Cesaro – Second week in a row in the top spot.
2. Roman Reigns
3. (tie) Kevin Owens
3. (tie) Neville
The Scoreboard
6.5 out of 10
Last week: 7
Last 5 Weeks: 7, 7, 8, 6.5, 4.5
2015 Average: 5.87
2015 High: 9 (May 4)
2015 Low: 3.5 (September 28)
Final Thoughts
I'm giving it a 6.5 out of 10.
– It's a solid 6.5/10, which is right above the 2015 average. There were three very good matches that helped carry the show. The rest of it was just okay. I like wrestling heavy shows.
– The first two hours and into the Reigns/Cesaro match was mostly great. That last hour was a step down.
– There are only five matches announced for Survivor Series right now: The two semifinals matches plus the finals, Undertaker/Kane vs. two Wyatt Family members and Paige vs. Charlotte. I assume Ziggler vs. Breeze gets added on Smackdown and then perhaps a tag team title match. Other than that, not sure what else they will add. It's disappointing that they aren't doing a traditional Survivor Series elimination tag match.
– All four tournament matches ending in clean wins with the obvious wrestler getting the victory. I would have liked to see a surprise or a twist thrown in there, but WWE isn't that creative right now. Maybe we'll see that on Sunday.
– It was nice to see Undertaker and Kane together like that, but they really didn't do much to get me excited about Sunday's match. I understand why WWE played it that way because it will make people want to see more on Sunday instead of having a physical altercation.
– Remember that Sheamus guy with the Money in the Bank briefcase? He's completely off the radar. He has barely done anything relevant for about three months.
– The girls in the main event was interesting. It wasn't great, but at least they did something to get people talking.
—
That's all for this week.
The Survivor Series preview should be up by Saturday and then my Survivor Series recap will be posted on Monday morning.
PLUG TIME: We launched the brand new, weekly TJRWrestling Podcast recently. My good friend Rey is co-hosting with me. Go check out and bookmark our Podbean page where we will upload new episodes every Wednesday morning. For iTunes you can click here or do a search for "TJRWrestling" (all one word) or "John Canton" and it should come up. All of our new episodes as well as previous episodes go up on our Podbean page so make sure you check that out on a regular basis.
Thanks for reading. Go St. Louis Rams. Go Toronto Raptors.
John Canton –mrjohncanton@gmail.com
Twitter@johnreport