The John Report: The WWE Raw Deal 11/05/18 Review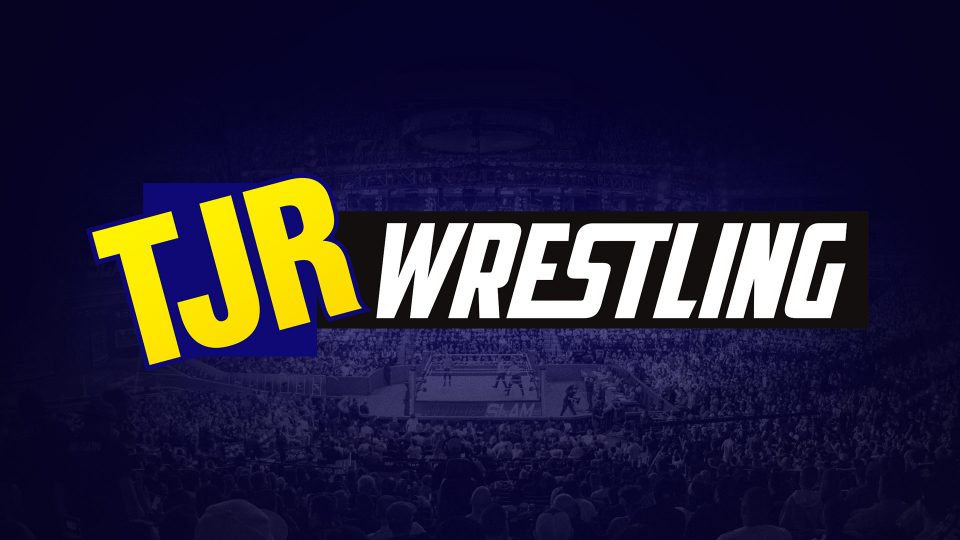 Live (on tape) from Manchester, England, this is the Raw Deal for episode #1328 of Monday Night Raw. Follow me on Twitter @johnreport. Happy birthday to me this past Sunday the 4th of November. If you want to support us at TJRWrestling, here's a Donate Link for our Paypal where anything you send will go to building the site. Thanks to Melo Man for the banner up top.
Raw began with the superstars of Monday Night Raw standing on the stage. Security was standing around ringside.
Baron Corbin, the Raw acting General Manager, made his entrance as the other wrestlers stepped aside to allow Corbin to walk down to the ring in his TGI Friday's vest gear.
A video package aired showing highlights from the Universal Title match at Crown Jewel (read my review of that bad show right here) with Brock Lesnar beating Braun Strowman to win the vacant title. Baron Corbin attacked Strowman with the title with a shot to the back of the head before the match, so Strowman never had a shot.
Let's Hear From Baron Corbin
Baron Corbin, the Raw General Manager, was in the ring with security guys surrounding the ring. Corbin talked about how Survivor Series is the one time of year where Raw and Smackdown go head to head in competition…aside from the several other times I guess. Corbin mentioned some of the matches we know like Brock Lesnar vs. AJ Styles, Ronda Rousey vs. Becky Lynch and a men's and women's 5 on 5 elimination match. Corbin said that they had an extra incentive because Shane McMahon stole the title of Best in the World from Raw and Dolph Ziggler. Corbin said that it will be addressed by Stephanie McMahon next week.
Corbin thinks that when Raw dominates, he'll go from acting GM to permanent GM. Corbin said that Raw needs a great leader, so he chose himself as captain to the men's Survivor Series team. Corbin talked about how his managerial duties will not allow him to compete in the match (fans cheered that), so he's going to put together the most dominant team imaginable. Corbin announced Dolph Ziggler and Drew McIntyre as the first two members of the team. Corbin added that Braun Strowman will be on the Raw team. He said that he understands that Braun might be upset with him, but Baron added that what he did was a teaching lesson and that they all need to respect authority (I prefer when Cartman says "Respect my Authority" instead of Corbin). Corbin said that once Strowman gets that in his head, he will be the team member they need at Survivor Series.
Corbin said that they need a manager for the women's team, so choosing all the members for the women's team will be their captain Alexa Bliss. She walked out in business attire street clothes rather than her wrestling gear. Bliss went into the ring.
Analysis: I guess that means that Alexa's recent concussion or some other injury is preventing her from being in matches, so this is a way to keep her on the show.
Bliss thanked "future, permanent General Manager Corbin." Bliss said that she's going to take a management role instead of competing, but with that being said, given her success as a five-time champion, the other women can learn a lot from her. Bliss said that it makes her the perfect leader to lead Raw to victory. Bliss said that they are not going to be losing to the B show, not on her watch. Bliss announced an Evolution rematch with the Riott Squad facing Natalya, Sasha Banks and Bayley. The match was already advertised earlier in the day. Corbin said that he likes the way she thinks. Bliss said that their tag team match starts…but here is Kurt Angle.
Angle was in his ring gear as he entered on the stage with the fans chanting "you suck" with him and giving him a big cheer. They were going crazy for Angle. That's awesome to hear. Angle said that competing in the WWE World Cup lit a fire in him. Angle said that last year he led Team Raw to victory at Survivor Series and he wants to compete again this year. Corbin said that was last year, but this year he makes the decisions. Corbin told Angle to take a permanent vacation. Angle said that when he was in charge, they settle things in the ring and suggested that he has a match with Corbin where Angle gets to be on the team and the team captain. Corbin didn't reply, but the fans chanted "yes" to him. Angle told Corbin he's an embarrassment to Monday Night Raw leading to more cheers from the crowd. Corbin said that if Kurt wants his match, he's got it. Corbin said that if Angle wins, he'll get what he wants and Corbin told him the only way you're going to Survivor Series is if you buy a ticket. Angle told Corbin the only way he's going to Survivor Series is on crutches when Angle snaps his ankle.
Corbin reminded us that it's his show and not Kurt Angle's show. Fans chanted "you suck" at Corbin. Bliss said that before she was rudely interrupted, the ladies match starts right…and here comes Strowman.
Strowman kicked down the security guys at ringside and easily beat them. Corbin was waiting in the ring, so Strowman ran at Corbin and then Corbin ran all the way to the back with Strowman in pursuit. The heel wrestlers got into a brawl with Strowman, so they slowed him down a bit, but then Strowman broke free. The other wrestlers got into a brawl.
Strowman was shown walking in the back and there was somebody on a headset with Strowman asking him where Corbin went. The guy said he didn't know, so Strowman told the guy to tell Corbin that when Strowman finds him, Corbin is going to get these hands. That led to a break about 15 minutes into it.
Analysis: That was a chaotic opening segment with some news about Survivor Series while also setting up some matches tonight. I think it was an effective way to share some news without being the same old boring opening promo they do every week. Corbin is okay on the microphone and the crowd hates him, so they were into it. The support for Angle was great as well.
(Commercial)
A clip aired from Total Divas for this week with Lana and Paige getting into an argument. I'm sure it's totally real and not scripted in any way. Now that's sarcasm.
The trio of Natalya, Sasha Banks and Bayley were interviewed backstage by Charly Caruso. Natalya said that she's going to wear her late father Jim Neidhart's sunglasses and she put the sunglasses on. The trio made their entrance.
The announce team trio of Michael Cole, Corey Graves and Renee Young were shown on screen talking about what's still to come.
The Riott Squad trio made their entrance. They lost to these same three women at Evolution eight days earlier, so this is the rematch.
Natalya, Sasha Banks and Bayley vs. The Riott Squad (Ruby Riott, Liv Morgan and Sarah Logan)
Natalya started the match with a Sharpshooter on Logan. The heels managed to save Logan and Riott dumped Natalya to the floor. Logan tagged in, sent Natalya into the barricade and when they went back into the ring, Logan got a two count. Logan with a kick, Morgan tagged in and hit a kick to the spine for two. They went to break with the Riott Squad in control.
(Commercial)
The match returned with Morgan kicking the ribs of Natalya and Natalya managed to break free with a tag to Banks, who hit a knee to the face of Morgan. Banks with a knee lift to Morgan followed by a double knee attack on Riott. Banks off the top with a double knee Meteora attack off the top for two on Morgan, but Riott broke up the pin. Riott pulled Morgan to her corner and Riott tagged in. Bayley tagged in with a knee to the face, Banks with double knees, Bayley with a knee to the face and Riott sent Bayley into the turnbuckle. Bayley with a neckbreaker using the ropes for an assist. Bayley hit a dive on Morgan and Logan on the floor, but Riott capitalized with a STO takedown on the floor. Back in the ring, Bayley got an inside cradle on Bayley. Riott took over with a headlock. Logan tagged in and worked over Bayley with a headlock. Logan grabbed the arm of Bayley and sent her into the ropes sternum first. Morgan back in and she took down Bayley by the head leading to a break.
(Commercial)
The match returned with Logan hitting a dropkick on Bayley. Riott attacked Bayley against the ropes. Bayley grabbed the leg of Logan and sent her face first into the mat. Natalya got the hot tag with a spinning clothesline on Logan followed by a German Suplex. Natalya with a powerslam sending Logan face first into the mat as Riott broke up the pin. Banks threw Riott out of the ring. Natalya got a hold of Logan and applied a Sharpshooter on her. Riott grabbed the sunglasses that Natalya wore earlier and Riott broke them at ringside. Natalya let go of Logan and started crying. The ref didn't do anything like count the heels out of the ring. It just stopped. The heels left, so that was the end of the match. It went around 17 minutes.
Match Result: No Contest
Analysis: **1/2 That was a unique finish to a match that you don't see regularly. Ruby destroyed the sunglasses and it just stopped right there. I get what they are trying to do to put over Riott doing something very mean to Natalya by destroying a memento from her late father, but it does seem weird to just end the match like that.
Post match, the Riott Squad left looking proud of their actions. Meanwhile, Natalya was crying about what happened while Bayley and Banks tried to help her. The camera zoomed in on Natalya while she was crying.
Analysis: It will get a lot of heat for the Riott Squad and sympathy for Natalya. When they face off again (and this is WWE, we always get rematches), the match will mean more because of this personal story added to it.
Up next is a look at the Crown Jewel main event.
Braun Strowman was shown walking backstage and he was looking for Corbin. Strowman checked the bathrooms, one of them was locked, so Strowman kicked it down and the guy left. Strowman marched down another hallway.
Analysis: That guy that went running from the bathroom was Ryan Ward, who has been on WWE's creative team for about a decade or so. Good guy.
(Commercial)
PLUG TIME: Check out our WWF in 2000 section only on TJRWrestling with weekly recaps of every Raw and Smackdown from the WWF in 2000, which was my favorite year in WWE history. I posted the Smackdown review from February 24, 2000 over the weekend and then earlier on Monday, my review No Way Out 2000 went up. That was a great PPV with Triple H vs. Cactus as the main event in one of the best Hell in a Cell matches ever. There were also a couple of turns on the show, plus some really good midcard tag team matches. It's a lot of fun to see teams like the Dudleys, Edge and Christian and The Hardys in their early days in the WWF considering what all of them would become as Hall of Fame talents in the company. Anyway, all of that plus a whole lot more is available in our WWF in 2000 section only on TJRWrestling, so please check it out now.
Video highlights aired from Crown Jewel featuring Triple H and Shawn Michaels beating The Undertaker and Kane in the main event. It was an average match, but WWE will probably call it a classic. Anyway, props to Triple H for working most of it with a torn pectoral muscle since he suffered the injury early in the match. Triple H is undergoing surgery today (Tuesday).
Jinder Mahal entered for a match. Apollo Crews did a pre-taped promo about how he's going to start stacking up victories to show everybody why he is Raw's human highlight reel.
Jinder Mahal (w/Sunil Singh) vs. Apollo Crews
The announcers did the usual bit by talking about Apollo's potential as Crews hit a dropkick. After a distraction by Sunil, Mahal hit a knee to the face followed by a chinlock. Mahal with a rollup and Crews came back with an enziguri kick. Crews with a Gorilla Press Slam and Crews hit a standing moonsault for the pinfall after about two minutes of action.
Winner by pinfall: Apollo Crews
Post match, the announcers tried to put that over as a huge win for Crews beating a former WWE Champion. They were trying hard.
Analysis: * Easy win by Crews to try to give him some momentum as a solo act that's not with Titus Worldwide anymore. The standing moonsault is a move that Crews has done in nearly every match for years and never won with it, but now he can win with it apparently. It's hard to believe that Mahal was the WWE Champion last year considering how hard he has fallen on Raw. I'm fine with Apollo getting more chances, but I'm not sure who he can feud with on Raw right now.
Seth Rollins was shown walking backstage with the Intercontinental Title and both Raw Tag Team Titles.
(Commercial)
Let's Hear from Seth Rollins
Seth Rollins entered to a big pop with the Intercontinental Title around his waist while the Raw Tag Team Titles were around his neck. The clip aired from two weeks ago showing Dean Ambrose turning on Rollins, which put an end to them as a team.
Rollins said that as ridiculous as this look is, he planned on entering with three titles and a trophy. Rollins said that he did not win the Best in the World tournament and on top of that, Baron Corbin helped Brock Lesnar regain the Universal Title. Rollins said that for everything that Roman Reigns worked for to take that title from Brock Lesnar, he said that is a slap in the face. The fans cheered when he mentioned and started a "Roman" chant. Seth said that it is a slap in the face to Roman, to Seth, to everybody in the locker room and everybody in the crowd. Rollins said that he would tell that to Lesnar's face, but he is not there…shocker.
Rollins mentioned that Dean Ambrose is there. Rollins noted that a few weeks ago, The Shield was on top of the world and last week he asked Dean Ambrose why he put the knife in Seth's back, but he didn't have the guts to talk to Seth about it. Rollins said he could call out Dean, but he didn't want to waste our time and said that Ambrose doesn't have the bollocks (an English term) to come out there. Rollins said that he wants to tag about the Raw Tag Team Championships while noting that it's impossible to defend two titles at one time.
Baron Corbin was on the screen with security in the background as he told them to barricade the door. Corbin said that Seth and his "partner" can defend those championships right now against these guys…it's AOP. The announcers called out Corbin for setting up Rollins.
The AOP team of Akam and Rezar entered along with manager Drake Maverick looking ready for a match.
Analysis: There's an easy solution to Raw's tag team problem. The division isn't very deep, but it makes sense to have a match to set up the inevitable instead of having Rollins forfeit the titles. The storyline explanation for why Corbin did it is because Rollins verbally ripped into Corbin during his promo, so Corbin wants to put Rollins in his place.
Raw Tag Team Championships: Seth Rollins vs. AOP (Akam and Rezar) w/Drake Maverick
Akam drove Rollins against the turnbuckle, Rezar tagged in and decked Rollins with a clothesline as the show went to break.
(Commercial)
Back from break, Akam slammed Rollins' face into the mat. Akam whipped Rollins into the turnbuckle leading to a two count. Rezar grounded Rollins with a chinlock. When Rollins got back up, Rezar took down Rollins and pounded him with punches. Akam back in, Rollins fought back with a clothesline that sent Rezar out of the ring followed by a suicide dive on him. Back in the ring, Rollins sent Akam out of the ring followed by a suicide dive by Rollins on both AOP guys. Back in the ring, Rollins with a Slingblade on Rezar and a Blockbuster neckbreaker off the ropes on Akam for a two count. Rollins stomped his foot, the fans chanted "Burn it Down" and Maverick distracted the ref leading to an AOP double team. Rollins sent Rezar into the middle ropes and a kick to Akam. Rollins with a superkick on Rezar. Rollins up top and he connected with a Frog Splash on Rezar for a two count. That was a good nearfall. Rollins went for The Stomp, but Rezar caught him and hit a stiff Powerbomb. AOP picked up Rollins leading into a double team neckbreaker into a Powerbomb for the pinfall win at around ten minutes.
Winners by pinfall and new Raw Tag Team Champions: AOP
Analysis: **3/4 It was an entertaining handicap match with an obvious outcome because it was the right time to get the Raw Tag Team Titles on AOP. Rollins was impressive as he sold everything well and had a flurry of offense where he nearly got the win. AOP getting the win with a dominant ending was the right way to book this.
The AOP guys left with Maverick and their new Raw Tag Team Titles.
Dean Ambrose was shown walking in from the crowd while Rollins was down in the ring. Ambrose slowly walked into the ring with fans chanting "you sold out" at Ambrose, which makes no sense. Turning heel does not mean selling out. When Rollins did it, that was fine to chant because he sold out joining the evil bosses. Ambrose is on his own. He didn't sell out. Anyway, Ambrose asked Rollins if he wants to know why Ambrose did what he did. Ambrose stopped talking as Rollins got up, so Ambrose hit a Dirty Deeds DDT on Rollins to put him down again. Ambrose left up the ramp. Rollins was shown slowly getting back to his feet as he tried to leave the ring.
Analysis: The cheap attacks from Ambrose continue. There's apparently no hurry to have him explain his actions because all he's done is do cheap attacks on Rollins.
The announcers talked about it with Renee Young saying that she has had no conversations with her husband Dean Ambrose about it while adding there's no reasoning with him right now.
A clip aired from Smackdown this past week with Becky Lynch talking trash to Ronda Rousey ahead of their Survivor Series match. Ronda Rousey is still to come.
Still to come is Kurt Angle vs. Baron Corbin…or so they say.
(Commercial)
A replay of the end of the opening segment with Stone Cold Braun Strowman beating up everybody and chasing after Baron McMahon…I mean Corbin.
Baron Corbin was in some room hiding from Braun Strowman and Charly Caruso showed up to interview Corbin. Corbin said he wasn't running from Braun and he's not afraid of him. Corbin said that he would wrestle him, but Braun doesn't want to wrestle, he wants to destroy him. Charly said that if he's not running from Braun, why did he set up a makeshift studio in the storage room? Corbin said she just told the world where he was and Strowman was heard on the other side of a door as Corbin ran away. Strowman beat up the security guys and went down the hallway as Corbin left.
Analysis: The drama continues.
Dolph Ziggler made his entrance for a match. Ziggler said that Shane McMahon is not the best in the world because you are looking at the best in the world. Ziggler said that it's typical where he outworks everybody in that locker room, but then the conspiracy kicks in. Ziggler pointed out that Drew McIntyre was kicked out before the match starts, then Miz jumps him before the match and a Smackdown referee allowed it. Ziggler said then Shane McMahon found his way into a tournament he wasn't even in.
Elias interrupted by playing his guitar while sitting on the stage. The fans sang Elias' name to the famous "Seven Nation Army" song, so Elias started to play some of it. Elias said that Ziggler's out there making conspiracies, but to sum it up, Elias said that Ziggler is a loser. Elias said he just got off the phone with Liam and Noel Gallagher. Elias claimed they told him that if Elias played this song then Oasis will reunite. Ziggler said it would be a miracle if anybody is awake after his dumb song. Elias told Ziggler to shut his mouth and let him sing. Elias did a song about how he's a global phenomenon while calling Ziggler a tool. Elias sang about how he's going to show him what WWE stands for, so Ziggler told him to go down there to show him. Elias walked down to the ring with the fans chanting "Oh Walk With Elias" for him.
Analysis: The face turn of Elias is clearly working. He's playing well to the crowd and they are responding to him.
(Commercial)
A video aired about the Lucha House Party trio.
The Revival did a promo saying that the Raw tag team division isn't about having a party. Scott Dawson said there's no room in their division to the loser house party and they'll send them back to 205 Live where they belong.
The match was made official during the break. The fans kept on singing "Oh Walk With Elias" with Renee saying she liked the Seven Nation Army tribute.
Elias vs. Dolph Ziggler
Ziggler connected with a dropkick. Elias came back with a body slam. Elias slapped on a headlock. He needs to cut those out since he's the face now, or at least cut back on the headlocks. Ziggler broke free with an elbow, a punch and a neckbreaker. Ziggler grounded Elias with a chinlock. Elias broke free with a mule kick. Elias went up top with an elbow drop, but Ziggler moved, Elias hit the mat and that led to a break.
(Commercial)
It was back to chinlock city with Ziggler grounding Elias. When Elias broke free for a nearfall, Ziggler came back with an uppercut. Ziggler kicked Elias in the ribs leading to the fans doing one of their songs. Elias tried to fight back and Ziggler dropped him again with another neckbreaker. Elias with a running shoulder tackle while the announcers bickered about the Corbin/Strowman story. Ziggler managed to get a rollup. Elias hit a running high knee to the face for two. The fans were back into singing mode. Ziggler went for a Fameasser, Elias caught him and hit a spinning Powerbomb for a two count. Ziggler with a headbutt followed by another rollup. Elias blocked a Zig Zag by holding the ropes, Elias went for a knee, Ziggler moved and Ziggler hit a Zig Zag by the ropes with Elias getting his foot on the bottom rope to break up the pin. Elias sent Ziggler throat first into the middle ropes and Elias hit a Drift Away neckbreaker for the pinfall win after 15 minutes.
Winner by pinfall: Elias
Analysis: **3/4 That was a pretty good match that was given a lot of time and it's one of the best victories of Elias' run on Raw. The match was okay in terms of action although perhaps too many chinlocks. Ziggler is the right kind of opponent for Elias because he's a smaller guy who can sell for Elias' power moves to make Elias look more impressive. I think Elias as a face will have trouble against bigger guys, but when going against Ziggler it's the right kind of opponent for him. The finish could have been set up better, but it was fine in terms of putting Elias over.
Ronda Rousey is up next for a promo.
(Commercial)
Kurt Angle, the Raw GM that's still on "vacation" as GM, was interviewed by Charly Caruso backstage with Charly noted this is Angle's first singles match on Raw in 12 years. Angle said he knows Corbin's weaknesses and he knows how to beat him. Angle said it's time for him to go on to Survivor Series as the Raw team captain. Angle ended it with his "it's true, it's damn true" catchphrase.
Let's Hear From Ronda Rousey
Ronda Rousey, the Raw Women's Champion, made her entrance with a big smile on her face as she slapped the hands of fans on her way to the ring. Rousey faces Becky Lynch at Survivor Series in two weeks.
Ronda Rousey started by saying that Becky Lynch thinks she's going to rip Ronda's arm off. Ronda said it's adorable and it's easy to see why everybody loves her, which led to "Becky" chants. Rousey said that there's no doubt that Lynch overcame adversity to become Smackdown Women's Champion and she's the man…figuratively. Rousey said that at Evolution, Lynch put on a performance of a lifetime. Rousey said that without question, Lynch has her respect, but do not mistake respect for weakness.
Rousey said while you were waking up for school, her mother was waking her up to try to break her arms. What an odd parenting technique! While Lynch was in clown college, Rousey was training for the Olympics. Rousey added that while Lynch was a stewardess serving snacks, Rousey was in the midst of the most dominant title reign the sport of MMA has ever seen. Rousey said she loved the whole new Becky with a new attitude. Rousey said that it will take a whole lot more than a new attitude to beat her. Rousey said that she is a natural born killer beaten to a fine edge after waking up every morning wanting to be the greatest athlete of all time. Rousey said it was two weeks until Survivor Series and she wants Lynch to bring everything that she has because Ronda wants a challenge.
Rousey ended it with this: "You may say that you're the man, but I'm the baddest bitch on the planet." Rousey tossed down the microphone to end it while having a serious look on her face.
Analysis: It was a solid promo from Rousey. I think Lynch's promo on the last Smackdown was better, but that's not a surprise since Lynch is a better talker. These segments would be better if they were on the same show talking trash to eachother. Instead, the build to Survivor Series is weak. I think Rousey and Lynch should main event Survivor Series. I may write a column about it soon.
Rousey was still in the ring when Nia Jax made her entrance because she's not like most girls. Rousey is next in line for a title shot since she won the battle royal at Evolution.
Nia Jax did a promo that Rousey will be representing the Raw locker room at Survivor Series. Jax reminded Rousey that after she's done with Becky Lynch, Nia will be waiting for her.
Analysis: They had a good match at Money in the Banks and Ronda has improved since then, so the next match should be better.
Ember Moon made her entrance.
A video aired about WWE's work with a program called Girl Up to help girls.
(Commercial)
The match started after the break, so the women had to stand in the ring for three minutes.
Nia Jax vs. Ember Moon
Jax tossed Moon out of the ring. Back in the ring, Moon with a kick to the face followed by a dropkick. Moon with a running forearm to the head. Jax came back with a slam followed by a splash in the corner and Jax tossed Moon across the ring. Running splash by Jax against the turnbuckle and Jax tossed Moon across the ring again. Jax remained in control with a headbutt while tossing Moon head first into the turnbuckle. Jax ran over Moon with a body attack, but a leg drop missed because Moon moved. Moon with hard kicks, a forearm to the face and a springboard cross body block for two. Moon with a spinning forearm to the face for a two count leading to Jax doing the power kickout that Moon sold well. Jax missed a corner attack, Moon with a step up enziguri, Moon ran the ropes and Jax hit a popup Samoan Drop for the pinfall win at five minutes.
Winner by pinfall: Nia Jax
Analysis: ** The match was okay with the predictable finish because Jax is getting a future title shot, so she would win matches like this. Moon is one of the better babyface women in the company. She's great at selling and making the big comeback. It took just one move for Jax to get the win. I would love to see Moon get more of a push on Raw. Sadly, it's not happening now.
Tamina made her way down to the ring to confront Jax, which has happened in the past. Tamina stared at Jax, then they both looked at Moon and Tamina picked up Moon. Tamina hit a Samoan Drop on Moon. Jax looked conflicted. Tamina applied a Boston Crab on Moon, so Jax hit three elbow drops to the back of Moon. There's the heel turn from Jax as she hugged Tamina in the ring. Jax and Tamina celebrated.
Analysis: Jax is back to being a heel, which is more of a natural role for her as a bigger wrestler. She's going to turn a lot in his career the same way WWE booked bigger male wrestlers like Kane and Big Show in their careers. In a post show interview on Youtube, Jax explained it by saying that she wasn't going to go against her family with Tamina saying that it's all about timing. Jax and Tamina are related by being in that big Samoan wrestling family, so I'm not surprised that they are aligned on Raw now.
Finn Balor was interviewed backstage by Kayla Braxton. Balor said that Bobby Lashley is the most powerful and explosive man he's ever been in the ring. Balor said it didn't feel good when that little runt Lio Rush slapped him in the face while Lashley had him in a full nelson. Balor said that normally Manchester is divided by red (Manchester United) and blue (Manchester City), but tonight Manchester will be together because Balor Club is for everyone.
Balor vs. Lashley is up next.
(Commercial)
Baron Corbin was in the parking lot with Charly Caruso showing up to interview him. Corbin claimed that he has an emergency appointment and that Angle won't be competing against him because Corbin has to leave. Corbin said that Angle will face Drew McIntyre now. Corbin left in the car while Strowman showed up, but he was unable to get to Corbin.
Analysis: That meant that Braun couldn't get his hands on Corbin this week. Maybe next week. It's not much of a riveting storyline.
Bobby Lashley made his entrance with Lio Rush. Rush did a promo in the ring talking about the "man of the hour" as Lashley flexed with Rush getting heat while saying he wishes they were in Liverpool right now. Rush asked Lashley to show his best pose and Lashley bent over to show his ass. Rush said that Lashley is just showing us his gluteus maximus. Rush claimed that Lashley loved Manchester, the fans booed and Rush said now he's going to beat up Finn Balor.
Analysis: Boring promo from Rush. That promo died quickly. I don't mind using him as a way to get heat for Lashley, but that promo wasn't very good.
Finn Balor made his entrance to a good ovation in front of his fellow European fans. Balor teams up with Bayley on Mixed Match Challenge against Bobby Lashley and Mickie James this week. The match is after a break.
(Commercial)
The announcers mentioned the new main event of Angle vs. McIntyre.
Finn Balor vs. Bobby Lashley (w/Lio Rush)
Lashley was dominant to start the match as he drove Balor's throat against the ropes followed by a suplex. They ran the ropes with Balor hitting a dropkick that sent Lashley out of the ring. When Balor ran the ropes, Rush tripped him up with the ref not seeing it. Lashley slapped on a headlock on Balor followed by a neckbreaker. Balor avoided a Lashley charge, Balor ran the ropes and hit a forearm. Balor with a sunset flip for a two count followed by a double foot stomp to the chest of Lashley. Balor went for an attack out of the corner, Lashley caught him, Balor slipped out and hit a Slingblade neckbreaker. Balor charged in leading to a clothesline from Lashley. Balor went for a jumping kick, Lashley blocked it and hit an elbow to the jaw. Lashley hit a delayed vertical suplex on Balor for a two count. Balor with a rollup, Lashley kicked out and Balor hit another jumping kick to the face. Balor up top, Rush distracted, which allowed Lashley to get back up and Balor sent Lashley out of the ring. Balor with a running dropkick on Rush into the barricade. Balor went after Rush again, so Lashley intercepted Balor and sent him into the barricade. Lashley brought Balor back in the ring, Lashley put Balor on his shoulders and slammed him off face first for the pinfall win after about seven minutes.
Winner by pinfall: Bobby Lashley
Analysis: **1/4 The match was okay with Lashley getting the win after he put over Balor previously. Lashley looked dominant for most of the match. Balor's comebacks were good with the crowd getting behind him, but the 50/50 booking style of WWE meant that it was time for Lashley to get the win.
Drew McIntyre's music hit as Lashley and Balor were still in the ring.
McIntyre had a staredown with Lashley in the middle of the ring. McIntyre dared Lashley to make his move, but Rush convinced Lashley to leave the ring. McIntyre turned his attention to Balor, who he helped up to his feet. A Scotsman helping an Irishman. It didn't last because McIntyre sent Balor into the ropes and hit a Claymore Kick on Balor.
Analysis: It was a smart way to get McIntyre some heat for being a jerk. Some fans in England may want to cheer McIntyre since he's from Scotland, which is part of the UK, so having McIntyre attack Balor will turn the fans against Balor. That's why I think that was done.
(Commercial)
Next week on Raw: Stephanie McMahon is on the show. You remember her? The one in weekly videos visiting charities? Yeah, her. She's the Raw Commissioner. Also next week, Alexa Bliss announces Raw women's team. Brock Lesnar, the new Universal Champion, is back on Raw as well.
Analysis: Next week's Raw is the last one before Survivor Series. They have barely promoted one of the biggest shows of the year.
Kurt Angle made his entrance to a huge ovation while fans chanted "you suck" along with Angle's song. McIntyre was already in the ring ready for the match. This is Angle's first match on Raw in 12 years. Angle is 49 years old and turns 50 years old in December.
Drew McIntyre vs. Kurt Angle
If Angle wins, he gets to be the captain of Team Raw at Survivor Series.
Angle attacked McIntyre with punches before the bell rang to show that he was ready. The ref pulled Angle back and then the bell rang to start. McIntyre took control with a headbutt to the head of Angle. McIntyre decked Angle with a hard chop followed by an armbar. When Angle got up, McIntyre hit an elbow smash followed by a neckbreaker. McIntyre slapped on another armbar. After a whip into the turnbuckle, McIntyre missed a charge and Angle hit an Angle Slam. McIntyre rolled to the floor to avoid being pinned as the show went to break.
(Commercial)
Back from break, McIntyre hit a neckbreaker. A clip aired from during the break with McIntyre whipping Angle into the steel steps. McIntyre hit a suplex on Angle to remain in control. A clothesline by McIntyre led to another armbar by Drew to ground Angle. When Angle got back up, McIntyre took him down with an overhead belly to belly release suplex. McIntyre grounded Angle again, then Kurt got back up with a jawbreaker and Angle hit a German Suplex. Angle hit three straight German Suplexes with a release after the third one. Angle went for an Angle Slam, McIntyre lands on his feet and McIntyre ran into Angle with a Claymore Kick to the face. Angle was out on the mat, but McIntyre didn't want to cover him. McIntyre trash talked Angle, who was on his knees as the fans chanted "Let's go Angle" for him. McIntyre let Angle try to pick the leg, but McIntyre beat him down with punches. McIntyre taunted Angle with an evil stare. Angle tried a takedown again, but McIntyre beat him down with punches to the back. McIntyre called Angle an embarrassment to himself, to his family and McIntyre told Angle that he is nothing to him. Angle fired up with a takedown leading to Angle applying an Ankle Lock. The crowd was really into it as McIntyre nearly tapped out, but McIntyre managed to kick Angle away. McIntyre picked up Angle and hit an Angle Slam to put down Angle again. That looked impressive. McIntyre grabbed the ankle of Angle and put him in the Ankle Lock, which his Angle's own submission move. McIntyre dropped down for the heel hook Ankle Lock and Angle tapped out to give McIntyre the win after 14 minutes.
Winner by submission: Drew McIntyre
Analysis: *** It was a pretty good match with McIntyre being put over huge by dominating Angle and beating him with his own finishing move. The last few minutes really made McIntyre look like a jerk while Angle was the aging fighter trying to prove he's still got it. It's classic booking that was the right way to handle this match with the veteran Angle putting over the guy that is in the prime of his career. It makes McIntyre look impressive to beat Angle the way he did. Since McIntyre is on a collision course with Braun Strowman in the future, WWE is going to make McIntyre look good every week as they should.
The loss meant that Angle won't be the captain of Raw's Survivor Series team.
After the match was over, Angle was selling the pain while McIntyre stared at him to taunt Angle. Cole wondered if McIntyre ended Angle's career. McIntyre left with a smile on his face while Angle was in the ring left to ponder what's next.
Analysis: I don't think Angle's going to retire from having matches after that, but at 50 years old in December he's obviously at a point where he can only do a few matches per year. Perhaps there will be some storyline for Kurt going into WrestleMania leading to some big match similar to the Ric Flair story in 2008. I don't know if that's the plan because Angle may still want to wrestle part time, but it's a good way to build up to a big match.
Three Stars of the Show
1. Drew McIntyre – The main event was a nice showcase for him.
2. Kurt Angle – Great job of putting over McIntyre.
3. (tie) Elias
3. (tie) Dolph Ziggler
Seth Rollins did very well to make the handicap match entertaining too.
The Scoreboard
6 out of 10
Last week: 3.5
2018 Average: 5.76
Last 5 Weeks: 3.5, 6, 5, 7, 6.5
2018 High: 8 (February 19)
2018 Low: 3.5 (October 29)
Final Thoughts
I give it a 6 out of 10.
It was a slightly above average edition of Raw with guys like Drew McIntyre and Elias in longer matches. The AOP team also looked great as well. I know the show isn't great by any means, but we want to see different and new people getting pushed, so give WWE credit for building up some guys that deserve a bigger spotlight.
Next week on Raw, maybe Stone Cold Braun Strowman will catch Baron Corbin McMahon. It's a story that's so fresh and never been done before! Yawn.
The in-ring action was better this week than last week's disappointing show. Most of the storyline build to Survivor Series was just okay with nothing really standing out as a great angle. It just feels like an average show with only two weeks of hype going into it.
The next WWE pay-per-view is Survivor Series on Sunday, November 18 in Los Angeles. Here's what we know so far.
Raw's Universal Champion Brock Lesnar vs. Smackdown's WWE Champion AJ Styles
Raw Women's Champion Ronda Rousey vs. Smackdown Women's Champion Becky Lynch
Raw's Intercontinental Champion Seth Rollins vs. Smackdown's United States Champion Shinsuke Nakamura
Men's 5-on-5 Elimination Match: Team Raw (Drew McIntyre, Dolph Ziggler, Braun Strowman and two more) vs. Team Smackdown
Women's 5-on-5 Elimination Match: Team Raw vs. Team Smackdown
—
You can contact me using any of the methods below. See ya next time for the Smackdown review. Go Los Angeles Rams, Toronto Raptors and Toronto Maple Leafs. Thanks for reading.
John Canton
Email: mrjohncanton@gmail.com
Twitter: @johnreport
Personal Facebook and TJRWrestling on Facebook