The John Report: The WWE Raw Deal 08/03/15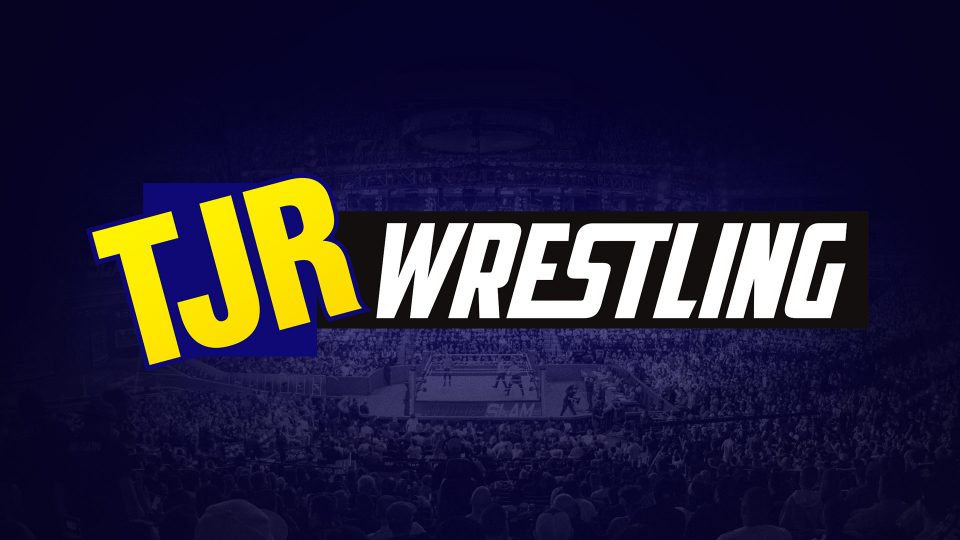 Live from San Jose, California this is the Raw Deal for episode #1158. Follow me on Twitter @johnreport. This one's for you, Hot Rod. Thank you Melo Man for the wonderful banner up top.
There was a graphic that said "In Memory of Rowdy Roddy Piper 1954-2015" at the start of the show. The entire WWE roster stood on the stage with Vince McMahon, Triple H and Stephanie McMahon in the middle. The performers were all wearing "Hot Rod" shirts because that was his nickname. The announcers were standing at ringside. Piper's music played.
Ten-bell Salute for the late Rowdy Roddy Piper.@WWE#RAW#ThankYouRoddypic.twitter.com/wCR8RDvpx2

— WWE (@WWE) August 4, 2015
There was a video package for Piper showing highlights from his career as well as pictures with WWE stars past and present. They also played his famous "bubblegum" line from the movie They Live. He was one of a kind and truly one of the best professional wrestlers ever. Fans chanted "Roddy" after the video. Rest in peace, Roddy. I think I speak for every wrestling fan when I say you will never be forgotten.
The Raw intro video aired.
The San Jose crowd was hot for the opening of the show with Michael Cole shilling that Brock Lesnar will be there. Roman Reigns, Randy Orton & Dean Ambrose vs. Bray Wyatt, Luke Harper and Sheamus is up later.
WWE Champion Seth Rollins entered for the show opening promo. Michael Cole, John Bradshaw Layfield and Byron Saxton welcomed us to the show.
Seth Rollins Opening Promo Time
A replay aired from last week showing Rollins breaking the nose of John Cena with a high knee. He's wearing a new shirt that says "Never Shuts Up" on the front (Cena says "Never Gives Up") and "U Can't See Knee" on the back in reference to the knee that broke Cena's nose. Some people cheered when he mentioned Cena's injury. Another replay aired of the broken nose.
There were people chanting "Thank You Rollins" for it. Rollins said that it was the first time he has ever broken the face of the man that runs the place. He said that Cena rolled over after the break and he saw this staring back at him. They showed pictures in black and white (because WWE doesn't want to show blood) of Cena's broken nose. He thought they should have handed him the US Title, but they continued and Cena got him. Rollins said that he guarantees it will never, ever happen again.
Rollins suggested they do the match one more time, one on one, title for title, winner take all at the 4 hour extravaganza live on WWE Network at SummerSlam. Rollins said that if Cena can't make it then he can forfeit the US Title to Rollins. He said for the first time ever somebody will hold the WWE & US Titles at the same time.
Rollins said San Jose is the place to be, the crowd cheered and he said not because of you, but because of him. Well played. He said this is where he won his WWE Title at WrestleMania and the sight of Cena's very first US Open Challenge. Rollins said for the first time ever it's the WWE World Heavyweight Title open challenge. The crowd cheered. Time for a break.
Analysis: That was a really good promo by Rollins. He went over the Cena storyline, challenged him for a match at SummerSlam and then made his own open challenge. The crowd is pretty hot, so that's nice to see as well. Would it be nice to start a Raw with a match instead of a promo? Of course, but that never happens and we know that.
(Commercial)
Rollins was interviewed in the ring by Jojo who asked if this is legit. Rollins said that there are two caveats: "My opponent has to be under six feet tall and under 200 pounds." Jojo said that he's talking about a match against El Torito. Rollins called for Torito to challenge him. The Torito entrance started up, but instead it was Neville that walked out.
WWE World Heavyweight Championship: Seth Rollins vs. Neville
This should be really good if they get time. JBL was mentioning all these great wrestlers from Britain haven't been WWE Champion, but Neville could do it. Neville sent Rollins outside the ring early on and hit a cross body block over the top where he twists in the air. Neville hit a cross body block that sent Rollins over the top to the floor. With Rollins outside the ring, Neville hit a spinning attack to take out. That was awesome. Sadly, we go to commercial two minutes into it.
(Commercial)
Back from break, Rollins was in control. The announcers kept on thinking that El Torito was the only other guy that could answer the challenge. That's not true because Kalisto could have or Daniel Bryan if he was cleared. Rollins nailed Neville with a running forearm shot in the corner. Rollins went up top, Neville kicked him in the gut and gave Rollins a reverse hurricanrana that spiked Rollins' head onto the mat for a two count. Neville hit a German Suplex followed by a dropkick. A bridging German Suplex by Neville earned him another two count. Neville went up top, Rollins moved and Rollins nailed him with a clothesline leading to Neville doing a somersault bump. Neville got a rollup for a two count that was so close. The replay showed it was so close with JBL saying he thought it was three. Rollins went for a top rope attack, but Neville countered it into a hurricanrana off the top that looked amazing. Neville went up top and hit the Red Arrow. He got the one…two…and no…Rollins got his foot on the middle rope. Wow that was an incredible nearfall. Neville kept asking the ref if it was only two and the replay showed Rollins got his foot on the rope. Neville went up for the Red Arrow again, but Rollins moved. Rollins nailed the Pedigree and got the win after 13 minutes.
Winner by pinfall: Seth Rollins
They showed replays of the two nearfalls for Neville and then Rollins getting the win.
Analysis: ***3/4 What an awesome match! It just showed that you don't always need 20+ minutes to have a great match. That was under 15 minutes and they made every second count. There really weren't a lot of slow parts to the match or rest spots. They really made every second count. I also loved how they made the nearfalls into such a big deal. The two nearfalls by Neville with Rollins kicking out right before three were so close and so believable. That's a fantastic job by both guys. I also like that Rollins won clean. It hasn't happened enough for him while he's been WWE Champion, so that was very encouraging. Neville's an outstanding in-ring performer and I'm glad he was able to have a match with the champ like that. Can we get more WWE Title matches on TV? The crowd was so into it because the gold was on the line. More of that please. Great job by Rollins and Neville.
Later on Raw, Brock Lesnar is there and there's an eight man tag team match featuring four tag teams.
(Commercial)
There was a note about Daniel Bryan's book on the New York Times bestseller list. I've read it and will write a brief review this week. Spoiler: It's good and you should read it.
Los Matadores & Lucha Dragons vs. The New Day's Big E & Kofi Kingston (w/Xavier Woods) & The Ascension
This match was done on Smackdown with the face team winning with Kalisto getting the pin. The Prime Time Players are on commentary. Woods complained to them about how they are on commentary again and Darren Young said they don't make the matches. Well played. Anyway, it went about two minutes and then a commercial with one of the Matadores on the floor for the vintage floor to commercial break spot.
(Commercial)
The heels isolated one of the Matadores while Woods was talking trash outside the ring. Viktor hit a knee to the jaw to knock down the Matadores, but then a back body drop set up a tag to Sin Cara. Cara hit cross body blocks and then a springboard back elbow. Moonsault by Sin Cara off the middle rope got a two count. The Ascension go sent out of the ring, so the Matadores hit suicide dives to take them out. Big E hit an attack, but Sin Cara went after him. Kalisto got a nearfall Kingston. Woods distracted, El Torito stopped him and that distraction led to Kingston hitting Trouble in Paradise on Kalisto (who was on the top rope) for the pinfall win after about eight minutes.
Winners by pinfall: The New Day's Big E & Kofi Kingston & The Ascension
Analysis: ** You see where I said the faces won this match on Smackdown? That means the heels win on Raw, which is what happened. The action was really good in the last few minutes, but some guys were barely in the match. I like Big E a lot and he was barely noticeable. The finish was good with Kingston hitting the Trouble in Paradise while Kalisto was on the top rope. I hope The New Day win back the titles at SummerSlam because they're the most entertaining champions.
The trio of Charlotte, Becky Lynch and Paige in a Hot Rod shirt were walking backstage.
(Commercial)
The Bella Twins and Alicia Fox walked out. They did a promo from before the match with Nikki Bella mentioning her 253 day Divas Title reign. She'll pass AJ Lee's record by next month's Night of Champions event. WWE keeps mentioning it because she's going to break it and they don't want to put over a woman that retired that is also married to CM Punk, who is getting sued by WWE's doctor. It's called politics, my friends. The trio of Paige, Charlotte and Becky Lynch called themselves the Submission Sorority. They all have submission moves, so it makes sense.
Charlotte & Becky Lynch (w/Paige) vs. Nikki & Brie Bella (w/Alicia Fox)
There was a nice spot where Brie sent Charlotte into the ropes, tagged Nikki and then Nikki kicked Charlotte to take her down. The trio of Banks, Naomi & Tamina were watching on a monitor backstage. When Charlotte went for a move off the ropes, Brie distracted her and the heel Bellas remained in control. Brie tagged in and hit some knees into the back of Charlotte. Paige was looking on in her "Hot Rod" shirt. Fox was also wearing a "Hot Rod" shirt. Charlotte broke free with a jawbreaker like move. Lynch tagged in and hit a leaping kick to the face. Lynch applied her armbar on Brie, but Brie was able to get to the ropes. Nikki yanked Brie outside the ring, Lynch tried an attack, missed and was met with a clothesline by Brie. Team Bella posed over Lynch outside the ring for the vintage floor to commercial break.
(Commercial)
The heels isolated Lynch in their corner with plenty of quick tags. "Team B.A.D" was looking on backstage again with shirts that said that. Brie hit her running knee attack on Lynch against the ropes. They did a double clothesline spot, Paige was banging on the apron to fire up the crowd and there's the hot tag to Charlotte while Nikki also tagged in. Charlotte unloaded on Nikki with chops, a neckbreaker and a Spear for two because Brie saved. Lynch nailed a T-Bone Suplex on Brie. Nikki hit a nice spinebuster on Charlotte for two. She should do that more often. Charlotte applied the Figure Eight submission hold and Nikki tapped out. The match went 14 minutes. The crowd cheered the finish a lot.
Winners by submission: Charlotte & Sasha Banks
Analysis: *** Another good match by the ladies. The Bellas controlled the action by dominating Lynch for much of it and Charlotte was on fire after the hot tag. The reaction to her is great. People are buying into Charlotte as a top diva because they're letting her have longer matches and she's winning too. I'm not sure if this means she'll get a Divas Tile match against Nikki or if they'll just do a divas tag match at SummerSlam. They could do a Divas Title match on TV before SummerSlam too.
Post match, Team B.A.D. was interviewed by Jojo backstage. Sasha Banks bragged about making Paige tap out. Naomi told Jojo to shut up and she said she's challenging Paige to a match. Naomi said that people are talking about Ronda Rousey (crowd popped), but they are the most dominant women. Naomi said they will send them back to freak island. Tamina just stared at Jojo to intimidate her.
Analysis: I'm fine with that challenge for later. Naomi's heel promos are much better than her face promos. Banks is my favorite diva out of the nine women that are featured regularly, but Natalya is still my favorite overall.
Brock Lesnar is back later and a six man tag as well. Miz TV with Kevin Owens and Cesaro coming up.
(Commercial)
There was a commercial for NXT this Wednesday with Rhyno vs. Samoa Joe. I review it weekly on TJRWrestling.net and I enjoy it.
The announcers plugged NXT. They should have plugged the NXT Takeover Brooklyn event in August 22.
Miz TV with Kevin Owens and Cesaro
The Miz was wearing a Hot Rod shirt and said that this is the second most important talk show in WWE history. He ran down all the other talk shows in WWE history (or at least most of them) and said that the originator was Piper's Pit. "From the bottom of my heart Roddy, you will be missed." Well said. There were some "Roddy" chants.
Analysis: I know some people complain about heels doing stuff like that, but I don't mind one bit. A man died that meant a lot to the wrestlers and fans, so let them pay tribute.
Miz talked about how he's on fire while listing his credentials and said soon he's going to be Intercontinental Champion if Ryback ever came back from his injury. He said the title should go to the "number one championship if you can't fight and it should go to me." He should have said "contender" not "championship" there, but it's fine.
Kevin Owens entered in his usual KO gear. Miz said you haven't made it in WWE until you've been on Miz TV. Owens said he's a huge fan of Miz and he owns all of his movies on DVD and Blu Ray. Heels lie! When Miz asked why Cesaro had a problem with him, Owens said Cesaro's jealous of him. He said he's accomplished quite a bit, but here comes Cesaro.
Cesaro walked out in a suit and got a nice ovation from the crowd. The Miz said usually the guest should wait to be announced, but then he announced him anyway. They sat on the three chairs in the ring.
Cesaro wanted to hear what "walk Owens walk" wanted to say. Owens said Cesaro's jealous of what Owens has accomplished and he's not just talking about Owens beating John Cena. Owens told Cesaro he'll never match his God-given natural ability for this business. Cesaro says he's ashamed of him because every time he walks out of a match he disrespects his opponent, the WWE Universe and every superstar that has ever set foot in the ring. Cesaro called him an embarrassment. Owens got up and tossed down a chair. Cesaro laughed saying the chair stuck to him.
Owens told Cesaro he's accomplished more in three months than Cesaro in three years. They kept on trash talking and Miz said this is what Miz TV is all about. Owens and Cesaro told him to shut up at the same time. Owens said why don't you let the two guys that fight do what they do best. Owens went to walk away, Cesaro said "walk Owens walk" again and Miz wanted them to fight. Owens shoved Miz into Cesaro. They each went for a move, but Owens got out of the way before Cesaro could apply the Swing.
Analysis: That was good for a talk show segment. Sometimes they aren't that interesting or newsworthy, but this feud is really good and features two guys the people really like. Owens is a great pure heel that also has a lot of smartass comments while Cesaro's a really cool babyface on the rise that the people are into. I thought they did a great job while Miz was fine in his role as an instigator as well.
Paige vs. Naomi is official for later. Rusev with Summer Rae were walking backstage.
(Commercial)
There was a mention of Roddy Piper with Ronda Rousey thanking him on Instagram. They even showed a clip of her thanking Roddy after her quick win on Saturday night when she won by knockout in less than a minute.
Analysis: WWE is sucking up to Rousey big time because they want her to be at WrestleMania. I don't mind because I'm a huge fan of her.
Rusev (w/Summer Rae) vs. Mark Henry
I actually wrote (w/Lana) up there. I guess they fooled me briefly. Rusev nailed a dropkick on Mark Henry and then kept him down with forearm shots. Henry came back with a powerslam for a two count. Rusev nailed Henry with a superkick to take him down. After some loud yelling by Rusev, he nailed another superkick and that was enough for the pinfall win after three minutes.
Winner by pinfall: Rusev
Post match, Rusev nailed Henry with another superkick. His music played again as the announcers said he looked dominant. Well yeah, unless he's against John Cena.
Analysis: * Those superkicks by Rusev look great. I was also impressed by the dropkick. He didn't even need the Accolade to win because Henry's back to being a jobber. If Henry retired at this point I doubt anybody would notice. Ziggler's probably back from his WWE movie responsibilities next week to set up the SummerSlam match with Rusev that could be a mixed tag too.
The announcers did the WWE Network plug for SummerSlam. They showed a clip from Swerved when Xavier Woods surprised Kofi Kingston. I've seen some of the shows and it's funny at times, but not always.
There was a promo from Bray Wyatt and Luke Harper. He had a flower, took the pedals off it and said just like that it's gone. He said that Roman has become "their" symbol of beauty and that "they" chose Roman. He told Roman that if they took that all away then he would realize he's just like all of them. Sheamus walked into the shot and said he could hit Randy Orton with a Brogue Kick out of nowhere. Wyatt said "the enemy of my enemy is my friend and tonight Sheamus, I guess you can consider us your friends." Run.
Analysis: That was unique having a regular wrestler doing one of those promos with Wyatt. It worked.
(Commercial)
King Barrett vs. Zack Ryder
There are times during a review where a man has to get up out of a chair to go to the bathroom and get a glass of water. This was that time. Ryder got in a bit of offense while hitting signature spots, but Barrett avoided an attack and hit the Bull Hammer elbow to win after about three minutes.
Winner by pinfall: King Barrett
Analysis: * A predictable squash match. Barrett has no current feud, so it was just a way to fill up three minutes.
Up next is Brock Lesnar with Paul Heyman at the top of hour three.
(Commercial)
This week on Smackdown it's he Prime Time Players and Mark Henry vs. The New Day. We just saw Mark Henry lose in three minutes and we're supposed to care about him in a match? Tough sell.
Promo Time With Brock Lesnar And Paul Heyman
Paul Heyman was in the ring and said before we see Brock Lesnar, he just wants to remind us that it was The Undertaker that started this fight. Clips aired that showed The Undertaker's attack on Lesnar at Battleground.
After that video aired, Heyman mentioned that it was a different Undertaker because he kicked Lesnar in the groin. Heyman was fired up calling Undertaker a little bitch when he confronts Lesnar because he knows he has never beat him before. The crowd let out an "ooohhh" when Heyman said bitch. He's the master of the microphone. A video aired showing their awesome brawl two weeks ago.
When the second video ended, Heyman said Undertaker will never rest in peace knowing he can never beat Brock Lesnar. That led to Heyman introducing Lesnar.
Here comes "The Beast" Brock Lesnar while wearing his Suplex City shirt. Lesnar stared at the announcers when he walked around the ring and they went quiet because they're scared of him. Cole noted Lesnar's wild attack on Raw the night after WrestleMania this year in the same arena. Lesnar tossed the steel steps into the ring. The fans were chanting "Suplex City" for Lesnar.
Lesnar stood on the steps in the ring. Heyman said that Undertaker was sent to the hospital after the WM30 match with Lesnar. Heyman claimed that Undertaker wanted to face Lesnar at WrestleMania this year, but Vince McMahon said no because he knew what would have happened to Undertaker. Heyman complained about Undertaker costing Lesnar the WWE Title. He ranted on about how for the first time ever it's the match too big for WrestleMania. Heyman said on August 23, Lesnar will stamp the repeat in "EAT SLEEP CONQUER REPEAT." Heyman told Undertaker that he is going to Suplex City. Heyman told Undertaker that he has met his match because he's facing Brock Lesnar.
Analysis: It was an epic ten minute promo with Heyman fired up like usual. I don't know if my recap did it justice because he had so many great lines in there. He actually was even more intense than usual because he really did the hard sell for the match. I liked the idea that Lesnar plans to end The Undertaker's career for good. I'd like to see them add a stipulation for the match so they can have a brawl with weapons instead of a regular mach. As much as I like Lesnar, I wish they had something for him to do instead of just standing on stairs in the ring. Can't they send out some midcarders for him to suplex? That would be fun. Anyway, if you missed the Heyman promo you should check it out because it was excellent. He really is one of the best talkers ever.
A recap of John Cena's injury. Another reminder of the six man tag aired again.
The Stone Cold podcast with Paige is up on WWE Network after Raw.
(Commercial)
Paige (w/Charlotte & Becky Lynch) vs. Naomi (w/Sasha Banks & Tamina)
If you're wondering, no NXT Title with Banks. I didn't mention that in other weeks, but I guess WWE instructs her not to bring it. Paige is wrestling in the Hot Rod shit for Piper. Rollup for Paige and then a hard kick to the face for a two count. They showed Team Bella watching a monitor backstage. Paige got in some kicks, then Naomi kicked her down and Paige came back with a running knee followed by knee lifts. Banks went on the apron, babyfaces like Paige are dumb and Naomi took advantage by driving her feet into the back of Paige. Naomi did a bulldog like move that drove Paige into the turnbuckle. Chinlock time for Naomi. She continued on offense with a nearfall, kicks and then stretching Paige's arms against the ring post. Naomi drove Paige into the side of the ring. A knee to the back rest hold by Naomi leads to the Paige comeback with a boot and then a fallaway slam. Paige hit clotheslines to take down Naomi. Naomi got control by sending Paige into the ropes throat first. Naomi came back with a kick, then missed a cross body block and Paige went for the PTO, Naomi fought out of it, Paige hit a sidekick and then Paige applied the PTO submission. Naomi tapped out for the loss after eight minutes.
Winner by submission: Paige
After the match, Paige held up her "This is my house" shirt.
Analysis: ** Since they're calling the trio the Submission Sorority it makes sense for Paige to win by submission. I thought there were a few points in the math where they didn't seem to click that well, but they figured it out by the end. It could have used a few more believable nearfalls by Naomi in order to set up a few more believable finishes. It's nice to see them get eight minutes. No more three minute matches is a good thing. I'm happy with the Paige win. Did you know it's her house? She likes to remind you.
A recap of Seth Rollins' win over Neville.
They showed a recap with Stardust on Facebook earlier in the day interviewed by his wife Eden (Brandi). He ranted about Neville, then mentioned a hero and shot an Arrow in reference to Stephen Amell. Then they showed a tweet from Amell saying he'll be at Raw next week.
Up next is a tribute to Roddy Piper.
(Commercial)
They showed a tweet from Madison Square Garden when they put a picture of Piper on the marquee at the World's Most Famous Arena.
The video package in tribute of Roddy Piper aired again. It was the same one from earlier in the show. I was busy writing the first time and didn't notice Hulk Hogan, but he was there in a few of the photos. Anyway, this is not about him. It's about Piper. The wrestling world lost a legend and he'll be missed. I really hope there's a Piper tribute on WWE Network next week.
The announcers talked about how great Piper was. Cole said Piper was a big reason why he's in WWE, JBL said it was an honor to be on Piper's Pit while Saxton said Piper was a hero of his and was a great guy.
Roman Reigns and Dean Ambrose did a promo backstage wearing Hot Rod shirts. Ambrose did the bubblegum line of Piper, then spit out the gum and said they were all out of it, which means it's time to kick some ass. Reigns talked about wanting to fight. Orton walked in with a Hot Rod shirt to say what they want to do is fine, but leave Sheamus to him. They said fine.
Analysis: A quick promo to hype up the main event. Nothing wrong with that. Loved the Piper tribute too.
(Commercial)
They confirmed that actor Stephen Amell will be on Raw next week.
The faces entered first with Randy Orton, Dean Ambrose (wrestling in the Hot Rod shirt) and then Roman Reigns. I think it's time Reigns gets a new entrance. Walk down the aisle like others, maybe give him pyro or something unique. Walking down the aisle through the crowd is getting tiresome. Sheamus walked out first for the heels and then Wyatt and Harper walked out together.
Randy Orton, Roman Reigns & Dean Ambrose vs. Sheamus, Bray Wyatt & Luke Harper
The faces dominated early on with Ambrose hitting a dive to take out the heels outside the ring. Of course it's time for a floor to commercial break one minute into the match.
(Commercial)
Reigns was brawling with Sheamus outside the ring with each man getting some hard shots in. Wyatt tagged in and then Harper tagged in because Wyatt doesn't want to have to deal with Reigns. Suplex by Reigns on Harper, tag to Ambrose and he hit a running dropkick on Harper against the ropes. Harper came back with an impressive dropkick on Ambrose. Wyatt tagged in and unleashed punches on Ambrose. It's time for another floor to commercial break when Ambrose got taken out outside the ring.
(Commercial)
Back from break, Ambrose walked right into a Wyatt clothesline and Harper tagged in with a couple of bodyslams on Ambrose. Ambrose did a bodyslam of his own. Ambrose ducked a Harper attack, then Harper cut him off with a boot to the face on Reigns and Ambrose made the tag to Orton.
Orton faced off with Wyatt hitting clotheslines and a powerslam. Orton with his version of the backbreaker on Wyatt. Orton hit the DDT off the middle ropes to a thunderous ovation from the crowd. Harper crushed Orton with a discus clothesline, then Ambrose hit a dropkick on Harper. His dive didn't work because he went crashing to the mat. Reigns crushed Harper with a very impressive leaping clothesline. Sheamus tagged in and Orton aged in Reigns, who hit a Samoan Drop. Reigns clotheslines on Sheamus in the corner, then a clothesline to send Sheamus outside the ring. Reigns with the running dropkick on Sheamus and then he hit it on Wyatt on the announce table. Uppercut punch to Harper. Reigns was on fire. Reigns hit Superman Punch on Wyatt and then on Sheamus. Harper kicked Reigns. Ambrose took out Harper. Wyatt wanted Sister Abigail on Ambrose, but Ambrose avoided it and then Orton hit the RKO on Wyatt. Reigns hit the Spear on Sheamus leading to the pinfall win after 18 minutes.
Winners by pinfall: Roman Reigns, Randy Orton & Dean Ambrose
Analysis: ***1/4 It was a pretty standard six man tag match that got a lot of time. These guys are so used to having these kinds of matches, especially the Shield and Wyatt guys because they had so many six man tags in the last few years. It's no surprise that Reigns got the win since he wasn't even on TV last week and needed the win. He really didn't have that many spots with Wyatt either, so their story wasn't furthered that much. Orton and Sheamus didn't interact much either.
They showed Stone Cold and Paige watching on the monitor getting ready for their podcast.
Replays aired of the big spots in the match. The show ended at around 11:06pmET.
Analysis: It was just a way to end on a positive note, which is fine because of the tributes to Piper and wanting to have a happy ending.
Three Stars of the Show
1. Seth Rollins
2. Neville
3. Paul Heyman
The Scoreboard
7 out of 10
Last week: 7
Last 5 Weeks: 7, 8.5, 6.5, 6, 7
2015 Average: 5.88
2015 High: 9 (May 4)
2015 Low: 4 (Feb 9/June 22)
Final Thoughts
I'm giving it a 7 out of 10. Same as last week. Another above average show.
– Three matches over the three star level (out of five) is a good thing. That needs to happen more often.
– That Rollins/Neville match early on set the tone and nothing that happened after could top it. They have great chemistry. Like I said earlier, they made the most of their time. You don't always need 20 minutes to have a classic match. What they did in 13 minutes worked perfectly.
– That Heyman promo was really outstanding. Make sure you check it out because he was at his best here. Roddy Piper, who is one of the best talkers ever, would be proud.
– Like I wrote earlier, I wish they had more for Lesnar to do instead of just standing there.
– Good job by the divas again. The tag match was better than the singles match. I hope Charlotte gets a title shot soon, but I'm not sure if that's going to happen soon or if they wait until September.
– What's great about Raw lately is there are less skits backstage. That's because The Authority angle has been phased out a bit. There was no Triple H or Stephanie either, which is fine with me.
– Several feuds were furthered, but no official matches were made for SummerSlam. There are still more weeks of Raw after this. It's just weird that only one match is official at this point.
– It wasn't a must see show instead of must see things happening, but it was good in terms of in-ring action plus some pretty good promo work from Heyman, Owens and Cesaro.
– It's been a strong month of Raw for WWE. Let's hope the momentum continues.
—
I wrote about Roddy Piper's death on Saturday and you can read it here. I grew up a fan of WWE in the mid-1980s when he was the best heel in the business. He's also one of the best talkers ever. More importantly than that, he influenced so many of us that grew up loving the business and his impact will never be forgotten. Rest in peace, Roddy.
Check out my feature column archive that's exclusive to WhatCulture.
Thanks for reading. Go Blue Jays.
John Canton –mrjohncanton@gmail.com
Twitter@johnreport