The John Report: The WWE Raw Deal 07/20/15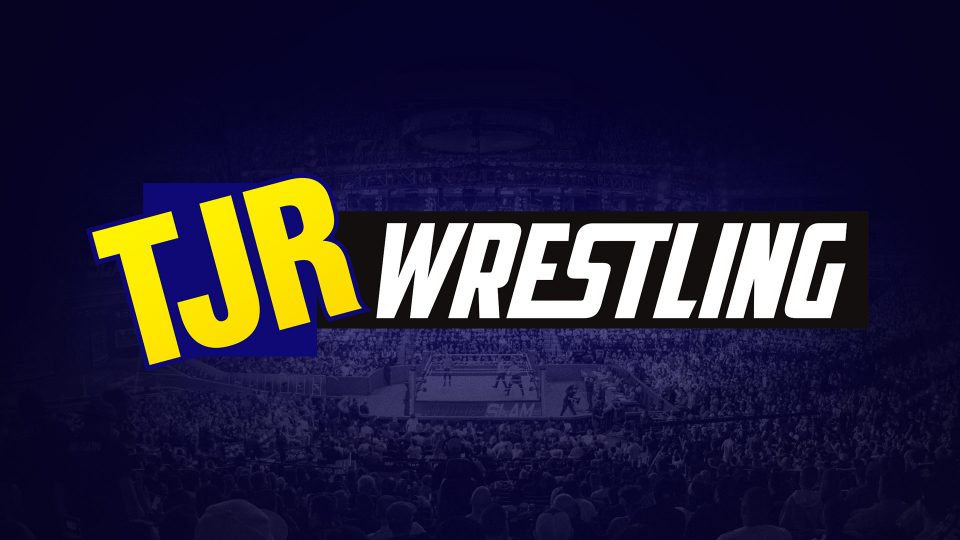 Live from Kansas City, Missouri this is the Raw Deal for episode #1156. Follow me on Twitter @johnreport.
Before I begin, the banner above is all in good fun so I don't want any crazy Undertaker fans getting mad at me for thinking I'm mocking him. It's a funny pic and the caption is as well, so thanks to my pal Melo Man for making it after I came up with the line. Here's the link to my WWE Battleground review and here's my WhatCulture article looking at ten questions (with my answers) that I thought about after the show. Let's get to this week's Raw.
There was a video recapping the end of Battleground when The Undertaker attacked Brock Lesnar to cause the WWE Title match to end in a no contest.
After Michael Cole said "welcome to Monday night Raw," The Undertaker made his entrance to a big ovation from the crowd in KC. He was wearing his black hat and leather jacket. After a few minutes to get to the ring, the crowd was cheering.
The Undertaker said that he stands there tonight as a vengeful grim reaper among other things. He said that streaks are made to be broken and that's the painful truth. He added that Lesnar had to continuously – week after week, month after month – remind everybody of his greatest accomplishment. "And now I say enough." He said that Lesnar has taken what once was smoldering ashes and turned it into a raging inferno. Undertaker said last night was his true resurrection. "You see Lesnar, you can't kill what won't die." He spoke about how he will challenge Lesnar's mortality and he will conquer what has yet to be conquered. "In the end, just like all living things, be it man or beast, you will…rest in peace." His music played and then he left.
Analysis: It was only a few minutes of talking and he spoke really slow, which is good for me trying to write about it. I like that he mentioned why he sought revenge due to Lesnar (and Heyman) bragging about beating Undertaker for so long. Even at 50 years of age, he has a presence like nobody else. It was nice seeing him on Raw again.
Triple H and Stephanie McMahon were watching on the monitor backstage. Hunter told Stephanie that SummerSlam is set with Lesnar vs. Undertaker. Steph said she'll work on marketing while Hunter said that he'll contact Paul Heyman and Lesnar to tell them to stay away from Raw because Lesnar is going to be uncontrollable.
Analysis: That was a quick way to announce the SummerSlam match. Also a nice way to tease Lesnar doing something crazy when he gets to the show too. I'm definitely looking forward to what Heyman has to say during Raw.
The announce team of Michael Cole, John Bradshaw Layfield and Byron Saxton welcomed us to the show.
Coming up later is a six man tag: Cena/Orton/Cesaro vs. Owens/Rusev/Sheamus. That should be pretty good. Charlotte vs. Brie Bella up next.
(Commercial)
The trio of Sasha Banks, Naomi and Tamina are at ringside on commentary. There was a recap of last week's cool moment for the divas on Raw.
Charlotte entered with Paige and Becky Lynch. Good to hear Charlotte's theme song unlike at Battleground when she had to enter to Paige's music. A clip aired of her getting a big hug from her dad Ric Flair after winning at Battleground.
Charlotte (w/Paige & Becky Lynch) vs. Brie Bella (w/Nikki Bella & Alicia Fox)
The divas on commentary said they were "Beautiful and Dominating" even though I believe it was "Best at Dominating" when they said it on Smackdown so they're still "Team BAD" at least. Cole accidentally called Tamina "Tina" so they got mad at him. There wasn't much going on in the match in the first two minutes until Charlotte missed an attack outside the ring and went crashing to the floor after Brie moved. There's the floor to commercial spot.
(Commercial)
Back from commercial, Brie was in control with one of her running knee attacks during the break. Brie blew Banks a kiss and Banks said "I don't want her germs." Charlotte got a quick rollup on Brie and then Brie came back with a dropkick for two. The announcers talked about how awesome Total Divas. Missile dropkick by Brie off the middle ropes. Charlotte nailed some chops leading to "Woo" chants, then a neckbreaker and a running boot to the face for a two count. She went for the figure four, but Nikki was on the apron and Charlotte took her down with a boot. Charlotte nailed a Spear to take out Brie. Charlotte applied the Figure Four leglock and then turned it into the Figure Eight leading to Brie tapping out. The match went about nine minutes.
Winner by submission: Charlotte
Analysis: ** It was a solid match. That was great work by Charlotte in the final few minutes of the match. The crowd really came alive for her offense too, which is wonderful to see. Brie's offense is fine. Her selling could be better at times. I think Charlotte's a tremendous performer that I've loved watching on NXT for the past two years. She definitely belongs on the bigger stage. I wonder if they will have her stop doing the Spear since it's a finisher of Roman Reigns. There are some others that do the move too, so maybe it won't be seen as a big deal by management.
The announcers plugged The Undertaker vs. Brock Lesnar at SummerSlam. They plugged that WWE Network is "just like Hulu and Netflix." Way to promote those products! Reigns vs. Harper later.
Triple H was on the phone in the office with him talking to "Paul" meaning Heyman. He said he didn't care what Lesnar is insisting upon. He's not going to allow this match to be destroyed and he tried to tell Heyman to take the night off. The Miz was there looking to talk to Triple H. Miz complained about Big Show knocking him out and wrecking his face. Miz: "I am the host of Tough Talk." Hunter put Miz into a match with Big Show, which Miz didn't like. Hunter told him to get out of there.
Analysis: I like the idea that they don't want Lesnar there, but we know watching the show that he'll be there. It should lead to something interesting later. Miz dealing with Big Show is entertaining a bit. I don't want Show as a face, though. Hopefully this is just something to keep them busy until Ryback is back soon.
(Commercial)
The Prime Time Players vs. Los Matadores (w/El Torito)
Is it bad that when I watch Los Matadores I still want to call them Epico and Primo instead of Fernando and Diego? Young got in a forearm short on Diego, but then he got tripped up and Fernando hit a diving attack over the top rope. Knee lift by Diego followed by a springboard crossbody attack to take down Young. Double Russian (Puerto Rican?) legsweep by Los Matadores on Young for two. Young came back with a belly to belly suplex on Fernando, which led to O'Neil making the hot tag. O'Neil was on fire with a shoulder tackle and then a slam. There's a backbreaker into a slam by O'Neil. Huge running shoulder tackle by O'Neil. Young nailed a back suplex on the ring apron. The New Day's music hit during the match. Xavier Woods said they are there to congratulate. Back in the ring, Fernando (may have been Diego) hit a Backstabber on O'Neil, who was watching Woods. That led to the pinfall for the win. Match went about five minutes.
Winners by pinfall: Los Matadores
Analysis: *1/2 That's the worst finish in WWE. The music of somebody else interrupting the match, plus a promo and then it takes one move to pin a guy. Wrestlers are forced to look like idiots by being distracted by things outside the ring even though they should pay more attention to what's going on in the ring. It's also a non-title loss for the tag team champions. I guess this means PTPers vs. New Day will continue even though PTP beat them multiple times. I'm fine with that. It was just weird to see Los Matadores win since they are barely on television.
They plugged the matches coming up.
(Commercial)
The Miz was in the ring for his match.
Big Show vs. The Miz
Show tossed Miz across the ring early on. Miz tried to run away, but was nailed with a shoulder tackle by Big Show and then a huge chop by Show across the chest. JBL said that WWE Films cringes when Miz is in a match while pushing the idea that he's so valuable. That's a pretty ridiculous statement even for a heel announcers. Show nailed a flying elbow off the middle rope to win the match in about two minutes.
Winner by pinfall: Big Show
Analysis: 1/2* It was just a squash match. I can't remember Show ever winning a match with that move before, but it was effective. Miz is such a joke character. It's hard to believe he was a main eventer four years ago.
Big Show did a promo after the match saying that he wasn't missing since the Attitude Era like Miz said at Battleground. Show said that the only thing that is missing is Ryback with his IC Title. It took a moment, but the fans chanted "feed me more" at him. Show said that tomorrow he's going to be on Tough Enough and said if Ryback was there he's going to take the title from him. Show threatened the TE guys by wondering if they will be tough enough to stand up to his fist. He stomped on Miz on his way out. JBL said "Run ZZ run" about one of the male contestants.
Analysis: It was a good way of reinforcing that Show is a heel going after Ryback, who is out with a staph infection. Also a plug for Tough Enough on Tuesday. I remember Show on Tough Enough in 2004 and he was great at getting in the faces of the contestants.
Stephanie was talking to artist Rob Schamberger backstage with Triple H also in the scene. She asked if he could do a painting for Undertaker/Lesnar. Triple H yelled at Heyman, who was in the arena. Heyman said he just wants to deliver Lesnar's retort in the ring and then he's out of there. Stephanie said that she doesn't trust him. Hunter said they're going to need more security and she added they will need about half the locker room too.
Analysis: Heyman always brings the greatness with his promos. I'm looking forward to what's on his mind.
(Commercial)
There was a promo with Stephanie and Hunter talking to members of the locker room. They said they are not going to let Undertaker/Lesnar destroy each other. Hunter said they were telling them to prevent something major from happening. The wrestlers talked amongst themselves as Hunter and Stephanie left.
Paul Heyman was in the ring doing a promo saying Lesnar should be the reigning WWE Champion. He ranted about things how Lesnar isn't the WWE Champion because of the demonic resurrection of The Undertaker. He said that for the first time since April 6, 2014 Lesnar and Undertaker went face to face. Heyman reminded us that was the night that Lesnar conquered Undertaker's undefeated streak at WrestleMania. He knows that it bothers people and pisses off The Undertaker. He added that it was 469 days since WrestleMania 30. Heyman said he bragged about it because it was so important. He mentioned others that tried to conquer the streak: Michaels, HHH, Flair, Edge, Batista, Randy Orton and they all failed. No mention of Giant Gonzalez? What a shock. Heyman added that his client succeeded. He kept on reminding us of things that we know.
"Now it comes to this: SummerSlam 2015…The Phenom…The Badass…The Undertaker vs. The Beast…The Conqueror…Brock Lesnar." Heyman said: "My client conquered your undefeated streak at WrestleMania." He said it several times as a way to irritate Undertaker.
Heyman: "You can sell your soul to the devil, but your ass belongs to Brock Lesnar." The lights went out. The Undertaker was in the ring. Heyman was freaking out.
Brock Lesnar's music hit and he ran down to the ring. The announcers said they are out of there. Lesnar brawled with Undertaker in the ring. Security ran out to break it up as Triple H stood at the top of the ramp. The security guys tried to break them up, but the two men broke free. They kept on brawling. A number of midcard wrestlers ran to the ring to break things up as well. They separated both guys in opposite corners. Lesnar slipped outside the ring and then ran over to where Undertaker was. Lesnar got in some punches. A number of wrestlers pulled Lesnar outside the ring while Undertaker was in the ring being held back by others. Triple H yelled at the guys to get Lesnar out of there. Of course, Lesnar slipped free to try to get at Undertaker again. Fans were chanting "This is Awesome" for this. Undertaker broke free from his corner and went outside the ring to get at Lesnar. That led to Lesnar yelling "I'm going to kill you" and Undertaker yelled back "you're going to have to." Nice touch by both guys! It took about 20 guys to take Lesnar up the ramp and get him out of there while Undertaker was by the ring. It went to break there.
Analysis: Wow that was pretty chaotic and awesome at the same time. It was hard to recap at all because it was really the kind of thing you had to see to witness how amazing it was. That was one of the most epic pull apart brawls you're ever going to see. I like how they spent an hour of the show building up to preventing it, yet it still happens because that's how pro wrestling is. I'm pretty excited about the match just for the showdown and to see this match one more time. Match quality may not be great with Undertaker at 50 years of age, but they could surprise us. It was also good that the announcers bailed and they let the pictures tell the story. That was an outstanding segment.
(Commercial)
After the break, Undertaker and Lesnar were shown in the backstage area. Lesnar tried to get at Undertaker again. Undertaker broke free this time and got in a punch. They started brawling on the floor. Lesnar yelled "I will kill you" again. I think Xavier Woods was the loudest person trying to break things up. Lesnar held up his hands as if to suggest he was done. He took off his shirt while dozens of guys were in front of him. R-Truth was there telling him to chill. There was a cop that put some cuffs that were zip ties on him. Lesnar yelled at them not to touch him. They took him away leading to another commercial.
Analysis: That was only a few minutes long, which was good because it showed that it didn't stop when they got backstage. I loved the intensity of it in the ring and backstage as well. Very well done.
(Commercial)
There was a video recap of the hectic situation that took place in the last 20 minutes with the announcers summarizing it.
Triple H and Stephanie were in the office. WWE Champion Seth Rollins showed up commenting on how crazy that was. We'll hear from him later, it seems. It was just a quick segment.
Bray Wyatt did a promo in his lair with Luke Harper behind him. He said he's an enigma. He talked about how people chose him and how they will burn him. Harper said it was just the beginning. Wyatt said that tonight they continue to fix the mistake: "Anyone but you, Roman. Anyone but you."
Analysis: A typical one minute promo from Wyatt to set things up for later in the show. It was good for it was.
(Commercial)
Luke Harper made his entrance with Bray Wyatt to Wyatt's music. Roman Reigns entered alone with Cole noting that Reigns has had trouble winning matches since Wyatt started messing with him. I saw on Twitter that Roman's last pinfall win was June 8 over Kofi Kingston. Here comes Dean Ambrose to watch Roman's back.
Luke Harper (w/Bray Wyatt) vs. Roman Reigns (w/Dean Ambrose)
Wyatt was seated by the announcers after taking Saxton's chair. Reigns took control early with some clotheslines as well as punches. After Harper tossed him into the corner, Reigns came back with a clothesline because he sure loves clotheslines. Reigns nailed him with punches, more clotheslines and then Harper hit a big boot, but Reigns countered a suplex into one of his own. Harper went to the floor because it's commercial time after a few minutes.
(Commercial)
Harper was in control after the break. Reigns charged, Harper moved and Reigns landed hard on the floor. Reigns yelled loudly because he was selling his left arm. Reigns rolled back in before the ten count. Harper stomped away on the arm. Reigns picked him up mostly with one arm and slammed Harper. That comeback didn't last long because Harper slammed his arm into the ring post. Senton splash by Harper over the top. He's so agile for a big guy. Harper applied a chinlock. Harper went for a running kick in the corner, Reigns moved and Harper went over the top to the floor. Back in the ring, Reigns got in some kicks as well as punches, a clothesline and a leaping clothesline. Reigns did a good job of selling the arm while on offense. Samoan Drop by Reigns. Reigns hit the Drive By dropkick on Wyatt and Harper on the apron. Reigns went for an attack on Harper, but Wyatt grabbed Reigns and that led to the DQ finish after 12 minutes.
Winner by disqualification: Roman Reigns
Analysis: **1/2 A good match for the time given. I thought Reigns did a fantastic job of selling the arm injury when he was getting attacked and when he was on offense. Some guys don't do it properly, but he did it well. The DQ finish was very predictable.
After the match, Ambrose joined the fight as well. That didn't work out too well because Ambrose was sent over the ringside barricade by the announce table. Harper applied a Crossface on Reigns. Wyatt got in some shots too. Ambrose came back to save Reigns. It looked like Wyatt was going to hit Sister Abigail, but Reigns nailed a Superman Punch on Wyatt, which ended things when Wyatt went outside the ring. Wyatt and Harper left through the crowd while Ambrose celebrated with Reigns.
Analysis: The heels won the battle on Sunday, so the faces get it back on Monday with Ambrose there to help Reigns. I think the Sting story will come into play with somebody joining Wyatt/Harper next week and then Sting can show up the week after. There's no point in rushing things since they have five weeks to go until SummerSlam.
WWE Champion Seth Rollins was shown walking to the ring.
(Commercial)
A recap aired of the Rollins/Lesnar match at Battleground.
Seth Rollins Promo Time
Rollins made his way down to the ring with the WWE Title still around his waist. He wondered how it feels to be wrong about Seth Rollins again. He ranted about how the fans cheered when Lesnar destroyed his Cadillac and when Lesnar destroyed J&J Security as well as Kane. Welcome to Raw where they love to go over the same points repeatedly. He said surprise because he's still the reigning, defending, undisputed WWE World Heavyweight Champion. He said he doesn't give a damn about Brock Lesnar and the most under-appreciated champion in the history of WWE. He spoke about how everything he's done in his life is to be the champion. Rollins said that since he's won the WWE Title at WrestleMania, he's walked away from every challenge with his title. He called himself "the end all and be all of champions in this industry."
Rollins said Lesnar should have gotten out of there when he saw the look in Undertaker's eyes. He spoke about how he was robbed by Lesnar and Undertaker, but he's here to rectify that. Rollins asked ring announcer Lilian Garcia to get into the ring. He asked her to make the announcement that should have been made after the match at Battleground. She announced that the winner of the match by DQ due to outside interference from The Undertaker is Brock Lesnar, but that Seth Rollins is still WWE Champion although that was stopped by some familiar music.
John Cena's music hit and he entered the ring with his US Title. He told Lillian that she wasn't needed anymore. Cena complained about Rollins talking. That led to Rollins congratulating Cena for retaining his title and said it's a good time for his US Open Challenge.
Cena told Rollins that they both won their titles on the same night at WrestleMania. Cena put himself over for having great title matches and said Rollins was a poor excuse for a champion. He told Rollins that his actions make people lose respect for the WWE Title and gain respect for the US Title. Cena: "Thanks chief, I owe you one." Fans were chanting "USA" and Rollins told them to shut up.
Rollins mocked Cena for his US Open challenges and said anybody that wants a shot at his title has to earn it. Rollins told Cena don't talk to him like that because he's not a boy – he's a World Heavyweight Title. Rollins said that Cena only does the US Open Challenge because he can't stand that people hate his guts. Rollins told Cena he can take care of his title and Rollins will go on being THE champion in WWE.
Cena said that Rollins always runs away from every challenge put in front of him. Cena said the champ is right here. "It's not the title that makes the man – the man makes the title." Cena told Rollins he thinks he's a joke. Cena wondered if Rollins was ready to man up. They both took their shirts off looking ready to fight. Rollins backed out of the ring with the WWE Title. Cena did a promo saying "The Champ is Here" as he held up the US Title.
Analysis: Good promo faceoff by two champions who look like they will be on a collision course at SummerSlam, which is fine with me. Cena didn't officially challenge for the WWE Title although he made good point saying he felt like he was a true champion unlike Rollins. It's a good point since Rollins has a lot of cheap wins. I have liked their matches in the past, so I have no problem with this feud. Like I said earlier there's five weeks between Battleground and SummerSlam, so there's plenty of time to make it official. I'm sure the people that hate Cena are complaining about it. Look at the guy's year, though. He's had amazing matches and will have one with Rollins too. I don't really mind it at all.
(Commercial)
The Bellas and Alicia Fox are on commentary.
Becky Lynch & Paige (w/Charlotte) vs. Naomi & Sasha Banks (w/Tamina)
It was hard to get into the beginning of the match with Nikki talking so much. I don't know why WWE loves them on commentary so much. Lynch was on fire on Naomi, Paige tripped up Naomi and hit a knee to the face. Sasha tagged in and Paige gave her a fallaway slam. Lynch nailed a kick to the face after jumping off the ropes. Naomi distracted Lynch, so Banks took control. The show went to break there.
(Commercial)
The heels were still in control isolating Lynch. Fox was on commentary saying they are winners. JBL wondered if this revolution would be like the NWO invading WCW or WCW invading WWE. Those angles were done to take over a company while this is being done to give women matches that are longer than three minutes. What a bizarre comparison although I can see why they are grasping at straws for it. Banks is such a great heel in terms of playing to the crowd. She nailed Lynch with a hard slap to the face. Paige was begging for a tag, so Banks knocked her off the apron. Naomi nailed a leaping kick to take down Lynch. Nikki said they were "Team Veteran" and called themselves the Golden Girls as a joke. Banks hooked the arms of Lynch and did a backstabber. They did a great spot with Lynch almost getting a tag and then she brought in Paige for the hot tag, who unloaded on Naomi. Clotheslines by Paige followed by a dropkick. Running knee in the corner by Paige on Naomi. Paige did her "this is my house" line and then a kick to the face. Paige applied the PTO submission hold. Banks nailed her with a dropkick to break it up. Paige tossed Banks out of the ring and knocked Tamina off the apron. Naomi tripped up Paige. I think there was a tag in there. Banks hit the Backstabber into the Banks Statement submission. Paige tapped out. The match went 13 minutes.
Winners by submission: Sasha Banks & Naomi
Analysis: *** A very entertaining tag match with the right team getting the win because it establishes Banks as a threat in her first match on Raw. I really liked the pacing of the match, the hot tag sequence by Paige, the offense Paige did when she was brought in and then the way the heels managed to use Tamina's distraction to get the advantage. It was a match that was put together very well. I'm a huge fan of Sasha Banks – she does all the little things right. She knows her character so well and she's really just getting started too. She has as bright of a future as any woman in WWE. This was also the second divas match that went over 10 minutes on this show. I can't remember the last time that happened or if it ever happened. This "divas revolution" is real and it's spectacular. (Yes, I used a Seinfeld line.)
There was a video for the movie Southpaw starring Jake Gyllenhaal. The Tough Enough coaches talked about it. It showed videos of Jake training for the film.
Analysis: An actor trains for something he is getting paid millions of dollars to do? Good for him. That's his job.
The six man tag main event is next with 30 minutes of show left.
(Commercial)
This week on Smackdown it's Naomi and Sasha Banks vs. The Bella Twins. The divas are even getting advertised matches for Smackdown on Raw. That's more progress. Paige is on Tough Enough on Tuesdays, so she's not on Smackdown for a few months.
There was another recap of Lesnar's brawl with Undertaker from earlier in the show. I don't blame them for recapping it again because it was pretty epic. It's official for SummerSlam: Undertaker vs. Lesnar.
Analysis: It wouldn't surprise me if they had a stipulation like No Holds Barred. Hell in a Cell is possible, but probably won't happen since they have a PPV with that name in October.
A recap aired of Rusev attacking Dolph Ziggler on Raw two weeks ago. The big spot was using the crutch to attack the throat of Ziggler. That led to Ziggler doing a stretcher job. He's filming a movie in Vancouver, so that's why he's been written out.
Lana was interviewed by Renee Young. She said that Ziggler is resting at home, but there's no permanent damage to his windpipe. She said he's talking and they are waiting for him to be medically cleared. Summer Rae showed up in a business suit like Lana and her hair in a bun. Summer said that she feels it makes her look smarter and dangerous. Rusev told Summer she looks, beautiful and angel-like. Rusev kissed Summer right in front of Lana. He said he must go for his matches. Rusev told Lana she looks tired and needs rest. He laughed at her and left. Summer slapped her hard across the face.
Analysis: The Lana look for Summer Rae works for me. They're both gorgeous women, so they can pull off anything of course. That's the first kiss for Rusev and Summer. Good heel work by them.
Cesaro entered for the main event. Randy Orton entered as well. The show went to break.
(Commercial)
John Cena made his entrance to join Cesaro and Orton. Cena's on ESPN Sportscenter on Tuesday granting a wish. Kevin Owens entered for the heels followed by Rusev and Sheamus.
John Cena, Cesaro & Randy Orton vs. Kevin Owens, Sheamus & Rusev (w/Summer Rae)
It looked like Cena would start with Owens, but then Owens tagged out. Rusev started for his team and hit a fallaway slam. Summer applauded his work. Owens was happy to tag in now with Cena down. Owens hit a DDT on Cena and his cannonball missed because Cena moved. Tag to Cesaro against Sheamus with Cesaro nailing him with a cross body block. Uppercuts by Cesaro on Sheamus and then he wanted a Swing, but Rusev gave him a superkick to the face. Sheamus got a nearfall and then the match went to break after a few minutes. Nobody was outside the ring. How rare.
(Commercial)
Back from break, Cesaro hit a suplex on Sheamus. Boot to the face by Cesaro on Owens, who tagged in and then he brought Sheamus back in. Forearm smash by Sheamus. Rusev was brought in, so Cesaro picked him up on his shoulders and slammed him down in an impressive feat of strength. Owens prevented a tag. Cesaro tried to break free, which led to him shoving Owens into Sheamus. Sheamus yelled at Owens because Cesaro shoved Owens into him. Sheamus nailed Owens with a punch to knock him down. Sheamus took his briefcase and left up the ramp.
Owens wanted a tag, but Rusev was outside the ring with Summer. Owens slapped Rusev hard in the chest to tag him in. Owens nailed Rusev with a superkick to knock him down. Owens walked out on the match. Hot tag by Cesaro to Orton, who nailed Rusev with a powerslam. Orton slammed his head into the mat. Orton with an overhead suplex leading to the DDT off the middle ropes. The crowd was on fire as Orton set up for the RKO, but Rusev pushed out of it and he kicked Orton in the side to knock him down. Lana walked down to the ring. She confronted Summer outside the ring, took her shoe off and tackled her. She dominated Summer during their scrap and left while yelling "don't ever touch me again." Cena hit Rusev with the AA. Cesaro did a Swing into a slingshot and a RKO by Orton ended the match after 15 minutes.
Winners by pinfall: John Cena, Randy Orton & Cesaro
Analysis: *** That was a lot of fun to watch with the good guys winning clean and it also provided a cool moment with the slingshot into the RKO. While I'm not a huge fan of two heels walking out on the match especially when Owens did it last week, it's okay because these guys were never allies. Heels are supposed to be jerks and they don't always have to get along with other heels, so it's a nice change to see them getting mad at eachother so easily. I was thinking that maybe Rollins would come out at some point to taunt Cena, but that will likely be saved for another show because they have over a month to build to SummerSlam. The work was pretty good, the story with the heels having problems was fun and an entertaining ending means it's a successful main event to me.
Raw ended with Cena, Orton and Cesaro celebrating the win. It's so nice seeing Cesaro being put over by top guys like that. Raw ended at 11:06pmET.
Analysis: The crowd loved seeing this team together. It was a feel good ending to Raw this week. There wasn't anything done with Orton and Sheamus, so perhaps that feud is really over. I would love a feud with Owens and Cesaro. It could be Orton vs. Owens, though. I'm just hoping for some fresh rivalries and it looks like we're getting that.
Three Stars of the Show
The Undertaker – First Raw of the year. First star of the show. I enjoyed the brawl a lot.
Brock Lesnar
(tie) Sasha Banks – So happy to see her on Raw.
(tie) Charlotte – See above.
The Scoreboard
8.5 out of 10
Last week: 6.5
Last 5 Weeks: 6.5, 6, 7, 4, 5.5
2015 Average: 5.80
2015 High: 9 (May 4)
2015 Low: 4 (Feb 9/June 22)
Final Thoughts
I'm giving it a 8.5 out of 10. That's my second highest score of the year. I think the match quality could have been a bit better and if it was it would have been the best Raw this year.
I was entertained all night long and didn't feel tired reviewing it like I do most weeks. Maybe that's because I had a nap before the show started. I just really enjoyed it.
That brawl with Lesnar and Undertaker was awesome. I'm not sure if the match is going to be amazing. I just thought that segment was fantastic and I loved everything about it. It's not always about having great matches on a television – you can "steal the show" with segments like that too.
There were three big promo segments with Undertaker, Heyman and Rollins/Cena, but I thought all three were very effective. I don't mind promos that lead to good things. It's the long winded, boring ones that make me want to yell at the screen when people bore me.
As I mentioned in the review, two divas matches over 10 minutes is so rare. I have said that actions speak louder than words in terms of pushing the women and it looks like WWE is finally giving them the attention they deserve. Great showings for Banks and Charlotte.
What I liked most was that there really weren't matches or segments that dragged the show down. The PTPers/Matadores match was about the only thing that upset me because I hate that finish so much. It was such a minor thing in the show, though.
Great job by WWE. It was a big Raw coming out of Battleground and they put on a very entertaining show.
—
That's all for this week.
Check out my feature column archive that's exclusive to WhatCulture.
Thanks for reading.
John Canton –mrjohncanton@gmail.com
Twitter@johnreport
Personal FacebookandTJRWrestling on Facebook