The John Report: The WWE Raw Deal 06/15/15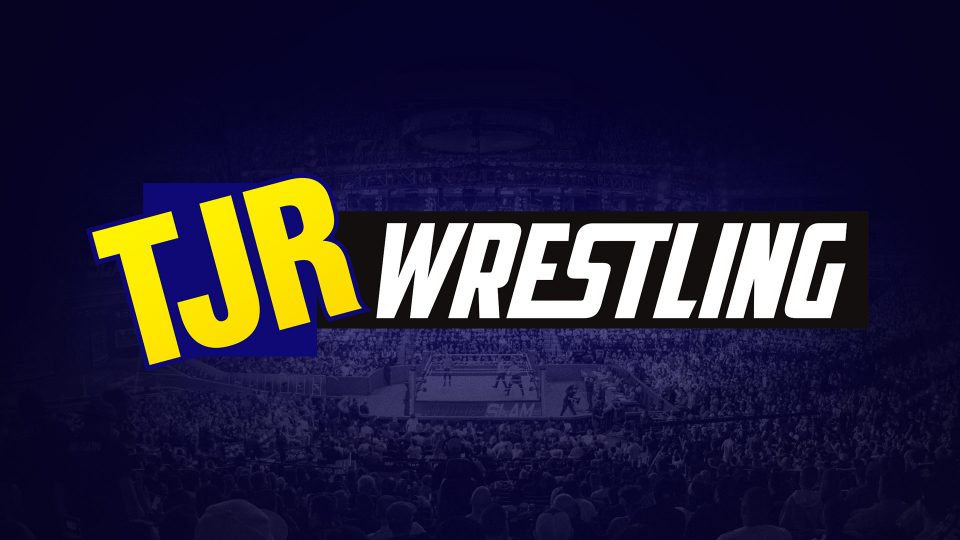 Live from Cleveland, Ohio this is the Raw Deal for episode #1150. Follow me on Twitter @johnreport. Here's my detailed review of the Money in the Bank PPV in case you haven't read it yet.
The show began with Michael Cole welcoming us to the show and mentioning Dusty Rhodes passing away. They re-aired the start of Money in the Bank where the roster stood on the ramp and they rang the bell ten times for Dusty. The excellent video package that aired on Sunday was shown again. The Cleveland crowd was shown and applauded while signs were shown for Dusty. The Raw intro video aired.
Analysis: Good way to start the show as we remember the greatness of Dusty Rhodes and the entire WWE roster will do the best they can to honor his memory. Rest in peace, Dusty.
The WWE Champion Seth Rollins appeared wearing the title and with a big smile on his face. He walked out alone. The announce team of Michael Cole, John Bradshaw Layfield and Byron Saxton welcomed us to the show. Saxton is there in place of Booker T, who is off due to filming Tough Enough. We'll hear from Rollins after the break.
(Commercial)
They showed Johnny Manziel of the Cleveland Browns at ringside.
Rollins welcomed us to Monday night Raw and then changed it to Monday night Rollins because he's the best thing about the show. I think he might have a point there! Rollins put over Ambrose by saying he brought his A game as they showed some pics from the match and Rollins said as good as Ambrose is, his A game is not quite as good as Seth's A game. He bragged about beating Ambrose all by himself in one of the greatest ladder matches in WWE history and there he is wearing the WWE Championship again.
Rollins said that there were a lot of people that helped him get to the top of the mountain. He spoke about how he was just a kid from Davenport, Iowa and think about how far he's come. He had a piece of paper listing people he wanted to thank, so he kept saying "Seth Rollins" repeatedly. Then he said he was leaving somebody out…Seth Rollins. Last but not least, Seth Rollins.
He ranted about how he didn't need anybody else by mentioning J&J Security, Kane, Triple H and Stephanie. Remember when Big Show was in the group? Oh well. He bragged about how with his performance last night he should be in the Hall of Fame and parents will name their children after him. Then he ripped on Cleveland saying this is what a championship looks like. He pointed out Johnny "idiot face" aka Manziel saying he won't bring them a title and neither will LeBron James. That really riled up the crowd as they got really loud in booing him and chanting for the Cleveland Cavaliers.
Dean Ambrose interrupted Rollins by limping down to the ring since he was selling a left knee injury. They brawled around ringside with Ambrose hitting a clothesline that sent Rollins over the top to the floor. Rollins kicked him in the knee to slow him down. Rollins ended up escaping with the WWE Title in his hands and Rollins went up the ramp.
Ambrose did a promo about how he enjoyed making Seth's life a living hell and he's not leaving until Rollins gets his ass back out there. Ambrose sat in a chair in the middle of the ring. The show went to break there.
Analysis: I thought Rollins did a great job with his bragging promo. He's really shown a lot of confidence as the heel champion and also improved a lot on the microphone in the last year. The crowd really got mad at him when he ripped on the Cleveland sports teams because the Cavs are currently down 3-2 in the NBA Finals. Ambrose took the fight to him, but Rollins managed to get away because he's a cheap heel champion that isn't going to fight fair. Even though we get promos at the start of Raw nearly every week, the segment was well done by both guys in terms of its execution.
(Commercial)
Back from break, Ambrose was still in the ring.
Triple H and Stephanie McMahon were in their office. Rollins showed up to complain about Ambrose as Hunter told Rollins it's taken care of. Rollins complained about things, so Stephanie mentioned that Seth said he didn't need them. Seth explained that he just wanted to prove it to the people that didn't think he could do it. Hunter said that Seth's next challenger will be made public by the end of the night. Hunter told him he should trust them to make the decision while Rollins said he wanted to know.
Analysis: A cliffhanger to get people wondering what might happen later in the show when they announce Rollins' next opponent. It makes story sense that Hunter/Steph would keep Rollins in the dark since he said he didn't need any help.
With Ambrose still in the ring, Sheamus walked out with the Money in the Bank briefcase. Sheamus talked trash about how Ambrose lost while Sheamus became Mr. Money in the Bank. Rollins said that he's one Brogue Kick away from being the next WWE Champion and said it may even happen tonight. He told Ambrose that The Authority thought he should come down there to take care of Ambrose, so a referee showed up to start a match.
Sheamus vs. Dean Ambrose
Sheamus was aggressive early by taking down Ambrose by going after the knee. Outside the ring, Sheamus punched him in the knee and drove Ambrose into the steel steps. They had a physical exchange and Sheamus nailed him with a knee to the face that sent Ambrose to the floor. Ambrose rolled to the floor to prevent a pinfall attempt.
(Commercial)
Back from break, Ambrose tried some offense going until Sheamus clipped the knee again. Ambrose nailed a neckbreaker as he started a comeback that also included a bulldog. Sheamus came back with the rolling senton and then he applied the Irish Cloverleaf submission to work on the knee. Ambrose got to the ropes to force the break. Sheamus nailed Ambrose with forearm shots and got mad that the crowd was counting along. Ambrose hit some forearms of his own followed by a neckbreaker. Ambrose hit the flying elbow attack on Sheamus for a two count. Dean was doing a great job of selling the left leg injury. Sheamus kicked him in the leg, hit a high knee and Ambrose came back with a big clothesline. Sheamus rolled out of the ring to avoid Dirty Deeds. Sheamus tried to leave with the briefcase, but Randy Orton's music hit and he walked out to prevent Sheamus from leaving. Somehow the ref was only at a count of two during all that. Sheamus went in the ring, missed a Brogue Kick and Ambrose won with the ROLLUP OF DEATH~! pin for the win after 11 minutes.
Winner by pinfall: Dean Ambrose

Analysis: **3/4 It was a solid match with a bad finish because I hate when somebody else's music plays and it distracts one of the guys in the match. I'm also not a fan of guys getting pinned by the ROD~! because they kick out of so many big moves, yet are vulnerable to that just because there was a distraction. It's just weak to me. Ambrose getting a win is fine because he gets a win back after losing. Sheamus losing is consistent with how he was booked before MITB when he was losing matches. Just because a guy is holding MITB doesn't mean he's going to be pushed well.
Post match, Orton attacked Sheamus at ringside and then Orton nailed a draping DDT off the ropes. Orton wanted the RKO, but Sheamus shoved him off. Sheamus ran up the ramp with his briefcase.
Analysis: I'm not a huge fan of Sheamus vs. Orton matches so I'd rather see them feud with other people, but I guess WWE is going to go with this feud.
In the backstage area, J&J Security walked up to Rollins who he called Harry & Lloyd from Dumb & Dumber. He bragged about the win. Noble told Rollins that they should pick Joey Mercury as Seth's opponent for the WWE Title since they beat Rollins last week on Raw. Rollins said he thinks they were there because they were praying that Rollins would give them their jobs back. Mercury said that Rollins is afraid of them and no matter what Rollins does in his career he will always have that loss to J&J last week.
Analysis: It's continuing to push the idea that Rollins has upset everybody that he was once close to so he's really vulnerable as the champion.
There was a clip of Dusty Rhodes winning the NWA Heavyweight Title over Harley Race in 1979. A Dusty promo aired talking about the victory as well. After Raw there's a WWE Network special called Celebrating The Dream.
(Commercial)
R-Truth walked out in a cheap crown and cape. He was calling himself King What's Up because he's a dumbass. King Barrett entered for a match. He thought he was on commentary, but JBL told him he's in the match. Truth replied with a "Whatchu talking about Willis?" At least that catchphrase will excite the older fans watching.
King Barrett vs. R-Truth
Barrett hit a kick to the head. Truth came back with a ROLLUP OF DEATH~! and actually won the match. Wow. It was less than a minute.
Winner by pinfall: R-Truth
Post match, Barrett nailed Truth with the Bull Hammer elbow shot. He did a quick promo saying Truth makes a mockery of king of the ring.
Analysis: Two matches in a row with the same finish is so weak. Also, Barrett should do a promo ranting about the creative team making KOTR look like a joke because he is the most poorly booked KOTR winner I've ever seen and there have been other bad ones too.
Backstage, hip-hop artist Machine Gun Kelly was there talking people barely on the show like Fandango, Zack Ryder, Heath Slater, Summer Rae, Emma and Alicia Fox. Paige showed up to say she wanted to talk to the girls later.
Kevin Owens is up next. That's the end of hour one.
(Commercial)
There were photos from John Cena beating Kevin Owens at Money in the Bank in what I thought was the match of the year.
Kevin Owens made his entrance with the NXT Title on his shoulder. Cole said Cena had a back injury with muscle contusions or whatever story they are making up. Owens said that Cena wasn't there, so the crowd cheered. Owens mentioned that after the match at MITB he did give Cena a Powerbomb on the side of the apron. He told us that Cena said something disrespectful to him when he said "you belong here" and Owens replied by saying he knew he belonged there. He yelled about how he didn't need Cena to endorse him to people. Owens said that after Cena won, he insisted that Owens shake his hand and that was Cena trying to hog the spotlight because Cena always has to be the hero. Owens claimed that Cena disrespected him, so he did what he had to do. Regardless of what happened, he holds a victory over Cena and this time when he wins he wants the United States Title. Owens said that since Cena isn't going to be able to issue an open challenge, he's going to issue a challenge right now.
Dolph Ziggler answered the challenge. He had Lana with him and gave her a kiss at the top of the ramp with Cole saying it looks like their relationship is progressing since the kiss was a bit longer than usual. Ziggler talked about how he's scratched and clawed for everything he's ever got in this business. Ziggler mentioned this city has fought for a championship, so he's going to give them one right now. When Lilian Garcia tried to do an intro for the NXT Title, Owens called her "blondie" and said this is going to be a non-title match.
Analysis: Great promo by Owens like usual. He's a heel that has no problem justifying his actions. Cena didn't do anything that bad, but the key to being a good heel is believing in what you said and do, which is what Owens does so well. It makes sense that it's a non-title match because why would Ziggler for the NXT Title. It was a cheap move for Owens to say that at the end, but it makes sense.
Kevin Owens vs. Dolph Ziggler
Owens tossed Ziggler to the floor, so they went to break about 10 seconds into it.
(Commercial)
Owens was dominant with a senton splash for a two count. Owens stepped on Ziggler's ribs and then yelled "that's why I'm the champ." He worked on the ribs of Ziggler by dropping him rib first on the top rope two times in a row. Hard whip by Owens sending Ziggler in the corner. Ziggler made a comeback by nailing a clothesline that sent both guys over the top to the floor. Owens hit him with a forearm shot when they were outside the ring. Ziggler came back with punches, but Owens grabbed him and tossed him over the barricade at ringside, which sent Ziggler crashing into some chairs by the timekeeper. Ziggler stumbled back in the ring before the ten count. Owens missed his splash and Ziggler planted him with a leaping DDT. Owens rolled to the floor for the vintage floor to commercial break.
Analysis: It's been a good match, but two commercials eight minutes into the match is a little much.
(Commercial)
Back from break, Owens had Ziggler in a headlock. Ziggler did a comeback with some punches, but Ziggler knocked him down with a forearm shot. Owens went for his cannonball in the corner only to be met by a Ziggler superkick for a two count. Ziggler went for a Fameasser, but Owens caught him and Ziggler was able to slip out. Ziggler hit a Fameasser for another two count. Ziggler went for a corner splash, Owens moved and hit a release German suplex for two. Owens nailed the Cannonball attack in the corner. Owens wanted the Popup Powerbomb, but Ziggler got out of it and Ziggler hit the Zig Zag for a two count. Owens came back with a superkick of his own and then nailed the Popup Powerbomb to finish him off after 15 minutes.
Winner by pinfall: Kevin Owens
Owens left with his NXT Title.
Analysis: ***1/2 That was an awesome match even with the two commercials that took place. Ziggler's always capable of having great matches no matter who he's in the ring with and Owens is proving he can do the same thing. It helps that they got 15 minutes too. Considering it was their first match the chemistry was pretty good. There were a lot of believable nearfalls by Ziggler and Owens solid it all very well. When it came time to finish him off, Owens was aggressive like usual. I wish they would time the commercials better so there's only one in the match instead of two. Other that, I enjoyed it a lot.
A bunch of divas gathered around in the backstage area. It looked like they were the heel divas. Paige stood on a chair. She talked about how they need to take a stand to stop the Bella Twins. Summer cut her off saying is this because Paige lost to the Bella Twins and Alicia mentioned that Paige turned on so many people she teamed with. Paige kept on talking about how unfair things were and even had a line about who the Bellas are married to (Nikki's not married, but dating Cena has its perks of course). Naomi spoke up to say that Paige is crazy if she thinks she will help her. Paige added that she's challenged the Bellas to a 2 on 1 handicap match.
The Bellas showed up. Nikki said ever since she helped Stephanie McMahon at SummerSlam she's been the Divas Champion. It actually happened three months later, but it's basically her way of saying that she has dominated since then. They asked if any of the girls would step up. All of the girls walked away one by one and then Naomi and Tamina left together. Paige left all sad.
Analysis: I like that they at least got a few minutes to try to tell a story of how Paige is all alone without anybody there for her.
Randy Orton entered for a match against Kane.
(Commercial)
Kane made his entrance after the break.
Randy Orton vs. Kane
Orton hit a suplex. Kane hit a side slam as I wonder why they want to book boring matches like this. Kane hit a clothesline. Kane wanted a clothesline, Orton shoved out of it, hit some clotheslines of his own and Kane met him with an elbow. Orton came back with the snap powerslam that he always does. Sheamus' music hit and he walked down to the ring with the MITB briefcase. Kane did a promo said that he decided that this match is now No Holds Barred where anything goes. Sheamus went into the ring, Orton couldn't handle both guys and Sheamus quickly connected with a Brogue Kick. Kane covered for the win after five minutes.
Winner by pinfall: Kane
After the match, Kane left while Sheamus held up the MITB briefcase over Orton's head.
Analysis: * It was an angle more than a match to push the ongoing storyline between Orton and Sheamus with Sheamus costing Orton the match. Kane was pretty unfair in making it No Holds Barred, but that's what happens when you have heels in charge.
The announcers recapped the Wyatt/Reigns situation from Money in the Bank.
Seth Rollins showed up to talk to Kane after his match. Rollins said that Kane was his biggest detractor because Kane used to be somebody that was great and feared. Kane told Rollins that he has to win match after match, night after night to be the best. Rollins fired back by saying he can do it on his own unlike Kane, who always had people helping him whether it was the Corporation, Authority, Paul Bearer, Undertaker and Kane grabbed him by the shirt telling him not to mention his family. Rollins ended up walking away.
Analysis: More issues for them, which is continuing that story that has been going on for months. At least Kane isn't the determining factor in title matches.
(Commercial)
There were clips shown of Dusty Rhodes' Hall of Fame speech.
Ryback is at the announce table for this next match.
Big Show vs. The Miz
With Miz being from Cleveland, he got some cheers from the crowd. Show teased that his leg was hurting and then he destroyed Miz with some hard chops to the chest. Ryback commented about how everybody loves Miz getting beat up. Show dumped Miz over the top to the floor as they battled right in front of Ryback. Show picked up Miz and tossed him onto Ryback. That led to Ryback arguing with Show while Miz rolled back into the ring to win the match by countout after four minutes.
Winner by countout: The Miz

Analysis: 1/2* They are turning this feud into a triple threat, so Miz gets the cheap win as a way to justify him getting a title shot. He can say he beat Big Show and is a top contender for the IC Title.
Post match, Miz went up the ramp. Ryback wanted to attack Show, but Show slipped under the ropes to escape. Ryback held up the IC Title in the ring to taunt both guys. Miz was celebrating in an over the top way.
Up next is a look at Bray Wyatt's intrusion at MITB and Roman Reigns calling him out.
(Commercial)
The Competition Special for Tough Enough is on WWE Network Tuesday at 8pET. They narrowed it down to 13 people, so watch that special to see how they did it.
Roman Reigns made his entrance. The bell rang as if this was a match as Reigns said he was pissed off. He called Bray Wyatt to get out there right now.
Wyatt did a promo from backstage talking about how man tells the truth and the other tells lies. Reigns told him to shut his mouth and get out there now. Wyatt said that Reigns wants answers, but can't comprehend their meaning. Wyatt mentioned that two weeks ago Reigns took his opportunity away and Reigns selfishly denied him. Wyatt said he thinks that is Reigns' ego that makes him do crazy things with Wyatt saying that Reigns reminds him of somebody that thought they were the chosen too. Wyatt said now we know they made the right choice because if you look outside your window you can see all of this is no paradise. Wyatt told Reigns they are opposites that balance this whole thing out and they need eachother, so that's how he knew that it had be anybody but Roman. He told Reigns that he will destroy him, but not tonight because what kind of example would that be with Father's Day coming. Wyatt held a picture of Reigns holding a teacup with his daughter. Wyatt told Reigns to have patience and said their fun is just getting started. Reigns had a serious look in the ring. Wyatt ended with "run" to bring the promo home.
Analysis: It was typical like a Wyatt promo that he does all the time, but at least he mentioned two weeks ago when Reigns beat him to be in Money the Bank. At least that's a bit of storyline continuity. Wyatt holding the photo of Reigns with his daughter is a bit creepy and can give this a personal feel to the feud. Wyatt is married with two kids although I doubt that gets acknowledged in this story. I like the potential of what they can do together. There's no point in giving away a fight right now. There's five weeks until Battleground, so a slow build is fine with me.
(Commercial)
Paige entered for her handicap match against the Bella Twins.
The Bella Twins vs. Paige
Paige tripped up Nikki and hit a headbutt followed some knee attacks, but Brie tripped her up from behind. Nikki got a two count. Brie hit a missile dropkick for a two count. Brie nailed a running knee attack following her "Brie Mode" yell while the announcers argued about how none of the other divas will help Paige. Double team slam by the Bellas followed by Nikki kicking Paige in the back and applying a leglock. The Bellas slipped up by running into eachother, so Paige hit a knee attack on Brie, who was legal. Clotheslines by Paige and then some kicks to the head. Paige tossed Brie into Nikki while she was on the apron. Paige hit the Rampaige DDT on Brie, but Nikki came in for the save. Nikki slammed Paige into the turnbuckle and tagged herself in. Forearm shot by Nikki. Rack Attack by Nikki and that's it after five minutes.
Winners by pinfall: The Bella Twins
Analysis: *1/2 The Bellas had control early, Paige came back, nearly won and then got beat because she had nobody to help her. That's the story they've been telling for weeks, yet nobody will help Paige. I guess this means they'll call up Charlotte from NXT, which I'm perfectly fine with. I'd be happy if it was Natalya, but she did team up with Paige earlier in the year and they couldn't beat the Bellas, so I guess it's time for Charlotte. I have no problem with that.
Up next is Machine Gun Kelly to perform one of his songs.
(Commercial)
Machine Gun Kelly performed some music on the stage. I can't say I know much about him other than when he's on WWE shows, but I know he's from Cleveland and the crowd cheered for him most of the time.
When the performance was done, Kevin Owens came out onto the stage. He got right in his face. MGK didn't seem interested in what he had to say, so he shoved him. Owens didn't like that, so he knocked him down and gave him Powerbomb through a padded area by the stage. It wasn't just a singular table. MGK had some friends help him up pretty quickly, so it wasn't a long sell job. Replays aired of the attack.
Analysis: It was a lot bigger than a table, but it's still impressive and an example of how Owens just doesn't care who he hurts. Of course some in the crowd cheered for it because they didn't care that much for a musical performance.
(Commercial)
There was a replay of the Kevin Owens attack on MGK. They showed the angle from behind Owens instead of showing the landing by Kelly. JBL said that he wasn't defending Owens and Saxton said he's not sure what Owens is thinking.
A video aired promoting the new Terminator film.
The New Day were in the ring. Looking ready for a match. They did a promo backstage before the match talking about how they'll get back the tag titles because it will be a new day. Well played. There was also a promo inset done by the Prime Time Players doing some New Age Outlaws schtick and mocking the New Day as well.
The New Day vs. Neville, Darren Young & Titus O'Neil
Young worked with Woods early on and hit a neckbreaker on him. Kingston had his ribs taped, so after he got in there Young hit him in the ribs and Kingston tagged Woods back in. O'Neil suplexed Young onto Woods, then O'Neil tossed Kingston aside. O'Neil sent Big E out of the ring too, so Neville ran the ropes and hit a dive over the top to take out New Day outside the ring. Commercial time two minutes into the match.
(Commercial)
Back from break, the New Day were working on Young with Kingston hitting a double axehandle off the top rope. Woods applied an armbar and then he nailed a kick on O'Neil while he was on the apron. Young used that opportunity to tag in Neville. That led to Neville unloading on Woods with some kicks and a flying forearm smash on Woods. When Woods tried a suplex, Neville landed on his feet and nailed a kick to the face. O'Neil shoved Kingston off the apron and O'Neil nailed Big E with the Spinebuster. Woods hit a neckbreaker variation on Neville for a two count as Young made the save. Kingston tagged in, Neville brought in Young and Young hit a gutbuster on the bad ribs of Kingston. Neville tagged in and nailed Kingston with the Red Arrow splash off the top rope for the win after 10 minutes.
Winners by pinfall: Neville, Darren Young & Titus O'Neil
Analysis: **1/2 It was a six man tag to put over the babyface team and continue the momentum of the Prime Time Players. Neville fit in well with them as the speed guy that was on fire when he got the hot tag. It was no surprise that the faces won because it was one of those feel good matches to put the good guys over. Hopefully New Day can get some momentum back soon.
The announcers recapped the interesting 24 hours by Kevin Owens with some images of what he did at Money in the Bank and his attack on Machine Gun Kelly. Cole said that MGK was being looked at by WWE's doctors.
Dean Ambrose was shown in the locker room throwing darts at a dart board that had Seth Rollins picture on it. Kane showed up talking to Ambrose. That led to Ambrose talking trash to Kane calling him a glorified messenger after Kane reminded him that he was a former World Champion. Ambrose told Kane that to him this is just a job, but to him this is his life and he lays it on the line every single night. Ambrose said he needs that title and he will never, ever stop until he gets it. He asked Kane what he lived for because it was Dean's way of saying that Kane lacked the passion since he considered it a job now.
Analysis: We are supposed to think that they are favorites to be picked for Seth Rollins' next opponent. It was also a way to put over Kane potentially going face in the near future by finding his passion for the business again.
Triple H and Stephanie McMahon were shown walking to the ring.
(Commercial)
A video promo aired showing some famous promos from Dusty Rhodes' career. He's one of the best talkers ever. No doubt about that.
Announcement Of Seth Rollins' Next Opponent
Triple H and Stephanie McMahon entered the ring about three hours late for the show opening promo. Stephanie apologized for what Owens did to Machine Gun Kelly earlier because and said disciplinary action will not be taken. Triple H moved on to talk about who will face Seth Rollins next and it's not going to be Mercury, Noble, Kane or Dean Ambrose. Stephanie wondered if it's not going to be Ambrose then who will it be. Here comes WWE Champion Seth Rollins.
Rollins got in the ring to say that there is nobody on the roster capable of taking the WWE Title from him. He said he's going to beat whoever it is because he's going to make them proud. Hunter said that Rollins has beaten Reigns, Orton and Ambrose and he won without any help at Money in the Bank just like he said. Stephanie said they are proud of him, but some people feel that without The Authority he is ripe for the picking. She said that Rollins has tested their patience. Hunter said sometimes you have to wonder if your investment will pay off. Hunter did a speech about turning some coal into a diamond and he wondered if Rollins crumbles or does Rollins become the diamond they invested in. Hunter: "Because Seth, the pressure is on."
There's the Brock Lesnar music and there he is! It's the first time we've seen Lesnar since the night after WrestleMania when he was suspended. Huge ovation for Lesnar, who is wearing a "Suplex City" shirt and Paul Heyman was with him like usual. JBL said that Lesnar has been reinstated. Rollins freaked out in the ring while Lesnar walked around the ring. The crowd cheered Lesnar as he slowly entered the ring along with Heyman. Heyman shook the hands of Triple H and Stephanie McMahon.
Everybody cleared the ring except Lesnar and Rollins as the crowd chanted "suplex city" for their faceoff. Lesnar stared right at him while Rollins had a tough time looking him in the eye because he was showing fear. Rollins stepped back, so Lesnar stepped towards him. Heyman was smiling at ringside. Rollins backed up so much that he went out of the ring. He looked at Hunter and Stephanie, who just stared back at him.
Rollins backed up the ramp by himself looking freaked out. Lesnar just stared at him. There were no words and no physical contact. It was just a long staredown with Lesnar intimidating him. It was announced by Cole that the mach will take place in five weeks on July 19 at the Battleground show in St. Louis. Raw ended at 11:08pmET as the staredown continued.
Analysis: The word about Lesnar returning for this show was known online a few days ago, but he was never advertised. He is advertised for many shows over the next few months, so it's nice to see him back on WWE TV. They can save the physical stuff for the future. For now, what they wanted to do was drive the point home that Rollins is scared to face off with Lesnar and isn't looking forward to dealing with him.
I liked hearing those "suplex city" chants for Lesnar. He hasn't been a face since 2003, so it's going to be different for him this time around as compared to the last three years. I'm really looking forward to their singles match because they had awesome chemistry during the Royal Rumble triple threat with Cena back in January. I think Rollins will find a way to escape with the title although that's far from a sure thing because I can see Sheamus cashing in before the match is over. I'm just excited about the build to this match because they're two of my favorite guys having their first singles match ever and as a fan of this business I love seeing matches like that when the talents are so good.
Three Stars of the Show
Kevin Owens
Dolph Ziggler
Dean Ambrose
The Scoreboard
5.5 out of 10
Last week: 5
Last 5 Weeks: 5, 5, 4.5, 7.5, 6
2015 Average: 5.67
2015 High: 9 (May 4)
2015 Low: 4 (Feb 9)
Final Thoughts
I'm giving it a 5.5 out of 10.
– Kevin Owens continues to be the most exciting person on this show. He's presented like such a star that talks a lot of trash, backs it up with his actions in the match and even does heinous things like attack Machine Gun Kelly. If he wasn't on the show it would have got about 4 out of 10. He's a difference maker in my enjoyment of Raw.
– I didn't miss Cena at all. I'm not a hater by any means, but I think it's smart that he was off selling the attack from Sunday.
– There were several points in the show where things were pretty slow and boring. That's what happens when you have three hours to fill.
– On the positive side, there were at least some new stories that were built up, which is a nice change after the last month or two.
– I'm intrigued by Lesnar vs. Rollins so much. I want to see the match, but also want to see how they book it because there are so many possibilities especially with Sheamus lurking with the Money in the Bank briefcase too.
It was a very average show, but I think WWE is headed in a positive direction with Battleground in five weeks because there will be a lot of time to build it up and then SummerSlam in August.
—-
That's all for this week. Check out my feature column archive that's exclusive to WhatCulture. I recently passed 50 million views on there and 1,000 posts so thanks for the support!
Thanks for reading.
John Canton –mrjohncanton@gmail.com
Twitter@johnreport