The John Report: The WWE Raw Deal 03/23/15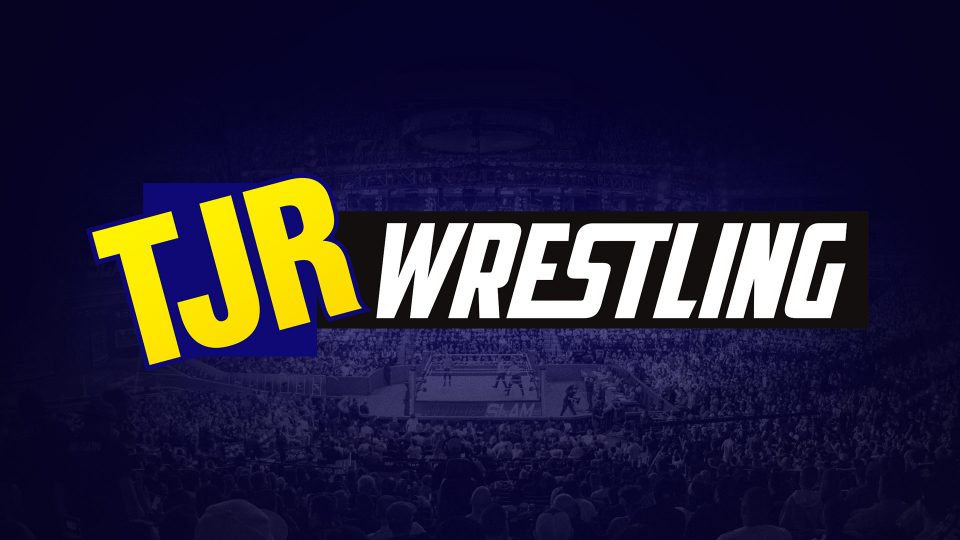 Live from Los Angeles, California this is the Raw Deal for episode #1138. Follow me on Twitter @johnreport. Thanks to Melo Man for the banner you see above. Think of it as my way of saying I miss when Daniel Bryan had a bigger role.
The Raw intro aired to start the show. No video package.
Sting's music hit as the icon and THE VIGILANTE~! Sting made his entrance as Michael Cole noted that it was 14 years ago that WWE bought WCW. Cole welcomed us to Raw along with John Bradshaw Layfield and Booker T. Really good reaction for Sting.
Sting grabbed the microphone to say this is what it feels like to kick off Monday Night Raw. He talked about how he's been known as the WCW solider and he watched Triple H do what he did to get where he is now at the very top. Sting said that maybe Triple H thinks he's unstoppable, but he's not here to fight for WCW – that would be ridiculous. He said that he's there for one specific reason: to take Triple H down. The crowd cheered.
Stephanie McMahon's music hit and she went down to the ring to confront Sting. She congratulated Sting for making it to the big time. She told him to soak it all in that he is her in presence and Sting told her she's a spoiled brat that thinks she's earned it. She said that Sting was intimidated to be in WWE. Stephanie spoke about her dad eviscerated his career when WWE beat WCW. She kept on rambling on about WCW even though the guy said he was there not to talk about WWE vs. WCW. Stephanie said that Sting will lose everything when Triple H pins him this Sunday at WrestleMania. She called him a face painted freak. Sting let out a "woo" yell that the fans liked. She went to slap Sting, but he grabbed her arm.
Here's the music of Triple H and he walked down to the ring for a promo. Stephanie exited the ring as Hunter slowly walked around the ring. Hunter seemed to ask if Sting put his hands on her. Stephanie handed Triple H the sledgehammer, so Sting pulled out the bat he had in his jacket. Sting wound up the bat to intimidate him.
Hunter backed away from the fight and left with Stephanie. Sting just looked on as the crowd booed Hunter for leaving. Sting took off his coat and wanted Hunter to come after him while the crowd cheered Sting, but Hunter backed away.
Analysis: Congrats to Sting for popping his show opening promo cherry on Raw. He showed a lot of energy and the crowd was hot for it. What bothered me is that he was there to say he wasn't there about WWE vs. WCW. He was there to stop Triple H, yet when Stephanie came out she said WCW about a dozen times. Why talk about things that he doesn't even want to talk about? It was 14 years ago. I liked that he tried to advance the story away from WCW, but then they are so focused on it. She's a heel that's there to aggravate people, but I thought they could have went away from the WCW angle. I was fine with them not doing anything physical. No point in giving it away early.
There's a fan vote to pick Randy Orton's opponent: Big Show, Kane or Seth Rollins/J&J Security. Go vote on WWE App.
Paige and AJ Lee were shown talking backstage.
Dean Ambrose entered for a tag match.
(Commercial)
Bad News Barrett is on commentary and he's the Intercontinental Champion that loses all the time.
Dean Ambrose & R-Truth vs. Luke Harper & Stardust
I'm not sure how many tag matches there have been between the guys in the IC Title match in the last month on both Raw and Smackdown, but it feels like every week there's at least one. Anyway, they worked for about two minutes before going to a break when the heels were on the floor.
(Commercial)
Back from break, shockingly the heels were in control of the face. That never happens…or does every time. Anyway, Ambrose tried to free himself of Stardust and instead was driven back into his corner. Stardust hit an Alabama Slam for two. Barrett said the longer this match goes the better for him. Harper hit a nice side slam for two. Ambrose tried to fight back, but when he was on the top rope he was distracted and Harper sent him to the floor. Ambrose came back with a clothesline. In the ring, Ambrose hit a Tornado DDT. R-Truth received the hot tag, hit some kicks, a clothesline and a front suplex for two on Stardust. Harper took out Truth with a kick, then Ambrose nailed Harper with a clothesline and then a dive outside the ring by Ambrose on Harper. Truth hit the Little Jimmy finisher on Stardust for the win after 11 minutes.
Winners by pinfall: R-Truth and Dean Ambrose
Post match, Barrett left quickly so nobody could take his title. R-Truth did his dance in the ring and Ambrose did a little dance too. It wasn't great, but he tried. I chuckled a bit.
Analysis: ** I don't even remember the last time Truth got a pin in a significant match on Raw. It was smart to give him the win because it makes him look credible going into the match on Sunday. It was a solid match that followed the typical tag formula where the heels worked on Ambrose, Truth tagged in, dominated and got the win.
They plugged stuff happening later with a video about Roman Reigns coming up.
(Commercial)
There was a commercial for the Special Olympics World Games that are in Los Angeles in 2015 and WWE is a part of it. Renee Young was on the Raw stage with athletes competing in the Special Olympics in Los Angeles in July. The crowd cheered.
A video package aired about Roman Reigns. It showed highlights of him in action while also showing the sitdown interview that was from last week. It was only about two minutes.
Analysis: It's WrestleMania season. They love video packages and promos more than ever.
They showed some tweets from JBL and Bill Simmons from their fake feud to set up his Raw appearance. Simmons is up next on Raw.
The Miz and Damien Mizdow entered for some ten man tag starting after the break. They showed something with them talking with Will Ferrell and Kevin Hart about their movie Get Hard. Miz asked them about stunt doubles. Ferrell and Hart said that Mizdow has a look that Hollywood loves. Miz told Mizdow to get water. Ferrell went for the water. Apparently it's on WWE.com if you want to see it.
(Commercial)
Bill Simmons of ESPN/Grantland joined the announce team. They mentioned Jon Gruden talking about the battle royal on WWE.com. Simmons said that they want to do a 30 for 30 documentary on Andre the Giant. That would be sweet. Oh hey there's a match almost starting in the ring.
Ryback, Zack Ryder, Titus O'Neil, Darren Young & Erick Rowan vs. The Miz, Damien Mizdow, Adam Rose, Konnor & Viktor
All of these guys are in the battle royal. Miz worked on Young and didn't talk in Mizdow. Simmons said he's really looking forward to Lesnar at WrestleMania and that he was shocked when Lesnar destroyed Cena at SummerSlam. The guys in the ring were doing a lot of quick tags. Simmons was funny ripping on JBL saying that he set the announcing job back many years. The heels worked on Ryder in their corner and Mizdow finally got to tag in with the backbreaker/neckbreaker combo. Miz forced Mizdow to tag him in. Ryder slammed Miz head first into the mat. Ryback got the hot tag and took down Miz with a Thesz Press followed by a Spinebuster. Ryback slammed Rose, then took down both Ascension guys with a double clothesline. Miz attacked Ryback, but Ryback came back with a massive Meat Hook Clothesline followed by Shellshock on Miz for the win. It went about six minutes.
Winners by pinfall: Ryback, Zack Ryder, Titus O'Neil, Darren Young & Erick Rowan
Analysis: *3/4 It was a basic tag match just to build up Ryback as the biggest threat in the battle royal on Sunday. The match felt like a backstory because Simmons was there talking a lot. He did a good job and I like him, but it definitely took away from the action in the ring. My pick for the battle royal is either Ryback, Sheamus or Sandow. I haven't decided yet, but I'd be surprised if it's somebody other than them.
After the match, they thanked Simmons for joining them. When they asked him about what he likes about WWE Network, he talked about the price of the PPVs being great.
There were clips of Randy Orton and Sting taking care of The Authority last week. Orton's match is up next.
(Commercial)
Randy Orton entered for his match. Here are the poll results: Rollins & JJ: 77%, Kane 12% and Big Show 11%.
Seth Rollins entered with J&J Security, who were in their suits, but they took off their jackets and ties for the match.
Randy Orton vs. Seth Rollins, Jamie Noble & Joey Mercury
Orton stomped away on Noble and then threw him into Rollins, but Rollins moved out of the way. Mercury saved Rollins from an attack and then Rollins nailed a kick to the head. Noble worked on Orton in the ring. The story is that Rollins doesn't want to face Orton, so the other two guys are doing it. Orton got rid of Noble, then slammed Mercury and then hit a double DDT on Mercury and Noble at the same time. Rollins backed away. He went for an attack, Orton moved out of the way and Rollins avoided a RKO. Orton sent Mercury out of the ring. RKO to Noble leading to the win after four minutes.
Winner by pinfall: Randy Orton
Analysis: * It was about the story of Rollins doing what he can to avoid a confrontation with Orton and it was an easy win for Orton. That match on Sunday should be pretty good. I hope they get 15-20 minutes because that would be awesome. I fear they might get in the 10-15 minute range, which will be fine, but I like both guys and hope they get a chance for more.
They showed clips of a John Cena exclusive interview from WWE.com that I chose not to watch, but now I'm forced to. Cena said he loved America and there's documented proof of his support of the men & women that fight for their freedom. He wants to be that champion and that ambassador. Cena said that WrestleMania is about shutting up Rusev and bringing that title back to America.
Rusev vs. Swagger round 4,847 is up later.
Analysis: Seriously? This match has been done more than anything on WWE TV in the last year. I'm so tired of it.
Paige and AJ Lee talked about how Nikki Bella was going to offer up a Divas Championship match for one of them. Paige said something about turning down a championship match would be crazy. Paige hugged her, then walked off and that's next.
Analysis: I guess putting divas in a backstage promo is giving them a chance, so that's something positive.
(Commercial)
LL Cool J spoke about WrestleMania since he's part of the opening promo for WrestleMania on Sunday.
Divas Title: Nikki Bella (w/Brie) vs. Paige (w/AJ Lee)
They got full intros in the ring. Paige kneed Nikki to send her outside the ring. Nikki hit a move and then did some pushups in the ring as a taunt. She's the new Scott Steiner. When Nikki rolled to the floor, Paige hit a clothesline off the apron to knock her down. Nikki slammed Paige's head into her knee for two. They went to break.
(Commercial)
Back from break, Nikki was still in control. They did a double clothesline spot. Paige got the advantage with a series of clothesline and then a dropkick for two. Paige did her "this is my house" yell that she's done about four times already and Nikki countered her attack for a two count. Paige came back with a superkick for two. Nikki was able to come back with an Alabama Slam for two for a good nearfall. That's the second Alabama Slam of the night. Paige fought out of the Rack Attack and hit a Rampaige DDT for two. Nikki kicked out. I'm stunned that wasn't it. I figured there would be a DQ finish or something there, but it was a clean kickout. Paige attacked, but Nikki grabbed her and they fell through the ropes. AJ slammed Brie to the mat. Paige went over to AJ, who nailed Paige with a back elbow and she was mad about it. Nikki nailed Paige with a forearm shot. Back in the ring, Nikki hit the Rack Attack for the win after 11 minutes.
Winner by pinfall: Nikki Bella
Analysis: *** That was a really good, competitive match with the champ retaining the title. She kicked out of Paige's finisher and then got the win thanks to AJ's inadvertent attack on Paige. That's the kind of story we want to see the women have. The fact that they had the Divas Title match here makes me happy because they are doing a tag on Sunday, so at least this shows that Nikki is a fighting champion. We don't need the ridiculous over the top stories. Keep it simple like this feud. It has worked well.
Post match, the Bella Twins left. AJ tried to check on Paige, but Paige took her down and they brawled around the ring for a bit until the ref broke it up.
Analysis: Good intensity by AJ and Paige. Can they get along on Sunday? It's why people will care about the match. I think they'll win on Sunday, but I like that they painted the picture that they are having issues.
It's Daniel Bryan vs. Dolph Ziggler later. Good. You can vote on the ref and it's one of the six guys in the IC Title ladder match.
Snoop Dogg is up next.
(Commercial)
Snoop Dogg danced down to the ring with Alicia Fox, Summer Rae, Cameron and Rosa Mendes. He received a pretty good reaction. Snoop said that California is the home of WrestleMania. He was trying to talk about WrestleMania, but here comes Curtis Axel in his AxelMania shirt.
Axel told us not to change the channel. He walked down to the ring to tell him it's called AxelMania and it's a worldwide thing. When he said that AxelMania is running wild in Los Angeles some fans actually cheered. Axel went into the ring and he did a goofy rap. Snoop told him that he was ready. He told Axel that it's not WrestleMania, Snoopmania or AxelMania – the most important of them all is this on: here's Hulk Hogan.
Huge ovation for Hogan, who marched down to the ring. The crowd was hot for him. He talked about slamming Andre the Giant leading to HulkaMania taking off and he's heard of Snoopmania as well. Hogan asked Snoop what this brother is smoking over here. Axel ripped off his AxelMania shirt. Axel tried a punch, but Hogan blocked it and punched him. Snoop tossed Axel over the top to the floor. Snoop ripped off his shirt to show a Hulkamania shirt. The crowd cheered.
Analysis: That was fun. There wasn't much to it in terms of storyline advancement although Axel is in the battle royal. It just Hogan being Hogan and Snoop did a good job of following along. Snoop is really skinny. Maybe I should look into his "smoke a lot of weed" diet. Nah.
There was a replay of part of Brock Lesnar's awesome promo from last week on Raw as a way to hype his face to face with Reigns later.
(Commercial)
The Kickoff Match at WrestleMania is Tyson Kidd & Cesaro vs. Los Matadores vs. The New Day and The Usos. Jey is hurt, but working through it.
Interspecies Tag Match: Cesaro, Tyson Kidd & Natalya vs. Los Matadores & El Torito
The Usos were on commentary. This is a repeat from Smackdown. Torito tagged in to face Natalya, but Kidd tagged in quickly and told her to leave. Kidd and Cesaro made some quick tags. They did their spot where Cesaro hit the swing leading to Kidd tagging in with the dropkick. Kidd stunned one of Los Matadores along the top rope, but then when he went to the top he was met with a dropkick. The other Matador tagged in with some offense on Cesaro and Torito hit a cross body block for a two count. A splash by one of the Matadores on Cesaro's back. Torito was in the ring, so Natalya tagged in. She nailed a spinning clothesline on him for just two. The crowd thought that was it. She went for a Powerbomb, which won their match on Smackdown, but Torito rolled through with a rollup for the win. It went about four minutes.
Winners by pinfall: Los Matadores & El Torito
Post match, Kidd and Cesaro were upset about the loss while Natalya looked sad.
Analysis: *1/2 I'm not a huge fan of Torito in matches or guys like Cesaro having to sell stuff for him, but they kept it brief. Natalya was in there with him for a bit and they were able to get good reaction out of the crowd. It was a crafty win for Torito. Basically Los Matadores lost nearly every match for a year. Now they win to build them up as contenders for WrestleMania. I think the champs will and should retain on Sunday.
Bad News Barrett was in the locker room with the IC Title. Kane congratulated him for holding the title. Kane told Barrett that Kane had to get the title to hang it above the ring tonight. Barrett said it was a travesty and gave it to him. Kane told him all he has to do to get it back is beat six other superstars in a ladder match.
Analysis: It wasn't that necessary of a segment, but at least there was a story about the IC Title. That's a positive.
It's Rusev against Swagger up next. Can I just paste in one of my write-ups their previous matches?
(Commercial)
This Thursday on Smackdown it's John Cena, Roman Reigns, Daniel Bryan and Mark Henry against Bray Wyatt, Seth Rollins, Big Show and Kane. That's taped after Raw. The faces will win to send the fans home happy.
Rusev vs. Jack Swagger
This is not for Rusev's US Title. No Lana with Rusev because she's filming a movie although WWE isn't going to say that. The fans chanted "We Want Lana" because they miss her. Rusev slowed down the match with an arm lock. Boot to the face by Swagger, corner splash and a big clothesline. Rusev went for a superkick, Swagger caught his foot and Swagger ended up hitting a power slam. Rusev pounded on Swagger in the corner. Rusev nailed a huge clothesline while Swagger was tied up in the ropes. Huge superkick by Rusev and The Accolade led to the submission win. It went about four minutes.
Winner by submission: Rusev
Analysis: *1/2 If you've seen Rusev vs. Swagger once you've seen it a million times. They are fine at what they do, but it's not fresh at all. At least that massive clothesline spot was good.
Post match, Rusev kept the Accolade on for a long time. Here is John Cena's music and he comes out for the save.
Cena unloaded on Rusev with some fists. They battled outside the ring with Rusev shoving Cena into the barricade. Rusev sent Cena flying over the announce table onto the leather chairs. Rusev was about to leave, but he came back with a superkick to knock down Cena. Rusev cleaned the announce table off. Rusev picked up Cena and slammed him face first onto the table. Rusev gave Cena the Accolade onto the announce table.
Analysis: Guess what? John Cena got beat up on the last Raw before a PPV. Of course he did. The announcers can talk about how we've never seen anything like it before, but we have many times. Cena winning on Sunday is the biggest lock at WrestleMania. I liked the beating by Rusev. He's the baddest barefoot man in WWE.
(Commercial)
Writing Plug Time: Check out my review of last week's WWE NXT show that was the first time it was broadcast outside of Florida. The crowd in Columbus, Ohio was great…Here are my WrestleMania reviews up to WrestleMania 21 while adding to them to TJRWrestling every day and all 30 will be up by Sunday…My WhatCulture archive always has new content with my weekly Q&A, a feature about some of the stupidest things that WWE has ever done and plenty more.
There was a replay of Rusev's attack on Cena.
Bray Wyatt slowly walked to the ring for his weekly promo against The Undertaker. The crowd was trying to do the "what" thing to him as he talked about we're all liars. He said he's different and he's not a liar. Wyatt repeated that he's not a liar. Wyatt spoke about speaking the truth while fans were chanting for Undertaker. He told the fans that The Undertaker is just like them – he's a liar. Wyatt says that Undertaker tries to hide the fact that he lost. He told Undertaker that the angel with burnt wings has been sent to take him back to the other side.
The lights in the arena started flashing with Wyatt talking about the spirits. He says that everything belongs to him. Wyatt said that he's judged the living and the dead and at WrestleMania there will be no redemption. Wyatt told Undertaker that all he will receive is his fate sealed by Sister Abigail's kiss. Wyatt said he would take his new place among the Gods as the new face of fear. He said at WrestleMania, The Undertaker can finally rest in peace.
Analysis: It was another excellent promo by Wyatt, who has had to do promos for months without The Undertaker showing up. He really turned up the intensity this time. That "new face of fear" line has been the big selling point for the match. As has been mentioned in the past, WWE chose to not bring back Undertaker on Raw for WrestleMania hype. I think that's a bit of a mistake because his presence would have helped one of these weeks, but I get why they did it. They want that aura and mystique about him to be there.
The results for the WWE App vote for Bryan vs. Ziggler coming up with the choice of a special referee is up next.
(Commercial)
They showed some celebs at ringside including Michelle Beadle, Rick Rubin and Kid Ink. Apparently Kid Ink is performing with others at WrestleMania. That's not a creative name, Kid Ink. I guess The John Report isn't creative either. That makes us buddies.
The video package aired for Kevin Nash aka Diesel in the WWE Hall of Fame. It wasn't a surprise that he would be. They mentioned his WWE run as Diesel as well as his jump to WCW as Kevin Nash. Last year with Razor Ramon they didn't even say Scott Hall or mention WCW. It was well done like usual.
Analysis: Congrats to Nash. I'm glad they acknowledged his non-Deisel run unlike Hall last year. There were clips of Cesaro and Bo Dallas talking about him that were clearly from a few years ago because you could tell by their looks.
Natalya was shown backstage putting on makeup. Tyson Kidd was talking to a Burger King bag with his headphones on. She was behind a partition, so when he excitedly talked about the food she thought he was talking about her. When she walked over, he said that chicken fries were back at Burger King. The crowd laughed. She ate one of them and told him that she needed a moment.
Analysis: There's the blatant advertising spot of the night. We don't get them all the time, but that one was pretty funny. Tyson has done a great job developing as a character in the last year.
Daniel Bryan made his entrance and then Dolph Ziggler entered. WWE App voting results. The referee for this match: Ambrose, Truth, Bad News Barrett, Stardust or Luke Harper. The winner is Dean Ambrose with 57% of the vote. That match is next.
(Commercial)
Daniel Bryan vs. Dolph Ziggler (w/Dean Ambrose as referee)
The match started after the break. They had a great match on Smackdown, so hopefully this is close to that. Bryan hit a shoulderblock, but they went at a slow pace early. They had a bit of a shoving match followed by some forearm shots. Ambrose encouraged it. Bryan did a skin the cat move and sent Bryan over the top to the floor. Running dropkick by Bryan. He ran the apron for an attack, Ziggler moved and then Ziggler nailed Bryan with a clothesline that sent him over the barricade. Time for the break.
(Commercial)
When they returned from break there were some nearfalls by both guys. Bryan to the top, Ziggler tripped him up and then Ziggler came back with a facebuster off the top rope. Bryan came back with a hard kick for a nearfall. It's a very even match with a lot of good back and forth action between them. Bryan hit a running dropkick in the corner, but Ziggler came back with a Superkick and then a Zig Zag for the win after 10 minutes.
Winner by pinfall: Dolph Ziggler
Analysis: ***1/2 A very good match by two of the best in-ring performers in WWE. It's one of those matches where it felt like they ended it too soon. I wish they would have had another 10 minutes and they could have had a classic, but it's not meant to be. I'm a little surprised that Ziggler would win clean just like he did on Smackdown in almost the same finish. I thought Bryan was going to kick out. I don't hate it. I'm just saying it surprised me a bit.
Post match, Ambrose raised Ziggler's hand. He did it again and then Ambrose hit the Dirty Deeds DDT on Ziggler. Ambrose brought out a ladder, set it up in the ring and he symbolically climbed the ladder to reach for the IC Title above the ring. Ambrose was attacked by Barrett, Stardust, Harper and Truth. Everybody brawled around the ring. Ambrose nailed Dirty Deeds on Truth, Barrett nailed Bryan with the Bull Hammer. Stardust took care of Ziggler. Harper knocked Ambrose and Stardust down when they were on top of the ladder. All seven guys were down with the ladder.
Analysis: They ended the segment with nobody having the advantage. My pick is Bryan since he did two clean jobs on the last two TV shows. That's just how WWE typically books these things. Ambrose is my second pick.
Paul Heyman was backstage telling Brock Lesnar, who was not shown, that it's time.
(Commercial)
It's 11pmET as Brock Lesnar's music hits and the WWE Champion enters the arena along with his advocate Paul Heyman.
Heyman did his spectacular intro for the reigning WWE Heavyweight Champion of the World Brock Lesnar. Lesnar has some facial hair. He went through a beard phase in his UFC days. Heyman said there's not much more he can say, but if you're looking for a fight and watch Lesnar mangle a human being named Roman Reigns then you're going to get your money's worth. Heyman said that at WrestleMania, somebody is going to be proven right and somebody will be proven wrong. Heyman went over the usual things talking about how Lesnar beat Undertaker at WrestleMania and then he beat Cena at SummerSlam. When Heyman said that Cena is not in the main event of WrestleMania, the crowd cheered. Me too. Heyman's speech continued saying that Lesnar takes that title personally and that Reigns would have to go so far as to go into Lesnar's house and take everything from him to take that title from him. Heyman said that Lesnar's the kind of guy that could break into a house, take food off your children's plate and be the conqueror that he is. Heyman told Reigns that he says that he can and he will, but this Sunday Lesnar says that you can't and therefore you won't.
Here comes Roman Reigns. Thanks for joining us 3 hours and 8 minutes into the show. He marched down the steps to head into the ring.
Reigns went into the ring face to face with Lesnar. They had a staredown. No microphones for either man. Heyman left the ring. Lesnar held the WWE Title up in Roman's face. Reigns grabbed it from him and then he held it up. More fans cheered when Lesnar held it up. When Lesnar tried to grab it back, Reigns held onto it. They ended the show with both guys holding onto the title and a staredown. There was no commentary. Raw ended at 11:11pmET.
Analysis: That's it? That's what my thought was at that ending. It was definitely weak. If they had a pull apart brawl kind of ending it would have been a lot better because the crowd would have been really hot for it. Instead, we just get that lame tug of war kind of deal. It was weird not hearing Cole trying to do one final pitch for WrestleMania at the end, but obviously they felt like the silent way was the best way to end it. I'm not sure if that was the best move.
I know from being on Twitter and seeing immediate reactions that a lot of people didn't like the ending. I really didn't like it either. It could have been so much more considering they had no physical contact at all in the entire build up to this match. Heyman's promo was money like usual because it always is, but that ending could have been so much more. In the end, it doesn't matter much. Most people are going to watch anyway. I'm just saying they probably could have done a better job of doing a hard sell for what is supposed to be the biggest match of the year.
It's not that hard to do something better. It's Brock Lesnar! Heyman talks about him kicking ass all the time, so let's see it. They should have had a brawl. Bring out the entire locker room to break it up. That kind of thin. That ending is always hot and it always works in terms of selling people on match. Having two guys tug at the title like it's some toy is much less effective.
Here's the image of what happened with a slight edit. Thanks to my buddy Cory for sharing it.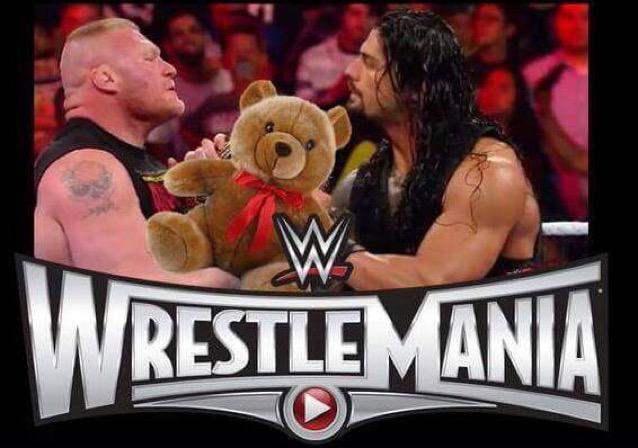 That's how lame it looked. Like they were fighting for a teddy bear, not the WWE Title.
Three Stars of the Show
1. Bray Wyatt
2. Paul Heyman
3. Dolph Ziggler
The Scoreboard
6 out of 10
Last week: 6
Last 5 Weeks: 6, 5, 5.5, 5.5, 6.5
2015 Average: 5.41
2015 High: 6.5 (Feb 16) – I had an error on here before, but it's right now.
2015 Low: 4 (Feb 9)
Final Thoughts
I'm giving it a 6 out of 10.
It was a slightly above average score based on my scores that you can see above. The ending was flat. No question about it. There were some things I liked, though.
Any time Ziggler wrestlers Bryan it's going to be really good. This was no exception. It still sucks that Bryan isn't on the show more, but that's his role at WrestleMania. The tag match with the IC Title contenders was a standard match to put over the faces.
Give a lot of credit to Nikki and Paige for having a very entertaining divas match. I liked the story they told as well as the action in the ring. Good job of making it feel like a big deal too.
There were strong promos from the likes of Bray Wyatt and Paul Heyman. Heyman's the best talker in WWE and Wyatt has done really well in terms of setting up that Undertaker match without Taker being there. Not easy to do.
The WrestleMania lineup isn't bad. It's not going to be one of the best WrestleManias most likely, but it's going to be far from the worst. There can be two or three great matches (thinking ladder plus Orton/Rollins) and if the timing of the matches is sorted out right then it's an above average show. There is a lot of talent on the card, after all.
What hasn't been great is the build. Below average for sure. We expect better and we didn't get it this year. That's a shame.
—–
That's all for this week. The WrestleMania preview will be posted on Friday and then the live WrestleMania recap will be on TJRWrestling.net and then posted elsewhere on Monday. I'm not going to watch the Hall of Fame live.
Check out my feature column archive that's exclusive to WhatCulture.
Thanks for reading.
John Canton –mrjohncanton@gmail.com
Twitter@johnreport