The John Report: The WWE Raw Deal 03/02/15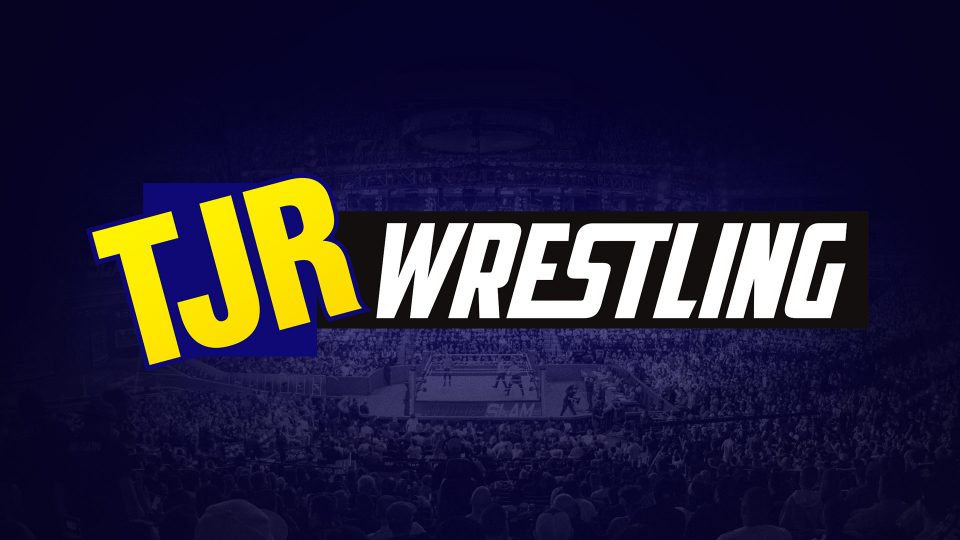 It's the first Raw Deal here on the new TJRWrestling.net and I'm excited about it because we've got four weeks to go until WrestleMania and a much better website to deliver you the news, reviews and opinion pieces you've come to expect from us. Thanks for coming along for the ride.
This week's Raw Deal is dedicated to my friend Tom Briggs, who unfortunately passed away in a single car accident in the San Diego area on Sunday morning. He was only 29 years old. He was with his fiancee, who suffered minor injuries. He wrote for us and did a podcast with his twin brother Aaron at TJRWrestling since April 2011. More than that, he was my friend and all of our friend. He also helped me a lot in his spare time with rebuilding TJRWrestling. He was such a positive, happy, nice guy that loved sports and wrestling just like me. We got along great despite only being online friends. It's weird how you can get to know somebody so well without seeing them in person, but it's true. He was excited to go to WrestleMania this year in his home state of California. Just like all of you reading this, he really enjoyed the wrestling business and writing about it as well as doing a podcast about it brought him a lot of joy. It's been very tough for all of us in the past couple of days because of how much Tom meant to us. My thoughts and prayers are with Tom's loved ones. Rest in peace, my friend.
Thanks to Steve Melo for the banner. Tom's favorite wrestler was Bret Hart with the podcast he did with his brother Aaron using the name the Sharpshooter Cast, so we thought it was a fitting tribute. This one's for you, buddy. (I wrote more about Tom here too.)
—
Live from Newark, New Jersey this is the Raw Deal for episode #1135. Follow me on Twitter @johnreport. Make sure you visit and bookmark the new website TJRWrestling.net (we moved from .com).
The Raw intro video started the show off.
Seth Rollins made his entrance with J&J Security. They showed the clip from last Thursday when Rollins appeared on The Daily Show with Jon Stewart to continue their angle.
Rollins said that Stewart is on his way to Raw. He warned Stewart that unless he's there to beg Rollins for forgiveness then he shouldn't show up there. Rollins claimed it wasn't some Lawler/Kaufman situation as the fans chanted "you suck" at him. He said he will show the world that he can do Stewart's job better than him, he's the future and unlike the Daily Show where they give tickets for free, everybody in a seat at Raw paid to see Rollins. The music of Roman Reigns started up.
Reigns entered the arena via audience as always. Reigns said that he was there to hear the people tell Rollins that he sucked. Reigns said that he outwork anybody including Michael Jordan, out-rap Wiz Khalifa, out-eat Mark Henry and he can out-wrestle Roman Reigns. Seth told him he's going to be the next WWE Champion and then he told Reigns that he can't beat Brock Lesnar. Rollins said that he can beat Lesnar and he can beat Reigns. Reigns wondered if Rollins had the confidence to cash in the Money in the Bank match at WrestleMania to force a triple threat match. Fans were chanting "CM Punk" for some reason. Rollins said that he could do that or he could wait and cash in on whoever is left standing at WrestleMania. Then he talked about cashing in the night after WrestleMania on Raw. He kept on rambling on, so Reigns said maybe he can punch Rollins in the mouth, which Reigns did. J&J attacked Reigns, so he hit a Superman Punch on Noble and a Spear on Mercury. Rollins escaped following the punch. The crowd loved that from Reigns.
Analysis: Rollins was great in that opening segment. He delivered his lines well, showed a lot of confidence in everything he said and it led to the crowd cheering Reigns by the end of it. I also liked how they addressed the possibility of Rollins cashing in the MITB briefcase at WrestleMania to set up a triple threat match or cashing in the next night on Raw. Lots of possibilities. It was nice to see those two in the opening segment instead of John Cena, Triple H, Stephanie McMahon or the people we usually get.
The announce team of Michael Cole, Booker T and John Bradshaw Layfield set up things on the show including Rollins/Stewart, Nikki Bella defending the Divas Title and Dean Ambrose walking to the ring.
(Commercial)
Backstage, Rollins complained to J&J about not helping him. Randy Orton showed up to say that was embarrassing. Orton told J&J to not let Reigns get their hands on Rollins. Orton suggested that Rollins take on Reigns so that he can prove he can out-wrestle Reigns. Rollins said he will handle it on his own. Orton said just trying to help.
Analysis: The face turn of Orton is coming along slowly. I still think they should have pulled the trigger last week, but I get why they are delaying it too.
They replayed IC Title drama from Smackdown. Ambrose has the IC Title even though Barrett is the champ.
Dean Ambrose vs. Bad News Barrett
This is not for Barrett's title. R-Truth is on commentary with Cole saying that Truth is part of the IC Title ladder match at WrestleMania. Ambrose was the aggressor early on with a running bulldog out of the corner. Barrett tripped up Ambrose when he was on the top rope. A boot to the face by Barrett sent Ambrose out of the ring and then Barrett held the IC Title up in the air. The match continues after the break.
(Commercial)
Barrett was in control with a headlock as the show returned from break. Back elbow by Barrett sent Ambrose to the floor. Truth did the stupid gimmick again by thinking that Jon Stewart had Ed McMahon as a sidekick. That's Johnny Carson. Barrett shoved Truth in his chair, so Ambrose hit a dive outside the ring to take him out. Ambrose hit a running elbow attack to take out Barrett. Truth snuck up to the IC Title, put it in his jacket and sat back down even though everybody saw him do it. Back in the ring, Barrett hit the Winds of Change slam for two. Luke Harper showed up at the announce table to stare at Truth, so he's in the Ladder Match too most likely. Truth handed Harper the title. Barrett yelled at him as he walked away. Ambrose turned Barrett around and hit Dirty Deeds for the win after 9 minutes.
Winner by pinfall: Dean Ambrose
When the match was over, Truth says there were two title changes already. Weird way of looking at it. Ambrose wondered where the title went. Harper walked up the ramp with it.
Analysis: **1/4 The effort by both guys was there, but it seemed as if the match was more of a sideshow due to all the hijinks surrounding the IC Title at ringside. Barrett loses nearly every week, so he's one of the worst booked IC Champions ever at this point. WWE seems to be on the right track by promoting the IC Title more, but if the champion loses so much it hurts a lot.
There was a replay of Smackdown with Miz kicking Damien Mizdow out of a commercial he was shooting. In the backstage area, Miz said he gathered them to check out the World Premiere for his commercial. Instead of the commercial Miz thought he was promoting, it was a fake erectile dysfunction pill called Niagara instead of Viagra. Everybody in the locker room laughed at him. Miz yelled at them: "This little general has plenty of bullets in his arsenal." People just laughed at him.
Miz got in Mizdow's face and said he was ungrateful. Miz slapped him in the face. He reminded Mizdow of what he was before Miz hired him. When Miz asked what he had to say, Mizdow said "sorry." Commercial time.
Analysis: The "Niagara" commercial was actually pretty funny for a WWE show. The idea was that Miz had no idea what he was promoting from last week's Smackdown, so when he saw it he was angry. They could have had Mizdow say he quits working for Miz, but that's a bigger moment better saved for the ring in front of the crowd.
(Commercial)
Bray Wyatt entered with his lamp as the arena darkened. He stood by a casket near the entrance. He did a promo from the ramp as we could see fans holding their phones up in the air to fill the arena with light. Wyatt wondered what was left of The Undertaker. Wyatt: "Come out come out wherever you are." He said that he built a wooden casket just for Undertaker. He wondered where he was. He said he felt mocked by all the silence. Wyatt said he had a fascination with fire as he poured gas out of a canister onto the casket. Wyatt said that nobody can hide from him because where he comes from, everything burns. "At WrestleMania, you're going to burn too, Deadman." Wyatt lit the casket and it was on fire with Wyatt yelling "find me" at it.
Analysis: It was another good promo from Wyatt that went about four minutes. It's tough to keep doing this without an answer, so expect some kind of reply from Undertaker next week. The rumor is that Undertaker won't be on WWE TV before WrestleMania so it will probably be one of those things where he accepts the match on a video screen. It's a difficult match to predict too. Wyatt winning makes a lot of sense because it would mean so much for his career, but I can see Undertaker coming back after the loss from last year. I think Undertaker will be ready. I'm glad he's wrestling again.
(Commercial)
Cesaro, Tyson Kidd & Natalya vs. The Usos & Naomi
The tag title feud continues. Great double team move by the champs with Cesaro hitting knee to the ribs and then a forearm shot to Jey. Naomi tagged in so she faced off with Natalya as Jey hit a dive over the top on Cesaro. Naomi kick to the ribs, then Natalya landed hard and favored her leg. Natalya kicked Naomi out of the ring, then tagged in Kidd who battled Jimmy. Kidd with a kick to the ribs, but Jimmy came back with a dive off the ropes to take Kidd out. Kidd tagged Natalya because he had to avoid a double superkick, so she yelled at him for tagging her in because she was hurt. Naomi went into the ring, did the ROLLUP OF DEATH and of course that won it because it's the ROLLUP OF DEATH for a reason. The match went four minutes.
Winners: The Usos & Naomi
Analysis: *1/2 It's understandable that Natalya would be mad because she was hurt. It makes Kidd come off as a more of a selfish jerk heel, so in that sense it was an effective match. This feud is probably going to WrestleMania. They keep doing different kinds of matches to get there. It would have been nice if this got more time, but it was a case of the angle being more important than the match.
Post match, The Usos walked away happy while Natalya yelled at Tyson for tagging her in when she was hurt. Kidd hugged her as the crowd booed. She was crying and hugged back. They cut to the announcers at that point.
It's Rollins vs. Reigns in the main event. John Cena is up next.
(Commercial)
There was a video package for the return of Sheamus.
John Cena made his entrance for a promo at the top of hour one. The crowd was doing the "John Cena suuuuuuuuucks" thing for his song that is so fun to be a part of.
Cena set up the clip of Rusev shutting down his challenge last week. Cena said the audience is divided while pointing out the people not in his corner are having a wonderful time. He said people liked it because Rusev said no last week. He suggested people don't stay this happy for too long. Cena said if it's not meant to be then he's going to adapt and overcome. He did a fired up promo about climbing until you reach the prize. Cena told Rusev that he's a marked man and he'll get his hands on him. Cena entered himself in the Andre the Giant memorial battle royal. He said he's going to make a giant statement, but Stephanie McMahon's music started up.
Stephanie went into the ring to complain about how people don't just put themselves in matches. Cena said that Miz, Fandango and Adam Rose did it, so it's not exactly murderer's row. Stephanie paid tribute to Andre by showing his picture and then a picture of her with him after WrestleMania 1. She told Cena he's not in the battle royal. Cena: "You could tell all those years ago that you weren't the bitch that you are now." So aggressive. Cena said that in his service in WWE he's a 15 time Champion that's been in 10 WrestleManias so he figured he was in. Stephanie said that Cena hasn't been nice to them.
Stephanie fired back on him saying that Cena doesn't define WWE. She mentioned Hulk Hogan, Steve Austin, The Rock and Bret Hart leaving WWE thinking WWE would be hurt, but instead WWE thrived. She suggested Cena sit out WrestleMania and the fans chanted "yes" for it with Stephanie saying she actually liked that chant for once. She took a shot at Cena by saying WWE doesn't need Cena – Cena needs them.
Curtis Axel showed up to say that #AxelMania is running wild. He talked about how he's been in the Royal Rumble for 35 days. He wanted to face Rusev at WrestleMania. Axel sucked up to Stephanie saying that she's a visionary that is inspiring to him. There was actually a "AxelMania" chant. Stephanie made a match with Cena against Axel. She told Cena that if he wants a match against Rusev at WrestleMania he has to make him agree.
Axel: "Whatcha gonna do when AxelMania runs wild on you?" Axel ripped his shirt.
Cena did a serious promo saying that Axel can get out now because if this match starts he won't walk out of this ring.
Analysis: That was a lot to digest, but I thought Stephanie was fantastic as the heel. She was actually getting cheered for ripping on Cena because the fans are so against Cena in jersey. Hearing Axel actually get crowd support for the AxelMania thing is pretty cool. On Smackdown it was painful with no crowd reaction, but this crowd responded to it. Cena's promo work was fine. He turned up the seriousness by the end of it. The only complaint I have is that this has been a promo heavy show and this was another 15 minute promo.
(Commercial)
John Cena vs. Curtis Axel
The match started after the break. Axel was doing Hulkamania poses as Cena looked on with a serious look. Cena nailed a clothesline, a punch, then he hit the Attitude Adjustment and applied the STF for the win in a match that went about one minute.
Winner by submission: John Cena
Analysis: Just a squash to put over Cena as if he needs it.
Rusev and Lana showed up on the stage. Lana congratulated Cena on his win. Rusev said it was his decision to make. Fans were chanting "what" at him. Some fans chanted "yes" and some said "no" while Rusev called them ignorant Americans. Fans chanted "USA" at him. Rusev: "USA or not, my decision is no." The Russian flag was hung over the ring as poor Cena was forced to look at it. That meant we got sad face Cena. Cole wondered if Cena would be in a match at WrestleMania.
Analysis: Rusev did a good job of reacting to the crowd. I get what they're going for, but they spent 20 minutes basically trying to tell people that Cena might not be at WrestleMania. Yawn. Nobody believes it. Slow burn is fine, but pushing this another week is making this feud seem boring.
The announce team set up Triple H vs. Sting with clips of WWE.com interviews with Arn Anderson and Michael Hayes talking about Sting. They both talked about how he grew with WCW. Triple H is up next.
(Commercial)
Here comes Triple H as the show is around the midway point. It's been such a promo heavy show.
Hunter was in his suit to deliver a promo. He said in 1995 he told Vince McMahon he wanted an opportunity, so 13 World Titles and COO role means that he made the most of that opportunity. He said that Sting had the opportunity to have his legacy intact, but instead he's challenged HHH to a match. That led to Hunter saying that Sting will step into the ring with the King of Kings. He spoke about how people wondered why Sting didn't go to WWE all those years ago. Hunter said JBL had an opinion and so did Booker T, so he welcomed Booker to step into the ring.
Hunter said that Booker said something about how Hunter wouldn't allow Sting to come to WWE. Booker said he went down the road with Sting and he knows him. Booker said if he was in Hunter's position he would have blocked Sting from going to WWE too. Hunter remarked that Booker is like those kids banging around the internet thinking they know politics when the truth is they know nothing. I'm not a kid, but I did have a fun childhood thank you. Booker said that Hunter can't control Sting, nor could anybody. Hunter thinks that maybe Sting didn't want to come to WWE, which led to him talking about how when you have control you can do anything. That led to Hunter telling Booker that he was fired. Booker grabbed his stuff from the announce table while Booker left the ringside area. Hunter told him to stop by saying that he wasn't really fired.
Hunter stared into the hard camera to deliver a promo saying that he would put an end to Sting. As he left the ringside area, he told Booker to go back to his seat. Cole said he had thoughts, but he's better off keeping those thoughts to himself.
Analysis: Since Sting doesn't appear on Raw regularly they need people to do promos for him. It was Ric Flair before. This week it was Booker T. There really wasn't much that was accomplished in this segment except Hunter proving that he had power and could control people's careers.
The Divas Title match is up next.
(Commercial)
Here's Paige for the Divas Title match. I watched Total Divas briefly on Sunday night and there was a storyline that Paige wanted to get this massive tattoo on her chest. She was told not to. Yes that's a television show that people watch. I don't understand people.
Divas Title: Nikki Bella (w/Brie Bella) vs. Paige
They did the intros with Lilian in the ring at the same time as the girls. Paige was in control after a minute, so they went to commercial.
(Commercial)
During the break, Nikki hit the Alabama Slam for momentum as she stretched Paige. This is already longer than most divas matches. They did a double clothesline spot with both women down. Paige hit some clotheslines followed by a dropkick for two. Brie jumped on the apron, Paige knocked her off and hit a standing side kick. Paige went for the PTO submission. Brie slid into the ring to hit Paige causing the disqualification. It went six minutes.
Winner by disqualification: Paige (Nikki is still champion)
Analysis: *1/2 That was an obvious ending. It's nice that they got six minutes instead of the usual three minutes, but three of those minutes were during the break so really it was about the normal time for them. At least they were given more of an opportunity, so it's not major progress, but it is a little bit.
Post match, the twins went for the double team, but here's AJ Lee for the save. AJ attacked with clotheslines and then she took down Brie. Paige hit a hard kick to the face of Brie. Paige and AJ shrugged, then cleared the Bellas of the ring. There were CM Punk chants of course.
Analysis: That's the return of AJ after being away for about three months. She's fresh in this role, so hopefully they can build up to a solid tag match at WrestleMania as rumored. It would be better if the Divas Title is on the line so maybe they'll do a situation where the winner of the tag gets the title. I don't know.
The Seth Rollins/Jon Stewart story is up next at the top of hour three.
Analysis: My estimate is 20 minutes total of in-ring action in two hours. That's very short.
(Commercial)
Next week's guest star on Raw is rapper Wiz Khalifa.
AJ Lee was skipping backstage. Renee Young caught up to her. Paige showed up. Lee got in a line about giving divas a chance while Paige ripped on the Bellas and AJ said she thinks that makes them friends.
Analysis: Way to get in that "give divas a chance" line, Mrs. Punk.
Seth Rollins hosts The Daily Show
There was a table in the ring with a Daily Show logo on a TV screen in the ring. Rollins was there with J&J Security. After Rollins insulted Newark, they showed the clip from last week with Rollins challenging Stewart on the Daily Show last week.
Rollins said the first topic of the week is wondering where Jon Stewart is, but much like the audience when he hosted the Oscars last year he's been dead silence. He insulted Stewart for being from New Jersey and gave him credit for not showing up just like American didn't show up to the movie that Stewart directed. As the insults continued, Stewart's theme song hit.
Stewart entered to a pretty good reaction from the fans. He was wearing a suit. Stewart said "New Jersey" twice to get some cheers. Stewart said that Rollins did not earn this. Stewart said that Rollins is proving that he can barely read. Stewart said he wasn't there to make fun of a man like Rollins, who is dressed like a Swat team stripper with Lady Gaga's hair. Stewart said that in Jersey they use the Curb Stomp to greet each other in the morning and he told J&J to settle down. He said he remembers the wrestlers that earned it like Bruno Sammartino and Gorilla Monsoon. Stewart told him that Rollins never did it like Mick Foley, Stone Cold or The Undertaker. He ripped on Rollins that he thought he could take a shortcut by being the poster boy for The Authority. Stewart said that he has something that Rollins doesn't have: respect. That led to Stewart saying that The Authority doesn't care about Rollins and he wondered who is battling for the WWE Title at WrestleMania. Stewart said that Rollins is better in the ring and on the microphone, so how come he's not headlining WrestleMania? That led to Stewart saying that Kane helped Rollins win the Money in the Bank briefcase with Stewart saying he was in Boston for that. Rollins dropped the microphone and got up out of the chair to confront Stewart. Rollins yelled at Stewart. He grabbed him by the jacket.
Randy Orton's music started up. Rollins was distracted. Stewart kicked Rollins in the groin and shoved him, so Stewart was able to get out of the ring. Orton slowly made his way down to the ring. Then Orton walked back up the ramp. Stewart ran up the ramp celebrating.
The announcers talked about how embarrassing that was for Rollins and then mentioned his match against Reigns later.
Analysis: That was entertaining. I'm a big Jon Stewart fan and have been for about 15 years, so maybe I'm biased, but I thought he was entertaining in his role. He clearly had some product knowledge. It's not like a guy that didn't know the names or what to say. They did a good job of painting the picture that maybe Rollins wasn't the guy that The Authority likes the most. Orton's slow babyface turn continues with the distraction. The logic behind it is that Rollins was embarrassed by what Stewart did, so he'll want to get revenge on Orton. Good segment.
(Commercial)
There was a replay of the previous segment.
Stewart was interviewed by Renee Young backstage. Stewart was happy with his left footed kick. He looked nervous. She wondered if he would stick around WWE. Stewart said that he was winded just by talking out there, so he's going to go.
Analysis: The point of that was to show that Stewart was nervous and scared of Rollins coming after him. That was fine.
Luke Harper vs. Daniel Bryan
Harper had the IC Title with him even though he's not the champion. The crowd was loud for Bryan as they chanted "Daniel Bryan" and of course "yes" chants. Harper dumped Bryan over the top to the floor leading to the vintage floor to commercial break one minute into the match.
(Commercial)
Back from break Harper launched Bryan face first into the middle turnbuckle and then hit an impressive Dragon Suplex for a two count. Bryan came back with a rollup, but Harper crushed him with a superkick. Bryan countered a crossface attempt into a Yes Lock. Harper tapped out quickly. The match went 7 minutes.
Winner by submission: Daniel Bryan
Analysis: **1/2 It's a shame that they didn't get more time because I loved their matches. Harper gave up so quickly. I want to see more matches between them. The chemistry is there with Harper working as the athletic big guy and Bryan sells as well as anybody. They worked together a lot pre-WWE too.
Post match, Bryan celebrated on the announce table. Barrett went out there to take back the IC Title. Ambrose tossed Barrett in the ring and hit a clothesline. Harper hit a boot to the face of Ambrose. R-Truth showed up to steal the title again. Harper cut him off. Truth put it on the card and Harper hit a clothesline to knock him down. With Harper on the top of the stage, Ziggler hit a superkick to knock down Harper and Ziggler's music played, so that ended the segment. Bryan led the crowd in "yes" chants. Ziggler climbed the ladder that was on the ramp.
Analysis: In case you missed it before this segment, Bryan is in the IC Title Ladder Match at WrestleMania. Is it disappointing? Sure. He should be in a bigger match than the 5th best on the card, but it's good for the IC Title to have more star power in the match. I think Ambrose is going to win.
The next WWE Hall of Fame inductee was announced: Alundra Blayze aka Madusa. The video showed her as Blayze. It mentioned that she was in the AWA and won the Women's Title. They focused on when she was in WWE and she won the Women's Title in 1993. They mentioned how she defended the WWE Title at WrestleMania 10 in 1994. Then it focused on her throwing the Women's Title in the trash on Nitro in 1995. Pau Heyman said that it changed the image of women in the industry. They put over her 7 Women's Championships across the globe as they welcomed her in the WWE Hall of Fame. They kept calling her Alundra Blayze even though she's more known as Madusa.
Analysis: It wasn't a surprise because it was leaked last week. She definitely deserves it. She's a name that really wasn't mentioned much on WWE TV in the last 20 years because of the dropping the title in the trash moment. Honoring her is a good move on WWE's part because she really is one of the best women's wrestlers in history. I wrote a new article about Alundra right here early on Monday so check that out.
Rollins was backstage with J&J. Orton showed up to say that he saved Rollins from being sued by Stewart if he attacked and maybe Rollins would have lost his job. Orton said that if he needs help in his match against Reigns all he has to do is ask. Kane and Big Show showed up to say that he and Big Show will be there. Noble told Orton that they don't need everybody out there. Orton: "Suit yourself" to Rollins. He left.
Analysis: It's another way to make it look like Orton was really looking out for Seth, but it's obviously going to lead to a face turn for Orton.
(Commercial)
Paul Heyman Promo Time
Heyman was in the ring alone as he talked about being the advocate for WWE Champion Brock Lesnar, who is not there. He talked about the rumors. Heyman said that Lesnar will be at WrestleMania…believe that. He said that his client will be anywhere he damn well pleases before WrestleMania and after WrestleMania and he will be there as the WWE Champion because Lesnar will be the champion for as long as he damn well pleases. The microphone went out when he said "believe that" during the "that" part so he said obviously the sound guy was from Jersey.
The microphone started working again with Heyman saying that if Daniel Bryan ever faced Lesnar he would be squashed like a cockroach. The microphone had issues again, so Lilian gave her the microphone and Heyman said it's about time she did something right. The fans chanted "ooohhh" at him.
Heyman went on ranting about how none of the men complained about what he said last week because Lesnar really is better than the legends like Sammartino. Somebody must have yelled Andre the Giant to him because Heyman pointed out that he was dead. Heyman even threw in a Ronda Rousey reference with regards to her quick 14 second victory on Saturday. He told Reigns that he was going to get beat up and embarrassed by Lesnar. He said that Reigns was going to be conquered by Brock Lesnar…believe that.
Analysis: Heyman was fired up! They gave him five minutes to really rant about everything going on and he delivered the goods like usual. The microphone malfunctions definitely bothered him, but he got through it. It's not like he said anything that was really different from the norm. It's just that he knows how to make his words matter. Heyman's the greatest talker in wrestling and he proved it again.
Roman Reigns music started up with Heyman in the ring. By the time Reigns marched to the ring, Heyman went up the ramp.
Following Raw on WWE Network there's a Booker T "Sentenced To Greatness" special. Cole said it was critically acclaimed. I'm not saying it's bad, but who has seen it? Oh well. I'll check it out during the week.
Main event is up next with Reigns waiting for Rollins.
(Commercial)
Next Monday on Raw it's Wiz Khalifa hosting the show. He's from Pittsburgh where Raw is next week.
Roman Reigns vs. Seth Rollins (w/Big Show, Kane, Joey Mercury & Jamie Noble)
It was an even start with both guys getting some offense in, but the tide turned after a Rollins dropkick connected. He choked Reigns over the middle rope and tossed Reigns outside the ring. Rollins sent Reigns outside the ring where Reigns avoided a J&J attack and hit an uppercut punch on Rollins. Reigns did a corner charge, Rollins moved out of the way and Reigns hit the turnbuckle. Orton's music started, so he marched to the ring as the show went to break.
Analysis: I don't like entrance music interrupting a match, but at least it didn't lead to the finish like usual. It's okay if they do it this way as a way to say "what is he doing here" like they said with Orton.
(Commercial)
Rollins was in control with Orton standing on the site opposite of The Authority's goons. After a long Rollins headlock, Reigns slammed him down as both guys struggled to get to their feet. Reigns did a comeback with a clothesline and a leaping clothesline. Reigns hit a tilt-a-whirl slam for two. Reigns wanted a Superman Punch, but Mercury grabbed his foot, Reigns threw him out of the ring and Rollins hit a kick to the head for two. Back body drop by Reigns off the middle rope and then a leaping clothesline on Noble on the apron. Rollins capitalized with a standing sidekick for two. Reigns slammed down Rollins for a two count. Rollins charged in and Reigns gave him a back body drop over the top to the floor. Reigns clothesline off the apron onto Show. Kane nailed Reigns in the ribs with a chair, but the ref missed it because he was checking on Rollins, who got a two count. Reigns avoided a Curb Stomp and hit a Superman Punch on Rollins. Reigns hit a Superman Punch on Kane on the apron. Orton grabbed the leg of Reigns and Rollins rolled up Reigns to win the match. The ref was distracted by the guys outside the ring. It wasn't quite the ROLLUP OF DEATH, but it was pretty close. The match went 15 minutes.
Winner by pinfall: Seth Rollins
Analysis: *** That was a good TV main event match as expected. If you put Rollins in a match that long it's always going to be very good. This one was angle driven a lot of the way, but I like the story of Rollins nearly winning multiple times only for Reigns to kick out until that final time when Orton interfered. It wasn't done in a way where it looked like Orton was totally helping Rollins in a blatant way although he can say that Rollins win because of Orton's presence. That's going to lead to their issues escalating.
Post match, Orton walked up the ramp alone. Reigns ran the ropes and he hit an impressive dive over the top rope to take out several Authority members. Reigns knocked out Rollins and Kane outside the ring, then he nailed Show with a Superman Punch as well as a Spear. Rollins jumped off the top rope, Reigns nailed him with a Spear and Rollins was down. That was very impressive just like the dive over the top rope.
Analysis: That's a way to get the heat back after losing a match. Even though Reigns lost the match, all members of The Authority (not Orton) were damaged. That's classic WWE booking where they want the viewers to forget that the guy actually lost by making him look very strong after the match.
Replays aired of Reigns cleaning house after the match including that Spear on Rollins. The show ended with Reigns staring out at the damage he had done.
Three Stars of the Show
Seth Rollins – He was all over this show.
Paul Heyman – The man was on fire.
Jon Stewart – Never thought I'd be writing about him on Raw.
The Scoreboard
5 out of 10
Last week: 5.5
Last 5 Weeks: 5.5, 6.5, 4, 6, NR
2015 Average: 5.5
2015 High: 7.5 (Jan 5)
2015 Low: 4 (Feb 9)
Final Thoughts
I'm giving it a 5.5 out of 10.
It gets the average score. Very promo heavy as I noted all night long. The reason is that Undertaker, Sting and Lesnar aren't there. They're in three of the biggest WrestleMania matches, so WWE has to make a point to involve their angles somehow, which leads to long, drawn out promo segments.
Jon Stewart did a good job. He had some funny line in there. It's no surprise that a great comedian and talker would be great at doing wrestling promos. It came easy to him.
Rollins was all over this show in so many segments in the ring and out. He's arguably the best performer in WWE that has improved so much on the microphone in the last year.
That 20 minutes of Cena "not going to WrestleMania" stuff is so ridiculous. Even the dumbest fans can't be buying into that.
The IC Title build was fine, but Barrett continues to look like such a loser.
I'm still getting used to this Daniel Bryan "role player" thing. Not sure if I like it.
The Road to WrestleMania is rolling alone nicely, but this was still an average show with barely any attention being paid to the people in the ring.
—–
To wrap it up, here's a video tribute by Steve Melo for our friend Tom Briggs.
Thank you Steve. That was great. Very sad. I miss Tom so much.
That's all for this week. Check out my feature column archive that's exclusive to WhatCulture.
Thanks for reading.
John Canton –mrjohncanton@gmail.com
Twitter@johnreport