The John Report: The WWE Raw Deal 02/03/20 Review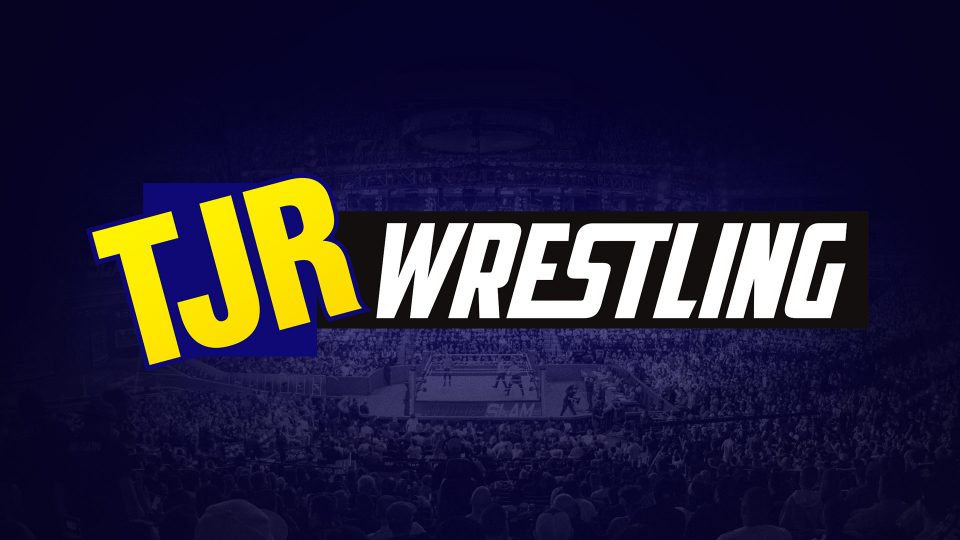 Welcome to another WWE Raw Deal review right here on TJRWrestling. I don't have much to say in the intro, so let's get to it.
Live from Salt Lake City, Utah, this is the Raw Deal for episode #1393 of Monday Night Raw. Follow me on Twitter @johnreport. Please visit TJRWrestling.net daily for our regular updates on the wrestling business featuring WWE news coverage, insightful columns from our team along with reviews about wrestling's past and present. Thanks to Melo Man for the banner up top.
The Raw intro video aired to begin the show.
The pyro went off in the arena followed by a shot of the giant WrestleMania sign and the Salt Lake City crowd had a lot of energy.
A video package aired about last week's Raw when Randy Orton attacked Edge. If you missed it, Orton suggested teaming up with Edge like in their Rated RKO days (the fans loved that), but then Orton turned on him with an RKO. Orton followed that with a chair attack including a Conchairto. It was a vicious heel turn from Orton that will likely set up a WrestleMania match between them. This video package was excellent
Let's Hear from Randy Orton
Randy Orton made his entrance to the ring while in his ring gear and a vest. The fans greeted him with boos. Orton was very slow and methodical as he got into the ring. Orton just stood in the ring without saying a word as fans chanted "you suck" at him. Orton went to the turnbuckle, stared ahead without saying a word, got up on the turnbuckle and he didn't do his trademark pose as the fans booed him.
When Orton tried to speak, the fans kept booing him. Orton said, "I guess I owe everybody an explanation." The fans booed before he could really say more. The fans chanted "Edge" at him. After some more stalling and staring at the crowd from Orton while he thought about what he did, Orton said "Last week I…" and stopped as the fans chanted "you suck" at him. Orton simply said "I can't do this" and he left. The crowd booed that too as Orton walked to the back without saying much at all.
Analysis: That whole thing with Orton lasted nearly seven minutes and he barely said anything. The idea was that Orton wasn't sure what to say, he was showing remorse for what he did and then he refused to explain his actions against Edge last week. This kind of behavior makes Orton look like a jerk, so it gets him more heel heat. They could have had somebody like a Rey Mysterio or somebody else show up to try to yell at Randy for what he did to Edge, but for the second week in a row, nobody stood up for Edge. I think it's just a case of WWE wanting to keep the focus on Orton.
The Raw announce team of Tom Phillips, Jerry Lawler and Byron Saxton were shown on camera. They talked about how vicious Orton's attack was.
They showed a video package about the Royal Rumble match eight days earlier featuring Brock Lesnar's dominance that lasted until Drew McIntyre eliminated Lesnar. They did not show the part right before that when Ricochet hit a low blow to weaken Lesnar. After that, McIntyre went on to win the Royal Rumble. Last week on Raw, McIntyre said he wants to face Brock Lesnar for the WWE Title at WrestleMania.
This week on Raw there's a triple threat with Ricochet, Seth Rollins and Bobby Lashley with the winner getting a WWE Title shot at Lesnar at Super Showdown on February 27. Also, Kevin Owes and Viking Raiders vs. Buddy Murphy and AOP in an elimination tag team match.
Lana made her entrance for a match that is a rematch from last week's Raw.
(Commercial)
There was a congratulations message from WWE to the NFL Super Bowl Champions, the Kansas City Chiefs. Good game, I picked the Chiefs to cover and they did, so I'm happy about that.
Liv Morgan made her entrance in all black gear like she has done in the past.
Lana vs. Liv Morgan
Morgan shoved Lana down, Lana faked a wrist injury and then took over with a kick to the head. That was some bad acting. Lana did a head whip while Lana claimed she was the best wrestler in the world. Heels lie. Morgan hit a double knees attack and then a flatliner off the ropes like last week to win in one minute.
Winner by pinfall: Liv Morgan
Analysis: 1/2* It was just a quick match to put over Morgan again. Lana barely got anything going while Morgan hit two moves to get the win. I'm fine with it being a short match.
Post match, the Riott Squad music hit and Ruby Riott made her entrance on her own. It has been about nine months since we have seen Riott, who had double shoulder surgery. Riott went for a hug, but then she tripped up Morgan and punched Morgan. The announcers wondered why. Lana was laughing about it. Riott hit Morgan with a clothesline to the back of the head. Riott left. Lana hit an X-Factor move that drove Morgan's face into the mat. Lana left while Morgan was all alone in the ring.
Analysis: Welcome back to Ruby. She's a good talent and is coming back after a major injury, so I'm glad she took her time to get healthy to make her return. The Raw women's division has been so thin of late, which is why Riott's return is the perfect time. As for Lana getting in the cheap shot, that fits her character too. Morgan should do fine as a loner babyface.
Drew McIntyre is up next.
(Commercial)
They showed some images of the snowstorm in Utah that nearly caused a cancellation of the show.
Mojo Rawley, the 24/7 Champion, was in the ring with his buddy Riddick Moss. They showed Rawley partying in Miami this past weekend because it was Super Bowl weekend.
They replayed Drew McIntyre beating Brock Lesnar at the Royal Rumble again while McIntyre named it clear he wants to face Brock Lesnar at WrestleMania for the WWE Title. Lesnar hit McIntyre with an F5 last week as well.
Analysis: This was the third video package replaying stuff in the first 30 minutes on the show. They love recaps.
Drew McIntyre made his entrance and he got a nice ovation from the crowd. The babyface turn of McIntyre is still recent, but the fans are coming around because they respect his journey in WWE over the last decade. There were even some "Drew" chants.
McIntyre thanked Salt Lake for fighting through that blizzard to be there tonight. McIntyre said that as soon as he puts this microphone down, he's going to Claymore (kick) Mojo's head off. McIntyre said that Lesnar is a coward and he's apprehensive of the sexy Scotsman and Drew's got the secret weapon that can knock his ass out – the Claymore. A finisher is not really a secret weapon, but I get his point. Drew said that come WrestleMania, he's going to kick that oversized head of Lesnar off his body and finally become WWE Champion. McIntyre said he forgot Rawley was even there.
Analysis: Good promo from Drew. The "sexy Scotsman" thing may have been something he threw in, but I don't think that should be something he says all the time. The confidence he shows as a face makes him likable for sure.
Drew McIntyre vs. Mojo Rawley (w/Riddick Moss)
McIntyre said three seconds, he put the microphone down, the bell rang, Mojo was dumb enough to talk to Moss and McIntyre hit the Claymore Kick on Rawley in about five seconds total.
Winner by pinfall: Drew McIntyre
Analysis: It was a short match to establish dominance. This was another example of that.
The trio of Blake Murphy and AOP were interviewed by Charly Caruso. They talked about working with Seth Rollins, then insulted their rivals. Rollins told AOP and Murphy to go on because he's got this interview. Rollins said now he's got a triple threat match to earn a WWE Championship match at Super Showdown. Rollins said that he's beaten Lesnar twice, he's taken his title twice and he knows Drew wants to face Lesnar, but Rollins said that Drew has to prepare for a new WrestleMania opponent – the Monday Night Messiah, which is Seth's nickname for himself. Rollins left.
Kevin Owens made his entrance for the six-man tag team match.
(Commercial)
The Viking Raiders made their entrance to join Kevin Owens. No Samoa Joe in the house this week after an injury last week. It might have been a concussion, but it's not like WWE is going to specify what the injury is.
The team of Buddy Murphy and AOP were joined by Seth Rollins. Murphy and Rollins are the Raw Tag Team Champions while Murphy was wearing a Rollins shirt just like Rollins was wearing.
Elimination Tag Team Match: Buddy Murphy and AOP – Akam & Rezar (w/Seth Rollins) vs. Kevin Owens and Viking Raiders – Erik and Ivar
Owens with a body slam on Murphy followed by a senton splash. Ivar with a body slam on Murphy, then Erik gave Ivar a body slam on Murphy, who rolled to the floor and that led to a break.
(Commercial)
The match returned with Rezar facing off against Ivar in this battle of big dudes. Ivar with a boot to the face, Erik tagged in with a knee lift to the face while slapping his leg very hard to make it sound deadly. Rezar came back with a clothesline. Akam tagged in, Rezar with a knee to the face of Erik and Akam worked over Erik with punches. Erik tried to break free of Murphy and he hit a knee to the face on Murphy. Ivar tagged in with a slam on Akam followed by a cross body block. Ivar splashed Rezar out of the corner and Ivar hit a clothesline on Murphy, who sold it great with a flip bump. Ivar hit a springboard clothesline into a German Suplex, but AOP was there to break up the pin. Ivar hit a dive on Rezar on the floor. Erik hit a suicide dive on Akam on the floor as well. Ivar missed a running splash on Rezar, who moved and Ivar hit the LED boards on the side of the ring. The referee was distracted by that, so Rollins hit The Stomp on Erik on the floor. Erik was sent back into the ring and Murphy covered Erik to eliminate him.
Erik eliminated from the match
Ivar was getting checked on by referees because Ivar was selling a left shoulder/arm injury. The referees made Ivar go to the back. They aren't even going to try to tell us doctors checked on him? He's just done like that.
Ivar eliminated from the match
Kevin Owens was alone for his team against three guys, so we'll see what happens after a break. That's the end of hour one.
(Commercial)
The show returned with Owens in a 1 on 3 scenario as they replayed Ivar's injury spot. Akam knocked down Owens with an elbow. Murphy pulled back on KO's face to wear him down. Lawler was definitely in more of the heel announce role this week. Murphy sent Owens out of the ring, Owens got a hold of him and hit a fallaway slam into the barricade. Murphy slowly got back in the ring, Owens with a boot to the face, but then Murphy hit a jumping kick for a one count. Owens worked over Rezar with two kicks to the head. Akam tagged in with a foot to the chest of Owens off the middle ropes for a two count. Owens worked over Akam with punches, but Akam stopped him with a knee to the ribs. Owens got some momentum with a kick to the leg followed by a DDT on Murphy. Akam was back in with a hard whip that sent Owens into the turnbuckle. Owens fought out of the corner, Murphy missed a splash and Owens hit a cannonball on Akam on the floor. Owens sent Rezar into the steel steps. Owens hit a superkick on Murphy too. Owens sent Murphy into the ring, he went for a Senton Bomb and Murphy got the knees up to block. Owens managed to follow up with a Popup Powerbomb at around the 20 minute mark of this match. Owens doesn't always win with that move anymore, but it got the job done here.
Buddy Murphy eliminated from the match
Akam went after Rollins with kicks and punches, Owens got back up, kick to the gut and he hit a Stone Cold Stunner for the pinfall on Akam.
Akam eliminated from the match
Rezar was the last man for his team against Owens. Owens hit Rezar with a superkick followed by a cannonball against the turnbuckle. Owens went up top and hit a Senton Bomb on Rezar for a two count. The crowd was chanting "KO" for Owens while Rollins was angry at ringside. Owens powered Rezar up, Rollins with a distraction and Rezar hit a running clothesline. Rezar with a popup spinebuster. Rezar hit a second popup spinebuster on Owens for the pinfall win after 22 minutes. Lawler said "yes" for the win because he's now a heel announcer.
Kevin Owens eliminated from the match
Winner: Rezar
Analysis: ***1/2 It was a pretty good elimination match with Owens getting a lot of momentum going after he was down, but it's no surprise that the heels won. That Rollins heel group has been booked very strongly for the past several weeks, so I'm glad to see it continue. Owns did very well as the babyface that kept on fighting back. Big win for Rezar, who is the biggest guy on the heel side, so it made sense for him to be the last survivor since you can say he was the toughest guy to beat.
Post match, Rollins celebrated the win with his buddies Murphy and AOP on the stage.
After the match was over, Owens looked sad about the loss. The crowd gave him a standing ovation as he stood in the ring. That was cool to see.
Ricochet was interviewed by Charly Caruso. Ricochet said he's had a dream to fight for the WWE Title and tonight he can prove he's deserving. Ricochet said he knows he is not as big or strong like Bobby Lashley and he doesn't have a gang like Seth Rollins does, so he has to use what got him here. Ricochet said that determination can outweigh probability and this match means everything to him.
Analysis: It was a fine babyface promo from Ricochet there. Some of the dialogue was weird, but that's WWE. If you keep his promos simple like that he can do well.
Aleister Black made his entrance for a match.
(Commercial)
There was more video of the snowstorms and blizzard conditions that existed in Salt Lake City on Monday.
Aleister Black vs. Eric Young
Young drove Black to the turnbuckle, Young with a punch to the face and Black swept the leg with a kick. Black with a knee to the ribs. Black with a back elbow to the face followed by a low dropkick. Black sent Young into the ropes followed by a rising knee. Black hit the Black Mass kick on Young for the pinfall win after one minute.
Winner by pinfall: Aleister Black
Analysis: 1/4* It was the usual dominant showing from Black. That's the third match that was about one minute or less on this show so far.
Post match, Aleister Black did a promo talking about how you can be whatever you want to be.
They showed replays from two months ago when Humberto Carrillo was attacked by Andrade. That led to Andrade giving Carrillo a DDT on the exposed concrete on Raw. This past Monday on Raw, Zelina Vega broke up the pin attempt by Carrillo on US Champion Andrade. That led to Carrillo hitting the Hammerlock DDT on Andrade on the exposed concrete.
Analysis: It was the storyline excuse to write out the US Champion Andrade for the next 30 days because he's suspended due to a Wellness Policy violation. Of course, WWE isn't going to tell you he's suspended on Raw.
It was announced that Goldberg will be on Friday on Smackdown. I assume that will lead to a Goldberg match at Super Showdown since he has worked Saudi shows before.
(Commercial)
The show returned with Zelina Vega with Angel Garza joining her. Vega looked tremendous in a short red outfit. Garza is from NXT and is Carrillo's cousin. Vega said when you mess with her business, she's not the one that pays the price, Carrillo is. Vega said that standing next to her is a former champion in NXT (Cruiserweight Champion) and she said he is the hottest Latino prospect. Vega said that standing next to her is Carrillo's cousin Angel Garza.
Garza said that he knows Carrillo is in shock seeing him right there, but there is a reason. Garza said that in the actual time right now in this era, he is the leader of their family. Garza told Carrillo that he has to answer to Garza. Garza continued the trash talk saying Carrillo disgraced the family until Carrillo took the microphone from him.
Carrillo spoke in Spanish, I have no idea what he said, Vega slapped Carrillo and Garza attacked his cousin Carrillo with punches. Garza put his knee across the throat of Carrillo. Garza hit the Wing Clipper slam on Carrillo. Garza sent Carrillo out of the ring and whipped him into the steel steps. Vega pulled off the mat to expose the concrete floor outside the ring. Garza teased a DDT on Carrillo on the floor, so Rey Mysterio ran out to the ring for the save. The fans chanted "619" for Mysterio. Mysterio got in the ring to face off with Garza and that led to a break.
Analysis: It was a way to keep the story going with Carrillo by having Vega bring in Garza. That should lead to a match with Carrillo and Garza perhaps next week, which should be a thrill for both guys since they are cousins. Mysterio making the save is fine because he's the most popular Latino wrestler probably in WWE history (along with Eddie Guerrero), so having Rey work with these younger wrestlers is going to be great for the younger guys.
(Commercial)
The match was made official during the break.
Rey Mysterio vs. Angel Garza (w/Zelina Vega)
They battled on the mat with Mysterio slapping on a leg scissors leading to Garza getting to the ropes. They hit some sweet counters leading to a headscissors takedown. Garza did he heel thing wanting a handshake, Mysterio said no, Garza ripped off his pants (that draws a pop on NXT) and threw them at Mysterio. Saxton noted that Mysterio wrestled Angel's uncle Hector Garza in WCW many times. Garza hit a dropkick while Mysterio was up against the turnbuckle. Garza forced the handshake. Garza set up Mysterio against the turnbuckle and hit a running kick to the ribs. Mysterio with a kick to the face, then he sent Garza to the ropes, Garza slid to the floor and tripped up Mysterio on the apron to knock him down.
(Commercial)
The match returned with Mysterio hitting a tilt-a-whirl backbreaker, but Garza came back with a hard whip into the turnbuckle. Lawler said his cousin is Honky Tonk Man and they never saw eye to eye. Garza with a kick to the ribs to ground Mysterio. Garza went to the middle ropes, took way too long and Mysterio moved out of the way to avoid a moonsault. Mysterio with a rolling pin for two followed by a kick to the face for two. Mysterio hit a Tornado DDT for a two count. Mysterio with a seated senton off the top rope, but Garza came back with a rising knee to the face for two. Mysterio ran the ropes leading to a Canadian Destroyer, then a dropkick into the ropes and Vega pulled Garza out of the ring to prevent the 619 kick. Mysterio hit a springboard somersault dive over the top onto Garza. Vega got in Mysterio's face, so Garza capitalized with a superkick followed by Garza whipping Mysterio into the barricade. Garza hit the DDT on Mysterio on the exposed concrete. So nobody put the mat back after 20 minutes? I guess not. Anyway, that led to the DQ finish. The match went about 13 minutes.
Winner by disqualification: Rey Mysterio
Analysis: **3/4 It was a decent match with Garza doing a lot of heel tricks to get heat although the crowd didn't know him that well. Mysterio continues to impress with his offense, he's great at selling and the crowd cares about everything he does. The finish was a bit lame, but it puts over Garza as a cheap heel and they can build to a rematch down the road. They can also have Garza wrestle Carrillo probably next week, so Garza can get some matches while Andrade is suspended.
Post match, Garza left with Vega while Mysterio was getting checked on by referees at ringside. Mysterio was selling it by grabbing his throat.
Charlotte Flair's up next at the top of hour three.
(Commercial)
This week on WWE Backstage on FS1 on Tuesday, Drew McIntyre is the guest with Renee Young and Booker T as the hosts.
There were more videos shown of the snow and blizzard in Utah on Monday as the announcers thanked the fans in Utah for coming to the show.
Let's Hear from Charlotte Flair
Charlotte Flair made her entrance in her wrestling gear along with a red robe. Flair won the Royal Rumble match, so she gets to pick a champion to face at WrestleMania. That led to Flair pointing at the sign like the good independent contractor (almost an employee) that she is.
Flair said that everyone wants to know who she will face at WrestleMania. Flair mentioned the Raw Women's Championship held by Becky Lynch and the Smackdown Women's Championship held by Bayley. Flair talked about how she's held both titles multiple times while beating both of those champions. Flair said that she has actually held all…three and she said that "The Queen" has love for NXT and NXT has love for their Queen. Flair said that she wants all the gold.
That's when Rhea Ripley's music hit. Ripley got a nice ovation as she walked down to the ring with the NXT Championship around her waist. The fans greeted Ripley with "NXT" chants.
Ripley said that Flair did win the Women's Royal Rumble and now she gets to challenge for any title she wants at WrestleMania. Ripley said like Flair said, she's already beaten Becky and Bayley, but Flair has not beaten Ripley. That led to Ripley pointing out that she has actually beaten Flair (in a match on Smackdown). Ripley said if you'll challenge for any title at WrestleMania…and Ripley held up the NXT Title. The fans chanted "yes" for that.
Flair smiled at Ripley, then casually walked out of the ring and said nothing as the fans booed her for leaving without answering the challenge. Flair went to the stage, said "WOO" and Flair walked to the back.
Analysis: It was an interesting showdown with Ripley not backing down from Flair as you would expect from her. They did a good job of explaining why Flair wasn't challenging Lynch or Bayley since she has beaten them before and held those titles before. Flair has also held the NXT Women's Title, but that wasn't mentioned. When they say Flair is a 10-time Women's Champion they also don't include NXT in that. The plan is Flair vs. Ripley at WrestleMania, so they'll make it official soon, but they still have two months to get there. Why was Charlotte in her wrestling gear just to do a promo? I don't know. Those decisions are not up to me lol.
Bobby Lashley was interviewed by Sarah Schreiber. Lashley was confident that he was going to win his match against Seth Rollins and Ricochet. Lashley said that he's going to take the WWE Championship from Brock Lesnar at Super ShowDown and then beat Drew McIntyre at WrestleMania as well.
Asuka made her entrance with tag team partner Kairi Sane. They are the Raw Tag Team Champions.
(Commercial)
There was a graphic showing Roman Reigns and Sasha Banks being part of a Pizza Hut commercial on Super Bowl Sunday. The commercial was nothing special just like Pizza Hut.
Natalya made her entrance for a match. Natalya had on a purple and gold armband to honor Kobe and daughter Gianna Bryant, who passed away last Sunday.
Natalya vs. Asuka (w/Kairi Sane)
Natalya took control with a fireman's carry into an armbar, Asuka countered into an armbar of her own and then Asuka hit a running shoulder tackle. They battled over kneebar submissions. Natalya set up Asuka against the ropes, then said "let's go bitch" and they locked up again. Natalya avoided a spinning back fist, Natalya unleashed with punches and Natalya hit a sitout Powerbomb for a two count. Natalya wanted a Sharpshooter, Asuka avoided that and bailed to the floor.
(Commercial)
Asuka was in control with an armbar followed by a hair whip to the mat. Asuka kicked Natalya into the chest followed by a face first whip to the mat and a hard kick to the face. Asuka slapped on octopus lock submission like move. They replayed a stiff kick from Asuka to the face of Natalya. Natalya worked over Asuka with punches. Asuka slapped on a tight headlock, then Natalya powered out of it and hit a suplex. The crowd popped for it because it was an impressive display of power. Asuka ran at Natalya, who caught her and they did three nearfalls in a row. Natalya hit a spinning clothesline. Natalya slapped on the Sharpshooter submission on Asuka, who was near the ropes, yet Lawler said she was a long way to the ropes and Natalya held on for the full five seconds as Asuka went to the floor. Sane distracted Natalya although that was messed up a bit because Natalya looked at her too soon, so maybe Sane was too slow there. Anyway, that distraction allowed Asuka to slap on the Asuka Lock submission for the victory after 11 minutes.
Winner by submission: Asuka
Analysis: ***1/4 That was a different kind of match that was heavy on technical wrestling and it came across as a fight. They worked hard, it featured some counters from both women, plenty of submission attempts and even had a moment where Asuka kicked Natalya so hard that it left a bit of a mark on the right side of Natalya's face. I thought the finish could have been better because it's the lame distraction ending that makes the faces look like morons, but I understand wanting to give Asuka the win based on what happened after the match.
After the match, Asuka grabbed the microphone and called out Becky Lynch. Asuka said she wanted a rematch for the Raw Women's Championship.
Becky Lynch made her entrance in street clothes while carrying the Raw Women's Championship. Lynch got in Asuka's face and said after ducking Lynch for a whole year, you want to fight Lynch again? Lynch claimed that beating Asuka gave her superpowers and added that she wants to drink from that fountain again. Lynch said why would she put her title on the line so close to WrestleMania? It's because beating the only thing more fun than beating Asuka's ass once is to do it again. Sane tried to attack Lynch, but Lynch easily threw Sane out of the ring. Lynch said she had superpowers and she left.
Analysis: Lynch vs. Asuka in a rematch is a great idea. They had a solid match at the Royal Rumble, but I think they are capable of an even better match.
Seth Rollins was shown walking backstage for the main event match.
(Commercial)
The announcers mentioned the snowstorm in Utah again, then they showed the crowd and the fans cheered themselves for being in the arena.
This Wednesday on NXT, Charlotte Flair is going on NXT to answer the challenge of Rhea Ripley.
Seth Rollins made his entrance for the main event. He is one half of the Raw Tag Team Champions. Rollins congratulated his buddies Buddy Murphy and AOP for their victory earlier in the night. Rollins said now it's his time because he's going to beat Brock Lesnar. Rollins said he said something similar last year, but he got a different response while reminding us that he beat Lesnar for the Universal Title at WrestleMania that's what he did. Rollins said he defended the title all around the world, but the fans crucified him. Rollins said he didn't hate the fans, he wanted to say thank you and he thanked us for helping him be the man he has become that he is so proud of. Rollins said he will dethrone Lesnar for the greater good. Rollins said it will be 10 years, 20 years, 100 years and he'll save the industry. Rollins said Drew McIntyre will go into WrestleMania facing the Monday Night Messiah.
Ricochet made his entrance for the main event triple threat match. Bobby Lashley entered for the main event without his wife Lana by his side. That match is after a break.
(Commercial)
Next week on Raw: Becky Lynch vs. Asuka for the Raw Women's Championship.
Seth Rollins vs. Ricochet vs. Bobby Lashley
Rollins was in control early as Lashley was out of the ring and Rollins took down Ricochet in the ring. Lashley punched Rollins down, Lashley with a shoulder tackle on Ricochet and a neckbreaker/DDT combo by Lashley on both opponents. Lashley with a clothesline on Rollins to the floor. Ricochet with a dropkick to send Lashley to the floor and a somersault dive onto Lashley on the floor. Ricochet hit a twisting dive over the top onto Rollins as well. Ricochet went up top, so Buddy Murphy shoved Ricochet off the top. AOP attacked Lashley with a double team knee to the face. There are no DQ's in a triple threat match, so it was all legal. Rezar whipped Lashley into the barricade. Kevin Owens made his return as he punched Murphy and knocked him off the stage. Erik attacked Rezar, he sent him into the turnbuckle and Owens hit a superkick on Akam. Owens with a steel chair to Akam's back. Erik hit Rezar with a chair, Owens hit Rezar with a chair and the faces chased the heels to the back.
(Commercial)
The match returned with Rollins and Ricochet slugging it out in the ring, but then Lashley came back with a shoulder tackle by Ricochet. Lashley with a spinebuster on Rollins. Lashley with a clothesline on Rollins, then a shoulder tackle and Ricochet went off the top rope with a cross body block on Lashley. Ricochet with a running forearm on Rollins, a shoulder to the ribs and a kick on Lashley. Ricochet with a jumping kick on Rollins followed by a springboard clothesline. Ricochet with a standing Shooting Press on Rollins for a two count as Lashley made the save. Ricochet with a charge, but Lashley hit him with a spinebuster. Lashley picked up Rollins leading to a slam for two. Lashley ran at Rollins, who got his elbow up and Rollins hit a blockbuster neckbreaker for a two count with Ricochet breaking it up. Rollins gave Ricochet into a Buckle Bomb into the turnbuckle. Rollins up top, but Ricochet stopped him with a jumping kick to the head. They went to the top turnbuckle and hit a Tower of Doom suplex spot with Rollins rolling to the floor. The fans chanted "this is awesome" for them. Ricochet with a kick to Lashley and Ricochet hit a 630 Splash on Lashley for the pinfall win after 14 minutes.
Winner by pinfall: Ricochet
The win by Ricochet means that he will challenge Brock Lesnar for the Universal Title at Super Showdown.
Analysis: ***1/4 They started out slow, then had the interference spot and it became a very good match by the end of it. I liked the action and so did the fans because they really started to get into it. There were a few believable nearfalls in the match. I expected Ricochet to win since he's the only face in the match and Lesnar is a heel champion, so it makes sense to go that route. Rollins not being pinned makes sense because he's a top guy that can be protected in a scenario like that. The finish felt a bit rushed for that final sequence.
After the match was over, Brock Lesnar ran down to the ring and he hit Ricochet with an F5. The fans popped big at the sight of Lesnar (along with Paul Heyman at ringside) because Lesnar wasn't advertised for the show. Lesnar held the WWE Title as the show right at 11pmET or maybe a minute later.
Analysis: That felt rushed a bit although it delivered the message that was needed by showing that Lesnar is always going to cheapshot his opponents while reminding the fans that he (Lesnar) is the champ. I didn't know Lesnar was at Raw this week, but obviously WWE is using him more. I don't know if that means Lesnar is getting more money or it's part of some agreement. It just seems like Lesnar is around more often, so that's good to see.
Three Stars of the Show
Ricochet
Kevin Owens
Seth Rollins
The Scoreboard
6.75 out of 10
Last week: 5.5
2020 Average: 6.4
Last 5 Weeks: 5.5, 6.75, 7, 6.25, 6.75
Final Thoughts
This week's Raw gets a 6.75 out of 10.
I think it was a slightly above average show. The in-ring action was good enough to prevent me from being bored. In terms of storylines, there's nothing special, but also nothing that bad and I think some of the babyfaces are finally getting some momentum. In terms of in-ring performance, I thought Ricochet stood out in the main event while Kevin Owens had a strong night even in defeat. They told a great story in that match. A Brock Lesnar surprise appearance at the end got him plenty of heat, so at least it worked in that regard. Also, welcome back to Ruby Riott as well.
They set up some matches like Lynch vs. Asuka next week and Lesnar vs. Ricochet at Super Showdown while also promoting Charlotte Flair on NXT this week. Good job of building for the future.
It was noticeable that Jerry Lawler was doing heel commentary for most of the show. I think when you do a three-person announce team, one of the people should be a heel to bicker with the others, so I have no problem with that. Lawler is at his best as a heel too.
The next WWE pay-per-view is Super Showdown on Thursday, February 27. Here's what we know so far.
WWE Championship: Brock Lesnar (c) vs. Ricochet
Smackdown Tag Team Championships: The New Day (Kofi Kingston and Big E) (c) vs. The Miz and John Morrison
—
You can contact me using any of the methods below. Go reigning and defending NBA Champion Toronto Raptors and Toronto Maple Leafs.
Thanks for reading.
John Canton
Email: mrjohncanton@gmail.com
Twitter: @johnreport
Personal Facebook and TJRWrestling on Facebook