The John Report: AEW Dynamite 04/01/20 Review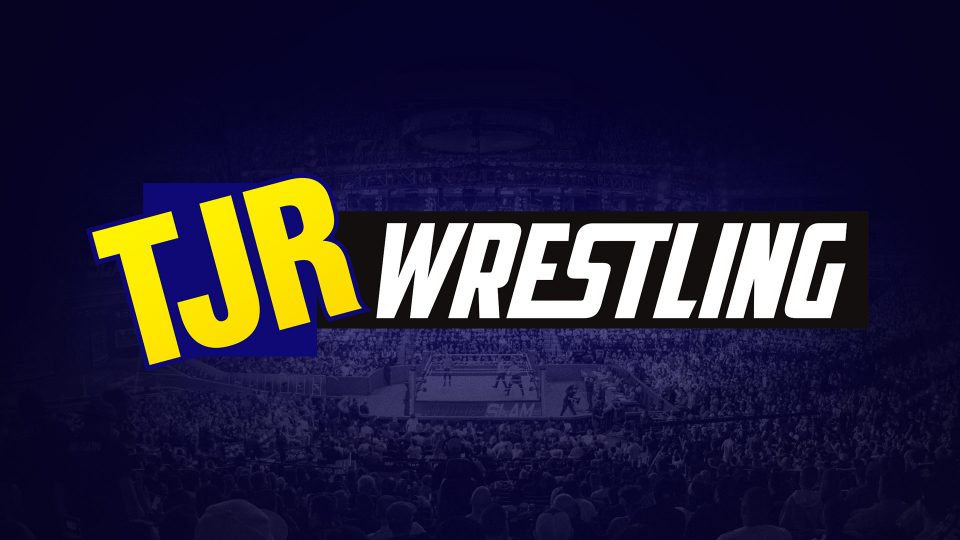 Welcome to the AEW Dynamite review on TJRWrestling. It's AEW's third straight episode with no fans in attendance. They have a limited roster on hand due to wanting to limit travel because of the Coronavirus pandemic and that's the right call by them. You could make the case that they should just stop doing shows for a few weeks just to be on the safe side, but they want to keep going and I'll be here to review it.
This is episode #27 of AEW Dynamite. Follow me on Twitter @johnreport. Thanks to Melo Man for the banner up top. Here's my AEW Dynamite TV review archive. I'm watching on TSN in Canada as usual.
We were welcomed to the show by Tony Schiavone and Cody as the announce team. Cody had his dog Pharaoh with him. They were at the Nightmare Factory that Cody owns in the Atlanta area along with QT Marshall, but they did not announce that. Marshall is the main wrestling trainer there along with others. They likely taped content for next week and maybe the following week as well. We probably won't know the details of that.
The brackets were announced for the new TNT Title tournament.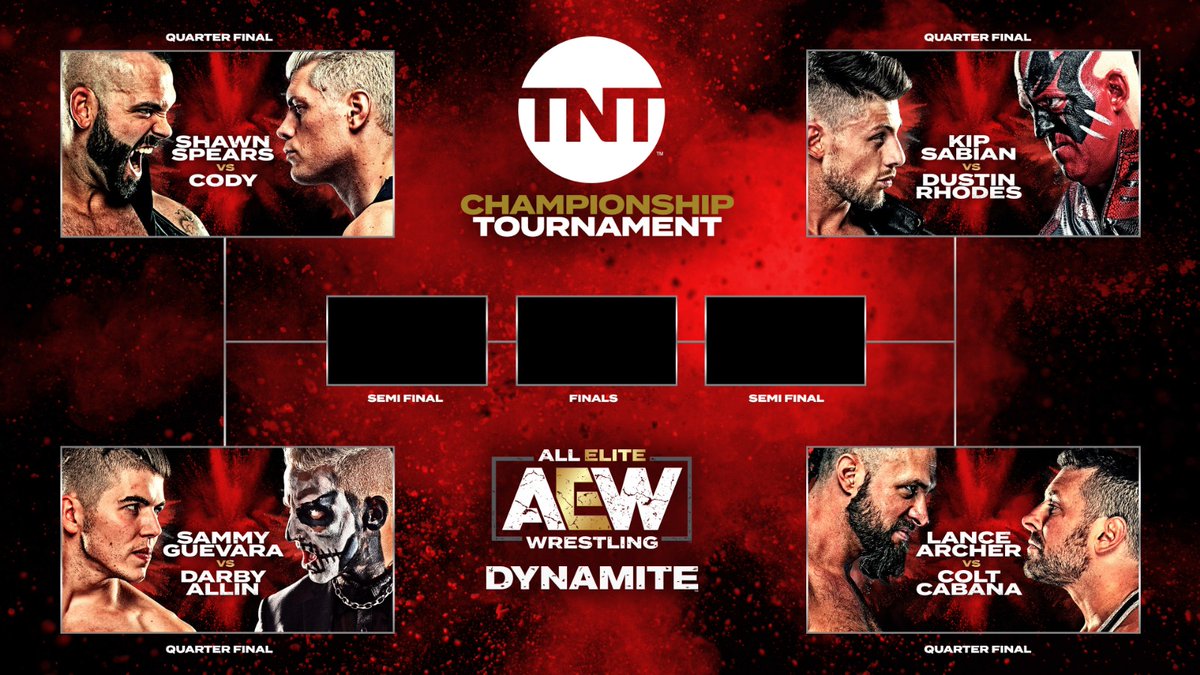 Analysis: I was originally thinking that Darby Allin might win, but now I think they might set up Cody vs. Lance Archer in the finals due to Archer wanting to wrestle Cody. It makes sense based on that storyline. I'll pick Archer as the first champion.
There were some wrestlers standing around the ring that were practicing social distancing by standing apart from eachother. Dasha Gonzalez was working as the ring announcer this week.
Trent entered with his Best Friends buddies Chuck Taylor and Orange Cassidy. It looked like Billy and Austin Gunn on one side, then Jimmy Havoc, Kip Sabian and Penelope Ford on the other side. Kenny Omega entered as the opponent and he's one half of the AEW Tag Team Champions. There was a giant screen in the background.
Kenny Omega vs. Trent (w/Chuck Taylor and Orange Cassidy)
Trent was in control early with a knee attack followed by a kick to the back. Omega came back with two kicks to the back. Omega sent Trent into the turnbuckle followed by a hard chop. Omega charged right into a double stomp to the chest by Trent. With Omega on the floor, Trent hit a moonsault onto Omega on the floor. Trent got a hug from Taylor and Cassidy even though it's supposed to be a social distancing time. Anyway, Omega hit a somersault dive onto the three guys on the floor. Omega hit a Kitaro Crusher leg drop on the back of the head for a two count. Omega with a backbreaker as Cody said it was Bret Hart-style because Cody likes making references to others, which I enjoy. Omega continued on offense with a hard whip into the turnbuckle. Omega with a back body drop. Trent came back with a stomp on the right hand that Omega injured last month and then Trent stretched the hand against the ropes. Trent with a knee drop on the left hand and then Trent hit the knee drop on the right hand as well. Trent tried a knee pad on the apron, but Omega moved and Omega hit a chop to the back. Omega grabbed Trent on the apron and gave him a German Suplex on the floor. It was announced that ten minutes have gone by and ten minutes remain. Omega whipped Trent hard into the barricade at ringside. Omega whipped Trent into the barricade again. Trent tried to fight back, but Omega gave him a Powerbomb back first into some big post that was in the building. Back in the ring, Omega picked up Trent and slammed him onto the knee for a two count. Trent came back with a Tornado DDT off the ropes Jerry Lynn-style as Cody said. Jerry Lynn was a great worker – Google him, kids. Trent set up Omega against the ropes with a sliding German Suplex and they went to break there.
(Commercial)
The match returned with the two men exchanging strikes with 15 minutes gone by and 5 minutes left in the time limit. Trent with a half nelson suplex, Omega with a knee and Trent hit a piledriver that Omega sold great with Trent getting a two count. Omega fought out of the corner, he blocked a DDT and hit the Snapdragon Suplex that put Trent on the back of his head. Omega ran the ropes as Trent hit a clothesline. Omega came back with a Powerbomb followed the V-Trigger knee to the face. They were on the apron with Trent connecting with chops, there were two minutes left and Omega sent Trent into the ring. They went up top and Trent hit a German Suplex off the top rope with Omega taking a brutal bump onto his head/neck area. Trent with a running knee to the face for a two count. Omega with another V-Trigger knee and a One Winged Angel slam for the pinfall win after 19 minutes as they announced one minute left before 20 minutes.
Winner by pinfall: Kenny Omega
Analysis: ***3/4 This was really good with Trent putting on an impressive showing against Omega, who is the bigger name and the obvious winner in a match like that. I like that AEW has time limits because you can use that as part of the story where a guy is more desperate to win, so he might go for bigger moves. Omega controlled the first half, then Trent got a lot of offense and it was very even after that. Omega has been on a hot streak, so his positive momentum continues. Omega is one of the best and one of my favorite wrestlers in any wrestling company right now. He's a machine out there. Trent showed he belonged with him too.
Omega and Trent sold it like they were exhausted because they probably were. Cody called this a "main event anywhere" although I wouldn't agree with that in terms of Trent. I like Trent as a worker, but he's not a big name. Omega is. Omega helped up Trent and they touched knuckles as a sign of respect.
A video aired showing highlights of Chris Jericho's issues with Matt Hardy last week.
(Commercial)
There was a video package about Hikaru Shida as one of the top women's wrestlers in AEW.
Hikaru Shida vs. Anna Jayy
I don't know why Jayy has two Y's on her last name, but she does. Jayy whipped her hair in Shida's face, Shida with a shoulder tackle and Jayy held onto the ropes to avoid a dropkick. Jayy with a knee to the face. Shida hit a tilt-a-whirl backbreaker. Shida hit a running knee on Jayy as Britt Baker stood in the "crowd" and trash talked Shida. Jayy with some weak looking punches, Shida with a knee, Jayy with a slap and Shida decked her with a forearm. Jayy with a back kick to the head and a neckbreaker for a two count. Jayy got three straight rollup type moves for two counts and then Shida tried a submission, but Jayy got her foot on the bottom ropes. Shida with a delayed vertical suplex for a two count. Shida with a running knee strike to the back of the head and a sitout Michinoku Driver for the pinfall win after about five minutes.
Winner by pinfall: Hikaru Shida
Analysis: *1/2 It was okay with Shida getting the win as the AEW contracted wrestler facing off against a woman making her AEW debut. That's the result that was expected. This kind of match wouldn't be on a regular AEW show with the fans there. They have to try to come up with more simple content without the fans there, so that's why we get matches like that.
They showed Baker in the crowd eating a sandwich while Shida got in her face and that led to a break.
(Commercial)
There was a video of Jake Hager and the Inner Circle putting AEW World Champion Jon Moxley through a table with a Powerbomb about a month ago. Last week on Dynamite, Moxley attacked Hager and then on Dark on Tuesday, Hager attacked Moxley.
A video aired with Hager saying he wasn't scared of Moxley even as the AEW World Champion. Moxley said that he was the man on top in AEW and he's got the biggest target on his back, so that pisses him off because they want to take what belongs to him. Moxley said that there are people like Hager that think they can beat him and it's not going to happen. Chris Jericho said that the Inner Circle does things for themselves. Moxley said he doesn't need anybody and he's going to keep fighting for the fans. Jericho talked about the Powerbomb to Moxley and Moxley said that they didn't kill him. Hager said he's here to inflict violence on him. Moxley said he's traveled with Hager, he's listened to the Jerky Boys with him (nice reference) and he's trained with him. Hager said he knows Mox is below him and he doesn't have the ruthless aggression (he said it) that Hager has. Sammy Guevara talked about how Hager was undefeated. Moxley said that he sought out Hager and he knew was coming after him eventually, so he came after Hager. Guevara said it sounds perfect that Hager wants to become the AEW World Champion. Jericho said that he has a rematch against Moxley, but he won't use it because he wants Hager to take the title from Moxley. Jericho said they're unified, they don't fight like The Elite and Hager becoming World Champion would be great because it means two World Champions in AEW. Hager talked about how he'll do anything to earn that championship. Hager said that Mox will get everything that Hager has. Moxley said that Hager may be 6'4″ and 265 pounds, but he's just a man, there's a formula, there's a way and he's another Goliath so David (Moxley in this case) will find a way to slay this big bastard. Moxley said he's looking to fight Jake Hager.
It was announced that Moxley will face Hager in two weeks on AEW Dynamite in a No Holds Barred match and it's for the AEW World Championship.
Analysis: That was a really good video package. They all made their points well. Hager has been booked like an unbeatable monster, so he should put up a fight, but I doubt Moxley is going to lose the title to him. It's too soon for Moxley to lose the title.
(Commercial)
The announce team had a change with Colt Cabana taking over with Cody as he joined Tony Schiavone. The little man Marko Stunt entered without his Jurassic Express buddies.
Jake "The Snake" Roberts did a promo talking about how Lance Archer will destroy whoever AEW has cooked up for him. Roberts said that they're not playing and he called out Cody again while saying maybe Brandi is telling Cody not to go after Archer and he said she wears the pants in that family. Lance Archer made his entrance for his AEW debut match.
Lance Archer vs. Marko Stunt
There was a huge size difference with Archer hitting Stunt with a big clothesline. Archer whipped Stunt into the turnbuckle. Stunt tried coming back with punches, but Archer stopped him with a forearm. Archer with a release suplex across the ring. Archer picked up Stunt with a spinning slam. Stunt ran out of the ring, Archer followed, Stunt with a dive, no sell by Archer and back in the ring there were some kicks from Stunt that stunned Archer a bit. Archer ran the ropes and ran over Stunt with a shoulder tackle out of the ring. Back in the ring, Archer hit a one handed Chokeslam for two and he picked Stunt back up. Archer picked Stunt over his head followed by a spinning slam called the Blackout for the pinfall win. It went about four minutes.
Winner by pinfall: Lance Archer
Analysis: * A squash win by a big newcomer in Archer over the smallest guy on the roster in Stunt. If this was two minutes it would have been more impactful. It went just as you would expect it to go.
After the match, Archer grabbed Stunt on the apron and tossed him Chokeslam-style onto Billy and Austin Gunn along with Orange Cassidy standing behind the barrier. Cabana said he'll be ready for Archer in their tournament match. Archer made angry faces and walked away while Stunt was getting checked on by others.
Brodie Lee was shown in a suit in his office with his Dark Order members. Lee said that he once was lost, he once was downtrodden and beaten down, but now he stands before us as the Exalted One. One of the masked guys called him Exalted One, then he insisted on being called Mr. Brodie and when the guy said "we are one" that's when Brodie threw a glass into the wall. Brodie yelled "We Are One" and sat down with another masked guy. Brodie asked the guy why he's exhausted or tired. Brodie said there is no reason for you to yawn in his presence while adding that tiredness showed weakness. Brodie said he can't have weak people within these doors and he told him to never yawn in his presence again.
Analysis: It was the second week of Brodie's Vince McMahon impression and I guess Vince must hate yawning like he hates sneezing. The promo work is good from Brodie, but it came off as a bad impression more than anything. It's a bit cheesy even though I like Brodie Lee a lot. They need to put him in some better segments.
(Commercial)
There were two Dark Order wrestlers introduced as Eight and Nine. They had masks on. They showed Brodie Lee aka Mr. Brodie dominating QT Marshall in a match last week. Dustin Rhodes and QT Marshall entered as a tag team called the Natural Nightmares with Brandi Rhodes as their manager. They are 2-0 as a team in 2020 and those matches were on Dark, which I don't watch.
Natural Nightmares (Dustin Rhodes and QT Marshall) (w/Brandi Rhodes) vs. Dark Order (Eight and Nine)
There was no distinction between Eight and Nine, so we just have to make it up. Rhodes with a punch followed by an arm drag on Eight. Marshall tagged in with a flipping splash for a two count. Marshall held up Eight as Rhodes went in with a neckbreaker. Rhodes slammed Nine down when Nine went into the ring. Marshall back in with a double axehandle, Nine with a knee to the back that the referee didn't see and Eight with a clothesline. Eight with a corner clothesline. Nine is the smaller of the two guys, he got in some punches and Eight tagged back in with kicks on Marshall against the corner. Marshall hit a flatliner on Eight and a suplex on Nine. Rhodes got the tag with two clotheslines, the uppercut punch, atomic drop and bulldog. Rhodes with a powerslam on Nine and he sent Eight out of the ring. Rhodes hit a flipping dive off the apron to take out one of the guys and Marshall dove onto another guy. Rhodes picked up Nine and Marshall hit a double team flatliner/neckbreaker combo for the pinfall win after about four minutes.
Winners by pinfall: Natural Nightmares (Dustin Rhodes and QT Marshall)
Analysis: *1/4 A glorified squash match to put over the two guys under AEW contract against a couple of masked jobbers. If I wasn't writing a review I would fast forward through this. If they can't give wrestlers names more complex than Eight and Nine, then why should the fans care about the match? It's hard to care about this. I think Dustin and Marshall work well as a team in the tag team division that has a lot of depth in AEW.
After the match, Marshall tossed a mask onto the Dark Order guy to refuse Brodie Lee's offer from last week. Rhodes and Marshall went near the entrance when Brodie Lee showed up.
Brodie Lee went into the ring and hit a stiff Powerbomb on Nine. Lee started at Eight, who was standing in the corner and Lee left.
Analysis: That's the heel boss teaching a lesson to his followers that failed him.
(Commercial)
Let's Hear from Chris Jericho
Chris Jericho was shown in his hot tub with a glass of champagne aka a Little Bit of the Bubbly. Jericho said that today is a holiday – it's April Fool's Day. Jericho said he's never met a bigger group of fools than The Elite. Jericho called Kenny Omega a "pumpkin head dipshit" while mocking Nick Jackson for his head injury and his newborn baby while saying Matt should mow his lawn. Jericho said that they haven't seen Hangman Page for weeks and he called Cody the name of "Cody Exotic." Jericho ripped on Matt Hardy saying he'll need another 3000 years to get over the embarrassment and the beating that the Inner Circle gives him. Jericho said when he lets fans back into the arena, they will still have to face The Inner Circle in the Blood & Guts match. A drone flew up to Jericho. Jericho got out of his tub and he was wearing pants, which is pretty funny. Jericho spoke to Vanguard 1 the drone saying "I knew you'd come" which is a Matt Hardy line. Jericho said he said some harsh words to Vanguard 1 one last week, then Jericho was unable to say "sorry" properly and he told Vanguard 1 he wanted him in the Inner Circle. Jericho had a mini shirt for the Inner Circle. Jericho put the shirt on a hanger onto the bottom of the drone and Vanguard 1 left. Jericho yelled at him to leave. Jericho yelled "Release the Hounds" as some dogs went barking at the drone. It was pretty funny. Jericho yelled "I'm going to get you!" Jericho's last line: "That little bastard stole my t-shirt." End scene.
Analysis: That was ridiculous and funny. Jericho managed to pull it off because he's got that ability to pull off anything he wants to do. The "release the hounds" part was hilarious because some of the dogs were tiny. I laughed, so it worked from that perspective.
Next week on Dynamite: Shawn Spears vs. Cody in the TNT Title tournament. In two weeks on Dynamite it's Jake Hager vs. Jon Moxley in an Empty Arena No Holds Barred Match for the AEW World Championship. Lance Archer also faces Colt Cabana in two weeks in the TNT Title tournament.
There was a video with the Young Bucks brother duo of Matt and Nick Jackson. Matt talked about how Nick hasn't been active in about a month, so he brought a ring to him. They showed the clip of when The Inner Circle attack Nick in a backstage segment on Dynamite. Matt and Nick were in the ring with Nick saying he didn't remember who took him out while adding he had no memory of even being in the ambulance. Matt and Nick worked out in the ring together with Nick saying he didn't know his return date. Matt said it made him appreciate what he had. They showed a clip of Nick's family with his wife and three kids there. They walked away from the ring saying it was pretty good, Matt asked if he's ready to get back in there and Nick said "not yet." They left.
Analysis: There's no rush to pay off the storyline at this point. The Young Bucks live in California and a lot of AEW people living there haven't been on Dynamite since it's been in Florida and Georgia just due to the travel limitations that exist in the world right now. Nick's comeback and wanting revenge on the Inner Circle is a story that can play out whenever the fans are back at the shows.
(Commercial)
It was main event time with Sammy Guevara and Shawn Spears entering as the heel team. Darby Allin was out first for the face team as he sat against the turnbuckle. Cody was up last for his team, he lifted up Allin and the match began with over 20 minutes left in the show.
Cody and Darby Allin vs. Shawn Spears and Sammy Guevara
Spears started with a shoulder tackle on Cody, who came back with a pump kick. Sammy got the tag, he had his cell phone in his hand, then he tagged out and Allin went after Sammy, who asked Brandi to give him a kiss. Brandi took the phone from Sammy and Darby hit a running attack on Sammy against the barricade. Spears went after Allin, but then Allin went back in the ring and Cody got the tag with a kick to the ribs of Spears. Cody and Allin hit suicide dives onto their opponents on the floor.
(Commercial)
The match returned with Spears working on Allin in the heel corner. There was a heel distraction spot leading to Allin going for a pin, but then Sammy hit a running knee that knocked Allin out of the ring. Sammy whipped Allin into the barricade and the heels took control as Sammy hit a suplex on Allin. Spears and Sammy bet eachother $50 on how long Spears could hold on for a stalling suplex and Spears held up Allin for ten seconds, which Cabana said is Spears' favorite number in reference to the Perfect Ten gimmick. They bet more money with Sammy tagging in for a stalling suplex for 15 seconds and Sammy did it leading to a two count. Spears said he could do it for 20 seconds on Allin, but then Allin got an inside cradle for two. Spears held up again, but Allin countered into a suplex of his own. Sammy scooped up the money. Allin slammed Sammy down when Sammy tagged in. Cody got the tag with a kick on Spears and a powerslam on Sammy for two. Cody hit a springboard Cutter for a two count. Cody took the weight belt off and he tossed it to Brandi, who celebrated it as if she was a fan. Cody slapped on a Scorpion Deathlock on Sammy briefly, then Spears went into and Cody put him in a Figure Four Leglock. Sammy broke that up with a standing Shooting Star Press. Sammy jumped off the ropes, Cody got him and hit Cross Rhodes on him. Spears tossed Cody over the barricade. Allin hit a dive onto Spears. When Cody was over the barricade, he was attacked by heels like Havoc, Sabian, Baker (with a dreaded shoe) and Ford attacked Cody.
(Commercial)
The match returned with the heels in control of Cody with Sammy standing on Cody's back while Cody was against the ropes. Spears worked over Cody with punches, Cody broke free and sent him into the turnbuckle. Cody knocked Sammy off the apron, kick to Spears and Cody hit a moonsault onto a standing Spears. Allin got the hot tag with a missile dropkick on both heels. Allin with running splashes on both guys followed by a springboard back splash on both guys. Spears with a clothesline on Sammy after Allin moved. Allin with a suicide dive on Sammy, but then Spears caught Allin and tossed him into the barricade. Sammy hit a running attack off the apron that was a missile dropkick to the back of Allin against the barricade. Cody with a dive onto Spears. Back in the ring, Spears hit a Death Valley Driver on Cody, which Spears calls a C4 apparently. The referee Aubrey Edwards lost control by this point while not even attempting to count Allin out of the ring. Allin climbed up a pole that was in the building, I think he said "hey assholes" and then jumped off the pole with a Coffin Drop on Spears and Sammy. That was unique. Back in the ring, Sammy shoved Allin off the top into the barricade. Cody hit a reverse superplex on Sammy and then Spears hit a Frog Splash on Cody, who was nice enough to lay there for him. Spears had a chair, Allin grabbed it from him, Sammy grabbed the chair away and Spears did the ROLLUP OF DEATH~! for the pinfall win after 22 minutes.
Winners by pinfall: Shawn Spears and Sammy Guevara
Analysis: ***1/4 It was a good tag team match that ran too long because they have time to fill. They didn't need to go over 20 minutes in a match like this. If it was five minutes shorter it would have been better. The last five minutes were full of ignoring tag team match rules and the referee not even trying to count people out of the ring. Spears getting the win was good for him because he hasn't had many big wins in his AEW career so far. Since Spears is facing Cody in the TV Title tournament, they can use the win from Spears to say he has momentum going into that match. You don't see the ROLLUP OF DEATH~! finish in AEW that often, but it makes sense here to show that Spears barely won.
Post match, Cody went up to Allin, put his hand on his shoulder and Allin decked Cody with a forearm to the face. Cody was frustrated about it. That was the end of the show.
Analysis: There will likely be a Cody/Allin match in the TNT Tournament assuming they both win first round matches with Cody beating Spears and Allin beating Guevara, so it's a way to build tension between them.
Three Stars of the Show
Kenny Omega
Trent
Cody/Allin/Spears/Guevara
The Scoreboard
This week: 6.5 (out of 10)
Last week: 6.75
2020 Average: 7.34
Last 5 Weeks: 6.75, 7.5, 7.5, 7.25, 7.5
Final Thoughts
This week's Dynamite gets a 6.5 out of 10.
The show was okay this week. There's obviously a limited roster there and they tried to keep it simple. Some of the matches normally wouldn't be on Dynamite, but they are unable to use everybody right now. The first match with Omega/Trent was outstanding and the main event tag team match was good, so they were fun to watch.
I liked some of the non-wrestling segments like Jericho's hilarious "release the hounds" video from his house. That made me laugh more than most segments. Brodie Lee doing another Vince McMahon impression came off as lame this week. The video setting up the Moxley/Hager AEW World Title match in two weeks was very well done.
—
You can contact me using any of the methods below.
Thanks for reading.
John Canton
Email: mrjohncanton@gmail.com
Twitter: @johnreport
Personal Facebook and TJRWrestling on Facebook