The John Report: AEW Dynamite 02/19/20 Review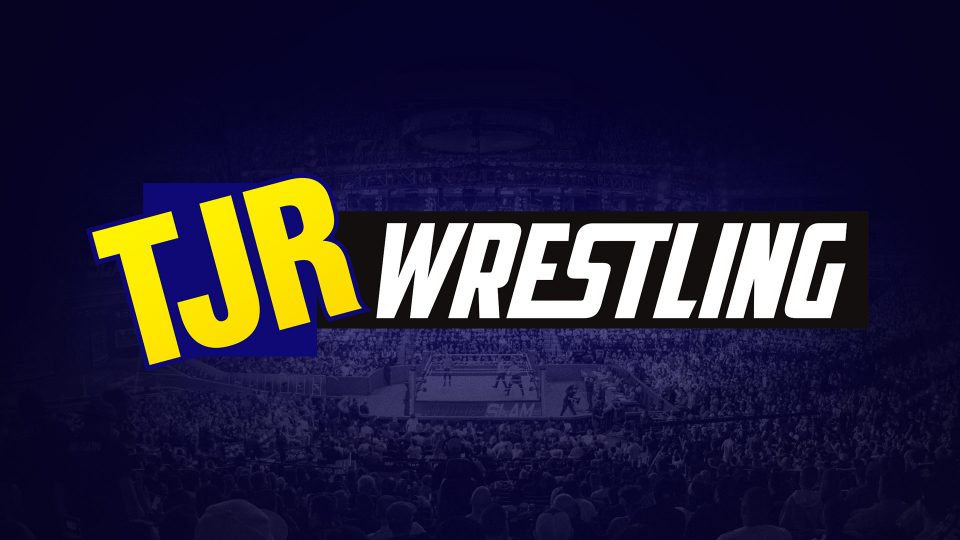 Welcome to another AEW Dynamite review on TJRWrestling. The AEW Dynamite PPV is ten days from this week's show on Saturday, February 29, so let's see what AEW has in store for us this week.
Live from Atlanta, Georgia, this is episode #20 of AEW Dynamite. Follow me on Twitter @johnreport. Thanks to Melo Man for the banner up top. Here's my AEW Dynamite TV review archive. I'm watching on TSN2 in Canada as usual.
The show began with Jim Ross welcoming us to the show as pyro went off. Ring announcer Justin Roberts was at the top of the ramp because it's time for action. The wrestlers were in the ring for the Tag Team Battle Royal match and the bell rang to start it.
Battle Royal Featuring AEW Tag Teams
The announcers said that both guys in the team had to be eliminated. The winners of this match face the AEW Tag Team Champions at Revolution on February 29th.
They did a spot with Kazarian and Sky going to the top and they jumped onto a pile of wrestlers in the ring to knock them down. Jack Evans went up top, did a 450 splash, he got caught and thrown out. It looked like Santana and Ortiz were standing outside the ring instead of being in the ring to compete in the match. Isaiah Kassidy with a DDT on Cima and I thought Cima was eliminated there, but he was not. Kazarian with a clothesline on Angelico. Reynolds and Silver from Dark Order attacked SCU from behind, but then Sky and Kazarian knocked them down with clotheslines. The Dark Order promo guy mentioned Daniels was not supporting SCU at ringside, then teased the Exalted One coming soon and the two Dark Order guys eliminated SCU. Young Bucks got rid of Reynolds and Silver after that. Sky hit a dive onto Dark Order guys in the crowd, then SCU and Dark Order went brawling to the back. It was noticeable that former wrestler Raven was sitting right there in the crowd. He's from Atlanta and he was just sitting there watching the show although maybe it's a tease for a future appearance for him. I don't know. Cima with a flipping slam on Trent. Santana and Ortiz finally went into the ring. Cima and Jungle Boy battled on the apron, but Luchasaurus eliminated Cima. Boy with a headscissors, then a dropkick and Luchasaurus with a boot to the face of Marq Quen. Double team by Luchasaurus and Boy knocked down Quen. Dark Order offered Cima a mask to join their group, Cima took the mask and walked to the back. Nick Jackson jumped over the top with an X-Factor like move on Angelico. Nick unleashed with kicks on about six guys in a row, then a running knee on Santana, Ortiz, Butcher and Blade. Butcher sent Nick over the top to the floor. Kassidy did a comedic scream, then Butcher hit a back body drop on Boy onto three other wrestlers.
Luchasaurus and Butcher had a staredown as two of the biggest guys in the match. The fans were into it. They exchanged punches, Luchasaurus with a headbutt with neither guy selling it and Luchasaurus with a spin kick followed by Butcher knocking Luchasaurus down. Santana and Ortiz managed to get rid of Quen and then Santana/Ortiz tossed Kassidy out too. Luchasaurus and Jungle Boy got rid of Angelico. Sammy Guevara grabbed Boy's foot, so Santana and Ortiz got rid of Jungle Boy. Four men teamed up to get rid of Luchasaurus.
The remaining men were two Best Friends (Trent and Taylor), The Butcher and The Blade, Matt Jackson, Santana and Ortiz. Best Friends battled with Butcher and Blade on the floor. Taylor and Trent hit a boot into a suplex combination. Butcher went back in to eliminate Taylor. Trent avoided an elimination there with Trent landing on Orange Cassidy's shoulders and Trent was back in the ring. Trent with a Tornado DDT on Blade. Trent and Matt worked together to dropkick Blade out of the ring. It's five guys left with four teams represented. The babyfaces Matt and Trent worked together to knock down the heels, then they hugged in the ring to cheers, which led to Butcher running over Matt and Trent with clotheslines. Butcher with a running clothesline on Trent. Butcher nearly eliminated Trent, but Trent held onto the bottom rope to avoid elimination. Trent pulled Butcher over the top to the apron with Cassidy there to catch Trent. The Bunny walked up to Cassidy and she kicked him in the groin. Butcher eliminated Trent right after that. Matt with a Spear on Butcher to tackle him through the middle rope. That eliminated Butcher, but Matt was still in it.
The final three were Matt Jackson of the Young Bucks against Santana and Ortiz, who are a team. Matt hit a double Northern Lights Suplex on Santana/Ortiz. When Matt ran the ropes, Guevara tripped up Matt and Santana/Ortiz hit the Street Sweeper double team neckbreaker. Matt tried to fight back, Ortiz with a back rake, Matt sent Ortiz to the ropes and Matt eliminated Santana with a superkick. Guevara with a springboard attack and Matt gave him a superkick! That was impressive. Matt eliminated Santana with a clothesline to win the match. This went about 18 minutes. The crowd popped big for that finish.
Winners: The Young Bucks (Matt & Nick Jackson)
The win for the Young Bucks means they get to challenge for the AEW Tag Team Titles at Revolution on February 29.
Analysis: ***3/4 That was a very interesting battle royal with an exciting finish where Matt Jackson of the popular Young Bucks team getting the win. The rules of the match were unique with both teams having to be eliminated in the match, so that made for some interesting scenarios especially with Matt and Trent working together against the heels. Matt was tremendous in the match as he battled against two heels, found a way to break free and won the match for his team. I liked the way Santana/Ortiz were booked while The Butcher had a strong showing in the match too. That Trent/Cassidy spot was funny. I figured it would be the Young Bucks getting the PPV title match and have no problem with that happening.
After the match, Nick Jackson went to the ring to celebrate with his brother. They showed Kenny Omega and Adam Page watching on a TV backstage because they are the current champions.
(Commercial – The split screen showed us the Young Bucks celebrating at ringside. Wardlow and MJF were shown getting ready backstage for Wardlow's Steel Cage match with Cody. There were some crowd shots after that.)
Cody was shown backstage walking his dog Pharaoh with wife Brandi Rhodes by his side. They live in Atlanta.
The announce team of Jim Ross, Tony Schiavone and Excalibur were shown on camera welcoming us to the show while plugging what was coming up later. The announcers were joined by Dr. Britt Baker for this women's match. Baker mentioned a Starbucks joke to insult Tony with JR wondering if Blue Chew was in it. That was funny.
Shanna vs. "The Galaxy's Greatest Alien" Kris Statlander
Statlander touched the referee's nose because that's her way of communicating. JR asked about what Statlander is doing, then Excalibur tried to explain that Statlander's ship crash landed and JR said enough with it because it was ridiculous. Statlander did some cartwheels followed by a headscissors and she touched Shanna's nose with the fans cheering it. Tony's cup of coffee has his face on it with Toney spelled wrong as "Toney." That's the joke, I guess. The women did the nose touching repeatedly with the fans cheering along for it. Shanna got a knee to the ribs to take control.
(Commercial – Shanna remained in control with a kick to the face. Shanna connected with a clothesline. Shanna grabbed a headlock.)
Statlander got some momentum going with a kick to the head. Statlander with a lifting uppercut, a running knee and a spinning sitout Powerbomb got a two count. Statlander went up top, she took too long and Shanna kicked her down. Shanna with a kick to the back. Shanna went up top and jumped off with a double foot stomp for a two count. Shanna did a sweet counter into a twisting DDT for a two count. Shanna with a running dropkick while Statlander was near the ropes leading to another two count. Statlander picked up Shanna, hooked the arms and dropped down on her knees like a piledriver for the pinfall win after about eight minutes.
Winner by pinfall: Kris Statlander
Analysis: *** This was pretty good when they got to the wrestling. I think the finish could have been better because Shanna hit a bunch of moves to nearly win and then Statlander just won out of nowhere without setting it up much. They could have done more there. The nose touching is stupid and so is the alien gimmick. I'm all for fun in wrestling along with creativity, but if it's stupid then it detracts from the show. It is among the most stupid things I have seen in wrestling recently. They even have babyface announcers like JR and Tony mocking the gimmick, which isn't helping anybody. It's also not necessary because Statlander is very talented. If they can put an end to the Nightmare Collective gimmick without explaining it then they can end the stupid alien schtick too. I'm all for a Statlander push based on her ability in the ring, but the gimmick isn't working for me.
There were highlights shown from last week's AEW Women's Title match when Nyla Rose beat Riho to win the title.
(Commercial)
Nyla Rose was interviewed at the top of the ramp with Tony Schiavone conducting the interview. As mentioned, Rose is the new AEW Women's Champion.
Rose complained about the fans booing her when she walked out there. Rose said she should have been the first champion, she should be the highest-paid woman in the locker room and she should be on all the graphics and posters. Rose said that she "breaks bitches" when she's hungry, so she broke Riho. Tony mentioned Riho's courage, so Rose took the microphone to say she represents unbridled power. Rose said that one fact remains because she's the Queen Bee in this hive. Rose said she'll be a one time champion and nobody is a beast like her.
Kris Statlander walked onto the stage and did her point gimmick by putting her finger on to the AEW Women's Title. Big Swole walked onto the stage and flexed in front of Rose. Referees and security broke it up before anything happened.
Analysis: There wasn't much to this other than Rose doing a heel promo insulting the fans while talking about her dominance. I review this show every week, yet I barely know anything about Big Swole. You can't just throw somebody out there wanting a title shot without really developing them as a threat.
A video aired about Jeff Cobb promoting his match against Jon Moxley on this week's show.
Jon Moxley made his entrance with the black bandage covering his right eye and a new Paradigm Shift. I think it's new. I don't buy wrestling shirts. Jeff Cobb made his entrance for his first AEW match.
Chris Jericho entered along with his Inner Circle buddies Jake Hager and Sammy Guevara. They sat at ringside because they had tickets for seats that were not on sale because of where they put the chairs. The fans sang along to Jericho's "Judas" song as usual. That's always great to hear.
Jon Moxley vs. Jeff Cobb
Taz was on commentary for this match. I like him on commentary and wish he was there regularly. Cobb with an overhead belly to belly suplex followed by a dropkick. They left the ring with Moxley hitting a low dropkick followed by a slingshot dive over the top onto Cobb on the floor. When they went back into the ring, Cobb hit a shoulder tackle to knock Moxley down. Moxley had taped ribs to sell an injury from last week. Cobb whipped Moxley into the turnbuckle leading to Moxley bumping sternum first into the turnbuckle. Cobb was talking to Moxley likely about an upcoming spot in the match, so JR said that Cobb was trash talking. Good cover by Jim. Cobb sent Moxley to the apron and then knocked him off the apron to send him into the barricade.
(Commercial – Cobb continued the attack by whipping Moxley into the barricade near Jericho. That led to Jericho hitting Moxley with the AEW Title to the ribs. I assume the referee was distracted, but we didn't see that visually. They went back into the ring with Cobb ripping off some of the tape on the ribs.)
Moxley charged, Cobb caught him, Moxley broke free and hit a kneebreaker to the shoulder. Moxley hit a running dropkick into the left leg while it was against the ropes. Moxley whipped Cobb's left leg into the ring post three times. Cobb hit a spinning back suplex on Moxley and then picked him up after teasing a pin attempt. Moxley came back with a sleeper hold, then a heel hook on the left leg and Cobb got to the ribs to break it up. Moxley went for an attack on the floor, Cobb caught him and hit a belly to back suplex on the floor. They got a shot of a fan that said "oh shit" for that so JR said that was his reaction too. Cobb slammed Moxley with a powerslam. Moxley with a knee strike, then he charged, Cobb hit a snap German Suplex, Moxley popped right up and hit a clothesline. Cobb with a superkick, Moxley clothesline had no effect and Cobb hit another clothesline to knock him on his ass. Cobb sent Moxley into the turnbuckle with a running uppercut. Cobb hit a superplex off the ropes and Moxley landed on top while hooking the legs to give Moxley the pinfall win after 11 minutes.
Winner by pinfall: Jon Moxley
Analysis: ***1/4 Good showing from both guys as Moxley won as expected. Moxley is undefeated in singles matches in AEW, which is smart booking and I'm glad it has continued. I don't think anybody watching this thought that Moxley was going to lose, which can hurt a match like this. It was still a very competitive match. Having Cobb lose his first match isn't very good for him, but the finish was done in a way that showed it was a close win for Moxley. It was one of those "out of nowhere" type of finishes.
After the match was over, Jericho ran into the ring with Hager and Guevara to attack Moxley. Cobb joined in on the attack as well. Cue the save with Dustin Rhodes going out to the ring to try to save Moxley since he is feuding with Hager. That didn't last long as the four heels beat up Dustin easily. The lights went out because Darby Allin apparently has those powers and Allin went on a skateboard down to the ring. Huge pop from the crowd and Taz said, "what a pop" to react to it. That pop was huge. Allin has been out a few weeks selling a throat injury. Allin attacked with the skateboard, he took out Guevara with the skateboard as Rhodes hit a clothesline on Hager. Allin avoided an attack from Cobb and Moxley hit a Paradigm Shift on Cobb to take him out. Allin whipped Cobb into the steel steps. Jericho and Moxley got into a brawl that began with a hockey fight style punches, then Jericho bailed to the floor and grabbed the AEW World Title. Moxley and Allin stood in the ring staring at Jericho and Guevara, which could be a tag team match next week.
Analysis: It was a dominant heel beating for The Inner Circle last week, so it's no surprise that they got their asses kicked this week. That pop for Allin was impressive. I assume they will do Allin vs. Guevara at Revolution on Feb. 29 and then after that they really have to consider giving Allin a bigger push because the fans love the guy. The best comparison I can make is Jeff Hardy when he was on fire as a singles guy in the late 2000s. They didn't give away too much of Moxley vs. Jericho, which is smart because it makes people care about their PPV match that much more.
(Commercial – There was some staring from Moxley and Allin in the ring to Jericho and Guevara in the aisle. Allin held signs to the camera saying that Sammy is finished in 10 days at Revolution in Chicago on February 29. Allin had a sign saying Mox will take the title, but he will take so much more including Sammy's voice and livelihood at Revolution.)
The Lucha Brothers team of Pentagon Jr. and Rey Fenix made their entrance. They are the fifth-ranked tag team in AEW, but they also have wins over Omega/Page in matches recently, so that's why they get title shots. At least that's how Excalibur tried to explain it. Tony was back on commentary replacing Taz. With all due respect to Tony, I prefer it when Taz is there.
The cowboy "Hangman" Adam Page was up next for the champions. A clip aired from December 18, 2019 when Lucha Bros beat Page and Omega in a tag team match. Two weeks ago, Lucha Bros also won in an 8-man tag team match that Page and Omega were in. Kenny Omega was up last and he got a huge pop as always.
AEW Tag Team Championships: Kenny Omega and "Hangman" Adam Page vs. Lucha Bros (Pentagon Jr. and Rey Fenix)
The fans chanted "Cowboy Shit" for Page as he battled Fenix with Page hitting a boot to the face. Omega tagged in with the Kitaro crusher leg drop to the back of the head. Omega hit a backbreaker. Page tagged back in with chops on Fenix and then a fallaway slam into a pin for two as Pentagon broke up the pin. Omega with a rolling senton, Page with a standing SSP and Omega hit a moonsault for two as Page knocked Pentagon down as well. Fenix came back with a kick to Omega. The Lucha Brothers did some double team kicks, Fenix with a headscissors on Page, a kick on Omega and Pentagon with a splash on Omega against the corner. Fenix with a running dropkick on Omega. They were both in the ring for way more than ten seconds, so much so that the announcers joked about it, but that's AEW ignoring tag team rules as they tend to do.
(Commercial – Fenix slammed Omega, then Pentagon went up top and hit a dropkick to the legs of Omega. Pentagon hit a superkick leading to Omega bumping to the floor and then Fenix threw Omega back in.)
The show returned with Lucha Brothers working over Omega some more with Pentagon hitting a kick to the head. Omega ran the ropes, which led to a jumping DDT. Page got the tag against Pentagon with Page hitting a clothesline followed by a shoulder tackle. Page with a boot that knocked Fenix off the apron. Page with a fallaway slam on Pentagon and a slingshot dive over the top on Fenix. Hangman with a clothesline on Pentagon for two. All four guys were in the ring again, Pentagon with a kick and then Omega tossed Pentagon into a German Suplex by Page. Omega tossed Fenix in the air, but Fenix hit a Cutter on Page. Pentagon jumped off Page's back and hit a Canadian Destroyer on Omega. That was very impressive! Wow. That was sweet. All four guys were down after that sequence as fans chanted "this is awesome" for them. Pentagon and Omega exchanged chops while they were on the apron, Omega with a rising knee and Fenix walked the ropes leading to a kick on Omega. Omega with a back body drop on Pentagon on the apron. Fenix jumped over the top rope with a hurricanrana on Omega on the floor. Page went up top and hit a moonsault onto Fenix on the floor. That was another very exciting sequence. Page got the tag with a discus lariat on Pentagon to get a two count. Omega tagged in, Pentagon with a Slingblade on Page and Fenix jumped off the top with a missile dropkick on Omega. Pentagon with a kick on Page, but then Page hit a Powerbomb. Omega with a knee to the back of the head of Pentagon. Page went for the Buckshot Lariat, Fenix moved and Page hit Omega with a forearm by accident. Dropkick by Fenix knocked Page out of the ring. Fenix with a superkick on Page and then Fenix ran the ropes leading to a twisting dive onto Page on the floor. That looked amazing. Pentagon hit a Penta Driver for a sitout pin attempt that got a two count. Fenix tagged in to remind us that it's a regular tag team match where they are supposed to have rules. Omega with a Snapdragon Suplex on Pentagon, then Fenix waits to jump off the top, then he does the dive and Omega got the knees up to block. Omega hit the Tiger Driver '98 sitout into a pin for just two. That could have been it, but the match continues. Page tagged in, Omega ducked a Fenix kick and Page hit the Buckshot Lariat at the same time as Omega hit the V-Trigger knee to the back and Page pinned Fenix for the victory after 15 minutes of action.
Winners by pinfall: Kenny Omega and "Hangman" Adam Page
Analysis: ****1/4 This was an outstanding tag team match and one of the best matches on AEW TV. The last five minutes had several moments that really popped the crowd as well as me watching it. They really busted their asses to come up with some great stuff in this match. The win by Omega and Page was impressive because it gave them another quality win over a great team. I hate how much Lucha Brothers have been losing in AEW, but you can't put everybody over all the time. Page continues to be one of the most interesting guys in AEW with his unique character traits while Omega is arguably the best AEW wrestler in the ring. Fenix is amazing as well and Pentagon is right there too. This match had a few minutes where they ignored tag team rules, which has become the norm in AEW. That's always going to frustrate me because if you ignore the rules then why have them? They need to get better at paying attention to the rules. It's still an awesome match, though.
Post match, The Young Bucks went down to the ring to check on their buddies Omega and Page. These two teams are matching up at Evolution on February 29. Page grabbed Omega by the arm to help his partner up while Kenny didn't seem thrilled about the Young Bucks helping him. Omega grabbed a beer from a fan and drank it. Omega drank another beer from a fan at ringside.
Analysis: I think the Young Bucks are going to win the titles at Revolution. Omega and Page are just a short-term team anyway, so it makes sense to move the titles. All signs are pointing to Page turning heel at some point although I think the fans really like the guy and want to get behind him thanks to his beer drinking gimmick, which makes it hard for me to back a Page heel turn.
(Commercial – Page left through the crowd where he gave a fan a smaller cup of beer to take the fan's bigger cup of beer. That was funny. The Young Bucks checked on Omega at ringside, then they left together to the back.)
A video aired about AEW announcing the new AEW action figures. It was Dana Massie talking about it. She is the wife of Matt Jackson of the Young Bucks tag team. We have a post all about it here as well.
Next week on Dynamite in Kansas City: Kenny Omega vs. Pac in a 30-Minute Ironman Match. Also, The Butcher & The Blade vs. Best Friends.
It was also announced that at Revolution on February 29 it will be Kenny Omega and "Hangman" Adam Page vs. The Young Bucks for the AEW Tag Team Titles. We already knew that, but now there's a graphic for it.
There was a great video package covering the Cody feud with MJF where MJF had stipulations that Cody had to accept if he wants to face MJF at Revolution. Cody wasn't allowed to touch MJF, Cody took the ten lashes from MJF two weeks ago in what was a great angle and now Cody has to beat MJF in a Steel Cage match. There were also comments from Cody and others in the video. It was very well done.
The first-ever AEW Steel Cage was about to begin as the cage was lowered with JR letting us know the cage was 26 feet by 26 feet, 20 feet tall and it weighs six tonnes. JR said the winner will win by pinfall or submission and they do not have escape the cage rules. JR said that's how it should be all along. The cage looks impressive.
Analysis: I agree with doing it pinfall or submission to win. If they did it where you can win by escape the cage only by climbing out of the cage then that's fine too. I don't like how in WWE where you can win by escaping the cage, going out the door, pinfall or submission. That's too many options. Make it harder to win.
(Commercial)
Wardlow made his entrance for his first match in AEW and it's a Steel Cage match in the main event. Maxwell Jacob Friedman led Wardlow to the ring. The announcers put over the physique of Wardlow while noting that we have only seen him in a suit in AEW, which is true. I don't know much about Wardlow, but now he has a chance to show what he can do.
Cody got a big ovation along with a dramatic entrance since he's at home in Atlanta, GA where he lives. There were loud "Cody" chants for him, the pyro went off and Cody was fired up. Cody was joined by the coach Arn Anderson and the wife Brandi Rhodes to support him. Cody climbed up part of the cage to fire up the crowd some more.
Steel Cage Match: Cody (w/Arn Anderson and Brandi Rhodes) vs. Wardlow (w/MJF)
The winner is determined by a pinfall or submission. Cody has to win this match in order to get MJF at Revolution later this month.
Cody with a rising kick to the jaw of Wardlow. Wardlow shoved Cody towards the turnbuckle, Cody came back with a Rhodes uppercut punch and Cody with a springboard Disaster Kick. Cody ran the ropes right into a clothesline by Wardlow as MJF encouraged him at ringside. Wardlow whipped Cody over the top so that Cody's body went into the cage. Wardlow sent Cody's head into the cage although it was more like the side of the head. Cody came up bleeding, so it only took him about two minutes to bleed.
(Commercial – Wardlow stomped away on Cody and Wardlow tossed Cody into the cage again. Wardlow hit a Powerbomb that sent Cody back first into the cage. Wardlow sent Cody into the cage again. Wardlow with a suplex into a slam across the ring.)
Wardlow with another suplex into a slam across the ring. They replayed the spot with Cody getting whipped into the cage leading to the cut. Good blade job by Cody because he was bleeding a lot as he hit a suplex followed by a springboard Cutter. Cody worked over Wardlow with punches to the head and an elbow. Wardlow came back with the classic heel move that saw him hit a back kick to the groin of Cody. The low blow led to Wardlow taking over again with a spinning slam off the shoulders. They went over to the part of the cage where Cody was near the door and Wardlow shoved him into it. The door opened, JR mentioned that is irrelevant to winning the match and that led to MJF and Anderson having a staredown. MJF told Anderson to slam the cage door on Cody like Arn did to Cody's daddy Dusty Rhodes, but Arn slammed the door into MJF's face. The fans loved that. Wardlow wanted a Powerbomb, Cody got out of that and hit three running clotheslines to take the big man down. Cody whipped Wardlow into the cage. Wardlow ran right into a powerslam from Cody for a two count. Cody went up top, Wardlow with a punch and Wardlow gave Cody a press slam into the steel cage. Wardlow went up top and hit a Senton Bomb off the top on Cody for a two count. That was impressive. MJF gave Wardlow the diamond ring that Wardlow put on his finger, but Cody came back with a low blow kick. Cody put the ring on his right hand, MJF freaked out and MJF climbed part of the cage. Brandi hit MJF in the back two times. Anderson saved her by tossing MJF over the barricade. Cody hit the Cross Rhodes neckbreaker for a two count. Cod looked up to the top of the cage. Cody climbed up to the top of the cage, he stood up, Cody didn't even look back and he jumped off with a moonsault onto a standing Wardlow to knock the big guy down. Cody covered right away for the pinfall win. In watching the replay, I think the referee let Wardlow know when to stand because Cody didn't even look back when he was up there. The match went 11 minutes.
Winner by pinfall: Cody
Analysis: ***1/2 I thought it was pretty good with Cody getting the obvious win. The finish was spectacular and that's what everybody is going to remember about the match, which is fine because it was an amazing visual. I'm glad that the moonsault finished the match as well because there was no need for more moves. Cody is a tremendous babyface in terms of selling moves, getting the crowd into the match and making the big comeback that gets the fans more into the match. I liked the way they utilized MJF, Arn and Brandi in the match with Arn stopping MJF from interfering and from attacking Brandi. Wardlow deserves a lot of credit for doing very well in his first TV match too. Wardlow was there to be the power guy that weakened Cody and he looked impressive throughout the match. The whole thing was well booked with a very memorable ending.
The win by Cody means his match against MJF at Revolution is official now.
After the match, Brandi and Arn went into the ring to check on Cody, who was down selling. They replayed the moonsault from two different angles. Cody climbed up the cage as he was announced as the winner. Cody yelled at MJF who was walking up the aisle. There were more replays of the moonsault by Cody. From three more different angles including a roof cam. Cody stared at MJF as JR plugged next week's Dynamite as the last stop for Revolution. Cody continued to celebrate on the cage to end the show.
Here's a video of a Cody speech to the crowd after the show was over.
Analysis: This was an awesome speech. You can tell he really affected some fans that were literally crying in the crowd. You don't see that kind of reaction very often, but they found a guy crying on camera. Cody is putting on the best performances of his career in the ring and on the microphone. I'm sure that he is making his father Dusty proud.
Three Stars of the Show
1. Cody – That moonsault spot deserves the top spot.
2. Kenny Omega/Adam Page
3. (tie) Lucha Brothers
3. (tie) Matt Jackson
The Scoreboard
This week: 8.5 (out of 10)
Last week: 8
2020 Average: 7.21
Last 5 Weeks: 8, 8, 7.5, 6.25, 7.75
Final Thoughts
This week's Dynamite gets an 8.5 out of 10.
I thought this was an excellent show with awesome wrestling all night long. They set up some things for the Revolution PPV as well. I think that's my highest score for a Dynamite episode so far and it's the highest this year. A lot of the babyfaces had a strong showing too, which is nice to see because sometimes things get heel heavy, but this week's show had a lot of happy moments. That moonsault press off the top of the cage from Cody to Wardlow looked very impressive and is probably the coolest visual I've seen from an AEW show. It's not an easy thing to pull off, but it went just about as well as you would hope when you plan something like that. The Omega/Page vs. Lucha Brothers match was as good as any match on AEW Dynamite so far. The battle royal was very entertaining with an awesome finish. The women's division still needs some work, though, so that's where things need to improve.
AEW is doing a great job in building up to the Revolution PPV that takes place in nine days. We don't know the full card yet, but enough big matches have been announced to make me care about it. I'm really looking forward to it.
The next AEW PPV is called Revolution on Saturday, February 29 in Chicago. Here's what we know so far.
AEW World Championship: Chris Jericho (c) vs. Jon Moxley
Cody vs. Maxwell Jacob Friedman
AEW Tag Team Championships: Kenny Omega and "Hangman" Adam Page vs. Young Bucks (Matt and Nick Jackson)
Dustin Rhodes vs. Jake Hager
Darby Allin vs. Sammy Guevara – I believe it's official based on Allin holding up signs during the show. They did not make that clear.
That's all for now.
—
You can contact me using any of the methods below. Go NBA Champion Toronto Raptors and Toronto Maple Leafs.
Thanks for reading.
John Canton
Email: mrjohncanton@gmail.com
Twitter: @johnreport
Personal Facebook and TJRWrestling on Facebook