Ring of Honor Wrestling TV Review 10/21/15 by Webb Anderson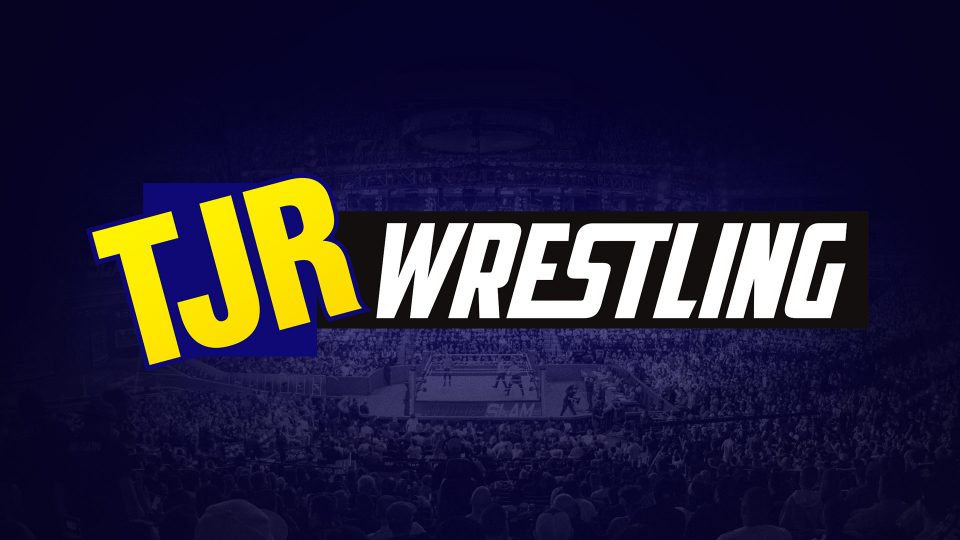 Ring of Honor Wrestling Television Episode #213 recap and review
Taped at the Shrine Auditorium in San Antonio, Texas
Welcome back wrestling fans to your source for the most in-depth and exciting Ring of Honor review going today. I have had DVR issues the past several weeks but I got everything cleared up and was able to review the weekend syndicated version of the show. If you watch the Destination America broadcast you aren't really missing anything, but instead of ads for knee braces and sleazy local lawyers you get ads about Bigfoot and ghost hunters. Pick your poison, people. Oh and you'll also miss Mandy Leon's inside ROH segment which is pretty entertaining as well as one or two short promos, but don't worry because I got you covered right here each and every week!
Kevin Kelly and Steve Corino welcome us like they do every week. Kevin hypes the Briscoe/Page main event and also mentions that Adam Cole will speak for the first time since turning on Kyle O'Reilly at All Star Extravaganza.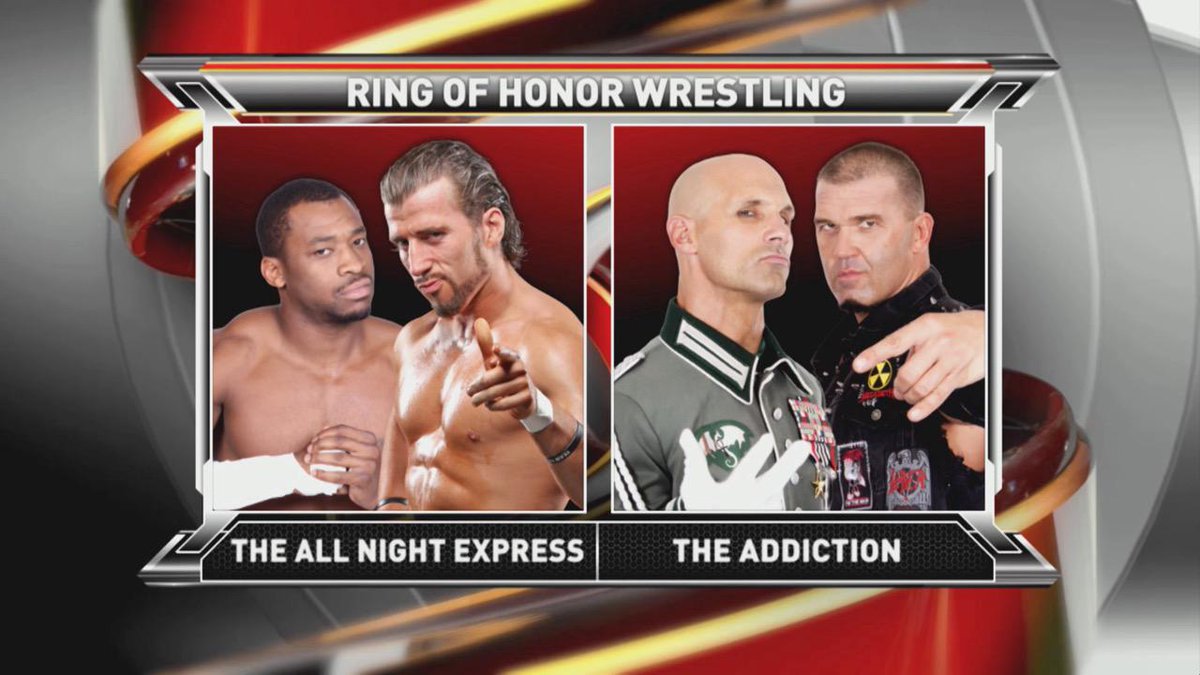 Opening Match: The Addiction w/ Chris Sabin V the All Night Express
Sabin is throwing streamers at Rhett Titus from the apron pre-match. Frankie Kazarian and Kenny King start this one off and Kazarian takes control early on, backing King into the corner. King fights out and hits an Irish whip on Frankie Kazarian but Sabin trips up King. King throws Frankie Kazarian over the top rope to the floor, taking out Sabin. The officials then throw out Chris Sabin, evening the odds. ANX double teams Frankie Kazarian and then Christopher Daniels in the ring before order can be reestablished. Frankie Kazarian gets a quick tag to Daniels and King gets the tag to Titus. Rhett locks on a side headlock and takes down Christopher Daniels with a shoulder tackle for a one count. Daniels reverses a suplex on Rhett and takes him over to Frankie Kazarian who rakes the eyes of Rhett Titus. We go to break with Daniels firmly in control, putting the boots to Rhett Titus.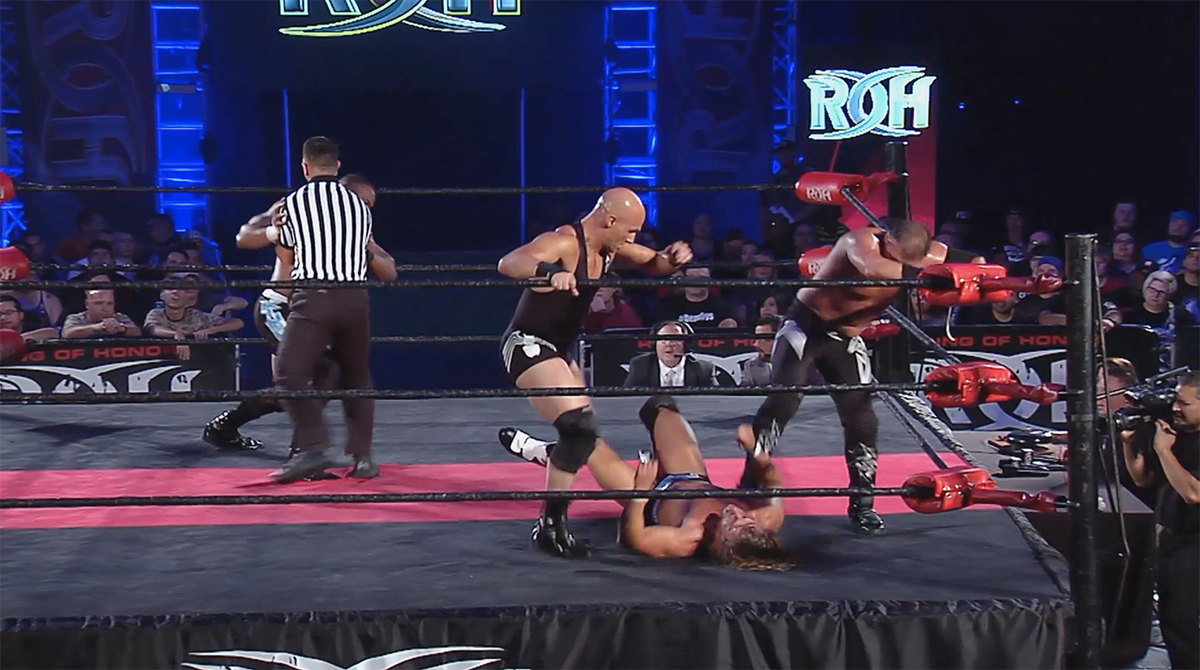 *We cut to a promo from Jay Briscoe, who hypes his main event match with Adam Page, Jay says Page has being hanging around with BJ Whitmer too much and has gone crazy. Jay welcomes Page to the jungle and tells him he doesn't know what he's getting in to. Jay says Page will be all right in the end and will come out better.*
We return to see Daniels try to pin Titus with one foot. Titus fights his way to his feet but catches a thumb to the eye from Daniels. Daniels locks on a front face lock, breaking only to shove King from the apron, allowing Frankie Kazarian to come in for the double team. Titus gets the hot tag to Kenny King who comes in strong, nailing an atomic drop on Frankie Kazarian and a kick to the head and a spinebuster on Christopher Daniels for a two count. King tags in Titus, hitting a double team backbreaker and knee to the face. Frankie Kazarian comes in for the double team, allowing Christopher Daniels to get the near fall on Rhett Titus. Daniels hits an STO on King, but Titus has enough to take down Christopher Daniels, leaving all four men down on the mat. Daniels hits a brainbuster on King as someone with a KRD mask hits the ring, distracting Christopher Daniels and allowing Rhett Titus and Kenny King to hit a powerbomb cutter for the win.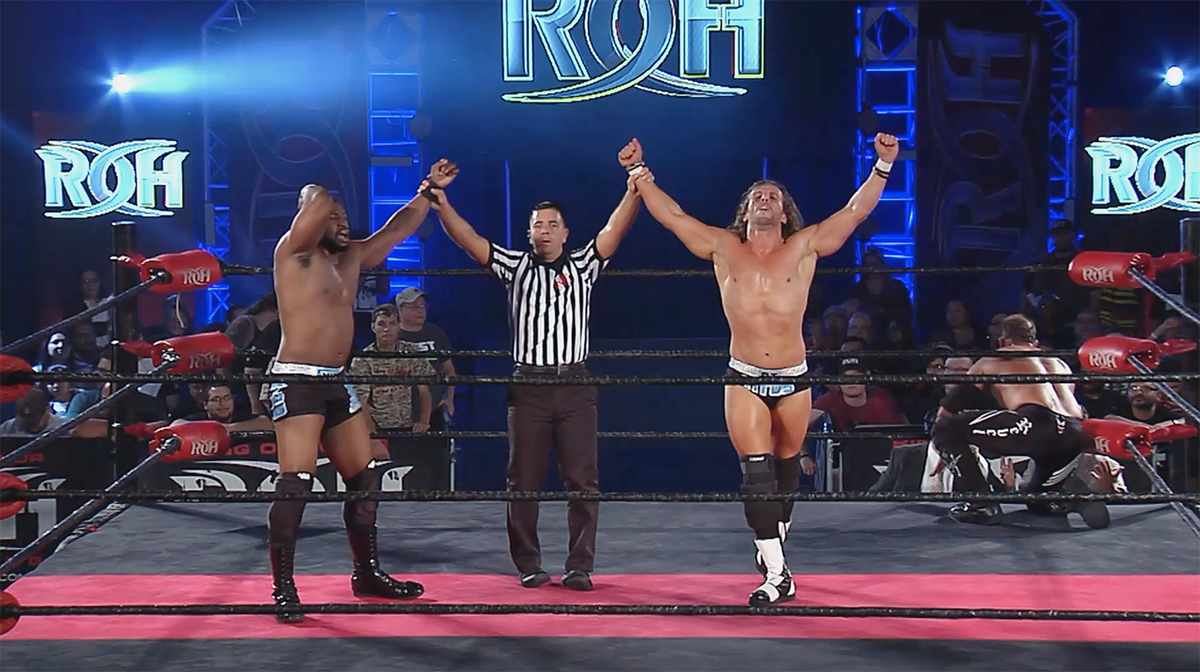 Winner: the All Night Express via pinfall
My take: Although no longer the champs, I still love the Addiction in the veteran heel tag team role. Both men are at their peak in terms of character portrayal and can still get it done in the ring. ANX has really invigorated the crowd since returning and give the best tag division in pro wrestling yet another layer of depth. This was a great back and forth tag team match and I'm curious to see who is going to be revealed as the mystery man causing all this trouble for the Addiction. If you watch the syndicated version of ROH TV, you know that sometimes promos get wedged into the show in a disjointed manner which is what happened during this one. By all means, hype the main event, but inserting a promo into the middle of a match, and a pretty good match at that, just doesn't seem like a good idea to me.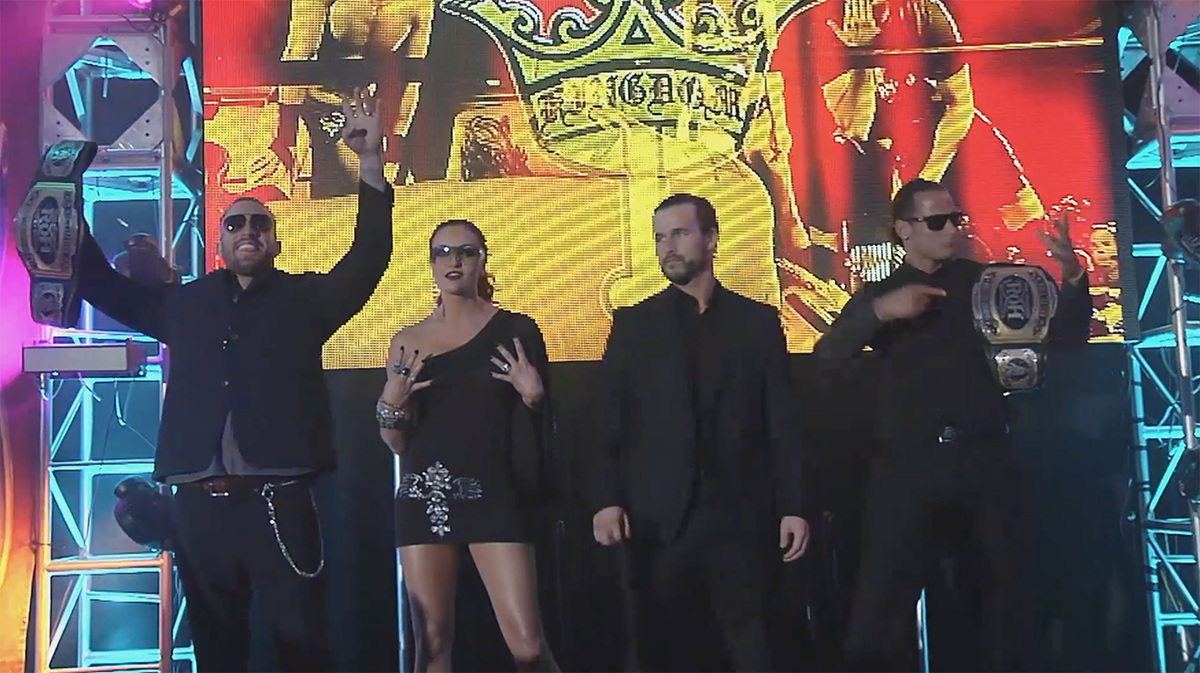 In ring promo: Adam Cole, Maria, and the ROH tag team champions Matt Taven and Michael Bennett, collectively known as the Kingdom, make their way to the ring. Adam Cole is set to speak for the first time after turning on his former Future Shock tag team partner Kyle O'Reilly, costing him his ROH World Title match with Jay Lethal at the last pay-per-view, All Star Extravaganza. Michael Bennett has the mic first and says they are all best friends. He then tells a story his mom used to tell him about a farmer and a snake. I tuned out a bit at this point but evidently the snake bit the farmer, and the Kingdom are snakes. Maria introduces herself as Maria Kinellis-Bennett and says she is the greatest manager of the greatest stable in wrestling history. She says she works in a male dominated industry but she doesn't have to play by a man's rules. Taven says they knew a year ago that they would be standing here, dominating the pro wrestling world. He says you measure this by the gold, and the man standing next to him, Adam Cole, is due to take back the ROH World Champion. Cole then gets the mic and says he turned on Kyle because Kyle doesn't deserve to be near the ROH title. He says that title belongs to him, the better member of future Shock. He says he and O'Reilly have been compared their entire careers, but one of them is better, and you are looking at him. Cole says the fact that Kyle got a shot and not Cole makes him sick. The fact that AJ did makes him sick. The fact that Elgin did makes him sick, calling him little Mike and says he had to go all the way to Japan and still didn't win anything. reDRagon then make their way out, held back by security as they are taunted by the Kingdom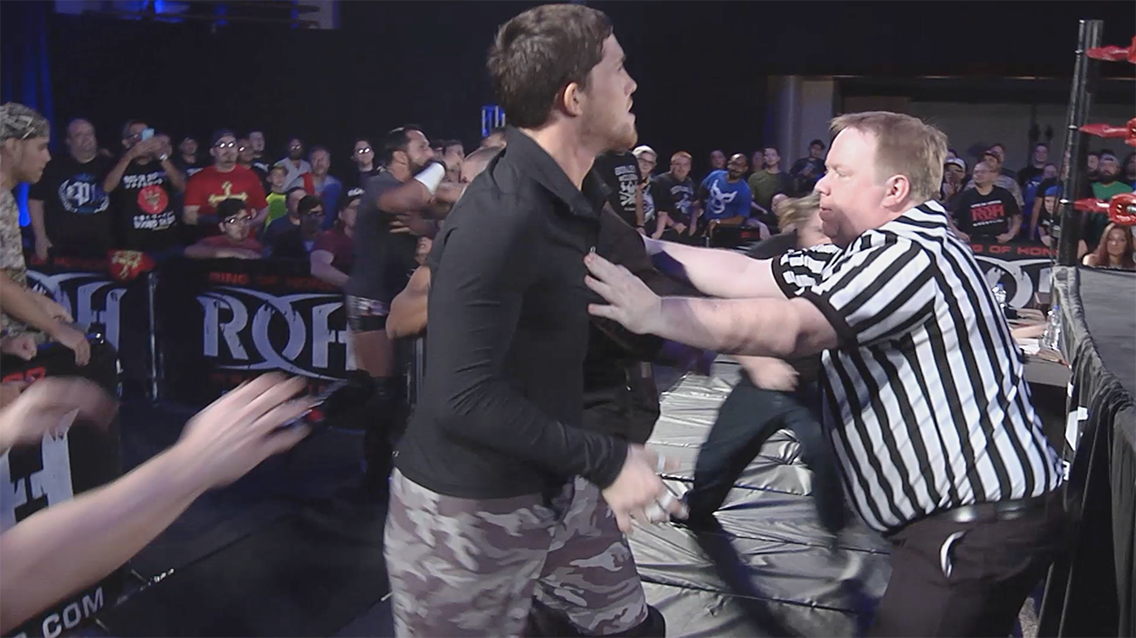 Bobby Fish gets a mic and says the Kingdom doesn't know what they have done. He says it's a matter of time before reDRagon takes back the titles, but first on the agenda is to take Adam Cole out. Cole says he would love to see this 3 on 2 brawl go down. At this point, Michael Elgin makes his way to the ring to even the odds. Single handedly, Elgin takes down everyone but Cole, who ducks to the floor. "Big Mike" chants ring out as Elgin tells the Kingdom reDRagon has back up, so let's do this. We go to break as security continues to hold back all six men.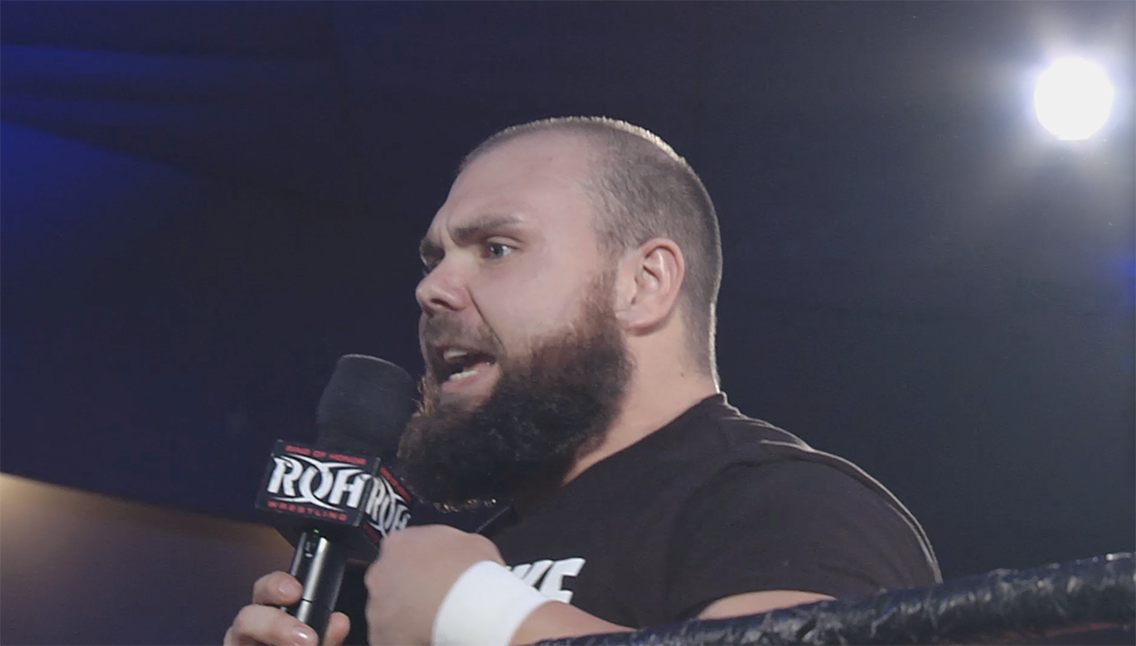 My take: Aside from Bennett about tanking the segment with his goofy story, this was really well done. The Kingdom, decked out in suits, looked like a legitimate force, and hold tag titles that actually mean something. Once Cole began laying in to Elgin you just knew he would be coming out for a little retribution at some point, and I'm glad the crowd gave Big Mike an appropriate reaction. I think Elgin works the best big man style going today and is vastly underrated by the majority of wrestling fans so it's good to see him in a dominate role. We should get a decent 6 man tag out of this segment in the near future and I look forward to covering it.
Inside ROH with Mandy Leon: Mandy recaps the finish of the Dalton Castle/Silas Young PPV match. Young won the boys and Mandy then shows the match last week where the boys are beaten down by Young and the Beer City Bruiser. Mandy announces that next week will be Dalton Castle's first appearance since losing the boys. If you don't get this segment it is always available on the ROH YouTube channel.
My take: Oh Mandy, it's a shame you get cut from the Destination America broadcast. Pat yourself on the back if you get the Barry Manilow reference, but seriously, this segment does a great job of setting up a storyline for the upcoming week. ROH feuds can be a little spotty due to the taping schedule and they do not have the luxury of excessive amounts of television time for recaps so these segments can be helpful for a casual fan and also entertaining for someone who dissects the show every single week. Also, if Barry Manilow had a favorite wrestler, it would be Dalton Castle. Somebody put that on a T shirt.
In two weeks on ROH TV: Adam Cole cuts a promo on AJ Styles, saying that Styles is the #1 contender and the only thing phenomenal about their match will be Cole dropping AJ Styles on his head.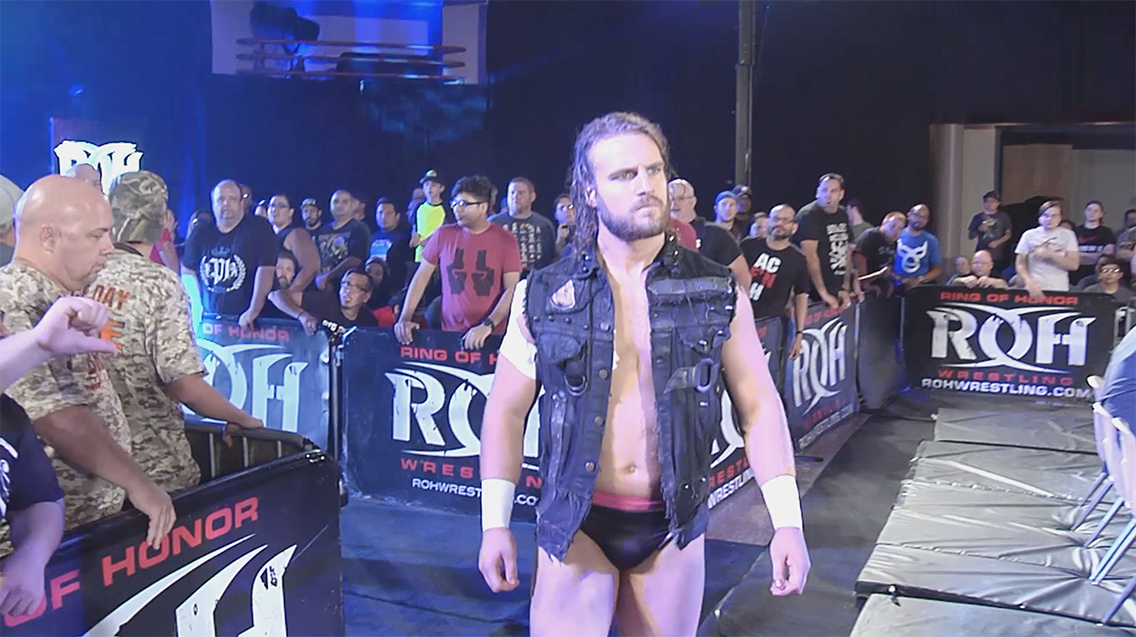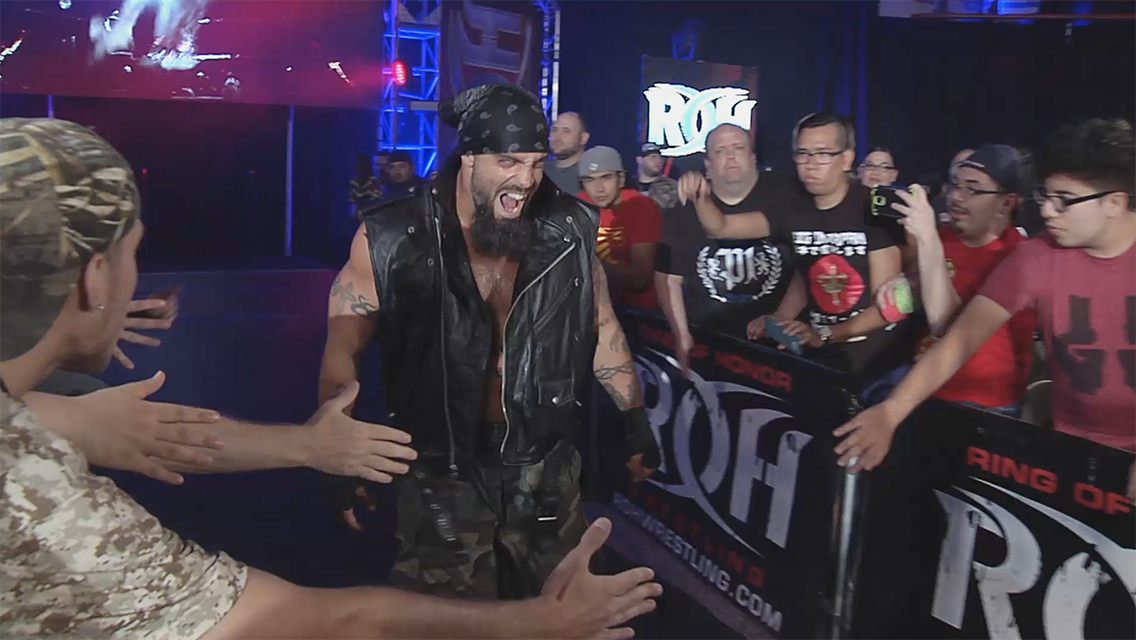 Main Event No DQ Match: Jay Briscoe V Adam Page w/ BJ Whitmer
Page sits on the turnbuckle with a serious look on his face as Jay Briscoe makes his entrance. Page sticks his hand out and Jay goes for the shake but Page slaps Jay across the face. Jay then tears in to Page, taking him over the top rope with a big lariat. Jay follows up by throwing Page into the guard rail, working the injured and taped shoulder of Page. Jay goes for a suicide dive but Page smashes him in the head with a chair. Page then goes for a table but Jay recovers and grabs a chair as Page is busy setting the chair up. Jay clocks Page right in the head and tries an Irish whip but Page reverses and regains control, rolling Jay into the ring. Page rolls in and sets up a chair. Jay tries brawls his way out of the corner but Page surprisingly comes out ahead on this exchange. Page motions for Whitmer's crutch but Mark Briscoe hits the ring to put a stop to it. Jay nails Page with punches and uppercuts. Jay goes for a fireman's carry but Page reverses and DDT's Jay through the chair for a 2 count. We cut to break with Page looking frustrated.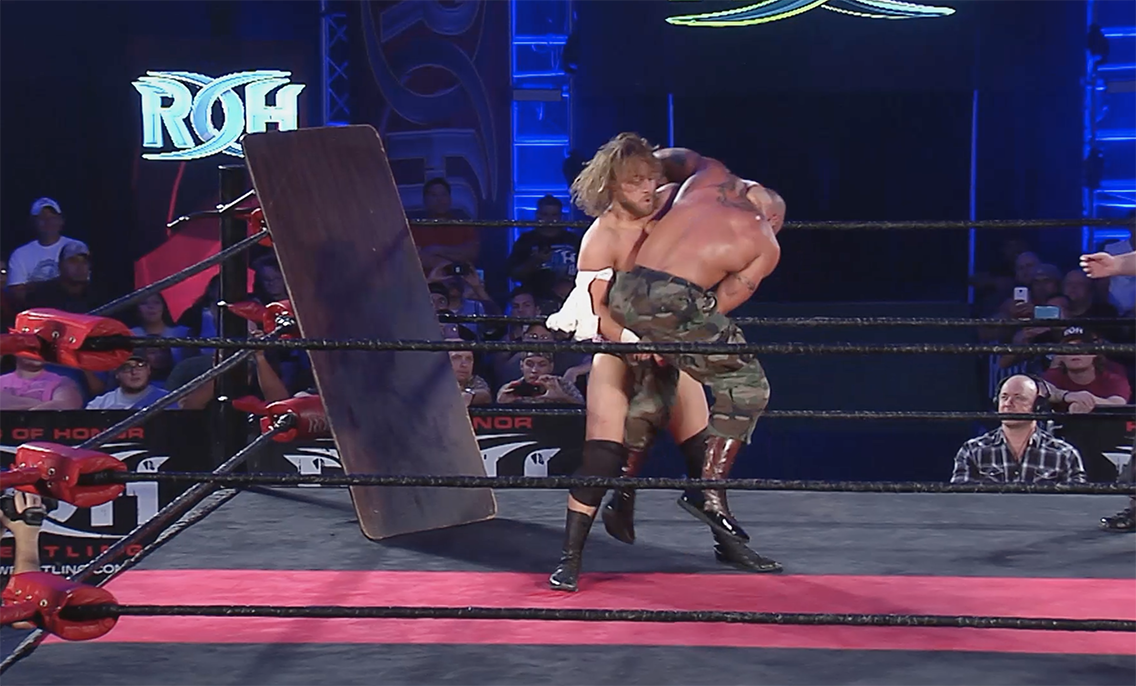 Page is still in control, choking Jay in the corner and screaming "Say my name!" Page throws Jay cross the ring but misses as he charges Jay, nailing his shoulder on the ring post and rolling on to the table. Jay then jumps from the apron and hits a double foot stomp onto Page, sending him through the table. Jay takes this one back in the ring and hits a pair of neck breakers before picking up the chair and placing it around the head of Page. Jay then hits a third neck breaker with an assist from the chair. What a vicious looking move! Jay grabs a table from the floor and sets it up in the corner. Jay takes Page over to the table and nails a few head butts but Page fights out and hits a pumphandle suplex on Jay right through the table. Page is standing tall as we cut to break.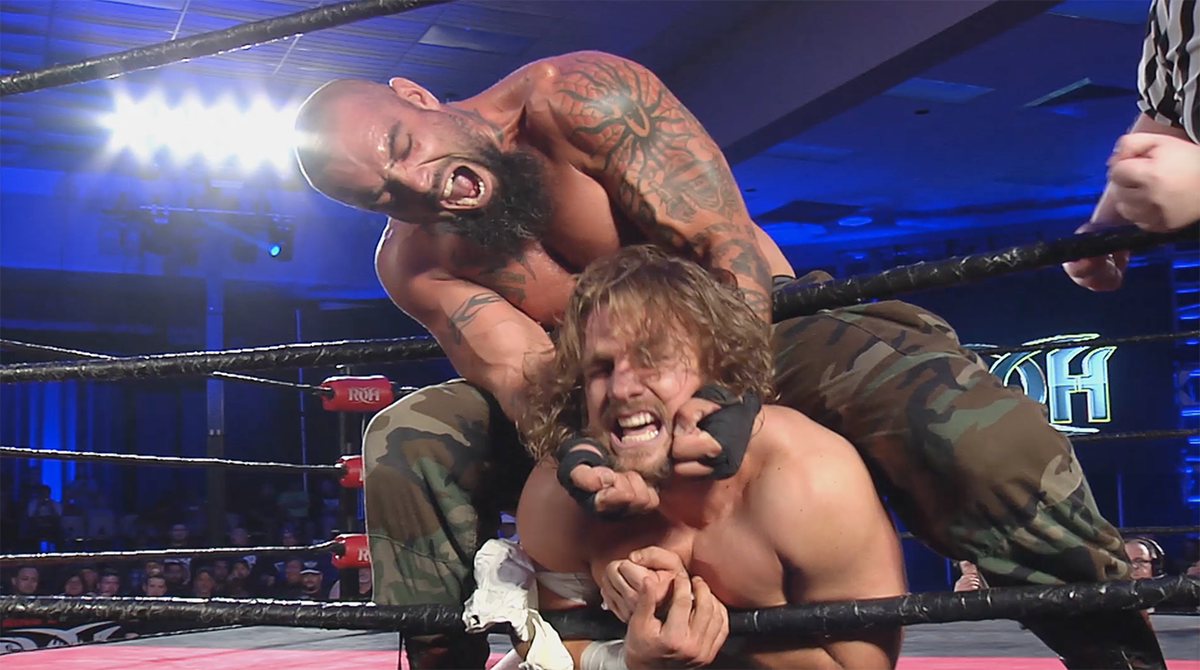 Both men are trading punches on the apron as we return from the commercial. Jay goes for a Jay driller through the table on the floor but Page powers out and flips Jay over the apron. Page then hits his running shooting star press from the apron to take down Jay on the floor. Page throws a chair in the ring and grabs another table before kicking Jay in the head. Page takes too much time though and Jay comes back with a big right hand. Page delivers a kick to the gut and rolls Jay in but Jay gets to his feet immediately and knocks Page down with a discus clothesline. Jay then goes for the Jay driller again through the table on the floor but Page powers out. Jay is able to grab a chair and nail Page and the third time is a charm as Jay lands the Jay driller from the apron onto the table on the floor. What a nasty spot! Jay rolls in for the obvious 3 count but Page somehow kicks out at the last second. Jay slowly gets to his feet, all the while talking trash to Page. Page spits in the face of Jay Briscoe but gets turned inside out with a big lariat. Jay then hits another Jay driller in the ring for the 3 count.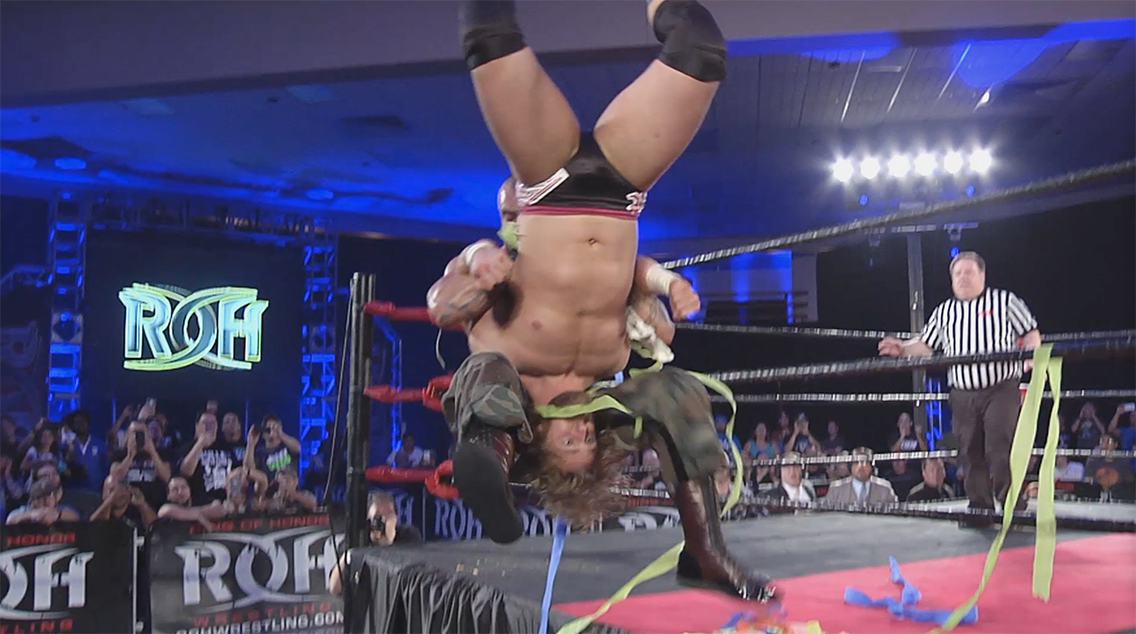 Winner: Jay Briscoe via pinfall
Post-match: BJ Whitmer jumps in the ring and takes down Jay Briscoe with his remaining crutch. Steve Corino gets to his feet, removes his jacket, and confronts Whitmer. Whitmer taunts Corino but Corino finally takes down Whitmer with a big right hand and slowly puts his jacket back on to a huge reaction from the crowd. Knowing that this will cost him his job, Corino hugs Kevin Kelly and walks to the back, looking over his shoulder a final time as the show ends.
My take: I am not a huge fan of hardcore wrestling as a general rule but I really enjoyed this match. I was completely fooled by the false finish after the nasty Jay driller through the table. Jay Briscoe can really elevate a young guy at this point in his career, even by beating them, and that is exactly what happened here. Page looked strong and showed a level of defiance and badassery that makes one stand out from the pack of incredibly talented wrestlers in ROH. Page has a long way to go in the character department but he is making great strides and has all the tools to be a future world champion.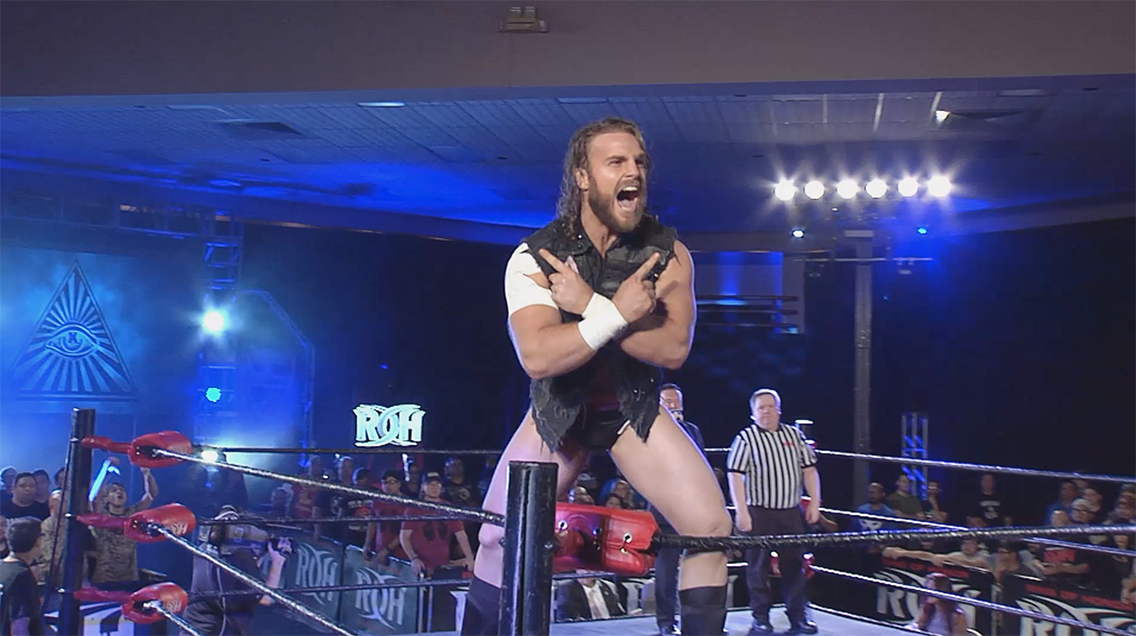 Honorable mention: This prestigious award goes to none other than Adam Page. If I keep calling the award prestigious it will eventually become prestigious, right guys? Either way, Page has more than held up his end of this feud. Page has gone from being just some guy that follows BJ Whitmer around to being a guy who slaps Jay Briscoe across the face without thinking twice about it, hits a shooting star press from the apron to the floor, and takes a Jay driller through a table to the floor but still kicks out. This match was a great way to blow the feud off and I expect big things from Adam Page going forward. Mr. Page, expect your autographed Barry Manilow CD to arrive in the mail sometime in the near future, you've earned it!
Final take: This has been a longer review than usual so I'll keep it short but we need to talk about Steve Corino for a moment. I've been the biggest critic of this feud, mostly because it involves a retired wrestler and has dragged on forever with no end in sight. This week we finally got a little traction, however, and an interesting question has been raised. Is Corino really gone from commentary? I avoid spoilers for this show and while my better instincts tell me to expect Corino back sooner than later, I'm genuinely interested in this feud for the first time and curious to see what happens next.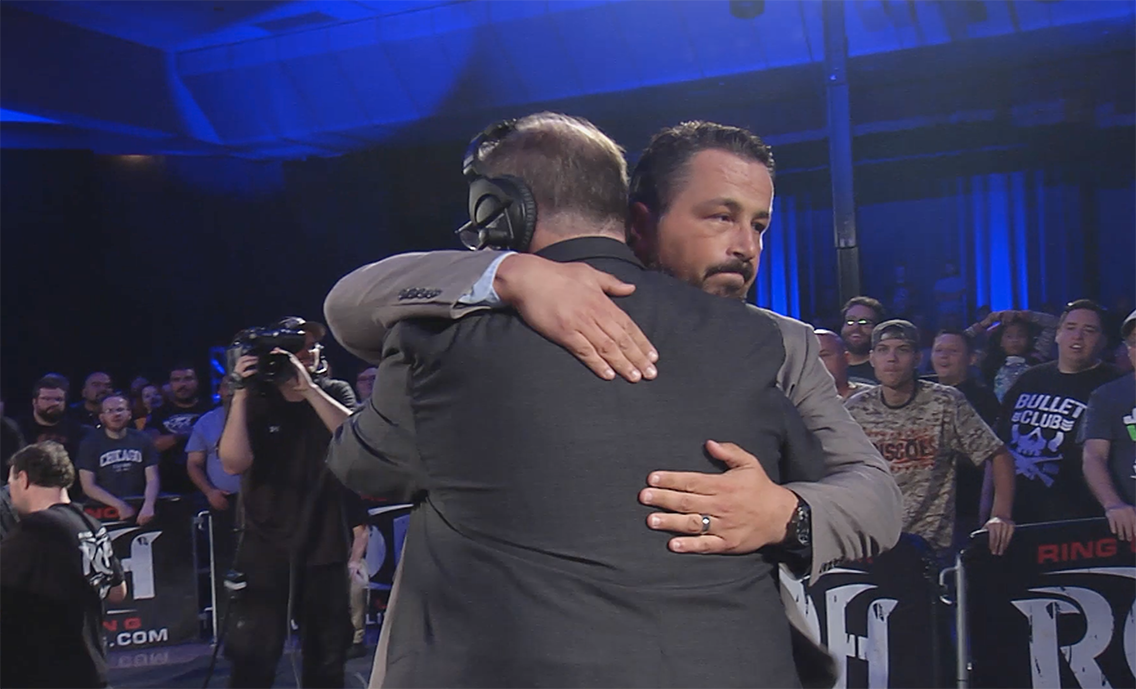 Feel free to comment below with any thoughts or opinions you may have, and follow me on twitter @webbanderson2. Until next time folks, I'm Webb Anderson and I want to thank you for your time this week. Cheers!