The John Report: WWE Smackdown Live Review 11/07/17 (Mahal vs. Styles for WWE Title)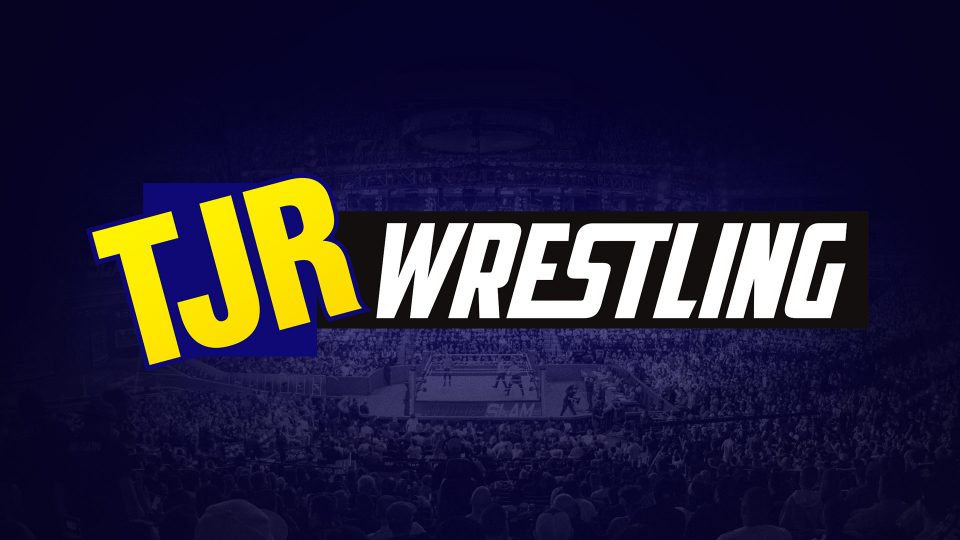 Live (on tape) from Manchester, England this is Smackdown Live for episode #950. Follow me on Twitter @johnreport. Thanks Melo Man for the banner up top.
The show started with AJ Styles doing a promo saying he had an opportunity to become WWE Champion. Styles said that Mahal may be bigger and stronger, but he is not AJ Styles. Mahal said last week he beat up AJ Styles and it was fun. Because of that, Mahal must defend his WWE Title. Mahal said he agrees that Mahal is phenomenal, but Mahal says he will just be a phenomenal loser.
Analysis: Nice way to let the audience hear from both men before the big match.
The Smackdown intro video aired.
Coming up: Becky Lynch vs. James Ellsworth and The Usos defend the Smackdown Tag Team Titles against Shelton Benjamin and Chad Gable. Also, Mahal vs. Styles for the WWE Title.
Shane McMahon, the Commissioner of Smackdown, made his entrance to a nice ovation from the crowd. Fans chanted "Shane O Mac" for him. The Smackdown announce team of Tom Phillips, Corey Graves and Byron Saxton welcomed us to the show.
Let's Hear From Shane McMahon
The fans chanted "Shane O Mac" before Shane could speak. Shane thanked Manchester for the love. Shane said that Survivor Series is when Smackdown can go head to head with Raw. Shane claims that the Raw group will never be able to claim that Smackdown is the B show because they are "The" show. Shane said that he holds Stephanie McMahon and Kurt Angle responsible for sending Kane in to do their dirty work on Bryan. Shane said that for what happened to Daniel Bryan, Shane will get his payback against Kurt Angle. Shane added that Daniel Bryan will be back next week.
Shane said that Bryan resembles what everybody in that Smackdown locker room is. Shane mentioned The New Day leading the fight for Smackdown and how they went to Raw.
Analysis: You could tell some of the crowd reactions were genuine, but other times the crowd was dead and the reactions were edited. I don't like the fake crowd noise at all. When they go live it's not an issue.
The New Day trio of Kofi Kingston, Big E and Xavier Woods made their entrance. There was a replay of The New Day on Raw causing a distraction, which led to Sheamus and Cesaro winning the Raw Tag Team Titles from Seth Rollins and Dean Ambrose because of the distraction.
Kofi Kingston said that they made the Raw guys look pretty silly. Fans chanted "New Day Rocks" for them. Kingston said they didn't intend to have Seth and Dean lose the Raw Tag Team Titles, but that's what happens when you put Raw under siege. Xavier Woods wondered what they were going to do about it and then they said "nothing" together. Woods said that if Raw tries to retaliate, they will beat them back to Mondays. Shane complimented them for doing what they did on Raw, then said "because" (the word that usually leads to "New Day Rocks" chants) and New Day started dancing with Shane McMahon while saying "New Day Rocks."
Kevin Owens and Sami Zayn interrupted by standing on the stage. Owens told them that was the stupidest, most painful thing he's ever seen in his life. Zayn told Shane he is not cool and told him to never dance again. Kingston mocked Zayn for his dancing during his entrance, so the New Day guys mocked the Sami dance. Owens said that he knows Shane has a hard time dealing with the fact that Owens beat him at Hell in a Cell. Owens told Shane not to punish the rest of Smackdown for his shortcomings. Zayn said that they could have shown up on Raw and beat up the Raw roster, but they are men of honor and integrity that do things the right way. Zayn said that Shane set them up to fail.
Shane said that this is the attitude that represents why they are not representing Smackdown Live. Zayn complained about how he didn't lose to Randy Orton, he lost to a low blow. Zayn complained about it and how Shane would have punished them. Shane pointed out that Owens lost to Shinsuke Nakamura. Owens said that it's a crime that they have to have qualifying matches and said they are the top two superstars on this roster. Owens called the New Day "puppets" that sing and dance with Shane.
Kingston said that the only puppet he sees is the 1930s looking paperboy, never been to the gym "Sam" Zayn. Fans chanted "paperboy" for that. Big E said that Owens' hand is so far up Zayn's butt that every time Zayn brushes his teeth (which isn't that often), Owens gets a manicure. The New Day did over the top laughter. Zayn said he'll find it funny when Team Raw beats Team Smackdown and you have nobody to blame, but Shane. Shane told them they don't care about Smackdown with no brand loyalty. Shane said since they seem entitled, Sami should have a match with…Kofi Kingston. Shane said that match begins right now.
Analysis: That was a fun opening promo that took about 15 minutes. Like I say all the time, the opening promo is there to set up a match either for later in the show or right away. A lot of it could have been cut out and just set up the match easily, but I didn't mind the way they did it because all six guys got a chance to deliver some good lines. The dialogue during that promo exchange was pretty solid. Zayn's over the top heel character is a lot of fun while Owens is doing a great job as the pure heel that isn't out there making jokes. Some funny lines by New Day too. Well done by everybody involved.
(Commercial)
The match began after the break.
Sami Zayn (w/Kevin Owens) vs. Kofi Kingston (w/Big E & Xavier Woods)
There were some "paperboy" chants for Zayn to start. Zayn took down Kingston with an arm drag. Zayn hit a running shoulder tackle and Kingston came back with a back elbow. Zayn did a monkey flip, which led to Kofi landing on his feet. Kingston hit a sweet dropkick to the face that connected very well to the face of Zayn. Kingston chased after Zayn on the floor and then Zayn lured Kingston back in the ring. Hard clothesline by Zayn with Kingston doing a flip bump to sell it. Zayn went for an attack off the top rope, but Kingston hit him with a dropkick to the ribs.
(Commercial)
Back from break, Kingston sent Zayn to the outside. Kingston hit this sweet move where he bounced off the top rope and then hit a somersault dive onto Zayn. Kingston hit the SOS on Zayn for a two count since Kingston doesn't usually win with that move. Kingston went for Trouble in Paradise, Zayn avoided it and Zayn hit the Blue Thunder Bomb for two. Kingston avoided the Helluva Kick and they were each going for moves with a lot of counters. Kingston hit a springboard cross body block on Zayn for the pinfall win after about 10 minutes.
Winner by pinfall: Kofi Kingston
Analysis: *** Fun match with a surprising finish. I was really getting into it and hoping they could get a few more minutes when the match just ended suddenly after the cross body block off the top by Kingston. I didn't expect it to end like that. It's a bit disappointing to see Zayn on the losing end since he's a singles wrestler that should probably win a match like that, but I think New Day will face The Shield at Survivor Series, so giving Kingston some momentum makes sense. I'd love to see another Kingston vs. Zayn match down the road because they clearly have a lot of chemistry and work a similar style of match.
Perfect form. Nailed the dismount.

Judges? @WWEDillinger? #SDLive@TrueKofi@SamiZayn@XavierWoodsPhD@WWEBigEpic.twitter.com/WHHusrpPJ6

— WWE (@WWE) November 8, 2017
Replays aired of Mahal attacking Styles last week.
Jinder Mahal was interviewed by Renee Young with the Singh Brothers by his side. Mahal spoke about how Styles has disrespected him time and time again. Mahal claimed that Styles is the appetizer to the entree that is Brock Lesnar. Mahal said he will make a meal out of AJ Styles and then feast on The Beast at Survivor Series.
Analysis: Simple promo to show Mahal is looking past Styles.
Still to come: Becky Lynch vs. James Ellsworth as if that's supposed to excite people. Randy Orton vs. Rusev is next.
(Commercial)
There was a video showing the Bludgeon Brothers duo of Luke Harper and Erick Rowan in a forest like their other videos.
Aiden English was in the ring. English told Manchester to remain completely silent as he introduces us to the "Lion of Bulgaria who beat The Viper before and tonight he shall defeat Randy Orton once more." English said he (Rusev) will join Team Smackdown and after Survivor Series, all will declare it's Rusev Day. Graves said that was beautiful.
Analysis: I agree with Graves. Huge fan of English. That guy has so much potential. I love his pairing with Rusev as well.
Rusev made his entrance.
Randy Orton entered to a nice ovation.
If Rusev wins this match, he joins Team Smackdown at Survivor Series.
Randy Orton vs. Rusev (w/Aiden English)
Rusev went for a kick, Orton caught it, Orton went for a RKO and Rusev avoided it leading to a Rusev kick to the head for multiple two counts. They went to break less than a minute into it.
(Commercial)
Back from break, Rusev had Orton grounded in a headlock as some fans chanted "Rusev Day." Orton broke free, so Rusev nailed him with a spin kick. Shinsuke Nakamura, Bobby Roode and Shane McMahon were shown watching in Shane's office. Rusev nailed Orton with running elbow drops for a two count. Rusev kept trying to pin Orton and was frustrated that he couldn't get a three count. After Rusev was frustrated, Orton caught him with a RKO out of nowhere for the win after about seven minutes.
Winner by pinfall: Randy Orton
Analysis: *1/2 It was one of those matches where one guy gets offense for 90% of the match and then gets beat by a simple move. Orton hitting the RKO out of nowhere is perfect for a match like that since it's one of the most protected moves in WWE. I didn't think Rusev was going to win the match at any time and I doubt most people watching believed he would win either. That's a problem with how Rusev has been booked. Unfortunately, no sign of change for him to be used better.
Still to come: Mahal vs. Styles.
James Ellsworth was shown outside the women's locker room. Tamina walked out of the room. Ellsworth asked Tamina to get Carmella, so she went in to the room. It was Becky Lynch. Lynch told him he needs to worry about her, not Carmella. Ellsworth said he hopes she doesn't get hurt. Ellsworth told Becky they are in MAN-chester, not WOMAN-chester and they know men are superior than women. Ellsworth said he'll prove he's the better man. Lynch said those are some ballsy statements, then looked down and said "it's a pity you don't have any." Crowd liked that and she left.
Analysis: Ellsworth acted like a chauvinistic jerk there and Lynch put him in his place to end it. The "MAN-chester" and "WOMAN-chester" line was lame, but that's what I'm used to from WWE writers at this point.
(Commercial)
Video package aired about the Smackdown invasion of Raw a few weeks ago, Daniel Bryan getting attacked last week on Raw and then New Day causing the distraction this week on Raw.
The ring was surrounded by Charlotte Flair, Naomi, Lana and Tamina for this match.
James Ellsworth entered along with his buddy Carmella, who has the Money in the Bank briefcase with her. Becky Lynch made her entrance and got a nice ovation.
Becky Lynch vs. James Ellsworth (w/Carmella)
Ellsworth started with some push-ups. Fans chanted "Becky's gonna kill you" at him. Lynch went for the armbar, but Ellsworth got to the ropes. Ellsworth tripped up Lynch and celebrated. The announcers kept making fun of Ellsworth with his shirt off. They did an exchange of spots where they were countering simple moves. Lynch got some nearfalls. Lynch put Ellsworth on her shoulders and then did an airplane spin. Lynch dumped Ellsworth to the floor. Ellsworth taunted the other women on the floor with a karate kid pose. Ellsworth shoved Lynch to the floor. Lynch came back with a missile dropkick off the top for a two count. Ellsworth rollup for two followed by a whip into the turnbuckle with Lynch taking a silly bump because she wasn't whipped that hard. Lynch hit an atomic drop, kicked the ropes while Ellsworth was near the ropes and Lynch hit a Bexploder Suplex to send Ellsworth out of the ring. Back in the ring, Ellsworth kissed Lynch's hands and hugged her. Lynch took him down and slapped on the Disarmer for the submission win after seven minutes.
Winner by submission: Becky Lynch
Analysis: 1/2* It was a comedy match that went too long. There were some moments that were funny, but it just dragged on too much. No surprise that Ellsworth was made to look like a loser. That's the usual for him.
Post match, Carmella went into the ring and nailed her buddy Ellsworth with a superkick that looked better than most of her superkicks.
Analysis: It could be the end of Carmella and Ellsworth as a duo, but probably not.
Shelton Benjamin and Chad Gable were shown walking backstage and there are The Usos as well. Tag Title match up next.
(Commercial)
There was a shot of Shane McMahon in his office with Charlotte Flair standing there with him. They were interrupted by Smackdown Women's Champion Natalya. It led to Natalya saying she will beat Alexa Bliss and prove she is the best women's champion in WWE. Natalya also wants to take Charlotte's place at Survivor Series. Shane pointed out that Natalya used a chair to keep her title against Charlotte at Hell in a Cell, which Natalya claimed was self defense. Heels lie! Shane told Natalya she'll defend the title against Charlotte next week on Smackdown and the winner of that faces Alexa Bliss at Survivor Series.
Analysis: There could be a title change there. Too many heel vs. heel matches right now at Survivor series, so having Charlotte win makes sense. I like Natalya as champ, though.
The team of Shelton Benjamin and Chad Gable made their entrance.
The Usos did a promo as they walked down to the ring. Jey said it's "American Alpha part two." Jimmy asked who they are and Jey said they are their next victims. The Usos welcomed them to the Usos penitentiary and punched them out of the ring. The show went to break there.
Analysis: Good way to give it a hot start.
(Commercial)
Smackdown Tag Team Championships: The Usos (Jimmy & Jey) vs. Shelton Benjamin & Chad Gable
Fast pace to the match early on. Benjamin nailed a spinebuster. There was a spot where Gable went after Jey on the floor and hit a chop block to the left knee of Jey. The ref counted Jey out and that ended the match because Jey was unable to get back into the ring. It went about two minutes.
Winners by countout: Shelton Benjamin & Chad Gable (The Usos are still champions)
Analysis: 1/2* It was an angle more than a match. It should lead to another match that could be a title change. I hope Jey isn't legitimately hurt by that because it looked nasty.
There was a video showing the USA Network TV show Damnation with Luke Harper as a guest.
AJ Styles was interviewed by Renee Young. Styles talked about how he may be smaller, but he works harder than anybody else. Styles said that Smackdown Live is the place that AJ Styles built. Styles said then at Survivor Series he's going to be the Beast Master (referenced Mahal using that term) and said he'll beat Brock Lesnar.
Styles vs. Mahal up next.
(Commercial)
Next week on Smackdown: Baron Corbin vs. Sin Cara for the US Title, Natalya vs. Charlotte Flair for the SD Women's Title and The New Day vs. Owens/Zayn.
Analysis: Two more tile matches coming. Tag match should be great. The show is in Charlotte, NC, so I think Charlotte winning the title there makes sense. Then again, WWE loves having people lose in their hometown. It could go either way.
The Singh Brothers did the Paul Heyman-like introduction for the WWE Champion Jinder Mahal. That led to Mahal's entrance, which is one of the cooler entrances in WWE. Mahal's WWE Title reign has lasted nearly six months.
AJ Styles entered to a huge ovation. Biggest pop of the night by far.
The competitors were in the ring as ring announcer Greg Hamilton introduced both men. Hamilton does a great job of it.
WWE Championship: Jinder Mahal (w/Samir & Sunil Singh) vs. AJ Styles
The match started with about 19 minutes left in the show, so they should get plenty of time. Back elbow by Mahal. Rollup by Styles got a two count. Mahal blocked a pin attempt and tossed Styles over the top to the floor.
(Commercial)
Back from break, Styles hit a dropkick that sent Mahal to the floor. Styles hit Mahal with a forearm. Mahal avoided an attack on the apron, so he tripped up Styles sending him face first into the apron. Styles went for a leaping attack, Mahal caught him and tossed Mahal onto the announce table. The table didn't break. Good spot. Mahal stomped away on Styles. Mahal kept Styles grounded for a few minutes. Styles came back with his punches and forearms to the head. I had some technical difficulties for a few minutes, so I apologize for missing a bit there.
Mahal tried a superplex, Styles fought out of it and Styles slapped on the Calf Crusher submission. Mahal slammed Styles' head to the rope and then got to the ropes to break the hold. Styles hit punches and a forearm, but Mahal stopped his momentum with a clothesline. Mahal set up Styles on the turnbuckle again. Styles slipped out of it, Styles went for a DDT, Mahal shoved him away and Styles pulled down the top rope to send Mahal over the top to the floor. Styles hit a forearm smash over the top onto Mahal on the floor. Back in the ring, Styles hit a springboard 450 Splash on Mahal near the ropes. The Singh Brothers pulled Mahal out of the ring. The ref Charles Robinson yelled at them for it. I thought Charles would eject them, but he didn't. Styles ran down Samir and Sunil on the floor. Forearm to Sunil and a knee to Samir. Mahal tried the Khallas, but Styles fought out of it. Mahal hit The Khallas and Styles got his foot on the bottom rope at the two count. Great nearfall. Crowd was really happy about that. Mahal set up Styles on the top going for The Khallas up there, but Styles countered and sent Mahal's neck onto the top rope. Styles set up the Phenomenal Forearm and connected on it on Mahal. Styles covered Mahal and got the pinfall win after 17 minutes. New WWE Champion!
Winner by pinfall and New WWE Champion: AJ Styles
Analysis: ***3/4 Very good match. That's the best Mahal match I've ever seen and is pretty good for a Styles match, but he can do a lot better too. I just thought it was well built with Mahal dominating much of it, Styles sold everything so well and took a beating. Some hard bumps by Styles in the match to make Mahal look strong. The way Styles took care of the Singh Brothers was well done because I though the ref might throw them out from ringside, but I liked how Styles took care of them. That led to Styles countering Mahal on the top rope leading to the forearm finish. Clean win for Styles and his second WWE Championship win. The win was treated like a big deal like it should be.
Post match, Styles had a big celebration with the WWE Title and the crowd was going crazy for him. Replays were shown of the finish. Mahal punched one of the Singh Brothers.
The graphic was shown for Universal Champion Brock Lesnar vs. WWE Champion AJ Styles at Survivor Series. That match is much cooler than Lesnar vs. Mahal.
Styles celebrated with the WWE Title as the show went off the air and the crowd was celebrating with him.
Analysis: I'm happy with the title change, of course. Mahal's run as WWE Champion was very boring and it hurt the quality of the show a lot of the time when an average performer like him was being utilized so much. Styles is one of my favorite wrestlers in WWE and as I have written many times, he is the best wrestler in the company. Putting the WWE Title on Styles is a great thing. However, I don't know if it's going to last that long.
It's possible that Mahal will win back the WWE Title over Styles in a rematch. Teasing fans with Lesnar vs. Styles by having Styles win here is a great thing for now, but it might not happen if Mahal gets the title back. I really hope they don't put it back on Mahal next week, yet I think it's entirely possible Another factor is that WWE has two live events in India in December. They are Raw brand shows, but Jinder and the Singh Brothers are being advertised for it heavily. Why take the title off Mahal before that? Seems fishy to me. Another possibility is that Mahal could beat Styles for the WWE Title in India (Styles has to be booked for it and right now he is not) to get WWE more attention in India where they want to grow their fanbase.
What I want is for Styles to carry the WWE Title all the way to WrestleMania and for Shinsuke Nakamura to win the Royal Rumble to set up those two in a WrestleMania match. Will it happen? No idea, but I sure hope it does.
I think WWE is going to go ahead with Lesnar vs. Styles at Survivor Series and Mahal will be the fifth man on Team Smackdown at Survivor Series. Obviously, I could be wrong on that, but that's what I think they'll do in the short term. I think WWE realized there wasn't a lot of interest in Lesnar vs. Mahal from the WWE fans. The Mahal title reign lasted six months and fans were losing interest. Attendance was down at Smackdown events and the ratings for the October 31 Smackdown (against the World Series and Halloween) were the second lowest of the year. Those are factors that WWE might have considered.
I'm excited about Lesnar vs. Styles. I hope we get the Lesnar that sells moves for a smaller opponent like Styles rather than the guy that no sells everything and has a boring match that he wins in like seven minutes.
This show will be remembered for Styles winning the WWE Title. The fans in Manchester will remember that forever, so that's a pretty cool moment for them.
2 Sweet.@AJStylesOrg is officially a 2-time #WWEChampion!!! #SDLive#WWETitlepic.twitter.com/TcZ9CkQUwG

— WWE (@WWE) November 8, 2017
Three Stars of the Show
1. AJ Styles
2. Jinder Mahal
3. (tie) Kofi Kingston
3. (tie) Sami Zayn
The Scoreboard
6.5 out of 10
Last week: 8
2017 Average: 6.73
Average Post Brand Split (July 26, 2016): 6.63 – Raw is at 5.80
Last 5 Weeks: 8, 7, 6, 6.5, (No Review)
2017 High: 8.5 (April 11, August 1)
2017 Low: 4 (August 29)
Final Thoughts
It gets a 6.5 out of 10.
The main event helped save this show from being pretty bad. There were some bad moments. What I really liked was the Kingston vs. Sami match and even that had a questionable finish. Opening promo was fun too. A lot of other things seemed off this week in terms of creating an entertaining show.
IT'S OFFICIAL: NEW #WWEChampion@AJStylesOrg will face #UniversalChampion@BrockLesnar at #SurvivorSeries! #SDLive@HeymanHustlepic.twitter.com/h8CO5kKfU9

— WWE (@WWE) November 8, 2017
The next WWE PPV is Survivor Series on Sunday, November 19. Here's what we know.
Universal Champion Brock Lesnar vs. WWE Champion AJ Styles
Raw's 5 men (Kurt Angle is the captain of the team with Braun Strowman, Finn Balor, Samoa Joe & Jason Jordan) vs. Smackdown's 5 men (Shane McMahon is the captain of the team with Randy Orton, Shinsuke Nakamura, Bobby Roode and one more name)
Intercontinental Champion The Miz vs. United States Champion Baron Corbin
Raw Tag Team Champions Sheamus & Cesaro vs. Smackdown Tag Team Champions The Usos
Raw Women's Champion Alexa Bliss vs. Smackdown Women's Champion Natalya
Raw's 5 women (Alicia Fox is the captain with Nia Jax, Asuka, Sasha Banks and one more name) vs. Smackdown's 5 women (Becky Lynch is the captain with Charlotte Flair, Naomi, Tamina and Carmella)
Cruiserweight Championship: Enzo Amore vs. Kalisto
It's a four-hour show. I think The Shield's Reigns, Rollins and Ambrose vs. New Day's Big E, Woods and Kingston will be added as well.
—
That's all for now. Go Los Angeles Rams, Toronto Raptors and Toronto Maple Leafs.
My contact info is below. Thanks for reading.
John Canton
Email mrjohncanton@gmail.com
Twitter @johnreport