The John Report: WWE Smackdown Live Review 07/25/17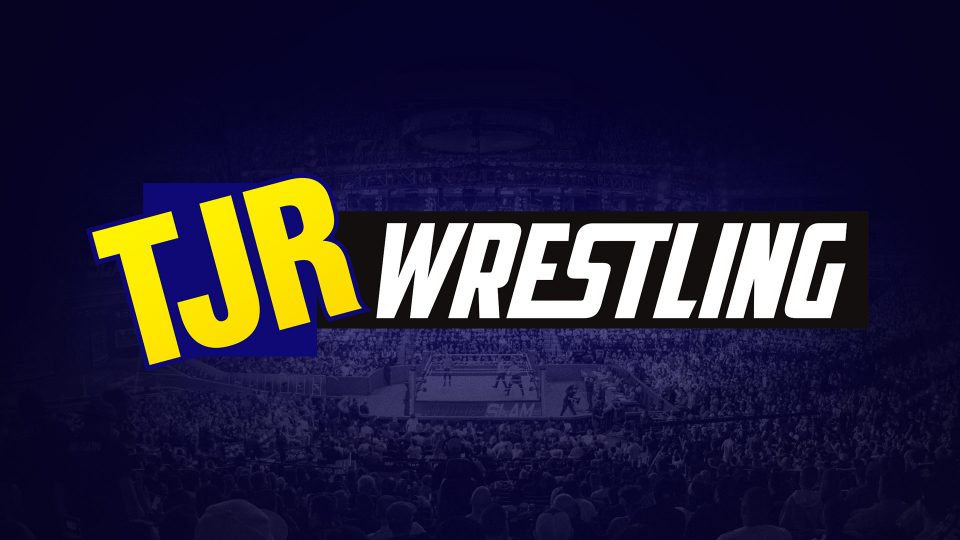 This week's edition of Smackdown follows the disappointing Battleground pay-per-view event. I thought it was the worst PPV of the year and a lot of fans seemed to agree that it was a poor show. The next PPV is SummerSlam on August 20 and it's one of the biggest shows of the year, so hopefully the stories improve over the next month.
Live from Richmond, Virginia this is Smackdown Live for episode #935. Follow me on Twitter @johnreport. Thanks Melo Man for the banner up top.
The show started with a live shot of the crowd as ring announcer Greg Hamilton introduced the new United States Champion Kevin Owens. I still miss show opening pyro, by the way. No video package to start. It's just the great man with the KO initials.
Let's Hear From US Champion Kevin Owens
Owens walked out in a suit and he had the US Title on his shoulder. The announce team of Tom Phillips, John Bradshaw Layfield and Byron Saxton welcomed us to the show.
Owens said this just feels right because he is once again the United States Champion. Owens said if your heart is pure and you're a good person, then good things will happen because he took back what is his from that thief AJ Styles. Owens tried to talk some more and the crowd chanted "AJ Styles" at him. Owens said he is re-instating the Kevin Owens United States Title Open Challenge and it begins…next week. The crowd booed. Owens said that there is no way, under any circumstance that he would defend his title in front of a bunch of hicks from Richmond, Virginia.
AJ Styles made his entrance. Big ovation for Styles as usual. Styles went into the ring. Styles said he's there to get his rematch for that United States Championship. Owens said he's not defending this title against Styles or anyone.
BREAK THE WALLS DOWN! Surprise! Chris Jericho's music hit as Jericho walked out in a leather jacket, the scarf and the List of Jericho in his hands. What a nice surprise! Huge ovation for Jericho. Crowd was going wild for him. Owens had a shocked look on his face.
Analysis: Good to see Jericho back. One of the best performers in the company even at 46 years of age. Timing is good with SummerSlam around the corner. I'm glad his absence was only a few months rather than waiting until next year.
Jericho in the ring: "It's the return of Jericho…welcome back, maaaaaaan!" Owens kept asking what Jericho is doing there, so Jericho said "quiet" repeatedly and he yelled "quiet" at him. Jericho told Owens to shut his mouth because it's not Montreal, this is America, man. Jericho said the last time on Smackdown he left on a stretcher because of Owens, but now he's back. Jericho said he's back for his rematch at the US Title.
Styles said they are all glad he's back and his sense of humor is back, but a lot of things have happened. Styles said the next guy in line for that US Championship is him. Jericho wondered if Styles was going to jump in line ahead of him. Jericho asked "you know what happens" and the crowd cheered leading to Jericho's list bit. Jericho told some story about a guy jumping him in line at the grocery store, so he beat him up and put him in the Walls of Jericho instead of the list. Owens left the ring and walked up the ramp. Jericho to Styles: "You just made the list!" Big pop for that. Jericho asked where the "stupid idiot" Owens was going. Owens was at the top of the ramp and there's Shane McMahon's music.
Shane O-Mac, the Commissioner of Smackdown, stood beside Owens on top of the ramp. Shane asked the crowd how they were doing, so they cheered. Shane said that both guys have a legit shot at a rematch at the US Title. Shane said they will get the opportunity at the same time because it will be a triple threat match between Owens, Jericho and Styles for the US Title. Shane said it's not going to be at WrestleMania or even SummerSlam, it's going to happen tonight on Smackdown. Owens was angry about it while the crowd loved it.
Analysis: That was well done. Jericho's return drew a big reaction and the title shot requests from AJ and Chris made sense. With Styles it makes more sense because he just won it while Jericho has been out for a few months, so you could say he doesn't deserve it. Based on his name and stature in the company, I think it's the right call. Good opening segment that was done to do one of WWE's favorite things in those segments, which is setting up a match for later in the night.
Baron Corbin and Shinsuke Nakamura were shown walking in separate areas backstage for a match up next.
(Commercial)
Shinsuke Nakamura made his entrance with the crowd singing along for the song as usual. Baron Corbin entered to boos with his Money in the Bank briefcase in his hands.
Shinsuke Nakamura vs. Baron Corbin
This is a rematch from Battleground. That match ended when Corbin was disqualified after a low blow.
They started out exchanging punches and forearms. Nakamura with a running knee to the face followed by a knee to the back of the neck. Nakamura left the ring, Corbin recovered and hit a huge clothesline that Nakamura sold with a flip bump. Ouch. Back in the ring, Corbin got a two count as the show went to break.
(Commercial)
Back from break, Corbin had Nakamura in a headlock. Nakamura came back with a running kick to the head. Hard kicks to the chest from Nakamura. Corbin caught the foot, slap to the head and Nakamura hit a straight kick to the head. Driving knee strikes from Nakamura. Knee lift from Nakamura while Corbin was against the turnbuckle. Nakamura with a jumping kick to the jaw for two. Corbin avoided kicks and hit a single arm slam into a backbreaker for a two count. Corbin hit knee strikes to the ribs to weaken Nakamura. Corbin set up for a corner charge, Nakamura avoided it, Corbin did his run back into the ring and hit the Deep Six slam for two. Corbin doing that run to the floor and back in the ring spot looks pretty silly when he does it every match. Once in a while would be better than all the time. Corbin missed a corner attack, Nakamura with a kick to the head and a kick to the back of the knee. Running knee to the back by Nakamura. Nakamura hit the Kinshasa knee strike for the pinfall win after ten minutes.
Winner by pinfall: Shinsuke Nakamura
Nakamura celebrated the win with the crowd chanting along with the song.
Analysis: *** Good match to put over Nakamura the way they should have at Battleground. I still don't understand the reasoning behind the low blow finish in that match to build to this match because they should have used this finish at Battleground instead. Corbin got a decent nearfall with the Deep Six slam, but it was mostly about Nakamura's kicks and knees working him over. Sometimes I have people say "all Nakamura does is kick" to me, but if you pay attention it's the way he does the moves, the style with which he does them and the ability to wear opponents down with him. Furthermore, Nakamura's selling is fantastic and separates him from most people on the roster. He's such a great talent. Corbin losing was no surprise since he's holding the contract. I would have had this finish at Battleground and moved on from it.
Later: Owens vs. Jericho vs. Styles. Also, Jinder Mahal will demand an opponent at SummerSlam.
A commercial aired for the DVD movie starring Shawn Michaels and Willie Nelson. Sounds awful. I'd rather watch two hours of Great Khali promos.
(Commercial)
Naomi was interviewed by Dasha Fuentes and was asked about Natalya not shaking Naomi's hand after the Battleground match. Naomi said that if Natalya thinks she will let her disrespect her and Natalya walked in. Natalya said that Naomi has tarnished everything that a WWE Championship stands for because she's turned that title into a kids toy. Natalya said she's going to take the title and restore honor back to the women's division. Naomi said that this title is the now, the women's evolution is the future and this title represents that. Naomi said she earned that title, told Natalya to throw her shade and at SummerSlam she will be blinded by the go. Carmella walked in with her Money in the Bank contract and reminded her that she's looking ahead to the future.
Analysis: I'm happy for Natalya being the number one contender. The promo made sense because she represents wrestling history as a member of the Hart family and as a heel, she doesn't like Naomi putting that "glow" on the title. Good enough of a storyline. As for Carmella, she hasn't been in the ring in the last month, but they have showed her taunting Naomi with the briefcase repeatedly.
Charlotte Flair made her entrance for a match with her peacock robe that she wears all the time. Becky Lynch made her entrance to a big ovation as the show went to break.
Analysis: Even though I'm happy for Natalya as number one contender, I'm shocked that Charlotte hasn't been booked stronger on Smackdown. I picked her to win Money in the Bank (twice) and she didn't win. I picked Charlotte in the 5-Way on Sunday and she didn't win. I'm used to Charlotte being portrayed as a bigger star than the other women, so it's been weird to not see her in a more featured role.
(Commercial)
Lana made her entrance followed by her partner Tamina.
Charlotte Flair & Becky Lynch vs. Tamina & Lana
Lana started, Becky went for the armbar, Lana screamed and tagged in Tamina. Rollup by Lynch, Tamina back up and Becky hit a kick to the face. Lynch hit a weak looking kick. Tamina pulled Lynch out of the corner to slam her face first. Lana hit a suplex for two followed by an armbar with JBL saying that sometimes Lana shows flashes of brilliance and sometimes she doesn't belong in there. Hair whip by Lana on Becky gets a two count. Tamina back in with a clothesline. Lynch broke free with an elbow and an enziguri kick. Charlotte got the hot tag with chops for Tamina, kick to the shoulder and another chop. Knee drop by Charlotte earned a two count. Tamina came back with a kick, Lana tagged herself in, Charlotte kicked Tamina out of the ring and Charlotte with a big boot to Lana to pin her after five minutes.
Winners by pinfall: Charlotte Flair & Becky Lynch
Analysis: *1/2 Easy win for Charlotte and Becky, who are best friends out of the ring and in the ring as well. No surprise that they got the victory after Charlotte got the hot tag and cleaned house on the heels.
After the match, Tamina was mad about the loss while Lana was sad about Tamina yelling at her. The camera stayed on them post match quite a bit. The announcers wondered about this alliance.
Jinder Mahal, the WWE Champion, is up next.
(Commercial)
A video package aired about Jinder Mahal's win over Randy Orton at WWE Battleground thanks to an assist from The Great Khali.
Jinder Mahal Is Still WWE Champion And Has Some Things To Say
Jinder Mahal walks out with the WWE Title around his waist. He was wearing a suit. Phillips said the Singh Brothers weren't there after the beating they took at Battleground from Randy Orton. No sign of Khali.
Mahal entered into the ring with the carpet in the ring. Mahal said at Battleground he crushed the legacy of Randy Orton and the legend of the Modern Day Maharajah was born. Mahal said that Orton agreed to face him in his match on his terms. Mahal said Orton underestimated him just like the fans as Mahal pointed out he was WWE Champion and he will stay WWE Champion as long as he desires. Mahal said he demands to know who will be facing at SummerSlam, who will be his opponent and whose hopes he will crush at SummerSlam. Mahal spoke in Punjabi to upset the crowd some more.
John Cena's music hit. If you were surprised by that then you haven't watched enough WWE in your life. Big ovation for Cena as he ran down to the ring with Mahal in there. JBL asked what Cena was doing out there with Mahal. Gee, I wonder. Maybe he wants to learn Punjabi?
Mahal talked before Cena could say anything. Cena congratulated Mahal for being the WWE Champion and said he respected the fact that Mahal is in the best shape of his life while doing the best he can to keep that title. Cena congratulated Mahal again. Cena said "we have never been formally introduced and you may know me from Pistachio commercials" with Cena saying his name as if they had never met. Don't hinder jinder, pal!
Cena told him at SummerSlam, Mahal is facing "Super Cena," which means at SummerSlam Cena is walking out a 17-time Champion. Cena said "it was nice to see you, you can't see me, hit the trumpets." Cena's music played. Cena left the ring.
Daniel Bryan's music started up as the Smackdown General Manager stood on the ramp while getting a big ovation from the crowd and the "yes" chants.
Bryan said that Cena doesn't make the matches because Daniel and Shane do. Bryan said on Smackdown Live, opportunities are earned even if your name is John Cena. (Cena got a title shot at Royal Rumble without earning the match, but that's fine because the match with AJ Styles was amazing.) Bryan told Cena he performed brilliantly at Battleground. Bryan said Cena will face a man that performed brilliantly earlier tonight…Shinsuke Nakamura.
Bryan announced Shinsuke Nakamura vs. John Cena on Smackdown next week and the winner gets a WWE Title match against Jinder Mahal at SummerSlam. The crowd cheered wildly while Cena seemed happy about it and Mahal kept making his angry faces.
Analysis: I'm not surprised by Cena interrupting the promo to do a promo of his own. I liked seeing Bryan also showing up at the end to tell Cena he had to win a match to get the title shot. The only thing I found odd is that WWE is doing Nakamura vs. Cena next week on Smackdown instead of saving that first time ever dream match for a PPV. It's very surprising to me, but I'm also excited to see what they can do because Cena has shown a willingness to work hard with anybody and they should have a great match. I'm leaning towards a Cena win with Corbin costing Nakamura somewhere. I'm not a fan of Nakamura losing, though. It's tough to predict right now.
Up next is Zayn/Dillinger vs. English/Kanellis.
(Commercial)
Shane McMahon was in the office on his phone. Kevin Owens complained about being in the US Title match later. Owens said the other two guys can't get over the fact that he's better. Shane said what's far is that Styles and Jericho get a rematch for the US Title. Shane said they wanted to give their Smackdown audience the best show period. Shane said that's what he cares about – it's for the audience. Owens said he didn't give a damn about the Smackdown Live audience and if Shane wasn't the commissioner then KO wouldn't give a damn about him either. They had a staredown.
Analysis: It could be a future match since WWE loves putting Shane in the ring once in a while. I thought Owens would have been the perfect heel to feud with Kurt Angle leading to a match between them, but Owens got moved to Smackdown before they could do that.
Aiden English was in the ring singing about how he's the Shakespeare of song, the maestro of mayhem and told the crowd to hush because it's his time. English that he's the Picasso of pain and noting he's the drama king who hits like a rock, but sings like a dove. English said tonight he is joined by the Power of Love.
Analysis: The man has a great voice. I think he's got a very bright future if WWE's creative team can ever get behind him in the right way.
Mike Kanellis entered with his wife Maria to join English.
Sami Zayn made his entrance first for his team followed by his partner Tye Dillinger. Both guys received good ovations. Both Canadians just like me. We like to wrestle here.
Sami Zayn & Tye Dillinger vs. Aiden English & Mike Kanellis (w/Maria)
Dillinger put an armbar on English early on and they went to break. I think action continued during the break in the US, but not here in Canada.
(Commercial)
Back from break, the heels isolated Zayn after English got a cheap kick on Zayn during the break. Kanellis sent Zayn into the corner with a clothesline and a boot to the face. Zayn broke free, Dillinger got the hot tag and was on fire on Kanellis with the ten punches in the corner. Dillinger hit a double axe on English. Zayn tagged in, Dillinger sent English out of the ring and Zayn hit the Helluva Kick on Kanellis and Zayn pinned him. The match went about six minutes and I only saw three minutes of it.
Winners by pinfall: Sami Zayn & Tye Dillinger
Analysis: *1/2 Simple tag match to put over the faces. I like Zayn and Dillinger together as a team. If WWE doesn't want to book them as singles wrestlers in featured roles then maybe it would be smart to book them as a team.
The New Day were shown backstage doing a photo shoot and then walking towards the arena. Their celebration is next.
(Commercial)
The New Day did their usual promo with Big E talking to hype up the crowd, but The Usos appeared on the stage attacking Woods and Kingston. Big E, who we assume was attacked first, ran out after them and one of the Usos nailed him with a superkick. The Usos hit a double superkick on Big E to lay him out. All three New Day guys were out on the stage as referees came out to stop The Usos to do more.
Analysis: It was a quick attack to further the story of The Usos being mad that they lost the Smackdown tag team titles on Sunday. I think we can pencil in a rematch at SummerSlam.
Next week on Smackdown: John Cena vs. Shinsuke Nakamura with the winner facing Jinder Mahal at SummerSlam for the WWE Title.
Nakamura was interviewed backstage by Renee Young about his match with Cena. Nakamura: "Next week…John Cena…you can't see me." He did the hand gesture. Nakamura said that means he'll see Jinder at SummerSlam.
Analysis: It's smart to have Nakamura doing quick promos. It's not his strength to talk a lot, so keeping it simple is the way to go.
Chris Jericho made his entrance first for the main event. He looks very tanned since his break from wrestling. AJ Styles was up next. Both guys got big ovations. Kevin Owens was booed as he walked out with the US Title. It begins after a break.
(Commercial)
The match started when they returned from the break with about 15 minutes left.
United States Championship: Kevin Owens vs. Chris Jericho vs. AJ Styles
Jericho and Styles double teamed Owens leading to Owens going to the floor. Jericho got a rollup on Styles for two. They went into a pinfall exchange sequence. Owens went back in the ring with a punch to AJ's face and he sent him out of the ring. Jericho faced off with Owens leading to them throwing punches. Jericho with a kick to the face, Owens blocked a Codebreaker and Owens kicked him towards the corner. Jericho came back with a dropkick off the middle ropes for two. Styles back in, he sent Jericho onto the apron and knocked him down. Owens knocked down Styles with a clothesline. Owens with a hard whip that sent Styles ribs first into the turnbuckle. Owens remained in control as he stomped away on Jericho on the floor. Back in the ring, Owens hit a back elbow on Styles. Owens charged in, Styles picked him up and Styles applied the Calf Crusher submission. Jericho broke it up with a Lionsault on both guys leading to a cover on Styles for two. All three guys were down, so good time for a commercial.
(Commercial)
Back from break, Styles chopped Jericho, but Jericho came back with a back body drop. Corner clothesline by Jericho. Owens fought out of a Walls of Jericho attempt by Jericho and Owens hit Jericho with a forearm. Owens charged at Styles on the apron, so Styles ducked and Owens went crashing to the floor. Styles hit a springboard 450 Splash on Jericho. Owens back in, he sent Styles out of the ring and covered for two. Styles got revenge on Owens by sending him into the barricade. Jericho applied the Walls of Jericho on Styles, Owens back in, Jericho with a slingshot on Owens that led to Owens knocking Styles out of the ring. Jericho slapped on the Walls of Jericho on Owens. Styles back in and Jericho hit the Codebreaker for two as Styles got his left shoulder up. Fans chanted "This is Awesome" for them.
Jericho decked Styles with a forearm. Jericho went for a Lionsault, but Owens tripped him up. Owens with a cannonball splash on both guys in the corner. Styles came back with a forearm on Owens, Jericho with an enziguri on Styles, Owens with a superkick on Jericho and Styles hit a Pele Kick on Owens. Wow! What a great sequence there. Styles went for a springboard attack, but Jericho countered with a dropkick. Owens with a Popup Powerbomb on Jericho and Jericho kicked out. I thought that was it. Owens was stunned that wasn't it. Owens up top and he hit a Frog Splash on Jericho. Styles broke up the pin and sent Owens out of the ring. Styles covered Owens to win the match and US Title after 14 minutes.
Winner by pinfall and New US Champion: AJ Styles
Analysis: ***3/4 That was awesome. Nearly four stars out of five. Great match between three guys that have worked together many times in the past, but not in this format. It was nice to see Jericho back in the ring looking like he hadn't missed a beat. Styles was spectacular as usual with a mix of athletic moves, power and he was put over huge. Owens was aggressive as the lone heel that hated both guys that can complain about how he wasn't pinned, yet he lost his title. I didn't love the "steal the pin, win the match" ending although at least different with a face winning that way instead of a heel. I think it would have been more impactful if Styles won with the Styles Clash or Phenomenal Forearm. Even if they did a spot where Styles won by submission with the Calf Crusher just as Owens was about to break it up would have worked really well. The story was about Owens losing without getting pinned, so he can bitch about it to Shane some more. I'm not a fan of doing the title change on Sunday and then another change here. It's similar to what Owens and Jericho did with the title a few months ago too. We got a great match out of this, though, so it's not like it's a major gripe.
After the match, Owens was furious about the loss. Owens had a stunned look on his face. Owens tossed the monitors off the announce table and kicked the steel steps. Styles went up the ramp with the US Title.
Owens cut a post match promo. Owens told everybody to shut up to listen to him. Owens went into the ring to say it's not fair that Jericho was here, that Shane forced him to defend his title in a triple threat match and it's not fair that Styles stole his victory. Owens added that it's not fair that the people dislike Owens because he's better than they ever will be. Owens said he wants his rematch next week for that title in a one on one match. Owens said he's going to take back his US Title.
They showed highlights from the match. JBL was yelling in an excited voice that next week we get Nakamura vs. Cena and Styles vs. Owens in one of the biggest Smackdowns in history. Styles posed with the title some more as his music played to end the show.
Analysis: Styles vs. Owens next week along with Cena vs. Nakamura makes it a huge show. I'm excited about Cena vs. Nakamura already and we're getting Styles vs. Owens one more time too. Fine with me.
I think Owens vs. Shane is possible for SummerSlam since Owens can blame Shane for putting him in that triple threat match. Plus, they had that staredown backstage. It makes sense to go that route while Styles can move on to a different opponent like Baron Corbin or maybe even Zayn or Chad Gable in a face-face rivalry. Styles could also face the loser of Cena vs. Nakamura (that's why I'm going with Cena in that match) and that would be great too.
Three Stars of the Show
1. AJ Styles
2. Kevin Owens
3. Chris Jericho
Shoutout to Nakamura and Corbin for good efforts too.
The Scoreboard
8 out of 10
Last week: 5.5
2017 Average: 7
Average Post Brand Split (July 26, 2016): 6.75 – Raw is at 5.87
Last 5 Weeks: 5.5, 5.5, 7, 7.5, 7
2017 High: 8.5 (April 11)
2017 Low: 5 (May 16, July 18)
Final Thoughts
It gets a 8 out of 10.
Very good show from top to bottom. That 8/10 is my highest score since the 8.5 on April 11. Smackdown was stuck in a rut in the last month, but this show helped on the strength of setting up a quality main event.
I enjoyed it a lot. Main event was great and Nakamura/Corbin was good as well. Seeing Jericho back after being away for a few months was a welcome sight because he's a veteran that makes everybody around him better.
I think it's fair to say this week's Smackdown helped take the stench off of that poor Battleground show on Sunday night.
What are the odds of @BrockLesnar retaining the #UniversalTitle against @WWERomanReigns@SamoaJoe AND @BraunStrowman at @SummerSlam? #RAWpic.twitter.com/lYoXdmG0Oa

— WWE (@WWE) July 25, 2017
The next pay-per-view featuring the Raw and Smackdown crew is SummerSlam on August 20.
WWE Universal Championship: Brock Lesnar vs. Roman Reigns vs. Samoa Joe vs. Braun Strowman
Raw Women's Championship: Alexa Bliss vs. Bayley
More matches will be added in the next month of course.
—
That's all for now. Thanks for reading.
John Canton
Email mrjohncanton@gmail.com
Twitter @johnreport
Personal Facebook and TJRWrestling on Facebook