The John Report: WWE Battleground 2017 Review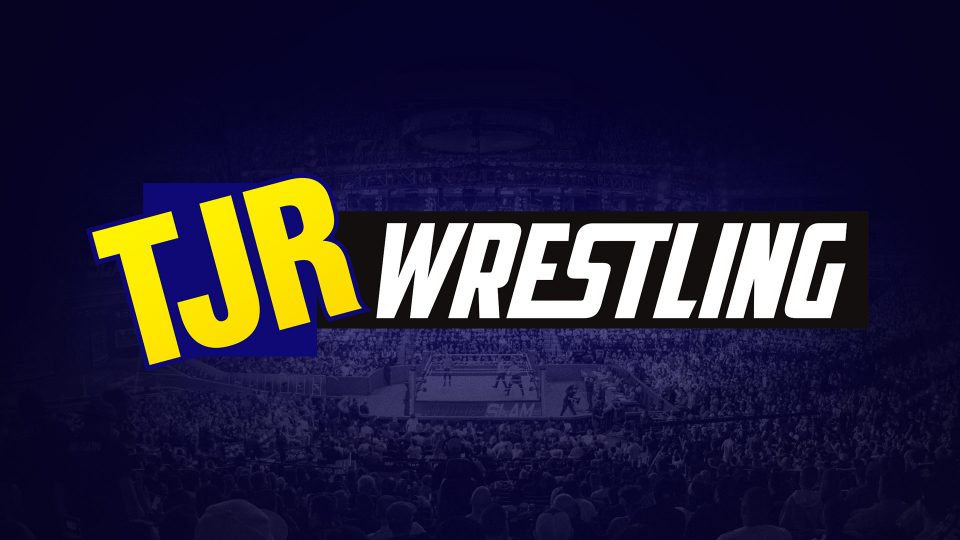 It's time for WWE Battleground presented by the Smackdown brand. The show is headlined Jinder Mahal defending the WWE Title against Randy Orton in a Punjabi Prison Match, AJ Styles defending the US Title against Kevin Owens, John Cena vs. Rusev in a Flag Match and Shinsuke Nakamura vs. Baron Corbin. They have eight advertised matches including the Kickoff Show, so let's see what WWE has in store for us for Battleground.
WWE Battleground
Wells Fargo Center in Philadelphia, Pennsylvania
July 23, 2017
The Kickoff Show was hosted by Renee Young, Jerry Lawler, Sam Roberts and David Otunga. I didn't watch any of it. I tuned in when the Kickoff Show match started about 40 minutes into it.
The announce team of Tom Phillips, John Bradshaw Layfield and Byron Saxton are ringside to call the action.
Aiden English vs. Tye Dillinger
English was in control with an armbar early and then Dillinger did some slick mat wrestling followed by the "ten" taunts with the crowd chanting along. They battled by the ropes with English on the apron, the ref tried to separate them and English hit a headbutt. English with a knee to the back of Dillinger that sent him into the turnbuckle. English with a running back splash on Dillinger in the corner. Commercial three minutes into it.
The break was just an advertisement for Battleground.
English was in control with a headlock with English singing a bit while he had Dillinger grounded. Dillinger drove English back into the turnbuckle. English went to the middle rope, jumped off and Dillinger hit a dropkick. Dillinger with a running forearm smash, clothesline and a stomp as he got some momentum. English bailed to the floor to escape. Back in the ring, Dillinger hit a spinebuster for a two count. Dillinger set up English for a superplex, but English blocked it and hit a headbutt to knock down Dillinger. English off the top with a crossbody and Dillinger rolled into a cover for two. English countered a Tyebreaker attempt, sent Dillinger's back into the ropes and English hit a DDT variation for a two count. English freaked out after the two count. They went into a pinfall sequence with each guy coming close to winning. Dillinger hit the punches in the corner, English slipped out and English hit a full nelson into a face first slam for the win. It went about 10 minutes.
Winner by pinfall: Aiden English
Analysis: **1/2 That was well done with English getting one of the biggest wins of his singles career. Clean win for a heel. Dillinger kept going for his finish, English fought and got the win that maybe be a surprise to some fans, but not me. I hope it leads to more for English. I picked him in the preview because I thought they shouldn't do the match again with Dillinger only to have Tye win again. Giving English a win could get him on the right path.
The Kickoff Show panel did some final hype for the show until the top of the hour.
—
WWE Battleground Main Card
The video package focused on the key matches of the show as I sit here thinking it should be called Great American Bash since it's so heavy on the "America is the best, everybody else sucks" theme. I love you too America and I'm Canadian.
The crowd in Philly was shown with the Punjabi Prison hanging above the ring.
The New Day trio of Big E, Kofi Kingston and Xavier Woods entered for the first match on the PPV broadcast. They've got some USA stars and stripes gear as Big E poured some cereal on some fans.
The announce team of Phillips, JBL and Saxton welcomed us to the show. The German and Spanish announce teams were at ringside to remind you that TJRWrestling.net is their favorite website. Thanks guys.
The Usos, Smackdown's Tag Team Champions, made their entrance. Clips aired of their Rap Battle from Smackdown three weeks ago. They didn't do much since then, so that's why they showed that clip again.
Smackdown Tag Team Championships: The Usos vs. The New Day (Kofi Kingston & Xavier Woods) w/Big E
It's interesting that Big E is on the apron because he usually is wrestling instead of Woods, so it's a bit of a different look. The Usos isolated Woods early on by hitting a cheap attack behind the ref's back. Jimmy hit a running butt attack on Woods against the turnbuckle and Jey hit a cheap kick on Woods. Jey tagged in with a flying elbow smash to Woods while Jimmy held Woods in a backbreaker position. Jey went for a superplex on Woods, but Woods fought back with headbutts to knock down Jey. Woods up top and he hit a missile dropkick to send Jey across the ring. Kingston got the tag against Jimmy with chops, dropkick and a stomp to Jey. Kingston with a leaping clothesline on Jimmy followed by the boom drop leg drop. Jimmy avoided the kick, Kingston on the apron, kick to Jey and low bridge on Jimmy to send him over the top. Kingston tagged Woods, Kingston up top and he did his trust fall dive, but the Usos caught him and hit a double Powerbomb. Ouch! Woods went for a leaping attack, but Usos did a double punch to him. Woods back in the ring with Jimmy and he hit a sunset flip into a slam that sent Jimmy face first into the mat for two. Woods went for an attack, Jimmy caught him and sent him neck first into the turnbuckle. Usos launched Woods in the air and hit a Samoan Drop. Jey hit Woods with a punch while he was on the apron. Woods fought back by knocking Jimmy off the apron and a kick to Jey. Woods up top for a leaping attack, he jumped off and Jimmy (who had tagged in) nailed a superkick on Woods. Wow! What a move. That earned a two count as Woods kicked out.
Jimmy slapped on a single leg crab submission on Woods. Good job by Woods selling it and he crawled to the ropes to break free. Kingston was finally back to his feet after the Powerbomb and tagged in with a double foot stomp while Woods was holding Jimmy and that's was good for just a two count. Kingston went for a springboard attack off the top, Jimmy moved and Jimmy hit a superkick. Tag to Jey, he goes up and hits a Frog Splash for a two count. Fans chanted "This is awesome" for it. Both Usos went up top. Woods knocked down Jey while he was on the top rope. Jimmy was the legal man. Jimmy missed the splash off top, Kingston hit the Trouble in Paradise on Jimmy and Woods hit the Flying Elbow off the ropes on Jimmy for the pinfall win after 15 minutes. Crowd loved it.
Winners by pinfall and New Smackdown Tag Team Champions: The New Day
The New Day celebrated with the gold while The Usos were mad about the loss as expected.
Analysis: **** That was outstanding at four stars out of five. They had several moments in the match where it looked like The Usos might retain, but New Day kept kicking out. I'm really happy for Xavier Woods because he's on the floor for 90% of the New Day's matches and I'm glad he was able to show what he can do here. I think WWE knew his style meshed well with The Usos as a flier, so it was a good choice. What a great tag team match featuring the two best teams of the last decade as JBL said several times. It's true because that's what they are. It's probably the best main roster tag so far this year although NXT has had some better tags. I picked New Day to win because I thought it was time for a change. The Smackdown tag team division is thin right now, so hopefully that issue is addressed soon.
AJ Styles was shown warming up backstage.
They showed the highlight of Baron Corbin attacking Shinsuke Nakamura at Money in the Bank last month because they are up next.
Shinsuke Nakamura made his entrance to a huge ovation and a loud "Nakamura" chant.
Baron Corbin walked out with his Money in the Bank contract as the crowd booed him.
Shinsuke Nakamura vs. Baron Corbin
Nakamura dominated early with punches and kicks, so Corbin bailed to the floor. When they went back in the ring, Corbin hit a punch to the head. Corbin slapped on a bearhug. Nakamura came back with an armbar. When they got to their feet, Corbin hit a big boot for two. Corbin was clearly talking to Nakamura as he shot him into the ropes leading to a forearm to the back. Corbin slapped on a bearhug. Nakamura broke free, Corbin tried a Chokeslam and Nakamura hit a kick that grazed him. Nakamura with a spin kick to the head followed kicks to the chest. Corbin caught the left foot, so Nakamura hit him with the right kick and a running dropkick by Nakamura. Nakamura set up Corbin on the top rope and hit two running knee lifts to the gut for a two count. Corbin did his slide out of the ring spot, go back in and hit a clothesline for a two count. Nakamura sold it great. Nakamura came back with knee strikes to the face followed by a front suplex. Corbin came back with the Deep Six slam that earned a two count because he never wins with it.
They got back to their feet and had a slugfest. Nakamura did a backstabber followed by a spin into a kick to the chest. Axe kick to the back of the neck by Nakamura. The crowd came alive a bit as Nakamura slapped the mat to urge them on. Nakamura picked up Corbin and Corbin kicked him in the groin. Ref saw it leading to the disqualification. It went 13 minutes.
Winner by disqualification: Shinsuke Nakamura
Analysis: **1/4 It was okay, but disappointing for a Nakamura match. They seemed off on a few spots and the crowd was probably exhausted after the opening tag. The action picked up well towards the finish. The finish is lame because you want to see a winner or loser. They did the DQ finish because they didn't want to have Corbin take the pin as the MITB holder and having Nakamura lose here would have been dumb. It's possible this feud continues to SummerSlam too. I thought WWE might do Styles/Nakamura there, but saving that is fine with me.
After the loss, Corbin smiled about it, grabbed the briefcase and left before Nakamura got back to his feet. Corbin went back in the ring and hit Nakamura in the ribs with the case. Corbin hit the End of Days slam on Nakamura.
Analysis: Cheap heel attack was a good idea because Corbin needs more heat. Crowds aren't reacting to him that much. Going after Nakamura will get him that heat.
A commercial aired for SummerSlam on August 20.
Kevin Owens was shown getting ready backstage.
Video package aired to set up the 5-Way women's elimination match.
Naomi, the Smackdown Women's Champ, made her exhausting "feel the glow" entrance because she's on commentary for the match.
Becky Lynch made her entrance first to a nice ovation. Tamina entered to no reaction while she had no facial expression. Natalya was up next to some boos. Phillips noted that this is Natalya's 38th WWE PPV match, so she's just one PPV match behind Trish Stratus for the record. Lana was up next and she got the biggest reaction so far. Charlotte Flair was up last and she got a louder reaction than any of the other girls as expected.
Fatal 5-Way Elimination Match: Charlotte Flair vs. Natalya vs. Lana vs. Becky Lynch vs. Tamina
The winner of this match gets a Smackdown Women's Championship match against Naomi at SummerSlam.
Charlotte hit Lana with chops early on and then Lana bailed to the floor. Tamina went after Becky early. Lynch ran the ropes, Lana pulled her out of the ring and sent Lynch into the side of the announce table. Lana kicked Natalya in the head and pulled her out of the ring. Tamina and Lana went after Charlotte together. Charlotte slipped out of a Tamina slam attempt and yanked her down by the hair. Lana missed a kick by a few inches and did another one, so Charlotte sold it the second time. Lana hit a running knee attack on Charlotte in the corner. Lynch back in the ring with a Bexploder on Lana and Charlotte hit an exploder on Tamina. That left Charlotte and Becky to fight it out in the ring with a neckbreaker by Charlotte. Natalya back in with a low dropkick on Charlotte for a two count. Lynch with leg lariats and a Bexploder on Natalya, plus another Bexploder this time for Lana. Tamina blocked a Bexploder and hit a superkick to Lynch. Tamina with a Samoan Drop on Natalya. Charlotte with a clothesline on Tamina. Natalya inside cradle on Charlotte and a hard clothesline. Natalya locked in the Sharpshooter submission on Charlotte. Lana went into the ring and hit a bulldog on Natalya followed by a pin on Charlotte for two. Lynch back in the ring, Disarmer submission on Lana and Tamina back in with a superkick to save Lana. Tamina with a Samoan Drop on Lynch and Tamina hit a Spear on Charlotte while on the apron. Lana pinned Lynch for a two count as Lynch turned it into a Disarmer submission and Tamina saved again. Lynch with the Disarmer on Tamina and Tamina tapped out.
Tamina eliminated by Becky Lynch by submission
Lana went after Lynch, Lynch slapped on the Disarmer and Lana tapped out.
Lana eliminated by Becky Lynch by submission
Natalya back in the ring, she did the ROLLUP OF DEATH~! with tights and eliminated Lynch.
Becky Lynch eliminated by Natalya by pinfall
Charlotte with a boot to the face on Natalya for a two count. Natalya did an armbar. Charlotte countered by lifting her up over her head and hit a sitout Powerbomb for a two count. That was a great spot. Charlotte up top for the moonsault and Natalya got her knees up to block it. Natalya sent Charlotte back/neck first into the turnbuckle and covered her to win it after 12 minutes.
Charlotte Flair eliminated by Natalya
Winner: Natalya
After the match, Naomi wanted a handshake and Natalya walked away because she's a heel.
Analysis: **1/2 It was okay with an ending that I liked. It was a bit clunky in spots because the offense of Lana just doesn't look that good. Tamina is also not the smoothest in-ring performer. I was hoping that Lana and Tamina would get eliminated early leading to the other three getting more of a chance to build to an exciting finish. I was fine with how they did it, but perhaps structuring the match in another way would have helped. I'm happy my favorite woman in the match won even though I picked Charlotte. I only picked Charlotte because I figured they would have her get this win after she didn't get Money in the Bank. I'm surprised Charlotte hasn't been pushed more on Smackdown.
Commercials aired for things I wasn't paying attention to because I was writing. One of them was about WWE's charity work.
Video package aired to set up AJ Styles vs. Kevin Owens for the US Title.
Kevin Owens made his entrance to mostly boos and he looked angry. Shoutout to the fan with the "Savio Vega is Kwang" sign. I love signs that are relevant to shows from 20+ years ago.
AJ Styles entered to a big ovation as he walked out with the US Title.
United States Championship: AJ Styles vs. Kevin Owens
Styles with an armdrag sent Owens to the floor. Owens took his time to get back in the ring. They went back to the floor with Styles whipping Owens into the barricade. Styles missed an attack against the barricade because Owens sent Styles groin first into the ring post. You can't kick a guy in the groin, but shoving them groin first into the ring post is fine. Owens slapped on a chinlock and said he was the Phenomenal One. After about a minute of that, Owens ran the ropes going for a senton splash and Styles got his knees up. Styles went for his strike attack and Owens hit a DDT for a two count. Styles took down Owens with a stiff clothesline and a running forearm attack. Styles picked up Owens with a pick up into a face plant slam for two. Owens with a pick up that sent Styles into the top rope. Styles hit a Ushigoroshi for a two count that Tom calls the fireman's carry neckbreaker. Styles with a springboard 450 Splash that Owens blocked with his knees up. Owens got a two count form that.
Owens with a cannonball in the corner for a two count. Owens set up Styles on the top rope. Styles went for the sunset flip Powerbomb, but Owens held on. Styles put Owens on his shoulders and hit a spinning slam for a two count. Styles up top, so Owens leaned into the ropes to knock him down. They battled by the turnbuckle, Styles went for the Phenomenal Forearm, Owens saw it coming and Owens tripped up Styles on the apron. Owens sent Styles into the apron and hit a double knee attack on the left arm/shoulder of Styles. Pele Kick from Styles put both guys down. Owens picked up Styles and tossed him into the official, so the ref went down. Styles back up, so Owens hit a superkick. Styles avoided a Popup Powerbomb and slapped on the Calf Crusher submission. Owens fought out of it and applied a Crossface. Styles applied a Crossface on Owens. Owens countered into a pinning sequence where the shoulders of both guys were down it looked like or maybe it was just Styles. The groggy ref counted the pinfall with Owens announced as the winner. It went 16 minutes.
Winner by pinfall and new US Champion: Kevin Owens
Analysis: ***1/4 It's a good match as expected, but a bit disappointing because of who was involved. The finals left me asking "huh?" instead of praising it for creative. It reminds me of their Backlash match finish with Styles caught in the announce table. They didn't have enough exciting nearfalls to get the crowd into it more. Like I said, I expected a better match. I don't understand the reason for the title change. It wouldn't surprise me if Styles won it back soon. Perhaps it is just WWE wanting to book more title changes. I'm not sure the reason for it. It just didn't feel that exciting to me.
Owens celebrated with the US Title. There was no mention of the possible double pin by the announcers. No replays shown. That was weird.
Jinder Mahal was shown warming up backstage. The Singh Brothers were there with him telling him that they won't be with him. Mahal was confident he was going to win.
Analysis: When I heard the Singh Brothers say that I thought "heels lie" immediately.
John Cena vs. Rusev video aired. This is just one of several Hero American vs. Evil Foreigner feuds on Smackdown right now.
Rusev made his entrance. There's a mini stage on the top of the ramp with a holder for the flag.
They showed the foreign announcers representing Portuguese, Russian, Japanese (hey Funaki), Mandarin, Hindi and the French announcers. Ray Rougeau is back working for the French announce team.
Rusev was waving the Bulgarian flag. An attendant at ringside placed the Bulgarian flag on one of the poles.
John Cena made his entrance to mostly cheers with some boos. He brought the US flag to ringside and the attendance placed the flag on the pole on the other side of the ring.
Flag Match: John Cena vs. Rusev
To win the match you have to grab the flag and place it in the stand that's on top of the ramp.
Rusev attacked Cena early and hit a shoulder tackle while Cena was against the turnbuckle. Rusev did the slowest climb to the top rope, so Cena grabbed him and dropped him with a bulldog-like move. Cena tried to climb up, but Rusev stopped him. Slow climb attempts for both guys. Rusev hit a suplex. Hard clothesline by Rusev. There's a ref in the ring even though there are no pinfalls, submissions or rules. Running splash by Rusev on Cena in the corner. Rusev with another slow climb, so Cena grabbed him. Cena hit his shoulder tackles and spinning slam followed by the five knuckle shuffle fist drop for two. Rusev came back for a spinebuster. Rusev sent Cena out of the ring. Rusev's climb this time was even slower than before, so Cen punched him down with punches. Cena went for the leg drop off the top, but Rusev countered into a Powerbomb for two. Rusev grabbed the Bulgarian flag off the pole. Cena hit a dropkick, Rusev missed corner charge in a comical way and Cena hit the Attitude Adjustment. Cena nearly got his flag, Rusev put him on his shoulders and Cena countered into a rollup into the STF submission. Rusev tapped out, but there are no submissions in this match. Cena climbed up and grabbed the US flag at around ten minutes into it.
Rusev got back to his feet and nailed Cena with a kick to the head. Rusev walked out of the ring with the flag, so Cena jumped off the apron and knocked him down. Cena whipped Rusev into the steps at ringside. Cena tried to go up the ramp, but Rusev stopped him. Rusev had some blood on his right arm, so the ref put on the dreaded white gloves. Cena sent Rusev face first into video screen by the ramp. Cena charged at Rusev and Rusev hit a fallaway slam on the ramp. Rusev grabbed a table that just happened to be near the staging area. Rusev set up the second table beside the first one. Rusev set up for the AA off the podium onto two tables, but Cena fought out of it. They did a double clothesline spot that knocked down both guys. Cena grabbed the flag and went up the ramp. Rusev grabbed the stand and hit Cena in the back with it. Rusev slapped on the Accolade submission on Cena on the ramp. Rusev grabbed the Bulgarian flag, did a really slow climb and went to plant his flag, but Cena was there to block it. Cena picked up Rusev, Rusev dropped the flag, Cena told him to elbow, Rusev did the elbow and they went down the steps. Rusev went for the Accolade again. Cena picked him up, Cena climbed up the podium and hit the Attitude Adjustment through two tables on the stage. Cena planted the US flag to win the match after 20 minutes.
Winner: John Cena
Analysis: **1/4 It was okay for what it was. I thought it went too long. They didn't need to go 20 minutes. If it went 10-12 minutes it would have been better because so much of it was spent with slow climbs that were boring to watch. If anybody watching this show thought that Cena wasn't winning this match then you haven't watched enough WWE in your life. The table spot at the end was completely unnecessary for the story of the match, but it was done to pop the crowd and in that sense it worked. I feel like this is a one month feud and Cena will move on to challenge for the WWE Title. I'm not sure what's next for Rusev, but I think he is hurt by the lack of Lana at his side.
A commercial aired for SummerSlam on August 20. It's in Brooklyn and will run for at least four hours.
Fashion Files
Tyler Breeze and Fandango were in their office again. Breeze said he's been a hell of a partner and Fandango said he's been a hell of a friend. Konnor and Viktor showed up to say it was them the whole time. Fandango noted that they were at Eddie Money last week. Viktor said that they were the ones that destroyed their little horse and then when Fandango showed it to them The Ascension reacted as if it was hideous. Fandango told them to leave. The lights went out in the office. Fandango had a flash light and showed Breeze on the ground. Fandango got knocked down too. There was a light on the ground showing both guys down. Fandango was pulled away. It said "To Be Continued" and that ended it.
Analysis: No resolution to this storyline even though it was teased that it would be solved at Battleground.
Mike and Maria Kanellis entered for the match against Sami Zayn. Decent reaction for Zayn even though he's not pushed well.
Sami Zayn vs. Mike Kanellis (w/Maria Kanellis)
Zayn was in control a headscissors, chops and a clothesline over the top to the floor. Zayn tried a diving attack outside the ring, but Maria pulled Mike out of the way. Outside the ring, Mike hit him with a punch to the face. Mike and Maria were blowing kisses to eachother leading to a Mike punch for a two count. Kanellis clotheslines in each corner followed by a running boot to the face for two. Mike took a break for a kiss from Maria. Mike with a knee to the back rest hold. Zayn made the comeback with clotheslines followed by a back body drop. Zayn sent Kanellis over the top to the floor. Zayn hit a somersault dive over the top to take out Mike on the floor. Zayn did his incredible DDT out of the corner as the crowd came alive a bit more. Zayn went for a suplex, but Maria was in the ring again (like on Smackdown) to stop it. Bennett went for a move, Zayn slipped out and hit the Exploder Suplex into the corner. Zayn hit the Helluva Kick for the pinfall win after seven minutes.
Winner by pinfall: Sami Zayn
Analysis: ** Decent with little heat. I like Zayn winning because he doesn't win enough, but it's also the 50/50 booking that WWE does too often. The crowd had a tough time getting into it because they aren't used Mike's matches. Mike is pretty average and there are several guys in NXT much better than him, yet there he is on PPV because of the gimmick he has with his wife.
The commercial aired for a Pure Country, Pure Heart movie that includes Shawn Michaels in it.
Talking Smack airs after Battleground with Renee Young and Jerry Lawler hosting Kevin Owens, Natalya and Jinder Mahal or Randy Orton.
Video package aired for the Punjabi Prison main event.
The Punjabi Prison was around the ring. There's a 16 foot high structure on the inside that has doors on it. Once you get out of that bamboo cage, you have to climb out a 20 foot high structure to win the match.
Jinder Mahal, the WWE Champion, made his entrance alone. He was booed. The English announcers said let's hear from the Hindi announcers, so we heard from the Hindi announcers, who I can't understand.
Randy Orton made his entrance. There was a decent reaction for him, but not very loud. Slow walk to the ring by Orton.
WWE Championship Punjabi Prison Match: Jinder Mahal vs. Randy Orton
It started at 10:41pm. Mahal knocked down Orton with a shoulder tackle. Mahal told the ref to open a door that had a 60 second clock. Orton prevented Mahal from getting out. Orton got close to getting out, but Mahal prevented it and nobody got out. That means the door is shut for good, so three doors remain. Mahal hit a double knee attack to the arm. Mahal bent Orton's around part of the cage. Mahal asked for another door to open, Orton prevented him from getting out and Orton hit a fallaway slam. They battled for another minute and the door was shut after nobody got out during the allotted 60 seconds that the door was open. The crowd is barely making any noise as Orton sent Mahal into the cage. Mahal tried to climb out, but Orton prevented that. Orton sent Mahal back first into the prison structure. Orton teased a DDT and Mahal fought out of it with a back body drop. Orton hit a suplex that sent Mahal into the wall of structure. Orton called for a third door to open. Mahal prevented him from getting out. Orton uppercut. Mahal stopped Orton from getting out and that third door closed. It's about ten minutes into it. The crowd has been dead for most of this and I don't blame them.
Orton hit a powerslam followed by the draping DDT with JBL saying "vintage Orton" for it. Orton asked for a door to open and he wanted a RKO. Mahal blocked that and Mahal hit a knee to the face. Mahal went for The Khallas and Orton countered into a RKO. The Singh Brothers showed up from under the ring and pulled Mahal out of the ring. The door closed before Orton could get out. Orton climbed up the inner cage while Mahal started to climb the outer structure. Orton stepped over to the outer structure, so they were both near the top of the outer structure. They battled near the top and went lower as they exchanged blows. Orton sent Mahal face first into the outer structure. The Singh Brothers pulled Orton down. The Singh boys held Orton and Mahal hit a superkick to knock Orton down. Mahal did another slow climb Orton fought against the Singh Brothers by sending one of them into the cage and hitting a suplex on the other brother. Orton pulled Mahal down again. Orton hit another suplex on a Singh Brother on the floor. Orton tossed Samir into the cage. Mahal had a kendo stick, so he hit Orton in the back with it a few times. Orton drove Mahal back first into the outer structure. Orton grabbed a kendo stick from under the ring and hit Mahal with it repeatedly. Orton climbed up the structure again. Samir went up on the outside of the structure to prevent Orton from getting out. Orton stopped him with punches. Orton punched Samir a few times and Samir bumped onto the announce table below and the table broke. Huge bump.
Mahal got back into the match by climbing up beside Orton. They went back down to the bottom of the structure and on the floor. Orton hit Mahal with a DDT on the floor. Orton had a steel chair. Orton hit Sunil in the back with the chair. Chair to the ribs and the back by Orton. More chair shots to the ribs by Orton. More climbing from Orton, Sunil got back up to stop Orton and Orton kicked him down. Orton was midway up the structure, Mahal's music started and The Great Khali walked out shirtless. Khali climbed up part of the structure. Khali choked Orton around the neck. Mahal climbed up the structure while Khali held Orton by the throat and Mahal went back down. Mahal's feet touched the floor to give him the win after 28 minutes.
Winner by escape: Jinder Mahal
Analysis: ** Boring match. Two stars may be generous, but I do have respect for the wrestlers putting in the effort try to tell an entertaining story. Plus, Samir deserves some praise for that table bump. That was a predictable cheap win for Mahal even with a structure designed to keep people out. It went too long at nearly 30 minutes. The crowd wasn't into it much at all because they could barely see anything in the ring and this feud has been boring for a long time. The Great Khali showing up to prevent Orton from winning doesn't excite me in any way because Khali is in his mid-40s and wasn't good when he was longer. Please don't book Khali in a match going forward. Three cheap wins for Mahal over Orton. That's fine with me, but it doesn't excite me for WWE Title matches anymore.
Post match, Mahal hugged Khali. Mahal celebrated with Khali and they stood in the aisle together with the WWE Title. JBL said that Mahal was becoming a great WWE Champion while Orton was down around ringside. Mahal celebrated some more as the show ended at.
Analysis: This result should mean that Mahal vs. Orton is over as a rivalry and Mahal might face John Cena as the next feud for the WWE Title. These Mahal matches bore the hell out of me at this point, so I hope the reign doesn't continue much longer.
The PPV had a run time of 3 hours, 11 minutes.
Five Stars of the Show
1. Kofi Kingston/Xavier Woods
2. The Usos
3. AJ Styles
4. Kevin Owens
5. Natalya – I couldn't think of a fifth and I'm happy for her, so she gets the spot.
Final Thoughts
It gets a 4 out of 10 from me.
That's my lowest score of the year. I loved the New/Day Usos tag match. It was the highlight of the show by a lot. I thought Styles/Owens was fine, but I didn't like the ending. The Cena and Orton matches both dragged on too long. Neither match excited me at all.
WWE PPV Rankings 2017 (Scores on the 1-10 scale)
Royal Rumble – 8
Great Balls of Fire – 7.5
Backlash – 6.5
WrestleMania 33 – 6.5
Extreme Rules – 6
Payback – 6
Fastlane – 5
Battleground – 4
———
Thanks for reading this review. My contact info is below.
Email: mrjohncanton@gmail.com
Twitter: @johnreport