Impact Wrestling Review – September 15, 2022
This week's edition of Impact Wrestling was loaded with in-ring action, including two championship matches. Will the number 1 contender for the X-Division Championship, Mascara Dorada, ride the wave of momentum and snap the streak of Mike Bailey?
After turning down the services of Honor No More last week, Impact World Champion Josh Alexander teams up with Rich Swann for a shot at the Tag Team Championships. Will the Walking Weapon become a double champion or will Honor No More make him pay for declining the offer to join them? Also on Impact, two of the biggest tag teams on the planet clash, as the Good Brothers take on the Motor City Machine Guns. Can Anderson and Gallows rebuild their momentum or will Shelley and Sabin continue their hot streak of late?
On last week's episode of Impact Heath was finally stopped in his tracks, falling to Eddie Edwards. Edwards once again tried to convince Impact World Champion Josh Alexander to join his stable, but was met with an emphatic "No". Honor No More did not take kindly to this and left Heath and Alexander laying at the end of the show. Meanwhile, in the tag team division, Aussie Open marked their debut with a victory over Bullet Club. They will have their sights set on challenging for the Impact World Tag Team Championships in the near future. Speaking of debuts, Yuya Uemura vanquished Honor No More's Kenny King in his first match in Impact Wrestling. Also, Mickie James was victorious in her first of her 'sudden-death' matches, as she looks to run through the Knockouts locker room. I'm looking forward to more excitement as we continue to build to Victory Road (next Friday) and the Bound for Glory PPV.
Impact Wrestling 15/9/22 from The Factory: Dallas, Texas
The opening video focused on Honor No More's beatdown on Josh Alexander from last week's show, as well as previewing the big tag team match between the Good Brothers and the Motor City Machine Guns. We are kicking the show off with another X-Division title match. The championship has been featured prominently since Bailey became champion.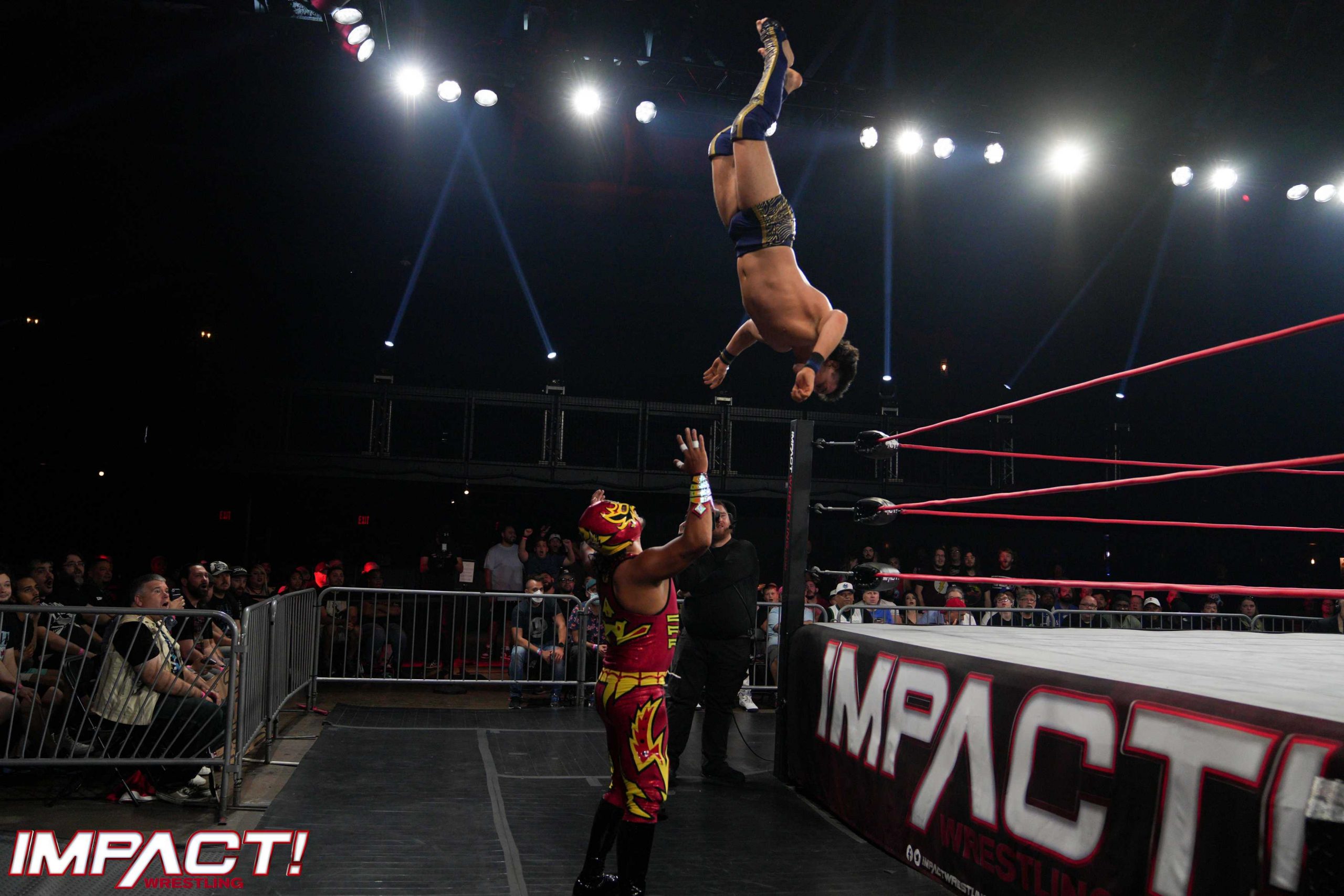 Match #1: X-Division Championship: Mike Bailey (c) vs Mascara Dorada
The number 1 contender, Dorada, is out first followed by the fighting champion Bailey, to his usual great reception. There is a bunch of counter wrestling to kick off the match, which ends in a face off. Dorada counters a Hurricanrana into a cartwheel to show Bailey that he won't be easily beaten tonight. Dorada gains the advantage with a series of chops and a bulldog takedown. Dorada takes to the top rope and hits a dropkick, sending Bailey to the outside. Dorada slides out of the ring, but Bailey quickly slides back in and springboards over the top and hits a flying arm drag. Cool spot. They exchange hard chops to the chest on the outside of the ring and Dorada arm drags Bailey into the guard rail. Dorada flies through the air and takes down Bailey with a suicide dive through the ropes. Dorada throws Bailey back into the ring at the count of 6 and looks for a stomp off the top rope but misses. Bailey rolls Dorada through for a couple of 2 counts. Bailey turns a counter move into a painful-looking leg lock and Dorada is a few metres from the ropes. Dorada stretches and eventually breaks the hold. In amongst the action the referee's shoe has comically fallen off. Bailey hits a twisting shooting star press for a 2 count. Bailey measures Dorada for a kick but Dorada ducks and turns it into a backstabber. Both men are slow to their feet but Dorada gets up for the Dorada Driver. Bailey wriggles free but Dorada whips him over the top rope. Bailey holds on so Dorada slides out of the ring through his legs. Bailey nails him with a huge springboard moonsault to the outside. Bailey measures Dorada for the spin kick in the corner but Dorada catches his leg. Dorada with a big chop to the chest of Bailey. Bailey responds with an enziguiri and climbs to the top. Dorada is quick to recover and hits an enziguiri on the top rope! They fight on the top rope and Dorada nails a hurricanrana as Bailey is positioned precariously on the middle rope. Dorada gets a close 2 count. Dorada attempts a moonsault from the middle rope but Bailey counters with a drop kick. Bailey nails a huge kick to the head, followed by a superkick on Dorada. Bailey nails his spin kick in the corner then finishes Dorada off with Ultima Weapon for the win at the 8-minute mark.
Winners by pinfall and STILL X-Division Champion: Mike Bailey
Analysis: ***1/2 The perfect way to kick off the show and set the tone for the night with a hot crowd. Bailey has now defended his championship 8 times since he won it in mid-June. It feels like a lot more than that though. He is almost the safest choice in Impact for a solid match that hypes the crowd and goes around the 10-minute mark. I really enjoyed this match as the counter wrestling was pretty strong and it wasn't the usual simple counters that we see on a weekly basis. They had some creative spots and used the outside well. I am impressed with Dorada and am glad to see him featured prominently already and given solid in-ring time to show what he can do.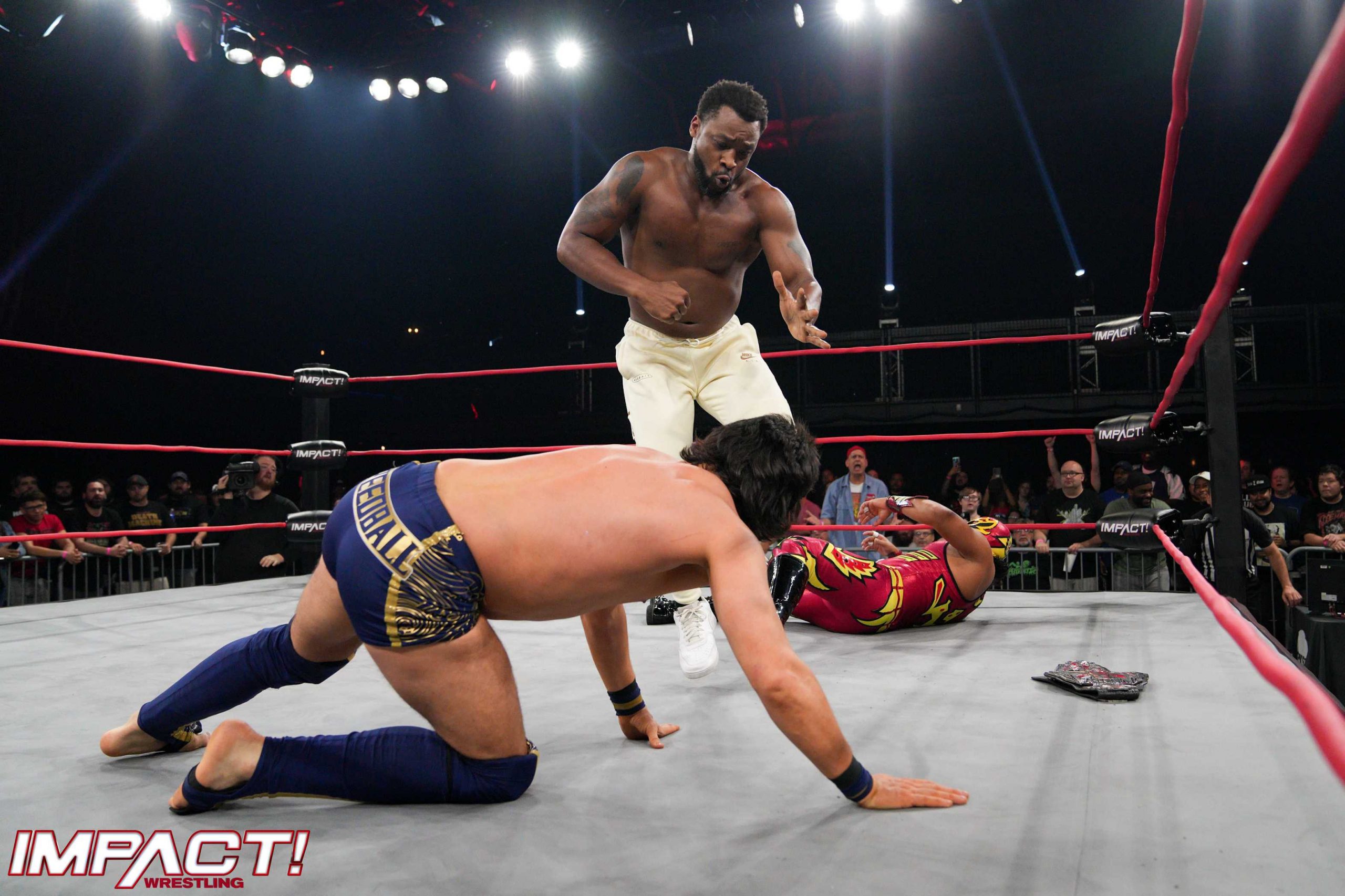 After the match, the two combatants bow in a sign of respect. Kenny King comes down to the ring and nails them both from behind. He sends Dorada out of the ring and nails Bailey with the Royal Flush.
Analysis: King is obviously frustrated after the controversial loss he suffered a couple of weeks ago against Bailey. The future of the X-Division will be announced later tonight by Scott D'Amore. I have seen spoilers and it's good!
There is a follow up vignette to last week's creepy promo from Violent by Design and the figures in yellow are back. Eric Young asks one of them to step forward and say his name. The man in yellow states "Eric Young" and Deaner flips out and attacks him. Wrong answer I guess. Young asks another man to step forward. This time the man answers "the Designer" to the question. Young is happy with that. He says they are all here to witness the revival of violence. Young asks another big man to step forward. He asks him what his name is and the man replies "Justin". Deaner beats him down because VBD seem to only be working in code names now. Young asks another giant man to step forward. He stammers a bit and then says his name is violence. Then a woman answers that her name is violence, followed by all the others. They all start chanting "I am violence".
Analysis: That was really quite odd but at least it is intriguing and hopefully it leads to a revival of the group.
Scott D'Amore is backstage with Mike Bailey who looks worse for wear. Bailey says all things considered, he's doing fine. D'Amore puts over Bailey and the quality of his matches of late. D'Amore says that at Victory Road he has a great challenger for him- Delirious from Ring of Honor. D'Amore says that the X-Division has been so hot lately that at Victory Road there will be another X-Division match: it's the return of the Triple Threat Revolver. Trey Miguel, Kenny King, Black Taurus, Alex Zayne, Laredo Kid, Yuya Uemura, Mia Yim and the returning Frankie Kazarian will face-off for a shot at Bailey at Bound for Glory.
Analysis: I have never heard of Delirious so I'll judge him on the night. (Editor's Note: Delirious was in ROH for a long time and was a booker there as well as a wrestler.) The Revolver match is a mix between an elimination match and a Gauntlet match. 3 competitors start off (typical Triple Threat rules) and when one is pinned or submits, then another enters the match until there are no more entrants. No more than 3 wrestlers can be in the match at once. It's a solid lineup of 8 wrestlers and I think Kaz or Miguel will win.
Commentators Tom Hannifan and Matt Rehwoldt ran down a few matches from Victory Road as well as the Tag Team Championship match later on, as well as the main event between the MCMG and the Good Brothers.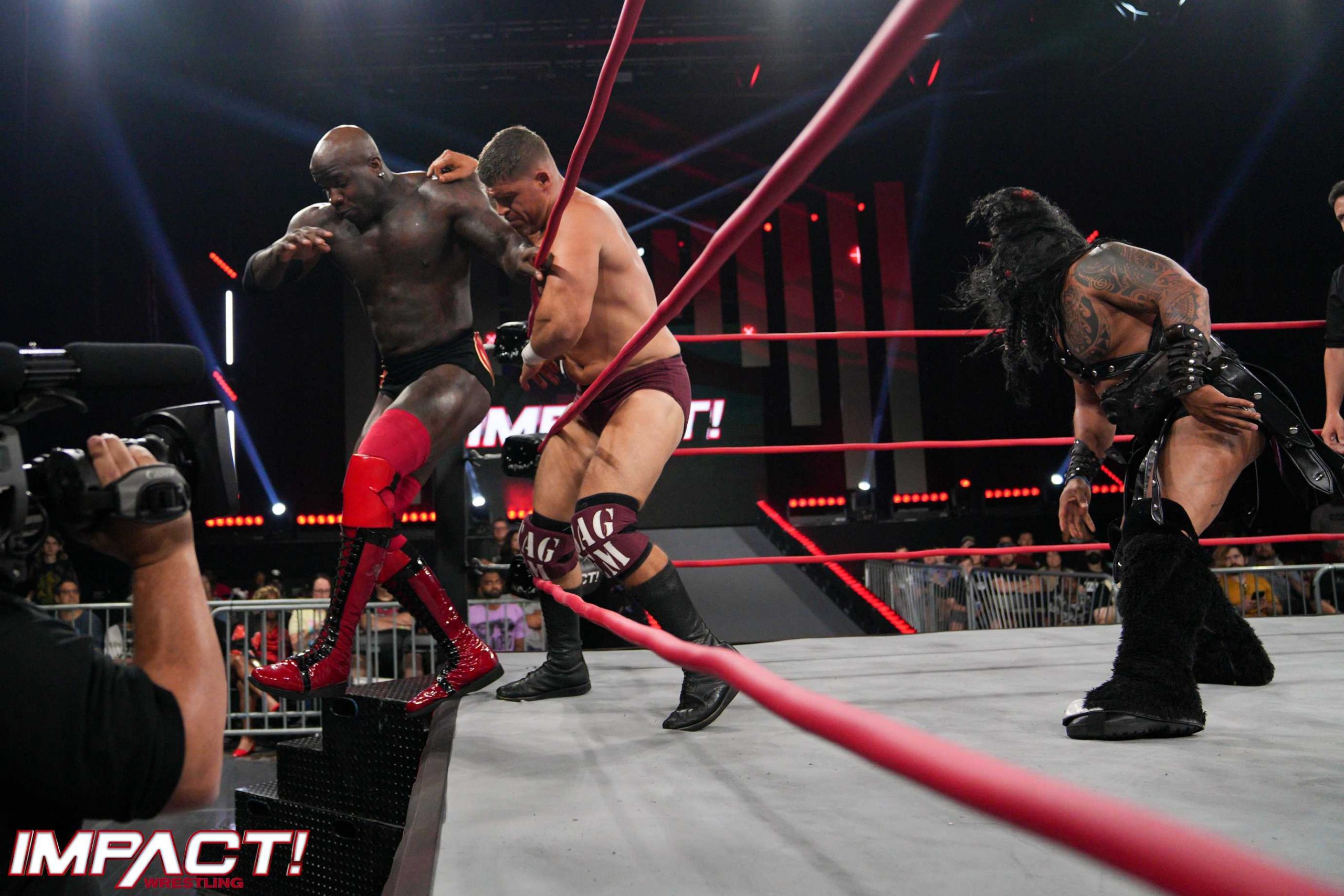 Match #2: Decay (Black Taurus & Crazzy Steve) vs Steve Maclin & Moose
This will be an interesting match-up as there has been friction between Moose and Maclin, ahead of their Barbed Wire Massacre match at Victory Road. The face team enter first followed by Maclin and Moose separately. It's good to see Moose back in action. He has a great ring presence and should be featured more often in big matches. I hate his finishing spear though! It's going to be Maclin and Crazzy Steve to kick things off. Steve vs Steve! Crazzy Steve starts off the match by biting Maclin's face! He quickly tags in Taurus and Taurus chokeslams his tag team partner onto the back of Maclin as we go to an early commercial break.
(Commercial break)
Back from the break and Taurus hits a running kick on Maclin in the corner. It's odd to see the heel in trouble after the commercial break. Moose nails Taurus from the apron and Maclin tags him in. Moose stomps away on Taurus in the corner and tags Maclin back in. Maclin stomps Taurus in the corner and he looks for a tag to Moose who is taunting a fan. Taurus bumps Maclin into Moose who flies off the apron and Taurus rolls up Maclin for the win! The match went 90 seconds.
Winners by pinfall: Decay
Analysis: * That was not only a surprising result but the fashion it happened in was also shocking. It was more of a storyline than a match. It plays up the tension between Moose and Maclin, who were booked early on as being on the same page when they were attacking Sami Callihan, but now that they are in a Triple Threat match at Victory Road, they are not as chummy.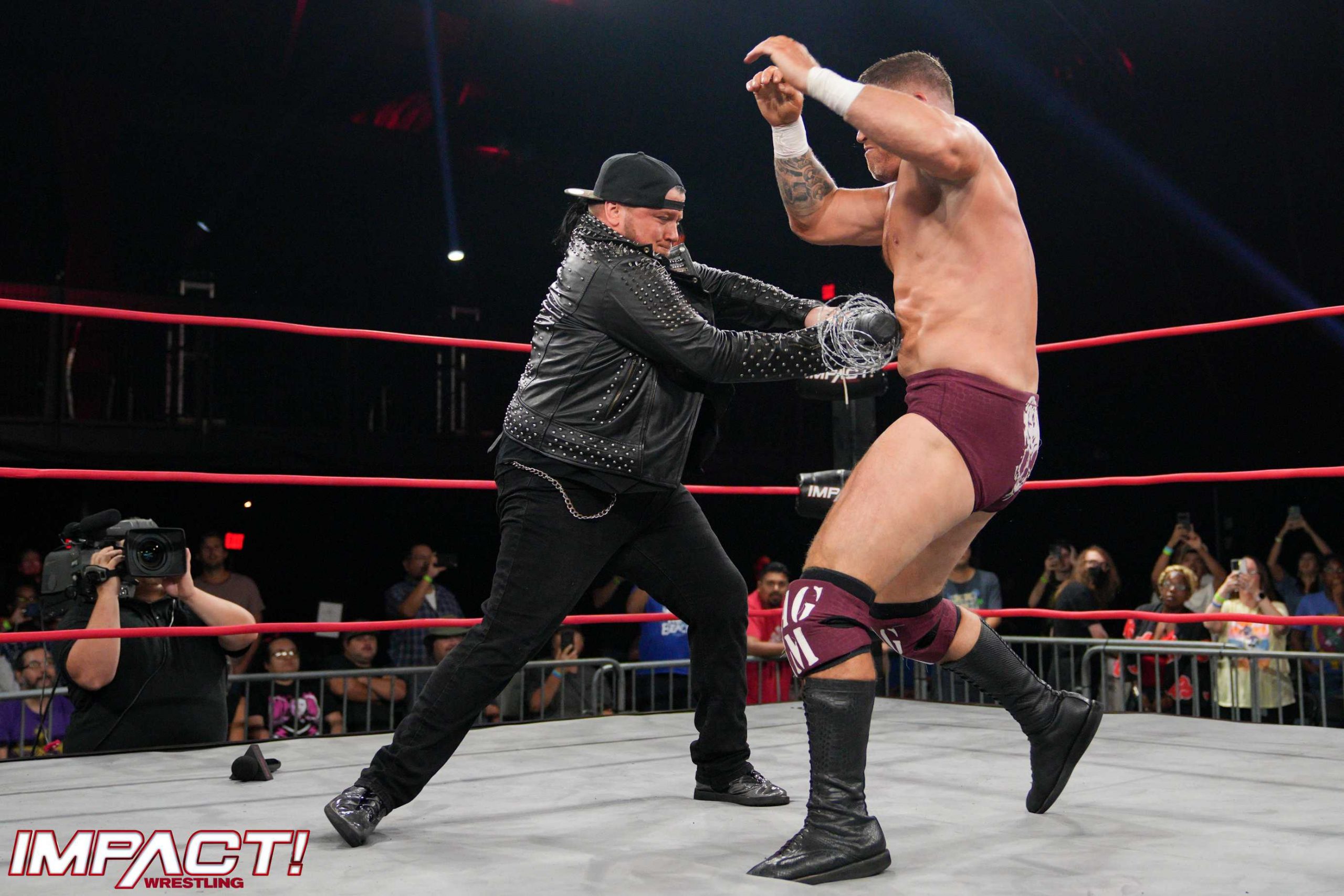 There's no time for Decay to celebrate as here's Sami Callihan who is up in the stands. Callihan shows phone footage of Moose saying that he's going to screw Maclin over at the first chance he gets. Maclin says that means nothing and it's in the past. Maclin says that there's nothing that will stop him and Moose from destroying Callihan at Victory Road. Then we see video footage of Maclin talking on the phone saying he will get Moose before Moose turns on him. Back in the ring, Moose isn't happy with that and Moose and Maclin start brawling. Maclin is sent into the guard rail and then Callihan shows up and finds a barbed wire baseball bat under the ring. Maclin runs at Callihan but takes down Moose, who is back up on the apron. Callihan nails Maclin in the ribs with the bat. Callihan tries again but Maclin escapes out of the ring. Callihan stands tall as the segment ends.
Analysis: There was some D-grade cheesiness there but we got the point. It's now every man for himself at Victory Road.
There were highlights of last week's win by Chelsea Green over Taya Valkyrie. Backstage, Rosemary, Valkyrie and Jessicka were arguing about last week's disappointing performance. Taya said the problem is between Jessicka and Rosemary. Rosemary said Jessicka still needs to prove herself and Taya says that she has an idea.
Analysis: Thankfully, that was short and sharp. They're wasting Valkyrie in this stable.
Match #3: Alisha vs Killer Kelly
It's squash time and Tasha Steelz is on commentary to watch firsthand. It is impressive to see secondary women's feuds in Impact, whereas the women in AEW barely get 5 minutes per weekly show. Alisha is on the offensive early on and fires up with some forearms to Kelly. Kelly takes advantage with a shot to the throat and whips Alisha into the corner. Alisha avoids an attack in the corner and jumps over the top rope to the ring apron. Kelly slaps on a sleeper hold but the referee breaks it up. Kelly hits a delayed Fisherman's suplex. Kelly bounces Alisha's head off the turnbuckle and then misses an attack in the corner. Alisha tries for a backpack stunner but Kelly puts on the sleeper hold again. Kelly hits a pump kick and then locks in the Killer Clutch for the submission win after 3 minutes.
Winner by submission Killer Kelly
Analysis: ** It went longer than I thought and Alisha had a bit of offense and sold well. It was about continuing to establish Kelly as a dominant wrestler.
After the match, Steelz's tag partner Savannah Evans grabs a steel chair and attempts to go into the ring but Kelly stands on the chair. Steelz grabs the handle of the chair but Kelly drags her into the ring and they are now face-to-face. Steelz backs down and retreats with Evans.
Analysis: Another effective segment in a feud that is building nicely. This should be a match at Victory Road.
There was a corny musical vignette to introduce the Scottish wrestler Joe Hendry. It's not a very serious way to introduce a new signing to your audience but we will see how he goes. Here's a story om Impact's website on Hendry signing with the company.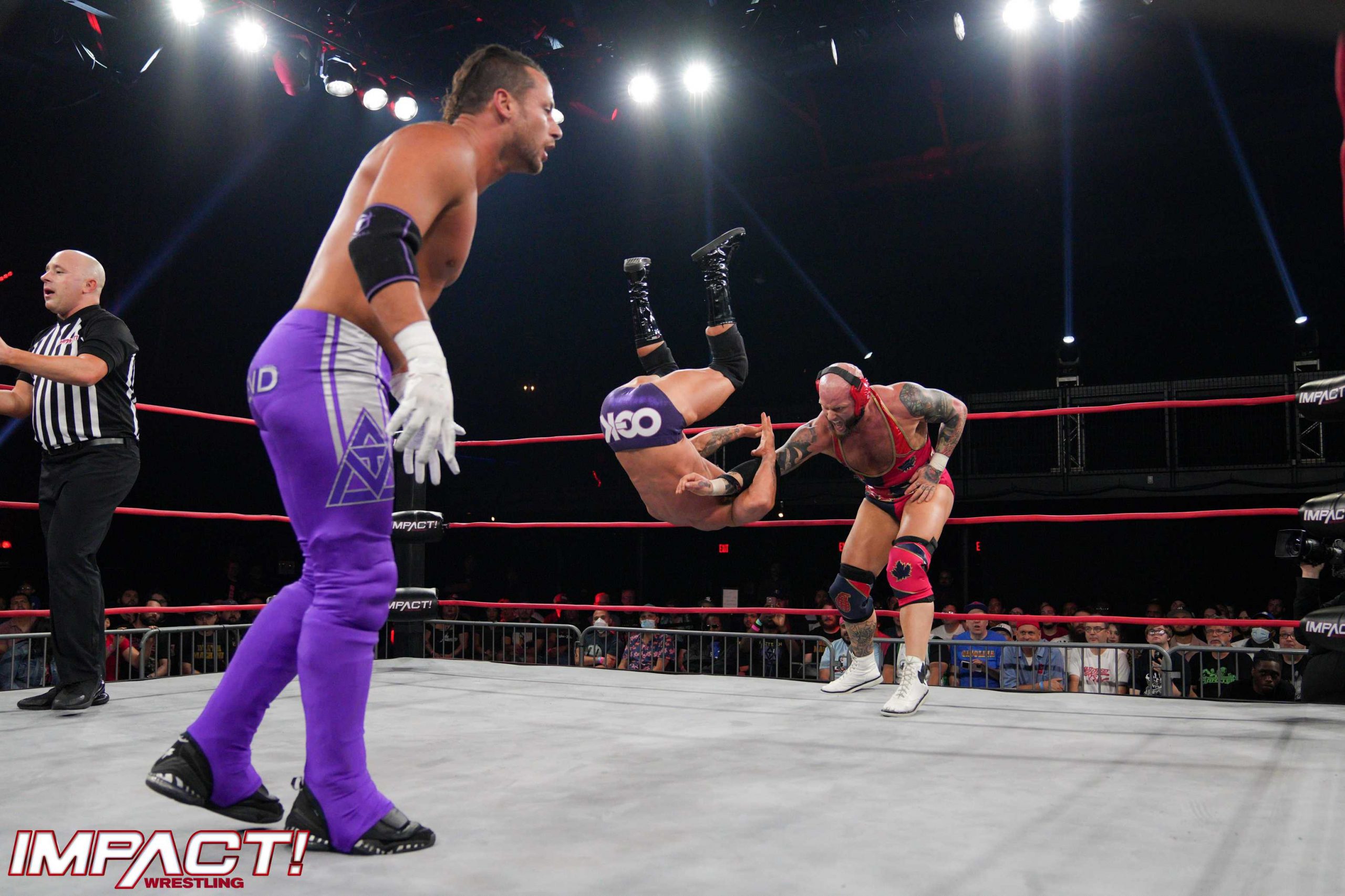 Match #4: Impact World Tag Team Championships: Matt Taven & Mike Bennett w/Maria Kanellis vs Josh Alexander & Rich Swann
There's a big fight feel here as the champ makes his way to the ring, followed by his partner and former World Champion, Rich Swann. The heel duo, representing Honor No More, are out last, accompanied by Bennett's wife Maria. Bennett and Alexander lock up to start the match and Alexander takes control early with a drop toe hold. He tags in Swann who goes to work on the left arm of Bennett. The face team hit a double team leg drop on Bennett but Bennett is able to back into his corner and Taven makes a blind tag. Taven mocks Swann's dancing (good, he should ditch it and his awful theme music!) and tries a backbreaker but Swann reverses into a hurricanrana. Taven takes a cheap shot at Alexander then drags Swann over to their corner and tags in Bennett. Bennett holds Swann down and Taven hits a slingshot elbow back into the ring. Bennett covers Swann for a 2 count then quickly tags Taven in. Another quick tag but Alexander has had enough and he tries to break up the heel domination. The referee backs Alexander into his corner so Taven takes the opportunity to choke Swann out from the ring apron. Swann eventually rolls over to his corner and tags in Alexander who is on fire. Alexander takes down Bennett and climbs to the top by Taven tries to interfere. Alexander knocks him to the floor and turns his attention back to Bennett in the ring. Alexander puts Bennett up on his shoulders, but Bennett makes it to the ropes and over the top to the ring apron. Alexander connects with a running crossbody that sends Bennett to the floor. On the outside, Taven runs at Alexander who launches him into Bennett. Alexander rolls back into the ring to break the count and tag in Swann. Swann takes out both members of HNM with a moonsault to the outside. Swann rolls Bennett back into the ring and they hit a superkick/German suplex combination. Swann covers for a 2 count and tags Alexander in. The champ goes for the C4 Spike but Bennett rolls out, right into the anklelock. After a brief struggle he tags in Taven who connects with some hard forearms. Taven blocks a German suplex and sends Alexander into Bennett who holds him against the ropes. Alexander hip tosses Bennett back into the ring but Taven connects with a springboard kick. The champions double team Alexander in the corner with a running forearm and Bennett hits a Death Valley Driver. Taven hits a running knee on Alexander and covers, but Swann is in to interrupt the pin. Taven attempts a lionsault but Alexander puts his knees up to counter. Alexander sets up Taven for the C4 Spike but Eddie Edwards runs down for the distraction. Edwards gets up on the ring apron but Alexander takes him down with a forearm. Taven uses this to his advantage and hits an enziguiri and tries for the Climax but Alexander shoves him to the mat and goes back to the anklelock. Maria then is up on the apron as the referee attends to her. Taven gets to one leg and flips Alexander into the ropes where Edwards smashes his face in with a kendo stick. Heath then runs in and nails Taven with the Wake Up Call and the referee calls for the DQ after 8 minutes.
Winner by disqualification AND STILL Impact World Tag Team Champions: Honor No More
Analysis: **3/4 The match was used more to further the storyline between Alexander and Edwards, as well as continuing to put doubt in Alexander's mind on whether he can trust Heath or not. Heath thought he could nail his finisher and sneak out before the referee saw, but he ended up costing Alexander & Swann a shot at the titles. It was cleverly booked and keeps everyone strong, but it certainly wasn't the stellar match that these four could've had.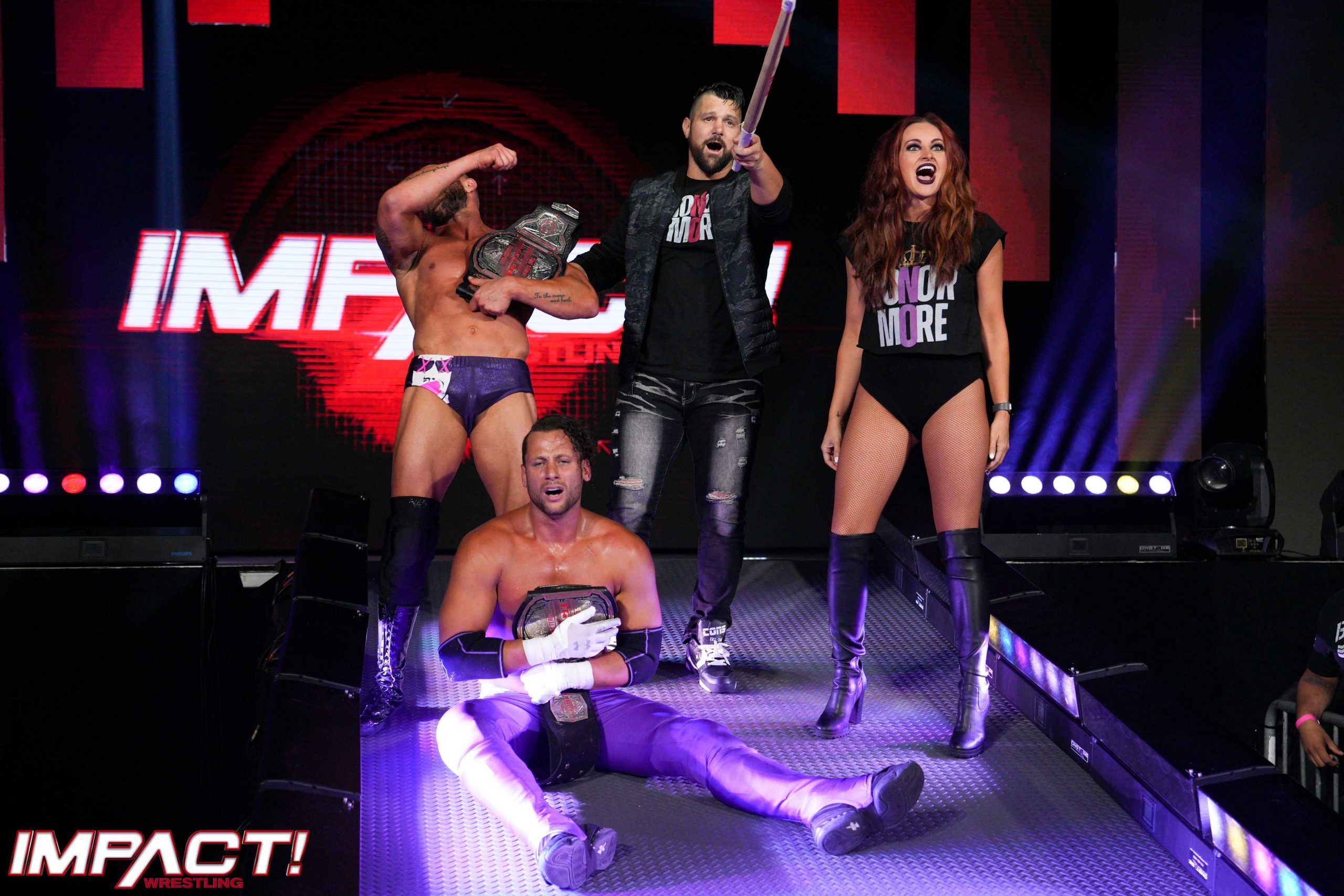 Post-match, HNM walk up the ramp with their titles whilst Swann and Alexander are down in the ring looking annoyed. Swann helps Alexander to his feet, then Alexander admonishes Heath for costing them the titles.
Backstage, Jordynne Grace is looking at a montage of photos of herself with 'Masha's Gonna Kill You' sprayer in big red letters all over it. Johnny Swinger and Ziggy Dice come into her locker room with a huge pizza box. They also hand her an envelope which contains a photo of Grace's supposed opponent for Pick Your Poison at Victory Road, Max the Impaler. Swinger jokes about Grace not making it to Bound for Glory and that Masha is going to kill her, and the champion doesn't take too kindly to that. Grace takes a piece of pizza and slaps Dice with it, saying next week she's going to kill him.
Analysis: I was hoping for a more recognised name for Grace's opponent for Victory Road but there it is.
Backstage, Heath is apologising to Swann and Alexander for what just went down. Swann says Heath is on a one-man mission and he gets it. Scott D'Amore comes into the conversation and sets up a 6-man tag team match for Victory Road: Edwards, Bennett and Taven vs Heath, Alexander and Swann.
Analysis: That will be a very good match next Friday.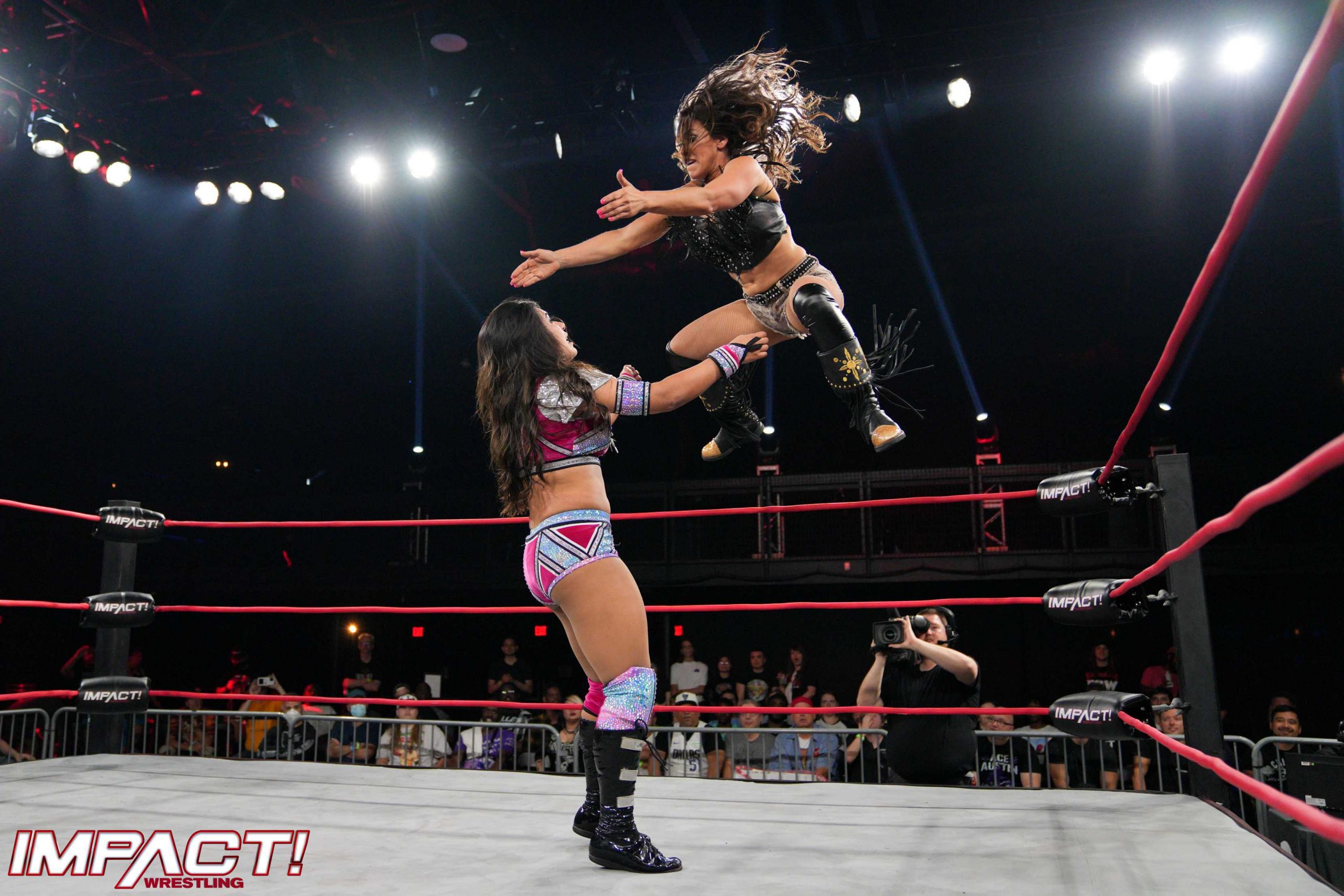 Match #5: Mickie James vs Hyan
It's the continuation of the Mickie James 'win or go home' challenge and here's another name I have never heard of, which shows you she isn't losing here. I consider myself pretty knowledgeable on wrestling in 2022 but there's a few names on tonight's show that I have never heard of! Hyan and James shake hands and lock up as the match begins. Hyan rolls through for a quick 1 count. James takes her down and flips over for a 2 count, showing she is also capable of a surprise pin. James takes Hyan down with a snapmare and a running kick. Hyan comes back with a Pumphandle drop and a legdrop for 2. Hyan tries for a suplex but Mickie hits a stiff right hand and a series of forearms. Hyan comes back with a knee and runs the ropes, but James takes her down with a flapjack. Mickie climbs to the top and tries a Thesz Press but it doesn't come off the way it should've. Mickie hits the MickDT for the quick win after 3 minutes.
Winner by pinfall: Mickie James
Analysis: *1/2 It wasn't as good as last week's quick match up for Mickie, as it was basically just spot after spot with no real psychology and a few sloppy moments. With less experienced opponents and short matches, I guess we can't expect all of these matches on her journey to be classics.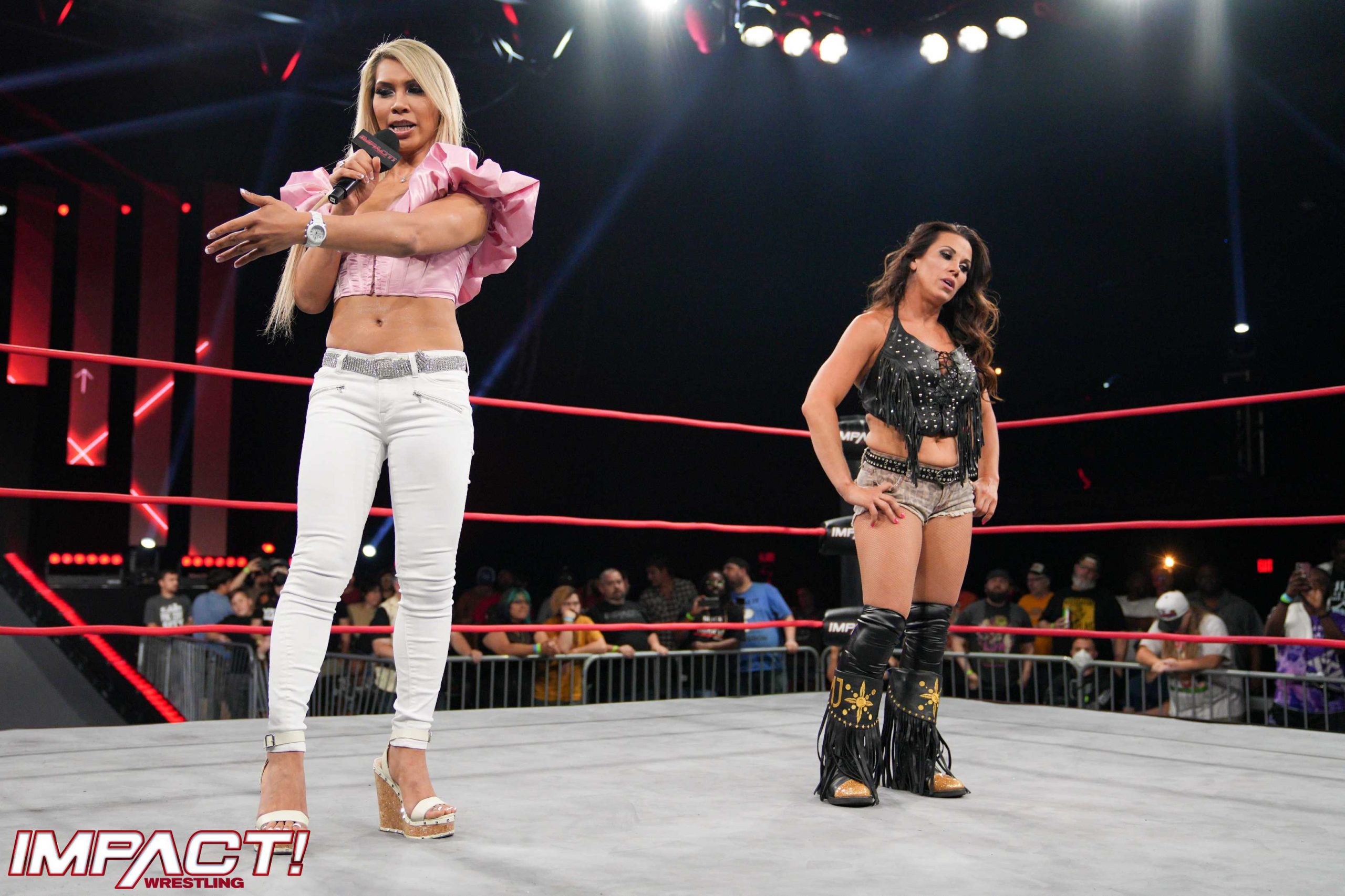 After the match, Gisele Shaw's music hits and she makes her way to confront Mickie. Shaw thinks it's sad that the great Mickie James is now begging for matches and wrestling nobodies. Shaw says the only reason James is wrestling nobodies is that she wants to hold onto the spotlight a little longer. Shaw says her time is up and challenges her to a match at Victory Road. James accepts and Shaw's music hits as both women talk trash to each other.
There's a vignette with PCO and Vincent, similar to last week's Frankenstein-themed one. Vincent reminds PCO who he is aligned with.
The commentators announce that Aussie Open have challenged the winners of tonight's main event. They run down some of the Victory Road matches.
Match #6: The Motor City Machine Guns (Alex Shelley & Chris Sabin) vs the Good Brothers (Karl Anderson & Doc Gallows)
It's main event time and the Guns are out first, followed by the Good Brothers. Shelley and Anderson will start off and lock up but draw a stalemate so they both tag their partners in. Gallows whips Sabin into the corner and tries a clothesline but Sabin stops him. Sabin climbs to the top and hits a dropkick. Gallows fights back with a strong uppercut that rocks Sabin. Gallows whips Sabin into the ropes and Shelley makes a blind tag. Gallows is preoccupied with Sabin, who he thinks is still legal, so Shelley traps his leg and Sabin nails Gallows with a bulldog. In comes Anderson to help out his buddy and he cops a double kick from the Guns. They then connect with a double spear to Gallows in the corner, before Shelley runs right into a chokeslam attempt from Gallows. He fights out but Gallows takes him down with a clothesline. Gallows tags Anderson back in, who goes to work on the mid-section of Shelley. Anderson rakes at the eyes of Shelley, then takes out Sabin on the ring apron. Gallows tags back in and locks Shelley in the corner. Gallows takes down Shelley with a headbutt then a running kick. Gallows pummels Shelley with elbows and then locks in a sleeper hold. Shelley battles to his feet and runs the ropes, but Anderson kicks him and then comes into the ring to take Sabin off the apron again. The Good Brothers double team Shelley but Anderson ends up splashing Gallows in the corner, as Shelley evades the attack. Shelley rolls to his corner and makes the tag to Sabin, who takes out both Good Brothers with a crossbody off the top. The Good Brothers try a double team clothesline but Sabin holds onto the ropes. Gallows charges but gets sent over the top rope. Sabin takes down Anderson with a flying crossbody for a 2 count. Sabin flies over the top again and takes out both Anderson and Gallows.
(Commercial break)
Back from the break and Shelley and Anderson are the legal men. Shelley hits a deep dragon screw on Anderson. Sabin holds Anderson's leg in the corner whilst Shelley hits another dragon screw using the ropes for support. Shelley locks in the Figure 4 Leg Lock in the centre of the ring. Shelley drags Anderson back into the corner and tags in Sabin. The Guns double team Anderson with a barrage of kicks and Sabin covers for a 2 count. Sabin teases a stomp but locks in a single leg-lock on Anderson, continuing to work over the knee. Anderson rakes the eyes to break the hold but Sabin is still able to tag in Shelley. Shelley wrenches at the left ankle until Anderson reaches his feet. Shelley runs at Gallows to knock him off the apron, then runs right into a big spinebuster from Anderson. Gallows and Sabin are tagged in and big Doc hits a clothesline. Gallows whips Sabin into Shelley then connects with a double clothesline and a pump kick on Shelley, sending him out of the ring. Gallows hits a twisting Pumphandle slam on Sabin then makes a tag to Anderson. They set up for the Magic Killer but Sabin fights out with kicks to the head of Anderson. Shelley comes back in and they attempt a double team suplex on Gallows but he reverses it into one of his own. Gallows misses a running attack and spills to the outside. Sabin and Shelley springboard over the top rope and double team Gallows with kicks. Shelley holds the ropes open and Sabin connects with a suicide dive on Anderson. Sabin sends Anderson back into the ring for Shelley to attempt a frog splash. Anderson rolls out of the way but receives a double team Flatliner and Sabin gets a close 2 count. Sabin goes for the Cradleshock but Anderson wriggles free. He hits the Gun Stun but Shelley breaks up the pin. Anderson tags Gallows back in and nails a kick in the corner, which Gallows follows up with a big clothesline. The Good Brothers hit a double team neckbreaker on Sabin for a 2 count. Gallows is frustrated and tags Anderson back in who goes for another Gun Stun but Sabin knocks him into Gallows, who falls off the ring apron. Shelley comes in for some double team drop kicks, then Gallows comes in but eats a bunch of kicks too. Double team kicks in the corner on Anderson then the Guns hit Skull and Bones for the win after 15 minutes.
Analysis: ***1/2 It was a pretty good main event that was a bit restricted by the face vs. face dynamic. The Good Brothers were doing some heel-like mannerisms in the match, like continuing to cut down the man on the ring apron, but it was a solid match up with the Guns taking out Gallows in order to nail their double team finisher for the win. I would've run the tag team title match as the main event and had a definitive finish to that. This was likely the main event because the Good Brothers run in Impact has ended.
After the match, the Machine Guns offer a handshake but are instead given the 'Too Sweet' as a sign of respect by the Good Brothers. Impact ends on a happy note as all four men raise each other's arms and laugh as the show goes off the air.
Final Rating: 5.5/10

It was an average episode of Impact this week. The two matches that book-ended the show were enjoyable and were the best parts of tonight. However, there were two squash matches and a tag match that I was looking forward to that ended abruptly after 90 seconds to further the Moose/Maclin/Callihan storyline. The Tag Team Championship match ended in DQ, which was disappointing, however it was once again about storyline progression. Whilst I have been quite complimentary on the way the Knockouts have been featured, tonight we saw two matches with a combined length of six minutes and no featuring of the Tag Team Champions. On a positive note, they did set up a few more matches for Victory Road, but the casual wrestling fan or regular viewer of Impact might be wondering why random wrestlers are brought in for an Impact Plus special (Max the Impaler, Delirious), when you have plenty of talent in the locker room not wrestling. I would much rather see Mike Bailey go against Kushida, who isn't on the show, than against someone who might only be around for one night like Delirious. For Jordynne Grace's opponent, bring back someone the audience will recognise from Impact's past: Awesome Kong or someone like Taryn Terrell from NWA.
Impact has built good momentum this year through building up their stars, so some of the booking tonight seemed like a step backward and I just want to see them succeed.
Here's the Victory Road lineup for the Impact Plus special on September 23rd: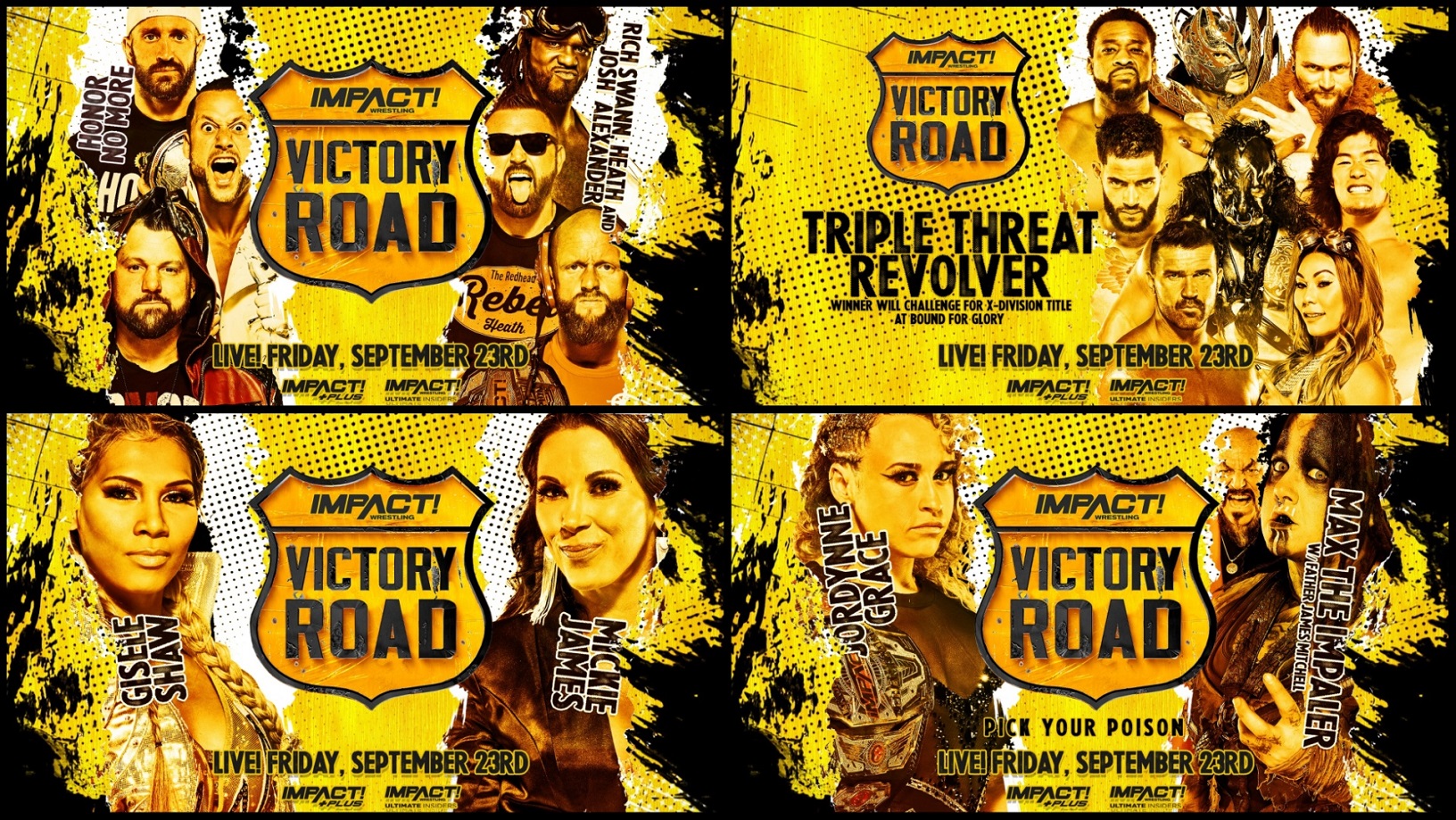 * Barbed Wire Massacre: Sami Callihan vs Moose vs Steve Maclin
* Pick Your Poison: Impact Knockouts Champion Jordynne Grace vs Max the Impaler
* Mickie James vs Gisele Shaw
* Josh Alexander, Heath and Rich Swann vs Mike Bennett, Matt Taven and Eddie Edwards
* X-Division Championship: Mike Bailey (c) vs Delirious
* Triple Threat Revolver (winner to receive an X-Division title match at Bound for Glory): Trey Miguel vs Kenny King vs Black Taurus vs Alex Zayne vs Laredo Kid vs Yuya Uemura vs Mia Yim vs Frankie Kazarian
Here's the Bound for Glory lineup for the PPV on October 7th: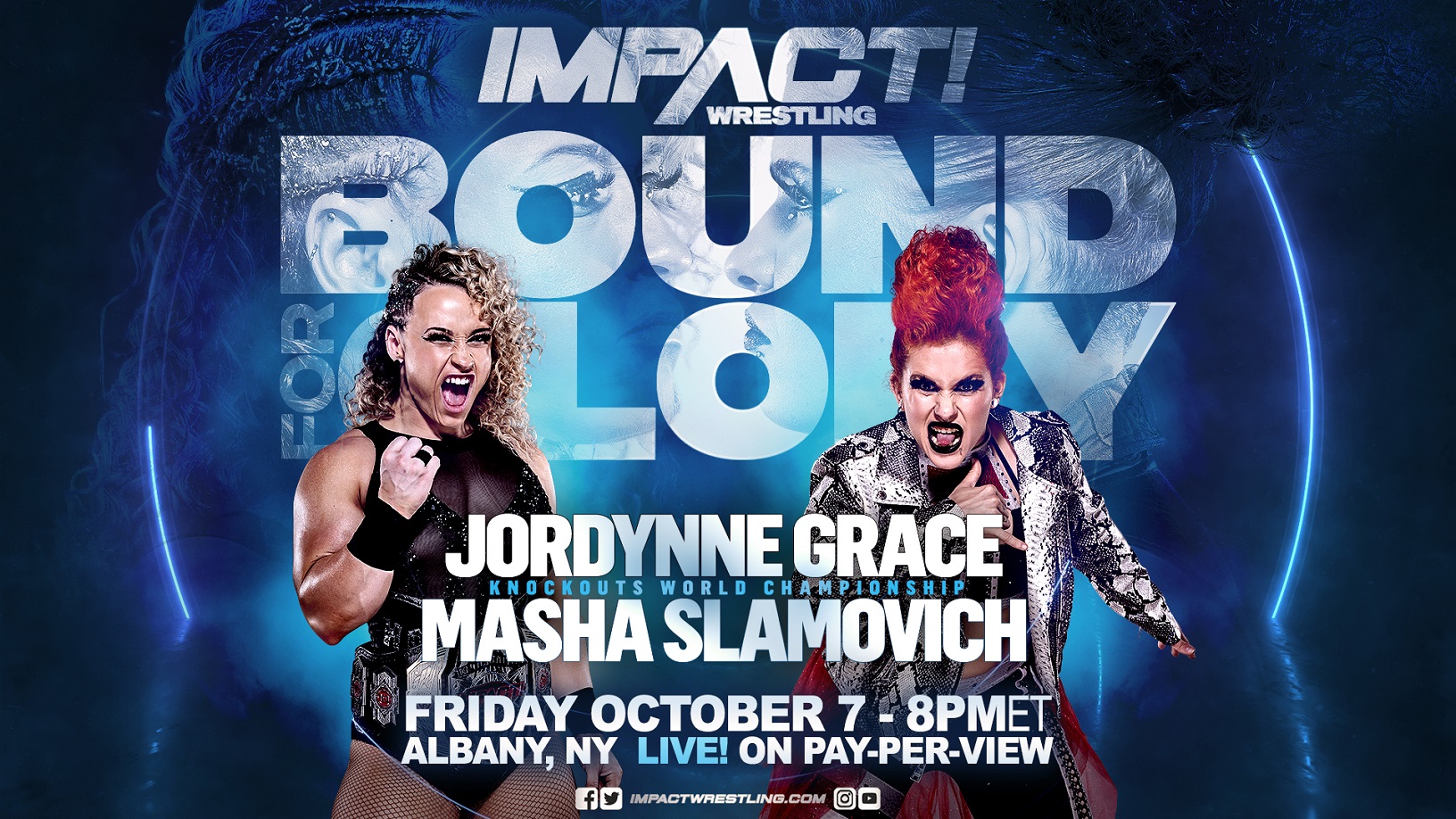 * Impact World Championship: Josh Alexander (c) vs Eddie Edwards
* Impact Knockouts Championship: Jordynne Grace vs Masha Slamovich
* X-Division Championship: Mike Bailey or Delirious vs the winner of Triple Threat Revolver
Any feedback or comments are welcome. My email address is kristian.l.thompson@gmail.com in case anybody wants to get in touch with me and my Twitter handle is @thomok6 as well. Thanks for reading!