TJR: WWE Battleground 2015 At A Glance #3 (July 6)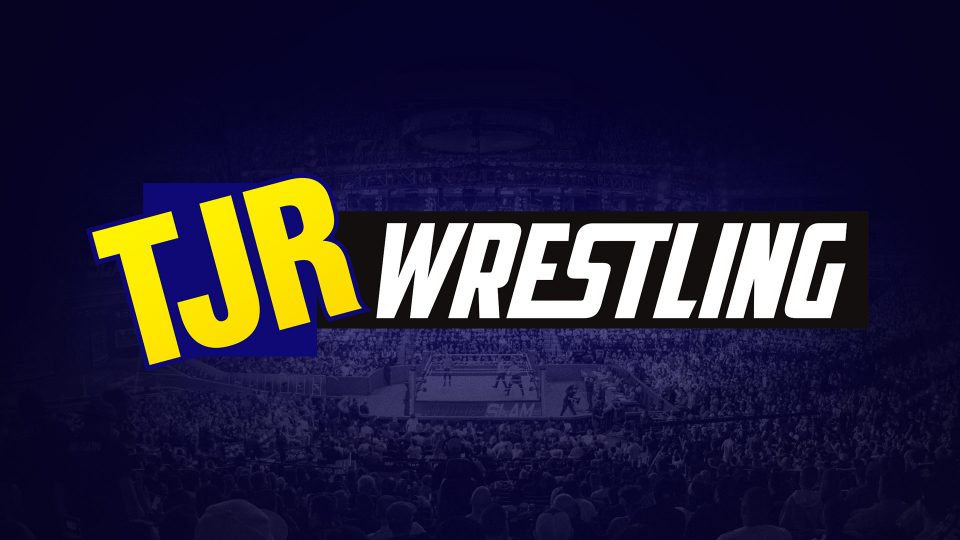 There are two weeks left until WWE's next PPV called Battleground on July 19. It wasn't an exciting week of WWE TV because they didn't add any new matches to the show, so all we know for sure are the five matches that were set from the week prior.
As a reminder for what this column is about, I'll comment on what matches are set, who might win, how the story is going and what other matches might happen too. On the Sundays of the actual PPV I won't be doing it because we'll have the preview up already. Let's get to it.
THE MATCHES WE KNOW
WWE World Heavyweight Title: Seth Rollins vs. Brock Lesnar
There was no Lesnar on Raw this week since he's not on every single week. His absence led Rollins to feud with familiar foes in Seth Rollins and Dean Ambrose, which led to a win in a tag match on Raw with Kane as his partner. Raw ended with Rollins and his Authority buddies dominating Reigns and Ambrose with the WWE Champion standing over them looking like he was proud of his work.
Lesnar is back on Raw this week after destroying Kofi Kingston in Tokyo on Saturday. It's likely that Lesnar will be wrecking that new Cadillac that Rollins got J&J Security because that's the only reason why the car survived last week. If they don't bring the car then toss that idea out the window.
My prediction remains the same from last week. I don't think Lesnar leaves with the WWE Title, but I doubt he gets pinned or submits either. There will probably be a rematch at SummerSlam or toss somebody else in to make it a triple threat. Perhaps Sheamus will cash in Money in the Bank as a different option, but at this point that hasn't been teased at all.
Likely Outcome: Seth Rollins loses by DQ, keeps WWE Title
United States Title: John Cena vs. Kevin Owens
Owens just lost the NXT Title to Finn Balor on Saturday in Japan in what was a phenomenal match. It appears as though NXT will be in the rear view mirror for Owens although he could be in a match at the August NXT Takeover event as a goodbye to the NXT brand. It makes sense to have Owens face Joe at that event in Brooklyn with Joe getting the win and then Owens can be full time on the main roster.
Cena had one of the best TV matches of the year against Cesaro. Owens attacked Cesaro while he had Cena in the Sharpshooter, so it would be nice if that led to Cesaro vs. Owens on Raw. They had a match on Smackdown a few weeks back, but it wasn't as long as I would have liked. Hopefully Owens vs. Cesaro can happen on Raw this week with the match going about 15 minutes.
There really doesn't need to be much said between them in terms of promos. It's all about seeing who the better man is. Cena has to prove that he's a great champion while Owens wants to show that he is better than Cena. This is another feud where I feel like we're getting another match at SummerSlam.
Last week I put "Owens by DQ" as my outcome, but I think that would be dumb if there's another DQ in a big match, so I'll switch it to Owens winning the US Title. If he does it probably won't be clean like his win at Elimination Chamber was.
Likely Outcome: Owens wins the US Title
Roman Reigns vs. Bray Wyatt

The change in this rivalry after last week is that they got physical after Wyatt predictably attacked Reigns on Raw. Then Wyatt beat Dean Ambrose in a match on Smackdown. Reigns stood tall at the end of Smackdown because in WWE top guys always seem to get their heat back either the next show or the next week.
Wyatt's attack on Reigns on Raw was the typical wrestling thing with a heel coming out of nowhere to cost the face the match, which was a no DQ match. It was so obvious that Wyatt would get involved in some way, but it was still an effective way of telling the story.
I think what they need to do is have Reigns do a promo talking about how he's not sure why Wyatt is targeting him, but when he saw Wyatt show a picture of Roman's daughter that he made it personal. Fire off some line like "never mess with my family" and talk about how he's going to give him the beating of his life. We need to hear from Reigns to know how angry he is about Wyatt's actions. I know Reigns isn't a great talker, but it would be nice to hear his side of things.
I'll keep my prediction the same with Wyatt finding a way to win leading to another match at SummerSlam. If Reigns wins then I think that's because they want him in the WWE Title match at SummerSlam where they could do Rollins vs. Lesnar vs. Reigns. For now, I feel like Wyatt winning is the smart choice.
Likely Outcome: Bray Wyatt wins in a cheap manner to force a rematch at SummerSlam
Tag Team Titles: Prime Time Players vs. The New Day
This feud is lacking some sizzle. It's pretty basic with the new face champions defending against the former heel champions. Since there's a five week gap between PPV events, all they can really do is put them in tag match situation or sometimes singles matches to set it up. It just feels way too basic.
I think The New Day are awesome and deserve all the TV time they get. The problem is that they are being booked like a comedy heel team that doesn't win many matches. Getting destroyed by Brock Lesnar in Japan was a way to pop the crowd over there, but it also hurts these three guys because they are seen as jokes. That's why I think it's possible that New Day get the titles back here. The negative of that is that the PTPers would only have a five week reign.
I'll stick with the prediction of the PTPers keeping the gold, but I definitely think it's possible that New Day win back the gold in the near future. Plus, I think New Day vs. Lucha Dragons would be a better feud that produces better matches.
Likely Outcome: Prime Time Players retain the titles
Intercontinental Title: Ryback vs. The Miz vs. Big Show
Here's another feud that really isn't that interesting. For some reason, poor Mark Henry got involved in things with these guys and put over Show and Ryback in the same week. I say "poor Mark Henry" because he's being used as the guy to put over the people in this match. At least he hasn't had to put over The Miz…yet.
Speaking of Miz, he really seems out of place in this feud. I know they are trying to push the idea that he's this underdog that is going to try to sneak away with the win against the two guys much bigger than him, but it's just not that interesting.
Ryback will probably pin Miz in the match, which could set up Ryback vs. Show at SummerSlam. Are people yawning just thinking about that? I am.
Likely Outcome: Ryback retains the IC Title
THE MATCHES THAT MIGHT HAPPEN
These are the matches that aren't officially announced yet, but are possible based on current storylines.
Sheamus vs. Randy Orton – I think this is still the plan. Orton's been off for a couple of weeks and posted plenty of pics from his vacation. We also found this weekend that he got engaged, so congrats to him as well as his future bride. Orton's expected back on Raw this week. I think if the match happens then Sheamus should be the winner. He has been booked well since winning Money in the Bank.
Dean Ambrose vs. Kane – Last week was bad for Ambrose since he lost in the tag on Raw and to Wyatt on Smackdown. It's not a sure thing that he's in a match with Kane, but Ambrose needs to be on every PPV. Ambrose beating Kane makes sense to keep Ambrose relevant.
Divas Title: Nikki Bella vs. ??? – There's still no clear direction for the divas. I hope that Charlotte or Sasha Banks shows up to challenge Nikki instead of another Nikki vs. Paige match. I just want them to do something interesting with a good storyline. A fresh feud in the divas division is badly needed right now. Hopefully somebody in WWE realizes that.
I would put Dolph Ziggler vs. Rusev here as well, but I don't know if Rusev will be cleared to return by the 19th. I think he should be ready for SummerSlam.
FIVE QUICK QUESTIONS
Five simple questions about the show.
Who should be in a match that currently isn't doing anything?
Cesaro. It's been over a month since his partner Tyson Kidd suffered his devastating neck injury, so WWE should think about doing something with Cesaro as a babyface singles wrestler. Perhaps a feud with King Barrett would be good for both guys.
Should Paige get a Divas Title shot again or go with one of the NXT girls?
It really would be nice if it was Charlotte or Sasha because I'm so sick of Paige vs. Nikki matches. I don't mind either one of them – I'm just tired of that match. If it's up to me then it would be Charlotte, but I doubt it happens.
If Cena loses the US Title will he get back in the WWE Title picture?
I think that's probably going to happen. I'm not sure when. He deserves it based on his performances in the ring and I think there's something compelling about him going for the 16th World Title to tie Ric Flair's record…or at least the number that is associated with Flair. Plus, ratings are down and when that happens they usually push Cena to the top, so I wouldn't be shocked to see it before the end of the year.
Any chance of a Summer Rae vs. Lana match?
I guess it's possible since they had a catfight on Raw last week, but Lana isn't a trained in ring performer as far as I know. It seems unlikely to me although it's fair to say there is a slim chance.
Should Brock Lesnar wrestle in a match on Raw like he did in Japan?
This isn't directly related to the PPV, but I get asked it a lot. I think they should do it just to see how it does in terms of the viewership numbers. If Lesnar's advertised in a main event match, will more people tune in or will it not matter? His new deal apparently included a raise as well as more events, so it could be worth a try. Just let him have a five minute win over some midcard heel. It doesn't have to be too complex.
FINAL THOUGHTS
The last week of WWE TV was pretty bad in terms of storyline advancement. I know I gave Raw a good score of 7/10, but that was mostly based on the in ring work. If you looked at it in terms of the writing it was poor. Smackdown was even worse in that regard.
Raw could be good just because Lesnar will be there all angry and looking to go after Rollins, so perhaps his presence will be a spark that Raw needs.
As I have said in past weeks, I think with Rollins/Lesnar and Cena/Owens we'll get at least two amazing matches on this show. I think Reigns/Wyatt should be fine, but nothing that special. Everything else comes off as average to me.
Have a wonderful week and thank you for your continued support of TJRWrestling.
John Canton –mrjohncanton@gmail.com
Twitter@johnreport