Five Thoughts About WWE Crown Jewel
The WWE's Crown Jewel event was a memorable pay-per-view from top to bottom. You don't usually say that about these Saudi shows, but WWE put a lot more effort into this show and it is appreciated.
I know some boycotted the event because of Saudi Arabia's history and I get it. I watch these shows to support the talent. I'm not watching these shows for Vince McMahon or Bruce Pritchard or Nick Khan. I'm watching these shows for men and women like Roman Reigns, Big E, Sasha Banks, Bianca Belair, Edge, Seth Rollins and so many others. Those are the ones putting their bodies on the line for my entertainment and they deserve my support. There were two women's matches on this show. When they first ran Saudi, they couldn't do any. That is a real change in my opinion. That doesn't mean I agree with the politics of it all. I just choose not to take out my frustrations with management decisions on the talent that actually go out there and perform. With that out of the way, let's get into five about the WWE Crown Jewel Pay Per View.
#5: ZELINA VEGA WINS THE QUEEN'S CROWN
A few months back when Zelina Vega returned to WWE, many people disagreed. Her booking for the first few months seemed to give validity to those concerns. Then there was the whole Smackdown MSG incident where her match was cut for time. Yet, when the Queen's Crown tournament was announced, few people could have predicted that she would be the last woman standing. She went through Toni Storm and Carmella to get to the finals against Doudrop. Zelina defeated Doudrop with the Code Red to win the Queen's Crown.
Given what happened with the King of the Ring, it was probably a good idea to put the crown on a heel like Zelina. It gives her instant credibility if she were to challenge for the Raw Women's Title. It also gives her a story to sink her teeth into. The Queen's Crown was booked horribly when you consider the match times, as well as the fact that Toni Storm and Liv Morgan were eliminated in the first round. However, I think the right choice was made here as I think Zelina Vega can make the most out of being The Queen more than any other heel that was in the tournament.
#4: ALL HAIL KING XAVIER WOODS
The King of the Ring finals were a little less certain going in. Finn Balor had defeated Cesaro and Sami Zayn to get there while Xavier Woods had defeated Ricochet and Jinder Mahal to get to the finals. I was a bit worried they would give it to Balor because of the whole "The Prince is now the King" narrative. I'm glad they did not go that route.
Xavier Woods has wanted to be King of the Ring since before he got in the business. He has campaigned for years since he got to the main roster about being King. It is essentially his "boyhood dream." I applaud WWE for giving the fans what they wanted. I'm not saying I wouldn't have liked Finn Balor as King. I like Finn, but I just didn't see where he could take being King unless he turned heel. King Xavier has a lot of legs to it if they want to go that route. I'm happy for him. Big E and Kofi Kingston got their moments with the WWE Championship. I would venture to guess the King of The Ring is probably more important to Xavier Woods than the WWE Championship. Congratulations to King Xavier.
#3: BIG E RETAINS THE WWE CHAMPIONSHIP
Big E and Drew McIntyre put on one hell of a match for the WWE Championship. There wasn't much doubt as to who would win. Big E was drafted to Raw while Drew was drafted to Smackdown. We know Roman Reigns isn't losing the Universal Title so that made picking this fairly easy.
It was a great match. With that said, I'm not sure I would have put McIntyre in the match to begin with. He is the top babyface on Smackdown now. It is only a matter of time before they go back to Reigns and McIntyre so having Drew lose a WWE Title match on his way to Smackdown wasn't the best move. We know Big E and Roman Reigns is the planned Champion vs Champion match at Survivor Series. Hopefully they use this downtime for Drew to build him up with wins so that when he faces Roman Reigns, he is not coming off as a loser going into the match. Putting Big E over was the right call. Big E has a ton of potential challengers on Raw and it's nice to see them giving him the ball to run with.
#2: EDGE AND SETH ROLLINS PUT ON A CLASSIC INSIDE HELL IN A CELL
Edge and Seth Rollins put on one of the greatest Hell in a Cell matches ever. I've seen them all. There have been 50 Hell in a Cell matches in WWE history. I would go as far as saying Edge and Seth Rollins is in the top five of the best Hell in a Cell matches. I know John Canton rated it five stars, so he would probably agree with me. (Note from John: Absolutely! Loved it!)
The stories that were being told, the drama, the weapons, Seth Rollins taking a ridiculous table bump off the cell. It had everything you would want in a high-stakes encounter. Seth Rollins bringing out the chain made me think he was going to win it. I thought Seth Rollins would win just based on the fact he is full-time. Rollins is also probably going to be one of the first challengers to the WWE Title. However, the way Edge won with The Stomp on the steel chair was fine with me. Given the story that was told leading up to the match, it made sense that Edge was the last one standing. They have enough talent on Raw that they don't need Edge to be there every week. We'll see. All I know is it was a five-star match that will instantly go down as a top-five Hell in a Cell match. Edge has been having an all-time great run of matches since returning at the 2020 Royal Rumble.
#1: ROMAN REIGNS SLAYS THE BEAST…IN CONTROVERSIAL FASHION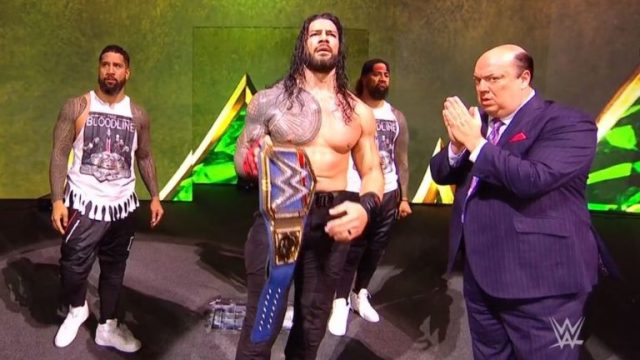 This was probably the most intriguing match going in because of the Paul Heyman effect. Roman Reigns and Brock Lesnar had faced many times before, but this was probably the most interesting build to any of their matches. Reigns as a heel, Lesnar as a babyface, and Paul Heyman stuck in the middle has made for some great television. The match was probably one of the best they've had. It went 13 minutes and had all the drama needed for a high-stakes Universal Championship match. I thought Paul Heyman was going to officially turn on Brock here. Heyman didn't do as he threw the Universal Title in the middle of the ring and left it to Brock Lesnar and Roman Reigns to fight for it. Brock won the struggle but turned around into a double superkick from the Usos after the referee was bumped. This allowed Reigns to nail Lesnar with the belt for the win. It wasn't clean, but it was a win for Reigns.
It did its job of getting Reigns past Lesnar while also not solving the Paul Heyman mystery. I thought the match layout was great here. It served every purpose it was intended to serve. After what happened on Friday's Smackdown, Lesnar is gone until probably the Royal Rumble and Reigns will move on to Big E at Survivor Series. It was a great match and makes you want to see the return match.
QUICK HITS
I'll wrap it up with a few quick hits.
One of the best nights of my life, it was truly an amazing experience and I can't wait to go back! Thank you 🤙
PS I think my spirit animal is a camel 🐫 #CrownJewel#wwe#stallion#WWERawpic.twitter.com/vpxDC3fE33

— matthew riddle (@SuperKingofBros) October 22, 2021
* Riddle on a camel is not something I had on my 2021 bingo card. It was awesome nonetheless. RK-Bro and Styles/Omos delivered what it needed to be.
* Goldberg delivered probably his best match since 1999. It was definitely one of, if not his best WWE match against Bobby Lashley. Twelve minutes is about ten minutes longer than the standard Goldberg match, but I think they more than delivered. If this is how they use Goldberg, I'm all for it. Just no more title matches.
* The Smackdown Women's Championship match delivered. Becky Lynch retained the Smackdown Women's Championship against Sasha Banks and Bianca Belair. I thought the layout of this match was damn near perfect in that it protected both Sasha Banks and Bianca Belair. Having Bianca hit the KOD on Becky only to be pulled out of the ring by Sasha was great. Then, having Sasha Banks go in the ring for the pin only to be rolled up by Becky (using the ropes legally in a match with no disqualifications) was brilliant. I'm not a big fan of rollup finishes, but I think this served its purpose. It kept Bianca from being pinned and didn't hurt Sasha due to the surprise factor. I think Bianca and Becky's feud will continue on Raw. The current plan is Raw Women's Champion Becky Lynch and Smackdown Women's Champion Charlotte Flair at Survivor Series. We've seen WWE switch champions a mere days before Survivor Series before. So, there's no guarantee that it won't be Bianca Belair and Sasha Banks at Survivor Series.
I think Crown Jewel was an exceptional pay-per-view. Definitely the best show in Saudi Arabia to date. Here's hoping WWE can follow up with a good Survivor Series show next month.
Thanks for reading. I'm on Twitter @GiftedMoney talking about wrestling among other things, so feel free to message me on there with any thoughts or comments.