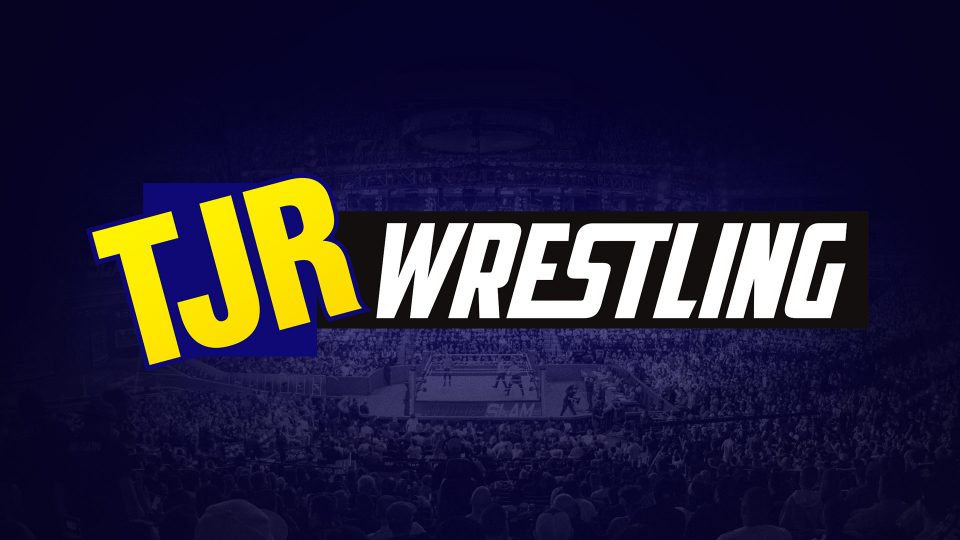 Welcome one and all to a fill-in edition of The John Report: WWE NXT Review. I want to thank John for letting me fill in for him while he's celebrating Canada Day (How you doin' Trish Stratus?) and we've got a loaded show with a big main event, so let's get right to it.
The show starts with a cool video package hyping up the main event that will put Samoa Joe & Finn Balor vs. NXT Champion Kevin Owens and Rhyno. It was short, but still gave it a big fight feel.
The Vaudevillians vs. Dash Wilder & Scott Dawson
Since I've got the floor for the week, let me just say that The Vaudevillians are grossly underutilized. Not only are they underutilized, it seems no one can decide if they should be heels or faces. Their music this week indicates they're faces (their music changes all the time if you've never noticed) so we'll go with that. I really like the look of Dawson and Wilder. I believe it was Kevin Owens who said in a podcast recently that they were underutilized and due for a breakout.
Dawson and Gotch start off the match, and Gotch gets an early pinfall attempt after a nice sunset flip. The Vaudevillians get their quick tags in early and the crowd is fully behind them. Dawson and Wilder change the momentum quickly though and start to work over Gotch. Dawson hits a big elbow and a nice quick legdrop onto Gotch. Gotch makes what I can only assume was supposed to be a hot tag and Aiden English comes in and starts to clean house. He's left in the ring with Wilder, tags back in Gotch and they hit a new finishing combination with Gotch hitting an European uppercut to the back of the head, followed by a running neckbreaker by English. It's simple, but I like it a lot better than the 2nd rope Swanton that English was doing. The Vaudevillians pick up the win.
Winners by pinfall: The Vaudevillians
Post match, The Vaudevillians pose as the announcers discuss The Beast in the East special on the WWE Network.
Analysis: * A showcase match for The Vaudevillians, which actually doesn't happen much for them, so it's good to see. All of the sudden now, there's a crowded babyface rank of tag teams, all gunning for Blake and Murphy. Cass & Enzo along with the Hype Bros (how you doing Zack Ryder?) being the other teams. Should be interesting to see if all these teams will end up coming together in one storyline. Since this is my review this week, I'd be failing in my role in the Ryder Revolution if I didn't mention that I think the Hype Bros are awesome.
Devin Taylor is with Becky Lynch from earlier this week in the trainer's room. Becky says she sprained her hip flexor at NXT Takeover, and although she tried to work through it, she's now having to take a few weeks off. Becky says it has just motivated her more though, and soon it's going to be time for "N-Becks-T". Devin wishes her well in her recovery.
Analysis: Becky has a lot of momentum coming off her incredible match with Sasha Banks. Hopefully this won't be a nagging injury and she'll be back by their next tapings which I believe are July 17th.
Baron Corbin vs. Tucker Knight
Tucker Knight is proof that Bull Dempsey and Rusev had a love child. No counting by the crowd for the length of the match, I guess that's what happens when you turn heel. Corbin slams Knight's face in the mat and within a few seconds hits the End of Days for the 1-2-3.
Winner by pinfall: Baron Corbin
Analysis: 1/2* It doesn't matter if you turn Corbin heel, if all you're going to do with him is these squash matches, then the crowd still won't care. He needs something of substance. That storyline with Rhyno lasted all of two weeks I think. I like Corbin, but he needs a lot more than they're giving him.
Up next we take a look at part three of "Who is Finn Balor?"
A video promo for the Beast in the East Network Special is shown.
We're now in the office of William Regal and The Vaudevillians and Enzo/Cass are arguing about who should be the new #1 Contenders for the Tag Titles. Enzo says they shouldn't have to face The Vaudevillians, but it's whatever. They walk out of the office.
Analysis: Well that answers my question from earlier. Was that a slight hint at a heel turn for Enzo & Cass? I can't see it with how insanely popular they are, but it's just a thought I had. Hopefully they get a good amount of time next week as both teams are incredibly entertaining.
Time for part three of "Who is Finn Balor?" We start with Finn talking about a chat with Triple H, where he says that Hunter told him that "creativity spawns creativity." He says he's inspired by the fan art that he gets. The thing he loves about wrestling right now is the ability to inspire people to paint or draw or anything of the sort. He's very touched by that, as he was that person before. He and Sami Zayn are looking over some of the fan art that Finn has received and Zayn comments how much he loves fan art like that. They show the TMZ announcement of Dusty Rhodes giving Finn his initial tour of the Performance Center as Finn discusses how he felt like he was an unknown coming into NXT. Matt Bloom, aka Albert, talks about how Finn wouldn't say it out loud, but he knows that Finn wants to be the very best.
It then moves to when Finn debuted on NXT with Hideo Itami. Finn talks about how the screen initially flashed Prince Devitt on the screen and the reaction was something he'll never forget. It was at that point he realized that he must have done something right to get a hero's welcome like that. He says that Finn Balor came from Finn McCool who was an Irish mythical hero who fought a one eyed monster named Balor. His father's name is also Finton and goes by Finn himself so that makes the name speak to him. They show some really cool footage of the behind the scenes of how his entrance came together, with Finn explaining later in the ring how Triple H explained it to him. Finn talks about coming back to Ireland as a WWE/NXT Superstar and how if you would've told him five years ago that this would've happened, he wouldn't have believed you. They show footage of his match in Dublin with Neville as he's interviewed outside the arena after the match. Finn says he's accused of being shy and an introvert, but The Demon changes his personality. He talks about how it's helped him not only be a stronger wrestler, but a stronger person. He mentions how he has the ability to change his look each time he brings it out. He discusses with Sami Zayn how he wants to be able to show now, and in five years, a look that's recognizable as Finn Balor.
Finn says that he left Japan last April, and when he said goodbye to all his friends, he honestly believed he would never see them again. We then see the announcement for his NXT Title match against Kevin Owens, along with the locker room interview that was shown previously with Finn's reaction to the match. Finn says it'll be real special to go back since it's a second home to him. He would not be here if it wasn't for Japan. Finn, along with Becky Lynch, talk about his potential and what the future holds for him. Becky says that the future of WWE is Finn Balor. They show clips of NXT fans of all ages and why they love Finn Balor, then we close out with a music video that's filled with quotes from the usual suspects of who we've heard from before. Becky gets emotional talking about him, and Matt Bloom says he loves Finn to death and wishes for all the success possible for Finn. Finn closes it out by saying that everywhere he's gone, he feels he's left the place better than when he got there, and he wants to do that in NXT and in WWE.
Analysis: ***** It's not a match, but it still gets a five star rating. Is this the best video production that WWE has ever done with these 3 segments? I really think it's got a case to say so. I had to watch the segment twice as I got goosebumps watching it the first time and couldn't type and watch at the same time. One of the fans that has a quip in the video says that he doesn't think he's cheered for a wrestler this hard since he was a little kid. I completely agree with that statement. There's something REAL about Finn Balor. These videos have really showcased that. I know he's going to win at the Network Special, because Owens officially has more to do on his plate now. But more so than that, I WANT Finn to win that match. I want him to be the face of NXT. He's only 33 and is either entering his prime, or starting a second prime depending on how you look at his Japan career. This was just a tremendous, tremendous piece of business that WWE did to showcase one of, if not their most special talent they have right now. Do I have a man crush on Finn Balor? More than likely. The real question is though, why don't you? Who am I kidding, you all have one too.
If you've missed any part of this production, or want to see it again, it will be shown in its own Network Special Thursday night at 9:30pm.
WWE Shop commercial is shown.
We go to footage from earlier today and William Regal along with NXT Divas trainer Sara Del Ray are watching from the apron as Eva Marie is training inside the ring. The announcers discuss how Regal told Eva that he needed to evaluate her, so that's what he's doing now. Eva and her opponent go through a couple sequences as we're left to wonder what Regal thought about what he saw.
Analysis: Eva actually looked fluid in the ring, although she didn't do too much. I've seen the videos with Brian Kendrick, and while people can hate on her if they want, I give her a lot of credit for busting her ass the way she has. I think she's actually going to surprise some people and turn some heads. Maybe I'm just an optimist though.
Emma (w/Dana Brooke) vs. Carmella
Carmella has a mic and calls herself the queen of Staten Island and the most fabulous diva in NXT. Bada bing, hottest chick in the ring. How you doin'? Crowd didn't react too strongly to that. I've never understood why the crowd loves Enzo and Cass but gives her a hard time. The two divas exchange moves early with no one having the upper hand early. Carmella hits a nice hurricanrana off the 2nd rope coming out of the corner, but doesn't get to capitalize on it as Emma goes on top quickly. Emma uses a body scissors to slow down the match and stay with the advantage. She goes for a couple pin attempt with the scissors, but Carmella is able to elbow her way out of it. Carmella fires up and hits a Lou Thesz press and then a big kick. She hits a reverse X-Factor but doesn't go for a pin. She ends up getting tripped and Emma instantly goes for the Emma-Lock and gets the tap out.
Winner by submission: Emma (w/Dana Brooke)
Post match, the two ladies look happy with their work as they tell Carmella to get out of the ring.
Analysis: *1/2 Carmella showed some nice fire and a couple good moves. I really enjoy Emma's heel turn. She needed a reset button pushed after her trip to the main roster flamed out quickly. Her and Brooke make a good pairing, even though Emma is light years ahead of Dana in in-ring work.
Backstage we see Bull Dempsey upset at a vending machine that's apparently stole his money. One of the refs tells him to calm down, but he instead grabs a chair and goes to break the vending machine. William Regal shows up and grabs the chair before he can do that. Bull tells him he was just trying to get the pistachios, but Regal tells him to shush. Regal notices chocolate smeared all over Bull's face and tells him to get a grip. Regal says he needs to control himself, or else the next time they talk, he will not like what he has to say.
We have the big tag team main event to look forward to, but first "Prince Pretty" Tyler Breeze is on his way to the ring.
Another vignette showing the transformation from Finn Balor to The Demon is shown. Finn Balor Arrives, Tokyo, Japan on July 4th.
From WWE.com last week, we get an exclusive interview with Devin and Jason Jordan. Devin says that he had a tough loss against Cass and Enzo. Jason says they're making him do it. Chad Gable shows up again and says he studies Jason's matches. He says they made him look like a loser, but he knows Jason is not a loser. But Jason has to let him do his part. He's "ready, willing, and Gable." He walks off as Jason declares that he's not a loser.
Tyler Breeze vs. Tye Dillinger
I've heard that Tye has a really funny gimmick on live events where he rates matches on a scale of 1-10. From what I've heard, I'd really like to see that on TV. Tyler sends Tye to the mat early and showboats in the corner. Tye comes back and states to stomp a mudhole in Tyler. Tye goes for a series of covers on Tyler, but doesn't get a three count. Tye is really the aggressor early in this match as he has full control. The crowd is chanting 10 at Tye and he gives a smile. Tyler counters with a falling reverse DDT and then a standing hurricanrana. Tye goes for a clothesline, but Tyler hits the Beauty Shot instead and wins the match.
Winner by pinfall: Tyler Breeze
Post match, we get a highlight of the Beauty Shot and see Tyler looking at his phone in the ring.
Analysis: I don't know if it was just me, but Tyler was seemingly working as a babyface in that match. I don't know if they're attempting to turn him slowly, or was just a one off match to get him some TV time since he doesn't have an angle right now. He is one of the most entertaining guys on the NXT roster, and his time is coming soon with the influx of NXT guys headed to the main roster.
Emma and Dana are in the locker room admiring the NXT Women's Title that's hanging on a locker. Devin comes in and says she's supposed to interview Sasha. Sasha walks in and asks what they're doing there. Dana and Emma say they're taking over the division. Sasha issues a challenge to the both of them and says she will take them on two on one with no problem. Dana says Sasha can't find a partner because no one likes her with the way she's acted as of late. Sasha says she will find a partner.
Samoa Joe & Finn Balor vs. Kevin Owens & Rhyno
I pop every time the fans throw their arms in the air with Finn during his entrance. Samoa Joe's entrance music is AWFUL. I'm convinced that's a rib on him since he came from TNA. It's something subtle, but I really like that Owens wears his NXT shirt on the NXT shows and his new shirts on the main roster shows. Byron Saxton announces that him and Michael Cole will be calling the show in Tokyo. Rhyno and Joe start the match and Joe comes out strong, hitting a jump kick in the corner and then tagging in Finn. Finn hits a huge dropkick that gets a two count. Rhyno charges Finn into his corner and tags in the champ. Balor reverses a sunset flip and gets a two count. Balor goes for a suplex, but Owens blocks it and then sends him into the corner hard. Owens throws Balor to the outside and the ref gets distracted by Joe as Rhyno attacks Balor on the outside. We go to break.
Same video promo as earlier for the Beast in the East Network special.
Owens has a head lock on Balor as we return, and is still in control. Owens tags back in Rhyno, who has Finn up for a very long delayed vertical suplex. Even doing some squats with Finn in the air. Owens is tagged back in and stays in control. The crowd gets onto Owens for sending Finn to "Chinlock City" as Joe wants in the match. Finn fights out, but Owens counters with the Cena special, two shoulder blocks, a spinning back suplex, and the Five Knuckle Shuffle. Better than Cena in my opinion. Owens goes for the AA but Balor gets out, gets Owens down and hits a standing double foot stomp. Both men tag in their partners and Joe just runs over Rhyno. He hits a big boot and a running senton for a two count. Owens tries to hit him from behind, but Joe gives him a shot instead. Rhyno is able to hit a spinebuster and tags in Owens. Owens charges Joe in the corner, but Joe hits a Uranagi in the corner and tags in Finn. Finn goes to the top rope as Joe takes Owens to the other corner for a Muscle Buster. Rhyno knocks off Finn though, and Joe clotheslines Rhyno. Joe runs right into a Pop Up Powerbomb! Before Owens can pin him, Balor charges and they counter an AA and Bloody Sunday respectively. Owens hits a superkick, but Balor hits a Pele kick. Rhyno goes to give Balor the Gore but Finn moves and Rhyno Gores Owens! Rhyno is shocked and Finn ends up giving a shotgun dropkick to Rhyno who runs into Owens. Balor goes to the top rope and hits the Coup De Grace and he has pinned the NXT Champion.
Winners by pinfall: Finn Balor and Samoa Joe
Post match, Balor celebrates the win as Owens looks in denial that it happened. We get highlights of the match and then return to Balor and Joe staring down Owens. Both men hug in the ring and Joe raises Balor's arm as the show ends.
Analysis: ** Slow paced match for the majority, but the last 2-4 minutes were fun. Conventional wisdom would tell you that since Balor pinned Owens three days before their title match, that Owens will retain, but I think conventional wisdom goes out the window when you see how much time and effort they've put into building up Balor. Obviously the loss(es) do nothing negatively to Owens either. The interesting wild card in all of this is Samoa Joe. Does Owens stay in NXT long enough for them to have a one on one match, or does Joe go after Balor instead? Or does Joe follow Owens to the main roster already? Lot of different ways this can go, and that's ultimately the beauty of NXT.
Three Stars of the Night
1. Finn Balor
2. The Vaudevillians
3. Finn Balor (He was on half the show, and you find me someone else in this bunch of enhancement matches that deserves to be up here.)
Final Thoughts
This really was the Finn Balor episode, and there's nothing wrong with that. I cannot wait to see the reaction he gets in Tokyo, both with his Demon entrance and when he wins the NXT Title.
Beyond that, not much going on in this show. There were five matches and four of them were basic squash matches. There's not another NXT Takeover special for about six weeks, so they've got plenty of time to get storylines developed, so nothing wrong with shows like tonight's.
Thanks again to John for letting me fill in this week. He should be back next week. I had a blast. Until next time!