The John Report: WWE Survivor Series (WarGames) 2022 Review
It's WWE Survivor Series 2022 with two WarGames matches, plus two title matches and plenty more. Most importantly, it's WARGAMES!
This is the last WWE Premium Live Event (or pay-per-view if you prefer that term) of the year for the main roster. I'm watching on WWE Network here in Canada since we don't have Peacock like those of you in the United States use.
After 35 years of WWE Survivor Series events featuring elimination tag team matches nearly every year, Triple H and his creative team decided to change things up this year. It's the first time the main roster (Raw & Smackdown) has featured a WarGames match on a PPV/PLE, and we get to see two of them. I enjoyed them when Triple H brought WarGames to NXT and I look forward to seeing what the main roster talent will do.
The Women's WarGames match is up first. Let's get to it.
WWE Survivor Series
From TD Garden in Boston, Massachusetts
November 26, 2022
The opening video package aired playing the Black Sabbath song "War Pigs" with legendary rocker Ozzy Osbourne singing the song while clips were shown of the wrestlers competing on the show.
There was an impressive pyro display to welcome us to the show. The Boston crowd was full of energy as Michael Cole announced the attendance was 15,609 people. It was Cole on commentary at ringside with Corey Graves. That's the PPV/PLE commentary team rather than having different announcers throughout the show. Here are the WarGames rules if you need to see them.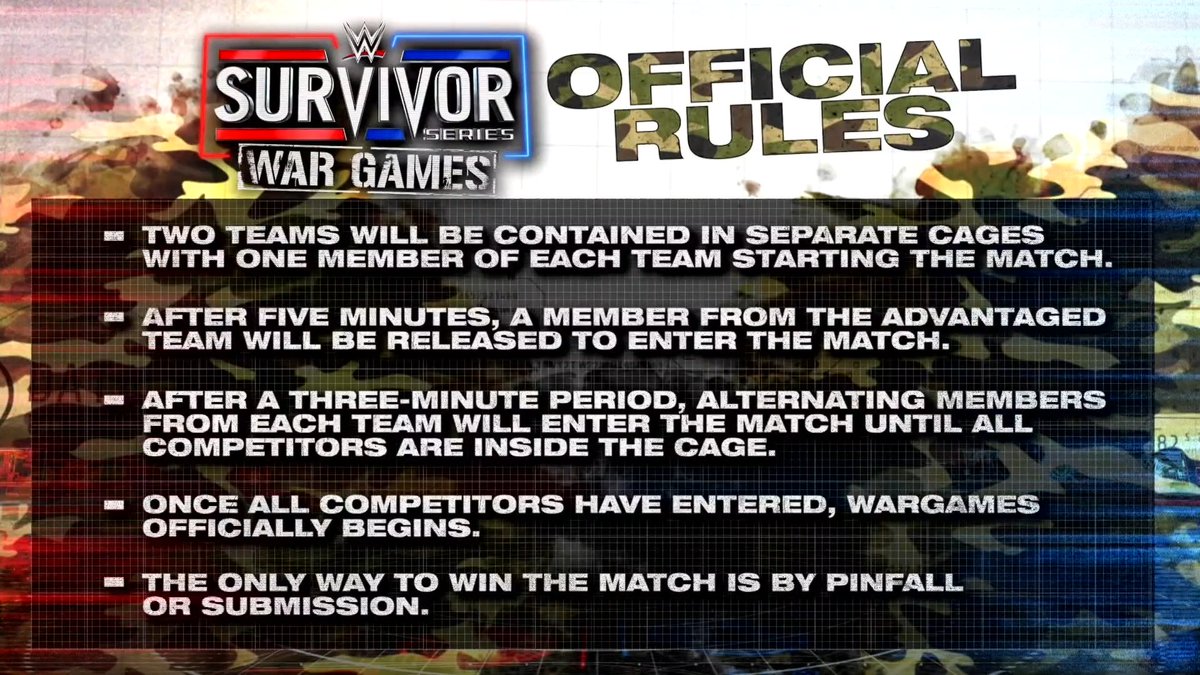 They had cages by the entrance area as the women made their entrances. The babyface team led by Bianca Belair was up with Becky Lynch up first followed by Alexa Bliss, Asuka was next, "Michin" Mia Yim was fourth and the Raw Women's Champion Bianca Belair was last. Belair started the match for her team.
The entrances took place for the team led by Bayley with Rhea Ripley up first followed Nikki Cross. Damage CTRL was next with Bayley and IYO SKY going into the cage while Dakota Kai started the match for her team.
Women's WarGames Match: Team Belair – Bianca Belair, Asuka, Mia Yim, Alexa Bliss & Becky Lynch vs. Team Bayley – Bayley, Dakota Kai, IYO SKY, Rhea Ripley & Nikki Cross
It was Belair and Kai starting the match for the first five minutes. As a reminder, there are two rings side by side with a cage surrounding it and no roof on the cage. Belair hit a dropkick early on. They went into the other ring with Belair hitting a shoulder tackle knockdown. Belair continued on offense with a backbreaker. Kai got some offense as she sent Belair into the turnbuckle and hit a running boot to the face. Belair and Kai got back in the ring, Belair tried using the air as a weapon and Kai hit a Scorpion Kick to the head. Belair got a hold of Kai leading to a slam backward. Belair sent Kai into the cage a few times. Belair gave Kai a Powerbomb into the cage.
IYO SKY was next up for her team as she hit Belair with a dropkick. This interval was three minutes long. Belair was on the turnbuckle, she did a backflip off the ropes and Sky did a headscissors takedown. Kai and Sky took turns working over Belair a bit, but Belair countered a double team move with a double suplex. Sky hit a missile dropkick on Belair to knock her down.
Asuka was second in for her team as she caught Kai's kick and hit a German Suplex. Asuka faced off with Sky leading to Sky hitting a running knee, but Asuka came back with a hip attack. Asuka delivered a series of strikes, then a legsweep and Asuka hit a running knee on Sky. Kai and Asuka battled on a turnbuckle leading to Asuka kicking Kai to knock her down. Belair did a press slam sending Kai into the cage. Asuka hit a missile dropkick on Sky. Belair and Asuka celebrated with a high five as the fans cheered them. Belair with a suplex on Kai while Asuka fought with Sky leading to the next entrant.
Nikki Cross was third for the heel team as she went under the ring and brought some weapons into the cage like trash can lids, kendo sticks and more as the fans chanted "we want tables" but there was no table brought into the ring. Cross hit Belair with a trash can lid to the back. Cross hit a Tornado DDT off the ropes on Belair. Cross hit a slam off the shoulders on Asuka followed by some jacket attacking while Cross made some crazy faces against the cage. Cross hit Belair in the back with a trash can lid. The clock ticked down for the next entrant.
Alexa Bliss was the third woman for the face team as she went into the ring and was on fire with offense on all three opponents including a dropkick on Cross. Asuka and Bliss did a double team punch/bulldog combo that sent Sky into a trash can lid. Bliss gave Kai a hurricanrana onto a trash can lid. Belair grabbed a kendo stick from Cross and broke it. Cross climbed up to the cage and laughed at the carnage while Sky and Bliss were attacking some of Nikki's teammates with kendo sticks. Belair used her hair to whip Sky and Kai with her braided hair. Cross stood on the platform at the top of the cage and jumped onto the pile of women with a cross body block. Great spot there.
Bayley was fourth for her team as she brought in two ladders from under the ring with Kai helping Bayley bring the ladders into the ring. The fans chanted "we want tables" again as Bayley brought out a table from under the ring. Belair sent Kai into the turnbuckle while the other women were all battling in the other ring and Bayley eventually got into the ring. Bayley took about 90 seconds to get into the ring as she sent Belair into the turnbuckle. Bayley and friends used a table to hit Belair in the ribs and slam her head into the table. I should point out there's a camera guy between the two cages to provide some great shots of the action. Sky hit an assisted moonsault onto Bliss. Bayley hit Asuka with a suplex. Kai hit a double stomp to Asuka's ribs.
Mia Yim was fourth for her team and she brought some trash can into the ring. Graves was calling her "Michin" as well since that's her nickname. Yim got some offense with the trash cans that she used to throw at her opponents and Yim hit a facebuster into a trash can lid. Yim whipped Kai into the cage followed by some kicks to Kai's head. Yim drove Kai's head face first into the trash can lid. Belair finally broke free from behind the table and jabbed it into Bayley's ribs. Yim jumped on Bayley with a tackle. Belair hit Bayley with a forearm. They did some suplex spots to knock everybody down before the next entrant.
Rhea Ripley was last for her team as she dominated right away by sending Belair into Asuka and then Ripley hit Belair with a German Suplex. Bliss jumped onto Ripley, who caught Bliss and hit a suplex. Ripley tossed Bliss into the cage to put her down. Ripley held Asuka in submission leading to Sky running the ropes and hitting a dropkick. Cross was sitting on the top rope while her team was in full control. Yim hit a running attack onto a trash can that was in front of Ripley. Bayley caught a charging Yim leading to Sky hitting Yim with a trash can. Kai hit a double foot stomp on Yim after.
Becky Lynch was the final entrant. The ring announcer Alicia Taylor shouted: "Now let the WarGames begin." That means the first pinfall or submission wins. There was a referee in each of the two rings.
Lynch looked sharp as she got into the ring and cleaned house on the heels including a leg drop onto a trash can that was on Sky's head. Lynch got into the far ring with Bayley and called her a "little bitch" leading to them fighting as they exchanged forearms. Lynch knocked Bayley down followed by repeated stomps while Bayley was on the mat. Ripley confronted Lynch, Ripley blocked two punches and hit a headbutt. Lynch avoided Riptide by Ripley, Bayley got involved and then Ripley hit Riptide for two as Asuka made the save. Asuka hit Bayley with a backhand to the face. Asuka spit the green mist in Ripley's face and Lynch hit Ripley with a DDT. Bayley sent Asuka into the top turnbuckle and Bayley stomped on Lynch while she was upside down against the turnbuckle. Bayley mocked Lynch and said she was the role model. Bayley hit the Roseplant on Lynch on the steel grating between the two rings and got a two count because Asuka broke it up. Sky climbed the cage, but Belair grabbed her. Kai used a trash can to Asuka's back as a bunch of women went up the turnbuckle. Cross hit Belair with a kendo stick to stop the spot out of the corner. Cross hit Bliss with the neckbreaker off the ropes, then Asuka/Kai went crashing to the mat and Belair caught Bayley with a rough Powerbomb, but I think Bayley was okay. Sky went up top and Sky hit a moonsault onto Belair and Yim, who were standing in the ring. Sky has done that in WarGames before. Referee Eddie Orengo checked on Belair, who landed in an awkward position on her right leg. I hope she's okay.
Cross grabbed some black handcuffs and cuffed the left hand of Bliss with Cross shouting "you think I forgot?" since they used to be partners. Cross tried to handcuff Bliss to the cage, but Bliss ended up handcuffing herself to Cross instead. Bliss had Cross on her shoulder and fell back onto a trash can with Bliss taking most of that bump. Asuka and Ripley faced off with Ripley launching Asuka into the steel cage. Yim fought with Ripley in the near ring, Yim countered a Ripley power move and went on Ripley's back, but Ripley ran Yim into a ladder against the turnbuckle. That split the ladder in half. It looked like Belair was okay after the rough landing on her knee as Belair and Lynch fought with Bayley, Sky and Kai. Belair gave Bayley a spinebuster onto a trash can. Belair tried a KOD on Kai, but Kai landed on her feet and Lynch hit a Manhandle Slam on Kai. Belair hit a KOD on Sky. Lynch and Belair set up a table in the corner by the turnbuckle. Kai and Sky were set up on the table. Lynch went up the cage and Belair gave Bayley a KOD into the cage. Lynch was on the top of the cage on the platform. Becky Lynch hit a leg drop off the top onto Kai/Sky through a table and Lynch pinned Kai for the win. It went 39:40.
Winners by pinfall: Team Belair – Bianca Belair, Asuka, Mia Yim, Alexa Bliss & Becky Lynch
Analysis: **** This was a very good match as usual for most WarGames matches. The ending of the match was all about the dominance of Lynch and Belair taking care of Damage CTRL easily with Lynch hitting the leg drop/splash off the top for the big table spot to end it. The fans were chanting for a table the whole time, so you might as well use it for the finish. I thought they could have done a better job with nearfalls and some near submissions to make it look like people were trying to win. There were a few of them, but I would have liked to see more. I'm glad Belair was able to finish the match because her knee was twisted on that moonsault from Sky, so it's good to see was okay to win the match. I picked the heel team to win because I thought they would want Ripley to come out of this looking very strong, but going with Lynch winning is an understandable decision since she's back after four months off.
The Belair/Lynch team celebrated the win. The fans liked that.
A video aired about Brock Lesnar.
They showed some highlights from Smackdown last night when Sami Zayn lied to Jey Uso saying he didn't talk to anybody even though Jey overheard Sami talking to Kevin Owens. They showed the end of the main event of Smackdown as well.
Roman Reigns was shown in the locker room with Paul Heyman sitting in the background with the two titles. Jey Uso went into the room and sat with Roman on the couch. Jey said that Sami Zayn was the reason they lost on Smackdown and Sami lied to his face after he talked to Owens. Jey said the reason he didn't take Zayn out is because Reigns didn't give the order. Jey wondered what they would do. Reigns told Jey to be the right-hand man while Roman will be the Tribal Chief and handle everything else. Reigns said he'll look him (Zayn) in the eyes, man to man and he will know if he's telling the truth and where his loyalties lie. Reigns told Jey to focus on tonight. They touched knuckles to end it. Heyman looked on at Reigns in the background. Reigns told Heyman to get Zayn, so Heyman called Sami Zayn and it ended.
Analysis: That was a smart way to follow up on what happened on Smackdown while teasing a conversation with Reigns and Zayn still to come. I really liked how Reigns explained himself to Jey regarding the Zayn situation while telling Jey to focus on the match.
A commercial aired for some video game that I didn't pay attention to. Sorry. No time for games in my life anymore.
There was a video package for the AJ Styles-Finn Balor match up next.
The Judgment Day's Finn Balor made his entrance with Damian Priest and Dominik Mysterio. No Rhea Ripley since she was just in a match. Balor had a black mask on his face as he walked down to the ring to look more intimidating. Cole trashed Dominik for the "pathetic assault" on Thanksgiving and Rey told Cole that he is heartbroken. Balor handed Dominik the mask as he entered the ring.
The OC's AJ Styles made his entrance joined by Luke Gallows and Karl Anderson. A pretty good reaction for Styles as the face in the match. Cole mentioned the Bullet Club group and how Balor/Styles were members in that group in NJPW. It's rare to hear NJPW talk, but that's where we are in today's WWE.
AJ Styles (w/Luke Gallows & Karl Anderson) vs. Finn Balor (w/Damian Priest & Dominik Mysterio)
They were wrestling in the far ring so it was the one closer to the announcer's table. Styles was aggressive early on with a kick to Balor's left leg followed by more kicks to the leg. Styles wrenched Balor's leg into the mat. Styles hit a backbreaker. Balor got some offense going after he knocked down Styles followed by some knee drops to the chest. Balor sent Styles into the turnbuckle, then a hard chop and Balor hit his own backbreaker. Styles ran at Balor leading to a sunset flip and Balor slipped out of it leading to a basement dropkick. Balor applied the abdominal stretch, then he sent Styles into the ropes and a kidney shot to the ribs. Styles with punches, but Balor applied an abdominal stretch again. Styles with a snapmare followed by a running forearm. Styles hit a corner clothesline and a slam off the shoulder into a backbreaker for two. Balor avoided a Styles Clash, then Styles to the apron and Styles blocked a kick leading to a leg whip across the second rope as Balor continued to deal with a left leg injury. Priest distracted the referee, so Dominik tripped up Styles on the apron. Gallows punched Dominik on the floor leading to the four guys on the floor getting into a brawl. Gallows dumped Priest over the barricade and they left fighting. Dominik tossed Anderson over the barricade, Styles punched Dominik and threw him over the barricade. Anderson went fight with Dominik to the back, so there was nobody at ringside anymore. Balor and Styles each got pin attempts, then they exchanged some moves and Balor hit a Slingblade neckbreaker. Balor charged, but Styles hit a jumping kick to the head and Styles suplexed Balor into the turnbuckle for two. Balor came back with a double foot stomp to keep Styles down.
Balor stomped on Styles as he continued on offense. Styles got back up, he hit the strikes to the body and they did some counters leading to Balor hitting the reverse DDT/elbow drop combination. Balor had some visible scars on his lower back. Balor teased a Styles Clash, but Styles grabbed the leg leading to Styles applying the Calf Crusher submission. Styles with a Pele Kick, but Balor came back with a jumping kick of his own and they were both down as the fans cheered. Styles sent Balor into the corner followed by a clothesline. Styles charged, Balor sent him to the apron and Styles launched over the top, but Balor caught him leading to double knees to the ribs. Balor with a slam off the shoulders into the knee. Balor wanted a lifting slam, Styles back on his feet, Styles with a back elbow and Styles backflipped off the ropes leading to a reverse DDT for two. Styles went up top, he jumped off with a splash, btu Balor moved and Balor dropkicked Styles into the turnbuckle. Balor was selling the left knee injury as he went up top. Balor jumped off the top with a Coup de Grace attempt, Styles moved out of the way and Styles applied the Calf Crusher submission. Balor teased tapping out, Styles wrenched back some more and Balor slammed AJ's head into the mat repeatedly to break the hold. They were both down selling again until they slowly got back up. Balor and Styles exchanged punches, then some chops and Styles hit a step up enziguri kick. Balor with a jumping kick to the head, Styles with a forearm and Styles hit a Phenomenal Forearm for the pinfall win for victory at 18:25.
Winner by pinfall: AJ Styles
Analysis: ***3/4 It was a terrific match between two talented veterans that know what they are doing out there. I don't know if most people expected a clean match for the most part, but when The OC and Judgment Day guys went brawling to the back it set up the scenario for the clean finish. Styles working on the knee from the beginning played a factor throughout the match including the long Calf Crusher spot where Styles nearly won. I actually thought Balor would kick out of that Phenomenal Forearm by Styles, but he didn't and that led to Styles getting the clean win. I thought that Styles needed this win, I picked him and I'm glad he got the win. Balor should be fine losing a match like that.
There was a commercial for the Royal Rumble in San Antonio on Saturday, January 28th. That's the next main roster PLE. Two months away.
A video aired about Liv Morgan. The reason that videos like this air is because on the Peacock version with ads, they are airing ads at this point, so for the rest of us we get these videos about various wrestlers.
There was a video message from Ozzy Osbourne plugging his new album Patient Number 9 and told us to "turn up the f'n volume." That's Ozzy.
There was a video package about the Smackdown Women's Champion Ronda Rousey and challenger Shotzi, who earned the title shot on Smackdown.
Smackdown Women's Championship: Ronda Rousey (w/Shayna Baszler) vs. Shotzi
They were wrestling in the near ring. I missed the entrances due to taking a break. Rousey grabbed Shotzi in an Ankle Lock right away, Shotzi managed to send Rousey into the corner and Shotzi hit a running attack in the corner. Baszler shoved Rousey out of the way leading to Shotzi hitting a suicide dive onto Baszler. Shotzi sent Rousey into the steel steps. Shotzi with punches, Shotzi knocked Baszler off the apron and Shotzi knocked Rousey down with a clothesline. Shotzi jumped off the top with something, but Rousey countered with a slam. Rousey shouted: "I can beat you with my feet." Shotzi blocked a kick and stomped Rousey along with a leg drop attempt, but Rousey blocked that while trapping Shotzi's legs. Rousey grabbed the leg, Shotzi got an enziguri kick and Rousey rolled through leading to a submission pulling on Shotzi. The fans were chanting "we want Sasha" for a bit as Rousey pounded on Baszler. They did a spot by the apron where Shotzi knocked Rousey down. Shotzi tried a DDT on the apron, but there was a slip and it wasn't a smooth move. Shotzi kicked Baszler and hit the Sliced Bread neckbreaker on the floor. Shotzi flipped Rousey over the barricade and gave Baszler a back body drop over the barricade. Shotzi gave Rousey and Baszler a cross body block onto a few fans sitting in the front row, so that was likely a spot with some indy wrestlers. This could have been a countout, but there was a very slow count by the referee. Back in the ring, Shotzi went up top and Rousey gave her an armbar takedown off the top for a two count. Rousey had Shotzi on her shoulders leading to the Piper's Pit slam. Rousey applied the armbar on the left arm, Shotzi tapped out and that was it at 7:15.
Winner by submission: Ronda Rousey
Analysis: **1/4 This was just an average match that was lacking crowd interest. They were chanting for Sasha Banks briefly instead of caring about Shotzi being in this match. That's not a shot at Shotzi. She just isn't at a top level right now, so it's tough to really take her seriously as a threat to Rousey. I don't really like doing the spot in the crowd where they left the ring for about a minute and then there was a slow count, but I get wanting to do a high spot. Anyway, Rousey winning in under ten minutes is what I expected. The most predictable match on the show for sure.
A video aired about Cody Rhodes.
There was a commercial about WrestleMania.
It was back to the locker room of Roman Reigns with Sami Zayn sitting down to talk to the Tribal Chief. Reigns asked Zayn if he talked to KO – Kevin Owens. Zayn admitted that he did. Reigns asked why did Zayn lie to Jey? Zayn said he withheld information, he lied to Jey because he had a huge match and the advantage to tonight's match was on the line. Zayn said that Jey already had trouble trusting Zayn and Zayn didn't want to put that on his plate. Zayn said he didn't talk to Owens, it was Owens talking to him. Zayn said he listened, Owens left and that was the truth. Reigns asked what Owens said. Reigns doesn't watch Smackdown, I guess. Zayn said that Owens said that Zayn should turn on The Bloodline before The Bloodline turned on Zayn. Reigns said that this is his family, this is blood and he needs Zayn to look Reigns in the eyes and need to know if Zayn is with them or if Zayn will stab them in the back. Zayn said that he is with them. Zayn said that there are five people in the whole planet that are allowed to walk into this room and Zayn ran them down while saying that's not lost on him because it means the world to him. Zayn said that Reigns took him into this family. Zayn said he will not let him down tonight or any night because Zayn is with The Bloodline. Reigns had a long staredown looking at Zayn. Reigns stood up, told Zayn to get up and Reigns said: "Let's do it." Reigns hugged Zayn to show they are together. As they hugged, Reigns had a bit of a concerned look on his face.
Hug it out, @WWERomanReigns & @SamiZayn!#SurvivorSeries#WarGames@HeymanHustlepic.twitter.com/DXOupfC6aO

— WWE (@WWE) November 27, 2022
Analysis: That was good. Another necessary segment to continue building to the main event later in the show. The ending look by Reigns teases that maybe there is something that will happen later, but maybe not. We will find out in the main event.
The entrances took place for the US Title match with Bobby Lashley up first to a good reaction while Austin Theory was booed for his entrance. The US Champion Seth Rollins got a big ovation with the fans singing along with his theme song as usual.
United States Championship: Seth Rollins vs. Bobby Lashley vs. Austin Theory
They were in the far ring for this match. No countouts and no disqualifications in a WWE triple threat match.
Lashley sent Theory out of the ring and hit a running shoulder tackle on Rollins in the corner. Rollins went after Lashley a bit, but Theory tripped up Rollins and sent him into the barricade. Lashley hit a vertical suplex on Theory, Rollins back in and Lashley hit an overhead suplex on Rollins. Lashley with running clotheslines on both guys against the turnbuckle. Lashley hit a flatliner/DDT at the same time on both opponents. Lashley used Theory to knock down Rollins. Lashley hit a spinning slam off the shoulders on Rollins leading to Theory pulling the referee out to break up the pin. Lashley tossed Theory over the barricade at ringside. Lashley blocked a chair attack and Lashley had Theory on his shoulders, but Theory shoved Lashley. Rollins got back into it with a jumping knee onto Lashley on the floor. Rollins sent Lashley into the steel steps. Theory knocked down Rollins with punches followed by Theory using the steel steps on Lashley and Rollins consecutively. Theory threw the steps at Lashley to knock him down. Theory sent Rollins into the ring leading to rolling dropkick for a two count. Theory stomped on Rollins in the chest a few times. Theory went after Lashley on the floor again and sent him into the hood of the commentary table. Theory sent Lashley into the barricade as well. Back in the ring, Rollins got a pin attempt on Theory for two and Theory hit an elbow smash on Rollins. There were some chops from Rollins on Theory followed by a Slingblade and superkick that sent Theory out of the ring. Rollins hit a suicide dive onto Lashley on the floor. Rollins hit a suicide dive on Theory and another suicide dive on Lashley. Rollins sent Theory out of the ring where Lashley was leading to Rollins hitting a somersault dive over the top onto both guys on the floor. That is some impressive cardio from Rollins. Back in the ring, Rollins hit a sitout Powerbomb on Theory for a two count. Rollins wanted The Stomp on Theory, but Lashley saved Theory and Lashley hit a spinebuster on Rollins. Lashley put the Hurt Lock on Rollins leading to Theory applying a sleeper on Lashley at the same time. Lashley let go of Rollins, Lashley dumped Theory out of the ring. Rollins kicked Lashley in the gut leading to a Pedigree for two.
Rollins went up top for a splash, Lashley moved, Theory sent Rollins out of the ring and Theory hit a blockbuster neckbreaker on Lashley. Theory tried a lift, but Lashley went for the Hurt Lock. Theory countered off the turnbuckle into a pin attempt and Rollins broke that up with a Frog Splash onto Lashley for a two count. Theory and Rollins each tried moves on eachother. Lashley tried doing a Hurt Lock to both guys at the same time, but that just looked awkward and was broken. Rollins with a superkick on Lashley followed by a forearm to Theory's back. Rollins jumped off Theory's back for The Stomp. Rollins sent Theory to the apron, Theory up top and Rollins jumped up top with a superplex into a Falcon Arrow attempt, but Lashley hit a Spear. Theory landed on top with his right arm on Rollins for the pinfall win. Lashley was unable to make the save since he had just delivered a Spear and his momentum took him away from the pin. It went 14:50.
Winner by pinfall AND NEW US Champion: Austin Theory
Analysis: **** This was an excellent match. The pacing was really fast for most of it, they had a lot of nearfalls and a crowd that was invested in the match. The finish was very creative since I don't recall an ending like that where Lashley delivered a big move like a Spear while Rollins was going for the Falcon Arrow and Theory capitalized to get the win. This is good for Theory to get some momentum back after losing Money in the Bank. This time he's the US Champion that's a serious heel instead of the guy that takes selfies and looks goofy doing it. Rollins and Lashley are fine without the title. I think it's better on Theory at this point in his career to try to legitimize him a bit more.
Austin Theory left with the US Title with Graves shouting about how Theory is about "The Now." They showed a lot of shocked fans at ringside because they weren't happy about the title change.
A video aired about The Miz.
There was a WWEShop.com video featuring The New Day promoting some merchandise that is now available.
Another video aired about Royal Rumble 2023 in two months on January 28th. It is nine weeks away.
They showed Roman Reigns in the locker room with Jey Uso asking if Sami Zayn lied to him too. Reigns said he looked Sami in the eye and saw what he needed to see. Jey said alright and left.
There was no video package for the Men's WarGames match. They showed that the cage was lowered and it was time for the main event.
Kevin Owens made his entrance first for the babyface team with Owens wearing a Dusty Rhodes shirt since Dusty created the WarGames match. Drew McIntyre was next. The Brawling Brutes trio of Sheamus, Butch & Ridge Holland were next with Butch starting the match for the team. It is Butch's fourth WarGames match.
The Bloodline team made their entrance led by the Undisputed WWE Universal Champion Roman Reigns along with the Undisputed WWE Tag Team Champions The Usos, Solo Sikoa, Sami Zaya and "Special Counsel" Paul Heyman as well. Their opponents were in the cage, so Solo stared at all of them. Reigns nodded at Jey and hugged him. Jey went to the ring to start the match.
Men's WarGames Match: The Bloodline – Roman Reigns, Jey Uso, Jimmy Uso, Jimmy Uso, Solo Sikoa & Sami Zayn (w/Paul Heyman) vs. Brawling Brutes – Sheamus, Drew McIntyre, Kevin Owens, Butch & Ridge Holland
The Sheamus/McIntyre team gets the advantage based on their win over The Usos on Smackdown.
Jey and Butch took their time starting the match with Jey a bit reluctant to lock up with Butch in the far ring. Butch hit Jey with a running lefty clothesline. Cole mentioned Heyman was the manager of his Dangerous Alliance team over 30 years ago in a WarGames match. Butch worked over Jey's finger with some finger snaping and Butch pulled on Jey's finger a bit. Jey hit a neckbreaker followed by a double knee attack to Butch's arm. Jey sent Butch into the steel cage. Butch stomped on Jey's head again and Jey avoided an armbar attempt while slamming Butch down. The five minutes was up leading to the next entrant.
Ridge Holland was the second guy in for the Brawling Brutes team. Holland got into the ring and hit Jey with a shoulder tackle. Jey got a kick, but Holland hit a spinning powerslam. Holland charged at Jey with four straight running splash, Butch with a forearm smash and Holland hit another running splash. Holland and Butch hit a high/low clothesline/sweep kick combo on Jey. Butch did some more finger snapping on Jey along with another stomp on the right hand of Jey Uso. Ridge and Butch went after Jey again with each man stomping on Jey.
Sami Zayn was second for his team even though Jimmy wanted to go next. Reigns stopped Jimmy and told Zayn that he was next. The fans chanted "Sami Uso" for Zayn as Holland and Butch waited for Zayn. Jey was back up as he sent Butch into the cage. Ridge tossed Jey down, so Zayn jumped Holland from behind with punches and Zayn stomped on Holland repeatedly. Zayn and Holland exchanged punches, the Jey held Holland and Zayn knocked Holland down. Jey argued with Zayn a bit, Butch kicked them back and Butch hit a moonsault off the top rope on both guys. Holland gave Zayn and Jey a double back body drop. Holland charged at Jey, who was pulled out of the way by Zayn and Holland hit the cage. Jey sent Butch into the cage as well.
Drew McIntyre was third for the Brutes as Zayn and Jey were standing tall in the ring. Drew clotheslined Zayn and whipped Jey into the steel cage several times. Drew launched Jey into the cage. Drew with an overhead suplex on Zayn followed by a spinebuster by Drew on Jey. Drew wanted a superplex on Jey, but Zayn stopped that and Holland sent Zayn into the cage. Drew was upside down in the corner, Jey knocked Holland and Butch down, so Drew pulled up with a suplex on Jey like Drew has done many times before. Drew hit a Future Shock DDT on Zayn as the counted went down to zero.
Jimmy Uso was third for The Bloodline and he was the guy that brought some weapons in because Jimmy pulled out three tables from under the ring and put them in the ring with help from Zayn. Jey didn't like Zayn setting up a table and Jey shoved Zayn, who shoved back. Jimmy tried to break up Jey/Zayn while Reigns looked disgusted while he was seated in the cage. The Usos worked together to send Drew into the cage. Jimmy sent Butch into the cage. The Bloodline set up a table against the turnbuckle. Jey superkicked Drew while Zayn stepped on Drew in the corner. Jimmy hit a running hip attack on Butch. Drew delivered headbutts to Zayn and Jimmy.
Kevin Owens was fourth for the Brawling Brutes. Owens brought some steel chairs into the ring. Owens hit both Usos with chair shots to the back and a DDT on Jimmy on a steel chair. Owens hit a cannonball splash on Jey in the corner. Owens went up top and hit a Swanton Bomb on Jey. Owens tossed a chair at Jimmy and also at Jey as well. Zayn faced off with Owens, but Holland grabbed Zayn leading to some punches. Jey hit Owens wit ha chair to the back. Drew hit a delayed vertical suplex on Zayn. Owens gave Jimmy a belly to back suplex through a table that was set up in the near ring.
Solo Sikoa was fourth for The Bloodline. Solo was dominant right away as he knocked down the faces and hit a Samoan Drop on Holland as well. Solo faced off with Owens in between the two rings they exchange punches, Solo with a headbutt and Owens sent Solo into the cage, but Solo no sold it. Owens with two superkicks, a stomp on the bare foot and Solo hit aback body drop on Owens on the steel grating between the two rings. Solo got into a slugfest with Drew, who got a kick to the head and Solo hit a roundhouse kick to the head. Solo tried a running attack, but Drew hit a flying headbutt.
Sheamus was the last man in for the Brawling Brutes team. Sheamus slammed the door onto Zayn, who tried to keep him out. Sheamus was on fire with clotheslines, a backbreaker and a powerslam. Sheamus with a double clothesline while Reigns was shown getting ready in the cage. The Brutes trio splashed The Usos and Zayn against the cage. Drew worked over Solo with punches. Sheamus battled with Solo and Sheamus gave him a White Noise slam off the middle rope.
Roman Reigns was the final man for The Bloodline. That meant that the match could begin at this point. The first pinfall or submission wins the match.
When Roman Reigns got into the ring, his team was in the near ring while the opponents were in the far ring. Reigns helped Jey back up to his feet. There were referees in each of the rings. They had a long staredown from a distance. They wall went into the near ring and exchanged punches. Reigns cleaned house with uppercut punches on the five opponents. Reigns hit a Superman Punch on Sheamus. Reigns charged, Sheamus with a kick and Drew helped Sheamus try to trap Reigns, but then everybody else got involved as well. The entire Brutes team all did the forearms to the chest on the opponents of the other team with the fans chanting along for it all. Reigns was battling with Sheamus, who was in control and Reigns hit him with uppercut punches. Sheamus came back with a jumping knee. Sheamus setup for a Brogue Kick, Reigns moved out of the way thanks to Solo and Sheamus hit Solo with a Brogue Kick. Reigns with a Spear on Sheamus, but Butch made the save. Zayn went after Butch with punches, Jey went over to them and Jey superkicked Zayn because Butch got out of the way. The fans were chanting "asshole" at Jey. The Usos hit 1D on Butch for a two count because Holland made the save. The Usos hit a double superkick on Holland followed by Reigns hitting a Spear on Holland to put him through the table.
Drew got a hold of Reigns as he went for a move through the table, but Solo superkicked Drew. Solo hit a Spinning Solo on Drew. Owens hit a Stunner on Solo for two because Reigns broke up the pin attempt. Owens faced off with Reigns as Owens said he wasn't done with him. Reigns with an uppercut followed by a Superman Punch on Owens. Reigns charged, Owens with a superkick and a Popup Powerbomb. Owens hit a Stunner on Reigns for two, but Zayn grabbed the referee Dan Engler's right arm to stop the count. Graves called it "genius" while Cole wondered if that was enough to prove Sami's loyalty. The fans chanted "Sami Uso" while Zayn faced off with his best friend Owens while everybody else was down. Jimmy tried a superkick on Owens, then Owens caught the kick and Zayn hit a low blow uppercut on Owens! Sami was a bit upset with himself for doing what he did. Cole noted that Owens was best man at Sami's wedding. Zayn said something to Reigns, the fans were chanting "ole ole ole" for Zayn and Zayn hit a Helluva Kick on Owens. Jey Uso jumped off the top with an Uso Splash on Owens for the pinfall win at 38:30.
Winners by pinfall: The Bloodline – Roman Reigns, Jey Uso, Jimmy Uso, Jimmy Uso, Solo Sikoa & Sami Zayn
Analysis: ****1/4 I thought it was a great match that was also very heavy on story. They really did a fantastic job of telling the story of Sami Zayn proving his loyalty to The Bloodline. That was the key story of WarGames. Zayn saved his teammates repeatedly, then he did the low blow to best friend KO and that was it right there. I think everything up until that moment was fine, but what a lot of us really cared about is how Zayn was going to react when he was put in a situation against Owens where he had to test his loyalty. The key spot was when Owens hit the Stunner on Reigns and went for the pin, Zayn saved the Tribal Chief. When Owens yelled at Zayn about it, Zayn hit him with a low blow and two more moves led to the finish for The Bloodline. I got this WarGames match result wrong too because I thought The Bloodline might lose due to a miscommunication spot. Instead, they found a way to win again as Zayn proved his loyalty. I do kind of wish that some of the other guys in the match had bigger moments, maybe hit some finishers and do more nearfalls, but I can't really complain much. The story was so great.
After the match, Reigns hugged Zayn. Jey went over to Zayn and gave him a huge hug as well. The fans popped big for that.
The replays of the match showed all the key moments where Zayn saved members of his team repeatedly. They also showed Sami's low blow on Owens, Sami's Helluva Kick on Owens and Jey's Uso Splash on Owens for the pinfall win.
The Bloodline stood tall together as a united group with their hands in the air as The Ones. Cole made the point that Zayn proved that he was much more than an Honorary Uce. Reigns looked down at Owens in the ring, then he looked back at Zayn. Zayn told Reigns he was loyal to him tonight and every night. End show.
What a roller coaster of emotions for @SamiZayn tonight at #SurvivorSeries#WarGames! pic.twitter.com/mgivxNUJE0

— WWE (@WWE) November 27, 2022
Analysis: Zayn proved himself again. That's the story of this WarGames match. The fans were cheering it even though The Bloodline are heels. I think it's a case of the fans enjoying the storyline so much that they are glad it's continuing and we have to keep watching to find out what's next.
This event had a runtime of 3:14:05 on WWE Network.
Five Stars of the Show
Sami Zayn/Jey Uso
Becky Lynch/Bianca Belair
AJ Styles
Seth Rollins – I know he lost, but I thought he was incredible in that match.
Finn Balor/Austin Theory/Bobby Lashley
Final Thoughts
I'm going with a 8 out of 10 for this show.
I thought it was a great show overall. The big takeaway from the show is the incredible story involving The Bloodline in the main event and what Sami Zayn would do. When Sami attacked best friend Kevin Owens to prove his loyalty to The Bloodline, the crowd reacted to it in a huge way because they are invested in that story just like we are watching at home. It's also a reminder that story is so important and it's not just about moves. It's about getting a reaction, getting the fans to react and when you reach that point, it's a reminder of what makes pro wrestling. This story is incredible. Kudos to Sami, Owens, Reigns, Jey Uso and all the rest involved for absolutely killing it.
While I wouldn't call it the best WWE PPV/PLE of the year, it was one of the best. There were only five matches, four of them were great and the only match that I'd call average was kept under ten minutes while making Ronda Rousey look strong.
The Women's WarGames match was really fun with some big spots in the match including Becky Lynch doing a leg drop/splash onto two women to break a table. That was a cool way to end it. AJ Styles finally getting the better of Finn Balor was cool to see. Clean finish there. The US Title triple threat match was excellent as well with a very fast pace and a clever finish with Austin Theory escaping with the title after Bobby Lashley hit Seth Rollins with a Spear and Theory fell on top. Good booking there because it surprised a lot of people, I think. Lots of good booking on this show.
I'm glad WarGames is a part of Survivor Series. Let's hope it's an annual thing moving forward. That would be cool with me.
Here are my WWE Premium Live Event (PPV) rankings for 2022 so far.
Clash at the Castle – 9 (September 3)
SummerSlam – 8.25 (July 30)
Survivor Series – 8 (November 26)
WrestleMania 38 – 8 (April 2 & 3)
Money in the Bank – 8 (July 2)
Hell in a Cell – 8 (June 5)
WrestleMania Backlash – 7.75 (May 8)
Extreme Rules – 7.5 (October 8)
Day 1 – 7.5 (January 1)
Elimination Chamber – 6.75 (February 19)
Crown Jewel – 6.25 (November 5)
Royal Rumble – 6 (January 29)
As a reminder, I have a listing of every WWE PPV that I reviewed in order by year. Thank you for supporting us at TJRWrestling. We appreciate you.
===
Thanks for reading this review. My contact info is below.
Email: mrjohncanton@gmail.com
Twitter: @johnreport