The John Report: WWE Smackdown 11/25/22 Review
This week's WWE Smackdown featured Drew McIntyre & Sheamus taking on The Usos in a WarGames Advantage match.
In addition to the previously mentioned tag team match, there are two Smackdown World Cup semifinal matches, plus Ronda Rousey & Shayna Baszler teaming up against Shotzi & Raquel Rodriguez.
Our TJRWrestling Survivor Series preview was posted at 10 AM ET on Saturday morning and you can read that here. This review of Smackdown was written live on Friday night.
From the Amica Mutual Pavilion in Providence, Rhode Island this is Smackdown for episode #1214. Follow me on Twitter @johnreport. Let's get to it.
Let's Hear from Women's WarGames Teams
The Women's WarGames team of Bayley, IYO SKY, Dakota Kai, Rhea Ripley and Nikki Cross were in the ring for a promo. Bayley complained about Belair making them wait so long to announce their fifth partner and complained about being in Providence. Bayley wanted to know who the partner is.
A familiar song hit as Becky Lynch made her entrance as the fifth partner on Belair's team. The ring cleared quickly as Lynch hit Bayley with an Exploder Suplex that sent Bayley out of the ring. Rhea Ripley teased a confrontation with Lynch, but Ripley backed out of the ring instead of touching Lynch. The fans were cheering for Lynch, so they are definitely happy to see her back in a face role after being a heel for the last year. The teams had a staredown after that.
Analysis: Welcome back to Becky after being out since late July after suffering a shoulder injury at SummerSlam. It was expected that it would be her, so I'm glad they got that announcement out of the way to start the show. It's a great choice, that's for sure. Nice job of Becky dominating Bayley while teasing a fight with Ripley as well. Save it for WarGames. That's the right way to book it.
.@BeckyLynchWWE IS BACK!!!#SmackDownpic.twitter.com/0mxmSuYXwu

— WWE (@WWE) November 26, 2022
The commentary team of Michael Cole and Wade Barrett welcomed us to the show while hyping up what's coming later.
Butch made his entrance for his Smackdown World Cup match with Sheamus & Ridge Holland by his side.
(Commercial)
Santos Escobar made his entrance with his Legado Del Fantasma teammates Zelina Vega, Cruz Del Toro & Joaquin Wilde with a pre-tape promo from Santos as well.
Smackdown World Cup Semifinals: Santos Escobar (w/Zelina Vega, Cruz Del Toro & Joaquin Wilde) vs. Butch (w/Sheamus & Ridge Holland)
Zelina joined commentary as Butch wrenched on the left arm and stomped on it. Escobar came back with a jumping side kick. They did a spot where Escobar ran the ropes, Butch did a trip or something and Escobar went down to the floor. I think they missed something up there, but Butch attacked Escobar on the floor. Back in the ring, Butch was on the top rope and Escobar shoved him down to send Butch crashing to the floor. That led to a break.
(Commercial)
Butch and Escobar got into a slugfest as they exchanged punches, Butch with a kick, he hit a knee drop on the arm and hit a kick to the head. Escobar went to the floor, so Butch hit a moonsault onto Cruz and Wilde on the floor. Escobar capitalized with a suicide dive. Escobar set up Butch on the top rope, he went for a move, but Butch knocked him down and they were both on the top rope. Butch snapped some fingers leading to Escobar falling off the apron to the floor. Cole made a joke about breaking a wishbone. Butch hit a moonsault off the top onto Cruz & Wilde on the floor while Butch landed on his feet. Back in the ring, Butch jumped off the ropes with a Tornado DDT for two. They showed The Bloodline beating up Drew McIntyre and Kevin Owens in the backstage area. That led to Sheamus & Ridge running to the back. Escobar and Butch hit a double clothesline spot (I think) leading to Escobar getting a two count. They showed the backstage brawl again and it's notable that there was no Sami Zayn or Roman Reigns there. Vega distracted the referee, so Cruz and Wilde got some cheap shots on Butch and Escobar hit a Phantom Driver for the pinfall win after 10 minutes.
Winner by pinfall: Santos Escobar
Analysis: ***1/4 This was pretty good as they built towards the finish well with some big moves by both guys and Butch nearly won after that DDT. The crowd wasn't into it the whole way, but they reacted to the big spots toward the finish. That spot early in the match was weird and I don't know what spot they missed. I'm glad they were able to move on from it to finish the match. As for the finish, it was a cheap ending that WWE books often these days since Butch didn't have help due to the backstage fight during the match.
The win means that Santos Escobar moves on to the finals of the SD World Cup while Barrett said it was a bad day for England in World Cup's in general.
There was a Progressive Match Flo replay of last week's Smackdown when LA Knight slapped Bray Wyatt in the head twice while Bray resisted hitting him back. Later in the show, Knight was shown leaving, but then they had another scene where he was buried under a bunch of equipment backstage.
Bray Wyatt was up next.
(Commercial)
Still to come: Drew McIntyre & Sheamus vs. The Usos in a WarGames Advantage Match in the main event.
Let's Hear from Bray Wyatt
Bray Wyatt made his entrance in the darkness with the lantern in his hand. The fans popped for him as he made the slow walk to the ring. The wide shots with the crowd providing the light are always good to see. I am getting used to the theme song and starting to like it.
Wyatt said he knows that people talk about him and say things behind his back. Wyatt said his whole life people have thought he was a rabid animal. Wyatt said he knows that people just want to see the monster and The Fiend (the fans cheered). Wyatt asked the fans if they wanted to see the show to see the human tornado destroy himself, but Wyatt said that he didn't want to be that anymore. Wyatt continued talking about the burdens he had to go through in his life. Wyatt said that violence is the only language that he has shown us that he can ever speak and Wyatt talked about how he was not the one that attacked LA Knight. As Wyatt extended his arm, a video cued up.
A video aired featuring Uncle Howdy talking about how everybody lies. Howdy said "open your eyes" saying that he can make you feel wanted. Howdy said that you'll make fools of us all if you listen to him. Howdy said that the snake in the cage is still a snake. They showed Howdy's face and he said: "Wake up."
Analysis: The Wyatt promo was more of the same from him. The delivery is always good and he's got the crowd in the palm of his hands since they aren't shouting "what" or anything like that. They pay attention to him. This time around Bray mentioned The Fiend, which he doesn't usually do and the fans wanted that, but Wyatt went on to say he wanted to move past that. The interruption was like what we've seen from Uncle Howdy in the past telling Wyatt to wake up.
LA Knight was shown backstage watching what happened as Megan Morant walked up to Knight for an interview. Knight had his left arm in a sling and his right had a crutch. Knight said he didn't enjoy Thanksgiving because he was trapped under a pile of trash. Knight said that there was not a single consequence for Wyatt after what he did. Knight said if not for the sling and crutch, there would be consequences and he would kick Wyatt's keester in front of everybody. Knight said that's not an insult, that's just a fact of life…yeah.
Analysis: They are doing a slow build to an eventual match between Wyatt and Knight, which is fine with me. I don't know when it will happen, but obviously, WWE is content with taking their time with this Wyatt story rather than rushing it.
Hit Row entered for tag team action.
(Commercial)
The Viking Raiders made their entrance with Sarah Logan with a name change. They have renamed Sarah Logan as Valhalla now. Cole mentioned she was Sarah Logan before, but the "Gods" have given her the name Valhalla now.
Analysis: The name change doesn't bother me, but some people get worked up and complain about stuff like that.
Hit Row (Top Dolla & Ashante "Thee" Adonis & Top Dolla) (w/B-Fab) vs. Viking Raiders (Erik & Ivar) (w/Valhalla)
The VR boys took control early as they worked over Adonis in their corner. Erik sent Adonis into the ropes leading to a forearm to the head. Adonis with a punch, but Erik overpowered him with another punch. Ivar and Erik hit Adonis with a few strikes. Dolla got the tag leading to a running kick on Erik. Ivar sent Dolla out of the ring while Adonis got the tag and missed a move when Ivar moved while Adonis grabbed his knee after. Ivar hit a spin kick to the head. Erik tagged in for the Ragnarök double Powerbomb on Adonis for the pinfall win after three minutes.
Winners by pinfall: Viking Raiders (Erik & Ivar)
Analysis: * A squash match tag team match to put over Viking Raiders as a threat. Dolla was in there for about 30 seconds, tagged out like a dummy and then it ended right after that.
Michael Cole was on camera talking about Thanksgiving is for families as a way to trash Dominik Mysterio for attacking his father Rey Mysterio. Cole called Dominik a spoiled kid.
They showed the video of Dominik & Rhea Ripley showing up at Rey Mysterio's house leading to Dominik beating up his father Rey in front of the rest of the family. Ripley stepped on Rey's head while Dominik broke a broom handle on Rey's injured right foot that was in a boot. Dominik and Ripley left together happily. If you didn't see the video of it, we have it on TJRWrestling here.
Analysis: I think WWE is clearly doing a long-term build to have Rey finally agree to wrestle Dominik after months of cheap attacks like that and they can do it at WrestleMania. That Dom/Ripley segment was great with Rey wearing a mask in his house and selling the beating so well while Rey's wife Angie (Dom's mom) yelling about it was a nice touch too. It was a great idea and got millions of views on social media.
Ricochet made his entrance for the Smackdown World Cup semifinal match against Braun Strowman. They showed a tale of the tape with Braun weighing 335 pounds while Ricochet was 207 pounds. Braun is also 6'8" tall compared to 5'9" for Ricochet. That match was next.
(Commercial)
They showed LA Knight trapped against some equipment with some guys backstage trying to help him. Knight was down on the cement grabbing his injured left shoulder.
Analysis: It was the second week in a row that Knight was attacked by a mystery attacker. I assume we are supposed to think it was Bray Wyatt's evil persona, but we never actually saw it.
Braun Strowman made his entrance in the Smackdown World Cup semifinal match to a big pop.
Smackdown World Cup Semifinals: Braun Strowman vs. Ricochet
They are both faces with Braun having the big size advantage. Strowman shoved Ricochet, then mocked his height and Ricochet slapped Strowman in the head. Ricochet jumped off the ropes, Strowman caught him and Ricochet broke free with two dropkicks. Strowman charged, Ricochet ducked, Strowman over the top to the floor. While Strowman was on the apron, Ricochet kicked him and Ricochet hit a dropkick into the barricade. Strowman came back by running over Ricochet with a shoulder tackle over the commentary table. Back in the ring, Strowman got an elbow drop for a two count. Strowman sent Ricochet into the corner leading to a sternum bump. Strowman with a corner splash and a toss across the ring. As Strowman went for another move, the Intercontinental Champion GUNTHER walked down to ringside and Strowman yelled at him. Ludwig Kaiser and Giovanni Vinci showed up for a distraction, so Ricochet got a crucifix pin on Strowman for the one…two…and three! Barrett: "Chalk one up to the flippy floppy guys!" It went about five minutes.
Winner by pinfall: Ricochet
Analysis: **1/4 That was an interesting result with another distraction finish in the SD World Cup. This time, it was a matchup of two babyfaces, but the heel Imperium guys made their presence felt by distracting Strowman and that led to Ricochet capitalizing for the win. That's a result that most viewers likely didn't expect.
Ricochet has made the Smackdown World Cup Finals to face Santos Escobar next week.
After the match, Strowman was attacked by GUNTHER, Kaiser and Vinci. Ricochet went back into the ring for the save, but the numbers game was for Imperium, so Ricochet got beat up too. GUNTHER chopped Ricochet to knock him down. Strowman fought back with punches on Kaiser & Vinci, but GUNTHER ran away instead of fighting. Imperium left while Strowman was standing tall. Strowman looked down at Ricochet in the corner and Strowman helped him back to his feet. The fans cheered that.
Analysis: It showed that GUNTHER is willing to attack Strowman while he's done, but GUNTHER doesn't want to face him in a fair fight.
They showed last week on Smackdown when Kevin Owens was announced as the last man on the Men's WarGames team.
Sami Zayn was shown at The Bloodline's dressing room door with Kevin Owens talking to his sometimes best friend. As they were talking, the door was open a bit with Jey Uso shown there listening in on the conversation. Owens said that Sami is doing great now. Owens talked about how he had bailed Sami out of situations a lot in the last 20 years of their friendship. Owens said Sami doesn't mean it when he pisses off Roman. Owens told Sami to think about what would happen if Sami pisses them off. Owens said he wouldn't wait for them to turn on Sami because if it was Owens, he would strike first. Sami was left to think about it. Sami went to go into the room, Jey asked where Sami was and Sami said he texted Jimmy that he just got there. Jey asked if Sami if he talked to anybody since he got there. Sami said no, he didn't talk to anybody. Jey knew that Sami was lying, but he didn't say anything. Sami went into the ring.
Analysis: That was shot perfectly because we could see Jey listening on the conversation without Sami knowing it. Does that mean that Sami doesn't have a friend that can tell him that Jey was listening? Probably not. This is wrestling. We have to assume they don't know things like that. Anyway, it was effective with Owens putting an idea into Sami's head about being worried that The Bloodline may turn, so maybe Sami should turn on them instead. It certainly puts an idea in people's heads as we watch the WarGames match at Survivor Series.
(Commercial)
They showed Becky Lynch's return earlier in the night.
Becky Lynch was shown walking backstage with Kayla Braxton there to interview here. Becky talked about being home for four months and coming back from a shoulder injury looking for revenge on Damage CTRL. Becky talked about how everybody wants to go to war until the man comes around.
A video aired about WarGames with a rundown of the rules along with highlights of past WarGames matches in NXT and highlights of the competitors in this year's WarGames matches.
Analysis: It was a great video. I'm really excited for the two WarGames matches, especially the men's match.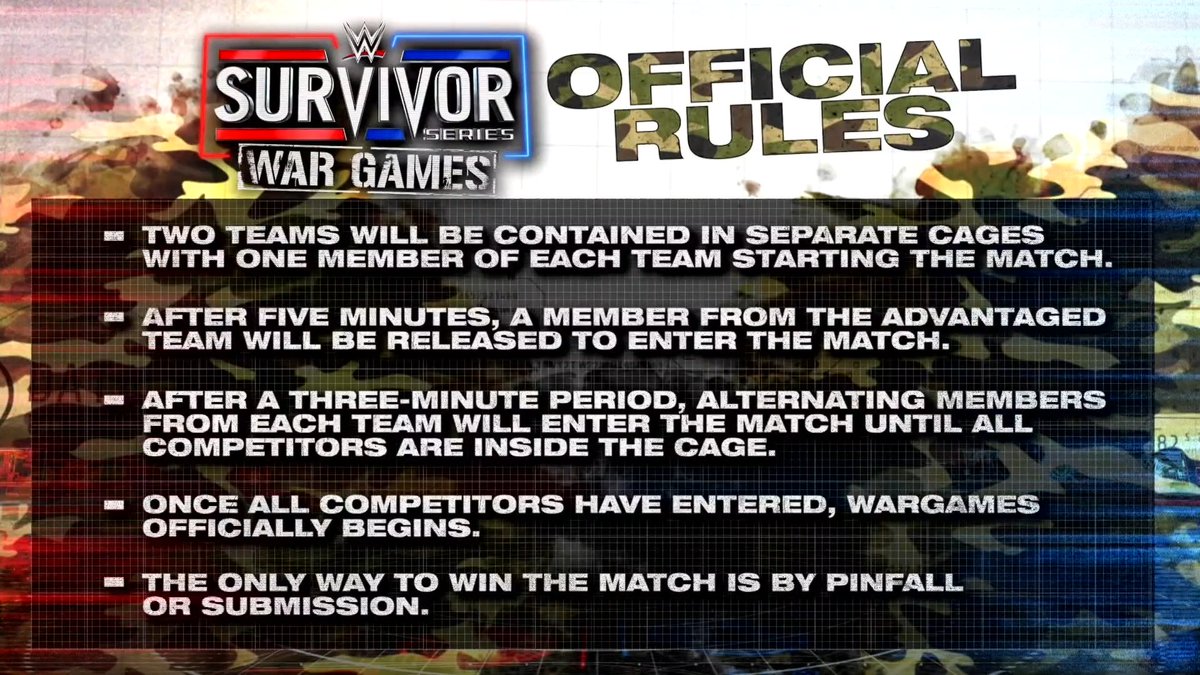 Raquel Rodriguez and Shotzi were about to be interviewed by Megan Morant, but the mean girls Ronda Rousey and Shayna Baszler attacked them. Ronda and Shayna took care of Shotzi easily while focusing on Raquel. Ronda and Shayna trapped Raquel's left arm in an equipment case, Baszler held her there and Rousey slammed the lid with the idea that it was slammed on Raquel's left arm. Rousey and Baszler left while Raquel was down selling.
Analysis: A cheap attack by the heels ahead of what was supposed to be a tag team match between those four women.
(Commercial)
Ronda Rousey made her entrance as the Smackdown Women's Champion with Shayna Baszler. Rousey said they're here, it looks like there won't be a match and Baszler said that accidents happen. They made a turkey wing joke about Raquel and Baszler warned Shotzi that she wasn't ready. Rousey told Shotzi to enjoy the sparking cider.
Shotzi went to the ring saying they should ring the bell, so the match was on.
Ronda Rousey & Shayna Baszler vs. Shotzi & Raquel Rodriguez
Shotzi splashed Rousey in the corner, Rousey kicked her back and Baszler tagged in. Shotzi punched both women, sent them into the ropes and hit a splash onto Rousey's back. Baszler kicked Shotzi in the face for a two count. Rousey hit a running knee on Shotzi, Baszler tagged in and Rousey wrapped her legs around Shotzi's neck. Baszler grounded Shotzi by wrenching on the left arm. Raquel Rodriguez made her entrance while favoring her left arm. Shotzi broke free and Raquel tagged in while favoring her left arm again. Rousey punched Baszler, then a kick and Raquel punched Rousey off the apron. Rousey got the tag, Baszler stomped on the left elbow of Raquel and Rousey applied the armbar on the left arm while Baszler held Shotzi back. Raquel tapped out after about four minutes.
Winners by submission: Ronda Rousey & Shayna Baszler
Analysis: *3/4 The heel champion Rousey and Baszler got the easy win since Raquel was attacked before the match. It was cheap obviously to get more heat on Rousey & Baszler as heels that are bullies. Shotzi put up a fight on her own although she was easily overmatched. Rousey should beat Shotzi easily at Survivor Series while Raquel will likely be a future title contender.
The Usos were shown talking backstage ahead of their big tag team match.
(Commercial)
Next Friday on Smackdown on FS1 for those you in the US: Smackdown World Cup Finals with Ricochet facing Santos Escobar.
Shotzi was interviewed by Kayla Braxton outside the doctor/trainer room. Shotzi said that Raquel's arm was broken and the elbow was dislocated. Shotzi said that this isn't the first time she's been bullied while saying that this is the first time somebody has had her back so she'll remember that when it comes to Raquel and it's personal. Shotzi said that Shayna will have a front row seat when Shotzi tears Ronda apart. Shotzi said she'll shock the world when she beats Ronda senseless.
Analysis: Rousey beating Shotzi is the biggest lock at Survivor Series. However, I give Shotzi credit for doing a confident babyface promo there. Shotzi is very likable as a face.
Kevin Owens was up first representing the babyface men's team in the WarGames match. Drew McIntyre entered with Sheamus, Butch & Ridge Holland to Drew's music.
The Usos were up next as the Undisputed WWE Tag Team Champions with Sami Zayn and Solo Sikoa. No sign of Roman Reigns and Paul Heyman with them.
WarGames Advantage Match: Drew McIntyre & Sheamus (w/Kevin Owens, Butch & Ridge Holland) vs. The Usos (Jimmy & Jey Uso) (w/Sami Zayn & Solo Sikoa)
The titles held by The Usos were not on the line. It's the matchup of the twin brothers against the best friends.
Sheamus tagged in against Jimmy with Sheamus hitting a clothesline. Drew tagged in for a double-team elbow. Drew and Sheamus hit a double hiptoss on Jimmy. Jey went into the ring so Drew and Sheamus easily knocked him out of the ring to the floor. The teams faced off on the floor leading to a break.
(Commercial)
The match continued with Jey making a blind tag as Sheamus charged, the rope was pulled down and Sheamus bumped to the floor. Jey told Zayn to back up with Owens shouting "you see?" Cole mentioned Zayn lying to Jey earlier in the show. Owens was shown telling Zayn that Solo will turn on him too. Back in the ring, Jimmy hit Sheamus with a headbutt and Sheamus came back with a powerslam. Drew got the tag with two clotheslines, a back elbow and Jimmy with a jumping kick. Drew came back with a spinebuster for a two count. Drew hit a neckbreaker followed by a kip-up to show that he was feeling good. Drew wanted a Claymore Kick, but Jey grabbed Drew's leg. Drew kicked Jey away, so Jimmy hit a superkick to knock Drew out of the ring. Jimmy hit a suicide dive onto Drew on the floor. Jey hit a suicide dive with a forearm on Drew. The Usos sent Drew into the steel steps at ringside leading to a break.
(Commercial)
It was Drew's turn as the face in peril as he charged in on Jimmy with a boot to the face. Jimmy hit the running hip attack on Drew against the turnbuckle. Jimmy tried the move again after stalling for a long time, but Drew got back up and got a knockdown with a headbutt. Sheamus tagged in against Jey with forearms, then a corner clothesline and a backbreaker. Sheamus did the ten beats to Jey's chest with Sheamus going up to 17 beats this time. Drew got a hold of Jey leading to his own beats, but The Usos hit neckbreakers using the top rope to break free. Jey sent Sheamus into the barricade while Drew hit a Claymore Kick on Jimmy. Jey back in with a superkick. Jey hit a suicide dive on Jey on the floor. Back in the ring, Sheamus came back with a jumping knee to Jey's face for a two count. Sheamus set up for the Brogue Kick, the fans were behind him and Sheamus punched Zayn off the apron. Jey hit Sheamus with a superkick for a two count. Jey went to the top rope, Sheamus punched Jey and Solo distracted the referee, so Sheamus tossed Sheamus down. Jey jumped off the top with an Uso Splash for a two count. Sami was complaining about it, so that led to a brawl with Holland fighting Zayn while Solo went after Butch on the floor. Drew jumped over the top with a somersault dive over the top onto four guys on the floor. Solo was grabbing his right knee, so I hope he's not too hurt. Zayn tried tossing a title to Jey, so Owens got in the way and Owens said he's not letting Zayn do this. Zayn grabbed the title back and pushed Owens. Zayn went into the ring with the title, so referee Charles Robinson ejected Zayn from ringside. Owens hit Jey with a Stunner (the referee was looking at Zayn) and Sheamus hit a Brogue Kick on Jey for the pinfall win. The match went about 17 minutes.
Winners by pinfall: Sheamus & Drew McIntyre
Analysis: ***1/2 That was a great match with a clever finish because when you have all those people at ringside you know it's going to lead to interference causing the ending. Zayn was really helpful for his team, but then he tried to cheat again with Owens standing in front of him and that ended up causing the loss. It was a smart way to book it. Drew and Sheamus took turns as the faces in peril in the match, The Usos did a nice job as usual while in control and I liked that one nearfall for Jey after the Uso Splash off the top. The Usos rarely lose, but in this case it's fine because it was Zayn's actions costing them the match.
Well this backfired on @SamiZayn…@WWEUsos@FightOwensFight@WWESheamus#SmackDownpic.twitter.com/LTt3EJxukH

— WWE (@WWE) November 26, 2022
The win by Sheamus & McIntyre means their team has the advantage in the Men's WarGames Match at Survivor Series.
The Sheamus & Drew team was standing tall in the ring while The Bloodline was on the floor looking a bit worried and angry about what happened. Barrett shouted about how Roman Reigns will be there at Survivor Series. The two teams continued the staredown. That was the end of the show.
Analysis: Since the heels got the advantage in the Women's WarGames Match, I figured the babyfaces would get the advantage in the Men's WarGames Match, so that's what we got here.
Advantage. #wargamespic.twitter.com/b1om8eCXlb

— Sheamus (@WWESheamus) November 26, 2022
Three Stars of the Show
Drew McIntyre & Sheamus
The Usos
Santos Escobar/Ricochet
The Scoreboard
7.5 out of 10
Last week: 7
Final Thoughts
I liked the show a lot this week. Everything seemed to have a purpose and there really wasn't a bad segment. When I watch Raw sometimes there are filler segments or matches going too long because they have three hours to fill. It's not like that on Smackdown and this week they especially did a nice job of making the most of their time. I liked the long main event with Drew McIntyre & Sheamus beating The Usos due to the chaos at ringside with Sami Zayn, Kevin Owens and others. No Roman Reigns on the show, so Drew/Sheamus managed to get the win and the advantage going into WarGames.
The shorter matches were fine because they advanced stories like Gunther, Kaiser & Vinci causing Braun Strowman to lose to Ricochet. Also, Ronda Rousey & Shayna Baszler work well together as mean heels that took out Raquel Rodriguez to make things tough on Shotzi. Bray Wyatt's segment wasn't that long at all, but he made his points well and then we got to see another mystery attack on poor LA Knight.
I'm also happy to see Becky Lynch. They wasted no time bringing her back to be part of Bianca Belair's team in the Women's WarGames match, which is certainly fine with me. It was not a major surprise since Becky was reportedly the woman in mind for that spot, but it's nice to see it is official. Bring on WarGames!
The next WWE Premium Live Event is Survivor Series in Boston on Saturday, November 26th. Here's the lineup so far.
* Men's WarGames Match: The Bloodline – Roman Reigns, Jimmy Uso, Jey Uso, Sami Zayn & Solo Sikoa vs. Drew McIntyre, Sheamus, Butch, Ridge Holland & Kevin Owens
* Women's WarGames Match: Bayley, IYO SKY, Dakota Kai, Nikki Cross & Rhea Ripley vs. Bianca Belair, Asuka, Alexa Bliss, Mia Yim & Becky Lynch.
* United States Championship: Seth "Freakin" Rollins vs. Bobby Lashley vs. Austin Theory
* AJ Styles vs. Finn Balor
* Smackdown Women's Championship: Ronda Rousey (c) vs. Shotzi
You can watch WWE Survivor Series streaming live on Peacock in the U.S. and on WWE Network everywhere else at 8 p.m. ET / 7 p.m. CT on Saturday, November 26th.
===
Thanks for reading. Please check out my reviews of every WWE PPV ever listed in order. Go Los Angeles Rams, Toronto Raptors and Toronto Maple Leafs. My contact info is below.
John Canton
Email mrjohncanton@gmail.com
Twitter @johnreport