TJRWrestling WWE Survivor Series 2022 Preview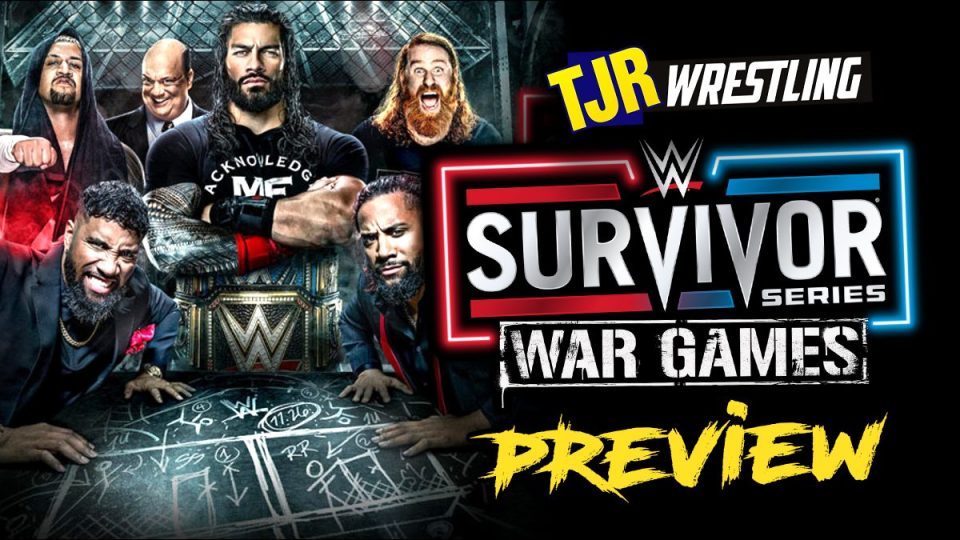 It's WWE Survivor Series featuring men's and women's WarGames for the first time on the main roster on a card with five matches with two titles on the line.
John: I am really looking forward to this year's Survivor Series. It's weird writing about a card with only five matches, but just knowing how Triple H booked the NXT WarGames shows in the past, they will definitely be able to fill up three hours and even more with this card. I do feel bad for some wrestlers that aren't on the show, but it's a big roster, so some people are going to be left out.
As a Survivor Series historian that has reviewed every edition of this PPV since it started in 1987, I must admit that I will miss the elimination tag team matches a bit because I genuinely like them. However, the Raw vs. Smackdown format should have ended years ago. Also, WarGames is a very entertaining match, so I'm cool with the change. The Women's and Men's WarGames matches have been built up very well although it was a bit difficult since Crown Jewel was only three weeks ago. They probably could have used another week or two on the men's match, but the last week of television was interesting for the most part.
If you don't know the WWE WarGames rules or you forget them, here they are from a graphic that was shown on Smackdown.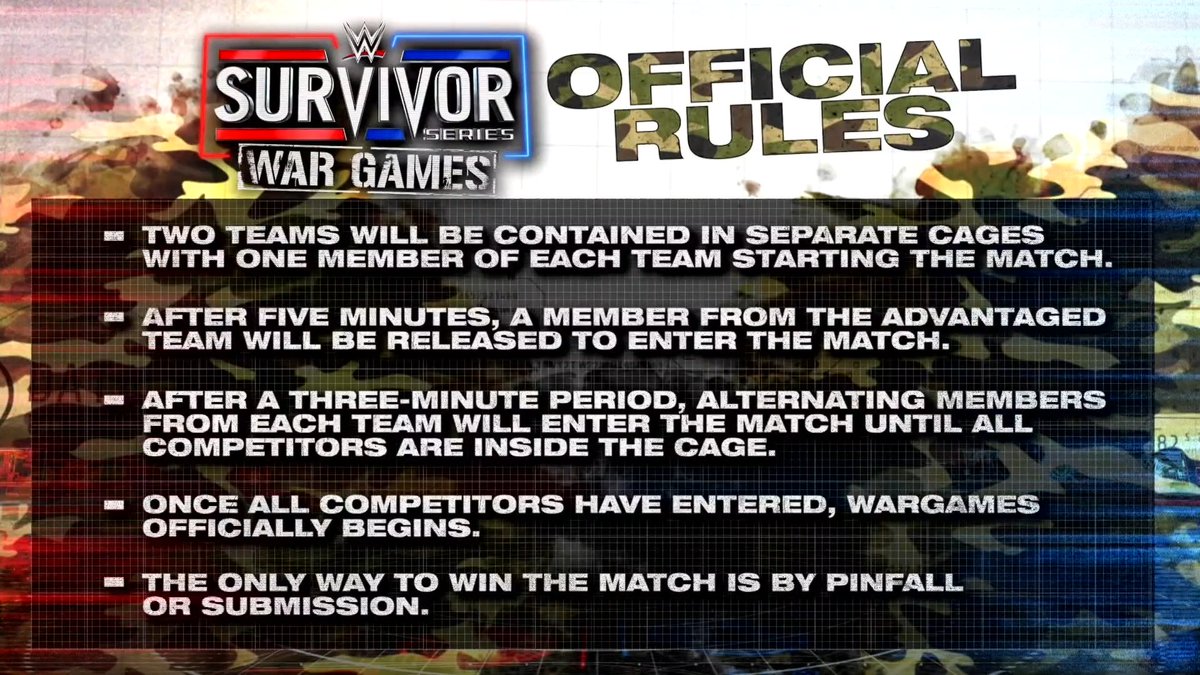 Joining me for the preview are TJRWrestling writers Joel McIntyre, Matthew Fowler, Kelly Dishnow, Marc Madison Lyle Kilbane and Kristian Thompson.
Matthew: I will be the unofficial live correspondent for TJRWrestling this Saturday since I'm going to the show in Boston. I am excited for the 5 matches that have been announced, and that there is a chance with so few matches that I may get to bed at a reasonable hour.
Marc: With an amazing theme leading into Survivor Series War Games as Ozzy Rules, we look for five matches and hours of intensity. It's great that they've done away with the brand warfare amongst the different shows and simply tied the best of the best being in the ring for this event. Could they have had another men's WarGames match? Possibly but if they did may be reaching in an OC versus Judgment Day battle. What match are you looking forward to seeing? Personally, there is more to be excited about than not. But I will miss hearing William Regal saying WarGames.
Lyle: The Triple H era is very much in full effect with WWE's November spectacular Survivor Series welcoming WarGames to the main roster for the very first time. While there may only be two team matches scheduled for the show, the twist on the Survivor Series provides a welcome reprieve from the annual battle for brand supremacy between Raw and SmackDown which had long outstayed its welcome.
Kristian: Finally, a Survivor Series to be interested in! I think the fans have become tired of the years of meaningless elimination matches with no payoff, so it's great to see WarGames reappear Saturday in Boston. Looking back through the Survivor Series archives, I really loved those events where the elimination matches meant something. The fans don't care if Raw or SmackDown win bragging rights; they're cheering or booing for their favourite or most despised wrestler. 2004 was a fun example, where Randy Orton's team won the elimination match, so they all got to be GM of Raw for a week. Whilst there are still no spoils for the victor in terms of future championship matches, at least the feuds in both War Games matches have build up and solid storylines behind them. I still think a winning team at Survivor Series should be awarded something and it would make sense for example if the Bloodline or Damage CTRL's team lost, that the opposition wrestler who picked up the win would receive a future title match. However, we will just be satisfied with WarGames so I won't be too greedy.
(Note: All graphics below are from WWE.)
Women's WarGames Match: Bayley, IYO SKY, Dakota Kai, Nikki Cross & Rhea Ripley vs. Bianca Belair, Asuka, Alexa Bliss, Mia Yim & Becky Lynch
Joel: My interest in this match decreased significantly once I realized that Sasha Banks was not going to be involved. That being said, the match will be a slapper. I am a huge fan of all ten women here. I'm glad women like Iyo, Dakota, and Mia Yim are getting big spots here. You have to be careful because there's three women in this match that need to be protected. That's Rhea Ripley, Bianca Belair, and Becky Lynch. I don't think any of those three take a pin. I've enjoyed the build so far, but I think Damage CTRL and Team Bianca should move on after this match. Damage CTRL moving on to Becky would be an ideal transition. I think Team Bianca gets the win with Becky getting the tap out on Dakota.
Winners: Team Bianca
Kelly: There's lots of intrigue here. It makes sense adding Becky to the match given what she said to Belair after the injury in their SummerSlam match and she's obviously really fresh coming back from injury. As for the winner, I'm going to pick Team Bianca. Lynch can pick up the win for her team over Bayley. This will accomplish a couple of goals. First, it'll move Bayley over to Lynch to feud with and finish off the Belair feud. Second, Yim and Ripley can continue their feud. Belair can move on to a small feud with Cross until Ripley becomes available by the Rumble.
Winners: Bianca Belair and friends
Marc: As of yesterday (Friday) evening, the two teams were finalized. The faces secured their team with the addition of former Smackdown and Raw Women's Champion Becky Lynch. After suffering from a separated shoulder earlier this year, Lynch is ready to go to war with her teammates. What is great to see is that unlike times in the past, Bayley and Becky Lynch have been passing ships in the night, with one returning as the other departs. But now we will have two formattable teams that are sure to put on a War Games, not unlike what we have seen these women do in NXT. While the match could play out in any number of ways, the one that I'm leaning on is the team of Damage CTRL, Cross, and Ripley have a sizable advantage at one point in the match. Ripley has just had such a dominant character; to see her dominate here only seems to make sense as well.
This will be a brutal match, so how tested will Lynch be competing in a cage with nine other women throwing themselves at her? The easy pick is to have Lynch return and aid her team by appearing as the conquering hero, but I think that narrative has been played out a bit. This should be a night where Damage CTRL wins WarGames.
Winners: Bayley, IYO SKY, Dakota Kai, Nikki Cross, and Rhea Ripley
Lyle: The issues between Belair, Bliss, Asuka, and Damage CTRL head to the next level inside WarGames. Add to that the problems between Mia Yim and Rhea Ripley and the unpredictable Nikki Cross, this match had all the makings of a classic. And then The Man came around.
Becky Lynch's involvement in the match might tip the hat towards which team will ultimately end up victorious but given her own issues with Bianca Belair in the past, Big Time Becks involvement provides an intriguing twist.
The bad guys have the advantage as is only right with WarGames so expect the big hitters such as Bayley and Lynch to enter the match late on to thunderous receptions.
Winners – Bianca Belair, Asuka, Alexa Bliss, Mia Yim & Becky Lynch
Matthew: The first of two War Games matches featuring ten of the top women in all of wrestling. All ten of these women are talented, and I expect them to attempt to steal the show with this one. As for who wins, I feel that Damage CTRL needs this win more, to show that they are a dominant faction in the WWE. I will go with Cross defeating Belair to not only win the match, but set up a potential title match for the Royal Rumble.
Winners: Bayley, IYO SKY, Dakota Kai, Nikki Cross & Rhea Ripley
Kristian: Women's WarGames matches on NXT in the past have been solid to great, so I am looking forward to this. It's great to see Lynch back, although she is better in the heel role. The feud between Damage CTRL and Belair continues, even though having Bayley lose championship matches now has meant they've lost a bit of momentum. With Becky returning, her side will win and as it's a big moment I'd predict she gets the win for her side.
Winners: Bianca Belair, Asuka, Alexa Bliss, Mia Yim & Becky Lynch with Lynch to pin Kai
John: This story has been brewing a long time. After all, Bayley and friends confronted Belair four months ago at SummerSlam, which is when Lynch last wrestled a match. After Lynch was injured in the SummerSlam match with Belair, Bayley and friends attacked Lynch backstage on Raw, so there's your revenge story. I think creatively they did a nice job of inserting Rhea Ripley and Mia Yim into the story while Nikki Cross has also fit in as an ally of Damage CTRL even though Nikki is off in her own world at times too. Asuka should have fun interactions with SKY, who might be the one to do a moonsault off the top of the cage since she did it in NXT, so I can see that happening again.
While I think WWE might want to have Lynch win to give her momentum as a babyface, I'm looking at this match as a way for Rhea Ripley to establish herself as a major threat moving forward. They already teased Ripley facing Belair in a backstage moment on Raw recently, so I think we'll see more of that here. Ripley and Lynch also teased a fight on Smackdown too. Alexa Bliss really hasn't done that much in recent months, but I think she might have a role her. Perhaps Bliss turns on her team or "accidentally" hits somebody on her team with a weapon, which could lead to Ripley capitalizing for the win. A win by Belair or Lynch would be perfectly fine too. I just think WWE is going to push Ripley heavily after this match, so I'm going with Ripley beating Yim to get the win for her team.
I think this will go around 30 minutes. If it starts the show like I expect then it's going to have a really hot crowd and all of these women are going to work hard to put on a great match. It should be a lot of fun to watch. I'm going with Ripley winning for the heel team, but I could see it going either way. It's certainly not a lock as a prediction. That's what makes it good too. That unpredictability factor helps a lot.
Winner: Bayley, IYO SKY, Dakota Kai, Nikki Cross & Rhea Ripley
AJ Styles vs. Finn Balor
Joel: If they limit the shenanigans and let these two go out and work, this could be a MOTY candidate. Their match at TLC in 2017 was great. I've enjoyed Finn's work under Triple H's leadership so far. AJ Styles hasn't won a singles match on a PLE since 2019. I think that ends here. The O.C. losing at Crown Jewel would kind of telegraph that AJ would finally get one up on Judgment Day after six months. I wouldn't mind seeing this continue one more month but if it ends here, that's fine too.
Winner: AJ Styles
Kelly: This is going to be a really good match. They should be given sufficient time and could be a match of the night contender. Styles and Balor work well together. I'm sure there will be some outside interference from both teams to keep the feud running. I think Styles will finally pick up a much-needed win here against Judgment Day.
Winner:AJ Styles
Marc: The last time these two vividly faced one another was when Styles was a replacement for 'Sister Abigail.' Thankfully, that match was an absolute classic. How could it not be? When we consider that the two men competing are ones that had a history with one another in Japan and are now stateside are finally drawing their line in the sand. This could have been another potential War Games match. If Edge and Rey Mysterio were with The OC and Judgment Day had recruited a tag team that could be as imposing or threatening. Viking Raiders? Then this could have worked also. But with Mia Yim and Rhea Ripley tied to the Women's match, it seems like that idea for them being included in this match went out the window.
It hasn't been a year where Styles has been successful on a pay-per-view. For Finn Balor, his ascent to the top of the rankings only makes sense with another win here. That trend may continue if the rumors of Balor's in the midst of a push. That isn't to say that Styles looks bad by any means, but this feels like it may be the night when Balor wins. But a run-in by Rey Mysterio and Edge at some point would make this more entertaining.
Winner: Finn Balor
Lyle: Bullet Club explodes! The two former leaders of the NJPW faction go head to head in singles competition for the first time since TLC in 2017 and only the second time ever. Both men will likely be flanked by their respective factions in The OC and The Judgment Day with only Mia Yim and Rhea Ripley likely to be missing due to their involvement in WarGames.
At Crown Jewel when The OC and The Judgment Day met in six-man tag team action it was Balor's group that came out on top. The issues between these two men could continue for quite some time and a win for either would surely put them in the conversation for a title shot somewhere down the line.
Winner – Finn Balor
Matthew: I am so excited to see this match live. Hopefully WWE gives both of these guys plenty of time, because if they do this could be special. As for who will win this match, I expect both factions to take each other out of the equation. Once it is a one-on-one match, I predict a certain Rated R Superstar will make a surprise return. Edge will then attack Balor to set up a future match, and allow Styles to get the win.
Winner: AJ Styles
Kristian: I'm glad they added this match to the PPV and as just a singles match. The Judgment Day vs Club feud continues to be profiled prominently on Raw and it has been entertaining for the most part. Styles badly needs a win and I expect he will get it Saturday, with lots of outside shenanigans from both teams. We might not be far off from the Dominik vs Rey build to WrestleMania, too.
Winner: AJ Styles
John: When they had that impromptu match at TLC 2017 it wasn't advertised and they only found out about it a day before. There was also no storyline going into it. This time, they are part of a long-term story with Finn as a heel leader in The Judgment Day while Styles leads The OC. I think the build has been strong. I'm glad they went to this as a singles match instead of doing another tag team match between the groups.
As for the winner, I was going to mention Edge returning just like Matthew did above. I think they can do something where Balor's buddies try to cheat to help him, but then Edge shows up to help Styles win (maybe Edge hits Balor with a Spear that the referee doesn't see) and Styles follows up for the win. Balor has been picking up a lot of wins while Styles has not, so I think it's time for Styles got a big win. I hope it's a great match and I certainly think it will be.
Winner: AJ Styles
Smackdown Women's Championship: Ronda Rousey (c) vs. Shotzi
Joel: I like that Shotzi is being given the spotlight here. I don't think anyone expects Ronda to lose. The Smackdown women's division needs Charlotte, Sasha, and Naomi. Hopefully, Shotzi gets some offense in and shows the crowd that she can be taken seriously.
Winner: Ronda Rousey
Kelly: Shotzi has no chance here. It's just someone for Rousey to beat for right now.
Winner: Ronda Rousey
Marc: It's great that the WWE has worked to build on Shotzi's natural charisma and made her a key cog in the women's division. It is as important to elevate their roster and make stars as it is to have already established ones. In this case, the Ballsy Badass has been earning her keep for quite some time. Before Shotzi Blackheart was creating havoc in NXT, she was doing so on the independent circuit. Fans haven't seen how literally balls to the wall she can be. She is capable of competing like a human car crash, and it's fantastic to see. But the time will come that despite Shotzi's best efforts, it just won't be enough. There will come a time when she badly telegraphs something, and Rousey will be like a shark smelling blood, ready for the kill.
Winner: AND STILL Smackdown Women's Champion, Ronda Rousey
Lyle: Shotzi earned her SmackDown Women's Title shot when she won a six-pack challenge that included Lacey Evans, Raquel Rodriguez, Xia Li, Liv Morgan, and Sonya Deville. To showcase the threat she could pose to Rousey, she defeated her long-time friend Shayna Baszler on SmackDown.
Ultimately, Shozi should prove to be just another victim of The Baddest Woman on the Planet with Ronda Rousey surely on course to carry her title all the way to WrestleMania 39 in Los Angeles in April 2023.
Winner – Ronda Rousey
Matthew: I like Shotzi, but I give her zero to no chance of winning this match. I expect Rousey to make quick work of Shotzi, in what will be little more than a squash match. After the match however, I think Rousey will get a new challenger. I predict Sasha Banks makes her anticipated return in her hometown, setting up a huge Royal Rumble Match between the two.
Winner: Ronda Rousey
Kristian: Unfortunately, Rousey is just biding time until Charlotte Flair returns or they give Raquel a decent run as a challenger. So this match is very predictable. They might have a moment where Shotzi gets close to winning, but Shayna Baszler distracts her which leads to Rousey getting the win. I don't think this one will go too long.
Winner AND STILL SmackDown Women's Champion: Ronda Rousey
John: This is by far the easiest match to predict on the show. It would be a major upset and stunner if Shotzi were to get the win. I think they might do the match where Shotzi gets plenty of offense leading to perhaps a nearfall or two, but Rousey should put her away rather easily. Since Rousey just got the title back at Extreme Rules, I think we are in the early stages of a very long title reign. If Rousey loses this title before WrestleMania I'll be very surprised.
Winner: Ronda Rousey
United States Championship: Seth "Freakin" Rollins vs. Bobby Lashley vs. Austin Theory
Joel: I'm loving the new direction for Austin Theory. This is how he should have been booked from the beginning. This is the Theory I can see as a top guy. However, I don't see Seth losing the title this early. All three competitors have done a solid job building this feud, but I think Seth Rollins keeps it by pinning Lashley.
Winner: Seth Rollins
Kelly: It looks like we are getting a full reboot of Theory. He's been coming off as either a Randy Orton 2.0 or John Cena 2.0. I think he has a bright future and could take the US title. Lashley has been great these last few months while Rollins just turned face. This will be a good match and it'll be hard to pick a winner.
Winner: Seth Rollins
Marc: Has there ever been a time when losing the Money in the Bank briefcase could be what's best for a character? For Austin Theory, losing that briefcase seems to have opened the door to show just how serious and intense he can be. Unfortunately, he has felt the wrath of Bobby Lashley and came up short at the hands of Seth Rollins. Now, Austin Theory will have the opportunity to showcase his skillset and put on a tremendous match against two already established talents. He doesn't need to win this match to impress. It is likely that he won't win the match either. But Theory has a remarkable quality about him that athletically can't be ignored.
We know very well what Lashley and Rollins can do, but this has to be a match where as well as they will be, it is Theory that needs to come out looking impressive.
Winner: AND STILL United States Champion, Seth 'Freakin' Rollins
Lyle: What a difference a few months make? In early July Austin Theory had the world at his feet, winning the Money In The Bank briefcase with Vince McMahon apparently the star's biggest cheerleader on and off screen.
McMahon's retirement saw Theory drift to the background on Raw and his fall from grace was highlighted by his failed cash in on Seth Rollins' US Championship.
Rollins and Lashley have had their own issues in recent weeks ever since Rollins took advantage of Brock Lesnar attacking The All Mighty star to win the US Title. With Rollins still listed as a babyface within the company, it looks like his feud with Lashley might have more legs to it with both men undoubtedly looking to bigger things with the Royal Rumble on the horizon. That bad blood could be enough to let Theory sneak through and get some retribution for his nightmarish few months.
Winner AND NEW United States Champion – Austin Theory
Matthew: WWE has spent the last few weeks trying to rehabilitate Austin Theory, after completely burying him with the horrible Money in the Bank cash-in. Can Theory win here, and win the title that he so desperately wanted that he blew his briefcase on it? Probably not, as I think Rollins will likely retain here by sneaking in and pinning Theory after Lashley takes him out.
Winner: Seth Rollins
Kristian: This is probably the hardest match on the card for me to predict. I could see reasons for all of the men to walk out of WarGames as US Champion. Rollins has done a terrific job at making the title feel like a big deal again and I have really enjoyed seeing it defended more often. Because of these reasons, Rollins could retain. Lashley was close to winning back the championship but that was spoiled by Theory a few weeks back. It's refreshing to see him in a mid-card title feud and that's another reason why Rollins has elevated the title; his opponents have been big names.
Lashley is such a dominant presence that they might want the title back on him and carry it on the road to WrestleMania. Theory's character has been reset a little of late. He's more serious and intense since failing to cash in the MITB briefcase on Rollins for the US Title. He needs the win more than any of the others. However, if they didn't put the championship on him by using the briefcase a few weeks back, I can't see them doing it here. Storyline-wise, it would make sense though. Rollins is doing a great job so I think he will walk out as still the US Champion.
Winner AND STILL United States Champion: Seth Rollins
John: I think the creative team has done a nice job of devoting a lot of time to this storyline while also making the US Title feel like a coveted championship. Since there's really no WWE Title on Raw these days, the US Title has felt as important as ever. The saga has gone from Bobby Lashley beating Austin Theory to win it to Brock Lesnar attacking Lashley leading to Rollins winning it and Lashley preventing Theory from cashing in Money in the Bank to win the US Title. Now we are here with a triple threat match that makes sense rather than one of those matches where it's just thrown together.
I've mentioned in my Raw Deal reviews that the character rehab that Theory has gone through has been one of the best parts of the show in the last two weeks. Yes, the failed MITB cash-in made him look bad, but it has also led to a change for him where he dropped the goofy selfie guy gimmick to become a more serious heel that is believable when he says he's going to kick somebody's ass.
There's a part of me that thinks Theory should win because it would shock some people since most of us probably assume that Rollins will win since he's only held the title for about a month, so why take the title off him already? I'm going with Rollins keeping it the gold in what should be a very entertaining match. However, I really think Theory could win. I'm going with Austin pinning Theory after Lashley hits a big move or wears Theory down with a Hurt Lock and Rollins capitalizes on it to get the win.
Winner: Seth "Freakin" Rollins
Men's WarGames Match: The Bloodline – Roman Reigns, Jimmy Uso, Jey Uso, Sami Zayn & Solo Sikoa vs. Sheamus, Butch, Ridge Holland, Drew McIntyre & Kevin Owens
Joel: Here's the second WarGames match and this will be the match of the night. The Bloodline story is so good and the story they told on Smackdown last night with Kevin Owens, Sami Zayn and Jey Uso was great. It plants those seeds of doubt. Whenever Owens and Zayn reunite, it's going to be glorious. I still have a hard time picking against The Bloodline, especially when Roman Reigns is in the match. I think it'll be highly competitive. I expect there to be moments where there's miscommunication that leads you to believe Sami might turn on the Bloodline or vice versa. I expect Owens and Sami to have a moment and then brawl. In the end, I expect The Bloodline to get the win after Roman spears Owens for the win due to a Sami distraction.
Winners: The Bloodline – Roman Reigns, Jimmy Uso, Jey Uso, Sami Zayn & Solo Sikoa
Kelly: The Bloodline has to – absolutely, positivity, beyond a shadow of a doubt – lose this match. With the next PLE being the Royal Rumble the end of January, the wheels have to be put into motion for the Sami Zayn split. Zayn will likely cost The Bloodline the match somehow, likely by not finishing off Kevin Owens so they can pick up the win. Zayn will fall out of favor by the Rumble and Owens will be there to make the save and help him take the tag titles off the Usos at Elimination Chamber. That is the narrative that must be pushed in this match.
Winners:Sheamus, Butch, Ridge Holland, Drew McIntyre & Kevin Owens
Marc: As evident on this past week's edition of Smackdown, we have seen that the Brawling Brutes, Drew McIntyre, and Kevin Owens has gotten the advantage going into WarGames. It is that advantage that says how important things have the potential of being for one team. But while it may give them a brief advantage, it doesn't mean it will be sustained. Conditioning in a match with these ten men will likely be why they can go as long as they do. We are likely to see Sami Zayn, Jimmy, and Jey Uso all contributing to the higher spots for their team. In the case of The Brawling Brutes, McIntyre, and Owens, it is likely to be Owens and Butch taking risks for their team. With teasing of dissension on The Bloodline's side, could this be the night that ends their association with Sami Zayn?
Winners: The Brawling Brutes, Drew McIntyre, and Kevin Owens
Lyle: The first time The Bloodline has teamed up as a five-man team will be at the Survivor Series inside the demonic cage of WarGames. Roman Reigns undoubtedly has ruled WWE with an iron fist as Undisputed WWE Universal Champion while The Usos have set their own records, becoming longest-reigning tag team champions in company history. Added to that, the enforcer Solo Sikoa and the wildcard Sami Zayn, the family looks unstoppable.
But they will have their work cut out for them as they do battle with the mix of technical ability and raw power brought by Butch and Ridge Holland. Add to that the knowhow and experience of former WWE and Universal Champions Sheamus, Drew McIntyre and Kevin Owens – it could be a long night for The Bloodline.
The big question is what will happen should Kevin Owens and Sami Zayn have to do battle. Will seeds be planted for a team between the two men somewhere down the line? Will there be an undercurrent of Roman Reigns losing patience with his 'Honorary Uce'? Or will this be The Bloodline at the apex of their powers with the spectre of WrestleMania in the near future surely bringing the biggest threat to Roman Reigns since he captured the Universal Title in August 2020.
Winners – The Bloodline
Matthew: Now we get to the main event and the match I am most excited to see live. The Bloodline have been killing it lately, with Sami Zayn having the run of his career. No one has pinned Roman Reigns in years, and I think this is a great chance to change that without having him lose his titles. I predict that Sami Zayn will accidentally hit Reigns, allowing Owens to pin Reigns for the win. This will set up the big Reigns and Owens title match for the Rumble, as well as start tension between Zayn and the Bloodline.
Winner: Drew McIntyre, Sheamus, Butch, Ridge Holland and Kevin Owens
Kristian: This is going to be a real showcase. Not only will the wrestling in the match be tremendous, but the storytelling (especially as it concerns the Bloodline) has been first-class. Everything the Bloodline touches lately has turned to gold. From Sami Zayn's stint as an honorary Uso, to everyone cracking up over getting 'Ucey', to the reinvigoration of Sheamus, they've just been producing captivating segments and matches that have elevated everyone around them. I'm really glad that Kevin Owens looks likely to compete in the match. There was concern that he suffered a knee injury and, even if it is minor, this is the kind of match that he can be involved in but have limited action as there are 9 others in the match. When the rumours for this match surfaced a few months back, even though we weren't sure who the Bloodline's opponents would all be, I thought it might be the opportunity for them to finally turn on Sami. However, Sami has so much crowd support as a Bloodline member and is getting great reactions wherever he goes, that I think they will hold off on that for now.
My prediction, as I have written about before, is that they will turn on Sami, who will then align with Owens to take on The Usos at WrestleMania. I know that I'm not alone in that thinking, but I think it would make more fantastic TV and of course a huge Mania match. With respect to this match though, I agonised over picking a winner. The Bloodline win a lot, especially since they have Reigns who never loses, so this is a match that they can lose and it wouldn't hurt them a great deal. Yes, it would hurt their ego, but with no titles on the line they can take a loss and advance the feud possibly with whoever picks up the win for McIntyre's side. I actually think they will push Sheamus to a match with Reigns soon, so I think he will get the win for his side. Sami could take the loss, which could kick start the storyline of Zayn being the weak link in the Bloodline. I think that this will be a fantastic spectacle and I wouldn't be surprised if it goes nearly an hour, with only 5 matches on the card as I write this.
Winners: Drew McIntyre, Sheamus, Butch, Ridge Holland & Kevin Owens (Sheamus to pin Sami Zayn)
John: This is a match where I could write a lot of words breaking it down with all the possible twists and turns. As I said in the open, it would have been nice if we had a full month of build going into this with dueling promos and things like that, but they just didn't have the time for it. Owens only got added to the match eight days before it takes place. However, I don't think many fans are going to complain about the lack of build because there's so much talent in this match.
I'm so excited about whatever interaction is going to take place between Sami Zayn and Kevin Owens. The best friends have been hesitant to fight in the build to this, so I would imagine there's a spot in the match where everybody else is down, then those two start fighting and the crowd goes absolutely crazy. As a fan of both guys for many years and a fellow Canadian, I'm going to love that so much. The aftermath of the match will be interesting too in order to see if they do Bloodline split by kicking Sami out of the group soon or save it for a few more months. I think Sami and Kevin should reunite as babyfaces closer to Elimination Chamber in Montreal in front of their hometown crowd. Let it simmer before that.
The babyface team has three guys that can be title opponents for Roman Reigns with Sheamus, Drew McIntyre and Owens being the three. I think any of those guys interacting with Reigns will be great to watch. Butch and Ridge are more like a tag team at this point, which is fine and they can battle The Usos in the match. If somebody on the face team loses then it's probably going to be Butch or Ridge to keep the others strong.
As for the heel side, the big thing will be the Sami/Jey Uso story. I think Solo Sikoa will continue to look impressive and dominate parts of the match. It would shock me if Solo was the one that lost for his team. They could surprise us by having Reigns get beat, but I think there are other options in the match that are more likely. It will probably be Sami, Jey or Jimmy that loses for the team. I can totally see Jey freaking out on Sami and maybe even striking him during the match, but then the other guys on the team try to calm Jey down.
I have very high expectations going into this match. I think it's going to be outstanding, they are going to get a lot of time, there will be some twists/turns throughout the match and I believe it will be one of the best WWE matches this year. While putting The Bloodline over would certainly be fine with me, I think it's more likely that the issues between Zayn and Jey are going to lead to one of those two guys getting pinned in the match. I'll go as far as saying it will be Sheamus beating Jey because I think we'll see Sheamus as an Undisputed WWE Universal Title challenger for Roman Reigns at Royal Rumble in two months unless they want to do it before that. Anyway, I'll go with the babyface team winning in what should be a grueling match that goes around 40 minutes.
Winners: Sheamus, Butch, Ridge Holland, Drew McIntyre & Kevin Owens
BONUS TOPICS!
The Match I'm Looking Forward To The Most
Joel: Men's WarGames.
Kelly: Both WarGames matches.
Marc: Men's WarGames.
Lyle: Men's WarGames.
Matthew: Men's WarGames.
Kristian: Men's WarGames.
John: Men's WarGames.
The Match I Care About The Least
Joel: Ronda Rousey vs. Shotzi.
Kelly: Ronda Rousey vs. Shotzi.
Marc: Ronda Rousey vs. Shotzi.
Lyle: Ronda Rousey vs. Shotzi.
Matthew: Ronda Rousey vs. Shotzi.
Kristian: Ronda Rousey vs. Shotzi.
John: Ronda Rousey vs. Shotzi.
Longest Match
Joel: Men's WarGames.
Kelly: Men's WarGames.
Marc: Men's WarGames.
Lyle: Men's WarGames.
Matthew: Men's WarGames.
Kristian: Men's WarGames.
John: Men's WarGames around 40 minutes.
Shortest Match
Joel: Ronda Rousey vs. Shotzi.
Kelly: Ronda Rousey vs. Shotzi.
Marc: Ronda Rousey vs. Shotzi.
Lyle: Ronda Rousey vs. Shotzi.
Matthew: Ronda Rousey vs. Shotzi.
Kristian: Ronda Rousey vs. Shotzi.
John: Ronda Rousey vs. Shotzi around eight minutes.
Excitement Level on a Scale of 1-10 (1 being low, 10 being high)
Joel: 8. Like I said, my anticipation went down when I realized Sasha was not going to be on this show. The card itself looks solid. I expect Styles and Balor to go all out and the two WarGames matches to deliver. I would've liked there to be a traditional Survivor Series match in there somewhere but that's a minor complaint. I'm looking forward to the show.
Kelly: I'm giving this an 8. I've always enjoyed the WarGames concept and am glad to see it finally make it to Survivor Series.
Marc: 8 – A PLE with fewer matches usually equates to more time for the matches scheduled. That's a good thing.
Lyle: 8. Overall, WarGames should provide a much-needed shot in the arm for Survivor Series with the double-ring cage matches providing much of the focus for the show. With only Ronda Rousey's victory looking a certainty, the rest of the card provides a good level of uncertainty and intrigue.
Matthew: 9. Obviously my score is likely inflated as I will be at the show. I have loved WarGames since watching the first ones way back in the early 1980's, and was very excited when they announced that they would be doing the match at Survivor Series. Also having on five matches means it won't be a marathon show, so that will help all the matches feel like a big deal, especially both WarGames matches.
Kristian: 7.5 – It's really a two-match show and the undercard is solid, so I am looking forward to the show. Even though the WarGames matches do involve 20 wrestlers, with only 5 matches named at this point there are a lot of wrestlers not on the show. It's interesting to not see an elimination match on the card, but understandable as they've featured WarGames this year. I'd much rather see that, than 8-9 eliminations in a 10-minute, 10-person tag match. I think the Men's WarGames match will carry the show and I'm very intrigued in how that plays out. It should be a contender for match of the year.
John: 8 – I'm excited about it because I love WarGames matches. They live up to the hype. Trust me if you haven't seen them in NXT. I'm sure the wrestlers in those matches on this show are gong to be ready to go and have a lot of fun in those matches. I could see somebody complaining about this show due to the lack of titles since there are only two title matches and Ronda is obviously winning hers. However, I'm not really worried about that. I think the two WarGames matches will be outstanding, I believe the Styles-Balor match will be great and the Rollins-Lashley-Theory triple threat will be even better. I'm looking forward to this show. The Boston crowd will be great too. It should be a lot of fun to watch and write about in my case.
In Closing
John: I'll be back with a review of Survivor Series on TJRWrestling.net on Saturday night, so check that out live or any time after it's over. You can also tweet me @johnreport as well.
If you want to send an email, send it to me at mrjohncanton@gmail.com. Thanks for reading.