The John Report: WWE Starrcade 12/01/19 Review (WWE Network Special)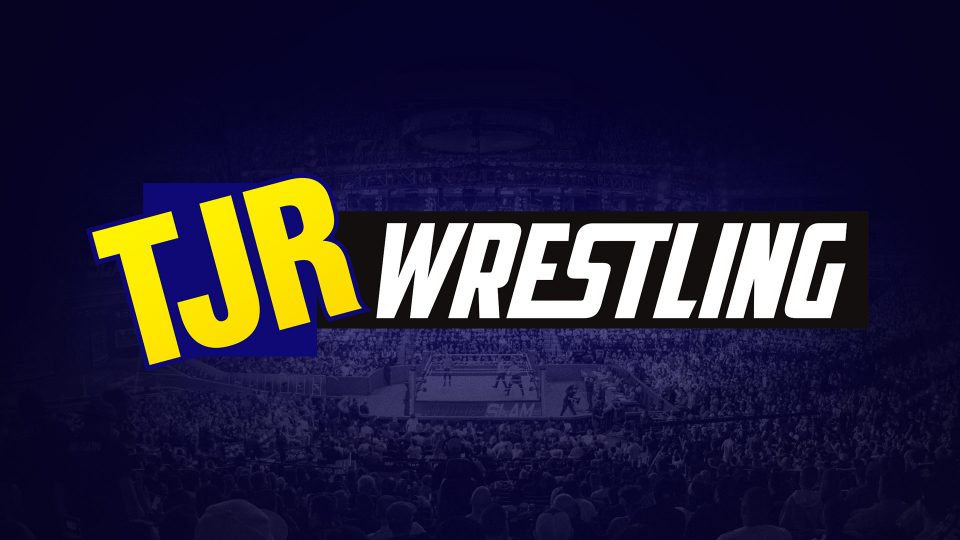 This is the third annual WWE Starrcade special where they broadcast about one hour of a live event, call it Starrcade and put it on WWE Network. Why not just show the whole show? I don't know. It's not up to me. I'm just a dude that reviews this stuff. The normal run time for these events is about 60 minutes, but this year's broadcast went a bit longer than that.
The show was supposed to begin on WWE Network at 7pmET. However, there was some issue with WWE Network and it wasn't working properly. I was out, then got home at around 7:45pmET and WWE was showing it on their Youtube channel. Later on Sunday night, Starrcade 2019 was there on WWE Network. Let's check it out.
WWE Starrcade 2019
Infinite Energy Arena in Duluth, Georgia
December 1, 2019
The Starrcade graphics were in the arena and all around the ringside area. It was the typical WWE live event setup. The announcers for the show were Tom Phillips and Byron Saxton, who were seated at ringside. They mentioned 36 years ago is when Starrcade began and it was the brainchild of the late, great Dusty Rhodes. It was in the NWA, then later WCW as their biggest PPV of the year.
Kevin Owens Show with Ric Flair
Kevin Owens made his entrance to host his talk show wearing his "Stun Owens Stun" shirt. Good pop for KO. The "set" was just two wooden chairs in the ring.
Owens welcomed the fans to Starrcade and to the Kevin Owens show. Owens said this was the biggest KO Show he's ever done because of who his guest is, the crowd chanted "Woo" and Owens introduced Ric Flair.
Ric Flair made his entrance to a big pop from the crowd. Flair made Starrcade more famous than anybody with Phillips noting that Flair wrestled in nine Starrcade events including main eventing the first seven Starrcade events. Flair lives in the Atlanta area now, so the event was close to home.
Owens joked that they had very expensive chairs and thanked him to be there. Flair gave a shoutout to Atlanta, he said he was a fan of Owens and everybody in WWE. Flair noted that 36 years ago was the first Starrcade. Fans chanted "we can't hear you" at Flair. Ric said they try to cover the things that are important and he said he's so thrilled to see his daughter being part of it. Flair thanked the fans for coming while telling Owens he loved what he did on Monday. Flair said that people in WWE are a family that takes pride in this. Flair said that 36 years ago, they started Starrcade and nobody back there was even alive (not true, but still a fine point to make) while talking about his family still being a part of this. Flair thanked the late, great Harley Race, the late Dusty Rhodes that created Starrcade and thought about putting this event together. Flair mentioned Sting too while adding he got to wrestle these guys. Flair said when he was at Starrcade 36 years ago he wanted to show he was the best. Flair talked about how everybody back there wanted to be the best.
Owens mentioned that he keeps hearing a noise from these people and the fans chanted "WOO" for them. Flair thanked Owens and legendary stars for making Flair the limousine riding, kiss stealing, son of a gun, then Flair did a "WOO" and when Owens was going to join in, The OC duo of Gallows and Anderson interrupted.
Luke Gallows and Karl Anderson did a promo with Gallows saying they hate interrupting their nostalgia party with Anderson complaining about talking about the past. Gallows said we should be talking about how they are the best mother-loving tag team in the world. They walked to ringside. Owens said we can talk about the past like when they won that trophy for being the best tag team or the past when they had hair. Good line. Anderson said the rest of the show should be some OC highlights and Gallows suggested some Botch Club. Owens said that the guys in the truck think they are both idiots and Owens said the Botch Club would be highlights of their last match. Owens said maybe they can show highlights of their buddy AJ Styles losing the US Title to Rey Mysterio last Monday.
The Street Profits made their entrance and went into the ring to confront The OC. Montez Ford suggested a tag team match right now. Owens said it's a great idea, he'll get back to his popcorn and The Street Profits can kick The OC's ass. The match was made.
Analysis: It was fine although it probably went a few minutes more than it needed to. That happens sometimes when Ric Flair is out there telling stories. Owens had some good one liners. The OC got heat for interrupting and utilizing The Street Profits in this spot is fine as a popular team.
The Street Profits (Montez Ford and Angelo Dawkins) vs. The OC (Luke Gallows and Karl Anderson)
Ford showed off his athleticism early with a dropkick, then a Ric Flair strut and a shoulder tackle by Dawkins knocked down Anderson. Dawkins sent Anderson into the ropes leading to a dropkick. Ford tagged back in with another dropkick, so that's three dropkicks early in the match. Gallows tagged in, Ford to the apron, Anderson distraction and Anderson kicked Ford off the apron into barricade. Anderson got in a cheap shot punch on the floor as well. Gallows with a roundhouse kick to the side of the head of Ford. Anderson kept Ford grounded with a side headlock. Gallows tagged back in with a fallaway slam on Ford followed by an uppercut against the turnbuckle. Gallows grabbed a headlock on Ford. When Ford got back up, he avoided a slam and kicked Gallows in the head. Dawkins got the hot tag on Anderson with two clotheslines, uppercut, dropkick on Anderson and a face first slam on Anderson. Dawkins with corner splashes on both opponents and a bulldog on Anderson. Dawkins with a clothesline on Gallows to send him out of the ring, so Anderson capitalized with a spinebuster for two. Gallows tagged back in leading to a double team neckbreaker for two. Ford saved Dawkins from a double team move, Ford sent Gallows out of the ring and hit a dive over the top. Dawkins with a spinebuster on Anderson. Ford got the tag and hit an impressive Five Star Frog Splash for the pinfall win after about nine minutes.
Winners: The Street Profits
Analysis: **1/4 It was an average tag team match that was fitting for a house show match. It's typical tag team wrestling with the heels working over Ford for most of it, Dawkins got the hot tag and the faces got the win after that. It's pretty much what you would expect in a match like that. Ford's athleticism continues to impress especially when he does that Frog Splash finisher. Dawkins showed good energy as well. The Street Profits are one of the best babyface teams in WWE right now.
Post match, Ric Flair raised the hands of The Street Profits as the winners of the match. They did some Flair strutting as well. Ford also did a Flair elbow drop and knee drop as well.
Sasha Banks was shown walking backstage where she walked up to Bayley, who had the SD Women's Title. They complained about being in that town while Bayley said they needed them to save the tag team division. Bayley and Banks talked about getting the titles back.
A commercial aired for WWEShop merchandise.
A commercial aired for Raw featuring Seth Rollins issuing an apology. I hope the apology is that he is sorry he took so long to realize the fans have turned on him to explain his heel turn.
The introductions took place for the women's tag team match. Becky Lynch was out first with the Raw Women's Championship and she got a big pop as usual. Charlotte Flair was next with a lot of "Woo" chants from the crowd. Alexa Bliss and Nikki Cross entered as the other babyface team to Alexa's theme song. This is Alexa's first match in two months since she hurt her shoulder. Sasha Banks was next followed by her partner Bayley, who is the Smackdown Women's Champion. The champions were last as the Kabuki Warriors duo of Asuka an Kairi Sane entered with the Women's Tag Team Titles.
Women's Tag Team Championships: The Kabuki Warriors (Asuka and Kairi Sane) vs. Charlotte Flair and Becky Lynch vs. Bayley and Sasha Banks vs. Alexa Bliss and Nikki Cross
The rules are that two women are legal in the ring, the other six women wait on the apron until there's a tag and the first fall ends the match.
Sane and Cross started with Sane slapping her own ass, so then Cross kicked her and slapped her own ass. Bayley tagged in and so did Charlotte Flair, but then Asuka tagged Bayley to become legal. Flair with a shoulder tackle on Asuka, but then Asuka came back with a kick to the ribs. Flair tossed Asuka down by the hair, then Flair with chops and Flair hit a fallaway slam on Asuka. Banks tagged Flair to become legal in the match, Asuka went for a hip attack, Cross tagged Asuka to become legal and Cross got two nearfalls on Banks. Cross with a dropkick on Banks. Bliss tagged in with a slap on Banks, then Cross back in, Banks sent her to the corner and Bayley tagged in with stomps on Cross. Lynch tagged Cross to become legal as Lynch faced off with Bayley and hit her with armdrags. Banks tagged in, Lynch kicked Bayley a few times and then Banks shoved Lynch off the top for a two count. Banks and Bayley made quick tags as they worked over Lynch in their corner. Lynch was closer to the Bliss corner, so she tagged Bliss, who hit Bayley with a dropkick followed by a knee drop. Sane tagged Bayley to become legal in the match with a spinning back fist on Bliss and a spinning back fist on Bayley as well. Sane with a dropkick to Bliss' back followed by a single leg crab submission. Bliss got to the bottom rope to break. Banks tagged Sane to become legal and hit a suplex for two. Bayley back in with a nearfall on Bliss. Banks got an inside cradle on Bayley for two, then Bayley hit a knee and Asuka tagged Bayley to become legal in the match. Asuka kicked Bliss in the ribs and Asuka/Sane did a double head whip on Bliss. There was a comeback by Bliss fighting out of the heel corner, but she couldn't tag out because Asuka got a hold of her. Bliss hit a forearm on Asuka and tagged in Lynch, who is not her teammate, but that's what Bliss did.
Lynch tagged in against Sane with a jumping side kick as the fans cheered for Lynch. Lynch with corner splash, then kicks on Sane and a Bexploder Suplex sent Sane across the ring. Banks in the ring, Lynch with a Bexploder for her and Lynch with a Bexploder for Bayley as well. Lynch hit a reverse DDT/front DDT on both Kabuki Warriors. Lynch with a leg drop off the middle ropes on Sane for a two count because Asuka made the save. Cross tagged Lynch to become legal in the match. Asuka kicked Lynch down. Cross went up top and hit a cross body block on Asuka/Sane to knock them down. Cross with a spinning neckbreaker on Asuka got two as Banks made the save. Banks with a kick to the face of Cross, Bliss with a backbreaker on Banks, Bayley with a back suplex on Bliss, Lynch with a forearm on Bayley, Asuka with a German Suplex on Lynch, who rolled into position for Sane to hit an Insane Elbow. Flair went back in with a double Spear on Asuka and Sane to take them out. That drew a big pop. Cross jumped on Flair's back, so Flair slammed her down, but when Flair went for a corner attack, she hit her face on the middle turnbuckle. Cross got a rollup on Asuka since they were still legal, Asuka got out of that and Asuka slapped on the Asuka Lock submission. Cross tapped out to give Asuka's team the win after 14 minutes.
Winners by submission: The Kabuki Warriors (Asuka and Kairi Sane)
Analysis: **3/4 A pretty good tag team match with a lot of action going on due to eight women being in the match. The crowd wasn't into it that much until the last few minutes when everything broke down at the end. Lynch got the biggest reactions from the fans. I thought Banks/Bayley worked well together as heels while Asuka had some good moments in there as well. Asuka beating Cross is how I would have predicted it since the other women in the match are protected a lot more than Cross is. I'm glad the champs retained the titles. They're a good heel team.
Post match, Sane went back into the ring to celebrate the win with Asuka.
Bobby Lashley and Lana were shown walking backstage for Lashley's match up next.
There was a commercial for the WWE TLC pay-per-view in two weeks on December 15. There are no official matches yet.
A commercial aired for the WWE 24 special on Trish Stratus about her last match at SummerSlam. It's on demand on WWE Network now.
Bobby Lashley made his entrance accompanied by the "Ravishing Russian" Lana, who looked very ravishing as usual. They replayed some recent Lashley/Rusev stuff from Raw.
Lana did a pre-match promo about how much she likes her hot boyfriend Bobby Lashley. Lana said she feels so grateful that she has found somebody that values and appreciates her like Lashley, unlike her future ex-husband Rusev. The fans chanted "Rusev Day" at them, so Lashley and Lana told the fans to shut up. Lana said the bad news is that tonight there will be no Last Man Standing match. That drew boos. Lana said that's what happens when you have a monster like Rusev because she had to file a restraining order against Rusev. More "Rusev Day" chants, so Lana claimed "Rusev Day" is cancelled. Lana said they'll take the victory by forfeit. Lashley's hand was raised and his music played as Lashley was announced as the winner.
Analysis: It's expected that Lashley and Rusev will face off at TLC. Why promote a match on a one-hour show and then change it? I think that's lame from WWE, but most wrestling fans know it's card subject to change. It's just weird that they would change a match that was advertised for a Network special show.
The music of Kevin Owens hit with KO saying we started with Owens and Flair, so we're not going to end it with Lashley and Lana. Owens said that nobody cares about the two of them and their stupid relationship. Lana wanted him to shut up. Owens said he's going to keep on #talking. Lana told Lashley to ignore him while Kevin said that Lana should ignore like she ignored her fake Russian accent for five years. Owens said they should ignore their relationship. Lashley invited Owens to come into the ring for a match and Owens said let's do it.
Analysis: The line about Lana's Russian accent was great. The fans enjoyed this promo from Owens, as did I. The heel promos from Owens were awesome, but he's finding a nice comfort zone as a face who mixes in trash talk with funny lines and it works well for him.
Kevin Owens vs. Bobby Lashley (w/Lana)
Owens with two superkicks on Lashley followed by a cannonball splash against the turnbuckle. Owens went for a Stunner, but Lashley bailed to the floor. Owens hit a running cannonball attack off the apron onto Lashley on the floor. Owens brought Lashley back in the ring, but Lashley bailed to the floor. Owens was on the apron, so Lashley tripped him leading to Owens taking a back bump on the apron. Lashley sent Owens shoulder first into the ring post. Lashley sent Owens into the makeshift announce table at ringside and then back into the ring. Lashley took off his t-shirt to show he had taped ribs and tape on his arm as well. Lashley with running shoulder tackles on Owens against the turnbuckle. Owens punched Lashley in the ribs, but Lashley came back with a corner clothesline. Owens blocked a suplex attempt by punching the ribs of Lashley and Owens hit a suplex. Thank you for the shot of Lana at ringside. Fine looking woman. Lashley grabbed Owens and gave him a flatliner sending Owens face first into the mat. Owens with chops, but Lashley came back with a knee to the ribs. Lashley dumped Owens out of the ring, Owens back in, Lashley with punches and then Lashley missed a corner charge because KO moved. Owens went up top, Lashley met him there, Owens headbutted Lashley down and Owens jumped off with a Senton Bomb to the ribs. Owens went to the opposite corner with a Frog Splash on Lashley for a two count. Lashley wanted a neckbreaker, Owens broke free and hit a Stunner. Lana went in the ring, the referee was distracted and KO's cover led to nothing because there was no count. After KO stared at Lana for causing the distraction, Lashley hit a one armed spinebuster for a two count. Lana gave Lashley a steel chair. That's when the crowd erupted as Rusev entered the ringside area through the crowd. Rusev punched Lashley leading to the DQ. It went about ten minutes.
Winner by disqualification: Bobby Lashley
Analysis: **1/4 It was just an average match with a cheap ending to continue the Lashley/Rusev storyline. I'm fine with Owens not getting beat here because having him take a pinfall would have hurt him. They probably didn't want Lashley to lose to keep him strong going into the likely Rusev match at TLC.
The crowd erupted in cheers as Rusev beat up Lashley with punches and a clothesline. There were loud "Rusev Day" chants. Rusev sent Lashley into the ring post, the ringside table and the barricade at ringside. There were more "Rusev Day" chants. They went brawling into the crowd with Rusev hitting Lashley in the head with a trash can while Lana was freaking out at ringside Lana was yelling "you're breaking the law" as she ran away. Lashley got a hold of Rusev and whipped him shoulder first into the steel steps. Lashley sent Rusev into the ring and Lashley grabbed a kendo stick. Lashley hit Rusev in the back with two kendo stick shots, but Rusev blocked a third kendo stick shot. Rusev hit Lashley in the ribs with the kendo stick, then more kendo stick shots to the ribs and Rusev broke the kendo stick. Rusev grabbed the steel chair and hit Lashley in the back with it. Rusev celebrated in front of the fans. Rusev tossed the chair to Lashley, who caught it and Rusev did a Machka Kick into the chair into Lashley's face. The fans chanted "Rusev Day" for Rusev. Lashley was helped to the back by the referee and Lana, who was yelling at Rusev.
Rusev went into the crowd and ran away to the backstage area. That was the end of Starrcade.
Analysis: It continues the story. Lashley gets the advantage one week, Rusev comes back to get the advantage, then it goes back to Lashley, back to Rusev and so on. It's typical WWE storyline build. I thought this attack by Rusev was booked well, Lashley sold everything in a believable way and the crowd was reacting to it. I know the story has had some lame moments, but it is working in terms of making Rusev more popular, which is good to see.
This event had a run time of 1:13:42 on WWE Network.
Final Thoughts
This was just a televised house show with the Rusev/Lashley angle that was done to further their feud. I am too nice to say it was a bad show because all of the wrestlers did work hard in their matches. However, it wasn't that interesting. The women's tag team match had some fun moments and ended strong in the last few minutes. I think WWE could do way more with the Starrcade concept and if they televised the whole live event with bigger names in matches, that would have been more interesting to watch. If you expected something special, that's not what this was. If you went into this with low expectations then it was fine. If you skipped it, then you really didn't miss much at all.
—
Thanks for reading. Go Los Angeles Rams, reigning NBA Champions Toronto Raptors and Toronto Maple Leafs. My contact info is below.
John Canton
Email mrjohncanton@gmail.com
Twitter @johnreport
Personal Facebook and TJRWrestling on Facebook