The John Report: WWE Smackdown Live Review 11/01/16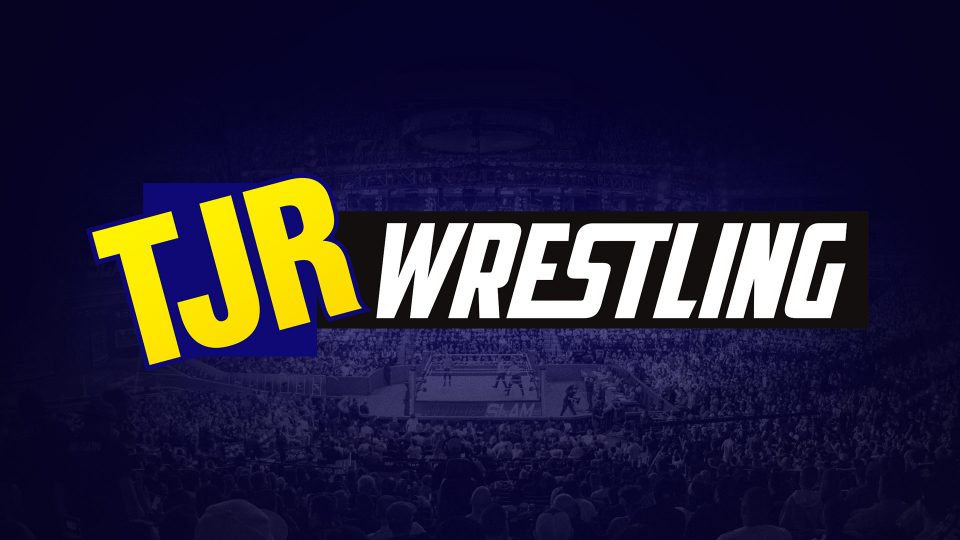 Live from Newark, New Jersey this is Smackdown for episode #898.
The Smackdown intro video aired.
James Ellsworth made his entrance. He's got a theme song and a Titantron video now. Good ovation for him. There were replays of last week's Smackdown main event.
Ellsworth was in the ring wearing his own t-shirt. He thanked Shane McMahon and Daniel Bryan for letting him go out there on Smackdown Live to say goodbye. After his actions from last week, he hasn't slept or eaten much. He said he can't move on with his life unless he can tell Dean Ambrose he's sorry. Here comes Ambrose.
Dean Ambrose, with a beard, made his entrance to a good ovation. Ambrose went in the ring to say he's had a lot of time to think about this. He said when Ellsworth makes that face looking like ET the Extra Terrestrial he can't stay mad at him. Ellsworth thanked Ambrose for helping him get two victories over AJ Styles and Ellsworth repaid him by costing him an opportunity at the WWE World Championship. He came to Smackdown to fight, but last week wasn't his fight. Ellsworth also knows that any man with two hands can make a mistake. Ambrose told him to ever get in his way again. Ellsworth said if he can build a time machine to go back in time to change what he did then he would. All he can do is look Ambrose in his eyes and tell him he is sorry.
Here comes the WWE World Champion AJ Styles. He wondered why Ellsworth would apologize to Dean Ambrose. Fans were chanting for AJ Styles. Loud chant for him and Styles told the fans to shut up. Styles told Ellsworth that Ambrose was using him while Styles said that he respects Ellsworth. Styles claimed that Ambrose kept egging Styles on to kick and punch Ellsworth harder so that it would benefit Ambrose. Styles said that because of him, people are wearing shirts with Ellsworth's face on them. Ambrose said he liked Ellsworth because he did things the honest way.
Ellsworth got in between Styles and Ambrose. Styles shoved Ellsworth into Ambrose and hit a kick to the head of Ambrose. Styles tossed Ellsworth out of the ring. Styles nailed the Phenomenal Forearm off the top rope right in the face of Ambrose. Styles left with the WWE Title looking proud of his work.
Analysis: The Ellsworth saga continues. Crafty heel work by Styles even though he gets cheered by the majority of the crowd. Styles took advantage of the situation and walked away unscathed too. He's put over Ellsworth twice while also coming close to losing to Ambrose last week, so it was important for him to look good in this segment. Ellsworth was genuine in his apology to Ambrose and Ambrose was reluctant to accept, but Ambrose still sees Ellsworth as a loser. I like the way this story is going.
The announce team of Mauro Ranallo, John Bradshaw Layfield and David Otunga welcomed us to the show.
There was a video about the Randy Orton, Bray Wyatt and Kane story with Orton dropping Kane with a RKO last week.
Orton vs. Kane in a No Disqualification match is up next.
(Commercial)
Dean Ambrose, James Ellsworth and Smackdown GM Daniel Bryan were backstage. Ellsworth kept saying sorry to Ambrose. Bryan said that Ambrose is going to get another shot at AJ Styles and if he wins he becomes the number one contender to the WWE World Championship, but this is his last chance no matter what. Bryan told Ellsworth he can stay backstage to watch, but under no circumstances is he allowed to go to ringside.
Analysis: I love Styles vs. Ambrose matches, so no complaints about them doing the match again. It seems unlikely that Ellsworth is going to avoid getting involved. Find out later in the show.
Randy Orton made his entrance first followed by Kane.
No Disqualification Match: Randy Orton vs. Kane
They went outside the ring early with Kane hitting Orton in the back with a chair. Back in the ring, Kane nailed the sidewalk slam. The Wyatt Family logo showed up, the screen went black and Wyatt was at ringside with Harper. Kane with a boot to Orton. Wyatt grabbed Kane's leg. Kane fought them off with both guys. Wyatt went in the ring, Kane grabbed him by the throat and Orton hit a RKO for the win after two minutes.
Winner by pinfall: Randy Orton
Analysis: * A quick match to put over the story idea that Orton may be with the Wyatt Family. Orton hit the move while Kane was dealing with Wyatt, so it does suggest that Orton is working with them.
Post match, Orton stared at Wyatt and Harper while JBL noted that Wyatt Family went after Kane, but not Orton. Harper hit a discus clothesline on Kane. Then Orton shoved Kane into Wyatt so that Wyatt could hit the Sister Abigail on him. Orton did his pose on the turnbuckles while Wyatt yelled "Follow the Buzzards."
Analysis: Second week in a row where it looks like Orton is working with Wyatt Family. I think it's all just a ploy by Orton to get Wyatt to trust him and then he's going to fool Wyatt. The Smackdown brand needs Orton as a face since they don't have a lot of depth at the top. A feud between Orton and Styles seems likely early next year, so I think this is just mind-games from Orton. I think he's doing a great job in making people believe in what he's doing, though.
Miz TV with Daniel Bryan up later.
Carmella and Alexa Bliss were walking backstage while Becky Lynch and
This week on Total Bellas, people are crying about stuff and I will avoid watching because I am not a stupid idiot.
(Commercial)
There was a video package about Baron Corbin talking about how friends, family and fans just try to drag him down. He's not going to lift a finger for any of them. "I just don't give a damn." Nice catchphrase.
Analysis: He's a jerk. We get it. Creative has nothing for him, so he gets video package treatment.
The women's wrestlers made their entrance. Becky Lynch vs. Alexa Bliss for the SD Women's Title next week.
Carmella & Alexa Bliss vs. Nikki Bella & Becky Lynch
Nikki has darker black hair this week. Yes I look at her hair, you pervs. The faces sent the heels out of the ring and it went to break two minutes in. WWE loves doing that of late.
(Commercial)
Lynch tagged in against Carmella while the other two were on the floor. Lynch nailed her forearm in the corner and the exploder suplex gets two as Bliss broke up the pin. Bliss tossed Lynch head first into the ribs of Nikki. Reverse DDT by Bliss, but the referee was distracted by Carmella. Bliss with a DDT on Lynch and that was enough to beat her. It went about five minutes.
Winners by pinfall: Carmella & Alexa Bliss
Analysis: * It's a tough match to rate because only two minutes of it was actually shown. I don't think Nikki was in there much at all. Don't tell us there's a "women's revolution" all the time when you barely give them time to show what they can do. Bliss pinning Lynch makes sense because Lynch will probably beat her to retain the title next week on Smackdown. No need for a title change since Lynch just won the title one month ago.
Post match, Bliss and Carmella were going to be interviewed by Dasha Fuentes, but Bliss told her to leave. Carmella talked trash about Bayley and Charlotte. She told Nikki Bella to let her run the team because they're going to talk about Raw. Bliss talked about how Lynch's 15 minutes of fame will be over next week on Smackdown and her fairy tale will come to an end. Bliss called herself the wicked witch of WWE. Bliss: "I'll get you my pretty and your Smackdown Women's Title too."
Analysis: Both of them have improved a lot in terms of promos in the last year. I think Carmella has really turned a corner since the heel turn a few months ago. She has a lot more confidence and is more natural in that role. Bliss is very good too, even with Wizard of Oz references.
Daniel Bryan and Shane McMahon were backstage with Naomi. Bryan told Naomi she's the fifth woman on Smackdown's team at SummerSlam. Bryan told her the others on the team are Nikki, Becky, Carmella and Alexa. Naomi left. Natalya showed up to interrupt them. Natalya suggested that she help the Smackdown team as the coach of the women's team. She quoted some of the song "Respect" while Shane said that a lot of the women look up to Natalya. Bryan was reluctant, but then he made Natalya the coach of Smackdown's women at SummerSlam. She said she's going to turn the kittens into little lionesses and left.
Analysis: I'm glad that Natalya has a role. I wonder if they will do an injury angle with one of the girls so that she subs in for them. Perhaps she'll stick to the coach thing as a way to start a feud with one of the girls.
Styles vs. Ambrose is later.
(Commercial)
READY! OKAY! Spirit Squad in action.
American Alpha (Jason Jordan & Chad Gable) vs. Kenny & Mikey of the Spirit Squad
The winners of this match get to be on the Smackdown team in the tag team match at Survivor Series.
Gable took down Kenny early, but Kenny came back with a punch and a slam. Forearm smash by Mikey on Gable. Kenny tagged in with a top rope legdrop, but Gable moved and tagged in Jordan. Punches by Jordan, then a dropkick and an overhead suplex on Kenny. Jordan missed a shoulder tackle on Kenny, who recovered with a rollup for two. Gable tagged in, pulled Kenny out of the ring and Gable went into the ring for the double team Grand Amplitude finisher after two minutes.
Winners by pinfall: American Alpha
Analysis: * An easy win for American Alpha as expected. I'm glad they were on the show although it was a short match. Spirit Squad may not be used that much more, but they have been pretty good in their appearances.
The win means American Alpha joins Slater/Rhyno and Hype Bros on the Smackdown team as part of Survivor Series.
A video aired about Goldberg on Raw last night. They plugged Lesnar vs. Goldberg at Survivor Series.
Miz TV with Daniel Bryan up next at the top of hour two.
(Commercial)
Miz TV with Daniel Bryan
The Miz was in the ring with his lovely wife Maryse hosting his talk show. He quickly introduced his guest, the Smackdown General Manager Daniel Bryan. Loud "Yes" chants for Bryan followed by some "Daniel Bryan" chants as well. The three of them sat in chairs in the ring.
Miz said it's a peaceful show on Miz TV unlike the crew on Talking Smack. Bryan said he could just cancel Miz TV with fans chanting "yes" for that, but Miz said he didn't want that. Miz said let's talk Survivor Series.
Bryan talked about the Smackdown Live tag teams with the winners of two more matches joining Hype Bros, American Alpha and Slater/Rhyno. Miz wanted to know about the men's Smackdown Live Survivor Series team.
Bryan said that they had to think about the Survivor Series team. He said they are going with Randy Orton, Baron Corbin, Bray Wyatt, Dean Ambrose and AJ Styles.
Analysis: Interesting choices there. Four guys were pretty obvious names while Corbin is the "new" guy similar to Braun Strowman on the Raw team. John Cena is busy filming the American Grit show and won't be at Survivor Series.
The Miz complained that he's not on the team and he's not the captain. He wondered why Miz isn't the captain and asked if he was considered with Bryan saying no. Miz complained about how Bryan has no interest in Smackdown winning while noting that Smackdown is full of opportunities for people not named The Miz.
Bryan said they did consider Miz, but they need superstars who aren't afraid to fight. Bryan told Miz they need superstars who are willing to fight any time and last week Miz proved he's afraid to fight. Bryan noted that last week Miz turned down Ziggler's offer of a title shot because Miz said it wasn't on his terms. Bryan told him they need men that will fight on their terms. Miz told Bryan that he's not scared to fight and told Bryan he's scared to fight. Miz put Maryse in front of him. Miz told Bryan he's not good at his job and not good at anything anymore. Miz told Bryan to go home to mope around at John Cena's house on Total Bellas. Loud "oooohhhh" from the crowd. Bryan kicked a chair. Miz left the ring with Maryse while Bryan was still in tehri ng.
Bryan told Miz that what he's good at it isn't fighting, so maybe he should talk and run his mouth while Ziggler defends the IC Title right now in an Open Challenge.
Ziggler walked out with the IC Title for his match as the show went to break.
Analysis: That was an awesome promo exchange from Bryan and Miz, which is something they've done a few times over the last few months. The chemistry is obviously there. Miz had a reason to be mad, Bryan had a reason to not put Miz on the team since Miz has backed away from fights and Miz taking shots at Bryan no longer being able to wrestle makes sense too. If Bryan ever did get cleared to wrestle they could have this match and it would have a lot of heat behind it. I'm not sure if Bryan will ever wrestle again, but I'm just saying if it happens then that match would make a lot of sense. The best line was Miz telling Bryan to go mope around in Cena's house on Total Bellas. That's a definite shot at the silliness of that show and Bryan getting mad made a lot of sense. Well done by both guys.
(Commercial)
The Miz and Maryse are on commentary.
Curtis Hawkins walked out to answer the open challenge. He said they were in Atlantic City even though it was Newark. He said that tomorrow there will be sore necks because he's going to turn some heads when he becomes the new Intercontinental Champion. He told Ziggler he will be the sorest of them all because he's the sad sorry sucker that has to…face the facts.
Intercontinental Championship: Dolph Ziggler vs. Curt Hawkins
The bell rang, Hawkins turned around and Ziggler hit a superkick. Ziggler pinned him to win in about five seconds.
Winner by pinfall: Dolph Ziggler
Analysis: No rating because it was just a quick match. The Hawkins character is already a joke even after his "debut" so I'm not sure why they hyped him up so much.
Ziggler was interviewed in the ring by Renee Young. Ziggler talked about how he put it all on the line and he got that IC Title. He talked about Survivor Series. Ziggler said that last week he asked Miz to have a title shot, but Miz didn't want it because he would only do it on his own terms. Ziggler issued an open challenge to somebody on Raw to face him for the IC Title at Survivor Series.
Analysis: The idea behind Survivor Series is that Smackdown people can face Raw people, so it makes sense as the only show where they can do a Smackdown guy vs. a Raw guy for a title. I like the idea of an open challenge because now people can guess who it will be. I would have been okay with Ziggler vs. Miz again, but this is cool too. I doubt Ziggler would lose the title to a Raw guy since it would hurt Smackdown to lose a title. I hope it's Sami Zayn that answers the challenge. That would be an awesome match.
Dean Ambrose was interviewed by Dasha Feuntes. She messed up the interview by saying "James Ellis" instead of Ellsworth, so Ambrose ended up correcting her. Ellsworth walked into the picture to ask Ambrose if he can be at ringside. Ambrose told him no and to go eat some Halloween candy.
Analysis: I'm sure people will be hard on Dasha for messing up there. It's her first time on Smackdown although she's been in NXT for a while. They've had different women in the spot, so clearly they are trying to figure out who to put there. Renee Young doesn't do backstage interviews as often anymore.
The Usos vs. Headbangers up next.
(Commercial)
A recap was aired of the Orton/Kane stuff from earlier.
Orton was backstage in a darkened room with Wyatt and Harper. Wyatt talked about how Orton is a snake, so anybody with credentials like that is welcome into his family. Orton said he was born with the devil whispering in his ear and he's done trying to fight it. Orton said it's almost as if the darkness has shown him the light. Orton: "Bray, you are a god." There was some light coming out (or going in) Orton's eyes. Wyatt just laughed about it.
Analysis: Solid promo from both guys. Wyatt is starting to trust Orton, so it's a matter of when Orton goes after him. That will probably be at Survivor Series. It would make sense anyway. The stuff with the lights is a bit silly, but that's how WWE is doing this angle with some different things.
The Headbangers are in the ring.
The Usos (Jimmy & Jey) vs. The Headbangers (Mosh & Thrasher)
The winners of this match get to be on the Smackdown team at Survivor Series.
Jimmy sent Thrasher into Jey for a Samoan Drop for two. Mosh tagged in with a back splash on Jimmy Uso. Flatliner by Mosh on Jimmy gets a two count as Jey makes the save. Thrasher sent Jey out of the ring leading to the ref telling Thrasher to leave the ring. Jey with a punch to Mosh and there's Jimmy with the ROLLUP OF DEATH~! for the pinfall win after two minutes.
Winners by pinfall: The Usos
Four of the five Smackdown teams at Survivor Series are Ryder/Slater, American Alpha, Hype Bros and The Usos. One more team left.
Analysis: 1/2* No surprise that The Usos won. No surprise that a match was won with a ROLLUP OF DEATH~! either.
AJ Styles was shown walking backstage when Dasha Fuentes asked him about his match with Ambrose. Styles said he's going to beat Ambrose again and Ellsworth won't be there to distract him.
Dean Ambrose was backstage with Ellsworth. Ambrose told Ellsworth to leave. He opened the Exit door and told Ellsworth that any man with two hands can call an Uber to get out of there. Poor Ellsworth.
(Commercial)
The phenomenal WWE World Champion AJ Styles entered for the main event. Dean Ambrose made his entrance. They went to commercial again.
(Commercial)
The bell rang as the match began at 9:44pmET.
AJ Styles vs. Dean Ambrose
This is not for Styles' WWE Title. If Ambrose wins he will get a WWE Title match.
Ambrose took the fight to the floor right away. Ambrose hit a suicide dive outside the ring. He tossed Styles into the barricade at ringside. Each guy got some rollup nearfalls. Ambrose applied the Cloverleaf submission. Styles got to the ropes to break the hold. Ambrose hit a butterfly superplex on Styles for a two count. Good move. Styles tripped up Ambrose, hooked the legs and applied the Calf Crusher submission. Ambrose got to the ropes to break the hold. They left the ring with Ambrose crotching Styles on the barricade. Running forearm smash by Ambrose knocked Styles down. Back elbow by Ambrose. He went for a blockbuster off the ropes, but Styles moved and Ambrose was grabbing his left knee. Commercial time five minutes into it.
(Commercial)
Back from break, Styles went for a springboard dropkick and there's Ambrose with a dropkick. Ambrose nailed an elbow smash off the top rope onto Styles on the floor. Back in the ring, Ambrose nailed a two forearm smashes and a running clothesline. Styles went for the Calf Crusher, but Ambrose blocked it. Styles gave Ambrose a suplex into the corner. Ambrose picked up Styles by the arms and slammed him face first into the mat. Double clothesline from Styles and Ambrose. Both guys were out. Fans were chanting "Ellsworth." There's Ellsworth. He entered through the crowd. He was encouraging Ambrose to finish him off. Ambrose looked at him and Styles nailed a Pele Kick. Otunga told him to leave: "Take your chin and go home." Security ran down to ringside to get Ellsworth out of there. Ellsworth ran away through the crowd. Ambrose with a rollup for two. They kept countering holds. Styles applied the Calf Crusher submission. Ambrose fought it off by getting his hand on the bottom rope. Styles broke the hold. Ellsworth ran through another part of the crowd and made it to the ring. Security finally got a hold of Ellsworth by the ringside area. Styles shoved Ellsworth over the announce table, so that Ellsworth bumped into the chairs. Styles went for the Phenomenal Forearm, but Ambrose avoided it and hit Dirty Deeds to win the match by pinfall at the 14 minute mark.
Winner by pinfall: Dean Ambrose
Analysis: ***1/2 A very good match like usual from them. Their chemistry is so awesome that they can counter everything, make it look so easy and the crowd was into the whole thing. The win wasn't very clean because Ellsworth was there to provide a distraction even though it was booked in a way that the whole thing was an accident. It was Styles attacking Ellsworth, which caused Ambrose to avoid the forearm and hit his finish for the win. Styles can bitch about how he only lost the match because of Ellsworth. As for the champion losing non-title, I hate that. It happens way too often and I complain about it because it's stupid. I'm not that surprised by it, though. The match was a lot of fun like all of their matches. I like their work a lot.
Post match, Ellsworth was dragged up the ramp by security with Ellsworth smiling because he helped Ambrose. Replays aired of the finish with JBL ranting about how what Ellsworth did was disgusting.
Ambrose walked up the ramp. Ellsworth was still smiling. JBL said this is a travesty and to call PETA to get that freak Ellsworth out of there. Ambrose helped Ellsworth up and then let him go so Ellsworth collapsed. That ended Smackdown right at 10pmET.
Analysis: A bit of comedy with Ellsworth at the end there. I liked the Ellsworth smile because he did help Ambrose even though Ambrose didn't want him to be there.
On Talking Smack, it was announced that AJ Styles will face Dean Ambrose in a TLC Match for the WWE Title at the TLC PPV on December 4.
Analysis: That should be great. They've had a lot of matches, so it's good to see them in another match that has a stipulation that will make it feel different from their other matches.
Three Stars of the Show
1. AJ Styles
2. Dean Ambrose
3. Randy Orton
The Scoreboard
6.5 out of 10
Last week: 7
2016 Average: 6.05
2016 Average Post Brand Split (July 26): 6.27 – Raw is at 5.87
Last 5 Weeks: 7, 4.5, 6.5, 5.5, 8
2016 High: 8 (August 23/September 27)
2016 Low: 4 (January 21)
Final Thoughts
It gets a 6.5 out of 10.
A pretty good show with short matches most of the night, but the main event delivered in terms of quality for the second week in a row. The Styles/Ambrose match is leading to a title match at TLC, so that works for me in terms of using a TV match to build to a bigger PPV match. It still bothers to me to see non-title losses for champions so often.
That promo exchange by Bryan and Miz was awesome too. Miz continues to fire up Bryan. The crowd has really gotten into it because it feels like a legitimate beef between the two men that have a long history with eachother. Fans can get into that because it feels more real than a hokey wrestling storyline.
I liked the Orton/Wyatt stuff as well. Kane losing to Orton is fine because Kane doesn't matter too much. It was all about advancing the Orton story and then it was followed up on later. I just like the intrigue behind it.
My gripe is with some match times. I mention the short matches because the tag team qualifying matches were so rushed. The women's tag match was timed poorly with most of it taking place during the commercial. Let's see some more time for the performers.
I thought Smackdown was definitely better than Raw this week.
—
PLUG TIME: We do a TJRWrestling Podcast every week that you can listen to right here on Podbean or use iTunes by searching "TJRWrestling" or "John Canton" to get it. Please check it out! Thanks!
That's all for now. Go Toronto Raptors. Go Los Angeles Rams.
John Canton – mrjohncanton@gmail.com
Twitter @johnreport