The John Report: AEW Dynamite (Quake By The Lake) 08/10/22 Review
This week's AEW Dynamite featured Jon Moxley defending the Interim AEW World Title against Chris Jericho, plus a Darby Allin-Brody King Coffin Match and a chaotic Tornado Tag Team Match.
This was AEW Dynamite episode #149 at the Target Center in Minneapolis, Minnesota. Check out the AEW PPV listing archive only on TJRWrestling as well. Follow me on Twitter @johnreport. Let's get to it.
It's Wednesday night and you know what that means. Jim Ross welcomed us to the show with Excalibur, Taz, Jim Ross and Tony Schiavone joining him on commentary.
The Coffin Match started the show with a coffin at ringside. Brody King made his entrance first with a 12-2 record in AEW. Darby Allin jumped on King while it was still dark in the arena, so the bell rang to start the match.
Coffin Match: Brody King vs. Darby Allin
Allin hit King with a skateboard twice and the skateboard had tacks on it. Allin put the tacks on the bottom of the skateboard onto King's head, so that cut King's head open and there's some blood 30 seconds into the match. Is that a record in AEW? It is pretty quick! King left the ring, Allin missed a shot with the skateboard because King moved and King punched Allin in the head. King tossed Allin over a table at ringside. Allin sent King into the barricade and into the steel steps. King shoved Allin into the barricade. Allin went up top, King went after him and Allin hit an avalanche Code Red meaning it was a sunset flip powerbomb off the top rope. Allin pushed King out of the ring and King was a bloody mess, so the blood was spilling everywhere on the floor. King tackled Allin so that Allin's back hit the barricade. King hit Allin with a hard chop. King whipped Allin with a lot of speed into the barricade. King tossed Allin into the steps again with Allin bumping over the top of the barricade. They went to a picture-in-picture break.
(Commercial)
King had Allin set up on a table that was on the floor while King went to the turnbuckle. King jumped off, Allin moved and King went crashing through the table that was on the floor. Allin was about to run the ropes for a dive, but the lights went out in the building and when they came back on, Malakai Black was there with Buddy Matthews to support King. Julia Hart was also there to trip Allin, so Buddy attacked Allin with a chop block, a knee and a spinning neckbreaker slam. Black placed Allin up against the table while a bloody King ran towards Allin with a cannonball through the table. When Buddy opened the coffin, Sting was in it. Tony Schiavone did his ridiculous, over-the-top screaming for it. Sting beat up Buddy easily and sent him into the steel steps. Sting hit King with the black baseball bat. Sting gave Black the bat, but Black got up and tossed the bat out of the ring. Black left the ring, he said something to Black and walked up the ramp. Sting followed Black p the ramp. Back to the match, Allin hit a suicide dive cannonball onto King on the floor. Sting and Black were staring at eachother. King got back up, he sent Allin into the barricade and a body slam onto the steel steps. The bloody King had Allin on his shoulder as he walked up onto the apron, but Allin got a hold of a chain that he used to hit King in the head. Allin choked King with the chain by the apron, so Brody sold it like he was out and Brody fell right into the coffin. That was almost comedic. It went about 13 minutes.
Winner: Darby Allin
Analysis: ***1/2 A chaotic and bloody match that you would expect when AEW has a Coffin Match. King bled a lot, Allin was able to get help from Sting and that was what allowed him to get the win. AEW continues to book Sting in a really strong way since he's never lost a match and people back down from him even though he's a dude in his 60s. Allin winning this match likely means the feud is over while I think House of Black will probably deal with Miro since Black has had issues with him. Allin has been pushed better in his AEW career, but I did enjoy the matches with King including this match.
Jon Moxley did a solo promo backstage talking about how he doesn't like the "Interim" title and said this is like the FYI Title forged in Cincinnati. Moxley talked about how for over two decades we have seen Chris Jericho's fighting spirit, so tonight he's going to push it and find its breaking point. Moxley said if Jericho's spirit doesn't break, his body will.
(Commercial)
There was a promo from Chris Jericho with a freshly clean face and a black leather vest. Jericho said that he's going to beat Moxley. Jericho said that Stu Hart was not a lovable old man, he was vicious and a sadist with Jericho saying the pain he put him through was something he didn't want to feel again until tonight. Jericho said what he'll do to Moxley isn't easily fixable. Jericho said he's going to "stretch the shit out of" Moxley. Jericho said that he was the first AEW World Champion and tonight he's going to be the two-time AEW World Champion. Jericho said he guarantees.
Next Wednesday is the start of the AEW World Trios Championship tournament. I think AEW has a tournament every two or three months. Here are the brackets.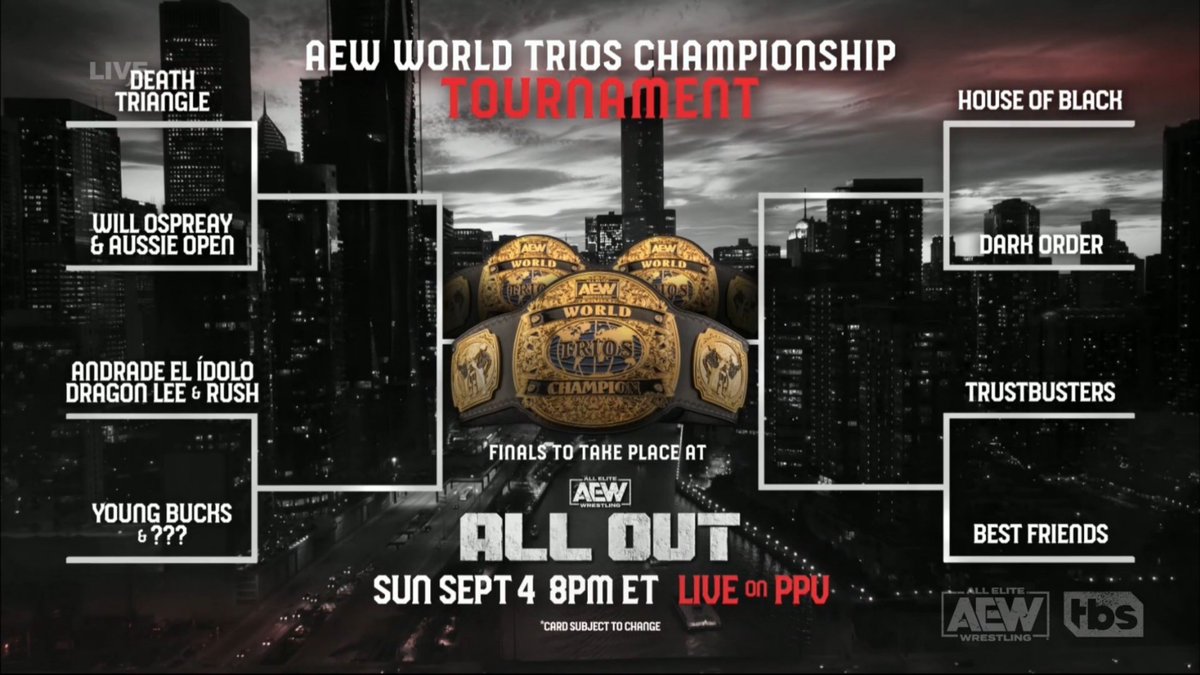 The Young Bucks have a mystery partner. More on that later in the show. I'll pick Young Bucks and mystery partner to win. House of Black and Death Triangle would be good choices as well.
Tornado Tag Team Match: Andrade El Idolo & Rush vs. Lucha Brothers (Rey Fenix & Penta El Cero Miedo)
Penta was Oscuro before, but now he's back to being El Cero Miedo. Does it really matter? It's still Penta. A tornado tag means all four guys are legal with no tags, which is fine. Considering how bad AEW referees are in tag team matches, it's better when they have a Tornado Tag Team Match. Anyway, I missed about a minute at the start as Penta kicked Rush to knock him out of the ring. Andrade tripped up Penta, so Fenix did a suicide dive on Rush on the floor. Fenix ran the ropes leading to a suicide dive on Andrade on the floor. It was nice of Andrade to stand there doing nothing for like 30 seconds. Penta hit a front sitout suplex for a two count. Fenix jumped off the top with Andrade hitting a dropkick. Rush with a body slam on Penta, Fenix kicked Rush and then Andrade/Rush slammed Fenix onto Penta for a two count. Andrade and Rush hit somersault dives over the top onto both guys on the floor. That led to a picture-in-picture break.
(Commercial)
The match continued with Penta hitting kicks to the head of both guys along with a DDT on Rush. Fenix held onto Andrade leading to a hurricanrana on Rush. Penta with a backstabber on Andrade. Penta splashed Fenix onto Andrade for two. Rush back in and he ate a double superkick. Fenix hit a splash off Penta's shoulders onto Rush for a two count. Penta and Fenix hit superkicks on both opponents followed by a running somersault dive onto both opponents. Fenix went for a Frog Splash off the top, but Andrade got the knees up for two. Andrade kicked Rush by accident, but Rush came back with a dropkick on Penta. Andrade hit a running double knee attack on Penta in the corner, Fenix with a jumping kick and Fenix jumped off the top leading to Rush hitting a Powerbomb. Penta with a rolling Cutter led to all four men down in the ring. I guess that means they decided to sell a bit. Penta gave Andrade a Destroyer piledriver on the apron. Rush fought off a Penta move on the apron while Andrade knocked Fenix off the top rope. Rush hit a jumping knee on Penta. Rush with a headbutt on Fenix and Andrade got an elbow drop into a reverse DDT. Rush tied Penta's mask onto the middle rope, so Andrade did a double knot. Fenix with a superkick on Andrade while Rush jumped off the top with a missile dropkick. Rush with a piledriver on Fenix while Penta unmasked himself to stop the pin. Penta had his face painted while covering his face with one hand. Andrade threw Penta's mask into the crowd. Jose gave Alex a DDT on the floor I think. It wasn't shown in time. Poor directing. The fans are telling a fan to throw the mask back in. Rush hit a running dropkick on Fenix in the corner while Penta was covering his face on the floor. Andrade hit the Hammerlock DDT for the pinfall win on Fenix. The fans booed. It went 14 minutes.
Winners by pinfall: Andrade El Idolo & Rush
Analysis: **** A great match full of action. As I said in the play-by-play, it's better that it was a Tornado Tag instead of a regular tag because the refereeing in tag team matches is bad in AEW. I would have liked to see more selling at times, but in a tornado tag team match with these guys, you know they are just going to go crazy with the flippy spots. Lots of dives to the floor in this match, which is not a surprise. I liked how heelish the finish was with Andrade/Rush causing Penta to take off his mask and that's the main reason they won because they isolated Fenix after that. It wasn't cheating, but it was mean. I enjoyed that finish.
The Young Bucks walked into the dressing room with Dark Order and "Hangman" Adam Page. Matt & Nick Jackson (who are now babyfaces) thanked Hangman for saving them last week. Matt said that the favorite time in his career was when the three of them and the other guys were together building up this revolution that ended up being called All Elite Wrestling. Matt said he got weird, selfish and if he can take it all back, he would. Matt said this where Hangman won the World Title and he was so proud of him, but he couldn't congratulate him at the time. Matt said he can't get those years back. Matt said maybe the trolls are right that he's a despicable and bad person, but he knows that Page brings out the good in them. Matt said that's why he had Brandon there with the camera and asked Hangman to team with them. Hangman said he would love to, but he can't do it. Hangman said that the Dark Order were the guys that were with him for the last couple of years and Page said that he thinks the Trios tournament is the Dark Order's chance. Hangman said that the Dark Order is the trio, so he isn't going to be in the tournament. Hangman said that if they had a partner, it should be somebody who doesn't turn their back on them. The Young Bucks walked out of the room, Brandon thought Page was talking about him and Matt told Brandon to shut up.
Analysis: That was a worthwhile segment to have the Bucks apologize to Hangman for being jerks to him when they were heels, but now they are faces again, so they want to be friends with Hangman again. What Hangman said made sense since Dark Order has been loyal to him. It also makes me think again that Kenny Omega will be the partner of the Young Bucks, which is fine. I'm glad Kenny will be back after missing about nine months of action.
Jungle Boy was on commentary taking Tony's spot for this match.
Luchasaurus vs. Anthony Henry
Luchasaurus with a German Suplex that dropped Henry on his head/neck. Henry with a kick, but Luchasaurus hit a headbutt and the Fossilizer (thanks Jungle Boy for the nam) for the pinfall win in about 40 seconds.
Winner by pinfall: Luchasaurus
Analysis: 1/2* Squash match win for the dinosaur guy.
Christian Cage appeared on the video screen saying that the people of Minneapolis don't deserve to see him. Jungle Boy ran to the back, but there were some security (indy wrestlers) guys there to stop him. Luchasaurus beat up the security guys and official Pat Buck showed up, so Luchasaurus gave him a headbutt.
Analysis: I assume we will get Jungle Boy vs. Christian Cage at All Out, but they haven't announced anything for that show as of yet.
Miro was shown in a darkened room talking about Malakai Black. Julia Hart touched him on the face, he said only one woman can touch him like that and he basically he said he was coming for Malakai Black. That's been teased for several weeks.
(Commercial)
Powerhouse Hobbs was about to be interviewed by Mark Henry, but QT Marshall and The Factory group interrupted. Marshall said that they will take care of Ricky Starks, who was feuding with Hobbs.
Let's Hear from Jay Lethal And Friends
Sonya Dutt started the promo bragging about how they beat up Wardlow at Battle of the Belts while talking about Satnam Singh slamming Wardlow through a table. Jay Lethal said that they delivered a message that Wardlow should defend the TNT Title against Lethal one more time or Jay will come after him and take the title.
Wardlow appeared with the TNT Title. Wardlow said that if Lethal wants another shot at the TNT Title then he's got it, but tonight he's whipping all three of their asses. Wardlow was in a dress shirt and jacket.
The FTR duo of Dax Harwood 7 Cash Wheeler joined Wardlow while brining their multiple Tag Team Titles with them. Wardlow and FTR went into the ring, so Lethal, Singh and Dutt left the ring. Dutt was looking for something under the ring and found nothing. Lethal into the ring, Wardlow punched him and FTR hit the Big Rig on Lethal. The music of FTR played to end it. Wardlow and FTR posed with their titles.
Analysis: The trio of Wardlow and FTR were part of the short-lived Pinnacle group, so that's the history they have. Wardlow accepting the challenge from Lethal is the right thing for a babyface to do.
There was an interview with Jericho Appreciation Society members Matt Menard, Angelo Parker, Daniel Garcia and Anna Jay. The group talked about Chris Jericho winning the AEW World Title. Garcia talked about how he beat Bryan Danielson and put him on another break with his family. Anna Jay choked out some random person backstage since Anna likes doing that.
Aaron Solo entered with his 8-26 record as a video package aired showing images of Ricky Starks and Solo as a tag team in the past. There were some brief comments from both guys leading to Starks making his entrance with a 51-13 record.
Ricky Starks vs. Aaron Solo
Solo had a friend from The Factory at ringside. Starks with a back body drop, Starks ran the ropes and Cole Karter tripped Starks, so the referee ejected him from ringside. Solo stomped on Starks in the corner, Starks broke free leading to a jawbreaker and a DDT off the ropes. Starks with a running kick, but Solo came back with a hurricanrana. Solo missed a corkscrew kick, Starks ran the ropes and hit a Spear for the win in about two minutes.
Winner by pinfall: Ricky Starks
Analysis: * Just a quick match to give Starks a win as a new babyface. That's fine with me because it gives him momentum. The guy with a 51-13 record beat the guy with the 8-26 record. Shocking huh?
Post match, Nick Comoroto went into the ring to help Solo, but Starks hit Nick with a spinebuster. Starks sent Solo into Nick to avoid a double team move. Starks left by going into the crowd and walking up the steps to avoid getting attacked. Powerhouse Hobbs was shown backstage and threw down a TV monitor to the floor. Starks celebrated in the crowd.
Analysis: They should probably do Starks vs. Hobbs at All Out. That's the right place to do it and it would be a big match for both guys.
The Gunn Club group of daddy Billy Gun was backstage with Colten & Austin Gunn while Lexy Nair was there to interview them. Billy was disappointed that his boys lost the Dumpster Match last week. Stokely Hathaway made some old jokes for Billy and he tried to offer Colten/Austin his card, but Billy threw it down. Billy said he got his sons a match on Rampage, which led to Danhausen walking in to call them the Ass Boys. That was it.
(Commercial)
The trio of Orange Cassidy, Chuck Taylor and Trent Beretta were about to be interviewed by Tony Schiavone. They were interrupted by Ari Daivari, Parker Boudreaux and Slim J with Ari trying to make an offer, but Orange told him no.
Analysis: There was a segment before the break with a guy making an offer to wrestlers to join for something and then they did it right after the break. It feels repetitive.
It was time for the lone women's match on the show with Madison Rayne up against Jade Cargill, who is the 35-0 TBS Champion joined by Stokely Hathaway and Kiera Hogan.
TBS Championship: Jade Cargill vs. Madison Rayne
Cargill had the size advantage, so she shoved Rayne down followed by Cargill kissing her forehead. Cargill with a kick to the midsection, Rayne to the middle rope and Rayne hit a dropkick that sent Cargill out of the ring. Cargill caught Rayne on the floor, which led to Rayne doing a headscissors on the floor. Rayne sent Cargill into the barricade. Rayne took way too long going back in the ring, so Cargill hit a Spear. They could have set up that spot better. They went to a picture-in-picture break.
(Commercial)
Cargill was in control with a delayed vertical suplex for a two count. Rayne with a jawbreaker, Rayne with some kicks including a kick to the head and Rayne hit a hanging neckbreaker. Rayne went to the middle rope leading to a flipping neckbreaker for two. It was not sold and executed well, so Taz covered for them on commentary. They did a spot with Cargill doing a lift leading to Rayne hitting a DDT for two. Kiera Hogan was on the apron, Rayne grabbed her hair and then Cargill hit a pump kick that hit Hogan because Rayne moved. Rayne got a rollup for two. Cargill hit a pump kick on Rayne. Cargill countered Rayne and Cargill hit the Jaded slam for the pinfall win after about eight minutes. Cargill is now 36-0.
Winner by pinfall: Jade Cargill
Analysis: ** Easy win for Cargill. Some of the spots looked too choreographed and then when you don't execute them perfectly it just looks really disjointed. Rayne is okay for a veteran, but she's not getting much of a reaction from the crowd. Cargill winning was the obvious result.
Post match, Athena went into the ring and punched Jade in the face. Athena sent Cargill into the ropes, but Kiera Hogan pulled Cargill out of the ring. Athena did not follow because wrestlers hate leaving the ring when they are in a segment like that. Athena held up the TBS Championship before tossing it towards Cargill.
Analysis: I like Athena a lot, but they don't book her consistently. I doubt she beats Cargill to win the title.
The AEW Women's Champion Thunder Rosa and Toni Storm were interviewed by Tony Schiavone, who noted that Storm is the number one ranked contender because Kris Statlander is out of action.
Analysis: I think Storm should turn heel to win the title. Why not? Rosa has been a boring champion and I feel like they should see what Storm can do with the belt.
Friday on Rampage:
* Bryan Danielson will speak.
* Hook will speak. I'm sure he'll say a lot.
* Gunn Club vs. Beardhausen (Erick Redbeard & Danhausen)
* Parker Boudreaux vs. Sonny Kiss
* Keith Lee & Swerve Strickland will speak.
* Orange Cassidy vs. Ari Daivari.
* AAA Mixed Tag Team Titles: Sammy Guevara & Tay Melo vs. Dante Martin & Skye Blue
Analysis: That's one of the weakest lineups for Rampage. I review it every week, but it's tough sometimes because it's not that interesting. The matches advertised there don't look that good to me.
Next Wednesday on AEW Dynamite:
* Andrade Idolo, Rush & Dragon Lee vs. Young Bucks & ???
* Toni Storm vs. Kilynn King
* Bryan Danielson vs. Daniel Garcia in a 2 out of 3 Falls Match.
The main event between Jon Moxley and Chris Jericho was up next with plenty of time left.
(Commercial)
It was main event time. William Regal joined commentary to support his Blackpool Combat Club member Jon Moxley. Chris Jericho made his entrance with "Lionheart" appearing on the screens along with clips of Jericho in action in Japan. The 51-year-old Jericho was wearing a lionheart vest along with some black/yellow tights. Jericho has a record of 46-18-1 in AEW. Jon Moxley made his entrance as the Interim AEW World Champion by making his entrance in the back part of the arena. Moxley is 57-4-1 in singles matches in AEW. Mox even stopped to pose for a selfie with a fan. The crowd loved Mox as usual. It was February 29, 2020 at Revolution when Moxley beat Jericho for the AEW World Title.
Interim AEW World Championship: Jon Moxley vs. Chris Jericho
The bell rang with Aubrey Edwards as the referee and nearly 30 minutes left in the show. Jericho gave Moxley a middle finger salute, so Moxley gave Jericho a middle finger in reply. They spent the first couple of minutes without much happening as they exchanged holds. There were slaps to the face, Moxley countered a submission and then Jericho got a takedown while pulling back on the arms. Jericho had Moxley in an awkward submission pulling on the legs. They exchanged chops, Moxley with a snapmare and a kick to the back. Jericho did the same thing in return to Moxley. Jericho grabbed Moxley's earring and tore it out of his ear, so Moxley was bleeding from the left ear. Jericho showed it to the camera. Regal said he would have done the same thing and so would Moxley. Jericho dropkicked Moxley off the apron to the floor. They went to a picture-in-picture break.
(Commercial)
The match returned with Moxley a bloody mess on the left side of his ear due to the earring being ripped off. Jericho did some taunting, so Moxley hit a clothesline. Jericho came back with a backbreaker along with a clothesline. Jericho hit the Lionsault that he has done for about 30 years and it got at two count as Moxley went for an armbreaker. Jericho got out of that with elbows while Jericho did another submission pulling back on the arms. Moxley with an ankle pick leading to an Ankle Lock. I don't think it looked that great, but it's the thought that counts. Moxley with a German Suplex, then Jericho with a German Suplex and Jericho with multiple corner clotheslines. Jericho set up Moxley on the top rope leading to a top rope hurricanrana for two. Jericho rammed Moxley's knee into the ring post followed by the Figure Four Leglock on the ring post like Bret Hart loved to do. Jericho had to let go before the five count. Back in the ring, Moxley applied a crossface submission. Jericho rolled out of it with the Walls of Jericho looking like a Boston Crab while Moxley sold it well and they went to a picture-in-picture break.
(Commercial – Jericho held Moxley in the submission during the entire three-minute commercial break.)
When the match returned, the referee likely told Moxley and that led to Moxley crawling to the bottom rope to break the hold. Moxley was on the apron, Jericho went for a springboard dropkick again and Moxley moved, so Jericho hit the floor. Moxley went up top and hit a diving double axhandle. Back in the ring, Moxley took way too long to get up top, he jumped off with nothing and Jericho hit the Codebreaker double knees for a two count. Jericho ripped two turnbuckle pads off, so referee Aubrey Edwards tried to put them back on. Since Edwards left the ring (JR criticized that), Sammy Guevara was at ringside and he tossed Floyd the bat over Jericho's head. Jericho left the ring, grabbed the bat and hit Moxley in the head with the bat. We are supposed to believe that the referee didn't see it, so Jericho covered for a two count. Good nearfall. Moxley with an inside cradle. Moxley applied a rear choke, Jericho sent Moxley into the exposed steel and he hit the Judas Effect elbow. JR said nobody kicks out of that as Moxley kicked out at two. Excalibur tried to claim maybe Jericho didn't hit it to its full effect because of a broken nose. What? That's silly. Anyway, Jericho sent him into a steel turnbuckle first. Jericho tried to attack with the AEW World Title, but Moxley moved and sent Jericho into the turnbuckle. Moxley applied the Bulldog Choke, but Jericho got out of it and Jericho applied the Liontamer submission with the knee to the back of the head. Jericho was busted open by the forehead after he went into the turnbuckle, so he was a bloody mess. Moxley got out of the Liontamer, then Moxley delivered elbow strikes to the head and Moxley applied a choke submission on the floor. Jericho was trying to fight it, but then he tapped out to give Moxley the win. They went 22 minutes.
Winner by submission: Jon Moxley
Analysis: **** A great match that lived up to the hype between two greats in AEW. I think Moxley probably could have sold the knee better after Jericho did the ringpost Figure Four and then Moxley barely sold the knee after that. Moxley also could have sold the back as well. Doing the Walls of Jericho submission for about four minutes was a long time to do it. I liked some of the nearfalls by Jericho because even though it was pretty obvious that Moxley was going to keep the title, Jericho did come close a few times doing some heelish tactics to get nearfalls that worked. I think the result was what most people expected with Moxley getting the clean win. Whether it was pinfall or submission, it didn't matter. Jericho guaranteed a win earlier in the night. Guess what? Heels lie.
There were still five minutes left, so Jake Hager and Sammy Guevara went down to the ring to attack Moxley since they are Jericho's friends. That led to the predictable save for Mosley as his buddies Claudio Castagnoli, Wheeler Yuta, Ortiz and Eddie Kingston went after the heels. The other members of Jericho's group went into the ring to attack the faces. It was a brawl with punches and stomps with the heels in control. Jericho wanted to hit Moxley with the AEW World, but then CM Punk's music hit.
CM Punk made his entrance to a HUGE pop. Punk was in a black shirt and blue jeans while the beard has a lot of grey in it. Punk went down to the ring, he punched the bad guys that ran into punches and sold them like it was the most devastating punches ever. All it took to get rid of Hager was a back body drop. Anyway, Punk gave Jericho a clothesline out of the ring. It was just Punk and Moxley in the ring with JR putting over the ovation while saying he could feel the ground shaking.
Punk celebrated in the ring while staring at Jericho's group in the aisle. The fans chanted "CM Punk" as Moxley slowly got back up. Moxley put his AEW World Title on his shoulder as he turned around to stare at Punk. Moxley's bloody left ear was facing the camera and it looked nasty. They did the Rock/Hogan thing where they each turned to the right to face the crowd, and then they turned to the left to face the crowd that way too. Moxley gave Punk a middle finger and walked past him while using his shoulder to bump Punk. Excalibur said Moxley showed no respect for Punk. Moxley celebrated with Claudio. Punk celebrated in the ring with the fans cheering him. Punk walked around the ring while lifting up his right foot to show he was doing just fine. JR and Excalibur said they haven't heard if Punk is cleared, but Excalibur said Punk was in fantastic shape, which is probably their way of trying to tell us that Punk will be cleared for All Out on September 4. That's just my healthy guess. Anyway, Punk sat cross-legged in the ring while the announcers plugged the weak Rampage lineup. Punk continued to celebrate. That was the end of the show.
Analysis: Big surprise ending to the show. That's good to see since we really didn't know when Punk was coming back. There haven't even been specifics on what kind of foot injury had and what surgery there was, but he obviously about three months, so that's why they crowned a new Interim AEW World Champion in Jon Moxley. The obvious assumption is that Punk is going to face Moxley at All Out on September 4 and the winner of that becomes the undisputed AEW World Champion. I'll pick CM Punk to win that.
Three Stars of the Show
1. Jon Moxley
2. Chris Jericho
3. (tie) Andrade El Idolo/Rush
3. (tie) Darby Allin
Others deserve a nod like Brody King and Lucha Brothers too.
The Scoreboard
This Week: 8 out of 10
Last Week: 7.5
Final Thoughts
It was a great show this week with a tremendous main event between Jon Moxley (shockingly he bled yet again) and Chris Jericho getting a lot of time for their AEW World Title match. Speaking of the AEW World Title, CM Punk made his triumphant return after coming back from his foot injury and the fans loved that. Big tease of a Moxley-Punk match to unify the AEW World Titles likely at All Out.
Another thing I really liked was the Young Bucks segment talking to Hangman Page, who was with Dark Order. Next week the Bucks are in a trios tag with a mystery partner, so that's probably where they bring back Kenny Omega. It's good to have another big name back in the mix assuming it's Omega.
I enjoyed the Tornado Tag Team Match and Coffin Match a lot. They were very entertaining matches. Allin did crazy stuff in the Coffin Match as usual, King bled a lot and Sting looked strong as usual. As I wrote in my review, AEW doing tornado tags is a good thing since the refereeing is usually bad in regular tags. Putting over Andrade/Rush was the smart move because it makes them look like threats. Other matches were kept short or were just average. I liked the angle with Wardlow/FTR uniting as well. Lots of fun stuff on this show.
They need to start promoting All Out more on September 4 because it's not that far away. They should announce some matches soon.
—
Thanks for reading. Go Toronto Blue Jays. You can contact me using any of the methods below.
John Canton
Email: mrjohncanton@gmail.com
Twitter: @johnreport