The John Report: WWE Smackdown Live Review 07/18/17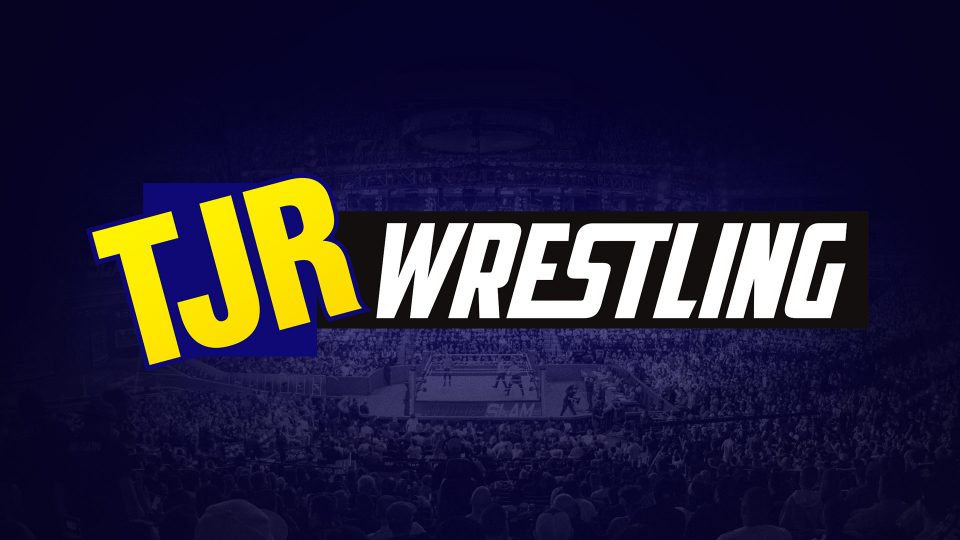 It's the last edition of WWE Smackdown Live before Sunday's Battleground pay-per-view featuring the Smackdown brand. We know most of the card already, so they will use this show to build those matches and maybe add another one or two. They have advertised a big match for this show as AJ Styles teams up with Shinsuke Nakamura against Kevin Owens and Baron Corbin. Plus, Jinder Mahal is bringing the Punjabi Prison with him to set up his Punjabi Prison match against Randy Orton at Battleground.
Live from Birmingham, Alabama this is Smackdown Live for episode #934. Follow me on Twitter @johnreport. Thanks Melo Man for the banner up top.
The opening video was under one minute and mentioned that the Punjabi Prison will be on Smackdown.
Let's Check Out The Punjabi Prison
The Singh Brothers were on the stage to introduce the WWE Champion, the "Modern Day" Maharajah Jinder Mahal, who was in a suit. Plenty of angry faces from Mahal like usual. The Pujabi Prison was around the ring. There's a 16 foot inner structure and a 20 foot outer structure. Mahal defends the WWE Title against Randy Orton inside the Punjabi Prison on Sunday at Battleground.
Mahal and the Singh Bros stood in the ring with one structure on them. The outer structure lowered with JBL saying it was an incredible, barbaric structure. The structure does look impressive. Mahal told us to behold the Punjabi Prison. Mahal said the Prison will be the final resting place of Randy Orton's legacy, so fans chanted "USA" at him. Mahal told the Singh Brothers to explain the rules of the match.
The Singh Brothers talked about the rules noting there are four doors around the ring attended to by referees. Those doors will open for 60 seconds to allow the competitors to get out. The outer structure that is 20-foot-high has no door. You have to climb out. Mahal said there are no rules with no countouts and no disqualifications.
Mahal said two men will enter the Punjabi Prison, but only one Modern Day Maharajah will walk out as WWE Champion. Mahal spoke in Punjabi to piss off the crowd leading to more "USA" chants. Randy Orton's music hit.
Orton appeared in his wrestling gear with a microphone in hand. Orton said that Mahal is either the bravest S.O.B. he's ever met or he's just not that bright. Orton told Mahal that he's making a conscious decision to be locked up in the prison with Orton without any help from the Singh Brothers. That led to Orton saying the Singh Brothers are the only reason Mahal took the title from him in the first place. Fans chanted "Randy" for him as Orton made his way down to the ring. Orton told Mahal there will be no escape on Sunday, no running or hiding.
Orton claimed he had nothing to lose since Mahal took his title, embarrassed his family and tried to take his dignity, which led to Orton slowly climbing up. Orton told Mahal he is the 50th WWE Champion that has the weight of the entire country of India on his shoulders and 1.3 billion souls on his back. Orton asked what Mahal will do when those 1.3 billion souls consider him a disgrace. Orton reached the top of the outer structure. Orton told him that this will be his view after he leaves Mahal in the ring and right before he takes back what is his. Orton said the announcement will be "And Your New WWE Champion, Randy Orton." Orton's music played to end it. It went about 14 minutes.
Analysis: It was a decent promo to provide a final hype for the Punjabi Prison match on Sunday. It was necessary since it's been a decade since the last time they did the match, so a lot of fans likely forgot what it was like. Mahal's promos are the most generic of any heel champion in a very long time and rarely get my attention. Orton was good in saying he had nothing to lose in the match, which suggests it will be more of a fight than a match.
BEHOLD the #PunjabiPrison… and it's more dangerous THAN EVER!!!#SDLive@JinderMahal @SinghBrosWWE pic.twitter.com/a8vRX8w3sy

— WWE Universe (@WWEUniverse) July 19, 2017
Coming up later: John Cena is there and Styles/Nakamura vs. Owens/Corbin. Usos were shown walking backstage.
(Commercial)
The Usos made their entrance. There was a clip of The Usos and New Day rap battle on Smackdown two weeks earlier. It's Usos defending The Smackdown Tag Team Titles vs. New Day at Battleground on Sunday.
The New Day trio made their entrance to a nice ovation. No promo from them.
Kofi Kingston (w/Big E & Xavier Woods) vs. Jimmy Uso (w/Jey Uso)
Kingston stomped away on Jimmy in the corner, went onto the apron and did some more stomps like New Day does as a team. Kingston hit a dropkick with Jimmy against the turnbuckle. Jimmy charged, Kingston ducked and Jimmy went over the top to the floor. Kingston went for a dive, Jimmy was ready for it, so Kofi did a delayed dive over the top and landed on Jimmy as they went to break two minutes into it.
(Commercial)
Back from break, Jimmy was in control after tripping up Kingston on the apron. It was shown during the break in the US (not here in Canada). Jimmy with a headlock, Kingston with a jawbreaker and Jimmy came back with a spinning kick to the face. Jimmy charged at Kofi, who countered with a leaping stomp to knock down Jimmy. Kingston did his comeback with the forearms, dropkick, leaping clothesline and the boom drop double leg drop. When Kingston went for his kick, Jimmy put him on his shoulders and drove Kofi into the turnbuckle for a two count. Great move. Kingston came back with two boots to the face while he was on the apron. Jimmy with an uppercut. Kingston with a headbutt while they were on the top rope and Jey was on the apron to distract. Kofi with a shoulder tackle on Jimmy. Kofi up top with a cross body block into the pin, but Jimmy floated over and covered for the win after nine minutes.
Winner by pinfall: Jimmy Uso
Analysis: **1/2 Pretty good match. The shocking thing was that they went with a clean finish because I figured Jey was going to interfere and the New Day guys would prevent it to give Kofi the win. Nope. It was a clean win for Jimmy since he just floated over after the cross body block. I might pick the New Day to win the titles on Sunday. Just feels like it's time for a title change although there's not much depth in the division anyway.
Shane McMahon, the Smackdown Commissioner, was there with Becky Lynch, Charlotte Flair, Natalya, Lana and Tamina. Shane mentioned the five-way match at Battleground. Charlotte, Natalya and Becky all wanted to fight Lana. Charlotte and Becky were doing their "tea time" hand gestures and Tamina told them it's not tea time. Tamina said that nobody is fighting Lana tonight. Natalya suggested that Charlotte faces Becky tonight. Charlotte and Becky started arguing about who was better, so Shane set up Charlotte vs. Becky for later.
Analysis: It's been a while since we've seen Charlotte vs. Becky and it would be first with both of them as faces, so it's a good choice.
Up next is a follow up to the Raw revelation with Jason Jordan as Kurt Angle's son. Chad Gable up next. You can check out my Raw Review here in case you missed it.
(Commercial)
The Smackdown announce team of Tom Phillips, John Bradshaw Layfield and Byron Saxton were shown on camera to set up a video package from Raw, which is appropriate because it involved a former Smackdown guy.
A video package aired from Raw showing that GM Kurt Angle announced that Jason Jordan was his son. It showed the Jordan and Angle hug.
The announcers talked about what happened with Saxton noting that when he trained with Jordan people would say that Jordan reminded them of Kurt Angle.
Chad Gable Interview
Chad Gable did a sit down interview with Renee Young. Chad said "what?" to react to what happened. Renee asked if Jason mentioned anything to him and Chad said that Jason said nothing to him. Chad said it would have been nice to have some heads up while noting that Jason was acting weird for a while. Chad talked about how Jason called him after Raw and he understood what Jason was going through. Chad said that they accomplished a lot as a team like winning the Smackdown Tag Team Titles from Randy Orton & Bray Wyatt, so he's going to support Jason. Chad spoke about how he has some ideas for what's next and he said he's not going to share. Chad ended it noting this is a great chance for everybody to see Chad Gable on his own.
Analysis: Quick interview with Gable to show that he's going to be just fine on his own. There were a few moments where he appeared to be upset that Jason didn't tell him the news, but I doubt that means either guy is going heel any time soon. If one of them does, it would be Jordan on Raw.
Mike Kanellis made his entrance with his lovely wife Maria. Mike has tights and a jacket with hearts all over them. A clip aired of Mike attacking Sami Zayn backstage last week with a flower vase. That set up this match. Mike's got a white jacket with Maria's face drawn on the back.
(Commercial)
Sami Zayn made his entrance to a nice ovation.
Sami Zayn vs. Mike Kanellis (w/Maria)
Zayn was aggressive with punches in the corner. Kanellis bailed to the floor, so Zayn hit him with a clothesline. Back in the ring, Zayn hit two more clothesline to send Kanellis out of the ring. Zayn whipped Kanellis into the barricade. Back in the ring, Kanellis got some punches and kicks. Zayn hit another clothesline on him. Exploder suplex by Zayn sent Kanellis into the corner. Maria went into the ring to protect her husband. The ref told her to leave. That distracted Zayn, which led to Kanellis punching Zayn in the face. Kanellis put Zayn on his shoulders and hit a Samoan Driver sitout slam for the win after about four minutes.
Winner by pinfall: Mike Kanellis
Post match, Mike and Maria were really happy about the win.
Analysis: *1/2 It was fine, but it also felt rushed. Zayn was offense for the majority of the match, Kanellis got in some punches and kicks and not much else before the finish. I think the gimmick for the Kanellis couple is that Maria will help him win matches and that he isn't very good on his own. At least that's what I got out of that match. Zayn isn't booked much better on Smackdown compared to how he was booked on Raw. He should be used better.
John Cena's up next as we head to the top of hour two.
(Commercial)
Let's Hear From John Cena
John Cena made his entrance to mostly cheers while the fans snag "John Cena sucks" for his song as usual. The ring had the American flag on a pole on one side of the ring and the Bulgarian flag on the other side. Cena faces Rusev in a Flag Match at Battleground on Sunday.
Cena said the WWE Universe is excited because you will see amazing things at Battleground. Cena plugged other matches on the card including the Punjabi Prison match with the prison above the ring. Cena asked what will we remember from Battleground? Cena claimed we will remember a Flag Match. In one corner, the flag of Bulgaria and the other corner has the flag of the USA. Cena said you had to grab the flag and cross the line.
Cena said the reason you will remember the Flag Match on Sunday because you will see one of two things: The USA flag in victory or the flag of Bulgaria. Cena said that he knows that he hasn't been your favorite son and that people don't like him, but he thinks tonight we can all agree that all of them love that right there (the US flag). Cena wondered if this Sunday will that flag fly or will that flag fall. Cena told us that he's ready for the match and he knows anything can happen, but he's ready for it. Cena said "I am ready." Cena fired up doing his loud voices with the crowd chanting "USA" right on cue. Cena talked about how America fought for independence and fought to keep it. Cena kept talking about how the flag has flown high through everything they have gone through. Cena even referenced 9/11: "When the towers fell, in the end, the flag flew high." This Sunday, he said we'll remember that those colors do not run, those colors kick ass.
Cena grabbed the US flag off the pole and waved the flag in the ring. Cena's music played, so Rusev attacked him "from out of the WWE Universe" according to Phillips. Just say crowd. Rusev stomped on Cena and applied the Accolade submission. Cena got back to his feet with Rusev on his back. Cena drove Rusev back into the turnbuckle, but Rusev held on. Fans chanted "USA" as Cena tried to fight it again. Rusev continued to hold on and had Cena locked into the Accolade. Cena passed out. Rusev grabbed the Bulgarian flag. Rusev stood on the ramp and planted it on the ramp. Cena was still out in the ring.
Analysis: It was an average segment that I would nearly call boring if not for the cheap heel attack. Cena tried hard to sell us on the flag with the patriotic American Hero promo. The crowd cheered "USA" at all the right times, but this feud is pretty lame because it's just pushing the same "USA vs. Everybody" story that WWE loves to try to do. It's not like Rusev represents a country that the US hates either. It's just Bulgaria. Rusev hasn't even ripped on the US much of late because Jinder Mahal does it. Can't WWE find a better way to book heels. Anyway, Rusev attacking to end it was predictable to give him some momentum going into the match. I'm definitely picking Cena on Sunday.
Charlotte vs. Becky up next.
(Commercial)
AJ Styles was shown in the locker room when Shinsuke Nakamura walked up to him. Styles asked if he wanted to talk strategy, so Nakamura shook his head no. Nakamura stared at the US Title. Nakamura said that one day when Styles calls, Nakamura will answer.
Analysis: I'm so ready for Styles vs. Nakamura in a WWE ring. Loved watching it in Japan. Want to see it in WWE too. It might be SummerSlam, but I would save it until WrestleMania.
Natalya joined the commentary team. Becky Lynch made her entrance to a good ovation. It's a 5-Way women's elimination match at Battleground on Sunday. Charlotte Flair made her entrance.
Charlotte Flair vs. Becky Lynch
Each woman went for takedowns early on. Natalya put over both women as former champions, but she said she'll be victorious at Battleground. Lynch hit two armdrags followed by a dropkick while Natalya said that sipping tea doesn't make those girl friends. Charlotte avoided a Lynch charge and did a cartwheel to get out of it. Rollup for Charlotte gets two. Lynch went for the Disarmer, but Charlotte got out of it and went to the floor for the break.
(Commercial)
Back from break, Charlotte hit some forearms and chops. Charlotte hit a running kick off the ropes followed by a knee drop to the head. As Charlotte did a Flair strut, Natalya noted that Charlotte can't think of anything on her own. Naomi was shown watching backstage. Lynch started a comeback with a kick to the ribs and a Bexploder suplex. Lynch with a flying forearm for a two count. Charlotte came back with a clip to the back of the knee and she went for Natural Selection, but Lynch blocked it. Charlotte got a rollup for two followed by a boot to the face for two. Charlotte went up for a moonsault, she jumped off and Lynch moved. Lynch applied the Disarmer submission. Charlotte got her foot on the ropes. Lynch applied the Disarmer again. Charlotte tried to fight out, but then Charlotte tapped out for the win at 10 minutes.
Winner by submission: Becky Lynch
Analysis: **3/4 Good job by two ladies that are very familiar with eachother. I liked the pacing of it with each of them trying to get the advantage early and then Charlotte took control. I'm surprised Lynch won with the submission because I figured they would have one of them win with a counter pin to make it look close rather than decisive like that. Nice work as always from two of the better women in WWE.
Post match, Charlotte and Becky shook hands followed by their "tea time" hand gesture. Tamina and Lana made their way down to ringside. Natalya attacked Charlotte from behind too. Natalya sent Charlotte out of the ring. Tamina threw Lynch out of the ring. Natalya went after Tamina, so Lana pulled Natalya off, did some yelling in Russian and when Natalya turned back around, Tamina hit Natalya with a superkick. Tamina stared at Lana and left.
Analysis: The story they were trying to tell was that Lana was there to work with Tamina and they will probably be on the same page at Battleground as well. Tamina might win that match although I may pick Charlotte. Not sure yet.
The announcer shilled WWE Network including WWE Battleground matches.
Still to come is Styles/Nakamura vs. Owens/Corbin. Fashion Files up next.
(Commercial)
Naomi, the Smackdown Women's Champion, was interviewed by Renee Young backstage. Naomi said that although she won't be defending the title at Battleground, she'll be there to congratulate the winner. Naomi said she's ready for a challenge because she's there to glow. Naomi said that they just better be ready to go. Carmella showed up with the Money in the Bank briefcase and told Renee to leave. Carmella said that everywhere Naomi goes, she goes with the MITB contract. Carmella told her she'll see her at Battleground.
Analysis: It was just a reminder that Carmella can cash in the contract at any time. I should point out that Carmella said contract because apparently the word "briefcase" is one of those words they don't want to say anymore. I'm not making it up. Once of Vince's rules.
The Fashion X Files
This was a parody of the X-Files titled "The Truth is Not H." Tyler Breeze and Fandango were there with Breeze wearing a red wig and said "sky-ience" instead of science the right way. Aiden English was shown warming up his voice backstage. Breeze said there's no ghosts period. There was a spotlight on them from above. A delivery man had a package for them and he said that he turned the light on. Breeze looked in the box. Fandango opened it and pulled out their horse head stuffed toy from last week. There was a note that said "Battleground." The graphic said "To Be Concluded at Battleground."
Analysis: Solid comedy bit to build up to some kind of conclusion to the Breezango storyline at Battleground. I don't know who it is, but the tag team could use some more teams, so if it's some NXT team getting called up (I would love it if it was Sanity) then that's cool. A reader on Twitter suggested Harper & Rowan together again, which would be fine with me.
Tag match main event up next.
(Commercial)
The video aired showing WWE's hero to plug their #WWEHero work with charities.
Drew Gulak did a promo for 205 Live.
It's so weird not writing about what's going to happen on Talking Smack after the show. The show has been canceled.
AJ Styles made his entrance to a loud ovation. He defends the US Title against Kevin Owens this Sunday at Battleground. Shinsuke Nakamura made his entrance. Baron Corbin attacked from behind, but Nakamura was ready for it and avoided the attack. Owens attacked Nakamura as well until Styles made the save. The heels backed up the ramp while Styles and Nakamura went into the ring.
Analysis: They did that to save time by not showing four ring entrances. Clever huh? You don't have to answer that.
(Commercial)
A commercial aired plugging the three matches already announced for Raw next week.
AJ Styles & Shinsuke Nakamura vs. Baron Corbin & Kevin Owens
The action started during the break. Styles went for a leaping attack, but Corbin decked him with a punch. Corbin worked over Styles for a bit and he brought in Owens, who unleashed on Styles with punches. Styles came back with a dropkick on Owens. Nakamura got the hot tag leading to some kicks in the corner followed a step up enziguri. Knee drop by Nakamura. Owens whipped Nakamura into the ropes, Owens pulled the rope down and Nakamura bumped to the floor. Corbin rolled Nakamura into the ring, right into a senton splash from Owens. Corbin stomped away on Nakamura and then he yelled at the ref that he could count. Corbin applied a bearhug on Nakamura. When Nakamura broke free, Corbin tried to attack him and Nakamura hit a kick on him. Corbin prevented a tag out by Nakamura while also knocking Styles off the apron. Corbin charged, Nakamura avoided it, kick to Owens and that allowed Corbin to recover with the Deep Six Slam leading to Styles making the save. Nakamura kick led to the hot tag to Styles on Owens.
Styles was on fire with punches, kicks, a clothesline and a forearm smash for two. Styles hit an inverted slam that sent Owens face first into the mat. Owens broke free from a power move Styles was going for and Owens hit a big clothesline. Corbin tagged in and launched Styles across the ring. Styles took down Corbin leading to the Calf Crusher submission, but Corbin got to the ropes quickly. Styles hit a punch, went for the forearm off the ropes, but Owens tripped up Styles on the apron. Nakamura attacked Owens outside the ring and Corbin dumped Nakamura over the barricade. Back in the ring, Styles hit the enziguri and Pele Kick on Corbin. Owens with the tag, Styles didn't see the tag so as he set up for a Styles Clash, Owens hit a superkick on Styles and Popup Powerbomb for the pinfall on Styles. It went ten minutes.
Winners by pinfall: Baron Corbin & Kevin Owens
Analysis: ***1/4 Very good work for the time given. It would have been nice if they got more time because that's too short for a main event tag match. I guess WWE felt like they loaded the show with too many other teams and that meant this match was not given as much time as it should have. The work was good all around. Some believable nearfalls in there. The finish was the same one they did in the women's tag last week where the heels got the blind tag without the face wrestler (Charlotte last week) and the heel (Tamina last week) capitalized with the victory. Owens winning makes sense since I expect Styles to retain on Sunday. Make it look like KO has the momentum only for Styles to find a way to retain on Sunday. I'm leaning towards Nakamura over Corbin too.
After the match, the heels went up the ramp while Nakamura checked on Corbin. End of the show right at 10pmET as usual. There was no time for replays or much else.
Three Stars of the Show
1. Kevin Owens
2. AJ Styles
3. (tie) Shinsuke Nakamura
3. (tie) Baron Corbin
The Scoreboard
5.5 out of 10
Last week: 5.5
2017 Average: 6.97
Average Post Brand Split (July 26, 2016): 6.73 – Raw is at 5.87
Last 5 Weeks: 5.5, 7, 7.5, 7, 7.5
2017 High: 8.5 (April 11)
2017 Low: 5 (May 16, July 18)
Final Thoughts
It gets a 5.5 out of 10.
It was a below average show this week and the 5.5 is the same as I gave it last week.
The promos just didn't feel that interesting and the matches were okay, but not great. I think the problem is they already set up everything for Battleground weeks ago and it was hard to make us care about the final hype.
If you want to compare it to Raw, I thought Raw was the better show this week.
Will @FightOwensFight reclaim the #USTitle THIS SUNDAY at #WWEBattleground? He'll have to go through @AJStylesOrg FIRST! #SDLivepic.twitter.com/3J4P0axEVM

— WWE (@WWE) July 19, 2017
The next Smackdown brand PPV is Battleground this Sunday July 23 in Philadelphia. Here's what we know so far.
WWE Championship Punjabi Prison Match: Jinder Mahal vs. Randy Orton
Flag Match: John Cena vs. Rusev
United States Championship: AJ Styles vs. Kevin Owens
Shinsuke Nakamura vs. Baron Corbin
Smackdown Tag Team Championships: The Usos vs. The New Day
Fatal 5-Way Elimination Match: Charlotte Flair vs. Natalya vs. Becky Lynch vs. Tamina vs. Lana – Winner gets Smackdown Women's Title Match at SummerSlam
Tye Dillinger vs. Aiden English (Kickoff Show) – It was announced on WWE.com and social media.
I assume Sami Zayn vs. Mike Kanellis gets added as well.
—
That's all for now. Go Toronto Blue Jays. Thanks for reading.
John Canton
Email mrjohncanton@gmail.com
Twitter @johnreport
Personal Facebook and TJRWrestling on Facebook