TJRWrestling WWE Super Show-Down 2018 Preview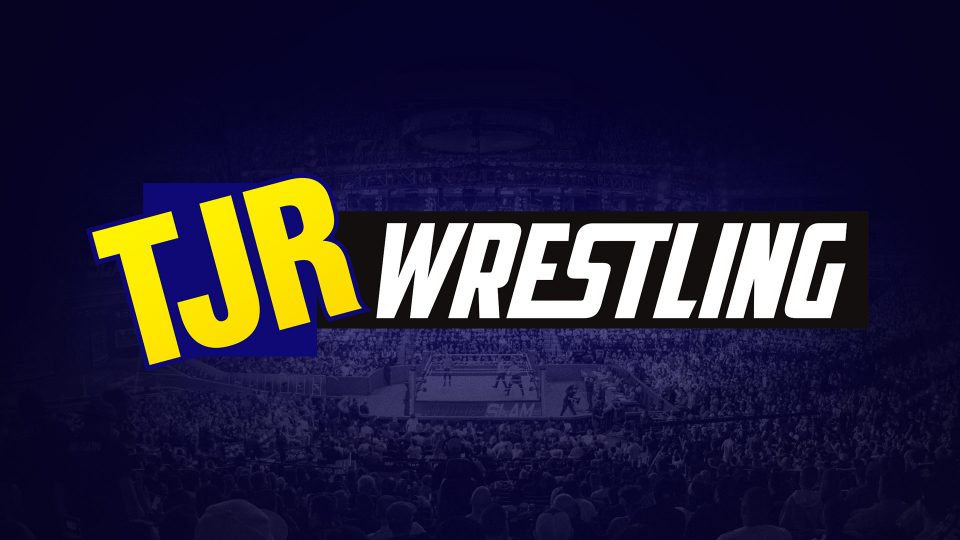 John: Welcome to the TJRWrestling WWE Super Show-Down preview. It's a unique show that is taking place at the Melbourne Cricket Ground in Melbourne, Australia in front of a crowd of about 70,000 people or whatever number WWE wants to make up. The start time is 7pm locally, which means it airs at 5amET for us in the east in North America, which is 2am Pacific Time and that's 10am in England. The event is on WWE Network, so that means you can watch it on demand if you are unable to watch it live.
The show was rumored to run for five hours when it was first announced, but I looked at the WWE Network schedule and it's set for four hours. That's better. I think five is too much for ten matches. Four hours should be fine.
I was looking at the WWE Network schedule and now it says #WWESSD Super Show-Down is listed for four hours. If you miss it live, you can watch it on demand. That 5am ET is Eastern Time Zone. pic.twitter.com/5tm7wSgh4t

— John Canton (@johnreport) October 4, 2018
While this show is big in terms of the audience watching it live, it doesn't feel like a regular WWE PPV event. They built a card with five tag team matches and I think most people watching would pick the faces to win every one of those matches, which is another way of saying this feels like a big-time house show rather than a PPV with major storyline twists. Where the show has my interest is with the Smackdown matches because that's the better show and even WWE might be aware of it since there are five Smackdown matches compared to four for Raw and 205 Live has the last match.
Joining me for the preview is Mike Holland. Our teammates Kurt and Matthew are unable to join us due to work commitments.
(Note: All graphics are from WWE. The banner up top is courtesy of our friend Melo Man.)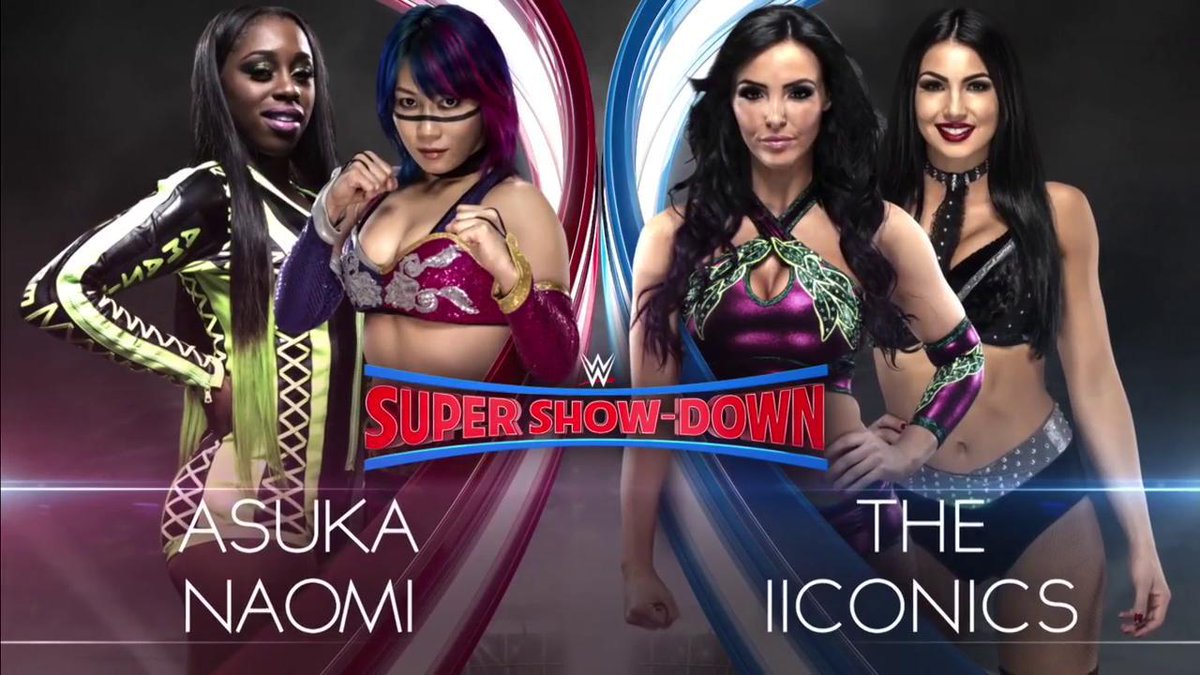 Asuka and Naomi vs. The IIconics (Billie Kay and Peyton Royce)
Mike: For all the discussion of how far women's wrestling has come (and it has, and that's fantastic, and it was happening before WWE swooped in and attempted to claim credit), there is still the major dichotomy of the performance end of it butting up against the creative end of it. I'm not saying that guys can't write creative credibly for female wrestling characters, but the abundance of the "mean girl" persona used as a crutch rather than a true wrestling trope demonstrates to me that there's still a long way to go.
We all know that WWE likes to play up hometown competitors just to yank the rug out from under them. That's a trick that's been employed many times on Raw and Smackdown, and given that Kay & Royce hail from Australia, it's a bit of a double-edged sword. Clearly, the crowd will be supportive of them, regardless of their heel status. You can't always get what you want, though, and Asuka is desperately due for some shred of redemption. I could spend the rest of this preview complaining about her treatment, but what's the point? She'll have to settle for the upper hand in this dreck.
Winners: Asuka and Naomi
John: Normally a tag team match on this show I would pick the faces, but in this case, I am going with the lovely Australian duo of Peyton and Billie in their home country. I just think the storyline has been that they have lost repeatedly to Asuka, so maybe they can cheat to get a win on Naomi. Part of the reason is because they are in their home country. Keep in mind, though, that WWE is notorious for having people lose whenever they are wrestling in a hometown, so that could apply here. If WWE is introducing for Women's Tag Team Titles at Evolution later this month, The Iiconics needs to be a part of the division somehow, so a win here would help their credibility.
Winners: Peyton Royce and Billie Kay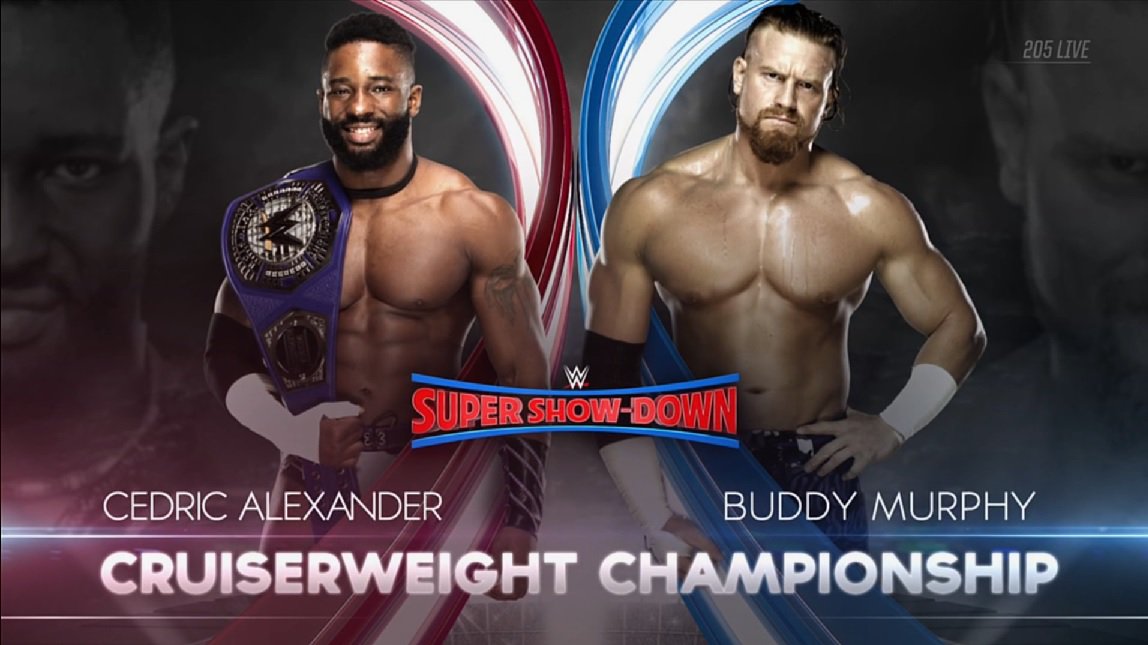 Cruiserweight Championship: Cedric Alexander (c) vs. Buddy Murphy
Mike: Another Australian gets put front and center as Buddy Murphy renews his rivalry with Cruiserweight champ Cedric Alexander. While I have no doubt this match will be very good, it is perhaps a bit unfortunate that we've already traveled down this road extensively in the not-so-distant past. Murphy faced Alexander back in May and came up short in that effort, but the whole aspect of him specifically asking to go to NXT and facing the weight restriction was well done. I don't know that it's made 205 Live look like a destination exactly, but it's allowed for some stellar matches between some talented guys.
I do think WWE needs to throw the hometown crowd a bone, and I also think a title change or two would help to dispel the thoughts that this is essentially a jumbo house show. Alexander has really done nothing but win since claiming the title, but many of his matches could have gone either way. Murphy presents a compelling character and this could be the opportunity for him to get onto the radar of a few more viewers. The time seems right for a switch.
Winner (and NEW Cruiserweight Champion): Buddy Murphy
John: This should be one of the best matches on the show even though WWE barely promotes 205 Live on their main Raw and Smackdown shows. It's another match with a "hometown" feel since Murphy, who is engaged to Alexa Bliss in real life, is going after the title that Alexander has held since WrestleMania. Murphy has really impressed me in the last year with his cruiserweight run and I think Alexander's run has gone long enough, so I'm picking Murphy to win here. Give these guys 15 minutes, let them have a great match and I think by the end of the night, a lot of people will talk about this as one of the best matches on the card.
Winner and New Cruiserweight Champion: Buddy Murphy
Smackdown Tag Team Championships: The New Day (Big E, Kofi Kingston, Xavier Woods) (c) vs. The Bar (Cesaro and Sheamus)
Mike: Let's get one thing straight from the beginning: The New Day are without question the owners of the lion's share of the praise for reinvigorating tag team wrestling. In addition to working to craft their characters, and the humor this trio has become known for, they have gotten it done in the ring, regardless of the competition. I appreciate that they aren't looking to separate just to change things up. In addition to blowing merchandise out the door and delighting younger (and older) viewers everywhere, they have added to their esteem with unicorn horns, breakfast items, and a trombone or two. Well played.
I'm fine with Cesaro and Sheamus, and they always put forth a nice effort, but that pairing has run its course for me. They've stood the test of time well since their oddball pairing, but we've watched these folks clash before and there's no reason to think we're due for a title change here on the heels of Kofi Kingston's impressive combined days as tag champ. Both Bar members coming up with a win last week is the proverbial icing on the cake.
Winners (and STILL Smackdown Tag Team Champions): The New Day
John: These teams have wrestled dozens of times going back to their Raw days, so they have great chemistry. This might be the best tag team match on the show due to how many times they have wrestled. The story going in is that Cesaro and Sheamus racked up singles wins and then they had the upper hand in a Smackdown segment last week when they ruined the New Day's cooking session. The New Day should retain here and I would be surprised if they lost. Can we get The Usos back in the title mix? They are too good to be out of it for this long.
Winners: The New Day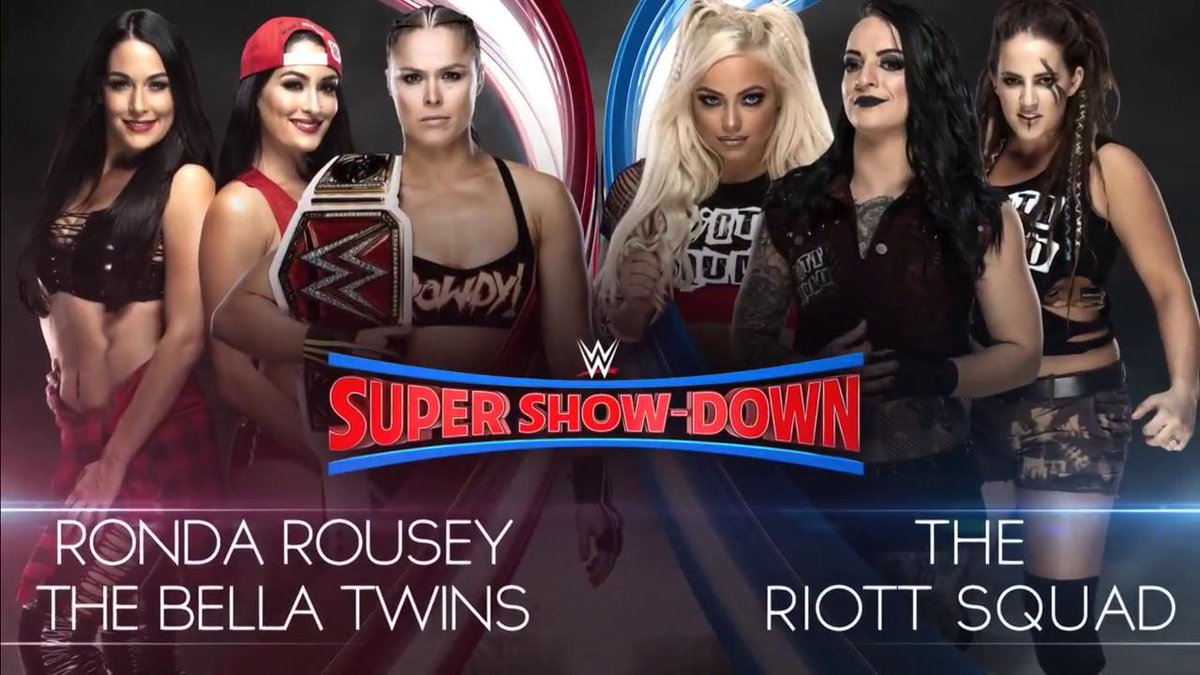 Ronda Rousey and The Bella Twins (Brie Bella and Nikki Bella) vs. The Riott Squad (Liv Morgan, Ruby Riott and Sarah Logan)
Mike: I don't know that this was the dream match Ronda Rousey was thinking of when she signed her WWE contract, but here we are all the same. This match was humming along at mega-boredom levels until Brie Bella took major heat by legitimately concussing Liv Morgan on Raw. While that mistake was perhaps not worthy of the bellowing reaction it received, it did nothing to reverse the established facts that The Bellas are unfortunately completely incapable of putting on anything resembling a watchable match. Rousey's done a hell of a job learning the ropes (literally) against the cacophony of naysaying that began before she ever wrestled a match, so you can see how this is an oddball pairing to say the least.
All of that said, it's way more interesting than the outcome of this match. The Riott Squad is fine but sort of aimless, and just looks like a speedbump for the Rousey Racecourse. What will be far more interesting is where all the interactions between the Bellas and Ronda are going. If that's a match, so be it. WWE should be putting their energies into a credible opponent for Rousey instead. This is Styrofoam filler.
Winners: Ronda Rousey and The Bella Twins
John: This should be an easy win for Rousey and the Bella Twins. The question is will it be Rousey that gets the submission win for the team or will Nikki Bella get the win? The reason I ask about Nikki is because she is expected to face Rousey at the women's Evolution PPV on October 28, so I assume WWE is going to want her to get a big win to elevate her to a title shot level. It's possible that Nikki will turn heel on Rousey, but I have my doubts that WWE wants to turn the Bella Twins heel just because they are part timers that may be off again after Evolution. I'll go with Nikki getting the pin perhaps by tagging herself in when Ronda is in the ring to give Nikki the victory. Maybe they'll do an angle on Raw where Nikki challenges Ronda for the title at Evolution with Cole shrieking that it's a "dream match" since he claims the Bellas are "legendary," which they are not.
There will probably some people getting riled up watching this due to the Brie Bella errant kick that gave Liv Morgan a concussion. It was an accident and I'm glad Liv appears to be doing okay because she has been cleared to wrestle again.
Winners: Ronda Rousey and The Bella Twins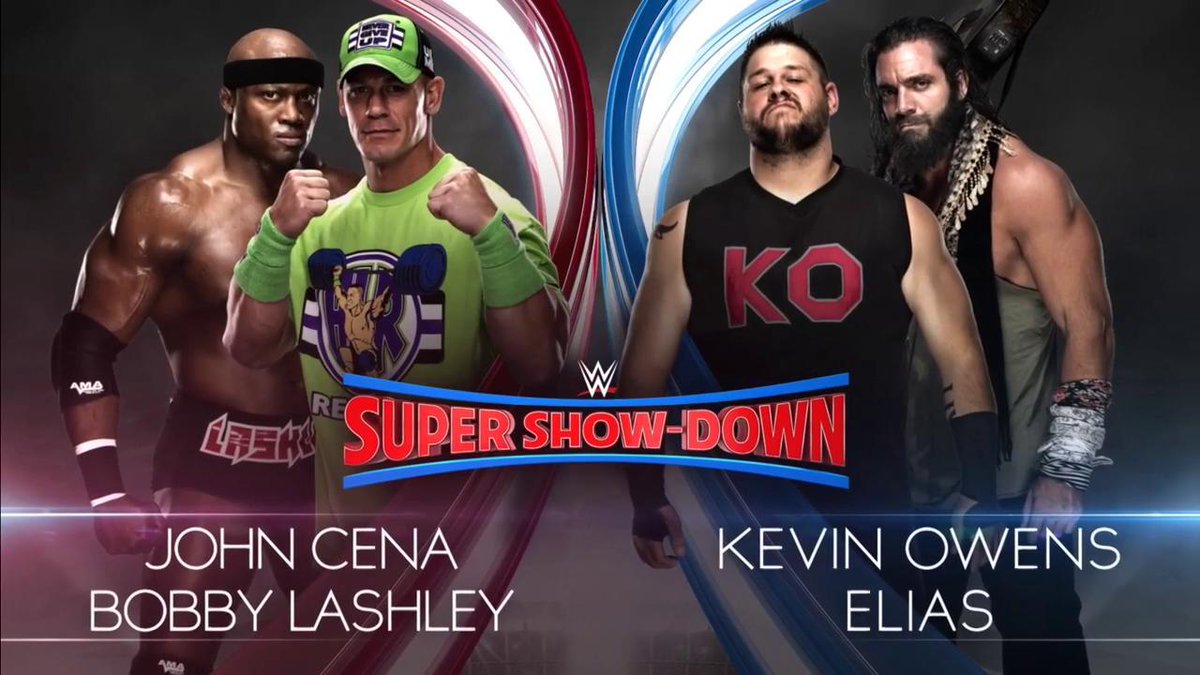 Bobby Lashley and John Cena vs. Elias and Kevin Owens
Mike: Well, okay. Fans looking for an example of house show booking can start and stop on this one, a match which basically exists to shoehorn John Cena onto the card as an attraction. Why is he paired with Bobby Lashley? Why does it matter? It's especially strange since Cena's not a regular character on WWE television right now, so he's been unable to further any kind of storyline. Instead, we've been treated to Owens and Elias hating on Seattle (hometown cheap heat is still the best heat ever, and cheap SPORTS heat is nuclear) and settling for Lio Rush as Lashley's mouthpiece. It's not terrible, but it's far from compelling.
When Elias looks across the ring at Owens, he might be looking in a mirror. WWE really struggles at booking heels strongly over the long term, especially ones that start getting crowd approval. Elias is actually too over, and you know how much they love giving in to fan support. Owens quit Raw to come back and fight Lashley the next day. Now both of them serve as sacrificial lambs to make sure we remember John Cena was Roman Reigns before Roman Reigns was. I'd rather watch an Outback Steakhouse commercial.
Winners: Bobby Lashley and John Cena
John: The build for this has been awkward since Cena hasn't been seen on WWE programming since the Greatest Royal Rumble in late April. Cena has also changed his physique to more of a ripped look where he lost somewhere from 15-20 pounds of muscle. Cena was originally going to face just Owens, but it was changed to a tag match likely due to Cena having some ring rust. It can also give a rub to Lashley by having him team with Cena, so that's probably part of it too. Elias and Owens can be entertaining, but they are here to do the job. I think Lashley will get the win for his team.
Winners: Bobby Lashley and John Cena
Daniel Bryan vs. The Miz – The winner is the #1 contender for the WWE Championship
Mike: WWE clearly is getting their money's worth out of The Miz and Daniel Bryan, and why not? Miz has been the perfect candidate for opportunist so far, getting the drop on Bryan two straight times, once in singles competition and once in that unfortunate mixed tag. The third time feels a little different at least with the stipulation that the winner will become #1 contender for the blue brand's ultimate belt, but that caveat might be slightly unfortunate in that it likely previews the winner of AJ Styles and Samoa Joe later. That could always end up a bit of a swerve, of course, but it's hard to envision Miz chasing Joe.
I don't see Bryan losing straight up again to Miz, and I think the general underhanded tactics that have been employed so far would also ring hollow since that's been done. The only solution is to allow Bryan his moment of glory, which makes this card feel more special, and then have Miz keep things going by preventing Bryan from winning the WWE Championship later. Make no mistake, this feud is not over. It's one of the best things the company has going right now.
Winner (and #1 contender): Daniel Bryan
John: This might be the blowoff match between these two rivals although maybe not. I just think that because there's the #1 Contender's stipulation in the match, that it could be WWE's way of telling us that it will be over here. I was fine with Miz getting the win at SummerSlam, but I think Bryan and Brie should have won at Hell in a Cell to even it up. That would have made this match more unpredictable. Instead, Bryan goes into this match with two PPV losses, plus he got his ass kicked by The Miz on Smackdown after Miz cost Bryan the match against Shelton Benjamin, so it seems really obvious that Bryan is going to get the win. That's the right call anyway. It would put Bryan back in the WWE Title mix going against Styles or Joe where either of those matches would be awesome to watch.
This is one of my favorite matches on the card. It will probably be better than the SummerSlam match since there's more of a story going into this one and the title shot stipulation helps to raise the stakes as well. Look for Bryan to win by doing some cheating of his own since Miz will probably cheat throughout, so Bryan cheating and winning because of it is how the finish should go.
Winner: Daniel Bryan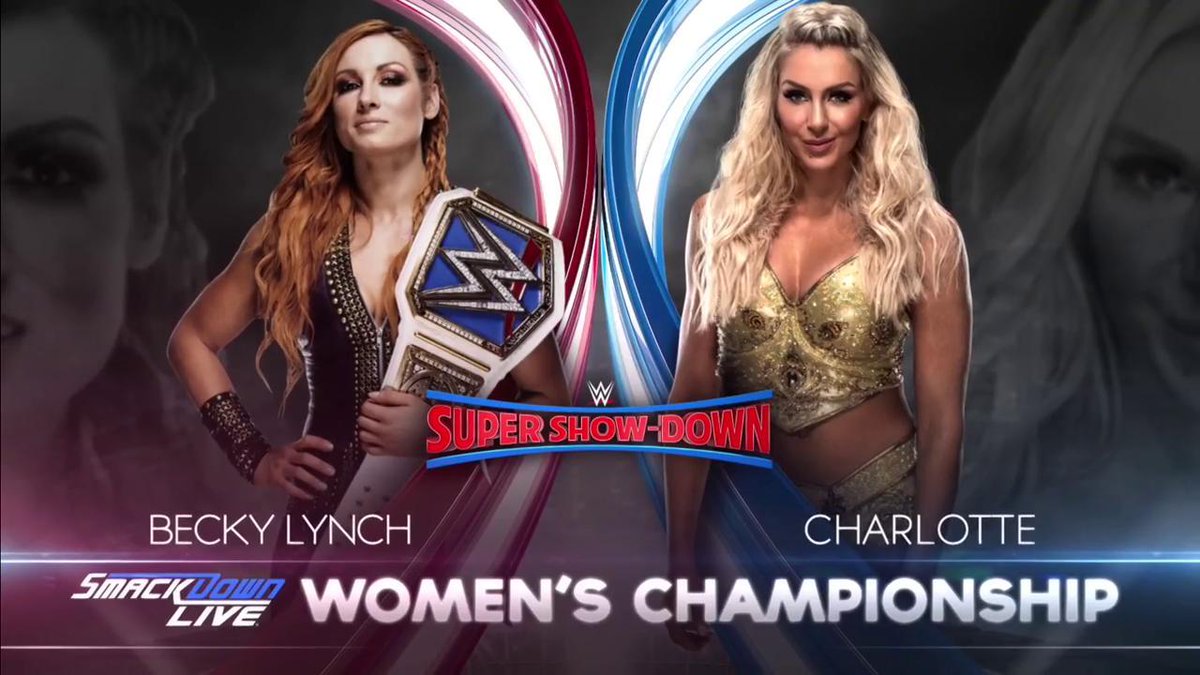 Smackdown Women's Championship: Becky Lynch (c) vs. Charlotte Flair
Mike: Make no mistake, this is a match that can and will tear the house down. After the kerfuffle in Saudi Arabia where the women got no chance to shine, I fully expect the leaders of this division to show them and everyone else exactly what they missed. What better pair to do that than the feuding former friends Becky Lynch and Charlotte. This battle has been so good that it's managed to almost completely overshadow the fact that very few people regard Lynch as a heel even now. WWE missed the mark on that, and a lesser worker might have gone under and stayed submerged, but Becky has really tapped into her inner heel and nailed it. I don't blame anyone for supporting her, but it's through no fault of her own she's hearing cheers. It's a bit of a conundrum.
I did not think they'd put the belt on Lynch so soon after the turn, but there's no way they take it off her right now. I suppose there's the option of having Charlotte win just to have Lynch regain it, but I see Evolution as an obvious chance for that chapter of the story should they so choose.
Winner (and STILL Smackdown Women's Champion): Becky Lynch
John: I'm very happy that these women are having another big match together because the rivalry continues to grow. Yes, the face/heel lines are certainly blurred because Lynch is acting like a heel, yet she gets cheered as much as anybody on the main roster. Charlotte is still acting like a face although some of the fans are booing her just because they like so much. As I have written for months now, I don't think the heel/face thing is as important in 2018 as it was in the past. What matters is the crowd is reacting to them in a big way and treating their matches as a big deal. As long as that continues to be the case, that's fine with me.
In terms of a prediction, I feel confident in picking Lynch to win. You may recall that during the Hell in a Cell preview a few weeks ago, I thought Charlotte would retain and they would save the Lynch win for Evolution in late October. Nope. Charlotte only had a four week title reign, which is fine because I'm more interested in Lynch as the champ. I like both women, though, so I'm just glad they are feuding.
This should be an awesome match and I think Lynch will win by cheating. Maybe Lynch can win with her feet on the ropes or something like that where it leads to a rematch with a stipulation at Evolution later in over three weeks time. If Lynch retains there then they can have Lynch feud with Asuka while Charlotte would be a favorite to win the Royal Rumble leading to a WrestleMania match with Ronda Rousey. I think that's why Lynch as long-term champion is the right decision.
Winner: Becky Lynch
WWE Championship: AJ Styles (c) vs. Samoa Joe
Mike: I feel like we keep having this match, and I (mostly) keep predicting it wrong. For those waiting for WWE to finally christen the absurdly deserving and entertaining Samoa Joe as champion and reward his hard work inside and outside the company, it's been a hard lesson in reality that the powers that be are perhaps not as endeared as we are. Despite pushing Styles to the brink and actually beating him at HIAC, he remains without the title. You get the sense that this is either the moment for him to break through or the final nail in the coffin of this feud, similar to AJ/Nakamura. It's frustrating as a fan but one can't argue the wrestling and storylines have been much better overall with this pairing. Simply put, it's gotten weird as hell and it's been fun as hell. This feud is everything good about professional wrestling.
As I mentioned before, it's hard to look past the #1 contender's match likely happening before this goes down and not think it doesn't have some bearing on the outcome here. Even if I didn't have Daniel Bryan winning that one, though, the moment feels right to me to make the switch. They've slowly and methodically teased Joe's depravity involving AJ's family, and they clearly don't mind showing SJ is very equal in the ring and could win on any given night. To fully validate Joe's claim at being the best and ratchet the intensity up even further, he must get it done here.
This is by no means a sure thing. I've predicted Joe twice, and both times I've gone down with the ship. In for a penny, in for a pound, though, and I'm not about to give up on the idea that WWE must see what I'm seeing and know they have something special here. While Bryan could face Styles (and Miz could still interfere), I like the fresh matchup of Joe/Bryan for the short term and expect AJ to get his rematch opportunity in the long term. Joe deserves this, and I think a major title change makes this card a heck of a lot sexier and gives people that "can't miss" feeling much of their programming has frankly lacked lately.
Winner (and NEW WWE Champion): Samoa Joe
John: I was leaning toward picking Joe for the third straight time against Styles, but when I really thought about it, my mind kept going back to Styles winning because he has to get revenge for all the dastardly deeds that Joe has done. I really don't care who is the champion because they are two of my favorite guys on the roster and since they are in the title picture, that's a good thing for the Smackdown brand. It's certainly better than a year ago when Jinder Mahal was still the WWE Champion. Styles is approaching one year as WWE Champion if he holds it for another month and I think that will happen.
As for the match, it could be the best of the night considering they are going to be able to brawl all around the ring since there are no disqualifications in the match. They should have billed it as a "Melbourne Street Fight" or something along those lines because that's really what it is. Perhaps WWE feels that sort of match name is too violent or whatever. I don't know what their rules are on certain lingo. Anyway, I expect something big in the match with Styles going all out to get revenge. I think the finish will be something like AJ hitting a Styles Clash through a table or a Phenomenal Forearm that puts Joe through a table. That would be a fitting end to this story.
I have talked myself into Styles vs. Bryan in a major PPV match. I would prefer Survivor Series over Crown Jewel, but I guess we'll find out soon if WWE goes in that direction.
Winner: AJ Styles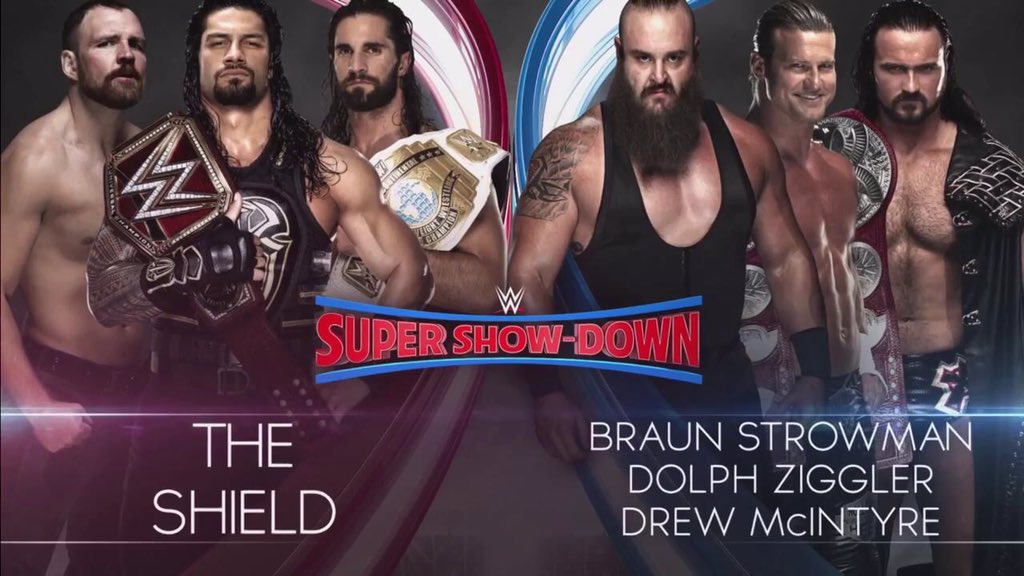 The Shield (Dean Ambrose, Roman Reigns and Seth Rollins) vs. Braun Strowman, Dolph Ziggler and Drew McIntyre
Mike: Putting many of Raw's title holders in a tag team match prevents some better options on paper, perhaps, but there can be little argument that having The Shield in a six-man feels pretty marquee. I think it's a smart choice by WWE to have this ultra-popular trio go up against the odd Strowman/Ziggler/McIntyre concoction, because it gives the crowd what they want while also not doing that at exactly the same time. It's the sort of bizarro booking they've favored of late, but it should create some indelible moments. Not every title needs to be defended at every show and this match feels pretty big even without those stakes.
I also like the build for this, and thought the constant "will he or won't he?" seducing of Dean Ambrose these past several weeks has been very well done and upped the stakes for this match. We all know Ambrose is going to turn on these guys eventually, so why not have some fun with it? Nobody does mental instability like Deano, and he looks like he's having a whale of a time teasing it each week. I also have felt Ziggler and McIntyre have been headed to splitsville for a while, but their in-ring product has been so excellent there is really no need to rush. We've come to expect this type of thing from Dolph, but I have to hand it to Drew: he has made the most of his time away from WWE and he looks every bit the potential headliner that Vince (storyline) proclaimed him to be forever and a day ago. Good on him.
Unfortunately, none of that eliminates the harsh truth that this match is more about maintaining the status quo and keeping the holding pattern going on Braun Strowman chasing Roman Reigns. I'm not a giant fan of Braun's in-ring work, pun intended, and I think it's terrible the way WWE has killed his MITB momentum with the reintroduction of Lesnar. There's no way he takes the hit here, so I look at this as a good excuse for The Shield to win, Ambrose to stay in the fold for now, and the Ziggler/McIntyre union to be the one on life support.
Winners: The Shield
John: I don't think this one is that complicated. The Shield have gotten their asses kicked by Strowman, McIntyre and Ziggler more times in the last month than any group has beat up The Shield and it's all been done to lead to a Shield win at Super Show-Down. They'll probably have a really good match in the 20 minute range with Ambrose and Rollins getting worked over at different points, maybe Reigns will be isolated at times too. By this point in the night, if it's the main event, the crowd may be sick of tag team matches with the same formula, but all of these guys are good enough to make it interesting.
I expect Roman Reigns to get the win for his team by pinning Ziggler. They may have Ambrose get the win since the story is that he might not be loyal to The Shield, but I think it will probably be Reigns.
This match will likely go on last with The Shield celebrating their victory while Michael Cole screams about Roman Reigns being the Big Dog while Vince McMahon is on Cole's headset yelling "show some more enthusiasm GOD DAMMIT he's the Big Dog!" Something like that.
Winner: The Shield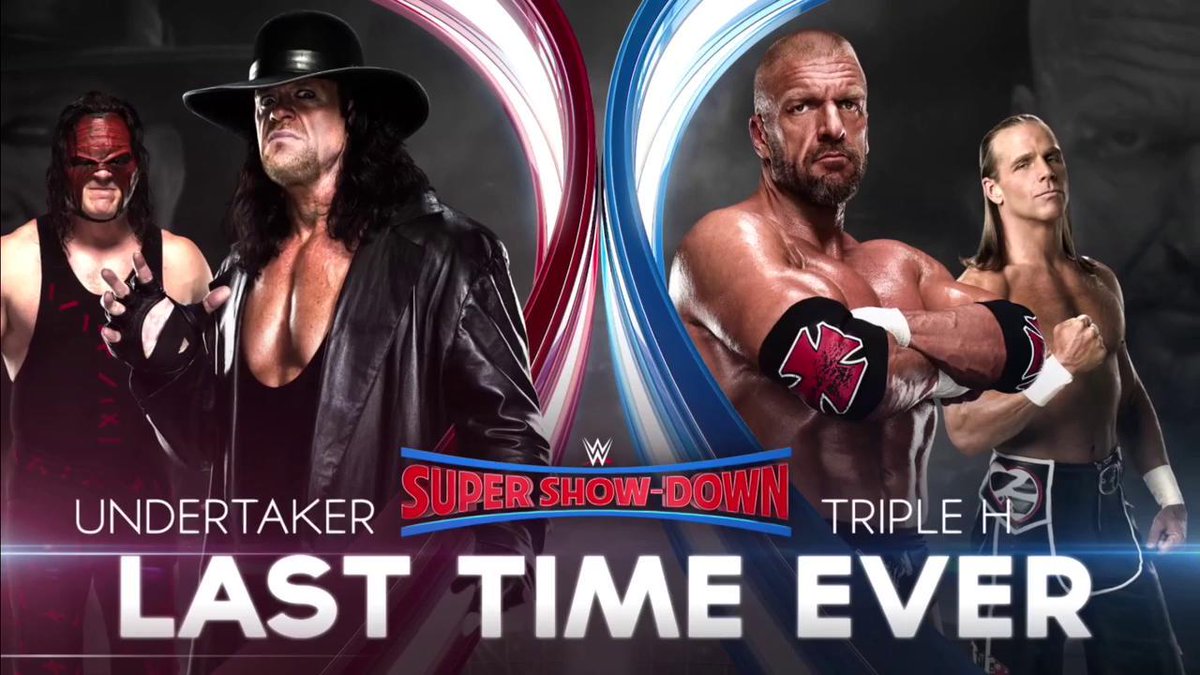 Triple H (with Shawn Michaels) vs. The Undertaker (with Kane)
Mike: I want to be excited about this, I really do. The idea of Triple H and Undertaker squaring off one more time, particularly with their storied shared history and respect for each other, is captivating. The reality, though, may be quite different. This appears to be WWE's program with these overseas supershows, where names of the past are guaranteed to occupy some of the ledger. The really weird part about this particular program, though, has been the constant barrage of noise about it since it was announced. They have spent far more valuable time pursuing the showdown of two semi-retired legends than on many of their current stories, and that to me is not a good thing. It may add some excitement, but it's unlikely to make the actual match better. Taker, in particular, has looked rough in longer stretches. He's earned the right to do as he wishes, but I've earned the right to find it lacking.
It's odd to think a mayor is in Taker's corner, but such is the political climate in the United States today, right? You never know which WWE Hall of Famer might appear on a show at this point. Odder still is the presence of Shawn Michaels, who likely joins a long list of pseudo-retirees lured by the promise of what could still be and the almighty dollar. I don't blame Shawn for taking the bait, and once again I'll be anxious to see what he's got left in the tank, but that is what this is and the bigger issue about it is taking the marquee spot from someone leading us into the next generation. It's a dangerous opiate, and eventually it catches up with you.
Assuming Shawn is headed back to a series of matches, I find it unlikely his side comes out on top here. Say what you will about Trips, but he doesn't mind getting booked to lose now that he's rarely wrestling anymore. I feel like Hunter has to lose here in order for Shawn to win later, which is likely what everyone wants more at this point anyway. As for me, this feels more like a tribute band getting back together and playing sweet chin music than some truly classic rock.
Winner: The Undertaker
John: I can see why WWE is treating this as the main event whether it goes on last or not. For the fans in Australia, this is a treat because it's probably the last time they get to see the 53-year-old Undertaker in a match in person (if he ever retires) and Triple H at 49 years old is near the end of his career too although I expect him to wrestle a lot in his 50s like father-in-law Vinny Mac. The additions of Michaels and Kane will lead to a tag match at Crown Jewel (or Cash Grab 2.0 as I call it) on November 2 where all four men will get to have a big tag team match where they do all their signature moves.
I assume that most people will pick The Undertaker to win, but I'm going in the other direction. I think something is going to happen where a desperate Michaels (I still can't get used to bald HBK) will cheat to help Triple H win. I think they can do a spot where the ref is distracted by Kane, so Michaels slides into the ring with a Superkick that the ref never sees and Taker goes right to Triple for a Pedigree for the pinfall loss. Triple H has put over Undertaker enough. It's not like he has to do it again. That sets up the tag team match where Undertaker and Kane can get their advantage with a big win to put an end to the rivalry.
This match result really doesn't matter that much. It's about nostalgia. Enjoy it for what it is and try to remember that this is being done as a treat for the fans in Australia that don't get to see these guys as often as those of us in North America. I certainly don't mind a dose of nostalgia on a show like this.
Winner: Triple H
BONUS TOPICS!
The Match I'm Looking Forward To The Most
Mike: Bryan/Miz.
John: It's tough to decide between the three main Smackdown matches, so I'll go with Styles vs. Joe since it's for the WWE Title and I'm intrigued by the booking of that match.
The Match I Care About The Least
Mike: Either of the women's tag matches.
John: Asuka and Naomi vs. Peyton Royce and Billie Kay.
Longest Match
Mike: Styles/Joe.
John: The Shield vs. Strowman, McIntyre and Ziggler.
Shortest Match
Mike: Cena & Lashley vs Elias & Owens.
John: Asuka and Naomi vs. The IIconics
Excitement Level on a Scale of 1-10 (1 being low, 10 being high)
Mike: I can't go higher than a 6.5. Some interesting matchups, but mostly just decent.
John: I think I am about a 7 because I like the three main Smackdown matches and the six-man Shield match should be great. The rest of it is a mixed bag that depends on the booking.
Final Thoughts
John: That's all for us. I'll be back with a review of Super Show-Down on Saturday at TJRWrestling.net, but I'm not sure if it's going to be live. If not, it will be soon after the show is over.
Mike – @DharmanRockwell
John – @johnreport
If you want to send an email, send it to me at mrjohncanton@gmail.com as well. Thanks for reading.