TJRWrestling WWE Evolution 2018 Preview (Rousey vs. Nikki, Lynch vs. Flair)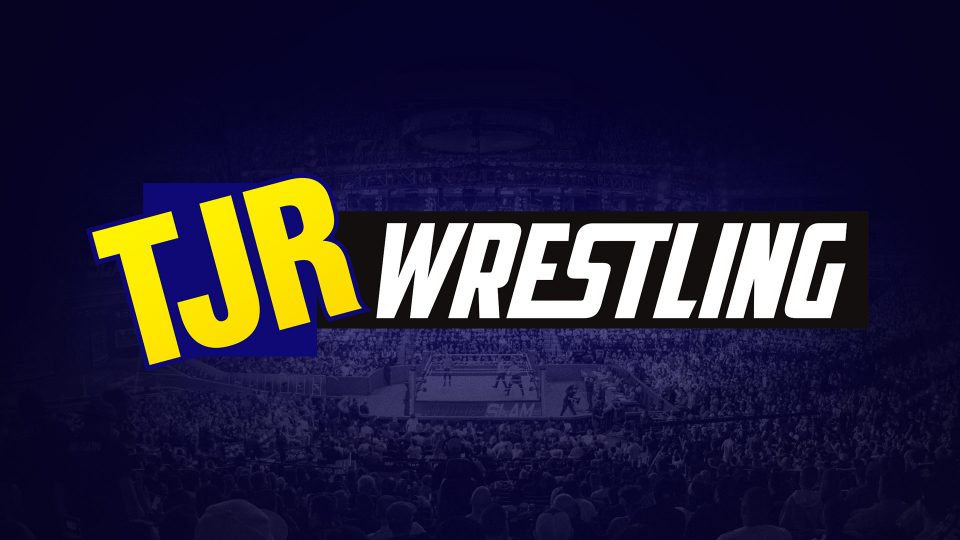 John: Welcome to the TJRWrestling WWE Evolution preview. It's a women's only show that's making history as WWE will remind us dozens of times. I'm happy that it's happening and I'm optimistic about most of it although I think the card could have been a bit better.
This show was planned from at least two months earlier, if not sooner, yet you're telling me the creative team couldn't come up with more matches for the Smackdown women? There's only one Smackdown match on this show while the other SD ladies are thrown into a random battle royal match. I like the addition of stars from the past, but please utilize your current roster better too. That's all I'm saying.
Joining me for the preview is Mike Holland. Our teammates Kurt and Matthew are unable to join us due to work commitments.
(Note: All graphics are from WWE. The banner up top is courtesy of our friend Melo Man.)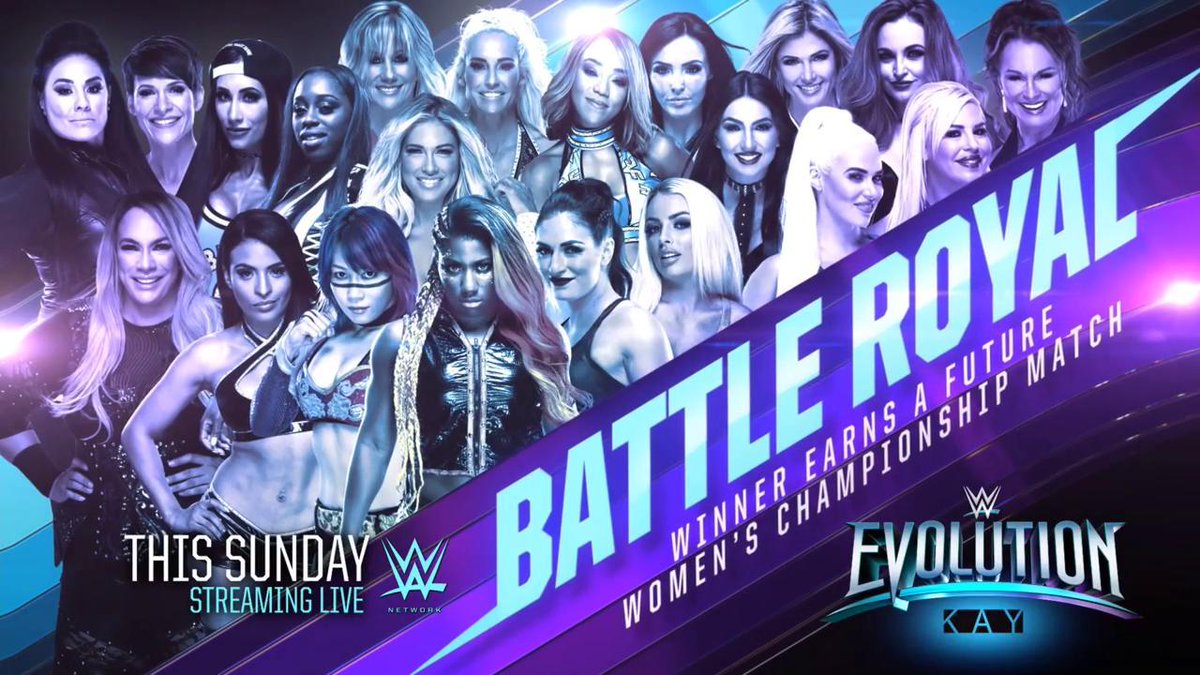 Battle Royal with the Winner Earning a Championship Match
Names include: Nia Jax, Dana Brooke, Alicia Fox, Ember Moon, Peyton Royce, Billie Kay, Tamina, Asuka, Mandy Rose, Carmella, Lana, Sonya Deville, Naomi, Torrie Wilson, Alundra Blayze, Ivory, Michelle McCool, Molly Holly, Zelina Vega, Kelly Kelly and Maria Kanellis.
Mike: Battle royals are naturally notoriously difficult to predict, particularly since we don't know exactly who will be in it as of press time aside from the names listed. I would feel more strongly about this match had we not already had the Royal Rumble, which featured the same mix of veterans that can still go combined with active talent not featured elsewhere. It's a smart enough move to represent everyone on a historic event like this, but it feels like filler because it of course is.
As far as picking a winner goes, there are a couple of notable standouts. Asuka would be a solid choice, but she won the RR and look where that got her? She can be a contender without winning here. Note the generic "future championship match" clause. Doesn't mean the next PPV, or anyone at all actually. Ember Moon has been booked very strongly since her NXT callup, and I would have no issue whatsoever with giving her a shot. Her character is unique and fans respond well. My pick, though, is Nia Jax. I am convinced her "so close" status at RR means she gets it done the second time around. I would book her dominantly here.
Winner: Nia Jax
John: This match could be bad. I don't want it to be, but it's not easy booking a battle royal with over 20 people, especially when some of them that aren't used to being in the ring anymore. I know that they are likely practicing the match for one or two days before it, so they should have plenty of time to prepare. I was leaning towards the Nia Jax pick like Mike is going with, but I think the feud they're teasing with her and Tamina means that those two will probably have some sort of rivalry post Evolution. That makes me think Asuka is the best choice because the winner of the SD Women's Title feud needs a new opponent and she is a great choice. Having to earn a title shot is better than just being handed one, so I'll go with Asuka.
Winner: Asuka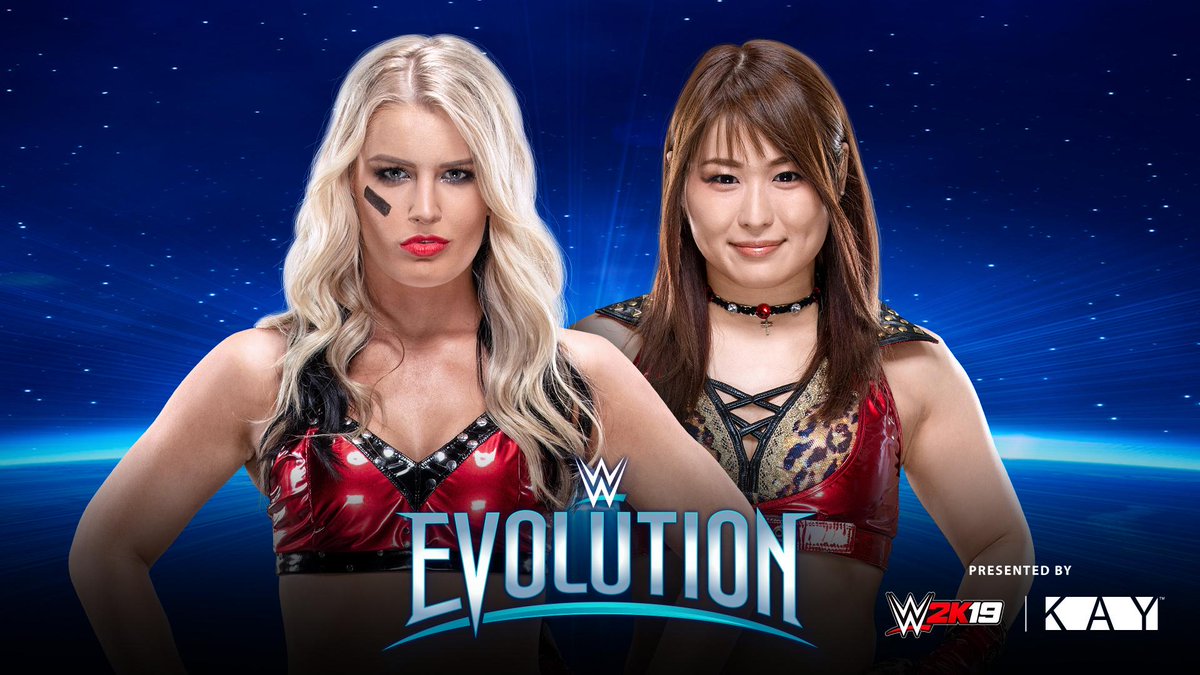 Mae Young Classic Tournament Final: Io Shirai vs. Toni Storm
Mike: I really enjoyed the first Mae Young classic, and I like that it's different from anything else WWE offers in both obvious and less discernable ways. The frenetic way in which these episodes are recorded (multiple matches in one night broken up over weeks) make it difficult to protect spoilers and, more importantly, challenging to put on great matches at the end of the tourney. You also get what you always get from these type of situations, which is to say some wrestlers you've never heard of who blow the doors off the building and get a way longer look from WWE. That makes this tournament fun and compelling. You won't like everything you see, but I support the desire to diversify and keep things fresh.
As far as this match itself, I could see either woman winning here. They are evenly matched, highly regarded, and both handled themselves well during tournament matches. When I'm faced with a coin flip, I fall back on story. This is pro wrestling after all. Storm participated in the inaugural Mae Young Classic and made it all the way to the semifinals before losing to current NXT champ Kairi Sane. She gets it done this time.
Winner: Toni Storm
John: This should be an awesome match and I really hope the crowd is into it. Since a lot of this crowd will be hardcore wrestling fans that are traveling to support women's wrestler and also the smarter New York fanbase, I expect the fans to react to them in a positive way. Each woman already has a WWE contract, so they aren't trying to compete for that. It's simply a way to elevate one of them by saying they won the Mae Young Classic. I'm going with Storm, who at 24 years old, has as much potential as any woman in WWE. I can see her against the likes of Flair and Lynch in a couple of years and she'll more than hold her own. Io Shirai is a very good all-around talent too. I just feel like Storm is the better choice.
Winner: Toni Storm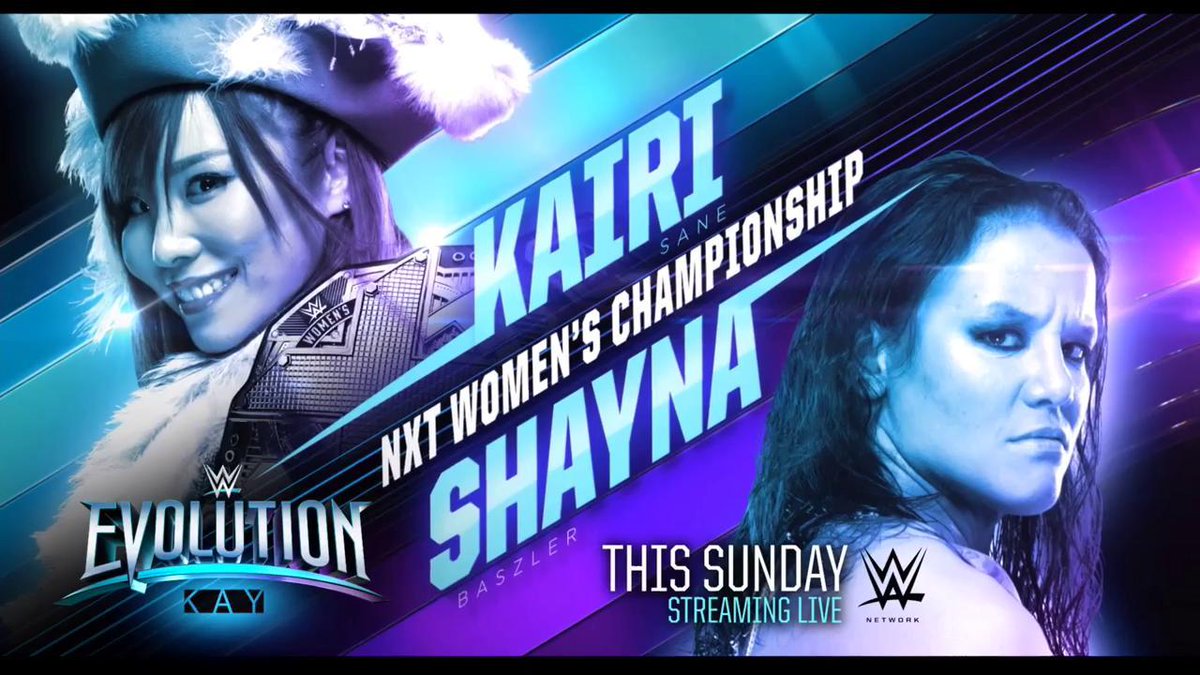 NXT Women's Championship: Kairi Sane (c) vs. Shayna Baszler
Mike: There's a lot to like about this match, both in terms of content and match quality. Sane steamrolled through the first Mae Young Classic and overcame reported injuries in so doing, and furthered her immediate impact with a win over Shayna Baszler at Takeover Brooklyn. This, then, is the rematch. It should be a doozy. I love the contrast of styles here, and both of these women will absolutely have main roster impact sooner rather than later. It's actually that aspect of this match that makes me think things will play out the way they may.
Baszler has the MMA background that WWE has favored of late, particularly with the ascent of Ronda Rousey, and the connotations there are obvious. Booking Rousey has been challenging because of her advantage over most opponents, so elevating Baszler would allow for some interesting creative on that end. I don't think it hurts Baszler to lose here and then show up on Raw looking to start an arc with Rousey, and it would do wonders for her in the long run. Sane is obviously super talented (her brief appearance in Philly's Rumble was a highlight of the night for me) and she deserves a long run and build as champ.
Winner (and STILL NXT Women's Champion): Kairi Sane
John: This will probably be the end of the rivalry that started with last year's Mae Young Classic. Sane got the better of Baszler there, then she took the NXT Title from Baszler in August at Takeover Brooklyn and now Sane should win one more time to end it. I think Baszler will debut on next Monday's Raw either as an ally of Ronda Rousey (they are close friends) or perhaps as a new rival for Rousey to deal with. They always have good matches together too, so I'm not worried about that. Look for Baszler to focus on a body part, Sane will come back and find a way to win just like in Brooklyn. This is a candidate for match of the night and I expect them to get 13-18 minutes as well.
Winner: Kairi Sane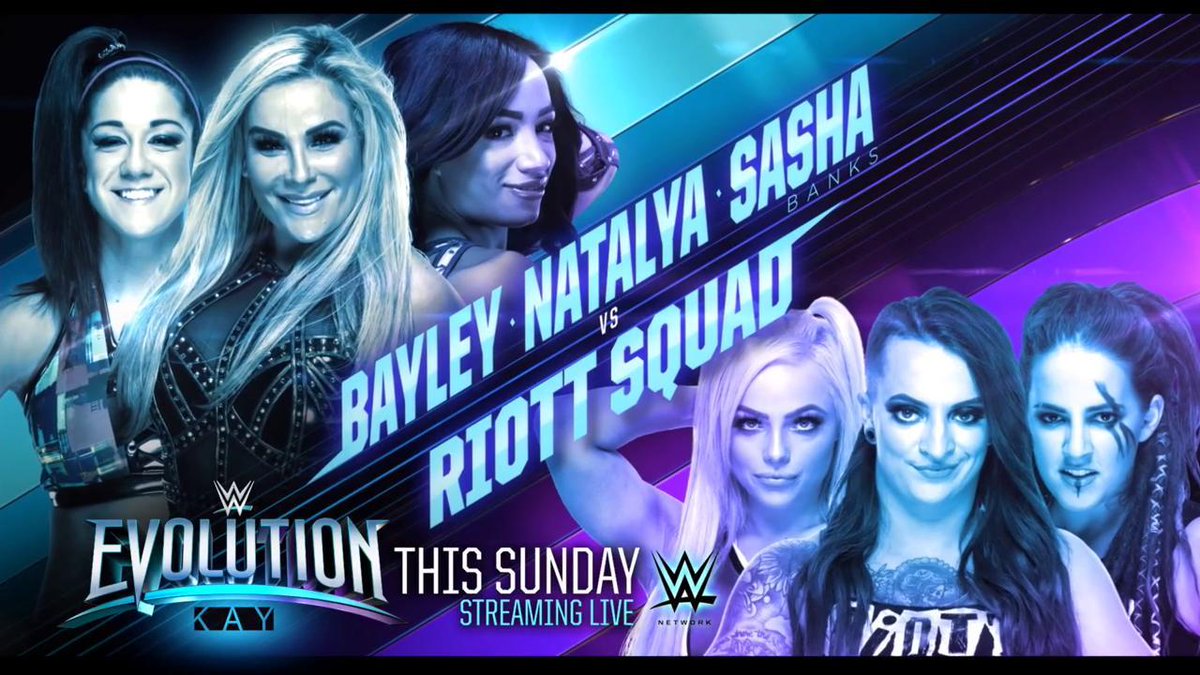 Sasha Banks, Bayley and Natalya vs. Ruby Riott, Liv Morgan and Sarah Logan
Mike: I don't know what to entirely make of this match, just as I'm not sure what the long-range planning of Sasha Banks and Bayley has been or continues to be overall. Many things were shelved when Rousey ascended, and I don't know that it's hit anyone harder than those two. Their on-again, off-again friendship and potential rivalry has been compelling at some times and soap operatic at others. Natalya is always welcome, of course, but this feels jumbled together to me and therefore unlikely to be as excellent as it could.
The Riott Squad have been a fun diversion, but have yet to really get any heavy lifting to do. I like Ruby Riott a lot. Her look is different, she's above average in the ring, and she's got some people backing her. If this is going to become anything bigger, though, her Squad needs wins. I feel like there will be a breakdown communication between the three faces and the heels will take advantage of that to win. It makes sense for the Riott Squad's future, assuming WWE hasn't already given up on them, and it presents plenty of dramatic overtones for the Banks/Bayley story that's been stuck in neutral for a while.
Winners: Ruby Riott, Liv Morgan and Sarah Logan
John: This feels like a random Raw tag team match that only has about two weeks of build. The characters of Bayley and Sasha Banks have had nothing to do all year. They teased a feud for months, they even got in fights and then it was just dropped to have them become best friends again. For what? I think Women's Tag Team Titles may be announced at this show with new champions possibly crowned by Survivor Series, so perhaps Banks and Bayley can become the first champions. I know you can't push everybody at once, but it's sad to think about how far Banks is on the totem pole compared to being the main women's face on Raw two years ago. I think the Riott Squad works well together and they should win some feuds against the Raw women, but for this match I'm going with Banks, Bayley and Natalya. I think Bayley will get the win for the team.
Winners: Sasha Banks, Bayley and Natalya
Trish Stratus and Lita vs. Mickie James and Alicia Fox (w/Alexa Bliss)
(Note: On Friday afternoon, WWE changed the match due to Alexa Bliss having an injury that has prevented her from being cleared for the match. Mike's part was written before that while John's part was written after.)
Mike: This retro jam has been a bit of fun, and it's nice to see WWE branching the past and future by giving Stratus and Lita a rightful place on this card against fellow trailblazer James and current heel du jour Alexa Bliss. A lot of the intrigue regarding this encounter is due to the status of Bliss, who has had some injury issues for several weeks and is potentially dealing with a concussion. Clearly, WWE won't take any chances there, and one would reasonably intuit that Alicia Fox would be called upon as a second if Bliss can't go. It won't affect the result. It would make the match not nearly as good.
I think this match is another one of those WWE likes to do where the message and moment are more important than the actual result. There are rumblings that Stratus and Lita might wrestle a few more times, perhaps at WrestleMania, but they aren't full-time performers and don't need the rub. This is about reminding the fans just how good they were and still are, and allowing them to have the spotlight in a way that was rarely afforded them when they wrestled every night. They deserve it.
Winners: Trish Stratus and Lita
John: The build to this match has been okay and I think it was the right call to make it a tag team match instead of two singles matches. The injury to Bliss is unfortunate and really changes the match because she's a much bigger star than Fox is. I think Mickie can step up to carry the match for her team, though.
It's a tough match to pick. The easy pick is to go with Trish and Lita, but I need to rely on the "look strong on TV, lose on PPV" theory for this one. This past week on Raw, Trish and Lita got the upper hand when they attacked Mickie and Alicia Fox, who was standing in for Alexa Bliss, who was off Raw. Based on that attack, it makes me think that Mickie and Alicia are going over. I think Mickie will get the win for her team, which may be a cheap win, but it's something the heels can brag about. I also think there might be a rematch down the road with Bliss in Fox's place. I'm not picking Mickie because I run her website or her Facebook page (cheap shill), I'm making that pick based on the booking from Raw.
Winners: Mickie James and Alicia Fox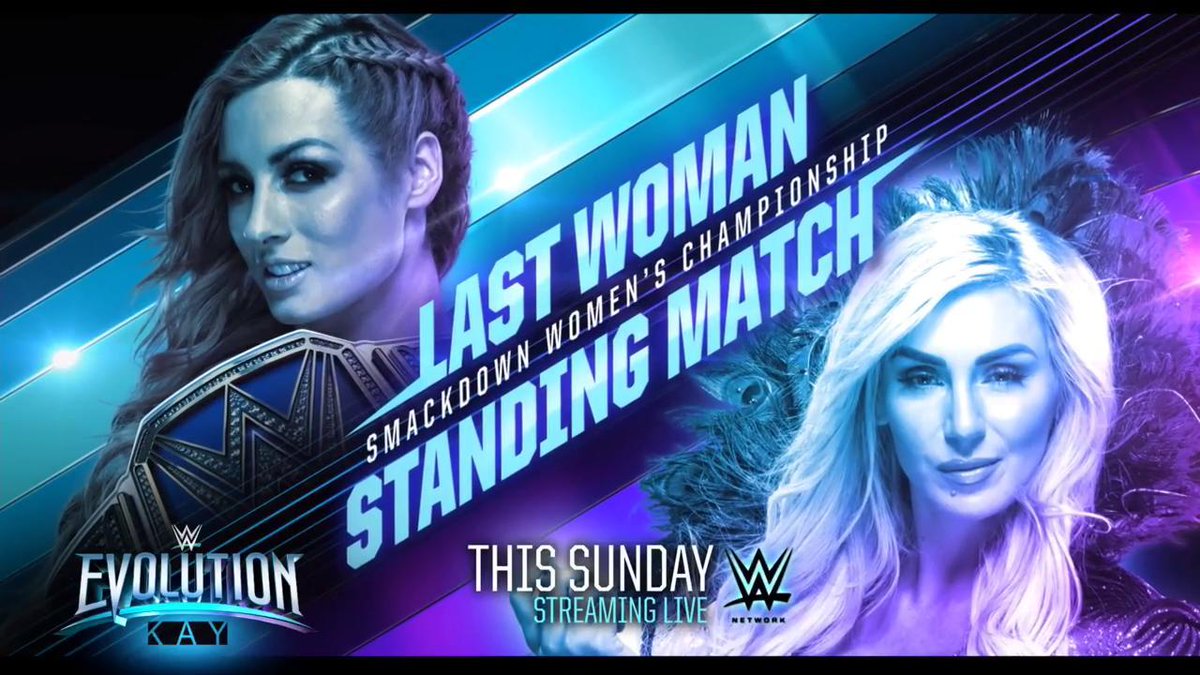 Smackdown Women's Championship Last Woman Standing: Becky Lynch (c) vs. Charlotte Flair
Mike: If you're only going to watch one match Sunday, I'd make it this one. I've written copiously on the topic of Becky Lynch and her transformation, and it's been fantastic watching her go full-fledged heel. I would have preferred Charlotte in that role, as I've said, but who cares? Lynch is having fun with it, being absolutely bad ass, and fans are cheering her anyway. Enjoy the moment and bask in the opportunity to watch a tremendous performer at the top of her game and getting the credit she's earned.
This is a tough call to me, because either woman could come out on top and it would make sense to some degree. Charlotte is a phenomenal worker, to be sure, and there is little doubt she will end up as champion again soon. She is chasing history herself, don't forget, and that story itches to be told. I think this chapter has to end at Evolution, though, and both will be looking for different dance partners come next week. I think Becky Lynch as a dominant heel champion staring down her next opponent makes more storyline sense for now. I would love to see Asuka be next up to try to unseat her, but they may hold off on that for later and start with someone like Naomi for now. Charlotte could squeak out with the win and drop it back, but I think the "last woman standing" stip (love that, btw) is tailor made for Lynch to show she's revamped for good.
Winner (and STILL Smackdown Women's Champion): Becky Lynch
John: This will be fun. It's got the best build on the card, there is a clear rivalry between the two women and they are fighting for the most coveted title on Smackdown, so there's a lot at stake. If Becky wins this Last Woman Standing match, it's likely the end of her rivalry with her former best friend Charlotte, who Becky turned on after losing at SummerSlam. If Charlotte wins, then the feud will likely continue. I'm going in the direction of Becky because I think WWE is going to put an end to this rivalry by giving them a stipulation match at Evolution.
Could this be one of the best women's matches in WWE history? Absolutely. I have very high expectations for it and I think they're going to be given all the time in the world to have an awesome match that people talk about for years to come. Realistically, it's probably going to be around a 20 minute match with some creative spots, weapons being used by each woman and in the end, I like Becky to win. I don't think it would hurt Charlotte to lose.
In the short term, Becky can probably have a feud with Asuka for the SD Women's Title. In the long term, Charlotte will be a favorite to win the women's Royal Rumble (if she's not the champ like I think) and if she does win that, it sets up the huge match against Ronda Rousey at WrestleMania assuming Charlotte would challenge Rousey. I think all of it makes sense…so watch none of it happen! I don't know. That's WWE, my friends. You just never know how it may turn out. For now, I'll pick Becky and I wish these ladies the best in what is a huge match for both of them.
Winner: Becky Lynch
Raw Women's Championship: Ronda Rousey (c) vs. Nikki Bella (w/Brie Bella)
Mike: This, on the other hand, will not be a mat classic. Perhaps, though, it's just as important in demonstrating what WWE Evolution is all about: Ronda Rousey. It was a foregone conclusion that the Bellas would be turning on Ronda (and perhaps the only forgivable aspect of those horrendous backstage vignettes every week), and while it puts a damper on them as Total Divas characters and romantic partners to a couple of guys named John and Daniel, we can all agree they are better as heels and that's the plan here. Nikki is not believable in any way as a true challenger for this title, so it will be both Bellas teaming up and taking advantage to try to take the title from Ronda.
I see an injury angle cropping up in this match, which WWE toyed with when Rousey fought Alexa as well. The Bellas will switch off and gain an early advantage, before the inevitable occurs. The difficulty here is even those odds don't present Rousey as an underdog. She needs a credible opponent who can deliver the type of damage she does for her matches to have a big fight feel. Even with the title on the line, this doesn't feel like a true main event to me. I would love to see Baszler come out fresh off her loss and congratulate Rousey with their shared history only to leave her down and out with the closing credits. This is paint by numbers to me, but we'll see where they go with it.
Winner (and STILL Raw Women's Champion): Ronda Rousey
John: The booking going into this match was lazy in terms of trying to convince the audience that Nikki Bella is a worthy contender. All Nikki did was attack Ronda with Brie, which apparently was enough to earn a title shot. Why not have Nikki beat other women on Raw to earn it before the turn? At least if you do that, people can say she was worthy. You need to do more than what WWE did. If this was planned out better with two months of build then it might be a big match. Since they only did the turn three weeks ago, it just doesn't feel like an important match.
The prediction here is simple like with nearly every Ronda match. Rousey starts out on fire, the heel Nikki might get control for a few minutes thanks to some help from Brie Bella, but ultimately Rousey will end up winning with the armbar. If Rousey doesn't win this match I would be very surprised. They may get up to 12 minutes, but I doubt it goes much past that. If it goes much longer than that I'll be surprised. Ronda wins and Evolution ends with Rousey celebrating with the title while the announcers wonder if anybody can stop her.
Winner: Ronda Rousey
BONUS TOPICS!
The Match I'm Looking Forward To The Most
Mike: Unquestionably Lynch/Flair. This has been the best feud of the year and will be a fitting conclusion.
John: Easily Lynch vs. Flair. Second place would be Lita/Trish vs. Mickie/Fox although if Bliss was there it would be anticipated a bit more.
The Match I Care About The Least
Mike: Rousey/Bella. Not a main event and not something I am looking forward to.
John: Battle Royal. I think it will be bad.
Longest Match
Mike: The best match will get the most time and the stipulation adds to that. Battle Royal is of course a possibility, but I expect lots of quick eliminations since they don't have to wait for entrances.
John: It's probably going to Lynch vs. Flair.
Shortest Match
Mike: If there is any justice in the world, Rousey/Bella. There isn't, so Trish and Lita vs. Bliss and James.
John: The Battle Royal doesn't need to be more than seven minutes, so I pick that.
Excitement Level on a Scale of 1-10 (1 being low, 10 being high)
Mike: I'm going to go 6 here. For a momentous occasion, I would have expected more in the way of presentation and pushing by WWE. Instead, it's been a glaring second fiddle to Crown Jewel since it's not going to make bank. I think Beth Phoenix will be great on commentary, the Smackdown Title match will outshine everything else (as usual), and the Mae Young and NXT matches will inject some needed new life into things. The main event is weak, though, and there's not enough steam here to keep the motor running.
John: I'll go with a 6.5 with a lot of excitement about Lynch vs. Flair and I think WWE dropped the ball on the rest of the main roster matches. The second and third best matches are probably going to be the NXT Title and MYC matches, which is fine, but it would have been nice if the Smackdown women got more than one match. A 7-match card is okay with me because it means most of the matches will get plenty of time and there won't be anything that feels rushed. Good luck, ladies. I hope it's a great night for wrestling.
Final Thoughts
John: That's all for us. I'll be back with a review of Evolution on TJRWrestling.net likely on Monday rather than a live review.
Mike – @DharmanRockwell
John – @johnreport
If you want to send an email, send it to me at mrjohncanton@gmail.com as well. Thanks for reading.