The Top Ten Wrestling Stories of the Year 2019: WWE Smackdown on Fox, Women Main Event Mania, AEW Debuts, More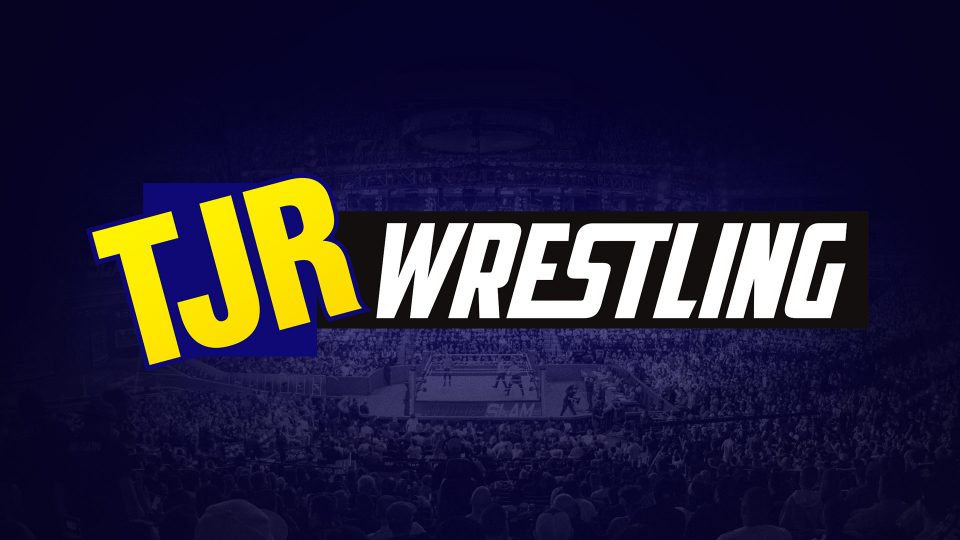 Welcome back TJR readers, were you in a medical coma for this entire year? Perhaps you spent 2019 living in a third world country without TV or the internet. Worry not my friends, as I am here with a special edition of The Top Ten Wrestling Stories of the Year to bring you up to speed on what you missed.
10. Trish Stratus and Kurt Angle Both Wrestle Their Last Match
Two legendary Hall of Famers wrestled their last matches this year, when both Trish Stratus and Kurt Angle decided to call it a career. Stratus's career ended with two of the greatest female wrestlers of their generation competing in a dream match, with Stratus losing to Charlotte Flair at Summerslam (TJRWrestling). As for Kurt Angle, what last dream match did WWE choose for his last match at this year's Wrestlemania? The legendary Undertaker or perhaps John Cena? Neither of these opponents were chosen, as WWE decided that for one of the greatest wrestlers of all time's last match he should compete and lose to…Baron Corbin. This just proves that any dream can suddenly turn into a nightmare. (TJRWrestling)
9. Daniel Bryan's Return to the Top of WWE
When Daniel Bryan made his miraculous return to the ring after an almost two-year hiatus at Wrestlemania 34 on April 8th, 2018, it was met with feverish excitement by the fans. This excitement quickly died down throughout the year, though, as Bryan was stuck in the mid-card, feuding with the likes of Big Cass and the Bludgeon Brothers. This all changed, however, when in November of last year Bryan suddenly turned heel, hitting AJ Styles with a low blow and capturing the WWE Title. This sudden personality change catapulted Bryan to the top of the card again in 2019. Bryan's heel persona as the "New" planet-saving Daniel Bryan made for some of the most entertaining television to watch every week on Smackdown. After losing the WWE Title at Wrestlemania to Kofi Kingston in a great match, Bryan continued being featured prominently on television, winning the tag titles with Rowan before eventually turning back face and teaming up with Roman Reigns to face Rowan and Luke Harper. Most recently, Bryan has reinvented himself yet again, cutting his trademark hair and beard for a feud with Universal Champion "The Fiend" Bray Wyatt. Time will tell if Bryan is able to stay on the top of the card in 2020, but if this year is any indication, the answer will be a resounding "Yes Yes Yes". (TJRWrestling)
8. CM Punk Debuts on WWE Backstage
Ever since CM Punk suddenly decided to go home in January of 2014, the WWE Universe has wondered when, or even if, he will ever return. Once Punk left WWE, the relationship between the two soured quickly with WWE firing Punk on his wedding day and suing him for millions of dollars for defamation. As for Punk, he appeared to have completely moved on from wrestling, competing in several mixed martial arts matches for the UFC instead. The only people who seemingly did not move on were the fans, who continued to chant Punk's name in arenas throughout the world. These chants seemed to go on deaf ears for years and years, until this past November when Punk dropped another pipe bomb and appeared on WWE: Backstage. Of course, this renewed the fan's hope that Punk would soon be returning to the ring, even though it is actually Fox that has hired Punk to appear on the show as an analyst and not WWE. We will have to wait and see if 2020 is finally the year that Punk and WWE can mend the broken bridges, or if all the previous pipe bombs that were dropped have left it unrepairable. (TJRWrestling)
7. Kofi Kingston Wins the WWE Title at Wrestlemania

Since debuting for WWE in 2008, Kofi Kingston has been the definition of a perennial mid-carder. Despite having multiple US, Intercontinental and Tag Team Title reigns, Kingston was never truly given a chance at being a top guy. This all changed when Kingston won an hour-long gauntlet match for the opportunity to replace an injured Mustafa Ali in the WWE Championship Elimination Chamber Match. Kingston made it all the way to the end of the chamber match before being defeated by Champion Daniel Bryan. Kingston's performance in these two matches energized the WWE Universe, who got behind Kingston pushing him all the way to the WWE Championship Match at Wrestlemania. In an historic moment, Kingston defeated Bryan to become the first African born World Champion in WWE history. Kingston would go on to hold the title for 180 days before losing it to Brock Lesnar on the debut episode of Smackdown on FOX in under ten seconds. Having something you spent over a decade working towards taken away so quickly would make most men bitter. Kingston, however, continued his message of "Positivity" and is now once again a Tag Team Champion with the New Day. No matter what seems to happen to Kingston he always seems to avoid "Trouble in Paradise."(TJRWrestling)
6. NXT Debuts on the USA Network
Ever since they first debuted on February 27th, 2014, NXT's weekly Wednesday night show has been a staple of the WWE Network. This all changed when new wrestling promotion AEW announced that they would be debuting their new show AEW Dynamite on Wednesday nights on TNT. Shortly after this announcement was made, WWE decided that they would be airing their weekly NXT show live every week for two hours on the USA Network starting September 18th, to directly counter program AEW. The result of this was the start of the Wednesday Night Wars, which has seen AEW and NXT compete neck and neck in the TV ratings, with both shows winning and losing in various weeks. Those who have yet to lose are the wrestling fans, who have been treated to amazing entertainment every Wednesday night, leading to fans hoping that this "Takeover" of Wednesday's continues for years to come. (TJRWrestling)
5. "The Fiend" Bray Wyatt Debuts
After seeing much success early in his WWE career, including winning the WWE Championship, Bray Wyatt had clearly lost all momentum and was floundering by the end of 2018. This all changed dramatically in April of 2019 when Wyatt debuted his Firefly Funhouse vignettes. These vignettes showed Wyatt portraying a "Mr. Rogers" like persona surrounded by creepy puppets like Abby the Witch, soon became a hit with the WWE Universe. As they became darker and more sinister, they eventually led to Wyatt introducing us to his much darker "creepier" persona The Fiend. The Fiend went on for the next several months to attack various wrestlers, including Finn Balor and Kurt Angle, before finally focusing on Universal Champion Seth Rollins. The Fiend went on to defeat Rollins at WWE Crown Jewel this past October to win the Universal Title, which he still holds at this time. The Fiend even introduced his own special version of the title with his face being featured prominently as the center plate. This title is currently being sold at the WWE Shop for a meager $6,499, so if your New Year's Resolution is to make the worst financial decisions possible here's your chance. (TJRWrestling)
4. Roman Reigns Returns From Battle with Leukemia
Roman Reigns having to relinquish the Universal Championship on October 22nd, 2018 due to his Leukemia returning after being in remission for 11 years, was one of the most heart-wrenching moments in the history of Monday Night RAW. Everyone who witnessed it was left wondering when, and even if, Reigns would ever return to the ring. This question was unequivocally answered on February 25th when Reigns gave an in-ring promo on RAW, informing everyone that his Leukemia was once again in remission and he would be returning to action in WWE. Reigns returned to the ring on March 10th at WWE Fastlane, teaming up with his fellow Shield members for yet another Shield reunion to defeat Bobby Lashley, Drew McIntyre and Baron Corbin. Since then, Reigns has went on to be a staple of WWE every single week, showing why he is known for using the "Superman" punch. (TJRWrestling)
3. WWE Smackdown Moves to the FOX Network
From the very beginning when Smackdown debuted way back in April of 1999, it has always been seen as the secondary show to WWE's flagship show Monday Night RAW. This perception instantly changed, however, when WWE announced on June 26th, 2018 that they had signed a five-year billion-dollar contract to air Smackdown on the FOX television network. This deal would make Smackdown available in more homes than it or RAW ever had been before.
The big move to FOX finally occurred on October 4th 2019, with WWE pulling out all the stops for the occasion. WWE advertised the show as Smackdown's 20th anniversary and featured Brock Lesnar winning the WWE Title from Kofi Kingston and a special appearance from The Rock along with much more. The show drew an impressive 3.8 million viewers, making it the most-watched wrestling television show of the year. Unfortunately the number of viewers has dropped significantly since the show debuted, with the most recent episode bringing in 2.4 million viewers. Former President of WCW, Eric Bischoff, was brought in to be the executive director of Smackdown, but was quickly fired and replaced by Bruce Pritchard less than two weeks after the show debuted. These factors makes you wonder if FOX is thinking that they would have been better off spending the billion dollars on 153,659 "Fiend" Title Belts. (TJRWrestling)
2. All Elite Wrestling is Formed
When wrestling journalist Dave Meltzer made the comment in 2017 that Ring of Honor could not sell out a 10,000 seat arena, he probably had no idea the ripple effect that it would have throughout the wrestling industry. Cody Rhodes and The Young Bucks accepted the challenge from Meltzer, selling over 11,000 tickets in 30 minutes for independent wrestling show "All In" that took place in September of 2018. This remarkable accomplishment caught the eye of longtime wrestling fan and multi-billionaire Tony Khan (his father Shad Khan owns major sports franchises like the Jacksonville Jaguars and Fulham), who got in contact with Cody Rhodes. A few months later on January 1st, 2019, AEW was officially announced with Tony Khan as the President of the company. That following week, AEW held their inaugural press conference, announcing their first PPV known as "Double or Nothing" and also that many superstars had joined the company, including Chris Jericho and later Kenny Omega.
When "Double or Nothing" sold out almost instantly, and had former WWE World Champion Dean Ambrose (now going as Jon Moxley) make a surprise appearance, it was clear that AEW was not just another Indy fed. This was confirmed on July 24th when AEW officially announced that their new show AEW Dynamite would air live every week for two hours on TNT starting Wednesday, October 2nd. The inaugural episode of AEW: Dynamite was viewed by an impressive 1.4 million people, but has dropped off significantly since then with the latest episode only having 683,000 viewers. Audio issues, questionable storylines and strong counter-programming from NXT have all had a negative effect on this young company's growth. The year 2020 is going to be a landmark year for AEW, as they will show if they truly can be a strong alternative to WWE, or just another company for Vince McMahon to buy and put on the WWE Network one day. (TJRWrestling)
1. Becky Lynch Wins Both the RAW and Smackdown Women's Championships in the Main Event of Wrestlemania
There was no wrestler receiving a louder crowd reaction than "The Man" Becky Lynch going into 2019. From having an amazing series of matches with Charlotte Flair, to standing tall with a broken nose after invading RAW before Survivor Series 2018, the WWE Universe was firmly behind Lynch heading into the new year. The audience was not left disappointed, as Lynch became a surprise entrant in the Royal Rumble (after an injury angle to Lana), winning the match and setting up a huge Wrestlemania match with RAW Women's Champion Ronda Rousey. However, the road to Wrestlemania was not without its potholes for Lynch, as she was pulled from the match and replaced by Charlotte Flair by Vince McMahon after she attacked both Stephanie McMahon and Triple H. Lynch overcame this roadblock though, as she defeated Charlotte at Fastlane to be added back to the Mania match, thus making the match triple threat with her, Charlotte and Rousey.
The stakes for this match got even higher when Charlotte defeated Asuka on Smackdown to become the Smackdown Women's Champion, making the Mania match a "Winner Takes All" match with both the Raw and Smackdown Titles on the line. On April 7th 2019, Becky Lynch made history when she defeated both Ronda Rousey and Charlotte in the main event of Wrestlemania to become both the RAW and Smackdown Women's Champion. The win was not just the climax of a long journey for Becky Lynch, but also for the entire Women's division whose voyage from bra and panties matches, and being the "bathroom break", had led them all the way to main eventing the biggest event of the year. It wasn't the best women's wrestling match by any means, but as a moment it's pretty huge in the history of WWE. The Women's Revolution had finally brought them all the way to top of the WWE, without having to remove theirs to do it. (TJRWrestling)
That concludes this special edition of The Top Ten Wrestling Stories of the Year 2019. As always, if you like what I do, please follow me on Twitter @BackseatBookers and listen to my podcast the BackseatBookers. (As always, be forewarned it is explicit as my New Year's Resolution is to only swear 368 times a day.) Happy New Year!