The John Report: The 12th Annual WWE Johnny Awards – 2020 Edition!
Welcome to the 2020 WWE Johnny Awards. They are the awards where I honor the hard-working men and women of World Wrestling Entertainment based on their work over the last twelve months.
These are the very "prestigious" awards that I call the TWELFTH ANNUALWWE Johnny Awards! If you're interested in reading previous year's editions of the WWE Johnny Awards, we have a special section on TJRWrestling for them right here.
I normally don't write an intro about the year in this section, but I figured I had to do considering how different 2020 was for us. This was a year where normal life stopped in many ways so that we could do our best to fight a global pandemic called COVID-19, which changed the world in many ways. As I write this in late December, there are 3,000+ Americans dying because of COVID-19 every day and while we handled it better in Canada, my province of Ontario is in lockdown mode right now. Our numbers aren't nearly as bad as the state of Florida, for example, but we actually want to take action instead of keeping things open. Here's hoping the vaccines work and that we can return to a sense of normalcy in the new year because it's been a shitty year. It was the worst year of our lives for many of us and I know that in the years that follow, we'll always think about 2020 whether we want to or not. I know people who have friends and family that died because of this. Who knew that "social distancing" would be one of the most popular terms in the world this year? It's just weird.
When I think about WWE and the wrestling business in general, things changed so much. By mid-March, crowds were gone. The March 16 episode of Raw was supposed to be a big celebration on Steve Austin's 3/16 Day, yet there was Stone Cold doing promos in front of no crowd. It was a surreal sight that sadly we would get used to leading to WrestleMania. As time went on, WWE realized they needed some noise, so they put some developmental wrestlers in the crowd at the WWE Performance Center and when they got sick of that, they brought in the WWE ThunderDome structure in late August around SummerSlam. We have been in the "ThunderDome Era" for four months with fans' heads on screens while fake noise and chants get piped into the building. It's better than it was earlier in the year, but it's not the same.
If there is one thing I miss more than anything when I watch WWE (or any sport these days) it's an arena or stadium full of fans. It does matter a lot in other sports, but it matters even more in WWE because the fans are part of the show. It's a business where people are pushed based in part on how the crowd reacts to them. Obviously, the creative decisions of Vince McMahon play a big part too, but it's also up to the fans. Without that reaction from the crowd, it's just not the same. A lot of fans have turned off the product too. Monday Night Raw is reaching all-time lows in terms of its live audience on USA Network while Smackdown is close to what it was before on Fox, but it's still down. I know for me and my business writing about pro wrestling, it's been a down year too.
With all of that said, I think this year has been incredibly difficult on the WWE superstars on screen, the creative team behind the scenes and everybody else involved with putting on WWE shows because they don't have a crowd to rely on. Maybe we should be a bit forgiving in complaining about things. Maybe we should be more understanding about how difficult of a year it has been from a creative standpoint. I certainly hope we never have another year like this one. It has sucked. As I said many times this year: FUCK 2020! That felt good.
This year's WWE Johnny Awards are dedicated to two dads that left this world far too soon: Shad Gaspard and Jon Huber (Luke Harper/Brodie Lee). Two men that loved their kids, lived for their kids and their losses just break my heart.
A few notes before the Johnny Awards begin:
– This is World Wrestling Entertainment stuff ONLY. It says it in the title, but I want you to remember that when you ask why there's no All Elite Wrestling, New Japan, Ring of Honor, Impact or anything else in here. It's WWE only!
– These awards are based on my own personal choice. There were no polls or write-in votes. My name is on the awards, so I get to pick the winners. I don't expect everybody reading this to agree with everything I write below, but I will do my best to explain all my choices. The awards are based on performance. It doesn't necessarily matter if a person wins all their matches on television and titles really aren't that important. It's about performance more than anything.
– Regarding NXT, WWE's third brand is included in every award as well. The NXT brand is awesome and I'm not going to ignore it. The same goes for 205 Live and the NXT UK brand. Anything that is WWE is considered for these awards.
– Another thing to remember is I try to have fun when I write about wrestling. I don't take it too seriously and I don't take myself too seriously. If you disagree with something that's cool. Keep it civil in the comments and don't be shy about offering your take.
If you want to check out previous year's editions of these awards, check out the WWE Johnny Awards archive on TJRWrestling as well. It's nice to look back on those articles to reflect on the last decade of WWE content and what I thought about it.
I've used a similar intro for several years. I do that because it covers everything I need to say. There are 25 categories, so let's get to it.
THE 2020 WWE JOHNNY AWARDS
Each one will have a description of what the award is, the previous winners of the award (if the award existed in the last eight years), the winner of the award, the runners-up for the award, and then my extended thoughts on the award.
1. BEST MALE WRESTLER
To be given to the person that best combines workrate, character, microphone work and everything else into one. This is like WWE's Superstar of the Year award when they did the Slammy Awards. Past winners – 2019: Daniel Bryan, 2018: Johnny Gargano, 2017: AJ Styles, 2016: AJ Styles, 2015: Seth Rollins, 2014: Seth Rollins, 2013: Daniel Bryan, 2012: CM Punk, 2011: CM Punk, 2010: Randy Orton, 2009: Chris Jericho
Winner: Drew McIntyre (Runners-Up: Randy Orton, Adam Cole, Roman Reigns, AJ Styles, Seth Rollins, Finn Balor)
I think when I remember 2020 the most many years from now, the one wrestler I'll think of the most is Drew McIntyre. This was the year where WWE turned him babyface to really become "The Guy" in WWE. McIntyre eliminated Brock Lesnar in the Royal Rumble, he won the WWE Title from Lesnar at WrestleMania, had great matches with top heels like Seth Rollins, Bobby Lashley, Randy Orton, Roman Reigns and AJ Styles to name a few. When he lost the WWE Title to Orton, he got it back soon after, so really he's had the WWE Title for most of the last eight months. On top of the accolades, I think Drew has had by far his best year in terms of performance in the ring with numerous very good to great matches. I didn't look it up, but I probably rated at least five matches at four stars or higher and several other matches were close to that. Drew's promos are among the best in WWE and even though there hasn't been a crowd there to cheer him on, he comes across as one of the most likable guys in WWE. I wouldn't say this was an easy choice necessarily, but it would be hard for me to make a case for anybody else. This was Drew's year and when I say I miss the crowd when I watch the shows, I miss them the most when it comes to him because I would love to hear how fans would react to him. Hopefully, we get to experience that again soon.
I'm not going to run down all of the others just because there's a lot to get to in this column. I'll say this about Reigns, though. If he was this current heel persona for more than four months then he might have won this award. Let's see if he continues to be a heel all through 2021 because if he is, then he might get the award next year.
2. BEST FEMALE WRESTLER
To be given to the best female performer.Past winners – 2019: Becky Lynch, 2018: Becky Lynch, 2017: Asuka, 2016: Charlotte, 2015: Sasha Banks, 2014: Paige, 2013: AJ Lee, 2012: Eve, 2011: Beth Phoenix, 2010: Natalya, 2009: Mickie James
Winner: Sasha Banks (Runners-Up: Bayley, Asuka, Io Shirai)
This was a very difficult decision. I'm only listing four women because I think they were at a level above the others and picking just one winner is tough. All four women had some great matches. Banks and Bayley had an epic rivalry (more on that shortly), Asuka carried the Raw women's division after Becky Lynch's departure and Shirai had a breakout year in NXT. I just think when you factor in everything in terms of match quality, promos, feuds, the ability to make everybody around her better – Sasha Banks is the winner. I feel bad not giving it to Bayley, Asuka or Shirai and believe me when I tell you it's close. The more I think about it, Banks just shines the most out of all the women in WWE. She had a fantastic year.
It's weird to write about this award without mentioning Becky Lynch or Charlotte Flair, but Becky was off for eight months due to having a baby while Flair missed about six months. The others were there all year, so that's a factor.
I think when you reflect on the year, it's fair to say that this has been a fantastic year in WWE for women's wrestling.
For those that care, if I had to pick just one person as SUPERSTAR OF THE YEAR I'd go with Drew McIntyre for that too.
3. BEST FEUD
To be given to the best rivalry between two or more performers. Past winners – 2019: Adam Cole vs. Johnny Gargano, 2018: Tommaso Ciampa vs. Johnny Gargano,2017: Roman Reigns vs. Braun Strowman, 2016: AJ Styles vs. John Cena, 2015: Bayley vs. Sasha Banks, 2014: Daniel Bryan vs. The Authority, 2013: CM Punk vs. Paul Heyman/Brock Lesnar, 2012: CM Punk vs. Daniel Bryan, 2011: Randy Orton vs. Christian, 2010: The Miz vs. Daniel Bryan, 2009: CM Punk vs. Jeff Hardy
Winner:Sasha Banks vs. Bayley (Runners-Up: Drew McIntyre vs. Randy Orton, Adam Cole vs. Pat McAfee, Edge vs. Randy Orton)
This was also not an easy choice. It was really between Bayley/Banks and McIntyre/Orton. In the case of Bayley/Banks, they really only had the one major PPV match at Hell in a Cell, which was outstanding. When it comes to McIntyre/Orton, it was a very long feud with four PPV matches where McIntyre won three times, yet Orton got another shot and then won the WWE Title at Hell in a Cell. A few weeks later, McIntyre won it back. I just think the McIntyre/Orton feud dragged on a bit too long to the point that the promos started to feel repetitive. Meanwhile, Bayley/Banks was built up so well over the last year, then the split when Bayley attacked Banks was great and the blowoff match at Hell in a Cell was so awesome.
It's cool to see Sasha Banks vs. Bayley as the winner five years after they won it the last time when they were the top rivalry in NXT. Five years ago, Banks was the heel and Bayley was the face while this year it was Bayley in the heel role and Banks as the face. These two have great chemistry together, that's for sure.
I included Adam Cole vs. Pat McAfee here because I thought it was the best NXT rivalry of the year. I voted for it in NXT Awards too. The promos from McAfee were so impressive and then he did a pretty good job against Cole considering it was McAfee's first match.
The Edge vs. Orton rivalry produced a lot of memorable moments starting at the Royal Rumble, then Orton turning on Edge on Raw and Orton giving an RKO to Edge's wife Beth Phoenix on Raw too. That led to Edge beating Orton at WrestleMania in a match that went too long at over 40 minutes. The Backlash match was a lot better, though, but it wasn't "The Greatest Wrestling Match Ever." Sorry guys.
4. BEST MATCH
To be given to the best match. Past winners – 2019: Johnny Gargano vs. Adam Cole @ NXT Takeover New York 04/06/19, 2018:Unsanctioned Match: Johnny Gargano vs. Tommaso Ciampa @ NXT Takeover New Orleans 04/07/18, 2017: John Cena vs. AJ Styles @ Royal Rumble, 2016: Shinsuke Nakamura vs. Sami Zayn @ NXT Takeover Dallas, 2015: Brock Lesnar vs. Seth Rollins vs. John Cena @ Royal Rumble, 2014: The Wyatt Family vs. The Shield @ Elimination Chamber, 2013: Brock Lesnar vs. CM Punk @ SummerSlam, 2012: The Undertaker vs. Triple H (Shawn Michaels as ref) @ WrestleMania 28, 2011: CM Punk vs. John Cena @ Money in the Bank, 2010: The Undertaker vs. Shawn Michaels @ WrestleMania 26, 2009: The Undertaker vs. Shawn Michaels @ WrestleMania 25
Winner: Walter vs. Ilya Dragunov @ NXT UK October 29 (Runners-Up: AJ Styles vs. Daniel Bryan @ Smackdown June 12, Sasha Banks vs. Bayley @ Hell in a Cell, Finn Balor vs. Johnny Gargano @ NXT Takeover Portland)
This might have been the toughest award of all. I wrote this last after everything else because the top two are so close to me. I rated Walter/Dragunov at ****3/4 out of five (review here) and Styles vs. Bryan also got ****3/4 out of five (review here).
They were different kinds of matches. Walter and Dragunov beat eachother in a match that went about 25 minutes. I remember watching it thinking this was like a New Japan match with all the hard chops, the bruises showing up on their bodies instantly and all the head bumps they were bumping. If there was a crowd watching this anywhere in Europe I know that they would be going crazy because European wrestling fans are as enthusiastic as anybody when it comes to pro wrestling. If you want another review of it, TJRWrestling's 5-Star match reviewer Alex Podgorski gave this match five stars and I know Dave Meltzer of the Wrestling Observer did too. Maybe I was a bit harsh by not going to five stars, but I think being right there is pretty damn impressive.
The Styles/Bryan match went 38 minutes with four commercial breaks. I don't consider the commercial breaks a negative thing because that's the world we live in where commercials are part of television shows. It's not the wrestlers fault. They did amazing work in the match with a lot of cool counters, nearfalls, submission attempts and it all looked so flawless. Bryan is my favorite wrestler in WWE while Styles is near the top, so I absolutely loved it. If that was on a PPV then people might remember it more because it's tougher to recall Smackdown matches.
When I re-watched Styles vs. Bryan and Walter vs. Dragunov again, I thought Walter vs. Dragunov was a little bit better. That's why it is my WWE 2020 Match of the Year. I realize some of you reading this don't ever watch NXT UK, which is fine because we can only take so much wrestling in our lives. I'm just here to tell you it's worth 25 minutes of your time. You'll love it if you're a pro wrestling fan.
There are several other outstanding matches this year that I rated at ****1/2 out of five. Maybe I'll put together a list for a post in a few days on TJRWrestling. I just listed two of them (Banks vs. Bayley and Balor vs. Gargano) after the two frontrunners because those are matches that really stood out to me this year.
I didn't really consider the Boneyard Match between The Undertaker and AJ Styles a contender. It was the number one match of the year on WWE.com and won the WWE Slammy Award for Best Match, but I just can't do it. Is it really fair to compare a match that was taped over eight hours (based on reports) and edited with special effects to something that is live in the ring where if you make a mistake, you can't say cut and do it over. And yes, some matches this year did have edits because they were taped (like Orton vs. Edge). To me, a "cinematic wrestling match" that takes place in a field is a separate category than a live wrestling match that takes place inside a ring. I enjoyed Undertaker vs. Styles as a fight that would fit better in a small budget film or a TV show rather than comparing it to a wrestling match.
5. BEST PAY-PER-VIEW
To be given to the best pay-per-view.Past winners – 2019: WrestleMania 35, 2018: Evolution, 2017: Royal Rumble, 2016: Money in the Bank, 2015: WrestleMania 31, 2014: WrestleMania 30, 2013: SummerSlam 2012: Extreme Rules, 2011: Money in the Bank, 2010: WrestleMania 26, 2009: SummerSlam
Winner: Royal Rumble (Runners-Up: SummerSlam, TLC)
Here are the six PPVs I rated from 7 out of 10 or higher this year.
Royal Rumble – 8
SummerSlam – 7.75
Tables, Ladders & Chairs – 7.75
Payback – 7.25
Survivor Series – 7.25
I think Royal Rumble benefitted a lot from being in front of a hot crowd. I re-watched it last night and the crowd was so hot for the whole night, especially the Men's Royal Rumble, which was awesome. I wouldn't call this year's Royal Rumble an all-time great show or anything like that, but I think the best in a difficult year where only three PPVs took place in front of an actual crowd while the rest of them had to be in front of no fans or a very limited crowd.
6. BEST NXT TAKEOVER SPECIAL
To be given to the best NXT Takeover special. Past winners – 2019: NXT Takeover New York, 2018: NXT Takeover New Orleans, 2017: NXT Takeover Chicago, 2016: NXT Takeover Dallas, 2015: NXT Takeover Brooklyn
Winner: NXT Takeover Portland (Runners-Up: NXT Takeover WarGames, NXT Takeover 31)
This year's Takeover shows were great as usual. There wasn't a bad one. There has never been a bad Takeover in over six years of these types of shows, which is a testament to how entertaining the NXT brand has been. There were five of them this year and here's how I ranked them.
NXT Takeover Portland (February 16) – 9
NXT Takeover WarGames (December 6) – 8.25
NXT Takeover 31 (October 4) – 8
NXT Takeover In Your House (June 7) – 7.75
NXT Takeover XXX (August 22) – 7.5
The Takeover Portland event had four matches that I rated over four stars: Balor vs. Gargano, Lee vs. Dijakovic, Cole vs. Ciampa and Broserweights/Undisputed Era. I probably should have rated the show even higher just based on that, but really that's an all-time great wrestling show. The WarGames show was great thanks the WarGames matches being awesome of course. I just think Takeover Portland was clearly the best. It was also the only Takeover with a full crowd too.
7. BEST TALKER
To be given to the best person at delivering promos.Past winners – 2019: Daniel Bryan, 2018: The Miz, 2017: The Miz, 2016: Chris Jericho, 2015: Paul Heyman, 2014: Paul Heyman, 2013: Paul Heyman, 2012: CM Punk, 2011: CM Punk, 2010 winner: CM Punk, 2009 winner: Chris Jericho
Winner: Kevin Owens (Runners-up: Bayley, Sami Zayn, Drew McIntyre, Randy Orton, MVP, Seth Rollins)
I think Kevin Owens has been one of the best talkers in WWE since the day he walked in the door. A lot of his recent promo work in feuding with Roman Reigns has been some of the best work of his career and when I think back to earlier in the year when he was feuding with Seth Rollins, I loved his promos there too. Owens is just so consistent on the microphone that he makes you believe everything he says is what he truly feels. He is a genuine guy.
Some quick points on the other people mentioned:
* Bayley got a lot of promo time on television this year because she usually delivered something meaningful. There was goofy stuff at times too, but I think she really thrived in terms of promos.
* The heel persona of Sami Zayn has been so entertaining, so I had to mention him as well. If he didn't miss several months then maybe he would have been the winner here.
* If you would have told me Drew McIntyre would be a contender in this a few years ago I wouldn't have believed you, but he has improved a lot this year.
* The same can be said for Randy Orton, who has really thrived in terms of doing promos. I saw him say in an interview that he has been focused a lot more this year in terms of his promos because there's a lot of pre-taped stuff where you don't have to react to the crowd and he has thrived in that setting.
* It's been a lot of fun seeing MVP back on WWE TV regularly. He hasn't missed a beat as one of the best talkers in WWE.
* A lot of the booking for Seth Rollins this year has been frustrating because he wrestled the same people for too many months, but I really liked his promo work.
8. WORST FEUD
To be given to the worst rivalry between two or more performers. Formerly known as the Katie Vick award. RIP Katie. Past winners – 2019: Shane McMahon vs. The Miz, 2018: Bobby Lashley vs. Sami Zayn, 2017: Randy Orton vs. Bray Wyatt, 2016: Darren Young vs. Titus O'Neil, 2015: Dolph Ziggler/Lana vs. Rusev/Summer Rae, 2014: Brie Bella vs. Nikki Bella, 2013: Big Show vs. Triple H/Randy Orton, 2012: Kane vs. Zack Ryder/John Cena, 2011: Michael Cole vs. Jerry Lawler & Jim Ross, 2010 winner: Kane vs. Edge, 2009 winner: Triple H vs. Randy Orton
Winner: The Miz vs. Otis (Runners-Up: Nia Jax vs. Lana, Braun Strowman vs. "The Fiend" Bray Wyatt)
I'm not sure if I am putting Otis vs. The Miz first because of their rivalry necessarily or because of how bad it has been for the Money in the Bank contract that used to be so meaningful. Let's summarize this terrible storyline:
1) The Money in the Bank match takes place inside WWE headquarters. During the match, the wrestlers fought throughout the building doing comedy spots leading to them going up on the roof of the building where a ring was with the Money in the Bank briefcase that had the contract in it. Otis ended up winning the briefcase/contract even though he didn't even climb the ladder. The briefcase just landed in the hands of Otis.
2) The Miz, who wasn't even in the original Money in the Bank match, hated that Otis was Mr. Money in the Bank because he carried around a smaller briefcase that had food in it. This behavior upsets a 40-year-old man like The Miz.
3) The Miz was so mad about his feud with Otis that he got Otis's girlfriend Mandy Rose moved to Raw. This was a few weeks before the WWE Draft, which meant moving to Raw meant nothing and then she ended up BEING DRAFTED TO RAW a few weeks later anyway.
4) Otis beat up Miz on the September 18, 2020 edition of Smackdown with Otis stripping Miz of his clothes and then Otis was served with a lawsuit for humiliating Miz, who was left in his underwear. This is the same Miz who has wrestled in trunks for over a decade that was now claiming emotional distress in a lawsuit.
5) There was a "court" scene where a "judge" JBL determined that they had to have a match where Otis would put the Money in the Bank contract on the line against The Miz. That's because JBL was bribed with money, which I guess is WWE comedy.
6) At the Hell in a Cell PPV in October, The Miz beat Otis to win the Money in the Bank contract thanks to help from Tucker, who is the former tag team partner of Otis. Keep in mind that Tucker was drafted to Raw while Otis was on Smackdown, so Otis couldn't even get revenge against his former best friend.
There was more to it, but the fact that I survived writing about it week after week is a miracle. This feud made Otis look like such a dumbass while Miz lost so many matches this year, yet he won one match to win Money in the Bank even though he wasn't in the original Money in the Bank match this year.
Nia Jax put Lana through the announce table ELEVEN TIMES. It kept on happening for nearly three months! When they had a singles match on Raw, Lana got a win because of Jax hitting the back of her head after landing off the turnbuckle and Lana laid on top of her to win. Instead of Lana teaming with Asuka to take the Women's Tag Team Titles from Jax and Shayna Baszler, they did an injury angle with poor Lana getting taken out so that Charlotte Flair can swoop in to become a Women's Tag Team Champion. This storyline did absolutely nothing for anybody. Brutal booking.
I could be here for a while listing bad feuds, but I thought Braun Strowman's three-month feud with "The Fiend" Bray Wyatt was pretty bad too because Strowman was Universal Champion and barely defended the title during that period. The regular match they had was dumb. Then they had a cinematic match that was goofy. It "changed" Braun Strowman so much that he was a heel for a few weeks, then he was suddenly on Raw in Raw Underground segments and back to being a face again. At least Alexa Bliss has had a character change, but I'm still not sure that is the best thing for her. Anyway, once Roman Reigns got the Universal Title, we were able to forget this awful storyline.
My apologies for not writing about more bad feuds. I want to get on to other things. I'll just say this: Please WWE, get better writers. In addition to that, maybe Vince McMahon should trust his staff more. Just saying.
9. WORST PAY-PER-VIEW
To be given to the worst PPV. They wanted us to pay money for this?Past winners – 2019: Super Showdown, 2018: Crown Jewel, 2017: Battleground,2016: Fastlane, 2015: Royal Rumble, 2014: Tables, Ladders & Chairs (And Stairs), 2013: Battleground, 2012: Hell in a Cell, 2011: Over The Limit
Winner: Super Showdown (Runners-Up: The Horror Show at Extreme Rules)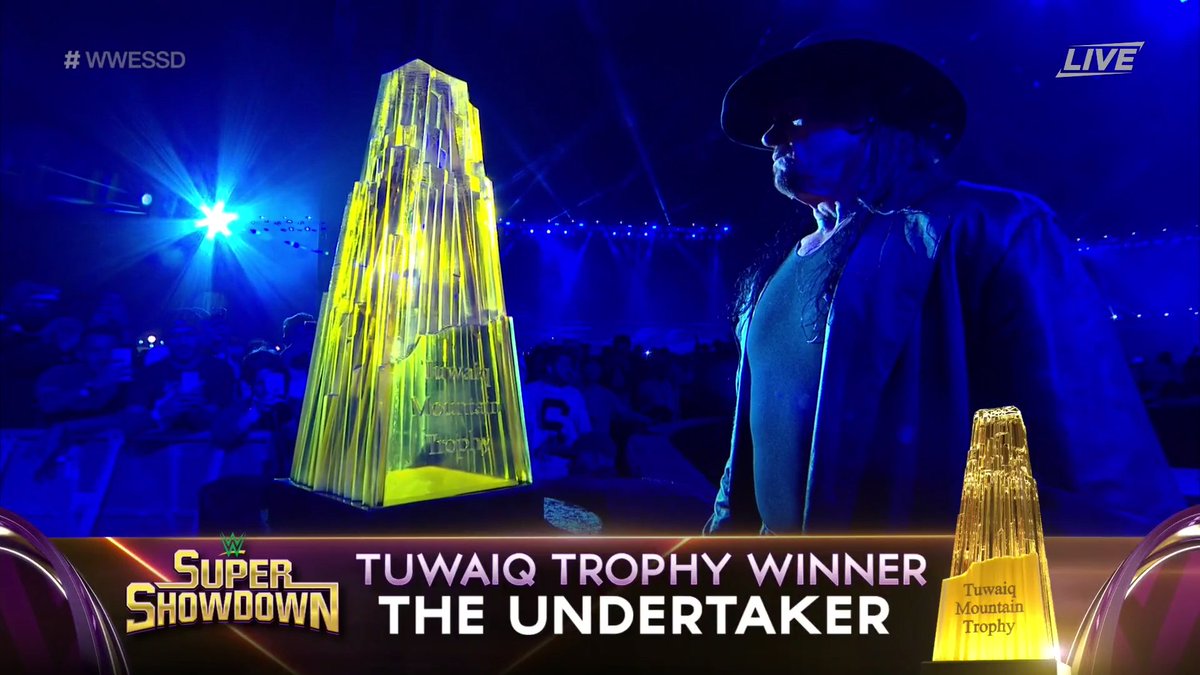 There are two PPVs that I rated at 6 or lower, so those are the only ones I'll mention here.
Super Showdown – 3
The Horror Show at Extreme Rules – 5.75
Super Showdown was the lone WWE show in Saudi Arabia this year. They would have had two in Saudi Arabia, but the global pandemic changed those plans. The show was terrible with the meaningless "Tuwaiq Trophy Gauntlet Match" that The Undertaker won by beating AJ Styles to set up their WrestleMania match. There wasn't a standout good match other than a few tag team matches that were decent. Oh yeah, and Mansoor remained undefeated at WWE Saudi shows because you can't stop him there. The end of the show ended with Goldberg beating The Fiend to win the Universal Title, which made a lot of people groan including me.
This year's Extreme Rules show with the "Horror Show" theme had a lot of goofy shit including Seth Rollins taking out Rey Mysterio's eye and Wyatt/Strowman Swamp Fight that wasn't that interesting to me.
10. BEST TAG TEAM
To be given to the two men that function best as a tag team. Past winners – 2019: The Undisputed Era, 2018: The Bar (Sheamus & Cesaro), 2017: The Usos, 2016:The New Day, 2015: The New Day, 2014: The Usos, 2013: Seth Rollins & Roman Reigns, 2012:Team Hell No (Kane & Daniel Bryan), 2011:Air Boom (Evan Bourne & Kofi Kingston), 2010: The Hart Dynasty, 2009: Chris Jericho and The Big Show
Winners: The Street Profits (Runners-Up: The New Day, Bayley & Sasha Banks, Cesaro & Shinsuke Nakamura)
I think The Street Profits duo of Montez Ford and Angelo Dawkins had a great. They're a prototypical babyface team that thrived on Raw and have done well since moving to Smackdown too. They're likable wrestlers that show a lot of personality in their promos while Ford has one of the best Frog Splash finishers I've ever seen in terms of the height he gets while delivering the move.
For the runners up I think New Day had their typical strong year. Bayley and Sasha Banks teamed together a lot this year, so I think that has to be acknowledged because it was part of the long term story that led to their split. Cesaro and Shinsuke Nakamura provided stability on Smackdown as a tag team although I would like to see each guy in singles next year.
It's weird not mentioning an NXT tag team in the runners-up section, but this was probably the worst year for NXT men's tag teams. They just didn't have any booking consistency while none of the teams really didn't last on top of the division.
11. THE "NEXT BIG THING" AWARD
To be given to the wrestler that is most likely to be the "next big thing" in the new year.Past winners – 2019: Keith Lee, 2018: Velveteen Dream, 2017: Rusev, 2016: Shinsuke Nakamura, 2015: Sami Zayn, 2014: Bray Wyatt, 2013: Roman Reigns, 2012: Dolph Ziggler, 2011: Cody Rhodes, 2010: Alberto Del Rio, 2009: John Morrison
The new rule that began in 2019 is that it must be somebody that hasn't won a title in WWE yet whether on NXT, Raw or Smackdown.
Winner: Bianca Belair (Runners-Up: Shotzi Blackheart, Ridge Holland)
This is the first time I have picked a woman for this award. I think Bianca Belair really opened a lot of eyes earlier this year with an impressive performance in the Royal Rumble match. Belair eliminated eight women in the Royal Rumble and lasted over 30 minutes in the match. I figured she would get a serious push after that, yet after debuting on Raw after WrestleMania, they did nothing for her for months. Thankfully she is being used on Smackdown now, so I have high hopes for her winning some gold in the first half of 2021. I think Belair is very likable, she's a talented athlete and is so charismatic that it seems like a good bet that WWE is going to push her in a big way next year.
There are a lot of women with bright futures in NXT that I could name as well, but I'm going with Shotzi Blackheart as somebody to keep an eye on. I didn't know much about her at the start of the year and then as the year went on, she impressed me a lot. I think Shotzi is a natural babyface with a unique look that is going to be a long term star in WWE.
Ridge Holland is hurt right now, but he has all the tools to be a big deal in NXT next year. I think he's going to have a big year in 2021.
I think Karrion Kross is going to be a major player on Raw or Smackdown in 2021 although I can't pick him because he was already NXT Champion. I have rules to follow! Just wanted to say I think he'll be on one of those two shows for most of the year.
12. BEST HEEL
To be given to the performer that is the best at drawing the ire of the audience. Past winners 2019: Daniel Bryan, 2018: Tommaso Ciampa, 2017: The Miz, 2016: AJ Styles, 2015: Seth Rollins, 2014: Seth Rollins, 2013: Paul Heyman, 2012: Daniel Bryan, 2011:Christian. Award began in 2011.
Winner: Randy Orton (Runners-Up: Roman Reigns, Bayley, Sami Zayn, Seth Rollins, AJ Styles, The Hurt Business)
Let me begin by saying that if this was an award based on the last four months then I might give it to Roman Reigns for sure, but I have to use the whole year. That's why I went with Randy Orton, who dominated Raw for most of the year from his great feud with Edge that began right after the Royal Rumble and then the summer into fall rivalry with Drew McIntyre. In between all of that, Orton also punted several babyface "legends" in the head as well. In terms of matches, promos, portraying a character and storylines, Orton had a fantastic year as the best heel in WWE. This was probably Orton's best year in WWE since 2011 or so when he was mostly a babyface that year.
* Roman Reigns was fantastic as a heel. I look forward to Smackdown every week because of him as much as anybody. I'm interested to see how long his Universal Title reign will last and what it will take for somebody to beat him because whoever that guy is will look like a bigger star after it happens.
* Bayley was tremendous all year. The match quality was always good and promos were fun. She was a lot more comfortable as a heel this year than she was last year when she turned. That comes with experience.
* Sami Zayn might be my favorite heel. I think he's hilarious a chicken shit heel. It reminds me a lot of what Daniel Bryan was doing so well during his heel run in late 2018 into 2019. I love those kinds of heels.
* Seth Rollins and AJ Styles are consistently great in everything that they do. I just don't think either guy had a particularly memorable feud, but both of them did well in terms of feuding with WWE Champion Drew McIntyre when Drew needed wins over former top guys. That's their role.
* The Hurt Business has done a great job on Raw in terms of helping the career of Bobby Lashley after that terrible feud with Rusev with Lana as his "wife." That angle ended, MVP was paired with Lashley, then they added Shelton Benjamin and Cedric Alexander. The problem is they were put in matches with Apollo Crews for several months with a match nearly every week and now they're against New Day every week for the last two months. Too much repetitive booking.
13. BEST BABYFACE
To be given to the performer that is the best at receiving the adulation of the audience.Past winners – 2019: Kofi Kingston, 2018: Becky Lynch, 2017: AJ Styles, 2016: Dean Ambrose, 2015: John Cena, 2014: Dolph Ziggler, 2013: Daniel Bryan, 2012: John Cena, 2011:Randy Orton. Award began in 2011.
Winner: Drew McIntyre (Runners-Up: Asuka, Kevin Owens, Sasha Banks, Io Shirai, Big E)
This is an easy choice because Drew McIntyre really stood out among the male singles wrestlers this year. One of the worst things about WWE booking in 2020 is that they don't know how to book babyface wrestlers very well. The heel wrestlers get so much screen time, they get the long promos, they get the cheap attacks and often times when you think a face should get the win, the heel will win. Part of the reason the television audience is down is because of how poorly WWE books faces. Drew McIntyre is an exception, though. I think Drew has done a phenomenal job as a babyface WWE Champion and I wish there were fans there to cheer him on because he deserves it.
Asuka wasn't a face all year, but after Becky Lynch moved on following her baby announcement, Asuka became the top women's babyface wrestler in WWE. I think some of the storylines could have been better although, from a performance standpoint, Asuka is so consistent. She never has a bad match and makes everybody around her better.
I thought Kevin Owens was terrific as the babyface that stood up to Seth Rollins on Raw and then KO got the big win over him at WrestleMania. Later in the year, Owens was the guy that stood up to Roman Reigns too. I wish Owens did some more meaningful part of the year, but I think overall Owens had a successful year as a face.
Sasha Banks wasn't a face all year because she only turned after Bayley attacked her. I just think she's done excellent work in terms of matches and promos as a babyface that has more confidence than anybody else on the show.
I have enjoyed the singles run of Big E so far. I hope he truly gets elevated to the main event level in 2021. I'm optimistic that it will happen, but I'm not sure if WWE will fully pull the trigger on it.
14. BIGGEST NEWS STORY
The stories of the year that we'll always remember when looking back at the year that was. Past winners – 2019: Roman Reigns returns from leukemia battle in February, 2018: Roman Reigns announcing he has leukemia,2017: Kurt Angle returning to WWE after 11 years away, 2016: WWE signs four top New Japan stars,2015: Injuries decimate the roster, 2014: CM Punk leaving WWE, 2013: The WWE Network Still Isn't Here, 2012: Jerry Lawler's heart attack, 2011: The death of Randy Savage, 2010: The departure of several big names (Shawn Michaels), 2009: Shane McMahon leaves WWE
Winner: COVID-19 leads to massive changes to the wrestling business (Runner-Up: WWE fires wrestlers and stuff during a global pandemic, WrestleMania 35 takes place in front of no fans over two nights)
I think this is a no-brainer choice. All of our lives have changed since mid-March when the COVID-19 virus dominated news headlines around the world and caused us to change the way we live. Suddenly phrases like "social distancing" and "lockdown" were a major part of lives when you never really thought of those things before. It's pretty amazing that WWE didn't stop producing any of their main TV shows all year. Yes, there were episodes of Raw and Smackdown that featured taped matches from the past, but for the most part we got the same new content all year round. Should WWE really be considered an "essential business" in Florida? Maybe not, but they were and that's what allowed them to run shows out of the WWE Performance Center, then the Amway Center and now at Tropicana Field. We'll always remember 2020 as the year where we changed the way we live.
It was a terrible decision by WWE to fire dozens of people that were wrestlers on screen and staff behind the scenes. I understand a corporation has business decisions to make, but it made the company look terrible because it's not like most of those people could easily find a new job. A lot of fans hated WWE for it and frankly I think the hate was justified.
I added WrestleMania 35 taking place with no fans because we're so used to the spectacle of WrestleMania being a big thing. Instead, they did it over two nights with no fans in attendance. I hope it never happens like that again, but I can assure you I'll never forget this year's show because of how unique it was.
15. BEST INDIVIDUAL PROMO
To be given to the one promo that was the best in the last year. It can feature more than one person. Past winners – 2019: Roman Reigns announcing he's in remission on February 25th edition of Raw, 2018: Daniel Bryan's announcement that he has been cleared to return @ Smackdown March 20, 2017: Festival of Friendship with Kevin Owens turning on Chris Jericho on Raw February 13, 2016: The Miz and Daniel Bryan on Talking Smack, 2015: The Rock at WrestleMania 31, 2014: Daniel Bryan "Occupy Raw" face to face with Triple H @ Raw March 10, 2013: Mark Henry @ Raw June 17, 2012: Kane's Speech at Anger Management @ Raw August 27
Winner: Becky Lynch announces she is pregnant (Runner-Up: Randy Orton tells Drew McIntyre that Randy is the Chosen One)
This award is tough because it's extremely difficult to remember every promo. I watch and write about so many WWE shows in a year. You can't remember everything no matter who you are. That's why often times I don't list runners up here because it can be so tough to think of them all and list them all. A lot of good promos took place, but there were also plenty of them where guys just stared into a camera because that was the best thing to do at that time.
It was May 11 on Raw when Becky Lynch was in the ring doing a tearful promo saying she walked into the Performance Center without knowing a lot of people. She didn't know if anybody would ever care about a woman like her, but then they did care and carried her into history as a WrestleMania main eventer. Lynch said that the fans had her back when she didn't have anybody else and that's why she delivered this news first in the ring. After Asuka made her entrance, Lynch informed Asuka (as the Money in the Bank winner) that she is the new Raw Women's Champion because Becky was pregnant. Asuka was excited for her and so was everybody at home. Lynch to Asuka: "You go be a warrior because I'm going to go be a mother." Earlier this year, Becky and fiancée Seth Rollins welcomed baby girl Roux into this world. In the most difficult year that we have ever had as a society as a whole, that's the promo that I'm going to remember the most in 2020.
There were a lot of good promos by Drew McIntyre and Randy Orton this year. The one that stood out the most was from August 3 on Raw with Randy on the stage while Drew was in the ring. Randy defended Drew after everybody criticized Randy for his actions his career with Randy making it clear that he was there because he wanted to be there and Randy was really the Chosen One, not Drew. McIntyre responded calling Orton a selfish man that the boys in the back didn't respect and he was going to deliver a Claymore Kick to Orton to beat him for the title.
There were other good promo moments from people like Sonya Deville to Mandy Rose, Seth Rollins to Kevin Owens, Pat McAfee in NXT did some great work, Sasha Banks to Bayley and so on. It's tough to recognize them all.
16. BEST TURN
To be given to the best babyface or heel turn that benefitted the performer the most.Past winners – 2019: Finn Balor, 2018: Daniel Bryan, 2017: Sami Zayn, 2016: AJ Styles, 2015: The New Day, 2014: Seth Rollins, 2013: Randy Orton, 2012: Big Show, 2011: Mark Henry, 2010: Kane, 2009: CM Punk
Winner: Roman Reigns (Runner-Up: Sasha Banks, Cedric Alexander)
This was an easy call. When Roman Reigns was on WWE TV in March before WrestleMania, he was still in the same babyface role that we were used to seeing for the last five years or so. When he came back at the end of August, he appeared in a backstage segment with Paul Heyman. Did that mean he was a heel? We weren't sure right away, but then his actions spoke louder than words and he was clearly the heel "Tribal Chief" Universal Champion. Reigns didn't just turn heel, though. He changed everything about his presentation by doing promos a different way with the slow-talking, he wrestles shirtless now and he has Paul Heyman by his side. I have enjoyed it a lot.
Sasha Banks is the other turn that sticks out because there was a long build-up to it. We could all tell that Bayley was going to attack her best friend Banks to turn Sasha into a face, so I'll go with that as one of the best turns this year.
When Cedric Alexander joined The Hurt Business a few months back, I thought it was great. It was executed and Alexander has done very well as part of the team with four veteran wrestlers that will help him become even better.
17. MOST IMPROVED PERFORMER
To be given to the performer that has shown the most improvement in the last year.Past winners – 2019: Rhea Ripley, 2018: Velveteen Dream,2017: Braun Strowman, 2016: The Miz, 2015: Bayley, 2014: Damien Mizdow, 2013: Roman Reigns, 2012: Ryback, 2011: Zack Ryder, 2010: Cody Rhodes, 2009: Kofi Kingston
Winner: SonyaDeville (Runners-Up: Murphy, Jake Atlas, Shotzi Blackheart, Raquel Gonzalez)
This is usually an NXT award because by the time a wrestler is on Raw or Smackdown, they are usually developed as a performer. However, this award is going to somebody that was on Smackdown: Sonya Deville. When I think back to her promos earlier in the year, she crushed it while turning on tag team partner Mandy Rose. That's another rivalry that was hurt by not having a crowd react. Sonya got more chances on the microphone as well as in the ring while showing she's very talented. We all know about the scary home invasion at her home with a crazy fan trying to harm her while she was sleeping, but thankfully Sonya and Mandy got out there. Sonya lost a Loser Leaves WWE match to Mandy at SummerSlam although that's just a storyline to write her out. I'm hoping Sonya can return in 2021 because the best years are ahead of her, but I understand taking a break after what she went through.
Murphy was always a very good wrestler. He just got more chances in 2020, which was fun to see. I think it was a mistake to get rid of the first name "Buddy" though. I think having a full name would help.
I really like Jake Atlas in NXT. Earlier in the year, he wasn't being used a lot, but as the year has gone on, he has been given more opportunities to have longer matches and he has been very impressive. I think he's very skilled in the ring. Atlas could be a breakout star in 2021.
Two women really stood out in NXT in terms of being improved: Shotzi Blackheart and Raquel Gonzalez. I think Blackheart is better in the ring along with strong promos while Gonzalez is still developing. In Raquel's case, you can tell that they like her since she's a taller woman with a strong physique, but she's more than
18. BEST WEEKLY WWE TV SHOW
To be given to the best weekly WWE television (or internet) show. Past winners – 2019: NXT, 2018: NXT, 2017: Smackdown, 2016: Smackdown, 2015: NXT, 2014: NXT, 2013: NXT.
Winner: NXT (Runner-Up: Smackdown)
It's the same as last year with NXT as the best show. With that said, I think NXT has been hurt by doing shows without fans as much as Raw and Smackdown have, if not more. That's because the NXT crowd is known for having so much energy, so it sucks to only have about 100 people there in the last few months. I think Smackdown has been pretty close to NXT in the last four months since Roman Reigns' heel persona has taken over things on SD. Before that, though, Smackdown went through a rough period with guys like Braun Strowman, The Fiend and Goldberg as Universal Champion. I just don't think it was a good first half of the year for Smackdown.
As for Raw, they are hurt by being three hours too long. There's too much filler, the storylines were so repetitive with certain rivalries lasting four or five months and they do a poor job of booking babyface wrestlers. The length of the show is a big reason why Raw hasn't won this award.
19. FUNNIEST MOMENT
To be given to the funniest moment of the year whether it was unintentional or on purpose. Past winners – 2019: George Mizanin gets in the ring at WrestleMania, 2018: Titus O'Neil's slide at Greatest Royal Rumble
Winner: R-Truth makes Brock Lesnar laugh by undeclaring for the Royal Rumble (Runners-Up: Vince McMahon commentary puppet during Firefly Fun House match, Triple H on Smackdown commentary, Money in the Bank matches at WWE Headquarters)
It's tough for January things to win these awards because it was so long ago, but R-Truth is the funniest guy in WWE and I remember this moment so well. When I watched it again, it made me laugh even more than when I watched it the first time.
To set the stage, Paul Heyman was doing a promo about how the WWE Champion Brock Lesnar was going to dominate in the Royal Rumble match. When it came time to for an interruption, the comedic 24/7 Champion R-Truth showed up because Heyman kept on talking about how the "truth" keeps flowing from his mouth. Truth said that he was declaring himself to be in the Royal Rumble match. Truth: "The bigger they come, the harder they fall. You may be a big, big, big man, but I know you will go flying over that top rope, Paul Heyman!" The crowd laughed at that moment, but the reaction that stood out to me was the normally stoic Brock Lesnar laughing hysterically. Heyman informed Truth that if he's in the Royal Rumble then he'll go face to face with Brock Lesnar.
Truth: "My bad. For the first time ever, the 24/7, 48/7, 7-Eleven, I-95 South and Kentucky European TV Champion is official UNDECLARING the Royal Rumble match." Lesnar laughed while Truth said he didn't want Brock to take him to Sioux Falls City. Heyman: "Nobody likes you!" That drew boos. After some Truth dancing, Brock ended the comedy with the F5. I thought the whole thing was very entertaining and Brock goes: "That's what's up!" Tremendous.
* The Firefly Fun House "match" at WrestleMania between Bray Wyatt and John Cena was very unique with a lot of different looks to it. The part that I loved the most is what made the laugh the most. That was when the "commentary team" of puppet Vince McMahon and Mercy The Buzzard were shown with Vince saying: "THIS IS SUCH GOOD SHIT!" That was f'n great.
* The first Smackdown after the COVID-19 global pandemic shut down WWE shows led to a broadcast from the WWE Performance Center. Michael Cole was on commentary as usual, but there was no Corey Graves, so Triple H joined Cole on commentary. There was a lot of goofy stuff during that broadcast thanks to Triple H because I think he knew people were scared about the virus and wanted to provide some laughs. Hunter made it a fun night.
* I remember people hating the Money in the Bank matches. To me, they were basically wrestling parodies with a lot of comedy spots from the food fight in the cafeteria to slipping on a wet floor and the moment when Daniel Bryan fought AJ Styles in Vince McMahon's office while Vince was there. Plus, the winner of the men's match was Otis, who didn't even climb a ladder to win. The whole thing was goofy, but it made me laugh at least.
There were probably more of them, but those are the ones that come to mind. I can think of a lot of bad comedy segments too, which is not a good thing.
20. STUPIDEST BOOKING DECISION
To be given to the stupidest choice made by WWE's creative team. Past winners – 2019: Wildcard rule, 2018: Brock Lesnar as Universal Champion for way too long,2017: Jinder Mahal as WWE Champion
Winner: The Retribution angle (Runner-up: Raw Underground, Rey Mysterio "loses an eye" during a match, Men's Money in the Bank contract booking)
Everything that you see above is from Raw except the Money in the Bank stuff although that has gone from Smackdown to Raw. That doesn't mean that Smackdown and NXT were perfect by any means. I just think the stupidest booking decisions have been on Raw and that's why Raw has been a chore to sit through for a lot of this year.
The Retribution angle started with a bunch of short wrestlers in masks terrorizing WWE shows. There was an episode of Smackdown where they went into the ring and a dude with a chainsaw cut the ropes. As the weeks went on, we started to see the same people in the group with Dominik Dijakovic as T-Bar (what a terrible name), Dio Midden was Mace, Mia Yam was Reckoning and Shane Thorne as Slapjack. Their job was to terrorize WWE, so they did a bunch of random attacks. Then, just before the WWE Draft, Mustafa Ali turned heel to become the leader of the group and then…let me go to all caps for this…THE GROUP THAT WAS TERRORIZING WWE WERE SIGNED TO CONTRACTS. Keep in mind that all of them already had contracts, but now WWE was saying even though we tried to keep them out, we are drafting them to Raw. Since October, all they seem to do is face Ricochet in different matches although they beat the Men's Survivor Series team in a match and then that wasn't capitalized on at all.
Let me make one thing perfectly clear: There's a lot of talent in the Retribution group. I think the idea of a stable of wrestlers being mad at how they are used is fine. There's potential there. I just think the booking has been awful.
Raw Underground was a stupid idea from the moment that it aired in a back room at the Performance Center. Instead of matches in the ring, wrestlers would have "fights" on a black canvas. It went nowhere, accomplished nothing and was gone within a few months.
I don't know who thought the "Rey Mysterio loses an eye" storyline was a good thing, but it was so stupid. Seth Rollins injured Rey's eye and then they did a match where the LOSER LOSES AN EYE! Oops, there's the all-caps again. Anyway, they taped it so it looked like Rey's eye was out. Then after Rey signed a long-term deal to remain in WWE, they said it healed fine. What a stupid angle. If we got Rollins vs. Mysterio matches for three months without the stupid booking I would have loved it. Instead, we got this.
I already went over the stupidity of the Men's Money in the Bank contract booking. It has been by far the worst Money in the Bank booking ever.
21. BEST FINISHING MOVE
To be given to the best finishing move in WWE. Past winners – 2019: RKO/Shatter Machine Combo by Randy Orton and The Revival, 2018: Eclipse by Ember Moon, 2017: Eclipse by Ember Moon, 2016: Styles Clash by AJ Styles, 2015: Popup Powerbomb by Kevin Owens, 2014: Red Arrow by Neville, 2013: Neutralizer by Cesaro, 2012: Neutralizer by Cesaro
Winner: Frog Splash by Montez Ford (Runner-up: Claymore Kick by Drew McIntyre)
I've always loved top rope moves since I was a kid (who doesn't, right?), so whenever there's an athlete like Montez Ford doing a Frog Splash with the kind of height that he gets, it's hard for me to look past that. This year we saw Ford do the Frog Splash the way Rob Van Dam used to do it where he twisted his body in the air to land in another direction. It's so impressive to see although I think when Ford does it the normal way is when it looks the best. What makes it stand out so much is the height that Ford gets when he hits it. It's the best slow-motion replay move in WWE, that's for sure.
It has been Drew McIntyre's year, so I have to put the Claymore Kick over as one of the best finishers in WWE. No doubt about it. Looks great every time Drew does it.
22. BEST ANNOUNCER
To be given to the best announcer in WWE. It could be a play by play or analyst. Past winners – 2019: Nigel McGuinness, 2018: Mauro Ranallo, 2017: Corey Graves, 2016: Corey Graves, 2015: Corey Graves, 2014: John Bradshaw Layfield, 2013: John Bradshaw Layfield, 2012: John Bradshaw Layfield, 2011: Booker T, 2010: Matt Striker, 2009: Jim Ross.
Winner: Corey Graves (Runner-Up: Samoa Joe, Wade Barrett)
This award goes back to Corey Graves after he won it three years in a row. I think Graves has settled in on Smackdown as an announcer that favors the heels at times, but not always. I think when he was part of three-person teams on Raw in the past, it was tougher for him because you have to wait your turn to talk. When it's just Graves and Michael Cole, he can make his points better. Plus, Smackdown is booked better than Raw, so that helps.
Samoa Joe has done really well as an announcer on Raw although I miss watching him in the ring. I assume he'll wrestle again, but injuries slowed him down. Maybe after WrestleMania he'll be wrestling again.
Keep an eye on Wade Barrett on NXT as well. He's done an excellent job so far this year and he should improve as he gets more comfortable.
I think in terms of play-by-play announcers, the trio of Michael Cole, Tom Phillips and Vic Joseph all do a good job. I'm not a guy that's going to complain about announcers too much because they do what they are told. I think Cole is a lot better than he was a decade ago. It comes with experience.
23. COMEBACK OF THE YEAR
To be given to somebody coming back from an injury or some other issue that kept them away. This is a new award starting this year. Past winners – 2019: Kevin Owens, 2018: Tommaso Ciampa.
Winner: Edge (Runners-up: Xavier Woods, Ember Moon)
This is a no brainer. When Edge retired in 2011 he was in his late 30s, he had a serious neck injury that bothered him for over a decade and it got so bad that he had to stop. However, late 2019 we heard stories about Edge training to wrestle. We didn't know for sure if he was going to be in a wrestling match again, but then when he came back at the Royal Rumble, the pop for him was enormous. The fact that he would go on to have a grueling match with Randy Orton at WrestleMania and then an outstanding match at Backlash was great to see. It's too bad that Edge tore his triceps in the Backlash match, but I assume he'll be back in early 2021 for yet another comeback. I look forward to it.
Xavier Woods and Ember Moon both missed about a year of action with major foot injuries. They both looked like they haven't missed a beat, so kudos to them.
24. BEST WWE NETWORK SHOW
To be given to the best show on WWE Network that is not just a live wrestling show. It has to be something different. Past winners – 2019: Broken Skull Sessions with Steve Austin, 2018: WWE Chronicle, 2017: WWE 24, 2016: Edge & Christian Show, 2015: Breaking Ground.
Winner: Undertaker: The Last Ride Documentary (Runner-Up: Broken Skull Sessions with Steve Austin)
This is another obvious winner. The five-part Undertaker documentary series that WWE released in the late spring was among the best content they have ever produced. It was during that fifth and final part of the documentary (read my review here) where The Undertaker revealed that he was retired. Throughout the documentary, we learned a lot about Mark Calaway, his wife Michelle, their daughter, and even other things about his family like how his brother died right before he filmed the Boneyard Match. We also found out that a confident, successful man like The Undertaker still has a lot of self-doubts and he had a tough time knowing when to retire even though he's 50 years old. In watching the final part, I think he was honest in saying he is done. At Survivor Series in November, we saw The Undertaker's final farewell message as if he was saying goodbye to the character, but we could see the man on WWE TV again perhaps with a bandana on his head.
The Broken Skull Sessions interview show hosted by "Stone Cold" Steve Austin is consistently awesome. When Austin interviews the guys that are close to his age that he wrestled in his career, you can see the camaraderie that's there. When Austin talked to Drew McIntyre recently, you can tell that it was an easy conversation because Austin was the top guy like Drew is now, so it's very relatable.
A lot of WWE Network shows could be considered runners up like the WWE 24 documentaries, the WWE Chronicle series and I've enjoyed the return of Raw Talk & Talking Smack as well.
This was year six of WWE Network and I think it remains a tremendous value that is well worth the cost of $9.99 US per day. Then again, I also watch/write about retro PPVs a lot and find myself on there more than the average person.
25. MOST MEMORABLE MOMENT
To be given to the most memorable moment of the year.Past winners – 2019: Kofi Kingston wins WWE Title at WrestleMania 35, 2018: Daniel Bryan announces his return to the ring after three years away, 2017: Hardy Boyz return to WWE at WrestleMania, 2016: AJ Styles debuts at Royal Rumble, 2015: Seth Rollins becomes WWE Champion at WrestleMania 31, 2014: The Undertaker's undefeated streak ends at WrestleMania 30 when he loses to Brock Lesnar, 2013: Daniel Bryan wins WWE Title leading to heel Triple H/Orton, 2012: Brock Lesnar's Return April 2 on Raw, 2011: CM Punk's Promo June 27 on Raw, 2010 winner: Bret & Shawn embrace in the ring, 2009 winner: The Undertaker/Michaels match
Winner: Edge returns at 2020 Royal Rumble (Runners-up: Becky Lynch announces pregnancy on Raw, Roman Reigns returns on Smackdown with Paul Heyman)
There have been a lot of tough things that we have gone through as a society in 2020, but when I think of a moment in WWE that truly made me smile, it was the return of Edge in the Royal Rumble match. I've included the clip here. Even if I didn't, I could still remember every aspect of it from the moment the music hit, to Edge's face as he soaked in the pop from the crowd. It's too bad that when he entered the ring, WWE's director missed Edge's Spear on Dolph Ziggler. The good thing is WWE edited that shot into the Royal Rumble broadcast, so if you watch it on WWE Network now, you'll see it.
I don't want to act like Edge's return was a complete surprise because as noted earlier, we did know he was training to come back last year. Still, it wasn't a sure thing that Edge was going to be in the Rumble match. Even though Edge didn't win, he did very well in the Rumble and showed no rust for a guy that turned 47 this year. Here's hoping Edge can be ready for the 2021 Royal Rumble too.
Becky Lynch's baby announcement was huge news obviously. That announcement was earlier in the year while the baby girl was born earlier in December. Best wishes to Becky and Seth Rollins on their journey into parenthood. I don't think any WWE is going to forget Becky's promo.
When Roman Reigns returned to Smackdown, it wasn't announced or promoted. It was a surprise during a backstage segment in August when he was sitting on a couch with the camera panning over to show Paul Heyman was with him. That shot right there led to a big change on Smackdown for the better that led to the blue brand really standing out ahead of Raw this year as the premier main show in WWE.
FINAL THOUGHTS ON WWE IN 2020
Since I always like to rate the shows out of 10, how about a rating for the year? Here's how I rated the years since 2009.
2009: 5.5
2010: 5
2011: 7
2012: 7
2013: 6.5
2014: 5.5
2015: 5.5
2016: 6.5
2017: 6
2018: 6
2019: 6.25
2020: 5.75
I'm going with a 5.75 out of 10.
Before I get into this year, I think my ratings are pretty harsh in past years. It doesn't seem right that I haven't gone as high as a 7 out of 10 for the past eight years. Am I too mean or am I being fair? I guess you can decide. I think I'm being pretty fair this year. I'm sympathetic to WWE for the challenge of putting on wrestling shows without fans. With that said, a rating in the 5 or 6 range means it's just an average year.
I think this year was very difficult for WWE because the pro wrestling business is supposed to be in front of fans. All of us that have watched pro wrestling prior to 2020 have been used to crowd reactions (or a dead crowd in some cases) over the last however many decades you've been watching. For me, it's been over 30 years of watching WWE and I'm never going to forget 2020 because of how difficult it is to watch WWE without a crowd.
With all of that said, I can't say this was a great year for WWE. It wasn't. Ratings are down to all-time low levels, interest in the product is low and again part of that is because there's no crowd. However, you can't always blame it on that because I think WWE is at fault due to their own booking. The days where Raw would get 3 million viewers on average were not that long ago, yet there were weeks this year where they were getting half of that. Again, there are factors there like fewer people having cable and the younger generation consuming content in different ways. I still think booking is a major factor. I commented earlier that they have done a poor job of building up babyface wrestlers especially on the male roster. After Drew McIntyre there are some guys like Big E, Keith Lee and Riddle that you could say are on the upswing, but do you really have the confidence that WWE is going to book them in a consistently strong way? The problem is the booking.
This year has been one of the best years for women's wrestling in WWE. You can make the argument that the women's division in NXT is the best division out of any WWE right now. There's so much talent there. I think the top women on Raw and Smackdown had strong years too, although when you look past the top three women on Raw and Smackdown, most of the others aren't utilized very much. By that I mean we have had the likes of Asuka, Sasha Banks and Bayley on top for most of the year. Who is coming next? Hopefully Bianca Belair and maybe there are others that will surprise us.
There are certainly positives on WWE programming. I think I highlighted a lot of them in these awards because most of these awards are positives. The ascension of Drew McIntyre has been fun to watch, Roman Reigns as a heel is very entertaining, there are a lot of great matches every week on WWE TV on a regular basis and most PPVs are good to great events. I just hope there's something that happens in 2021 that leads to a spark for the wrestling business whether that's the return of crowds or a few wrestlers getting so hot that the audience goes up. I hope there's a boom period coming soon although I don't know if I'm optimistic about it.
If there were crowds at WWE shows all year, would this year have been any better than any of the previous years? I don't think I can definitively say yes to that. It's why it is tough to be optimistic about the future. I want to be optimistic and positive, but I think 2020 has been so frustrating that it's tough to be excited.
That's a wrap on the 12th annual WWE Johnny Awards. It's been a really tough year for me personally. I haven't had a vacation of more than five days off of writing since October 2017. That's on me as a self-employed that is bad at taking breaks. This was going to be a year where I took a break or two. I had so many things planned this year in terms of taking some trips that I really wanted to do in the year that I turned 40. Instead, it was the most boring year of my life where I saw less family and friends than ever. I'm thankful to be able to make a living at this although this year sucked in terms of how much I made writing about the wacky world of wrestling. I'll be fine because I save a lot and my gambling hobby is a successful venture for me, but I wonder if I can ever grow further while doing this. I'm still committed to writing. It just feels repetitive doing the same routine week after week for so many years and writing 25,000 words every week all year long. I don't know what the future holds, but I sure hope 2021 is better than 2020 was in every way possible.
Perhaps there's a glorious day coming in 2021 where we can all stand together and say…
————–
I keep this part in every year: This is my favorite column to write every year. If you're one of those people that reads a lot of my work without writing this is one of those times where I'm asking for your thoughts because I want to know what you thought. Don't be shy. I reply to nearly every email. You can also contact me on Twitter or Facebook – the links to those are at the bottom of the post.
Thank you to my good friend Steve Melo for the banner at the top of this post. He also does the banners for every one of my columns including the always fun "preferred" Raw Deal banners, Smackdown banners, PPV banners and more.
I wish you all a safe and happy New Year in 2021. I'll keep writing and I hope you'll keep reading.
As I said, please don't hesitate to contact me. My contact info is below. Thanks so much for reading!
John Canton – mrjohncanton@gmail.com
Twitter @johnreport
Facebook Personal Page & TJRWrestling.net on Facebook