7 Reasons Why Evolution Was One Of WWE's Greatest Stables Ever
The foursome of Triple H, Batista, Randy Orton and Ric Flair formed one of the greatest stables in WWE history called Evolution. While the group wasn't together that long in comparison to some other WWE stables, their impact in WWE history can't be ignored.
What made Evolution so great is that they set out a goal from the beginning as a stable that would mix a top guy in his prime (Triple H), an experienced veteran to offer advice while also wrestling at times (Ric Flair) and two younger guys that had the potential to be main event players for years to come (Randy Orton and Batista). Considering all four men have combined to win over 40 World Titles in pro wrestling, it's fair to say they were as successful as any group in WWE history.
There have been other stables in WWE history that have had a lot of success, but most of them didn't have four World Champions as part of the group. Degeneration X lasted longer and took on different forms. The Hart Foundation was fantastic although they didn't last long enough. The Shield was an amazing stable that created three main event players in WWE, but it didn't necessarily last that long. Arguments can be made for other factions in WWE history (not counting NWO or Four Horsemen due to them being in WCW), but when you really break it down it's hard to argue against all that Evolution accomplished.
Here's a video of the night when Triple H introduced the group on February 3, 2003.
Batista was out of action for about eight months that year and Orton missed some time too. Towards the end of the year, the foursome was together in full force and dominated for most of the time they were together.
There are several reasons why Evolution is one of the best stables in WWE history. Here are seven of them.
7. Their Theme Song And Entrance Video Are Perfect
"Evolution is a mystery
Full of change that no one sees
Clock makes a fool of history
Yesterday's so long ago, don't agree with what I know.
Tomorrow becomes a place to be."
That's the beginning of the Evolution theme song also known as "Line in the Sand."
From the opening guitar riff to the Evolution logo and the video of the four guys getting off the plane, you just knew they were an elite group. The song, which was done by the band Motorhead, fit the group perfectly. Motorhead also did Triple H's "The Game" theme song (and secondary "King of Kings" song), so it was only fitting that they did Evolution's music too.
They understood how important it was to not only have a good name for the group, but to have a song and a video that reflects what they're all about too. Sometimes groups don't have their own song or they might walk out individually. These four were together a lot of the time and it started with their entrance.
6. Revived Ric Flair's Career
When Ric Flair returned to WWE in late 2001, he did so as somebody that was booked as a co-owner of the company. It wasn't the greatest angle and it was at a time when WWE had a lot of confusing things going on. Flair was essentially in the role of an authority figure or a guy in power. In 2002, when WWE did the first brand extension draft, he was in charge of the Raw brand.
As an in-ring performer, even though he was in his 50s, he was still solid. It wasn't late 1980s or early 1990s Ric Flair, but he was still better than a lot of people on the show. One of the things he said years after his WWE return was that he wasn't very confident when he first got there and it wasn't until he started working with Triple H in 2003 when he got his confidence back.
Evolution started in January 2003, but throughout 2003 there was a lot of stop and start kind of moments within the group. Batista was hurt for much of the year and Triple H even had a match with Flair in the main event on Raw. It was a really good match that Flair almost won. A week after, Flair was back at the side of Triple H and with Orton as well.
A lot of people dislike Triple H for a lot of reasons during his run as a top guy in WWE, but he deserves a lot of credit for how he took care of his favorite wrestler Ric Flair. Flair's inclusion in the group was key because he represented a wrestler from the past that was considered the best wrestler in the business for a very long time. Having Flair there to mentor Triple H, Batista and Orton was perfect. Nobody else could have fit that role the way Flair did.
5. The End Of The Group Set Up Many Huge Matches
As previously mentioned, the group started in early 2003 and started to dissolve in the summer of 2004 when Orton was turned babyface even though that was a move that was probably the wrong decision at the time.
Orton ended up having a main event level feud with Triple H, which he lost, and Hunter ended Orton's first World Title reign at Unforgiven 2004 meaning Orton only held the World Title for one month. Orton also main evented the Taboo Tuesday 2004 PPV by beating Ric Flair in a steel cage match. Orton's rivalry with Triple H continued for many more years since it became a feud that they stopped and started a lot.
Batista's main rival in the group was Triple H. His role was that of the quiet enforcer that rarely said much while the group was together, but when it was his time to become a star he was ready. He won the tag titles with Flair and while they did have some matches, it wasn't a huge rivalry. As for Orton, they had some matches although again that was a feud that lacked that special something to get people interested in what they were doing.
Triple H had feuds with all three members of Evolution mainly because he was the one that stayed heel the longest. He went after Orton in 2004 because Orton had won the World Title that Triple H was used to holding. In 2005 he had a memorable feud with Batista, which will be discussed in further detail later. He also had several matches with Flair later in 2005.
The purpose of any team or stable is to build them up as a collective unit and then, when the time is right, have them feud against each other. Fans know how good the group was together. That just builds the anticipation for when they have their feud. It's an easy way to book things, but sometimes it doesn't happen because often times the creative team isn't patient enough to tell the story the right way. In the case of Evolution, they did it right and all four guys benefited from it.
4. They Were Smart Enough To Always Stay Heel
This is a very important point because often times a group or a team will turn from what they were in their original run and it ends up being a huge mistake. In the case of Evolution, they were always the bad guys. They were happy to let you know about it too.
There was never a tease of a face turn either. Maybe some fans would cheer them because they were dominant at times, but for the most part they were a strong group of heels. The faces on Raw at the time included the likes of Shawn Michaels, Chris Benoit, Scott Steiner, Bill Goldberg, Mick Foley, The Rock (at WrestleMania 20) and guys like that. None of them were huge money drawing babyfaces like a Steve Austin in his prime, but they were credible performers.
If you think about some of the other groups in wrestling history, a lot of them had runs as heels and faces. For Evolution, even though they didn't even last two years, they still were able to maintain their heel roles the entire time. It was the right call is because when some of the guys went babyface it meant a lot more because Triple H stayed a heel the whole time.
3. Randy Orton Became The Youngest World Champion Ever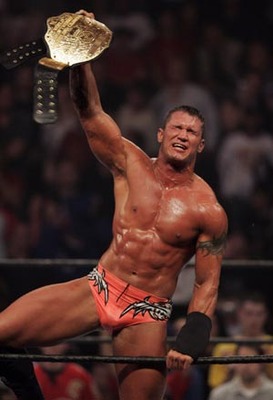 The rise of Randy Orton is one of the best parts of Evolution because when he started with the group in January 2003 he was still 22 years old. In less than two years he became the youngest World Heavyweight Champion in history at the age of 24 and that's a record that he still holds. It may never be broken simply because it's very rare for anybody to pushed to that level at such a young age.
Orton had a lot of success as a midcard wrestler on the rise in the Evolution stable. He was the sole survivor in a tremendous Survivor Series match in late 2003. In 2004, he got the winning pinfall at WrestleMania 20 as Evolution took on The Rock & Mick Foley and then he beat Foley in an awesome Hardcore Match at Backlash. All of that led to his eventual World Title win at SummerSlam although the babyface turn was ill-advised.
The idea behind pushing Orton was that he could be somebody that WWE could use as a building block for the future. Orton definitely made some missteps along the way from behavioral issues to suspensions. However, when you look at it in the big picture it's clear that he has developed into the main event player that they groomed him to be and Orton is obviously one of the greatest WWE Superstars ever.
Orton deserves a lot of credit for the great work he did in terms of making Evolution the best stable in WWE history and so does management for believing in him as much as they did. Without the presence of Evolution, would Orton's rise to the top go as fast as it did? There's no way of knowing, but I think the presence of Evolution helped him a lot. They picked the right guy at the right time. It worked.
2. They Won All The Titles
A good way to measure the success of a wrestling group is to look at all the championships that they won. When looking at Evolution's history of winning titles, there are few stables in wrestling history that can touch them in terms of all the gold they collected over the years.
Triple H was the dominant heel World Champion from the moment he was handed the title in the fall of 2002. He was a top guy for about three years prior to that. Fans booed him, but he kept on winning. He brought credibility to the group as the top heel in WWE
Randy Orton was a star on the rise that quickly became a top contender for the Intercontinental Title once he found his spot in Evolution. There was a certain confidence about him that few others had. Fans didn't like him because he was a heel, but he impressed a lot of people en route to becoming the IC Champ.
Ric Flair was a former top guy who was in the twilight of his career, so they teamed him up with Batista to form the tag team of the group. It made a lot of sense since Flair was a crafty veteran worker while Batista was a power guy that didn't talk much, but he made an impact with his powerful arsenal of moves.
Their most memorable evening in terms of holding titles was the Armageddon 2003 PPV event that ended the year. The group walked into the show with no titles in their possession. Orton ended up winning the Intercontinental Title from Rob Van Dam, Flair & Batista won the Tag Team Titles in a match featuring other teams and Triple H ended the night by winning the World Title from Goldberg in a triple threat match also involving Kane. The night ended with Evolution holding all the gold as they showed just how dominant they were as a group.
They knew their roles and they fit them perfectly. Often times roles aren't defined in groups like this, but with Evolution we knew what they were supposed to be.
1. Batista Beat Triple H Clean At WrestleMania 21 To Become The World Heavyweight Champion
The entire concept surrounding Evolution was to make the two "new" wrestlers into top guys by the time it was over. That's exactly what happened. Orton broke free from the group in the summer of 2004 as he became the World Champion, yet it was Batista that benefitted from the group even more than Orton.
It may not have been the plan from day one to have Batista become the biggest star in the group, but that's how it turned out. The best thing about it is that there was a slow burn. They didn't rush anything. Things started to become obvious at the New Year's Revolution event in 2005 when Batista helped Triple H retain his World Title even though Hunter had sacrificed Batista earlier in the match.
The 2005 Royal Rumble was a big turning point where it was as if that was the night where Batista really grew up to become a main event player. Batista won the Rumble over John Cena although that finish was a bit messed up thanks to Vince McMahon tearing his quad in the ring after an accidental tie. Then on Raw, Batista had to pick what title he was going to challenge for. Hunter assumed it would be the WWE Title on Smackdown. Instead, Batista did the famous thumbs down symbol and went after Hunter.
Batista went from a guy that the fans barely paid attention to as the "muscle" in Evolution to somebody that was really popular as one of the biggest faces in the company. He was slotted as the opponent of Triple H in the World Title match in the main event of WrestleMania 21. In the biggest match of his life, Batista put on a good showing and won the World Title. It was as if Evolution was complete at that moment. Batista would go on to beat Triple H again at Backlash 2005 and then Batista beat Triple H for a final time in a Hell in a Cell match at Vengeance.
Like Ric Flair always said: "To be the man you've got to beat the man" and that's exactly what Batista did as he defeated Triple H at WrestleMania 21. Batista was a "made man" at that point.
In the end, Batista's the one that benefitted the most form the group, or maybe you can say Orton did since he got to the top first. Then again, Triple H and Ric Flair also benefitted by being around newer talents that made them better too. All four guys benefitted from this group in a huge way, which is just another example as to why Evolution was the greatest stable in WWE history.
Thanks for reading.
John Canton
Email: mrjohncanton@gmail.com
Twitter: @johnreport