5 Potential Dream Matches In WWE And AEW
We have another year of exciting and interesting WWE and AEW programming coming up in 2022. I feel like this year will be a growing year for both companies because WWE will try to push forward their youth movement while AEW may slow down on the blockbuster signings in order to focus on the wealth of talent currently at their disposal.
I've looked at both rosters and I've managed to come up with five possible dream matches that have still yet to happen on television. To be clear, I'm doing dream matches that have yet to happen on television or pay-per-view (or "premium live event" as WWE calls them now). I'm not talking about if it happened on a random house show in Poughkeepsie. I'm also limiting it to big stage matches. If the match happened ten years ago in Ring of Honor, it's still eligible to be included here because most fans watching today probably don't remember the Ring of Honor or CZW or whatever match.
Another thing I wanted to add is that these dream matches are not necessarily things that I think will happen this year. Some of them could be next year or even after that.
So with that being said, let's get to it.
#10: AEW WOMEN's CHAMPION BRITT BAKER vs. AEW T.B.S. CHAMPION JADE CARGILL
I know that Britt Baker and Thunder Rosa is probably the biggest women's match AEW can have at the moment. However, they've done it before. The dream match that has yet to happen is Britt Baker vs. Jade Cargill. Jade is 25-0 so far in AEW. She hasn't exactly been lighting the place up, but she's improving both in the ring and as a character.
Britt Baker is the biggest women's star outside of The Four Horsewomen in North America. Let's be honest, the TBS Title tournament was always meant for Jade. At 25-0, there's no way they could justify her being #1 in the rankings and not getting a match with Britt Baker. Giving Cargill the TBS Title allows her to continue her dominance while not having her face Britt until the time is right. I feel like the match, if given time, can make Jade into a bigger star.
#9: RAQUEL GONZALEZ vs. SMACKDOWN WOMEN'S CHAMPION CHARLOTTE FLAIR
Raquel Gonzalez will be main roster bound soon. I'll be surprised if she's still in NXT 2.0 by Wrestlemania weekend. When she comes up, I would put her on Smackdown. I'm not saying they should automatically push her into a title match with Charlotte Flair at Wrestlemania, but a match between these two is inevitable.
Raquel has done all she can in NXT. She's a former NXT Women's Champion and NXT Women's Tag Team Champion. She will probably appear in the Dusty Cup starting in February because NXT teased her possibly teaming with Cora Jade in the tournament. After that concludes, I fully expect her to be called up.
#8: PROUD 'N POWERFUL vs. REDRAGON
Santana and Ortiz are probably the one tag team I would say has been misused since day one. Other than the brief Young Bucks feud and their rivalry with FTR, they haven't done much outside of the Inner Circle. They probably should have been AEW World Tag Team Champions by now, but I think that will come soon. ReDragon just reunited a few weeks ago in AEW and have already realigned with Adam Cole. ReDragon has a lot of good matches they can have but one with Santana and Ortiz seems like a good clash of styles that could make for a great match. By the time Proud n Powerful signed with Impact Wrestling, ReDragon were getting ready to debut in NXT with Adam Cole as The Undisputed Era. Having them meet here in AEW would be an instant classic and hopefully, the Tag Titles are on the line when it happens.
#7: SMACKDOWN TAG TEAM CHAMPIONS THE USOS vs. MSK
This match writes itself. MSK are one of the brightest young tag teams in NXT. They're former NXT Tag Team Champions. The Usos are one of the greatest tag teams of this generation in any company. Having these two teams face off would lead to a highlight reel-type match. MSK has the style to match up with The Usos and The Usos are seasoned enough to make MSK look like stars. I'm not sure when MSK will get called up, but I'm fairly certain it will be this year and when that happens, this should be one of the first matches you go to.
#6: CM PUNK vs. MALAKAI BLACK
This feud could be awesome. They have similar styles in that they rely a lot on strikes and MMA style techniques. Malaki Black and Brody King are a new tag team in AEW but I feel like we shouldn't get away from the interesting singles feuds Black can have and probably the biggest one is CM Punk. After Punk is done with MJF, I feel a rivalry with Black would be great. Most have known that CM Punk is better as a heel. I feel like that is the one thing that has been missing since he returned. Malakai Black represents darkness. They could tease something changing in Punk as a result of his feud with Black. It could be similar to The Fiend Bray Wyatt a few years ago where guys like Seth Rollins, Finn Balor, Daniel Bryan saw something change in them after feuding with Wyatt. Black trying to bring out the darkness in CM Punk could make for some interesting television.
#5: GUNTHER vs. WWE CHAMPION BROCK LESNAR
Do I even have to explain this one? The former WALTER is a beast in the ring and I feel like WWE hasn't been actively trying to bring him to the United States full time essentially since he signed with WWE to just stick him in NXT 2.0. He will be there for a minute, but I feel like if he doesn't take the NXT Title off of Bron Breakker by Wrestlemania weekend, GUNTHER might be a Raw or Smackdown after Wrestlemania call up.
GUNTHER has so many potential dream matches with the likes of Big E, Kevin Owens, Bobby Lashley, and of course, Roman Reigns. However, this match with Brock has the most epic potential. Seeing Brock trying to take GUNTHER to Suplex City while seeing GUNTHER lights Brock's chest up with chops would be a thing of beauty.
#4: DARBY ALLIN vs. BRYAN DANIELSON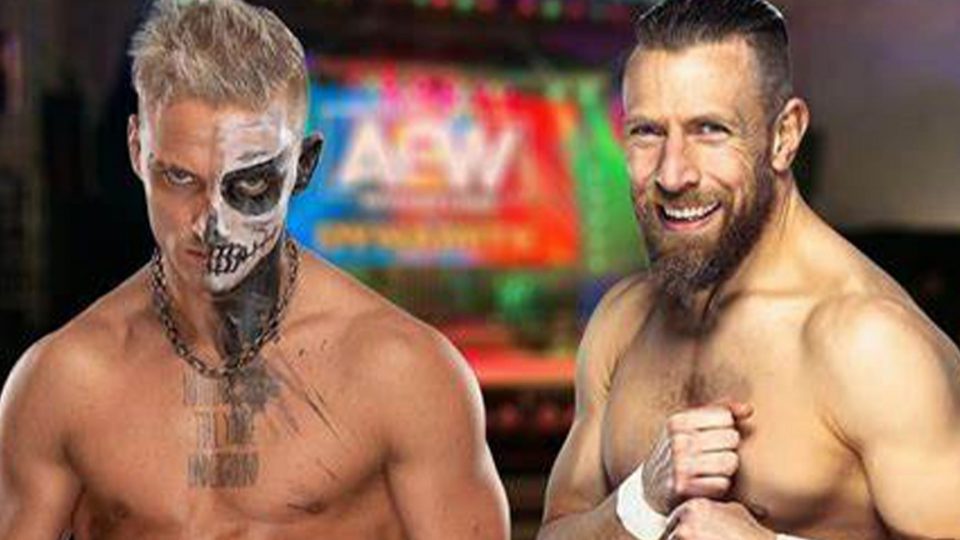 This is my car crash dream match pick. I feel like this match would make a bunch of people cringe, a bunch of people jump, and a bunch of people yell, but it would be a hell of a match. Bryan and Darby are known to throw caution to the wind when inside that ring. Add in the Sting element on the outside and you have some interesting promo exchanges between the two. The match itself could be a train wreck, but that is precisely why it's on my list.
#3: EDGE vs. AJ STYLES
This is a match that I've wanted to see ever since Edge came back to WWE. He put on a classic dream match with Seth Rollins. I think AJ Styles needs to be next on that list. They both need opponents for Wrestlemania. I can't think of a better match for the two than to face each other at Wrestlemania and tear the house down. Edge stated one of the guys he wanted to face when he came back was AJ Styles. I know since AJ turned that they're both babyfaces, but I wouldn't let that stop them from putting on a classic at Wrestlemania.
#2: KENNY OMEGA vs. ADAM COLE
This is probably the best match AEW could put on at the moment. It started nearly five years ago now when The Bullet Club turned on Adam Cole and then "killed him off" after he had signed a contract with WWE. Ever since he arrived in AEW, they have teased tension between Adam Cole and Kenny Omega as well as Adam Cole and The Young Bucks. I don't think Adam Cole has magically forgotten what happened to him years ago as he has tried to portray. Now that Kyle O'Reilly and Bobby Fish are in AEW, it's clear that this is leading to Adam Cole turning on his Elite brothers or Kenny Omega returning and turning on Adam Cole. Either way, Adam Cole vs Kenny Omega seems to be and should be the endgame and overall direction.
The story is already there. I would have Adam Cole and ReDragon as the babyfaces because Omega and The Young Bucks are better as heels – at least the Young Bucks are anyway. Plus, Adam Cole is getting reactions that rival Adam Page's so far. If Tony Khan listens to his audience as much as he says he does, Adam Cole should be a babyface fairly soon and once that happens, I think he will be right below Adam Page as the top babyface in the company.
#1: WWE UNIVERSAL CHAMPION ROMAN REIGNS vs. THE ROCK
Yeah, I know. The Rock isn't around. I could've put GUNTHER or Bron Breakker in this spot but in my opinion, the biggest match WWE could do. Hell, the biggest match that has yet to happen period in the world of professional wrestling is The Rock vs Roman Reigns. It has been a rumored match ever since Roman Reigns returned at Summerslam 2020 and turned heel. I think it will happen and Wrestlemania 39 in California seems like a perfect place. By the way, The Rock turns 50 in May of this year so if he wants that one final match, it will be in these next few years.
They already have the story and the promos would be top-notch because this Roman Reigns that we are seeing right now is the top of the game in this business right now. It's definitely the best we've seen him since he arrived in WWE. I think this Roman Reigns could pose a challenge for The Rock. He's already defeated John Cena. He did something The Rock couldn't do and that was defeat Brock Lesnar. There are so many layers they could go with that I think this is probably the best and most money-making match that professional wrestling could have at the moment.
Final Thoughts
There you have it. I know I left some off, but I tried to limit it to five from each company. Guys like Kevin Owens, Seth Rollins, Bron Breakker, Jon Moxley, Adam Page, FTR, were left off this list, but there are still plenty of matches and feuds with those guys that I'm looking forward to.
Thanks for reading. Check out my TJRWrestling writing archive here. I'm on Twitter @GiftedMoney talking about wrestling among other things, so feel free to message me on there with any thoughts or comments. Until next time.