5 Thoughts On The Hottest WrestleMania 38 Rumors
WrestleMania is less than five weeks away and there are still several rumors surrounding the event. So far, there are four matches confirmed for the event including two women's matches, celebrity involvement, and a Unification WWE/Universal Title match.
Regarding the hottest rumor going around right now, I'm going to discuss five of them and the likelihood that each of them comes to fruition come WrestleMania on April 2nd and 3rd.
#5: VINCE MCMAHON WILL RETURN TO FACE PAT MCAFEE
This rumor came about just last Friday on Smackdown when Pat McAfee announced that Vince McMahon would be appearing on his YouTube show this Thursday to discuss WrestleMania. Immediately after that, a rumor came out that stated it was supposed to lead to Pat McAfee vs. Vince McMahon at WrestleMania. Dave Meltzer also stated that the match is currently listed internally.
I'm filing this under the "Unlikely" category. I know it is being reported, but I just can't see 76-year-old Vince McMahon getting back in the ring at this stage. What I think is more likely and what I would prefer is Austin Theory taking Vince's place. Theory and McAfee would put on a pretty good match based on the match Pat put on with Adam Cole in NXT as well as Pat doing well in a WarGames match. I feel like this is the spot that Shane McMahon was originally scheduled for. Vince McMahon and Pat McAfee would be a trainwreck. Austin Theory vs. Pat McAfee would be a pretty good addition. Let's pray they go for the latter.
#4: CODY RHODES RETURNING TO WWE
The wrestling world was shocked when it was announced that Cody and Brandi Rhodes had left All Elite Wrestling. At the time, it was assumed that Cody Rhodes was WWE bound. As of yet, no deal has been signed, or at least that we know of. I would put this at about a 70% chance he signs with WWE. Assuming he does sign with WWE before WrestleMania, the question then becomes, who does he face at the show of shows? If I was WWE, I would put Cody Rhodes up against Seth Rollins. Based on current rumors, it seems as if Seth is the only top guy who doesn't have a match on the books for WrestleMania. Cody Rhodes and Seth Rollins have a history dating back to Seth's history with The Shield so the match would make sense from a story standpoint.
I think Cody Rhodes would do much better this time around than he did his previous stint with the company. He made himself a bigger star in AEW. Think of Drew McIntyre and his return to WWE back in 2017. I think Cody can have a similar run over the next few years. It's all about how WWE treats him. If they want a chance to make a serious run at some AEW free agents such as Wardlow or MJF when their contracts come up, it would be in their best interest to treat Cody Rhodes as well as they possibly can. That way, they will have some evidence to look at when trying to convince these AEW talents that they will be in good hands under the WWE umbrella.
#3: AJ STYLES VS. EDGE AT WRESTLEMANIA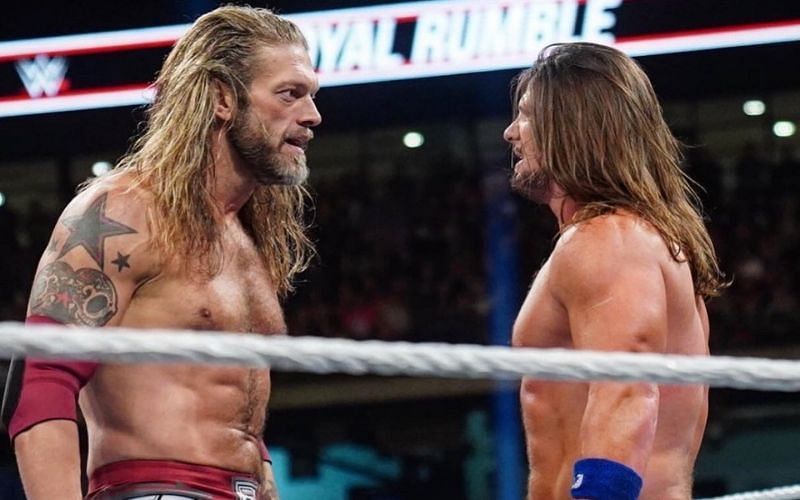 Another popular rumor gaining traction is concerning Edge's opponent for WrestleMania. You know he is going to have a big match on the show. The question is with who? The answer appears to be AJ Styles. Edge cut a promo last week on Raw where he dropped hints about Damian Priest, Finn Balor, Cody Rhodes, and AJ Styles. However, AJ seems to be the likely opponent. Styles has made no secret that he wants Edge at WrestleMania since he's mentioned it in many interviews over the last few months.. It is one of the few dream matches that haven't happened in WWE. It would be a great match.
The question is, how do they get there. I think Edge and AJ Styles will be a show stealer on whatever night it's on. AJ just signed a new contract, so Vince probably wants to reward him with the match he wants at the Show of Shows. Remember, it was AJ Styles who campaigned for the match against The Undertaker in 2020. AJ usually gets what he wants because Vince knows he is one of the best performers in WWE and he is always going to deliver a great match. Only time will tell, but I would bet money this is the match they go with for WrestleMania. I can't wait.
#2: "STONE COLD" STEVE AUSTIN VS. KEVIN OWENS AT WRESTLEMANIA
I beat John Cena in my first match in @WWE.

Unbelievable moment. I'll never forget it. It's something I'll look back on fondly forever but there is a dark cloud around that memory, just one thing I wish I could change…

I wish it would have happened anywhere but Texas 🤮🤮🤮

— Kevin (@FightOwensFight) February 25, 2022
I would put this at a solid 70% as well. This rumor gained steam around the time the Cody Rhodes news came out. Kevin Owens has been taking random shots at Texas the last several weeks to apparently build to a match with Stone Cold Steve Austin in Dallas at WrestleMania. Steve is 57 so I don't expect a 10 star classic Tokyo dome match. However, with Austin's style, I can see him putting on a pretty good match with the likes of Kevin Owens. Sami Zayn signed a new contract and won the Intercontinental Title. AJ Styles signed a new contract and gets his WrestleMania match with Edge. So it appears as if Kevin's reward for signing a new contract is a match with his wrestling idol "Stone Cold" Steve Austin.
It still hasn't been confirmed so anything could still happen. The fact that Kevin is still taking shots at Texas leads me to believe that something has been agreed upon. Just hearing that glass break for an Austin match again will be memorable in front of a WrestleMania crowd.
#1: ROMAN REIGNS VS BROCK LESNAR WWE UNIVERSAL CHAMPIONSHIP UNIFICATION MATCH
This bit of news was kind of confirmed on Smackdown when Roman Reigns and Brock Lesnar signed a contract for a Winner Take All Unification match at WrestleMania. Paul Heyman then suggested for a second straight show that Brock wouldn't make it to WrestleMania as WWE Champion because he would lose that WWE Title at the MSG show this Saturday, March 5th. What's interesting about this is, that's a non-televised live event. Meaning, if you advertise a match locally, you shouldn't have to mention it on television. I doubt WWE is trying to get people from San Francisco, California to fly all the way to New York to watch Brock Lesnar defend his WWE Title. That tells me there's a 50/50 chance Brock loses the WWE Title this Saturday at MSG.
It has been said that there will still be two "World" Titles after WrestleMania, at least based on recent comments from Dave Meltzer noting that Raw and Smackdown will likely continue to each have a champion in the future. For that to happen, either Brock needs to lose his before WrestleMania, or one champion is either going to vacate the title or lose it quickly after the show, similar to what Becky Lynch did with the Smackdown Women's Title in 2019. It would be a bad look to have Brock lose at a house show a few weeks before his match with Reigns, so I think he retains there. I think Roman wins the WWE & Universal Title match at WrestleMania and then either vacates one or loses it at the next Premium Live Event. Either way, I'm interested and that is a good thing.
FINAL THOUGHTS
Those were five of the hottest rumors going into WrestleMania 38 on April 2/3. There are others such as Sasha Banks and Naomi going after the Women's Tag Titles, which I think will happen as well as Sami Zayn vs Johnny Knoxville which I also think will happen, unfortunately. I think the card will shape up nicely by the time the show comes around. There are still a lot of questions to be answered. It should be an interesting month of March to get us ready for it.
Thanks for reading. Check out my TJRWrestling writing archive here. I'm on Twitter @GiftedMoney talking about wrestling among other things, so feel free to message me on there with any thoughts or comments.