Ric Flair Shares Touching Tribute To Dolph Ziggler Following WWE Release
Ric Flair has shared his thoughts on the recent WWE releases, including the end of Dolph Ziggler's run in the company.
There were more than 20 names released by WWE over the last few days with the biggest name of them all being former two-time World Heavyweight Champion Dolph Ziggler.
Dolph Ziggler signed with WWE in 2004 and by January 2006, he was known as Nicky (his real name is Nick Nemeth) as part of the Spirit Squad group. That group had some fun while working with some top names in the company, but it wasn't going to be a long-term thing for anybody.
By late 2008, Dolph Ziggler became a fixture on WWE television and had a 15-year run in the company as that character.
A graphic made by Sportskeeda mentioned some of the incredible stats during Ziggler's 19-year run in WWE. He was a 2-time World Heavyweight, a 6-time Intercontinental Champion, a 2-time US Champion, a 4-time Tag team Champion, NXT Champion and he wrestled the third most TV matches in WWE history with 1554.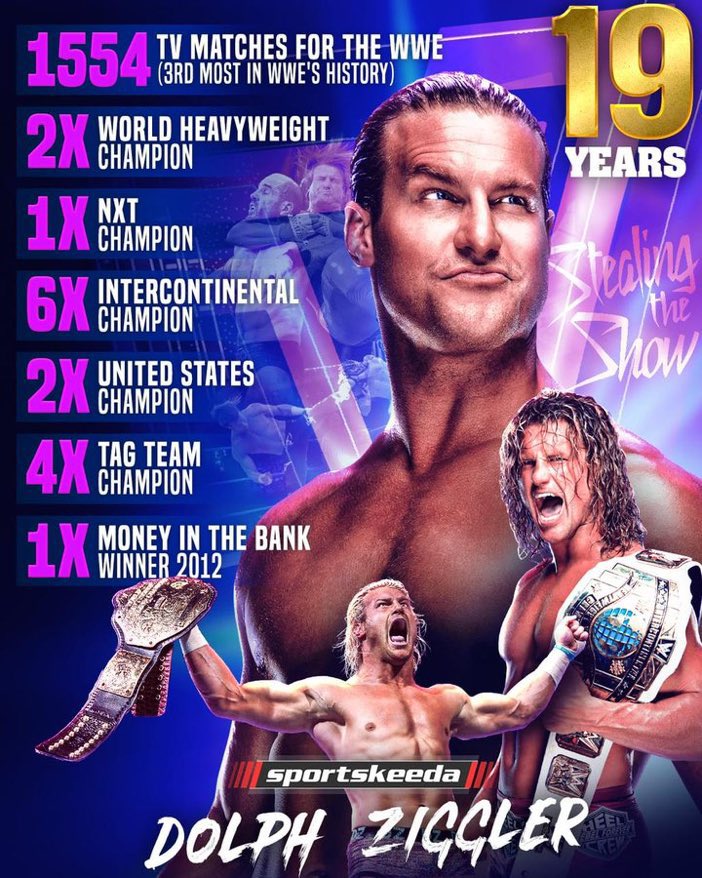 Ric Flair shared a touching message for his "dear friend" Dolph Ziggler
During his WWE career over nearly 20 years, Dolph Ziggler obviously made a lot of close friends in the company. Some big name WWE superstars like The Rock, John Cena and The Miz shared their thoughts about Ziggler.
Ric Flair has also posted a nice message about his friend Ziggler.
"Shame on me for being so busy that I haven't kept up with all of the releases at WWE. I just hope that each and every one of you know that at the end of the day, we all love wrestling, but it's a business first and foremost."

"I still after retiring in 2008, remember the day that I had to walk away as being one of the most difficult days of my life."

"And as for my dear friend, @HEELZiggler, who has been my close friend for 20 years, you have been nothing less than the best professional & the best at everything you have been called upon to do. A leader, a champion, and a man of unquestionable character. I'll never forget the letter you wrote me in the hospital. I know you will be successful in life because that's who you are.

"I look forward to our next meeting & 2 dirty martinis with extra olives!"
Shame On Me For Being So Busy That I Haven't Kept Up With All Of The Releases At @WWE. I Just Hope That Each And Every One Of You Know That At The End Of The Day We All Love Wrestling, But It's A Business First And Foremost. I Still After Retiring In 2008, Remember The Day That I… pic.twitter.com/42egoX69ll

— Ric Flair® (@RicFlairNatrBoy) September 23, 2023
When Ric Flair got married to Wendy Barlow in 2018 (they have since broken up), it was Dolph Ziggler who walked Wendy down the aisle. That just shows how close Ric and Dolph are, which is why Ric referred to him as a "dear friend" in his message above.