AEW/ROH Releases Jay Briscoe Shirt With All Proceeds Going To His Family
Following the tragic death of Jay Briscoe, AEW/ROH has released a special t-shirt with all proceeds going to his family.
It was Tuesday, January 17th when Jay Briscoe was driving his car in Laurel, Delaware with his two daughters in the car. There was a driver in another lane who went into his lane for some reason leading to a head-on collision. Jay and the woman driving the other car were killed. Jay's daughters are in the hospital and thankfully are getting better despite their numerous injuries.
Jay Briscoe – whose real name is Jamin Pugh – passed away at 38 years old. He had a wife and three children.
As we have covered previously, there is a GiveSendGo donation page set up to provide some financial assistance for Jay's family that includes a photo of the family standing together. As of this writing, over $280,000 has been raised for the Pugh family following Jay's untimely death.
All Elite Wrestling's Tony Khan owns Ring of Honor has released a new t-shirt to support Jay Briscoe's family. The shirt is now available on the ShopAEW Website.
"On January 17th, the wrestling world lost one of its most beloved family members when Jamin Pugh, known professionally as Jay Briscoe, tragically lost his life in an automobile accident. A member of the Ring of Honor family from the very beginning, Jay became a multi-time ROH World Champion, a 13-time ROH World Tag Team Champion, and a first-ballot ROH Hall of Famer with his brother Mark."

"Together, The Briscoe Brothers were a part of ROH's foundation, the heart and soul, and were essential in building that company into the most influential wrestling promotion of the last twenty years But more than that, the Pugh family lost a husband, a father, a brother, a son, and in an effort to both honor Jay's memory as well as support those left behind, we are offering this 'Reach For The Sky' t-shirt with 100% of the proceeds going to benefit the Pugh family as they cope with this tragic loss."
You can see the shirt below.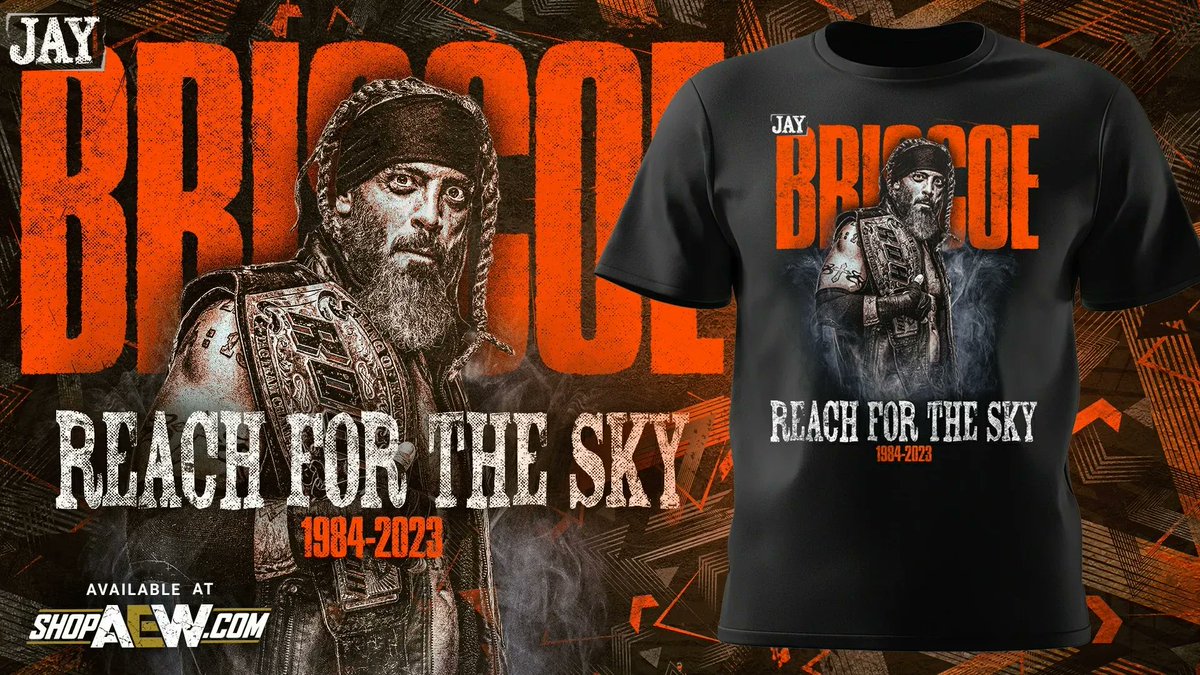 There have been reports that Khan wanted to book The Briscoe Brothers in AEW, but TV executives at Warner Bros Discovery didn't allow it due to insensitive remarks that Jay made over a decade ago. Even though many people close to Jay said he apologized for it, the Briscoes were kept off AEW TV.
In addition to this shirt and a special Jay Briscoe tribute show that has already been taped, AEW/ROH Owner Tony Khan plans to continue to honor the life and career of Jay Briscoe in the months ahead.