WWE Extreme Rules 2022 Recap: 7 Thoughts
WWE Extreme Rules 2022 is in the books and it was a very good show from top to bottom. Some of the results surprised me a bit but I thought the overall presentation was top-notch.
It felt like a big event and not just a "B-level" Premium live event. It's also the first real B-level PLE under the new regime as SummerSlam and Clash at the Castle were both huge stadium shows. If you need a review of anything that happened, check out John Canton's always insightful review right here if you haven't done so already. Let's analyze what went down.
#7: THE BRAWLING BRUTES DEFEATED IMPERIUM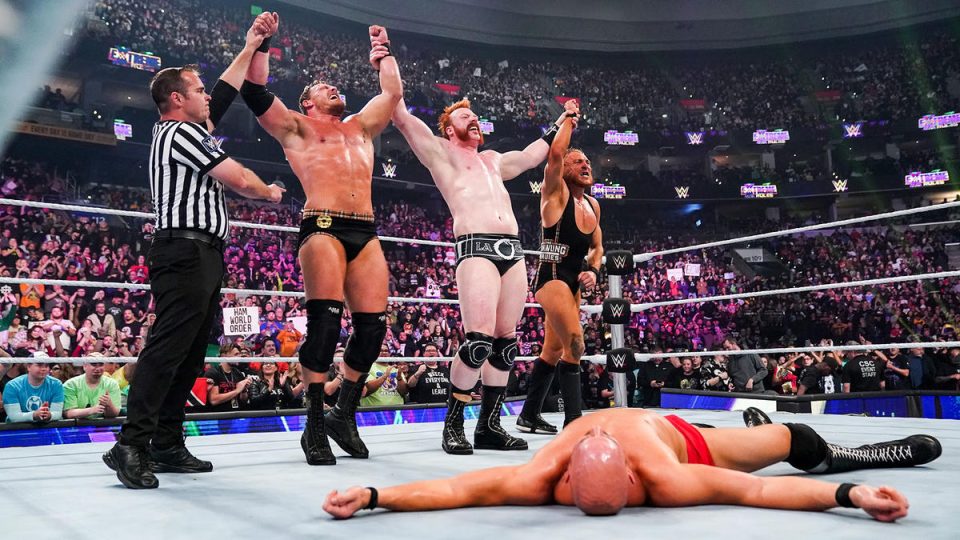 This was, as Sheamus would say, a banger. A good ol' fashioned Donnybrook is essentially a street fight with a bunch of Irish-looking weapons including a bar setup at ringside. It's good that Triple H realizes that a six-person NO DQ match should be treated as such and not have them stand on the aprons like idiots waiting to be tagged in. Sheamus and Gunther went through a war just 24 hours earlier on Smackdown and to follow it up with this was amazing. I'm going to go out on a limb and say right now that Gunther is probably Sheamus' best opponent of his career in terms of pure wrestling matches. I know he put on some great ones with Cesaro, but I feel like these were just another level. It's amazing what Sheamus has been able to do in Year 15 of his career.
It's also great seeing Butch get some shine on a Premium Live event. I feel like he is going to thrive under the new regime. It was a great idea to get Imperium back together. They never should've been split up on the main roster. The match was great and Sheamus won with a Brogue Kick to Giovanni Vinci. It was a fitting end and it protected Gunther. You want his first pinfall loss on the main roster to be memorable. This also means the feud will likely continue which I do not mind. Give me Sheamus vs. Gunther III at Crown Jewel in Saudi.
#6: RONDA ROUSEY IS YOUR NEW SMACKDOWN WOMEN'S CHAMPION
If there was one result I wasn't happy with at Extreme Rules, this is it. Look, I get it. The destination is Ronda Rousey vs. Becky Lynch at WrestleMania 39 in LA next April. However, I felt like you could've extended Liv's reign a little longer. You don't need Ronda as Champion for SIX Months.
The match was fine. There were some sloppy spots, but they got through it. Ronda won when Liv passed out to a cross-arm breaker with the chair wedged into her head. Liv appeared to be smiling as she passed out and during the aftermath. During a WWE Network exclusive, she also appeared to be in a trance so maybe this leads to a character change for her. She probably needs it. The fans only accept the smiling babyface act for so long before they turn on you. Maybe she can use this to launch something better. Regardless of the outcome, Liv has had a career year. She's had PLE matches with Becky Lynch, Sasha Banks, and Ronda Rousey. She's going to be fine.
#5: KARRION KROSS DEFEATED DREW MCINTYRE
This match wasn't what I expected. I'm happy with the result, but I felt the strap match stipulation hindered what these two are capable of. I hate Strap matches in general as they don't allow you to do your whole arsenal of moves. These two would've probably had a better match with an Extreme Rules stipulation. Still, the match was okay. I loved Scarlett's involvement because it shows that she isn't just there to be a pretty face. She can hold her own.
I'm not too happy about Drew losing two PLE matches in a row, but I believe Kross needed this win way more. Drew is a made man. He's the top babyface on Smackdown. Kross is still trying to shed the image of his main roster run last year and I think character-wise, he is well on his way to doing that. They just need to put him in matches that showcase his abilities more. I don't think the strap match did that. I've seen Kross' work outside of WWE. I know what he's capable of. They just have to let him show it.
#4: BIANCA BELAIR RETAINS THE RAW WOMEN'S CHAMPIONSHIP
This is probably the match of the night for me. The first ladder match ever for the Raw Women's Championship. I thought Bianca and Bayley put on a hell of a match. I thought they took some risks and some brutal spots. Damage CTRL tried interfering but Bianca took care of them because Asuka and Alexa were written off with injuries.
Neither woman seemed shy about using that ladder during the match which I thought was great to see. I thought Bayley might be the one to end Bianca's reign, but I'm happy to see it continue. Bianca is now going to be the first black woman to hold the Women's Title for 200 days. I know she's aware of that and it is something she should be proud of. The final spot, the KOD on Bayley while she was holding the ladder was a hell of a spot. Kudos to Bayley for taking it.
Bianca retained the title so it begs the question of what is next. I assume Damage CTRL versus Team Bianca is set for Survivor Series so unless Bianca and Bayley run it back at Crown Jewel, that is probably the next time Bianca competes at a PLE. Great match for both ladies. They should be proud.
#3: FINN BALOR DEFEATED EDGE
This match basically played out the way I thought it would. I thought Edge might win, but I figured if Finn did win, this would be the way to do it with a lot of interference. The match was what it needed to be. It had wrestling, it had drama, and it told a fantastic story. I feel it could've benefited from having about 8-10 minutes shaved off of it. All in all, the match delivered.
The Judgment Day came out to help Finn, as they should. Then Rey Mysterio came out to help Edge, as he should. I'm glad they didn't run AJ Styles out there. Edge made his life hell for months and Mysterio didn't have his back last week. It would've made AJ look like a fool to then run out to save the day so I'm glad they didn't go that route. Michael Cole was great on commentary here as he tore into Dominik for attacking his father. Cole was on commentary during that whole angle between Rey and Eddie Guerrero over the custody of Dominik. It adds a little extra layer of realism that he is so upset by Dom's actions because he's seen what the family has been through.
Having Edge's wife, Beth Phoenix come out was a nice touch. The crowd wanted her and Rhea to go at it and they got their wish. Having The Judgment Day hold Edge hostage while Rhea threatened to scramble Beth's brains was tremendous storytelling. They knew that was the only way they could get Edge to say I Quit and they pulled it off. Having Rhea do it anyway just puts her over as that more vicious. I think we are definitely getting Rhea and Beth at some point. Whether it is this year or WrestleMania, I don't know. I firmly believe that match happens at some point in the next six months.
#2: MATT RIDDLE SURVIVES THE FIGHT PIT
This was another good match. This is a match that I thought could benefit from an EXTRA 5-8 minutes. It just seemed to end abruptly. What I saw was fantastic.
From Seth doing the Frog Splash from the cage, to them fighting on the platform, to Riddle's ridiculous senton bomb from the platform onto Seth. I thought it was everything it needed to be and it makes me think Seth is winning the United States Title on Raw tonight. Then Matt Riddle vs. Seth Rollins III (Rollins beat Riddle at Clash at the Castle last month) will be for the United States Title. It's what I would do.
Seth Rollins has been the wrestler of the year for WWE this year. Reward him by giving him the United States Title.
#1: BRAY WYATT IS THE WHITE RABBIT
What a masterful piece of business this was. The QR codes had been displayed for weeks. We all basically knew who they were leading to but it still provided quite the visual in the Wells Fargo Center. Triple H fooled us again with that Watermark end credits logo at the bottom of the screen that had become a staple of NXT Takeovers. As soon as the lights went out, the place erupted because they knew what was coming. Michael Cole asking Corey if they were still on the air and then shutting up for the rest of it was a nice touch. Let it breathe and let the crowd set the scene. Having the Firefly Funhouse characters come to life in the crowd was a nice touch. We had always wondered during Bray's run as The Fiend if any of those Funhouse characters would end up as real people. We might have our answer soon.
The scene shifting to what appeared to be the abandoned Funhouse was a nice touch as well. The same characters you saw come to life in the crowd were dead in the Funhouse. That could be symbolic that they were now taking a human form or it could symbolize Bray killing his alter ego and freeing the characters in the Funhouse. It was great storytelling. Having the makeshift Door fly open and a blinding light. I liked the apparent tribute to Brodie Lee's debut with AEW there. When the light went off and we saw that familiar lantern, the place came unglued. Once Bray came out and took that mask off, I heard a reaction that I haven't heard on a B-level PLE in a long time. Bray Wyatt is over, kids. What a shocker.
What does this mean? Time will tell. He didn't attack anybody so the mystery of whether he's heel or babyface is still there. Could we see a "Wyatt 6" form? It's possible. I know the temptation is going to be to let him run roughshod as a heel but listen to that reaction again. The fans absolutely do not want to boo Bray Wyatt. They once booed Santa Claus in Philadelphia but they wouldn't boo Wyatt. Other than a brief face run of a few months back in like 2015, he's pretty much been a heel his entire run on the main roster. Try something different. He doesn't have to change his character. Just target heels instead of babyfaces. The crowd will latch on to it. Trust me.
That will do it for the Extreme Rules 2022 review. Next up is Crown Jewel in Saudi Arabia on November 5th where we already know it is going to be Undisputed WWE Universal Champion Roman Reigns against Logan Paul. WWE television is must see again for the first time in a long time. Enjoy the ride.
Thanks for reading. Check out my TJRWrestling writing archive here. I'm on Twitter @GiftedMoney talking about wrestling among other things, so feel free to message me on there with any thoughts or comments.