Top 10 Wrestling Stories of the Week 6/17: WWE's Vince McMahon Investigated, Jeff Hardy Arrested, More
Welcome back, TJR readers! Did you spend all day Friday counting your pennies for the eventual Paige OnlyFans page, and missed WWE Smackdown? Perhaps you spent all day Monday hoping your leaders would hold those responsible for January 6th accountable, and missed Raw.
Worry not for I have returned with another edition of the Top Ten Wrestling Stories of the Week.
(Editor's Note: One story that won't make it on here is the rumor of Sasha Banks possibly being released. While it might be true some day soon, it's not official yet, so we're going to keep it off here just because it's a rumor for now.)
10. Bron Breakker to Face Cameron Grimes at NXT Great American Bash
Fireworks are going to continue all the way through July 5th this year. This week on NXT 2.0, Cameron Grimes came out after Bron Breakker successfully defended the NXT Championship against Duke Hudson. Grimes then challenged Breakker, after insinuating that Breakker got special treatment due to his father Rick Steiner. Breakker then accepted the title match for NXT Great American Bash on July 5th. NXT Great American Bash should not be confused with the American Bash that happens every time two or more people from a foreign country get together. (TJRWrestling)
9. Ronda Rousey to Face Natalya at Money in The Bank
It was announced this past Friday on Smackdown that Natalya will face Ronda Rousey for the Smackdown Women's Championship at Money in the Bank on July 2nd. Natalya earned a Smackdown Women's title shot two weeks ago on Smackdown by winning a Six-Pack Challenge. During a promo on last Friday's Smackdown, Rousey stated that she was going to show Natalya that the arm bar she learned from her mom is superior to that Sharpshooter that Natalya pilfered from her Uncle Bret. Clearly upset that anyone would insinuate that she would steal anything from her Uncle Bret, Natalya ended up attacking and putting the Sharpshooter on Rousey later in the show. Natalya would then go on to bash Goldberg for 30 minutes. (TJRWrestling)
8. Jay White Captures the IWGP Heavyweight Championship
With AEW X NJPW Forbidden Door event being a little over a week away, we have a new IWGP Heavyweight Champion. This week at NJPW Dominion, Jay White defeated Kazuchika Okada to capture the IWGP Heavyweight Championship. This is White's second time as IWGP Champion and is also the current leader of the Bullet Club. Although not yet announced, White will now reportedly defend the IWGP title at Forbidden Door against both "Hangman" Adam Page and Adam Cole in a three-way dance. This would be the second world title match at the event, as Hiroshi Tanahashi will face Jon Moxley for the Interim AEW Championship as well. It is unclear if White will also have to defend the title against Adam Bomb and Adam Rose at a later date.
The IWGP World Heavyweight Champion @JayWhiteNZ Crashes #AEWDynamite: #RoadRager
▶️ https://t.co/ecTVMhs1gZpic.twitter.com/4xyy4upFLi

— All Elite Wrestling (@AEW) June 16, 2022
7. Money in the Bank Qualifiers Begin
With WWE Money in the Bank being a little over two weeks away, qualifying matches for the Men's and Women's MITB matches were held this week. On the Women's side, Lacey Evans, Liv Morgan and Sasha Banks all qualified for the Women's MITB match. On the Men's side, only Seth Rollins has qualified so far. Drew McIntyre and Sheamus wrestled each other in a qualifying match last week on Smackdown, but that match ended without a winner when both competitors were disqualified. The winner of the Women's MITB match will of course get to either challenge the Raw or Smackdown Women's Champion at any time of their choosing. On the other hand, the winner of the Men's MITB Match will get to challenge Undisputed WWE Universal Champion Roman Reigns whenever Reigns is actually contractually obligated to appear.
6. Paige is Done With WWE on July 7th
Paige is soon going to have a lot more time to fight with her family. This week Paige announced on Twitter that she will be done with WWE as of July 7th. Later in her Twitch stream, Paige clarified that it was WWE's decision not to re-sign her. Paige was forced to retire from wrestling in 2018 due to a serious neck injury, and has done various non-wrestling roles with the company since then. Paige, who is only 29 years old, also stated in her Tweet that "FYI I'm not saying I'll never be in the ring. That day will most certainly come again! Wherever the return may be." We will have to wait and see if Paige can follow in Edge and Bryan Danielson's footsteps and wrestle once again, or if Tony Khan will just end up paying her more than MJF to not wrestle.
Thank you @WWE ❤️ pic.twitter.com/9OhGjov13s

— SARAYA (@RealPaigeWWE) June 10, 2022
5. Roman Reigns to Face Riddle Tonight on Smackdown
Just like the Intercontinental Championship, Roman Reigns seemingly does not appear on PPV's anymore. Reigns will however be defending the Undisputed WWE Universal Championship tonight on Smackdown against Riddle. Riddle earned this opportunity last week on Smackdown by defeating Sami Zayn. This past Monday on Raw, it was announced by Paul Heyman that if Riddle does not defeat Reigns he can never challenge him again for the title. Riddle did not seem too worried about this stipulation however, likely because he forgot about it five minutes later. (TJRWrestling)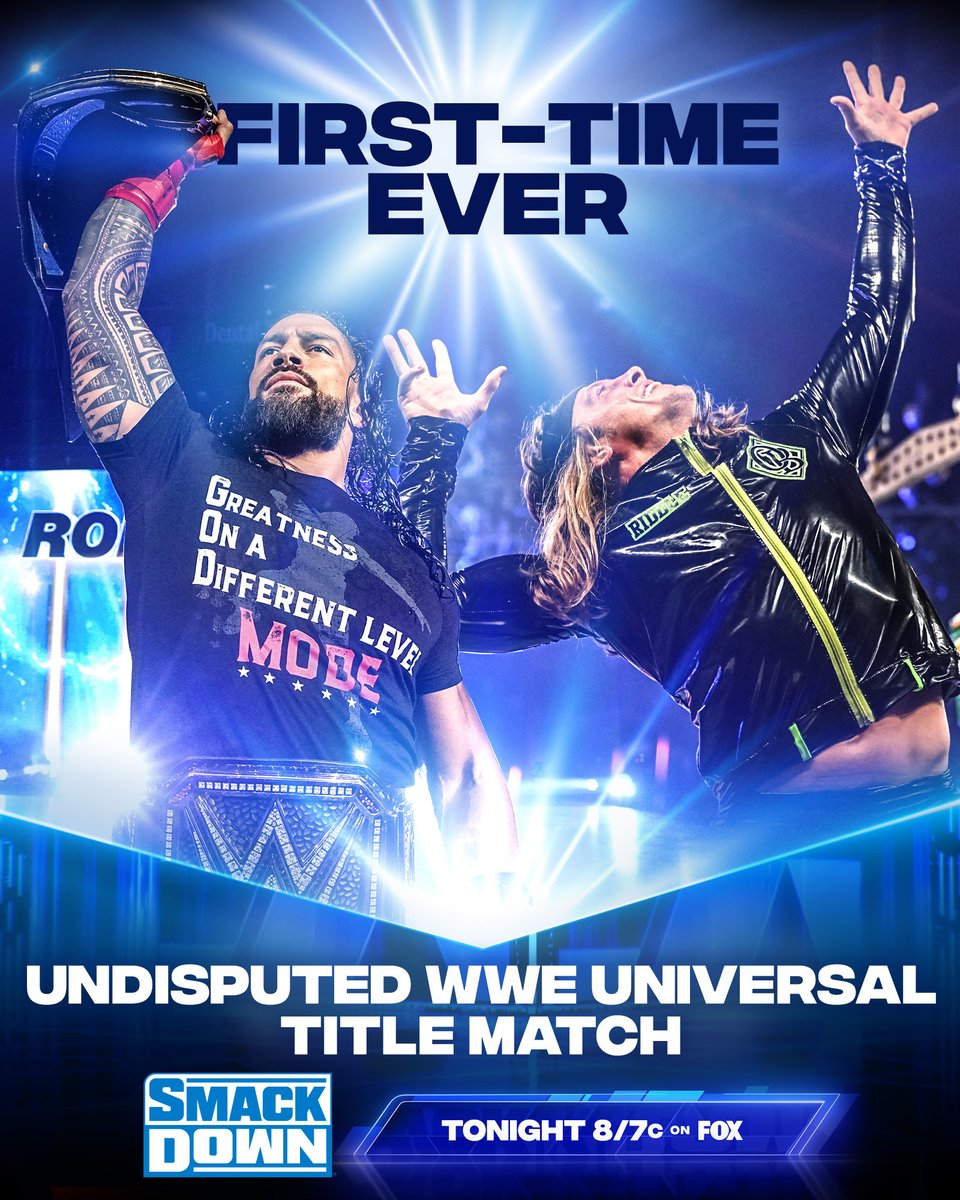 4. The Young Bucks Capture the AEW Tag Team Championships
The Young Bucks are once again AEW Tag Team Champions. This past Wednesday on Dynamite, The Young Bucks defeated Jurassic Express in a ladder match to once again capture the titles. After the match, Christian Cage shockingly turned on Jungle Boy of Jurassic Express, hitting him with a Killswitch and Con-Chair-to. To add insult to injury, Cage also talked trash to Jungle Boy's mother and sister as Jungle Boy was leaving on a stretcher. We will have to see if this means that Christian will actually have to now wrestle a match to earn more money than MJF. (TJRWrestling)
Oh no @Christian4Peeps!!! What are you doing?!?! We are all left speechless after that vicious attack on @boy_myth_legend by Christian Cage here on #AEWDynamite: #RoadRager on @TBSNetwork! pic.twitter.com/1iGvK8CTtr

— All Elite Wrestling (@AEW) June 16, 2022
3. Gunther Captures the WWE Intercontinental Championship
A name change did not stop Gunther from continuing to be dominant. This past Friday on Smackdown, Gunther defeated Ricochet to capture the WWE Intercontinental Championship. Gunter, under his former name of Walter, previously held the NXT UK Championship for an incredible 870 days before losing it to llja Dragunov in August of last year. Gunther will have a tough task ahead of him if he wants to try to hold onto the Intercontinental Championship for over two years, but at least he doesn't have to worry about defending it at PPVs.
2. Jeff Hardy Arrested for DUI
When this week started, the Hardy Boys were scheduled to challenge for the AEW Tag Team Championships on Dynamite. That unfortunately changed however, when Jeff Hardy was arrested Monday morning for three felonies including DUI, driving while his license was canceled/revoked and violating a restriction in which he was required to have a DUI interlock device in his vehicle. Hardy admitted to drinking earlier in the day, and blew almost 4x the legal limit on two breathalyzer tests. Hardy was arrested for DWI in both 2018 and 2019 as well as public intoxication in July of 2019. The following day after the arrest, Tony Khan announced on Twitter that Hardy had been suspended without pay and can only return after successfully completing treatment and maintaining his sobriety. Upon hearing about Hardy getting his third DUI, WWE Hall of Famer Sunny was quoted as saying "slacker". (TJRWrestling)
— Tony Khan (@TonyKhan) June 14, 2022
1. Vince McMahon Investigated by WWE Board
This time Vince McMahon himself may be at risk of being "future endeavored." This week the Wall Street Journal reported that McMahon is being investigated by the WWE Board due to a former employee being paid $3 million dollars after signing a non-disclosure agreement. The employee, who was hired as a paralegal, had her salary doubled from $100,000 to $200,000 after beginning an intimate relationship with McMahon. This is all according to an anonymous email sent from one of her friends to the board last March. The Wall Street Journal also claims that more non-disclosure agreements have been unearthed as part of the process, running into the millions of dollars. The agreements are in relation to both Vince McMahon and WWE's Head Of Talent Relations John Laurinitis, and were seemingly made to other female employees within the company.
It was also reported this week that Vince and his wife Linda McMahon actually have been separated for some time, but are still officially married to one another. Just this morning it was announced that McMahon is stepping back as WWE CEO and chairman of the board, with Stephanie McMahon taking over as interim CEO and interim Chairwoman. We will now have to all wait and see if the WWE board decides to go shopping for black garbage bags. (TJRWrestling)
Pat McAfee's reaction to the Vince McMahon news. pic.twitter.com/sE9a0bHV3j

— Wrestling News (@WrestlingNewsCo) June 16, 2022
That concludes another edition of The Top Ten Wrestling Stories of the Week. Thank you for taking the time to read this each week. Although I often joke, I have recently started refereeing with NYCW and respect more than ever what wrestlers do every week. I wrote an article all about it all right here. If you like what I do, despite my jokes being almost as bad as being Linda McMahon right now, then follow me on Twitter @Fowlerwrestlin1.