The John Report: WWE Smackdown 05/12/23 Review
This week's WWE Smackdown featured the return of Roman Reigns, plus six men compete in the tournament to crown a new World Heavyweight Champion.
We saw the start of the World Heavyweight Title tournament on Raw with Seth "Freakin" Rollins surviving that six-man part of the bracket. On Smackdown it's AJ Styles vs. Edge vs. Rey Mysterio in one match and Sheamus vs. Bobby Lashley vs. Austin Theory in the other match. The winners of those matches will meet in a singles match later in the show. Whoever wins that singles match will face Rollins at WWE Night of Champions on May 27th to become the new World Heavyweight Champion on the Raw brand.
It's also the first Smackdown episode since a fun WWE Backlash show in Puerto Rico last Saturday.
PLEASE NOTE: As of this Saturday, May 13th, I'm going to be on vacation for the next seven days. That means that next week starting with the May 15th Raw through that week, I'm not going to have reviews of the shows I typically write about. When that vacation ends, I'm probably going to do some sort of condensed reviews of the shows I missed. It's my first full week off since July 2022, so I look forward to disconnecting from social media and not writing for nearly all that week. As for TJRWrestling.net, our team of great writers led by my good friend Lyle will keep on producing content because that's what we do. I'm so proud of our team. All this means is that my reviews won't be coming next week, so don't freak out. I'm fine. I am just taking a week off. When it comes to next week's Smackdown I may be back home to write a live review, but I don't know yet.
From the Thompson Boling Arena in Knoxville, Tennessee, this is Smackdown for episode #1238. Follow me on Twitter @johnreport. Let's get to it.
The commentary team of Michael Cole and Wade Barrett welcomed us to the show.
It was right to the action with the Smackdown part of the tournament. Edge made his entrance and his two daughters, plus other family was sitting in the front row. Rey Mysterio and AJ Styles were already in the ring.
World Heavyweight Title Tournament: Edge vs. AJ Styles vs. Rey Mysterio
The first fall wins. No countouts or disqualifications in a WWE triple threat match.
There are 16 World Title reigns (that's WWE only) between them with Edge having 11 of them. Rey and Styles went after Edge to start, but then Edge came back with a boot to knock Styles down. They did a spot where Edge did a sunset flip into Rey. They did another combo move with a monkey flip leading into a splash. Edge hit a sitout neckbreaker on Styles for two. Edge sent Styles hard into the turnbuckle with Styles doing a sternum-first bump. Styles with strikes to knock Edge down along with a sliding forearm. Styles hit a backbreaker on Rey. Barrett said these three had 90 years of experience in pro wrestling, which is crazy. Styles clotheslined Edge out of the ring and Rey did a hurricanrana on Styles. Rey with a hurricanrana on Edge too followed by a kick on Styles. Edge caught a leaping Rey leading to a fallaway slam. Edge set up for a Spear, but both opponents kicked Edge and Rey did a headscissors on Styles. Rey with a Code Red sunset flip pin for a two count on Edge. Styles sent Rey under the bottom rope, Edge held Rey in a DDT position and Styles dropkicked Edge so it was a dropkick into a DDT combo move. All three guys were down on the floor leading to a break.
(Commercial)
Styles and Rey were battling on the apron leading to Edge hitting a double Spear that saw them all land on the floor. Edge looked like he landed pretty hard on the floor too, but the match continued. Edge covered Rey in the middle of the ring. Styles sent Edge out of the ring. Rey kicked Styles in the head and went for a charging attack, but Styles caught Rey with a Calf Crusher on Rey. Edge applied a Crossface on Rey at the same time, then Styles headbutted Edge and Edge headbutted Styles while Rey went to the floor. Rey with a hurricanrana on both guys. Rey wanted a 619 on both of them, but they were ready and knocked Rey down. Styles and Edge did a double clothesline spot to knock eachother down. Rey hit a running dropkick to knock Styles out of the ring. Edge with a kick on Rey and Edge sent Styles into the turnbuckle with AJ sliding into the turnbuckle. Great sell by AJ there. Edge was on the top turnbuckle, Rey went after him and Styles hit a Powerbomb out of the corner on Rey. They did a Tower of Doom spot out of the corner with Rey doing the Powerbomb part while Styles hit a superplex on Edge. Rey covered for a two count. Rey dropkicked Edge into the ropes, Rey went for a 619, but Styles tripped Rey up. Styles and Edge missed signature moves, Rey with a senton on Styles and Rey went for a 619 on Edge, but Edge caught. Edge applied the Edgeucator submission on Rey, then he let go and put the Edgeucator submission on Styles. Styles to the ropes didn't cause a break due to the rules, but Rey hit a 619 kick on Edge. Rey went up top and jumped off going for a DDT on Edge, but it looked Edge hit Rey with a Spear or that was the intent of it. Styles hit a springboard Phenomenal Forearm on Edge for the pinfall win after 16 minutes.
Winner by pinfall: AJ Styles
Analysis: **** Awesome match. It was unpredictable, so that makes it fun to watch. You don't see four-star level matches to start WWE TV shows like this. There were so many nearfalls in the match. I thought the finish was done really well even though Edge's Spear on Rey didn't look that great but it's a tough move to do on a guy jumping off the ropes. Styles finishing off Edge with a Phenomenal Forearm was a good way to end it to give Styles some momentum following his return to action. This was a great match between three guys in their mid-to-late 40s showing they can still put on excellent matches like this. All three guys are faces, so the crowd didn't pick sides that much, but you could tell they wanted Edge to win the most.
The win means AJ Styles goes on to the semifinals of the World Title tournament.
A replay was shown of Sami Zayn & Kevin Owens beating The Usos to become the WWE Tag Team Champions at WrestleMania 39. They did the rematch two weeks ago leading to Zayn & Owens winning again.
The Progressive Match Flo replay was shown of Backlash when The Bloodline beat Owens, Zayn & Matt Riddle. Solo Sikoa pinned Riddle with a Samoan Spike, but Jimmy and his brother Solo argued during the match.
Roman Reigns and The Bloodline are coming up later.
Sheamus made his entrance with The Brawling Brutes for the second triple threat match of the show. Butch and Ridge Holland went to the back while Sheamus was cheered by the fans.
(Commercial)
Bianca Belair is coming up later for a championship celebration since she passed a milestone and she's from Knoxville.
The end of Bobby Lashley's entrance was shown with him in the ring. The US Champion Austin Theory was next.
World Heavyweight Title Tournament: Sheamus vs. Bobby Lashley vs. Austin Theory
Theory tried to run away right away, but Lashley and Sheamus stopped that. Back in the ring, Lashley hit a neckbreaker on Theory while Sheamus hit a rolling senton on Theory. Lashley clotheslined Theory out of the ring. Lashley hit a flatliner on Sheamus followed by elbow smashes against the turnbuckle. Lashley hit a running shoulder tackle on Sheamus, but Sheamus came back with a powerslam. Sheamus hit Lashley with a forearm to the back. Lashley was on the apron, Sheamus with a neck snap on the top rope. Theory ran into Lashley on the apron, so Lashley bumped to the floor. Sheamus beat on Theory with the forearms to the chest with the fans counting to ten for all of them. They went to break there with Sheamus standing tall in the ring.
(Commercial)
Lashley was in control of Theory on the floor with Lashley sending Theory's arm/head into the ring post. Lashley and Sheamus got into a slugfest, then Sheamus with a kick and Lashley hit a clothesline. Lashley ran into double boots to the face from Sheamus. Sheamus jumped off the top, Lashley caught him and hit an overhead belly to belly suplex. Theory was back in with a dropkick on both guys. Theory with a chop block on Sheamus and a forearm for two on Sheamus because Lashley broke up the pin. Theory hit an impressive blockbuster neckbreaker on Lashley. Theory sand Lashley left the ring with Theory sending Lashley into the steel steps. Theory went for a leaping attack on Sheamus, who caught him and hit a backbreaker. Sheamus with a double axhandles, then corner clotheslines and Sheamus hit White Noise on Theory off the middle turnbuckle for a two count. Sheamus went for a move, but Theory got out of it and hit a sunset flip for two. Sheamus was back up quick with a knee to the jaw. Sheamus wanted a Brogue Kick, Lashley was back in and Lashley hit a Spear on Sheamus. Theory sent Lashley into the turnbuckle and Theory covered Sheamus for two. Lashley was bleeding from the head. Lashley hit a spinebuster on Theory. Lashley went for a Hurt Lock on Theory, Sheamus back in and he hit a Brogue Kick on Theory. Lashley dumped Theory out of the ring and Lashley pinned Theory for the win. It went about 14 minutes.
Winner by pinfall: Bobby Lashley
Analysis: ***1/4 It was another very good triple threat match, but not as exciting as the one before it. With that said, I admire Bobby Lashley for staying in the match after he was sent hard into the steel steps by Austin Theory, Lashley got a big cut on his head and still finished the match to pick up the win. An issue I have is that WWE does the "hit a finisher, then third guy steals a pin" ending far too often since Theory did it at Backlash (and when he won the US Title at Survivor Series) and now we see it again, but at least it's a face like Lashley doing it this time. Anyway, it was another match where three guys worked really hard, lots of action and fun to watch.
That means Bobby Lashley will face AJ Styles in the main event to determine who goes to Night of Champions.
They showed the locker room door of Roman Reigns because he's coming up soon.
This Monday on Raw: Cody Rhodes reacts to Brock Lesnar attacking him on Raw. GUNTHER awaits a number one contender for his Intercontinental Title because there's a battle royal. Plus, Becky Lynch addresses Trish Stratus.
(Commercial)
Grayson Waller walked into the office of WWE Official Adam Pearce. Waller had an idea to have the winner of AJ Styles-Bobby Lashley match on the Grayson Waller Effect talk show next week. Pearce thought that sounded good, so it's on for next week. Barrett complained about it even though he's a heel announcer.
Analysis: I like Grayson Waller a lot. He's a talented guy and can be a big deal in WWE if they use him right. The promo skills are there while Waller is an awesome athlete as well.
Cameron Grimes vs. Baron Corbin
It's the Smackdown debut of Grimes, who has the same theme song and look from his NXT run. Baron Corbin did a promo about how Grimes was the last pick in the draft and in two minutes, Corbin said Grimes will be wishing he was in NXT. The bell rang.
Corbin charged and Grimes hit the Cave In double foot stomp for the pinfall win. It went about five seconds, I guess.
Winner by pinfall: Cameron Grimes
Analysis: No rating due to the match being so fact. Grimes is a talented guy that can have great matches, but this was more of an angle to humiliate Corbin.
There was a video about Cody Rhodes beating Brock Lesnar at Backlash, which led to Lesnar attacking Cody on Raw during Cody's World Heavyweight Title match.
The Bloodline made their entrance led by the Undisputed WWE Universal Champion Roman Reigns, who didn't even look at the new World Heavyweight Title that was on a table. Paul Heyman looked at the title with disgust. Reigns stared into the camera holding his titles. They went to break.
(Commercial)
Let's Hear from The Bloodline and Roman Reigns
Roman Reigns was in the ring for some promo time joined by The Usos (Jimmy & Jey Uso), Solo Sikoa and the Special Counsel "Wise Man" Paul Heyman. It's 984 days for Roman Reigns as the Universal Champion. Reigns: "Knoxville, Tennessee…acknowledge me!" That led to the mix of cheers/boos with a lot of "1" salutes in the building. There were some "Roman" chants.
Roman Reigns said that greatness garners respect. Reigns said regardless of reactions or not, this is one thing that must be respected. Reigns said that every man in this ring main evented both nights of WrestleMania. Reigns said we know it's only been a few years of two night WrestleMania, but Reigns said that we know they will be the only ones to do it. Reigns called out Solo for stepping up when Reigns wasn't there at Backlash. Reigns said there was concern when they got Solo on the road because he was in the ring with the best of all time and he said Solo has shown he can swim instead of sink. Reigns said that Solo handled the Riddle problem. Solo mentioned KO & Sami to Roman, so the fans chanted "Sami" at them. Reigns said they aren't a problem. Reigns said there is an actual problem. Reigns: "The problem is your brothers." The fans let out a loud "ooohhh" reaction as Reigns stared at The Usos.
Roman Reigns walked up to The Usos asking what did you think was going to happen when you lose in the main event of WrestleMania? Reigns said that they lost the rematch they dedicated to Reigns. Roman wondered why they dedicated a tag team championship to him when he's the greatest singles champion ever. Reigns said they have Hall of Fame tag teams in the family. Reigns was mad about The Usos for misrepresenting the family. Reigns told them they know better than this and Reigns told them to apologize. The fans were shouting "no" to that. Reigns said he doesn't want to hear anything other than "I'm sorry" or "I apologize, my Tribal Chief." Jimmy was talking to Jey while the fans were chanting "no" at them. Reigns told them not to listen to these idiots. Reigns pushed Jimmy telling him to apologize. Jimmy was laughing about it, Reigns said it's like the Goodfellas commercial about a clown and Reign shoved Jimmy in the face. Heyman went to the apron at this point. Jey stepped in front of his brother and said to Roman: "Hey man, we apologize."
Jey said "we apologize, Uce" to Reigns. Jey said that if Reigns gives them one more shot they will bring back the championships to The Bloodline. Reigns said that the Tag Team Championships will come back to The Bloodline and Reigns told Heyman to fill them in.
Paul Heyman said that The Tribal Chief had a game plan in hand and he was talking about how they were flexing their muscles. Heyman announced that at Night of Champions, Kevin Owens & Sami Zayn will lose the Undisputed WWE Tag Team Titles against Roman Reigns & Solo Sikoa. Reigns said that he's going to dedicate the tag team victory to the greatest tag team of all time – Afa & Sika aka The Wild Samoans. The Usos were all sad about it. Reigns, Solo and Heyman left while Reigns glanced at the new World Heavyweight Title.
Analysis: The Bloodline drama is always so great to watch. We went from waiting for Sami to turn against Reigns and now it's going to build up to wanting to see The Usos turn against Reigns. It's because Reigns is such a dominating heel character that is easy to hate. At first, he was bragging about how they headlined WrestleMania and then he was out there to humiliate The Usos including Reigns shoving Jimmy right in the face. When Jimmy stepped toward Roman, Jey apologized for the team and that seemed to squash the beef. I don't know if Reigns and Solo will win the titles, but they are both booked so strong that they might do it. Sami & Kevin working Night of Champions in Saudi Arabia is a bit of a surprise since they passed on working on Saudi shows in the past, but I guess it's happening now. I liked this a lot. It's great to see Reigns back in the mix although it is disappointing that Reigns likely isn't defending his titles at Night of Champions now. With all of that said, I want Sami & KO to win.
Damage CTRL were interviewed by Kayla Braxton. Bayley did a basic promo talking about Kai and Bayley are going to win the WWE Women's Tag Team Titles. Bayley told Kayla to tell Roman Reigns that this is Damage CTRL's show.
Liv Morgan & Raquel Rodriguez entered as the Women's Tag Team Champions.
(Commercial)
A video aired about Backlash with Wade Barrett narrating a video about the success of the show in Puerto Rico.
The Usos were arguing backstage with the LWO. The Usos were about to jump Joaquin Wilde & Cruz Del Toro with Zelina Vega, but then Rey & Santos Escobar joined their LWO buddies and The Usos backed off. That will likely set up a tag team match.
Women's Tag Team Championships: Raquel Rodriguez & Liv Morgan vs. Damage CTRL – Dakota Kai & Bayley (w/IYO SKY)
The champions worked over Kai a bit to start the match. Kai decked Morgan with a forearm to take control. They showed NXT Women's Tag Team Champions Isla Dawn & Alba Fyre watching backstage. Bayley tagged in with a clothesline on Morgan for a two count.
(Commercial)
Raquel was on fire against Kai with two fallaway slams, but Kai avoided a corkscrew elbow off the turnbuckle. Bayley tagged in and Raquel hit a double Chokeslam. Morgan tagged in leading to a splash and Raquel used Morgan as a battering ram. Raquel tossed Morgan onto Bayley. Kai knocked Raquel out of the ring, Morgan talked Kai out of the ring and Morgan hit a knee on Bayley. Kai made a blind tag, Bayley had Morgan on her shoulders and Kai hit a double knee attack on Morgan while Bayley completed the Powerbomb. It looked like a rough landing for Kai, who hurt her knee. Kai covered Morgan slowly for a two count because Raquel made the save. Bayley told Sky to get a title, Raquel stopped that from happening, Raquel knocked Kai down on the floor and Morgan rolled up Bayley and sat on Bayley for the pinfall win after nine minutes.
Winners by pinfall: Raquel Rodriguez & Liv Morgan
Analysis: **1/2 The match was okay. It looked like a rough landing for Kai after that top rope move, but then she was able to move around okay during the distraction spot. I think they are clearly building to IYO SKY splitting from the group and probably becoming a singles act. Bayley will blame Sky for the loss and it will build from there. The champions retaining is fine with me. I like Raquel & Liv. They are clearly building chemistry together.
The Brawling Brutes were backstage with Sheamus, Ridge Holland Butch talking with Ridge telling Sheamus they should go for drinks. Pretty Deadly's Elton Prince & Kit Wilson walked in to introduce themselves. Sheamus wondered which one was pretty and which one was deadly. Pretty Deadly mocked the Brawling Brutes a bit and PD said "sorry for your loss" to Sheamus. PD left and Sheamus said they should go for beers with Ridge buying.
Analysis: I think Pretty Deadly will be a great addition to the Smackdown roster. They are a fun gimmick for sure.
The ring was getting set up for a Bianca Belair celebration.
(Commercial)
The graphic let us know it's official: Kevin Owens & Sami Zayn defending the Undisputed WWE Tag Team Titles against Roman Reigns & Solo Sikoa.
Bianca Belair Championship Celebration
Bianca Belair made her entrance with the Raw Women's Title. Belair recently passed 400 days as the champion and is the longest-reigning champion in the modern era. The reality is that Trish Stratus had a longer reign in 2005, but I guess that doesn't count as modern. It's just WWE's way of honoring Belair.
Bianca Belair was celebrating in the ring with a red carpet while they had white and orange balloons all around the ring. Belair greeted some of her family at ringside as well. I think Cole said longest women's title reign of all-time, which is absolutely not true or close to being true.
Asuka made her entrance while Belair was standing on the middle turnbuckle. Asuka got into the ring with Belair. Asuka shook hands with Belair and then Asuka spit some blue/green mist in Belair's face. Belair was screaming as she went down to the mat to sell it. Some WWE Officials and a trainer went out to the ring to help Belair. Asuka was laughing about it as she left.
Analysis: There's the heel turn for Asuka. It was reported by PWInsider earlier on Friday and we covered it here as well. Asuka has been a face for so long, so it's a fresh move for her to be a heel. I'm a bit surprised that they did all that so quickly without Belair saying a word.
AJ Styles and Bobby Lashley were shown getting ready in separate areas backstage. That main event match is next.
(Commercial)
Bianca Belair was shown in the trainer's room freaking out about the mist being sprayed in her face. The trainer's tried to calm her down.
* Kevin Owens & Sami Zayn go face to face with Roman Reigns & Solo Sikoa
* LWO – Rey Mysterio & Santos Escobar vs. The Usos (Jimmy & Jey Uso)
* The Brawling Brutes (Butch & Ridge Holland) vs. Pretty Deadly (Elton Prince & Kit Wilson)
* Grayson Waller Effect with AJ Styles or Bobby Lashley
World Heavyweight Title Tournament Semifinals: AJ Styles vs. Bobby Lashley
They did not get televised entrances although we saw the end of Lashley's entrance. Lashley blocked a punch, knee to the ribs and Lashley put his boot to AJ's throat. Lashley went for a running attack, Styles moved out of the way and Styles wanted a whip into the ropes, but Lashley sent Styles over the top to the floor. Lashley sent Styles back-first into the apron. Lashley put Styles on his shoulders and rammed him into the ring post like Bobby loves to do.
(Commercial)
Styles was in control with a chop block to the knee. Lashley got back up and sent Styles to the turnbuckle. Lashley charged, Styles avoided it and applied the Calf Crusher submission move. Lashley powered out of it by slamming AJ's head into the mat repeatedly. Styles kicked the legs of Lashley, then some punches and Styles hit a DDT. The top of Lashley's head was bleeding again from the cut earlier in the night. Styles tried a lift, but Lashley got out of it and hit a flatliner for two. Lashley tried a slam off the shoulders, Styles landed on his feet and Styles hit a running forearm. Styles went for a corner attack, Lashley got out of it and Lashley applied a Hurt Lock submission, but Styles got his feet to the ropes to break the hold. They left the ring again with Styles for a move into the post, but Styles shoved Lashley into the ring post and Styles hit a jumping kick to the head. Back in the ring, Styles jumped to the top, Lashley caught Styles on his shoulders and Styles wanted a Calf Crusher, but Lashley powered out of it. They were each going for moves, Lashley caught Styles and Lashley hit a powerslam for two. Lashley tried the Hurt Lock again, Styles got out of it and Lashley did a Spear into the turnbuckle. Styles with a knee to Lashley's head into the ring post. Back in the ring, Styles hit a Phenomenal Forearm on Lashley for the pinfall win after 12 minutes.
Winner by pinfall: AJ Styles
Analysis: *** This was okay, but the crowd wasn't into it that much compared to the first match on the show. Lashley working as hard as he did while he had a big gash on his head shows how tough he is and how much of a pro he is. I think Styles winning is the right call because it puts him in a strong position after coming back from an injury that took him out for over four months. The finish was booked well with Styles shoving Lashley into the ring post, which dazed Lashley a lot and Styles hit the Phenomenal Forearm to win.
The win means that Styles goes to the finals of the World Heavyweight Title tournament to face Seth Rollins.
Post match, AJ Styles posed with the new WWE World Heavyweight Title. The OC's Michin, Karl Anderson & Luke Gallows celebrated with Styles briefly. End show.
Analysis: I think Rollins will beat Styles and Night of Champions and I would be shocked a bit to see something other than that happen. That's nothing against Styles, who I like a lot. I just think should be the guy carrying that tile and wrestling often with it.
===
Three Stars of the Show
AJ Styles
Bobby Lashley
Edge, Rey Mysterio and Roman Reigns/The Usos
===
The Scoreboard
8 out of 10
Last week: 7
2023 Average: 7.24
===
Final Thoughts
I thought it was a great show like how Raw was carried by the tournament matches. On this show, the Styles-Edge-Mysterio opening match was outstanding. Lots of great action in that match with Styles getting the big win. That led to Styles against Bobby Lashley, who got his head busted open earlier in the night and still got through two matches. Styles winning over Lashley is certainly fine with me to set up Styles against Rollins for the new World Title at Night of Champions. I think Rollins should win that.
The Roman Reigns segment with The Bloodline was good although I'm sure it will lead to some frustration from some WWE fans too. That's because Roman & Solo Sikoa will get to challenge Sami Zayn & Kevin Owens for the WWE Tag Team Titles instead of The Usos getting the title shot. It could mean that Reigns will have four titles on him if he wins with Solo, which might happen since they rarely lose. A finish where The Usos screw up to cost Roman/Solo the win makes sense there. It's also a bit of a surprise that Sami & Kevin are working the Saudi show Night of Champions since they usually don't work those shows. Anyway, I thought the segment was booked well with Reigns trashing The Usos while also shoving Jimmy Uso, which led to Jey Uso apologizing for losing. The fans are going to rally behind The Usos over all this since Reigns is such a jerk to them.
It looks like Asuka is a heel now after the dreaded mist attack on Bianca Belair. Meanwhile, Damage CTRL is likely going to fall apart soon with IYO SKY going babyface since Bayley will probably blame Sky for costing Bayley/Kai their Tag Team Title match against Morgan/Rodriguez. It's a good way to book a split for a group. Lastly, some new stars from NXT made quick appearances and Cameron Grimes even got a quick win over Baron Corbin too. I enjoyed the show overall.
The next WWE Premium Live Event is Night of Champions on Saturday, May 27th from Jeddah, Saudi Arabia with this lineup so far: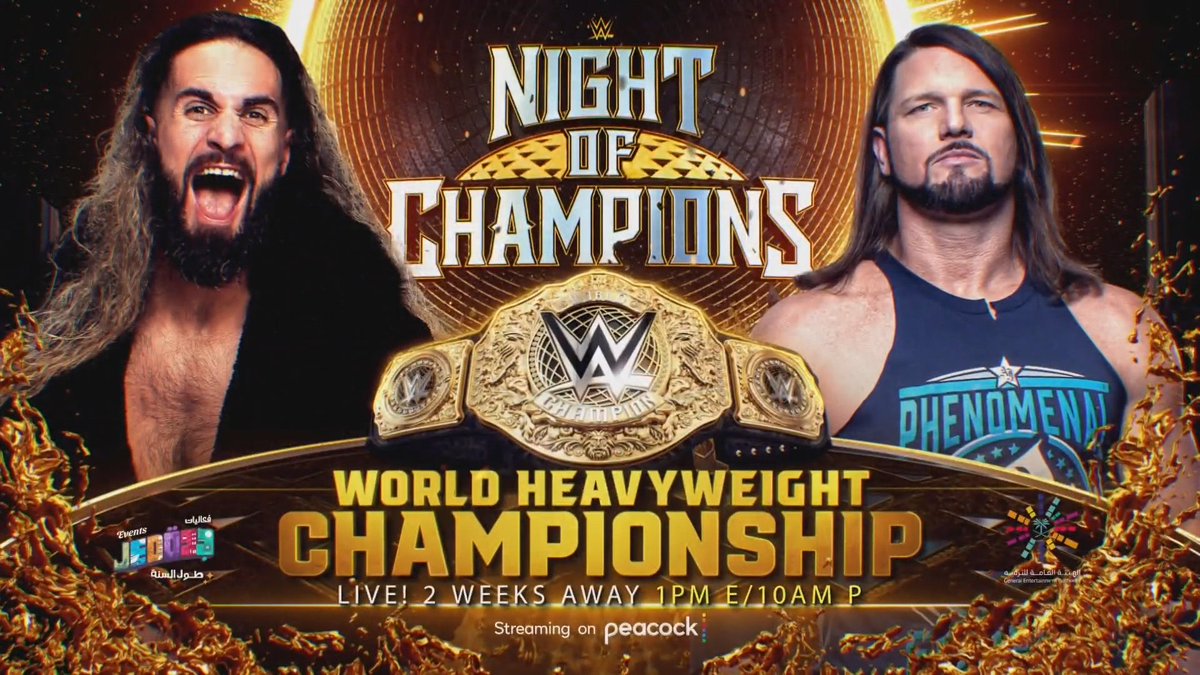 * Cody Rhodes vs. Brock Lesnar
* Finals of the World Heavyweight Championship Tournament: Seth "Freakin" Rollins vs. AJ Styles
* Undisputed WWE Tag Team Championships: Sami Zayn & Kevin Owens (c) vs. Roman Reigns & Solo Sikoa
There will be more to come.
===
Thanks for reading. Please check out my reviews of every WWE PPV ever listed in order. Go Toronto Blue Jays and Toronto Maple Leafs. My contact info is below.
John Canton
Email mrjohncanton@gmail.com
Twitter @johnreport