The John Report: The WWE Raw Deal 03/20/23 Review
This week's WWE Raw featured Roman Reigns-Cody Rhodes building to WrestleMania, Kevin Owens & Sami Zayn on the same page again, Logan Paul-Seth Rollins continuing their story and more.
We are under two weeks until WrestleMania 39. Getting close. I really like the card for the most part and looking forward to seeing it finalized in the days ahead. I thought Smackdown this past Friday was an excellent show in terms of advancing WrestleMania stories. The ending with Kevin Owens finally getting on the same page with Sami Zayn against The Usos should set up their WrestleMania 39 tag team match.
This is the Raw Deal for episode #1556 of Monday Night Raw. It's taking place at the Enterprise Center in St. Louis, Missouri. Follow me on Twitter @johnreport. Let's get to it.
Kevin Owens started Raw with his entrance. Sami Zayn joined him as the reunited best friends made their way down to the ring together. They showed Smackdown highlights when Owens saved Zayn from an attack by The Usos to end the show. The Raw commentary team was Kevin Patrick and Corey Graves as usual.
Let's Hear from Kevin Owens & Sami Zayn
There were "Sami" chants so KO said "I think they like you" to Sami. The fans chanted "KO" and Sami said they like you too, pal. Zayn said that it felt really good to come out here on the same page again. Zayn said he totally understood why Owens was hesitant in the past. Zayn talked about how they always needed eachother in their careers, but they did it as brothers.
Owens told Zayn that he has been Sami's biggest fan for 20 years and he has always said Sami was the best. Owens told Sami that he was better than Roman and The Bloodline while adding that everybody knows it. Owens said he couldn't take Sami being under Roman's thumb. Owens said it was time to get over what has happened and take down The Bloodline together. Sami said they know what comes next as they stared at the WrestleMania sign.
The Usos – Jimmy & Jey Uso – made their entrance right on cue as the Undisputed WWE Tag Team Champions. Jey said that's what a backstabber looks like referring to Zayn. Jey said that they are just going to backstab eachother because they cut eachother's throats. Zayn said that everybody knows that is Jey's biggest dream to backstab Roman Reigns. Jimmy said they saw Sami staring at that WrestleMania sign and said nothing will happen at WrestleMania.
Owens said that you know exactly what they were thinking when they looked at that sign. Owens said there's only one place to settle this. Kevin says it should be Jimmy and his brother against Kevin and his brother for the Tag Team Titles at WrestleMania.
Jimmy said that Owens and Zayn don't deserve a title shot since they just got together. Jey spoke up saying this could be their one shot to put this Owens & Zayn problem in the dirt. Jey says they accept.
The Usos went into the ring for a brawl with Owens and Zayn. Jimmy sent Owens into the ring post while Sami sent Jey out of the ring. Owens knocked Jimmy over the barricade. Back in the ring, Owens superkicked Jey and Sami went for a Helluva Kick, but Jimmy saved his brother.
They showed Roman Reigns, Paul Heyman and Solo Sikoa arriving at the building. It was shown on the video screen, so The Usos looked up to see that. There were referees out there anyway to stop the fighting. The Usos went to the back after that.
Analysis: That was great. A smart way to start the show with this storyline and set up the WrestleMania match. Jimmy did the right thing saying Sami & Kevin don't deserve a title shot, but Jey stepping up to say they can solve the Sami & Kevin problem is a way to make the match. The Usos come across as cocky heel champions that way, so it works. I think we have known the plan was The Usos vs. Sami & Kevin at WrestleMania for about three months now or even longer and now it's finally official. Just gotta wait for a story to play out. I also liked how Kevin Owens said it like "brother vs. brother" to show how close he is with Zayn. That match will be amazing.
The #WrestleMania match you all wanted? YOU GOT IT!!!#WWERawpic.twitter.com/FXSFZy8onB

— WWE (@WWE) March 21, 2023
Austin Theory made his entrance as the US Champion.
A video aired reminding us WrestleMania is just 12 days away.
(Commercial)
Austin Theory vs. Montez Ford
This is not for Theory's US Title. Theory beat Angelo Dawkins in a good match last week. Theory will defend the US Title against John Cena at WrestleMania 39.
Theory ran over Ford with a shoulder tackle. Theory came back with his own shoulder tackle followed by a "you can't see me" hand gesture. Theory stomped on Ford against the turnbuckle. The referee put on black gloves because there was some blood. Ford with a clothesline followed by a clothesline over the top to the floor. Ford tossed Theory over the barricade. Ford sat on two guys (likely two friends) at ringside saying "we'll be right back after these messages." Well done.
(Commercial)
They were battling on the turnbuckle with Ford punching Theory down and Ford hit a frog splash cross body block. That was an impressive leap. Ford hit a running uppercut followed by a belly-to-back suplex and a standing moonsault for two. They exchanged strikes, Ford hit a jumping kick, Theory tried a lift, Ford got out of it and Ford hit a DDT. Theory left the ring, so Ford hit a somersault dive over the top on Theory. Back in the ring, Ford went for an attack off the top, Theory avoided it and Theory hit a roll-through dropkick. Theory hit the A-Town Down onto the knee for the pinfall win after nine minutes.
Winner by pinfall: Austin Theory
Analysis: *** A good match for the time given. Ford is so fun to watch and he got to show a lot of what he can do. Every time Ford wrestles in singles he gives us a preview of what he can be when he's a solo act some day. I look forward to it when it comes, but I do like Dawkins too. Theory winning was the obvious outcome.
Austin Theory said that Montez Ford didn't believe in him, but now he does. Theory said that "John" (Cena) doesn't believe in him, but at WrestleMania, he will.
Analysis: A quick promo showing confidence as usual.
Roman Reigns was shown in the dressing room with The Usos sitting down on the couch beside him. Paul Heyman and Solo Sikoa were in the room too. Reigns said that it looked like they had some problems out there, but The Usos said they're okay. Jimmy talked about how frustrated he was being apart from his brother and said he will never forgive Sami Zayn for causing all of this. Reigns nodded as if he was approving of what Jimmy said. Reigns told everybody to leave except Jey. The show went to break there.
Analysis: That's a weird spot for a commercial, but it also keeps the viewers tuned in to see what that conversation is going to look like.
(Commercial)
It was right back to Roman and Jey sitting in the dressing room. Reigns said, "it's been a minute." Reigns said that he hasn't seen Jey, heard from him and now he's back making decisions. Reigns said in order to make decisions, you have to be part of The Bloodline. Reigns asked Jey if he was with them and if he is Bloodline. Reigns: "Are you still my family?" Jey: "I'm with you. I'm Bloodline, Uce." Reigns said: "I hope so." Reigns said that's all he needed to hear. Reigns told Jey he'll see him later and Reigns told Jey he loves him. Jey didn't say it back. Paul Heyman was back to ask if Roman got the answers he was looking for and Reigns said yes.
Analysis: Jey said that he is with Reigns, but does Roman believe him? That's what we don't know. I think if The Bloodline group loses all of their titles at WrestleMania then things will disintegrate from there and we'll see more of the Roman-Jey rivalry.
The announcers mentioned the Fatal 4-Way Mens & Women's Showcase Matches.
Adam Pearce was about to be interviewed by Byron Saxton when Chelsea Green walked up saying she made matching gear with Carmella, who wasn't there. Green said she found a new tag team partner. Green wanted Pearce to make the match. Green wanted Pearce to put her in the Women's Showcase tag team match at WrestleMania. She threatened to complain on social media or block him and said Pearce should give her what she wants.
Analysis: Chelsea does a good job with her "Karen" complaining gimmick.
The next A&E Biography episodes on Sunday are Charlotte Flair and Yokozuna. Plus, Roman Reigns-Brock Lesnar on WWE Rivals.
Omos was shown walking backstage for a match up next.
(Commercial)
A video package aired about Brock Lesnar and Omos talking about how big they are while showing the size difference along with more "tale of the tape" information. Lesnar is a foot shorter than Omos, but Lesnar has way more experience and has done it all, so it presents an interesting matchup.
Analysis: Good video. It will be a short match. Lesnar should win with an F5 that will look impressive on a man that weighs over 400 pounds like Omos.
Omos made his entrance. They showed Omos sending Brock Lesnar out of the ring last week on Raw. It didn't go smoothly, but Lesnar did go over the top to the floor. The replay WWE showed was edited.
Omos (w/MVP) vs. Mustafa Ali
Ali was trying to preach his positivity to Omos, so Omos shoved him down. Omos ran over Ali with a shoulder tackle while Dolph Ziggler was watching on a TV due to his loose association with Ali. Omos hit a two-handed Chokeslam for the pinfall win after one minute.
Winner by pinfall: Omos
Analysis: 1/2* Squash city. They need a name for the finish.
There was a quick promo from MVP about Omos beating Brock Lesnar at WrestleMania. It was very quick.
Logan Paul was shown walking out of his dressing room with some friends. The Miz walked up to Paul assuming he was going to be on The Miz's talk show The guy walking with Logan asked: "Who is that?" I guess that guy hasn't watched WWE for 15 years.
This Friday on Smackdown; Cody Rhodes faces Ludwig Kaiser for Cody's first Smackdown match in six years and what does a reunited Kevin Owens/Sami Zayn mean for The Usos. Find out on Smackdown.
(Commercial)
There was a plug for Backlash on May 6th in Puerto Rico with Bad Bunny as the host.
Logan Paul Hosts Impaulsive
Logan Paul made his entrance to boos. There were two chairs and a black carpet in the ring. Logan said that last week, Seth "Freakin" Rollins said that you don't want him in your house. Logan said you are in his house. Logan said that he doesn't need to do this, but he loves it. Logan said there are two people here that love him because he brought his father and there was a kid with Prime drink sign, so Logan gave the kid a drink on the way to the ring. Logan said there is not a person on this roster that he can't compete with and whether you like it or not, he is that good. Logan said he didn't have a guest for his talk show while saying his celebrity friends would never come to St. Louis. Logan said that they'd leave like the St. Louis Rams, which drew boos and he said they are the LA Rams. Logan said that WrestleMania is in Los Angeles on his 28th birthday. Logan mentioned guys named Seth are nice guys like Seth Rogen, Seth Curry (not as good as Steph but nice guy) and then Logan kept on ranting as he called for a replay of two weeks ago when he knocked Seth Rollins out with one punch. Logan called for it to play again. Logan asked for it again as they replayed it a few times with a graphic and sound effects. Logan's microphone shut off for a bit.
Seth "Freakin" Rollins was shown in the production truck claiming the audio wasn't working. Rollins said how will they save this episode of Impaulsive TV? Seth said he had an idea. Seth pushed the button for his music to play, so Seth left to make his entrance wearing some leopard attire.
Seth "Freakin" Rollins made his entrance with the fans singing along to the catchy tune. Logan told them to shut up, can't keep a football team and said they can't sing. Rollins got into the ring with Logan as the fans kept singing the song even after it stopped playing.
Rollins tackled Logan and threw punches. They left the ring with some officials/producers showing up to break it up. Rollins lifted up Logan, they went tumbling over the commentary table and Rollins tripped up Logan on the table. A bunch of security guys went to the ring to try to stop Rollins. Rollins jumped off the top with a cross body block onto two security guys. That allowed Logan to hit Rollins again with a right-handed punch to the face. Rollins sold it like he was knocked out again. Logan celebrated his actions while Rollins was still selling it. Logan said a swear word since it got muted and that was it.
Analysis: It was pretty good with Logan doing a lot better as a heel compared to when he was a face in the past. Logan is way better in a heel role. That Rollins dive to the floor was impressive, but it almost had a bad landing. The good thing is it looked like no injury or anything. It was close. Anyway, Logan continues to have the advantage against Rollins to show that Logan is a capable opponent.
Damian Priest and Dominik Mysterio were shown walking backstage.
A commercial aired for the WWE 2K23 video game that is out now.
(Commercial)
There was a video featuring The Miz and Maryse called "WrestleMania The Musical" with Miz trying to sing. It's on all of WWE's social media platforms. Maryse looks great in it at least. That's my feedback.
Dominik Mysterio (w/Damian Priest) vs. Johnny Gargano (w/Dexter Lumis)
They showed videos of Dominik-Rey Mysterio chatting on Smackdown and Gargano fighting with Grayson Waller at Johnny's house on NXT last week.
Gargano with a leap frog followed by a running back elbow. Gargano had his ribs taped up. Dominik charged, Gargano avoided it and hit a kick to the head. Gargano with a headscissors sending Dominik out of the ring. Gargano hit a suicide dive onto Dominik on the floor while Johnny was selling the rib injury. Dominik sent Gargano into the steel steps, barricade and dropped Gargano across the top of the barricade. That led to a break.
(Commercial)
Dominik took Gargano's rib tape off followed by two suplexes to boos and Gargano suplexed Dominik into the turnbuckle. Gargano with two lefty clotheslines, a belly-to-belly suplex and Dom came back with a necksnap across the top. Gargano avoided a move leading to Gargano doing a slingshot Spear for two. Dominik sent Gargano into the turnbuckle followed by a pin with his foot on the rope, so the referee stopped the count at two. Gargano hit a superkick for two. They exchanged punches, Dominik sent Gargano into the ropes and Gargano avoided a 619 attempt. Gargano with a clothesline and launched Dominik into the turnbuckle. Gargano hit a superkick for two. They battled on the top rope, Dominik hit a front suplex sending Gargano into the match and Dominik hit a Frog Splash onto Gargano's back (remember the injured ribs) for the pinfall win after 12 minutes.
Winner by pinfall: Dominik Mysterio
Analysis: ***1/4 That was pretty good with Dominik picking up the clean win. They worked well together, it was competitive the whole way and Dom found a way to win since he's part of WrestleMania while Gargano is not in a match at this point. Dominik continues to improve in the ring just like he gets better as a character, so that's great to see.
Dominik did a promo saying that last Friday on Smackdown, his father Rey Mysterio denied Dom's challenge for a match at WrestleMania. Dominik said he won't stop until he gets what he wants. Dominik said this Friday on Smackdown in Las Vegas, he knows the entire Mysterio family will be there live. Mysterio said that the family blocked his number, kicked him out of the group chat and wanted nothing to do with him. Dominik said The Judgment Day's group chat is better anyway. Dominik said maybe he'll ask his mother to give Rey permission to face Dominik just as long as Rey gets his balls out of her purse.
Analysis: I figured they would use Rey's wife and other family in the storyline to try to get Rey to accept the match, so we might see that happen on Smackdown this Friday. Dominik continues to have a lot of confidence during his promos.
The Bloodline was shown backstage with Paul Heyman telling The Usos and Solo Sikoa to go to the plane where the food has been delivered, so they can go at. Heyman said not Solo because Reigns wants to talk to him, so Solo went into the room.
Still to come: Roman Reigns is on Raw.
(Commercial)
Edge did a promo in a room with candles. Edge talked about how Finn Balor has no idea what Edge is capable of inside Hell in a Cell. Edge mentioned that he was inside Hell in a Cell with The Undertaker in his career. Edge mentioned Balor mentioning "the demon" and Edge told Balor to leave Finn at home while saying he should bring "the demon" to meet the devil. Edge was laughing a bit as it ended there.
Analysis: It looks like they might be going with "Demon" Finn Balor against Edge going back to his Brood roots. That has been rumored for weeks, so if they go with it then that will make it even better.
Let's Hear from Rhea Ripley
Rhea Ripley made her entrance in street clothes. They showed her ringside fight with Charlotte last Friday on Smackdown.
Ripley spoke about how Charlotte said that Ripley needs to be a champion and a star. Ripley said that Charlotte keeps talking about three years ago at Ripley's first WrestleMania when she was trying to make a name for herself. Ripley said that Charlotte claimed that she thought that she was a leader, but leaders respect others. Ripley said that she makes Charlotte question the respect that Charlotte has for herself. Ripley kept on talking, the fans chanted "what" at her and Ripley told her not to while saying they were pathetic. Ripley talked about bringing out insecurities of people. Ripley said that every time they have gone to war, she has gotten up and kept going while she knows Charlotte tries to keep people down, but not Rhea. Ripley said that Charlotte is done, she is washed and it's over. Ripley said without WWE, Charlotte is nothing. Ripley said that she didn't care about insecurities or if Charlotte respects her. Ripley said that at WrestleMania she'll become a champion and be the biggest star in WWE. Ripley said when Ripley holds the crown over Charlotte's head, Charlotte will not have to fear her, but she will have to respect Ripley.
Bayley and Damage CTRL interrupted the promo. Bayley said they all respect Ripley. Bayley mentioned she pinned Charlotte in her first WrestleMania and you probably saw what they did to Trish Stratus, so Ripley said she didn't need any help. Bayley said it was her show and Ripley wasn't dressed to compete while Bayley was, so the match was set. Adam Pearce was watching on TV, he told the referee the match is on and that's after a break.
Analysis: Ripley did a solid promo. I think the physicality between Ripley and Charlotte last week while the promos have just been average. It feels repetitive with Ripley talking about how Flair is going to respect her every time she speaks. Anyway, it was weird to have a heel like Bayley interrupting Ripley to set up a match, but here we are.
(Commercial)
Rhea Ripley vs. Bayley (w/Dakota Kai & IYO SKY)
Bayley sent Ripley to the apron, neckbreaker and a dropkick sending Ripley into the barricade. Bayley pulled on Ripley's arm against the ring post. Ripley sent Bayley into the ring post. Ripley hit a somersault dive off the apron onto Bayley on the floor. Ripley lifted Bayley and sent her into the turnbuckle. Ripley pulled on the arms leading to a knee to the face. Ripley with forearms to the back, Bayley with a forearm to the head and some chops. Bayley charged, Ripley caught her and slammed Bayley into the mat. Sky with a referee distraction, Kai with an eye gouge to Ripley and Bayley got a pin attempt for two. Bayley hit a belly-to-back suplex for two. Becky Lynch made her entrance with Lita and Trish Stratus. Lynch had a giant bag of popcorn to watch the watch.
(Commercial)
Bayley hit the Bayley to Belly slam for just a one count. Bayley hit it again, but Ripley got back up for a lifting slam. Bayley came back with a running knee to the face. Bayley knocked Ripley into the turnbuckle. Bayley tried a sunset flip, Ripley got out of it and hit two boots to the chest. Ripley applied the Prism Lock submission on the legs, but Bayley got the bottom rope to break. Ripley grabbed Kai and Bayley sent Ripley into the ring post. Trish and Lita went after Kai & Sky at ringside. Lynch scared Bayley into the ring so Ripley hit a headbutt and Ripley hit Riptide for the pinfall win after nine minutes.
Winner by pinfall: Rhea Ripley
Analysis: **3/4 The winning ways continue for Ripley. That was a strange match to book since they are both heels. It ended up being Lynch helping Ripley win although it was more about Lynch costing Bayley the match. Anyway, Ripley continuing her positive momentum makes sense in terms of booking the right person to win. Bayley and Damage CTRL have not looked strong much in the last month other than last week's Raw when they attacked Trish backstage. Other than that, Damage CTRL has been beaten up a lot.
Chad Gable was shown walking around backstage getting a manicure. Gable informed Otis that they are in the 4-Way tag team match at WrestleMania. Gable wanted Otis to join him at ringside. Otis ate one of the cucumbers. Maxxine Dupri talked to Otis about a photo shoot he had since he's a model now. Otis walked away from Maxxine and told Coach Gable "let's ride." Maxxine was mad.
Ricochet entered with Braun Strowman by his side.
There was a Brawling Brutes and Drew McIntyre movie parody video. It was from the 40-Year-Old Virgin movie with Steve Carrell. In this case, it was Ridge Holland getting a chest hair waxing while the others were laughing about it.
(Commercial)
Chad Gable (w/Otis) vs. Ricochet (w/Braun Strowman)
They started out with some mat wrestling. Gabe got a rollup for two. Ricochet came back with a headscissors followed by a dropkick. Gable to the turnbuckle, Ricochet went after him there and Ricochet tried a hurricanrana, but Gable blocked that. Gable slammed Ricochet down. Gable jumped off the top with a clothesline for two leading to a break.
(Commercial)
I missed a bit coming back from the commercial. Gable hit a slam off the shoulders for a two count. Gable caught Ricochet's ankle for an Ankle Lock, but Ricochet got out of that. Ricochet with a superkick, a knee to the face and then Gable hit a Dragon Suplex. Maxxine Dupri made her way down to ringside to talk to Otis and help him go backstage. Ricochet got out of a suplex attempt leading to a neckbreaker. Ricochet went up top and hit a Shooting Star Press for the pinfall win after about ten minutes.
Winner by pinfall: Ricochet
Analysis: ***1/4 A fun match between two terrific athletes that are two of the best workers in the company whenever they get a chance to show it. Based on the Otis story, it seems like his partnership with Gable will probably end around WrestleMania and maybe we'll see Gable get a singles push.
The graphic was shown for the Undisputed WWE Tag Team Championship match at WrestleMania 39 with The Usos defending both of their titles against Kevin Owens & Sami Zayn.
Bianca Belair made her entrance as the Raw Women's Champion for a tag team match.
(Commercial)
There was a "Hungry For Mania" WrestleMania moment sponsored by Snickers from WrestleMania 24 in 2008 when Shawn Michaels beat Ric Flair to end Ric's career…in WWE. I'm sorry…I love you. I love pizza. Sorry. I do.
Asuka made her entrance while Green & Niven were already at ringside.
Asuka & Bianca Belair vs. Chelsea Green & Piper Niven
This was advertised as Green & Carmella as the heel team, but Niven took Carmella's place in the match. Belair with a shoulder tackle. Belair did a handspring off the ropes, so Asuka tagged herself in. Asuka and Belair cleared the ring of her opponents. They went to break one minute into this.
(Commercial)
Green was on offense for a bit, but Asuka hit a double knee attack. Niven tagged in with a headbutt, then an elbow and Belair tagged herself in. Belair with a dropkick followed by a suplex on Green. Belair with a running shoulder tackle on Niven. Belair did a backflip off the ropes to avoid a charging Niven. Belair with a boot followed by a cross body block off the middle ropes. Green with the save, Asuka kicked Green and tossed Green out of the ring. Asuka charged, Niven moved and Asuka jumped into Belair's arms so Belair yelled at her. Belair pushed Asuka out of the way to avoid a charging Niven, who hit the turnbuckle. Belair hit a KOD slam on Niven for the pinfall win after seven minutes.
Winners by pinfall: Asuka & Bianca Belair
Analysis: **1/2 That finish with Belair hitting the KOD on Niven works every time. You don't see people lifting up Niven much, so it puts over Belair in a big way. That's probably why they put Niven in the match just to make Belair look impressive.
Post match, Asuka went into the ring with a kick to the head. Asuka hit a sliding knee as well. Asuka was smiling about it.
Analysis: I don't know if that means Asuka is a heel or if it was just a cheap attack when Belair wasn't ready. I think they'll keep Asuka in a face role, but I could be wrong on that. The build has been okay for Belair-Asuka, but nothing special.
The main event segment with Roman Reigns-Cody Rhodes was up next.
(Commercial)
There was an AJ Styles-Bron Breakker Snickers commercial with Styles giving some advice to the younger guy.
Next week on Raw: Brock Lesnar-Omos have a weigh-in. That's all they showed.
Let's Hear from Roman Reigns and Cody Rhodes
The Undisputed WWE Universal Champion Roman Reigns made his entrance with Special Counsel Paul Heyman and Solo Sikoa, who was dressed in his wrestling gear. It took a few minutes as usual. Reigns: "St. Louis, acknowledge!"
Cody Rhodes made his entrance to a big pop. Cody was in a suit as usual. Cody walked into the ring to confront Reigns.
Cody said normally he would ask "what do you want to talk about?" but he thinks he knows. Cody said he has heard Reigns talk about staying out of Bloodline business. Cody spoke about how he has heard Heyman say that Reigns has a "Cody Rhodes "problem" so Cody wants Reigns to define the problem to him. Heyman stepped up, so Cody said he wasn't talking to Heyman with Cody saying Heyman should step back because Cody was talking to the Tribal Chief.
Reigns said that Cody is not the problem, but what he represents is the problem. Reigns said Cody is what they used to be like their fathers – a professional wrestler. Reigns said he's a fighter and that allows him to be THE megastar around here. Reigns said we know Cody isn't going to do what he says he is going to do. Reigns mentioned Cody's past saying he ran away from WWE when he was Stardust and then he ran away from a promotion he started because he couldn't get over. There's an AEW reference. Reigns said that Cody came here, he got over and he mentioned Cody tearing his pec last year. Reigns told Cody he's not going to finish the story saying that it's a lotto ticket for him. Reigns told Cody that April 2nd is not the real moment because on April 3rd Cody will have to look in the mirror and confront the adversity again. Reigns said Cody needs to make a choice that his dad would be proud of, otherwise do what you always do and "run like a little bitch." The crowd did an "ohhh" reaction.
Cody said if you like his tale then what Roman is saying is true. Cody said he did run away, but what he did when he ran away is make it so that 100% of every locker room can make a lot more money, so he's not really worried about it. Cody talked about how he tried to be what their fathers were – a wrestler. Cody said he started here at 20 years old, so maybe that's the truth. Cody said that maybe inside he's just a runaway, like the taste of blood in his mouth, professional wrestler. Cody said that nobody needs to bring up his father's name again or else he might vomit. Cody said that his father is not coming to the ring to hit a bionic elbow and his brother works somewhere else. Cody said you'll only see him. Cody said that his mean-ass Cuban mother would tell him to knock that boy out and while he was laying there, hit him again for good measure.
Cody said that he knows what April 3rd (the day after WrestleMania) will mean for Reigns. Cody said that Roman Reigns is going to wake up and remember what it's like to lose. Cody said that when Roman loses those titles, here is what else is going to happen – Jey will leave you and Jimmy will leave you too. Cody mentioned Solo staring at Cody while Cody said he remembered when he was the second-generation guy flanked the champion (a reference to Legacy when Cody was with Randy Orton). Cody told Solo that he thinks he's ready, but he's not ready. Cody said that Solo will leave Reigns too while Heyman will be an advocate again. Cody said that Reigns will be without a family, a Roman with no more Reigns and a chief without a tribe. Reigns took that all in and left without any physicality. The fans were chanting "Cody" as Reigns simply walked away.
Cody got into a staredown with Solo in the ring. Reigns was in the aisle with Heyman. Reigns shouted for Solo to leave now. Solo walked away from the staredown and Cody said he was right about how he knew Solo wasn't ready. Solo tried to strike, but Cody kicked him back. Reigns got on the apron, put his hand on Solo's shoulder and told him to leave. Cody had a staredown with Reigns. That's how the show ended.
Analysis: There was a lot there on both sides. Reigns was confident, he trashed Cody's family and he pointed out all of Cody's downfalls while even taking a shot at AEW as well. Cody getting the last word with Reigns was smart because it is what people will remember most. Cody said that Reigns is going to lose everything when he loses the titles, which could certainly be true. Roman sold that really well because he took a while to think about it and then left without any physical contact. Cody got into Roman's head. We don't see Reigns react like that, so it puts over Cody because of what he said that rattled Reigns a bit. As for the Solo stuff, that was interesting because they book Solo to be so strong, so saying that he "isn't ready" seems like a stretch, but coming from Cody it does make sense since Cody was in a similar spot in Legacy with Randy Orton. Anyway, I liked it as a promo segment with Cody standing tall by the end of it.
Did @CodyRhodes predict @WWERomanReigns' future?#WWERawpic.twitter.com/LebDDtvs78

— WWE (@WWE) March 21, 2023
After the show, Solo Sikoa tweeted this.
Now we have a problem.#WWERawpic.twitter.com/V9nRJTiVRy

— Solo (@WWESoloSikoa) March 21, 2023
Three Stars of the Show
1. Cody Rhodes/Roman Reigns
2. Sami Zayn/Kevin Owens/The Usos
3. Austin Theory
The Scoreboard
7.25 out of 10
Last week: 7
2023 Average: 7.25
Final Thoughts
It was mostly a good show. Lots of talking throughout because it's WrestleMania season, so that's fine. I liked the opening promo and main event promos the most. In terms of matches, there wasn't anything that really stood out that much, but it was all okay overall.
The official WrestleMania 39 lineup looks like this right now with more to come.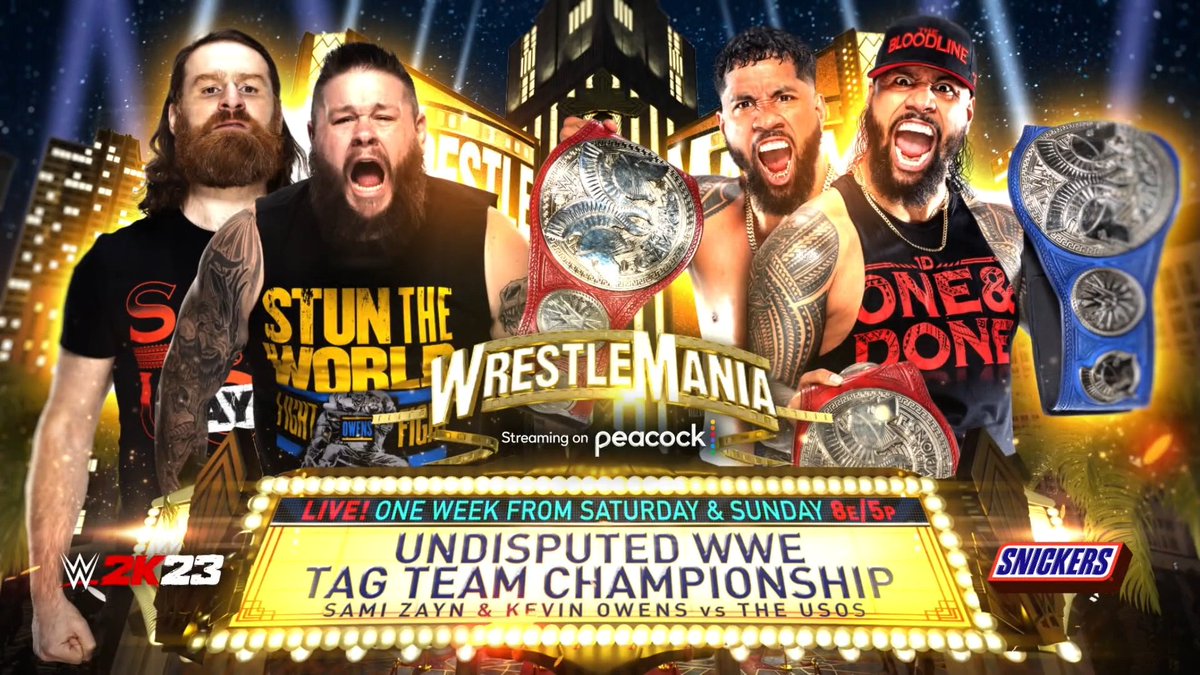 * Undisputed WWE Universal Championship: Roman Reigns (c) vs. Cody Rhodes
* Undisputed WWE Tag Team Championships: The Usos – Jimmy & Jey Uso (c) vs. Sami Zayn & Kevin Owens
* Smackdown Women's Championship: Charlotte Flair (c) vs. Rhea Ripley
* United States Championship: Austin Theory (c) vs. John Cena
* Raw Women's Championship: Bianca Belair (c) vs. Asuka
* Hell in a Cell Match: Edge vs. Finn Balor
* Seth "Freakin" Rollins vs. Logan Paul
* Intercontinental Championship: GUNTHER (c) vs. Sheamus vs. Drew McIntyre
* Damage CTRL – Bayley, IYO SKY & Dakota Kai vs. Trish Stratus, Becky Lynch & Lita
* Brock Lesnar vs. Omos
* Men's Fatal 4-Way Tag Team Match – The Street Profits vs. Braun Strowman & Ricochet vs. Alpha Academy vs. Viking Raiders
* Women's Fatal 4-Way Tag Team Match – Raquel Rodriguez & Liv Morgan vs. three other teams.
The Miz will host WrestleMania.
WrestleMania goes Hollywood for a special two-night Premium Live Event, Saturday, April 1, and Sunday, April 2, at 8 p.m. ET/5 p.m. PT, streaming live on Peacock in the United States and on WWE Network everywhere else.
===
Check out the WWE PPV Review archive right here. You can contact me using any of the methods below. Go Toronto Blue Jays, Toronto Raptors and Toronto Maple Leafs. Be safe and smart out there.
Thanks for reading.
John Canton
Email: mrjohncanton@gmail.com
Twitter: @johnreport