The John Report: The WWE Raw Deal 02/20/23 Review
This week's WWE Raw featured Austin Theory defending the US Title against Edge as the Road to WrestleMania continued.
There are less than four weeks left until WrestleMania 39 takes place. This week's Raw is following the Elimination Chamber Premium Live Event from this past Saturday. It was a very good show from Montreal in front of a hot crowd as Asuka won the Women's Elimination Chamber Match. That means Asuka will challenge Bianca Belair for the Raw Women's Title at WrestleMania 39. On Monday we found out that John Cena is returning to WWE in two weeks on Raw to likely set up his WrestleMania match, which is rumored to be against Austin Theory. We have less than six weeks until WrestleMania arrives.
This is the Raw Deal for episode #1551 of Monday Night Raw. It's taking place at the Canadian Tire Centre in Ottawa, Ontario. Follow me on Twitter @johnreport. Let's get to it.
It started with an opening video package showing highlights of the Elimination Chamber main event with Roman Reigns beating Sami Zayn to retain the Undisputed WWE Universal Title in a very dramatic match.
Let's Hear from Sami Zayn
Sami Zayn made his entrance to a huge ovation from the crowd. There was a loud "Sami" chant from the Ottawa fans. Sami is a Smackdown guy, but it's not like the brand extension is enforced strongly. The fans did the "Ole" chant for Sami as well as he stood in the ring. The ovation was really loud once again for Sami, who said "wow" and was looking emotional as the fans chanted his name again.
Zayn thanked the crowd for the ovation and the last few days in Montreal as well. The fans chanted "you deserve it" at him. Zayn admitted he felt a lot of guilt for coming up short at Elimination Chamber and that he let people down. Zayn said he was told to finish story, but he has learned around here that the story is never over. Zayn spoke about how we are entering the final chapter and the final chapter is not just about him. Zayn called out Kevin Owens to come out there.
Kevin Owens got a huge ovation from the crowd just like Zayn did. It wasn't as long as Sami's ovation, but still some "KO" chants showing an appreciation for Owens.
Zayn said there was so much he wanted to say to him and now that he's there he doesn't know what to say. Zayn said thank you, he's sorry and he knows they are past the point of words at this point. Zayn knows there might not be any coming back from what happened. Zayn talked about how for months, Owens has cared about taking down The Bloodline and he knows nothing can stop Owens. Zayn said he will make sure that Roman Reigns and The Bloodline come crumbling down. Zayn said that Owens couldn't do it and Zayn couldn't do it alone, but he does think that there's only one way to get it done – if they do it together. The fans popped for that.
Owens said he didn't need an apology or his gratitude. Owens said he did what he did at the Royal Rumble for his family because they were in the front row at Elimination Chamber, but at Royal Rumble they were at home watching Owens get destroyed. Owens said that he did it for Sami's family, his wife and son not having to watch Sami get his ass kicked like what happened to Owens at the Royal Rumble. Owens said he's still going to fight The Bloodline just like he has been doing. Owens told Zayn that just like he said in November, he was done helping Zayn, but if he needs help taking down The Bloodline he should ask his buddy Jey (Uso). Owens left while Zayn was frustrated by it.
Analysis: It keeps the story going with Owens still being reluctant to trust Sami. It makes a lot of sense for Owens to not simply forgive Zayn and hug him like that. They have six weeks until WrestleMania, so we'll have to see the story evolve more in the coming weeks. I'm so glad that these two talented fellow Canadians of mine are in a main event position like this. They are incredible performers and I love to see it.
The Raw commentary team of Kevin Patrick and Corey Graves were on camera welcoming us to the show with a rundown of what's coming up.
Sami Zayn was shown with his back to the entrance area saluting the crowd when Baron Corbin attacked Sami with a forearm to the back. Looks like some picture-in-picture action, but they don't show it here on Sportsnet in Canada.
(Commercial)
Baron Corbin was doing a promo about how he was the last one to beat Roman Reigns (in 2019) while trashing Zayn for embarrassing himself at Elimination Chamber. Corbin mocked Zayn for losing in front of his family. Corbin told Zayn he was a complete and utter failure. Zayn was getting checked on by officials. When Zayn got back up, WWE Official Adam Pearce told Zayn he can have a match, so Zayn went to the ring. Zayn punched Corbin and hit him with a clothesline over the top to the floor. A referee showed up to start the match.
Analysis: I liked that Corbin promo. Nice job by him getting some heat by trashing Sami for losing.
Sami Zayn vs. Baron Corbin
Zayn knocked Corbin off the apron to the floor. Zayn sent Corbin into the ring post. Corbin took control with some punches to the head. Corbin pulled Zayn's shirt off and you could see the scars on Zayn's back from when Roman Reigns beat him with a steel chair. Corbin with a forearm to the back. Zayn came back with an elbow to the head, then some punches and Corbin caught a leaping Zayn with a Chokeslam into a backbreaker for two.
(Commercial)
Corbin was in control with a backbreaker across his shoulders, Zayn fought out of it, Zayn with a boot and an elbow smash off the turnbuckle two times in a row. Zayn hit an impressive Tornado DDT off the ropes while Zayn was selling the back injury. Corbin with a punch, but then Zayn sent him over the top to the floor. Zayn hit a somersault dive over the top onto Corbin on the floor. Back in the ring, Zayn charged, Corbin hit him with a clothesline and Zayn did a flip bump to sell it. Corbin worked over Zayn with forearms all over the back. Corbin hit the Deep Six spinning slam for two as usual with that move. Corbin hit a corner splash, then a running corner, Corbin went across the ring and Zayn hit a Helluva Kick to the face for the pinfall win after about nine minutes.
Winner by pinfall: Sami Zayn
Analysis: *** A good match with Corbin in control for most of it while Zayn hit a few big moves like a somersault dive to the floor and a Tornado DDT. Corbin was very aggressive throughout the match, Zayn sold everything really well and I like how the Helluva Kick was done to give Zayn the win. The first 30 minutes of Raw were all about Sami this week.
There were highlights shown of Edge & Beth Phoenix beating Finn Balor & Rhea Ripley at Elimination Chamber. Edge pinned Balor to win.
Austin Theory will defend the US Title against Edge later on Raw.
Rhea Ripley and Dominik Mysterio were shown backstage for a sitdown interview.
This Sunday on A&E it's a Biography of Jake "The Snake" Roberts and a Rivalry episode about The Undertaker and Mick "Mankind" Foley. Those shows are well down.
(Commercial)
Rhea Ripley & Dominik Mysterio Interview
Rhea Ripley and Dominik Mysterio were seated for an interview with Byron Saxton. Rhea said that Beth Phoenix admitted that Rhea is the real deal, but they have unfinished business. Ripley said she is focused on WrestleMania. Dominik threatened Byron to stop asking dumb questions while making a prison reference as usual. Ripley said that Charlotte Flair can live in 2020, but she refuses to believe that Ripley is the best woman in WWE. Ripley said she won't make the same mistakes twice. Ripley said that she'll stand over her crumbled kingdom and walk out of WrestleMania as the Smackdown Women's Champion. Saxton asked Ripley what will happen when she goes face to face with Charlotte Flair on Smackdown. Dominik said his dad Rey Mysterio has a match on Friday, so he'll tag along with her at Smackdown and Ripley said that is a great idea. Ripley and Dom left.
Analysis: A confident Ripley as usual. Dominik going to Smackdown with her to confront his dad Rey Mysterio should get us closer to the likely Rey-Dominik match at WrestleMania.
They showed a clip from the Men's Elimination Chamber match when Logan Paul attacked Seth "Freakin" Rollins.
Austin Theory, the United States Champion, was interviewed by Cathy Kelley. Theory bragged about his Elimination Chamber win. Theory is bothered by not getting respect while complaining about John Cena coming back in two weeks. Theory said tonight he gets to beat Hall of Famer Edge in his home country, "crappy" Canada. Theory talked about his legacy saying he will never lose that title.
Analysis: There is the John Cena reference from Theory to push that story even though the match isn't announced yet. We should get some advancement on that when Cena is on Raw again in two weeks.
Dolph Ziggler entered for singles action.
(Commercial)
Mustafa Ali vs. Dolph Ziggler
This was set up last week during a WWE Digital segment. Ali has been complaining for weeks so now they have a match. Ziggler got a couple of takedowns for a nearfall. Ziggler hit a corner splash, a neckbreaker and Ali bailed to the floor. Ali with a necksnap across the top rope. Ali with a kick to the head. Ali went for a charging attack, but Ziggler hit a DDT for a two count. Ziggler went for a Fameasser, Ali did a handstand to get out of it and Ali got a crucifix pin for the pinfall win after four minutes.
Winner by pinfall: Mustafa Ali
Analysis: **1/4 A quick match with a great finish because the way that Ali countered that Fameasser was very impressive. Doing a handstand out of that was great. Ziggler and Ali are not featured on TV that much, but hopefully there is some interesting story out of this.
After the match, Mustafa Ali celebrated the win. Ali sarcastically bragged about his win to Ziggler, who was dumbfounded about the loss.
The Miz was shown backstage with lovely wife Maryse, who wished her husband a happy anniversary. Cathy Kelley was there for an interview. Maryse handed Miz an envelope as an anniversary gift with Miz claiming he was going to share what's in the envelope next week. Miz bragged about hitting a half court shot at the NBA Celebrity All-Star Game at the buzzer, but Cathy correctly pointed out that it was after the buzzer and didn't count. Miz took credit for what Logan Paul did to Seth Rollins saying he taught Logan to be like that. Anyway, Miz faces Rollins later.
Analysis: I like when Maryse is on the show. Just saying.
Cody Rhodes was shown walking backstage in a suit for his promo time up next.
This Tuesday on NXT it's Bron Breakker defending the NXT Title against Jinder Mahal, plus Jacy Jayne faces Indi Hartwell.
(Commercial)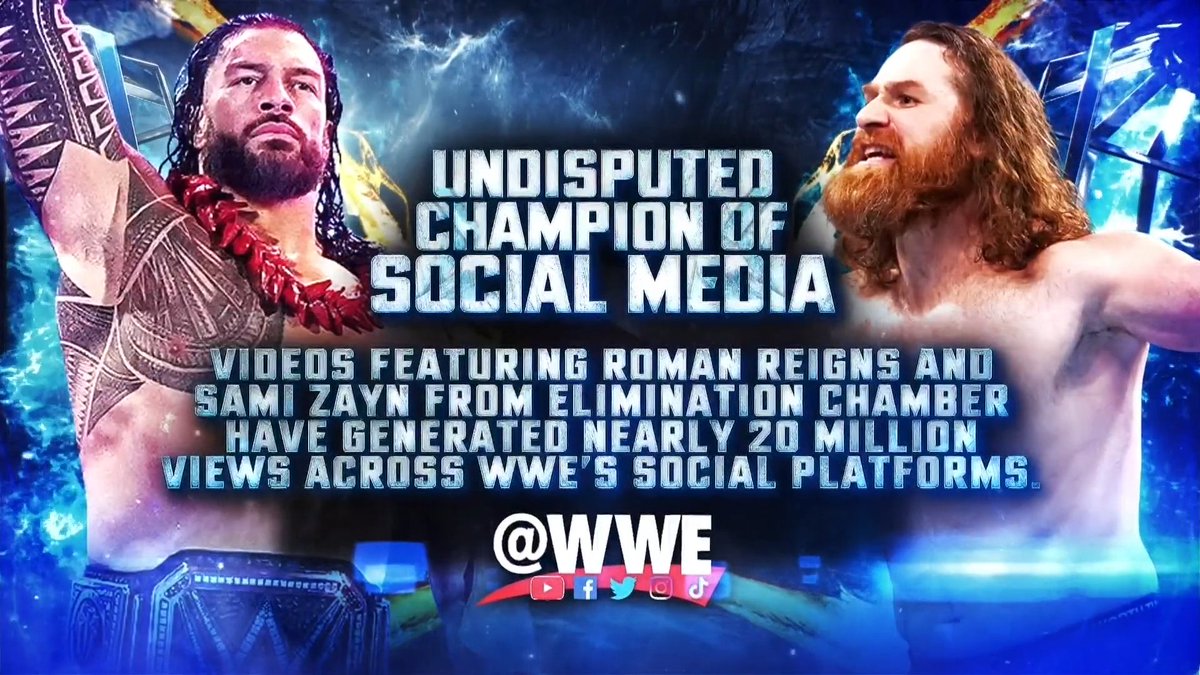 Let's Hear from Cody Rhodes
It was the top of hour two as Cody Rhodes made his entrance wearing a suit. I like how the crowd chants the "whoa-oh" on cue for his Kingdom theme song. A good ovation from Cody as usual. The graphic was shown for WrestleMania 39 with Roman Reigns defending the Undisputed WWE Universal Championship against Cody Rhodes.
Before Cody Rhodes could speak, Paul Heyman appeared with a neckbrace on with the WWE and Universal Titles on his shoulders. Cody asked Heyman where he was and Heyman said he was backstage. Cody invited Heyman to the ring to chat with him out there. Heyman talked about getting attacked by Kevin Owens at Elimination Chamber and complained about the Canadian healthcare system.
Heyman told Cody he can't beat Roman Reigns. Heyman suggested the idea that maybe Cody beats Reigns and then he wondered what Cody's life will be like. Heyman talked about how Reigns has Heyman by his side. Heyman said if Cody wins, which he won't, then he won't have Heyman with him. Heyman talked about what Cody's life will be like saying 200 days a year defending the championships, about 50 days a year doing charity/red carpets, 30 days a year overseas promoting the brand, 20 days overseas, then he mentioned promoting PPV events and now they are over 300 days a year. Heyman said when you're at home then you're on Zoom calls. Heyman talked about how when Dusty Rhodes was on the road when Dustin Rhodes was younger, Dusty was never home and even when he was home, he was never really home. Heyman asked Cody if he wanted to be on the road like that and be away from his wife and daughter. Heyman talked about keeping Cody's wife warm and said that Reigns is a happily married man, but Heyman is not. Heyman said that's when you will find out that your WrestleMania dreams will be your own personal nightmare.
Cody was fired up saying Roman is great. Cody said he has seen this play before. Cody told Roman to not send this man (Heyman) again. Cody said he'll meet Roman face to face soon. Cody told Roman that he is without a doubt the best Undisputed WWE Universal Champion, he's the best champion in sports, but Cody has to finish the story. Cody: "I beat you at WrestleMania." Cody dropped the microphone and that was it.
Analysis: It was another evil promo from Paul Heyman making some good points that rattled Cody again. Cody didn't say much, but he continued to tell his story about how he has to finish the story to become the Undisputed WWE Universal Champion. It's easy to like anybody going against Roman Reigns at this point. I think they will certainly need some face to face confrontations in the next six weeks to build it up some more.
They showed a clip of Asuka winning the Women's Elimination Chamber.
Asuka made her entrance for a match wearing the white headgear that she takes off in the aisle. Asuka had the white/blue facepaint on again.
The WrestleMania 38 parody video was shown of Seth "Freakin" Rollins as the Joker along with his wife Becky Lynch as Batman. We saw it for the first time at Elimination Chamber on Saturday. I thought it was well done.
(Commercial)
They have these cool movie poster moving graphics for the WrestleMania matchups. I like that touch a lot.
Asuka vs. Nikki Cross
Bianca Belair's music hit after the bell rang as the Raw Women's Champion went down to ringside to watch the match. Cross with a chop early, but Asuka came back with a running kick along with knees. Asuka with kicks to the bod. They battled on the apron, Asuka with a knee to the face and Asuka kicked the ring post because Cross moved. Cross hit a reverse DDT on the ring apron leading to a break.
(Commercial)
Asuka was fired up with strikes, a kick to the head and a roundhouse kick to the head. Asuka with three straight German Suplex for a two count. Cross trapped Asuka against the ring apron and Cross hit Asuka with a forearms. They went to the middle turnbuckle with Asuka hitting a DDT for a two count. Asuka worked over Cross with kicks to the body. Cross tried a lift, Asuka got out of it with a kick and Cross hit a slam off the shoulders for a two count. Asuka came back with an armbar takedown followed by Asuka trapping the right arm while pulling back on the left arm. Nikki quit, so Asuka got the win. It went about eight minutes.
Winner by submission: Asuka
Analysis: **1/4 It was obvious who was going to win here. Asuka looking strong is the right way to book a match like this. I don't think Cross is going to get a big push any time soon, but she is fine for a role like this. Asuka is fun to watch.
Post match, Bianca Belair went into the ring with the Raw Women's Title for a face off with Asuka in the ring. Belair held up the Raw Women's Title while they both pointed at the WrestleMania sign. Asuka had some blue paint or something in her mouth to intimidate Belair while Asuka laughed at her. Belair had a "what the hell?" kind of look on her face.
Analysis: Mind games. It's a face vs. face matchup with Belair and Asuka, so hopefully WWE can add a bit of a story going into the WrestleMania match.
Carmella was interviewed by Cathy Kelley about her own game plan to get to WrestleMania. Carmella said she doesn't know yet, but she has thought about Asuka. Carmella said she'll deliver a receipt to Asuka because "Mella is money."
Analysis: It will be interesting to see how many women make the WrestleMania card. The two singles titles will be on the line, the Women's Tag Team Titles will be as well, then there might another tag as rumored and we'll see if WWE comes up with more.
Seth Rollins was dancing around backstage with Cathy asking him about Logan Paul. Seth said that the joke's on Logan because he's going to find Logan Paul and he's going to hurt Logan Paul. Rollins since Logan isn't there tonight then The Miz feels like a perfect surrogate for suffering since he takes credit for Logan's success. Seth faces Miz up next.
This Friday on Smackdown we find out what's next for The Bloodline, Rhea Ripley goes face to face with Charlotte Flair and Bray Wyatt brings back the Firefly Fun House yet again.
(Commercial)
A video was shown of Brock Lesnar getting intentionally disqualified with a low blow against Bobby Lashley, who had Lesnar trapped in the Hurt Lock submission. Lesnar attacked Lashley and referee Chad Patton after the match.
MVP spoke to the camera saying that Lesnar was a coward, so he got himself disqualified at Elimination Chamber. Omos walked into the screen. MVP said that Omos was issuing a challenge to face Brock Lesnar to a match at WrestleMania if he has the intestinal fortitude.
Analysis: I certainly did not expect Lesnar-Omos at WrestleMania. I don't know if there's a swerve or if that's the actual match that they will do. Perhaps Bobby Lashley will attack Lesnar to set up yet another Lashley-Lesnar match, but I don't know.
BREAKING: @TheGiantOmos is issuing a challenge to face @BrockLesnar at #WrestleMania!#WWERawpic.twitter.com/B9ltRWSdRG

— WWE (@WWE) February 21, 2023
The Miz entered for singles action. It feels like it has been a long time since he has won a match on this show. Seth "Freakin" Rollins was next to a big ovation while the fans sang along with his catchy theme song.
Seth "Freakin" Rollins vs. The Miz
Rollins was aggressive right away as the action spilled to the floor with Rollins sending Miz into the barricade. Back in the ring, Rollins hit Miz with a clothesline over the top to the floor. Rollins hit a running dropkick to send Miz over the commentary table. Back in the ring, Miz hid behind the referee, Miz with a kick to the body and a DDT for two as usual for that move.
(Commercial)
Rollins with punches followed by a rollup for two. Miz sent Rollins into the turnbuckle with Seth taking a sternum bump into the turnbuckle. Miz charged right into a clothesline by Rollins. Rollins with kicks, a clothesline and a superkick to the face. Rollins went for The Stomp, Miz avoided it and they exchanged pin attempts. Miz kicked the foot to trap Rollins against the ropes and Miz hit a double knee attack for two. Rollins slipped out of a move, Miz slipped out of the move and Miz hit a running knee for a two count. There were some "tiny balls" chants from the crowd. Miz worked over Rollins with his weak kicks, then Miz said "Logan Paul" so Seth hit Miz with a forearm. Rollins with a forearm to the back of the head. Rollins hit The Stomp. The fans chanted "one more time" so Rollins hit The Stomp for a second time. Rollins had a crazy look in his eyes, the referee Eddie Orengo told Rollins that Miz was done and Rollins hit The Stomp for a third time. The referee checked on Miz and called for the winner. It was announced that Rollins won due to referee stoppage. It went 11 minutes.
Winner by referee stoppage: Seth "Freakin" Rollins
Analysis: *** It was a good match with Rollins winning in an emphatic way by hitting The Stomp three times without going for a pin attempt because he was angry about Logan Paul. The Miz hit some of his signature spots during the match, but really had no chance here. As I noted earlier, The Miz loses most of his matches at this point in his career.
Carmella was shown talking to Adam Pearce, who said if she wanted to face Asuka next week then she can consider it official. Adam Pearce answered a phone call and put it on speakerphone. Chelsea Green claimed she was sent to Ottawa, Illinois. Green complained about it, Pearce said he'll see her next Monday in Grand Rapids.
Chad Gable and Otis were checking themselves out in a mirror. Gable thought he could be a model. Bronson Reed asked if this is how they prepare for a match. Reed told Gable he'll get to model a full body cast. Otis said nobody talks to Gable like that. Reed had a staredown with Otis.
The ring was being set up for Bayley's talk show up next.
(Commercial)
Ding Dong Hello with Bayley
Bayley was in the ring hosting her Ding Dong Hello talk show with the door in the ring along with some plants and a blue carpet. Bayley's Damage CTRL buddies IYO SKY and Dakota Kai were with her. Kai had a crutch with her due to some leg injury. Sky and Kai had their Women's Tag Team Titles with them. Bayley said she loved them, but they are so underappreciated by the idiot fans. Bayley was too excited to sit so she stood up. Kai was asked about being the best Women's Tag Team Champions of all time. Kai said that Bayley was their fearless leader. Kai said they have dominated the division for over 100 days. I don't even remember the last title defense. Kai named some of the women they have beaten and will continue to dominate.
Becky Lynch interrupted the segment with the fans cheering for "The Man" as usual. Lynch mocked the champions for rarely defending the titles saying the titles are dusty with spiders in there. Lynch claimed that she thinks she wants to take those Tag Team Titles into WrestleMania. Bayley asked who Lynch can team with and Bayley asked if it was Becky's daughter. Lynch said there was one person she was thinking of.
Lita is back on Raw just like a few weeks ago when she helped Lynch in the Steel Cage Match. Lynch and Lita got into the ring and Bayley told them to use the door. Lita and Lynch walked in through the door.
Bayley said that Lita doesn't even work there. Loud "Lita" chants for the WWE Hall of Famer. Bayley noted that they tried to end eachother. Lynch said she apologized while Lita said they were past that. Lita said that her sights set on a fifth title run. Lita said if she can't get a title against Becky Lynch, she's kind of liking this plan of winning the Tag Team Titles. Lita challenged the champions to a match. Bayley said they don't deserve a title match. Lynch went over Lita's credentials along with her own with a lot of titles between them. Lynch and Lita wondered if the champions were scared. Bayley: "They accept!" Lynch and Lita grabbed the titles from the champions and held the titles up in the air. That was it.
Analysis: I like the Lita/Lynch team. I know there were rumors about Trish Stratus being involved here, but there was no sign of her. A report from Fightful noted that there was some creative change that led to Trish not being used. Maybe they are pushing her appearance back for next week. I don't know. Lynch and Lita did a nice job of saying the right things to get the crowd behind them. I think a title change is coming here. I don't know where Shayna Baszler/Ronda Rousey fit in.
Candice LeRae was interviewed by Byron Saxton in the backstage area. LeRae was going to provide an update on her husband Johnny Gargano, but then Candice saw Nikki Cross and wondered why Nikki was following her around. Nikki said something quietly, Candice heard it and Nikki walked off. Candice said that Nikki said all friends are gone and she's alone. Candice said that Johnny Gargano will be back. Candice left.
Chad Gable entered with Otis.
(Commercial)
A video aired promoting WrestleMania 39, which is 40 days away.
Bronson Reed vs. Chad Gable (w/Otis)
Reed ran over Gable with a running body attack. Gable to the floor and Reed jumped off the apron with a shoulder tackle on Gable on the floor. Back in the ring, Reed sent Gable into the turnbuckle followed by a clothesline. Reed with a hard whip into the turnbuckle. Reed tried a jump off the turnbuckle, Gable grabbed him by the ankle and Reed got out of it quickly. Gable hit a running forearm to the head followed by Gable getting a headbutt off the top for just two. Maxxine Dupri appeared at ringside to check out Otis. Gable avoided a charging Reed and hit a German Suplex for just two. That was impressive. Maxxine handed Otis her card, Gable was distracted by that and Reed splashed Gable. Reed with a powerslam. Reed jumped off the top with a Tsunami splash for the pinfall win after three minutes.
Winner by pinfall: Bronson Reed
Analysis: *3/4 It was an entertaining short match. Gable's German Suplex was impressive, but this was all about putting over Reed. Gable was distracted by Otis talking to Maxxine about modeling and Reed capitalized for the win. Every time Reed does the Tsunami splash the fans react well to it as a big move, so that's cool to see.
Austin Theory was shown warming up backstage ahead of his US Title defense.
(Commercial)
Let's Hear from Elias
Elias was in the ring with a microphone. No guitar with him. Elias told Rick Boogs this is how you do it while Boogs was shown taking notes. Elias asked: "Who wants to walk with Elias at WrestleMania?" Elias pointed at the WrestleMania sign.
The "All Mighty" Bobby Lashley made his entrance in his wrestling gear. There was no referee in the ring.
Lashley gave Elias a spinebuster. Elias left the ring, Lashley sent him into the barricade and Lashley put Elias on his shoulders leading to Lashley sending Elias into the ring post. Back in the ring, Lashley hit Elias with a Spear. Lashley gave Elias the Hurt Lock submission.
Bobby Lashley said that everybody has a plan until he slaps that Hurt Lock in. Lashley said that Brock Lesnar panicked and had to resort to a low blow. Lashley said not Brock Lesnar, not Bray Wyatt, not Elias and he said nobody in that locker room can break the Hurt Lock. Lashley said if you disrespect him then he will put him down.
Analysis: A confident promo from Bobby Lashley. The reason he mentioned Bray Wyatt is because that's a likely WrestleMania match since Wyatt mentioned wanting to face the Lashley-Lesnar winner. The winner was Lashley by DQ, so I guess the plan is to go with Wyatt-Lashley at WrestleMania.
Next week on WWE Raw:
* Dakota Kai & IYO SKY defend the Women's Tag Team Titles against Becky Lynch & Lita
* Candice LeRae vs. Piper Niven
* Will Brock Lesnar show up to accept the WrestleMania challenge against Omos?
* Asuka vs. Carmella
* Miz TV in a WrestleMania Goes Hollywood Edition
Edge was interviewed by Byron Saxton in the backstage area. Edge spoke about how The Judgment Day story has ended and his wife Beth Phoenix is back home with their girls. Edge said with age comes wisdom. Edge said that more than anyone else in that locker room, he knows all of this can be taken away. Edge said he hasn't held a title for a very long time and he knows the window is closing. Edge said his second match in this company was here in 1997. Edge said he hasn't performed here in 18 years. Edge said it would feel pretty good to win it here and walk into WrestleMania as the United States Champion. Edge said "never say never" to end it.
Analysis: If you want another fun stat, I saw Edge wrestle in the indies in 1997 as Sexton Hardcastle, which was a year before WWE signed him. That's also the year Austin Theory was born, so I guess Edge and I both feel old. Anyway, Edge turns 50 this year and might retire for good later this year, so saying he's "running out of time" was in reference to his likely retirement later in the year.
Austin Theory made his entrance as the US Champion.
(Commercial)
A video aired about WWE superstars supporting their community during Black History Month. It was narrated by Kofi Kingston.
On this day, I see clearly as Edge made his entrance to a big pop. Edge is from Toronto, which is in Ontario just like Ottawa so of course this crowd loved him. The fans gave Edge a huge reaction as usual. Mike Rome did the championship match introductions.
United States Championship: Austin Theory vs. Edge
I may be considered a biased Canadian, but Edge's red & white pants are awesome. Edge did a couple of leapfrogs and tripped Theory up leading to Edge pulling Theory out of the ring. Edge hit Theory with a slam on the floor. Edge avoided a leapfrog by Theory leading to Edge hitting a Russian legsweep. That led to a break.
(Commercial)
Edge slid out of the ring, Theory chased after him and Edge gave Theory a back body drop on the floor. Edge hit a clothesline off the apron on Theory on the floor. Back in the ring, Theory did an eye gouge followed by a running clothesline. Theory with a corner whip, a clothesline and a fallaway slam for two. Theory grabbed a chinlock to slow things down. Edge fought back with punches, but Theory a drop toe hold into the turnbuckle. Theory did a roll through into a dropkick for two.
(Commercial)
Theory remained in control with about seven minutes left. Theory tackled Theory into the turnbuckle. Theory set up for a superplex, but Edge blocked and did a front suplex. Edge jumped off the top with a cross body block to Theory's back. Edge hit a couple of running clotheslines, then Edge hit a sitout neckbreaker and that got a two count. Theory was on the apron, he charged a rolling dropkick and Edge caught him with a Powerbomb. Edge went for a Spear, but Theory avoided that. Theory did a monkey flip leading to Edge landing on his feet. Edge applied the Crossface submission, but Theory got his foot on the bottom rope to break the hold. Theory tried to pin with his feet on the ropes, but the referee saw the feet on the ropes. Edge got a rollup for two. Theory tried A-Town Down, Edge got out of it and Edge hit the Edgecution (Impaler DDT) for a two count. Edge was fired up in the corner, but Finn Balor of The Judgment Day showed up, so Edge punched him off the apron. Edge got a rollup on Theory for two. The referee was looking the other way, so Balor hit a jumping kick to Edge's head. Theory hit the A-Town Down on Edge for the pinfall win after 18 minutes.
Winner by pinfall: Austin Theory
Analysis: ***1/2 A long title match that was very good. It was yet another cheap win for Austin Theory as the US Champion just like the cheap win he got at Elimination Chamber. It fits his character as a cocky heel that finds ways to win thanks to getting help from others getting involved. I thought Edge was fantastic during the match hitting all kinds of big moves, he moved around the ring really well and the last few minutes in particular worked really well. There were a few moments there where I thought that maybe Edge would win although I did expect a Theory win. I'm just saying they told the story well that there were at least times in the match where it looked like Edge might get the win.
Post match, Balor went into the ring to attack Edge with punches. Balor went up top and hit the Coup de Grace double foot stomp on Edge. Balor said this isn't over and this is just the beginning. Balor jumped off the top with the Coup de Grace double foot stomp for a second time. After they showed replays of Theory's win, Balor went up top and hit the Coup de Grace on Edge again. The fans were booing loudly. Balor stood tall to end the show.
Analysis: This wasn't a surprise since the feud has been going on for many months now with several matches in their past. Maybe the next match they have at WrestleMania 39 will be a Hell in a Cell match or some other kind of stipulation match to try to put an end to this rivalry. Balor did a nice job of doing his attack with the double foot stomp off the top three times in about one minute. I think Edge should beat Balor at WrestleMania although since Edge is the older guy, maybe Balor will get the win. I'm fine with it either way.
Three Stars of the Show
Sami Zayn
Edge
Austin Theory
The Scoreboard
7.25 out of 10
Last week: 7
2023 Average: 7.28
Final Thoughts
I liked the show for the most part. They are slowly building some WrestleMania stories in some cases, which is fine considering there are still six weeks until WM39 takes place. Sami Zayn got the biggest pop of the night and was featured heavily in the first 30 minutes during a promo segment with Kevin Owens, who isn't ready to be best friends again and Zayn also beat Baron Corbin in the match. Sami had a great showing. He's such a tremendous all-around performer right now.
The main event between Austin Theory and Edge was a competitive match for the US Title. Finn Balor costing Edge was a predictable outcome. With that said, they booked it in a way where it looked like Edge might win a few times, so that was cool to see if the Hall of Famer could find a way to win. I liked the Seth Rollins win over The Miz as well while Asuka continues to look dominant.
There was also a build to next week's Raw with Becky Lynch & Lita teaming up against Dakota Kai & IYO SKY in a match for the Women's Tag Team Titles, so we might see a title change there. There are a lot of rumors about the Women's Tag Team Title situation, so I'm not sure what to believe. Let's just keep watching and reacting instead of assuming. Lastly, nice job by Paul Heyman in that heel promo warning Cody Rhodes about what happens when somebody becomes a champion while Cody was adamant that he has to finish his story.
===
Check out the WWE PPV Review archive right here. You can contact me using any of the methods below. Go Toronto Raptors and Toronto Maple Leafs. Be safe and smart out there.
Thanks for reading.
John Canton
Email: mrjohncanton@gmail.com
Twitter: @johnreport