The John Report: The WWE Raw Deal 01/23/23 Review
This week's WWE Raw featured two title matches, a Steel Cage match, legends on hand and The Bloodline's Trial of Sami Zayn as well.
It's the 30th anniversary of Raw aka Raw XXX. It's a big one tonight with a lot of big matches and huge names on hand. The Royal Rumble is coming on Saturday too, so there's a lot to look forward to. No more football games on ESPN/ABC on Monday until the fall too meaning I'll do this review live most weeks until then. The first hour is commercial-free tonight too. Bring it on.
This is the Raw Deal for episode #1548 of Monday Night Raw. It's taking place at the Wells Fargo Center in Philadelphia, PA. Follow me on Twitter @johnreport. Let's get to it.
Hulk Hogan's familiar "Real American" song started the show with Jimmy Hart joining the Hulkster. Hart still looks like he hasn't aged that much. Hogan was speaking and his microphone wasn't working that well. Hogan talked about Raw starting 30 years ago. The fans booed it because the microphone wasn't working. Some guy ran out to Hulk to hand him a new microphone as Hulk shouted his catchphrase and mentioned the Philadelphia Eagles to get a cheap pop.
Analysis: That's not a good start to the show with the microphone, but that can happen on live TV sometimes. Anyway, I guess it's fine to put Hulk in that spot. It was a very brief promo.
They aired the awesome Raw 30-year anniversary promo that was shown on Smackdown and is worth showing again. It ran for nearly four minutes. The song "I'm Good (Blue)" isn't a favorite, but it has a solid beat to it I guess.
There was an impressive pyro display to start the show along with the "Raw is XXX" logo on the screen. The commentary team was Kevin Patrick and Corey Graves as usual.
The Bloodline hosts Tribal Court for the Trial of Sami Zayn
The Bloodline group made their entrance led by the Undisputed WWE Universal Champion Roman Reigns, the Undisputed WWE Tag Team Champions The Usos, Solo Sikoa, Sami Zayn and the Special Counsel, Paul Heyman. They made their entrance to a big reaction. They showed highlights from last week's Smackdown when Kevin Owens beat up The Bloodline, signed the Royal Rumble contract and then threw the contract at Sami Zayn while the rest of The Bloodline was down around the ring.
There was a table in the ring along with leather chairs. Roman Reigns sat at the head of the table (of course), The Usos were on one side of the table and Zayn was on the other side. Solo and Heyman were standing beside Reigns. The fans chanted "Sami" before Reigns could say a word. Reigns: "Philadelphia, acknowledge me!" The fans cheered along with plenty of "1s" in the air. Reigns said it was time to get right down to business.
Paul Heyman was greeted with "ECW" chants in Philly. Heyman let us know his name while mentioning they chanted three letters that are near and dear to him. Paul reminded us that ECW is dead (the fans booed) and Heyman said he wished the same for Sami Zayn. That's a bit harsh. There were "Sami" chants. Heyman claimed that Zayn has been part of a conspiracy with Kevin Owens against The Bloodline since day one. Heyman said that he has been making us feel good for months and making us feel like the fans of the Philadelphia Eagles after they get conquered by Brock Purdy of the 49ers. Big game on Sunday. Reigns and The Usos held their hands up since they are 49ers fans, just saying.
Heyman claimed that this was an open and shut case against Zayn. Heyman claimed that he had four pieces of footage that will show that Sami is guilty as charged.
Exhibit A was shown from August 12, 2022 when Sami Zayn was talking to The Usos and Drew McIntyre attacked The Usos from behind. Sami ran away instead of helping The Usos.
Exhibit B – They showed August 29, 2022 when Jey Uso told Sami to get a chair, but Sami wouldn't use it and Heyman said it was a conspiracy, not hesitation.
Exhibit C – They showed November 26, 2022 when The Bloodline won WarGames and Sami was on the cage celebration. They showed Sami signaling "4 Life" to Kevin Owens. We could not see who Zayn did the gesture to.
Exhibit D – December 23, 2022 when Sami jumped into Roman's shoulder during a promo. Heyman claimed that was an assassination attempt on the Tribal Chief so Zayn can be the Head of the Table.
Heyman called Sami a "rat bastard" and wanted the jury to find him guilty as charged. Heyman said that the prosecution rests its case.
Sami Zayn said he had a whole defense all lined up and laid out in his head, but he didn't know how he would feel when he came out there. Zayn said it hurt him to hear Heyman think like that. Zayn said that these people see it and they've seen it over the last nine months. Zayn spoke about how it hurts him to be put on trial to try to defend himself. Zayn said that his defense is that he has no defense.
Reigns said you've got so much ego you won't even fight for yourself and argue for this? Reigns talked about how he gives Zayn opportunity after opportunity and this is the respect that you show. Reigns said "enough" and shouted for Solo. That led to Solo about to deliver the Samoan Spike to Zayn, but Jey Uso stopped it! The fans cheered that and chanted "Ucey" for it.
Jey said no disrespect to The Tribal Chief, so Jey put together his own footage.
Defense Exhibit A – It was June 3, 2022 when The Usos got a pinfall over Matt Riddle in a tag team match and Sami Zayn was the one that played Roman's music.
Defense Exhibit B – August 19, 2022 when Drew gave Reigns a suplex and Zayn took a Claymore Kick for Reigns. That led to Reigns hitting Drew with a Superman Punch.
Defense Exhibit C – September 9, 2022 Zayn pushed Solo out of the way and took a chair shot.
Defense Exhibit D – December 9, 2022 Sami stopped Sheamus from making a save in a tag team match that The Usos won.
Defense Exhibit E – November 26, 2022 at WarGames when Zayn helped The Bloodline win at Survivor Series. Zayn stopped the referee from counting when Kevin Owens pinned Reigns and Zayn hit Owens with low blow leading to Jey Uso hitting an Uso Splash to win.
The fans cheered at the end of those videos.
Jey said it's right there for the world to see. Jey said that this man has taken so many bullets for them and he's basically bulletproof. Jey said he didn't trust Zayn, he despised him and he saw the good in Jey the whole time. Jey said that right there is what family does. Jey told Sami he loved him and told the fans if they want Sami to stay in The Bloodline they should throw their 1's in the sky. Both Usos did it along with most of the crowd. Reigns, Solo and Heyman did not. Loud "Sami" chants.
As Reigns stood up out of his chair, there was a loud "Sami Uso" chant. Sami even looked emotional a bit. Reigns said that as your Tribal Chief and the Head of the Table, he finds Sami Zayn not guilty. (The fans cheered that.) Reigns added "for now" after that. Reigns told Sami to thank Jey Uso for giving him more time. Reigns wanted Zayn to prove himself the rest of this night and show his loyalty to The Bloodline. Reigns said after that he didn't want to see Zayn again until the Royal Rumble on Saturday and that is where Sami will deliver his final test. Reigns said we'll see if Zayn is The Bloodline or not. Jey and Jimmy Uso hugged Sami after Reigns, Solo and Heyman left the ring.
Analysis: Wow, that was awesome. Very entertaining. It was long for sure, but the crowd was captivated and I enjoyed it immensely. They did such a nice job of showing clips of Sami Zayn's history in The Bloodline with Paul Heyman trying to paint Sami in a bad light, but Jey Uso coming to Sami's defense was a great thing to see. The fans are so behind Sami as a babyface at this point that they were chanting for him a lot. When the turn comes where Sami is fully a babyface he's going to be so popular with the fans even more than he is now because then he'll be against Reigns and it will be even louder than what we are hearing now. I liked how much the crowd cheered for Jey coming to Sami's defense. That was a cool moment. This is such a great example of how important long-term storytelling is. The story has worked beautifully and the turn hasn't even happened yet.
The Tribal Chief declares @SamiZayn not guilty … for now.@WWERomanReigns@HeymanHustle@WWESoloSIkoa@WWEUsos#RawXXXpic.twitter.com/2upsmoIZpn

— WWE (@WWE) January 24, 2023
The announcers did a rundown of what's coming up on Raw with a star-studded lineup. As I mentioned earlier, no commercials in the first hour.
It was time for the Raw Tag Team Title match as The Judgment Day made their entrance. The ring announcer is Alicia Taylor, who is the regular NXT announcer for a few years.
Raw Tag Team Championships: The Usos (Jimmy & Jey Uso) (w/Sami Zayn) vs. The Judgment Day (Damian Priest & Dominik Mysterio (w/Finn Balor & Rhea Ripley)
I didn't pay attention to the first few minutes since I was writing the analysis above as Jimmy was isolated by J-Day. Jey tagged in with a Samoan Drop on Dominik. They showed Roman, Solo and Heyman watching the match from their locker room. Jey hit a running hip attack on Dom along with a kick to the head. Priest tagged in and Jimmy tagged in for a double team slam by The Usos. Jimmy tried a slingshot attack on Priest, but Priest punched him in the face. Priest punched Jey, then he hit jumping elbow smashes on both Usos. Priest hit a suplex into a slam onto Jey. Jimmy (legal man) hit Priest with a superkick, Priest with a superkick of his own and Priest jumped off the middle rope leading to a leap over the top to the floor. Priest hit a running clothesline on Jimmy for a two count. Dominik tagged in leading to a clothesline off the top while Priest fell back so it was like a Doomsday Device, but it wasn't that devastating. Jey tagged in, The Usos hit double superkicks on both guys including two double superkicks on Priest and that got a two count. Balor tripped up Jey on the top rope, the referee saw it and Balor was ejected by the referee. Jey recovered, he jumped off the top, Priest got the knees up for two and Jey hit another superkick. Jimmy tagged in with an Uso Splash off the top onto Priest for a two count. Priest was on the floor as Jimmy hit a dive over the top onto Priest on the floor. Jimmy was grabbing his left knee, Jey checked on him and so did Sami while the referee checked on him as well. Two guys ran out with WWE Medical shirts who are clearly not doctors (they are indy guys) and Adam Pearce showed up to talk to the referee. Pearce said that the protocol dictates they must forfeit the match and the titles. Zayn said maybe there's a solution. Sami said that he can replace Jimmy and Pearce allowed it.
Analysis: The injury to Jimmy was obviously just an angle to get Sami into the match.
Zayn knocked Dominik and Priest out of the ring leading to Zayn hitting a somersault dive over the top onto both Judgment Day guys. The fans were chanting "Sami" again. Dominik got a rollup on Sami with his feet on the ropes for a two count. Zayn hit Dominik with an Exploder Suplex into the turnbuckle. Ripley distracted on the apron and Priest hit the South of Heaven chokeslam for a two count because Zayn kicked out. Dominik sent Zayn to the apron, Jey tagged in and hit superkicks on Dominik as well as Priest. Jey was about to superkick Ripley, but he stopped himself. Dominik dropkicked Jey into the ropes, Dominik with a 619 kick and a Frog Splash off the top for two, but Zayn made the save. Priest missed a charge on Zayn, so he hit the ring post and Priest bumped to the floor. Dominik sent Zayn out of the ring. Zayn tagged in, Jey with a superkick and Sami tagged in to hit the 1D with Jey. Sami pinned Dominik for the pinfall win after 15 minutes.
Winners by pinfall: The Usos (Jimmy & Jey Uso) and Sami Zayn
Analysis: ***1/2 A great match that was heavy in storyline. I thought it was cool how they did the injury angle with Jimmy leading to Zayn taking Jimmy's spot. That worked well and The Usos were super over as babyfaces. I thought The Judgment Day had a shot going into the match, but based on the story they told, it made sense for The Usos/Zayn to get the win. It's not always about having an amazing match even though the match was really solid. It's also about the story and in this case, they are telling those stories so well.
Roman Reigns said that Sami made it through tonight, but he doesn't want to see him again until Saturday. Reigns asked if Heyman understood, Paul said yes and that was it.
Analysis: The drama continues. I assume Sami Zayn is in the Royal Rumble and we'll see if he's loyal to Reigns again there. This makes me think Zayn might win the Royal Rumble, but I still might pick Cody Rhodes instead.
John Bradshaw Layfield was shown walking backstage with Baron Corbin as they walked up to The Godfather, who was acting like security with a list. JBL asked to talk to the owner of this party, then it was Ron Simmons in the APA office hosting the party. Corbin gave Ron and Godfather some money, so Corbin can join the party.
In the APA Office, they showed a lot of the WWE roster in there along with legends at poker tables.
They showed some classic Raw pics over the years.
Let's Hear from LA Knight
LA Knight trashed Bray Wyatt for bringing back the Firefly Fun House on Smackdown. Knight trashed legends for living on past glory and Bray Wyatt was living on past glory. Knight said that if any of the legends has any tingle in their loins, they should come down there right now and he'll preview what he will do in the Pitch Black Match.
The gong hits! It was The Undertaker's classic music, but instead of coming out there in classic Undertaker gear he was on a motorcycle and came out to the "American Badass" song. That's fitting since he retired as the classic Undertaker character.
LA Knight did a promo saying that he heard The Undertaker on The Joe Rogan podcast saying that the locker room was soft and Knight agreed with him. Knight trashed Bray Wyatt a bit. Knight told Undertaker that he could send him to The Undertaker. Knight told Undertaker to enjoy his retirement.
LA Knight was about to go backstage without a confrontation, but then the lights went out in the building and Bray Wyatt showed up with his lantern. That scared Knight enough to make him go back into the ring. The Undertaker choked Knight teasing a Chokeslam, but then Wyatt went into the ring and Undertaker tossed Knight toward Wyatt. That led to Wyatt hitting a Sister Abigail neckbreaker on Knight. The fans chanted "Holy Shit" at Knight. The Undertaker whispered something in Wyatt's ear (we didn't hear it) and Bray nodded in approval. Graves wondered what Undertaker uttered in Wyatt's ear. Undertaker left on his motorcycle, looked back and held his arm up in the air like he did many times in the past.
Analysis: That was cool. Since Wyatt is in babyface mode now, it makes sense for him to get the rub (so to speak) from The Undertaker, who tossed Knight over to him. This didn't make Knight look good at all, but that's okay. Since The Undertaker faced Wyatt in the past at WrestleMania there's a bond there. Wyatt is the "dark" character in WWE now that Undertaker is gone, so it was like Taker was passing the torch by giving him some advice by whispering in his ear at the end.
Moments define this industry. This one was special! https://t.co/twvK5NEU6u

— Undertaker (@undertaker) January 24, 2023
They showed the poker game in the backstage area with Diamond Dallas Page winning a hand against Alundra Blayze, Baron Corbin, Chad Gable and Otis. DDP got a straight flush to win a big hand.
Bayley made her entrance for the Steel Cage Match. She told her Damage CTRL buddies Dakota Kai & IYO SKY to stay in the back.
Analysis: That was an excellent first hour of Raw with no commercials. Lots of action, drama and star power too.
(Commercial)
Becky Lynch made her entrance to a good ovation as usual. Lynch tried to get in the cage, but Kai and Sky attacked her. Bayley slammed the cage door into Lynch's face as well. Damage CTRL sent Lynch into the cage. Kai punched Lynch while she had a chain on her hand. Bayley and Sky sent Lynch into the steel cage while Kai used the chain to lock the cage. Adam Pearce, the WWE Official, showed up to yell at the women for attacking Lynch. Pearce called for bolt cutters, so a referee went to the back and got them. Kai hit a moonsault on Lynch. Damage CTRL hit a triple team neckbreaker on Lynch. Pearce used bolt cutters to cut the chain and Damage CTRL climbed to the top of the cage while Pearce and the referees checked on Lynch.
Analysis: It was an effective angle to add even more heat to this story between Bayley and Lynch. For fans that wanted to see the match, they might have been disappointed by it, but I'm sure we will see the match at some point soon. It does suck for the fans in attendance that wanted to see the match, though. Adding more heat to Damage CTRL isn't a bad thing. I liked how it was done, but also understand if some fans are frustrated that the match didn't take place.
UPDATE: The story goes that WWE cut this match due to time since The Bloodline/Sami Zayn segment went so long. I'm sure there are a lot of fans angry that this match was cut. There was a women's match later in the show that could have been cut instead.
They mentioned the main event was the US Title match with Austin Theory defending the US Title against Bobby Lashley in a No Disqualification Match.
This Friday on Smackdown, Kevin Owens faces Solo Sikoa and they also mentioned Rey Mysterio facing Karrion Kross.
(Commercial)
A commercial aired for the Ric Flair documentary that's on Peacock now.
They showed more Raw pics from over the last 30 years.
Let's Hear from D-Generation X with Kurt Angle
The D-Generation X group made their entrance meaning it was Shawn Michaels, Triple H, Road Dogg and X-Pac. Kurt Angle joined them in one of his shirts. They are all Hall of Famers. Road Dogg did the classic DX/New Age Outlaws introduction, then he pointed at Kurt Angle during the Billy Gunn part and Road Dogg asked Kurt what he was doing out there. Angle said he always wanted to be in DX. Angle took the Olympic shirt off to show his DX shirt. Shawn told Kurt he had to pass the test. Hunter asked: "Are you ready?" Angle asked if that was the test. Hunter said never mind leading to the classic wind up for his promo…but here comes Imperium.
The Imperium trio of Intercontinental Champion GUNTHER, Ludwig Kaiser and Giovanni Vinci made their entrance to boos. Kaiser trashed DX for that nonsense. GUNTHER said that they were making a mockery of this great sport. GUNTHER said they were there to restore the honor of this great sport unless any one of you wants to do something about it. Hunter got in GUNTHER's face and Hunter: "I'm retired." That was funny. Shawn: "I'm too old. I'm not doing it." X-Pac claimed he had shin splits. Road Dogg quickly backed away with Hunter calling him Butterbean. DX had a meeting. Hunter: "Kurt said he'd fight you." Kurt said no he won't do it. Hunter said he wishes there was somebody willing to come out here and fight you guys.
Burn it down! It was Seth "Freakin" Rollins making his entrance. The fans were singing along with Seth's theme song and it was pretty loud in there. After Seth got into the ring, X-Pac said if only there was a team that can help Seth even the score.
Here come The Street Profits to a big pop from the crowd. They had some Philadelphia 76ers-style jerseys and shorts as they went to the ring to team with Rollins. Road Dogg asked what they should do now as they all looked at Triple H. Hunter: "This booking stuff isn't easy, you know." It's not like you can make some decisions any time you want. If only there was somebody to make sense of this situation.
It's Teddy Long! Holla holla holla! What a pop. Teddy said that tonight, Imperium will face The Street Profits and Seth "Freakin" Rollins in a six-man tag team match. Shawn said they needed somebody to keep this chaos under control. Angle had a red, white and blue striped shirt so he's the referee. Michaels signed off saying: "We've got a six-man tag team match and if you're not down with that then we've got two words for ya" and the fans chanted "suck it" of course. That led to a break.
NOW HOLD ON A MINUTE, PLAYA!@TripleH wasn't about to block the opportunity for a certain WWE Hall of Famer to make a SIX-MAN TAG TEAM MATCH at #RAWXXX!

Now you better believe that. pic.twitter.com/DyppypUFSD

— WWE (@WWE) January 24, 2023
Analysis: I enjoyed that quite a bit. I'm laughing as I write this because there were a lot of good lines there. Bringing out Teddy Long to make the tag team match is a great throwback as well. Triple H saying that line about booking stuff isn't easy was tremendous. Angle was funny with some of his lines too, which is nothing new for him because he's a funny guy. Imperium was perfect to interrupt the segment with DX backing down to them as well, which does put over GUNTHER. This was very entertaining. Well done by everybody involved. I would absolutely love to see a GUNTHER vs. Seth "Freakin" Rollins feud at some point in 2023. I think they would have great chemistry and put on some incredible matches.
(Commercial)
Seth "Freakin" Rollins, Montez Ford & Angelo Dawkins vs. Imperium – GUNTHER, Giovanni Vinci & Ludwig Kaiser
Kurt Angle was the referee and Jerry "The King" Lawler joined commentary for this match.
Rollins started with Vinci with nothing much happening as Lawler was doing some classic one liners. Vinci and Ford were battling with Vinci hitting a clothesline. Dawkins tagged in for a double team splash onto Kaiser, who was in for Imperium. Dawkins decked Kaiser with a punch to the face. Gunther tagged in against Rollins – give me this singles match! Rollins to the apron, he headbutted Gunther and Rollins jumped off the top leading to Gunther hitting a chop to the chest. Gunther with a body slam followed by a neck twist on Rollins on the floor. They went to break.
(Commercial)
Rollins was isolated by Imperium, then he broke free and brought in Ford. Montez hit Vinci with some clotheslines, chops and a running clothesline. Ford blocked a kick by Vinci and applied an Ankle Lock. Dawkins caught Kaiser leading to an Ankle Lock as well with Angle smiling about it. Gunther tagged in and broke up both Ankle Lock submissions with strikes. Gunther poked Angle in the chest, so Angle shoved him back. Rollins hit Gunther with a forearm out of the ring. Dawkins and Ford each hit dives over the top onto Imperium guys on the floor. Rollins ran the ropes, Gunther chopped him and hit a dropkick into the turnbuckle. Gunther hit Rollins with a Powerbomb for a two count. Rollins landed on his feet after German Suplex, Rollins pulled on the arm, kick to the head and Rollins hit a superkick. Rollins hit an Angle Slam on Gunther with Angle loving it. Vinci tried a move on Ford, but Rollins topped that with Rollins hitting a superplex on Kaiser. Dawkins put Kaiser on his shoulders leading to Ford hitting a super Blockbuster off the top. Rollins was back in there against Gunther with Rollins hitting him with a Pedigree. Dawkins with a spinebuster on Vinci, Ford off the top with a Frog Splash and Rollins tagged in with The Stomp on Vinci for the pinfall win after 13 minutes.
Winners by pinfall: Seth "Freakin" Rollins, Montez Ford & Angelo Dawkins
Analysis: ***1/4 This was a good tag team match with Rollins and Gunther having that showdown that can hopefully lead to a singles match at some point soon. I'm not surprised that the faces got the win since it's a feel-good kind of Raw with a babyface referee like Angle in the match as well. Rollins and The Street Profits worked well together. I figured they wouldn't have Gunther take the pin, so that meant it would be Vinci or Kaiser and it ended up being Vinci losing to The Stomp. I enjoyed it.
The team of Rollins and The Street Profits raised their hands with Angle in the ring since they won the match.
They showed the poker tournament with Baron Corbin beating "Million Dollar Man" Ted Dibiase to win a big pile of money. Irwin R. Schyster showed up to say you have to pay your taxes. IRS put some of the money in the briefcase, then gave Corbin one $100 bill and Dibiase said: "Everybody's got a price." Ron Simmons showed up to JBL and Corbin to say: "Damn!" Classic. Everybody popped for the "Damn" usage to end it.
Analysis: Nice use of the legends in a backstage segment. Money Inc. was one of my favorite heel tag teams during their run in the early 1990s period.
Charlotte Flair, the Smackdown Women's Champion, was up next.
(Commercial)
They showed some more classic Raw pics while they played one of the old Raw theme songs as well.
Bobby Lashley was shown getting ready when Cathy Kelley walked up to him asking about the match. Lashley talked about how he would still be US Champion if it wasn't for Brock Lesnar, but he dealt with him. Lashley said he'll tear Austin Theory apart and win the US Title back. MVP walked up to Lashley while Cathy left. MVP said that Lashley is going to take back his US Title. MVP said they can hit the VIP Lounge after. Lashley told MVP he didn't need Omos or MVP to help him to become number one contender, so let Bobby handle "my" business.
Analysis: A nod to the Hurt Business at the end there since they have teased a return of that group. Lashley mentioning Lesnar is a bit of a tease I think.
Ric Flair Introduces Charlotte Flair
Ric Flair showed up for a promo to a big pop. Ric was in a yellow and black flower suit. Ric said that diamonds are forever and so is Monday Night Raw…woo! Ric said that WWE has given him so much to be successful, but the greatest thing for him is to watch his daughter exceed all of his goals. Ric said he's so honored as a father, a wrestler and a man, he's there to introduce his special guest, the greatest woman champion in the history of the WWE…Charlotte Flair. Ric let out a "WOO" there too.
Charlotte Flair made her entrance in some non-wrestling gear in the color silver. Charlotte thanked her dad and went to the ring. Graves mentioned it was 30 championships between them and counting.
Analysis: Great introduction by Ric Flair there. Whether you agree with everything he said is up to you, but I think it's great to see how proud he is of his daughter. Ric should be proud considering all of Charlotte's success.
Charlotte got into the ring saying they revolutionized women's wrestling on Raw. Charlotte talked about evolving from a diva to a 14-time Women's Champion. Charlotte mentioned women like Ronda Rousey, Nikki & Brie Bella, Asuka, Rhea Ripley and Charlotte said she was the most decorated women's athlete of all time. Charlotte said she's the Smackdown Women's Champion, but Monday Night Raw will always be her home.
Bianca Belair made her entrance as the Raw Women's Champion in her ring gear. Belair got into the ring with Charlotte saying she respects her a lot. Belair said that this is her show, it's her home and she does everything that she can to make sure that Raw is the greatest show on television.
Sonya Deville showed up for the interruption since she is feuding with Charlotte on Smackdown. Sonya talked about how tonight is a historic night and the two of the mare talking about themselves. Sonya wondered if it was necessary for her dad to give her a big introduction for a show that Charlotte is not wanted on. Sonya moved on to talk about Belair while claiming she was the Raw General Manager for over a year. That was not the job title. Charlotte said that she has been dealing with Sonya on Smackdown, so why doesn't Belair handle this? Belair invited Sonya into the ring so she can be the center of her attention. Belair challenged Sonya to the match right now.
Analysis: It was okay. A simple way to set up a match.
(Commercial)
Bianca Belair vs. Sonya Deville
This was not for Belair's Raw Women's Title. Belair was in control with a shoulder tackle followed by a dropkick. Belair went for a body slam, Deville slipped out of it and did a hair pull takedown. Deville with kicks, Belair avoided a charging attack and got a boot up to stop Deville. Belair hit a backbreaker. Belair bounced off the ropes with a handspring moonsault for a two count. Belair charged, Deville got a knee up and Belair dumped Deville out of the ring. Belair kicked Deville off the apron to the floor. Belair tried jumping onto Deville on the floor, Deville avoided it and Deville kicked Belair into the barricade.
(Commercial)
Belair was in full control with a delayed vertical suplex. Belair went for the moonsault again, but Belair got the knees up and hit a kick to the body for two. Belair kicked Deville away, then picked her up and hit her KOD finish to win. It went about nine minutes.
Winner by pinfall: Bianca Belair
Analysis: ** Easy win by Belair. The crowd was dead for some of it because they don't see Deville as a threat, so her offense barely drew a reaction in the match. I don't like they booked it with a commercial in between leading right to the finish. They could have got the point across in a five minute match without a commercial. Belair winning was the obvious result here.
Post match, Belair did a quick promo about how she's going to beat Alexa Bliss at the Royal Rumble. Alexa Bliss was shown backstage looking in a mirror saying she didn't need anybody's help (she mentioned Bray Wyatt and Uncle Howdy) to beat Belair. Bliss said she will spare Belair her eyes so she can watch Bliss leave the Royal Rumble with the Raw Women's Title.
Analysis: I think Belair wins at Royal Rumble, but Bliss has been booked well in the feud.
Cory Rhodes Return Video
They showed Cody Rhodes talking about how he wants to not just be in the Royal Rumble, but to win it. Cody said that when he stands in that ring, he'll in that moment and know what to do. Cody said he's in the prime of his career, then it's taken away and you hit rock bottom. They showed highlights of Cody's torn pectoral muscle injury from last June. Cody still won the Hell in a Cell match with Seth Rollins that was one of the best matches of the year. They showed comments from a doctor talking about Cody's comeback. Cody said that his injury was like a knife to the heart. Cody said that at the Royal Rumble, as long as his heart is pumping, he can't think of anything that can stop him. Cody said being in the ring is like oxygen and he really needs to breathe again. Cody spoke about how he has made it crystal clear what he wants. It's the WWE Title of course.
Analysis: Great video. Cody is going to be a popular pick to win the Royal Rumble. I think he is my pick for now, but if Sami Zayn is in the match then he makes a lot of sense too.
They showed a graphic of the male wrestlers announced for the Royal Rumble match. There's a lot of star power in the match.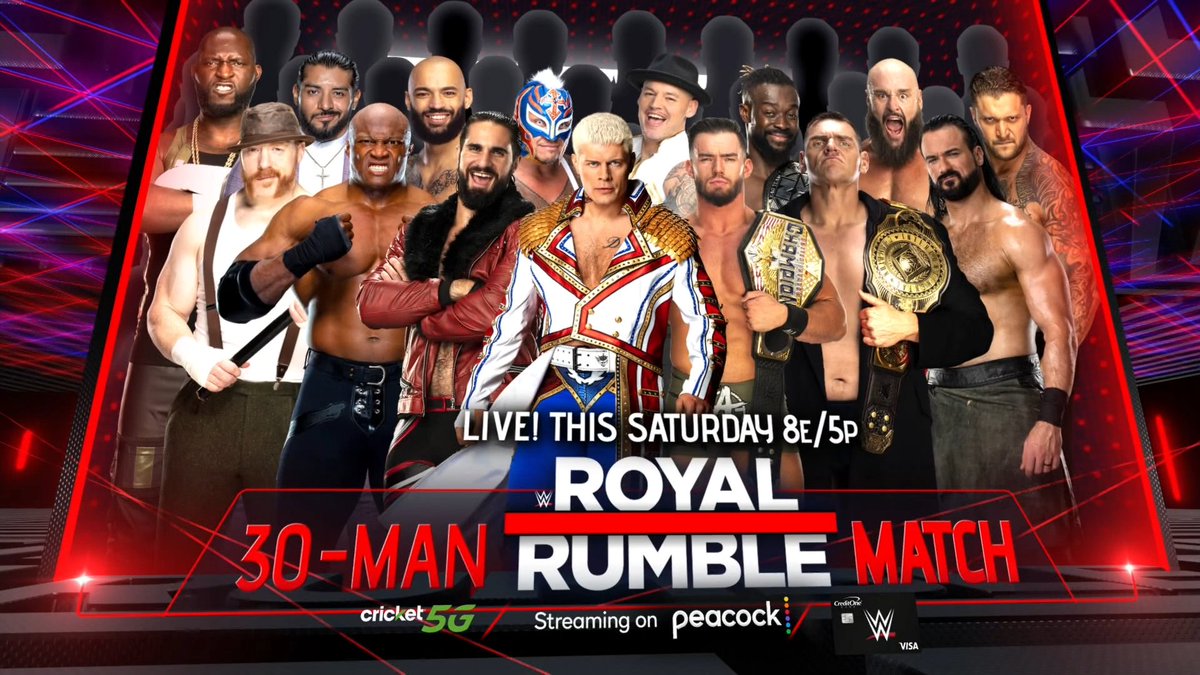 The US Title main event is still to come.
(Commercial)
There were more classic Raw pics shown while they played a classic Raw theme song again.
A video aired about John Cena being the cover athlete for the WWE 2K23 video game. It will be released on March 14th if you're interested.
Let's Hear From The Miz…And Kevin Owens
The Miz was in the ring doing a promo complaining about how he doesn't get to host Miz TV. Miz wanted a title match. Miz bragged about being the first Grand Slam Champion in WWE history. Miz said he deserved his moment. Kevin Owens walked out from behind Miz, turned him around him and hit him with a Stunner.
Kevin Owens did a promo saying that Roman Reigns may have said that Sami Zayn is not guilty, but Reigns is guilty of holding the WWE Universal Title for over two years now. Owens said he will do everything he can do to change that and take that title to give everybody a champion they can be proud of. Owens said he will just keep fighting until he has nothing left or he will die trying. Miz stumbled back to his feet, so Owens hit him with a Stunner again.
Analysis: A quick promo from Owens showing a lot of confidence. It was interesting how Owens just said the Universal Championship, but he probably meant to say Undisputed WWE Universal Championship because a graphic was shown making it clear that both the WWE & Universal Titles are on the line. Perhaps WWE will split up the titles (like the Tag Team Titles) at some point, but for now, they are still together. The Miz was there too, I guess.
The announcers did a Royal Rumble match card rundown.
* Undisputed WWE Universal Championship: Roman Reigns (c) vs. Kevin Owens
* 30-Woman Royal Rumble Match
* Pitch Black Match: Bray Wyatt vs. LA Knight
* Raw Women's Championship: Bianca Belair (c) vs. Alexa Bliss
* 30-Man Royal Rumble Match
Austin Theory made his entrance as the US Champion for the main event.
(Commercial)
The "All Mighty" Bobby Lashley made his entrance to a big ovation. The wrestlers stood in the ring as Alicia Taylor did the championship introductions.
No Disqualification Match for the United States Championship: Austin Theory vs. Bobby Lashley
Lashley was dominant early with a clothesline that sent Theory over the top to the floor. Lashley left the ring as he sent Theory into the barricade. Lashley put Theory on his shoulders and ran him into the ring post. That led to a break.
(Commercial)
Lashley tried a suplex, Theory did an eye gouge and Theory followed up a suplex onto the knee. Theory brought a chair into the ring and hit Lashley in the back with it. Theory wedged a chair against the turnbuckle. Lashley knocked Theory off the apron to the floor. Theory tripped up Lashley on the apron. Theory grabbed a table from under the ring and put it in the ring. Lashley went for a Hurt Lock submission, Theory got out of it, Lashley hit a flatliner and Lashley whipped Theory into the steel chair. Theory went hard into the chair with shoulder/arm making a lot of noise. Lashley grabbed Theory from under the ring, so Theory sprayed Lashley with a fire extinguisher. Theory whipped Lashley into the steel steps.
(Commercial)
The match continued with Lashley hitting a superplex off the top. There was a table set up in one corner of the ring and a table against the turnbuckle on the other side. Lashley hit Theory with an elbow to the head followed by a spinning slam off the shoulders. Theory with a boot to the face, Lashley with a Hurt Lock attempt, Theory with a low blow kick and Lashley gave Theory a spinebuster through the table. Brock Lesnar's music hit as Lashley was down selling the low blow. The smiling cowboy Lesnar went into the ring and hit Lashley with an F5. Lesnar picked up Theory as well and gave him an F5 onto Lashley right into the pinfall. The referee counted the pin to give Theory the win. It went about 14 minutes.
Winner by pinfall: Austin Theory
Analysis: **3/4 It was a solid match for the most part with some weapons used by both guys, but not that much really in a match that has no rules. Lesnar was rumored to be there so it made a lot of sense to have him show up and cost Lashley the title. Theory ends up winning in a cheap fashion by having Lesnar hit him with an F5 onto Lashley, but it fits Theory's character as a smarmy heel that finds a way to escape with the title most of the time. There were two commercials in the match, so that hurt the flow of it. I know they have picture-in-picture in the US, but not for me in Canada and PIP isn't the same as full screen. Considering Lashley mentioned Lesnar earlier in the show, it was obvious that Brock was coming if you pay attention to things like that.
Brock Lesnar left the ring smiling and that was the end of the show. They were right up against the 11pm ET clock with no overrun.
Analysis: This obviously will lead to Lesnar-Lashley 3 with each guy having one win. It might be saved until WrestleMania, but it could happen before that too. I figure we'll get a Lesnar-Lashley confrontation in the Royal Rumble match as well.
THE BEAST IS BACK!@BrockLesnar just crashed #RAWXXX with a message for @fightbobby! pic.twitter.com/vBe3Tda4ni

— WWE (@WWE) January 24, 2023
Three Stars of the Show
Sami Zayn and The Usos
Seth Rollins & The Street Profits
Austin Theory/Bobby Lashley
The Scoreboard
8.25 out of 10
Last week: 7
2023 Average: 7.31
Final Thoughts
It was a very good anniversary/reunion show. Lots of legends throughout the night and they were mostly booked well. Even the backstage poker scenes/segments had some funny lines too.
I think the first hour, which was commercial-free, was excellent. That Bloodline "Trial of Sami Zayn" segment was outstanding. Paul Heyman tried saying that Zayn was against the group, but Jey Uso defending Sami's action was awesome! The fans are so into this story. I really liked how it was done and it didn't feel too long at all. The Usos title defense win over The Judgment Day was booked well with Jimmy getting the worked injury, so Sami took his spot and worked perfectly with Jey to win. This Bloodline angle really is brilliant storytelling.
I was disappointed that the Bayley/Becky Lynch Steel Cage Match didn't take place as advertised since Bayley & Damage CTRL attacked Lynch. It just sucks that we didn't get to see the match. Instead of that match we got a boring Belair-Deville match that had no heat since everybody knew Deville was losing. Just do the Bayley-Lynch match as advertised instead of delaying it to another time.
There was plenty of star power with The Undertaker coming out as the American Badass to help Bray Wyatt deal with LA Knight. I liked that DX-Kurt Angle segment with some funny lines leading to a fun tag team match to put Seth Rollins & Street Profits over Imperium. Brock Lesnar ended the night by costing Bobby Lashley the US Title match against Austin Theory. That should lead to more Lesnar-Lashley in a big match coming soon. Fine with me.
The next WWE Premium Live Event is the Royal Rumble on January 28th in San Antonio. Here's the lineup so far.
* 30-Man Royal Rumble Match
* 30-Woman Royal Rumble Match
* Undisputed WWE Universal Championship: Roman Reigns (c) vs. Kevin Owens
* Raw Women's Championship: Bianca Belair (c) vs. Alexa Bliss
* Pitch Black Match: Bray Wyatt vs. LA Knight
You can watch the Royal Rumble on Saturday, January 28, at 8 p.m. ET/5 p.m. PT, streaming live exclusively on Peacock in the United States and WWE Network everywhere else!
===
Check out the WWE PPV Review archive right here. You can contact me using any of the methods below. Go Toronto Raptors and Toronto Maple Leafs. Be safe and smart out there.
Thanks for reading.
John Canton
Email: mrjohncanton@gmail.com
Twitter: @johnreport