Impact Wrestling Review – October 6, 2022
With only 24 hours to go before the biggest show of the year, Bound for Glory, this week's main event saw Alex Shelley vs Matt Taven face-off before their Tag Team Championship match. Will the Guns or the Kingdom take vital momentum heading into their New York City showdown? Also, the fierce rivalry involving Moose, Steve Maclin and Sami Callihan continues, as Moose faces Maclin with Callihan as special guest referee. The Knockouts' Championship contract signing between Masha Slamovich and Jordynne Grace was also scheduled for the show.
Last week on Impact #1 contender to the Knockouts' Championship, Masha Slamovich, defeated her Pick-Your-Poison opponent, Allie Katch, in a Monster's Ball match. Tonight, Slamovich and Jordynne Grace will sign the contract for their match at Bound for Glory. After last week's violence, can we expect a peaceful contract signing tonight? Also on last week's show, Heath and Rich Swann returned to their winning ways over Honor No More, this time defeating Vincent and PCO. This result will no doubt have infuriated #1 contender for the Impact World Championship, Eddie Edwards, as he and his teammates were building momentum on the road to Bound for Glory. Who will gain the upper hand just 24 hours before Edwards faces Josh Alexander for the biggest prize in Impact Wrestling?
Impact Wrestling 29/9/22 from Skyway Studios in Nashville, TN
The show opened with a short video tribute to the late Antonio Inoki. They then showed highlights from Alexander and Edwards' promo from last week.
Tom Hannifan and Matt Rehwoldt welcomed us to the show and plugged the Bound for Glory PPV, which is live on Friday from Albany, NY. We are straight into the first match of the night as we get into X-Division action.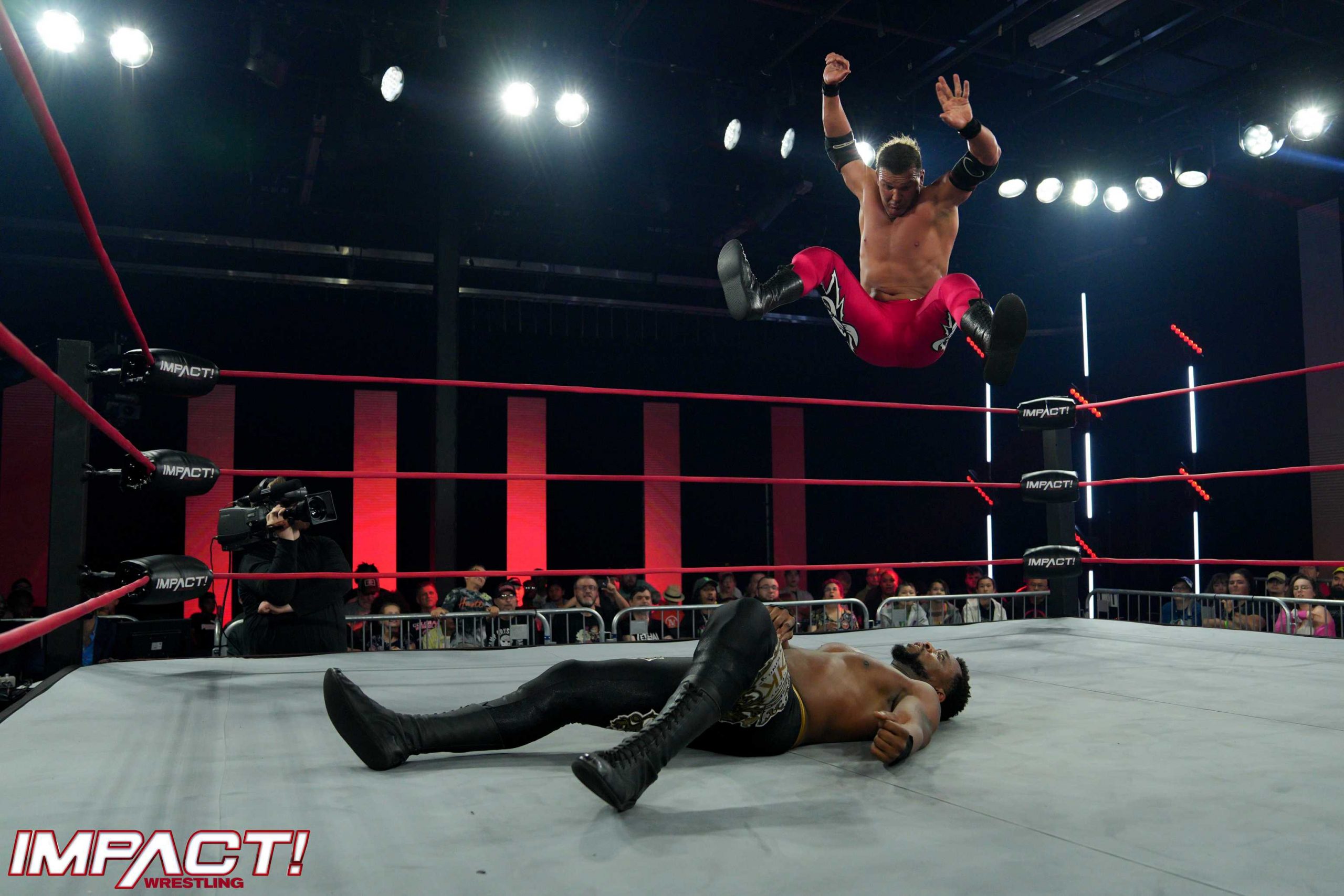 Match #1: Kenny King vs Frankie Kazarian
King is out first with no backup, followed by AEW's Kazarian, to a nice reception. Kazarian, a 4-time X-Division Champion, fights Mike Bailey for the title at Bound for Glory. King and Kazarian have a long lock up, which the referee has to break up because they're back into the corner. Kaz takes down King with a series of hip tosses and tries for an early Crossface Chicken Wing submission but King fights out with a hip toss of his own. King tries an early pin but only gets 1, then Kaz counters for a quick 2 count. King goes for the Royal Flush but Kaz fights off his shoulders and lands a big clothesline, the first real impactful move of the match up. Kaz fights King into the corner but King whips him into the opposite corner. King goes for a running move but Kaz slips over the top rope. He attempts a kick from the apron but King moves and Kaz lands hard. King dropkicks Kaz through the middle rope as the referee starts counting him out. King rolls Kaz back into the ring and hits a scoop slam followed by a springboard legdrop for a 2 count. He runs at Kaz in the corner who blocks with an elbow. King comes back with a big kick to the head for 2. King stretches out Kaz's left arm in a submission until Kaz fights back with shots to the ribs. King rushes in to the corner but Kaz avoids and rolls him up for 2. He tries a backslide for another 2 count. King again runs at Kaz who gives him an overhead suplex into the bottom turnbuckle. They exchange strikes and Kaz gets the ascendency with a spinning neckbreaker for another 2 count. Kaz hits a powerslam and a springboard legdrop of his own for 2. Kaz tries for the Chicken Wing submission again but King avoids it and whips him hard face-first into the middle turnbuckle pad. Kaz is wobbly now and King meets him with a hard right hand in the corner and a T-Bone suplex for 2. King goes for the Royal Flush again but again Kaz fights out of it. He can't avoid the Snap Dragon from King however, who follows up with a Tiger Driver for a really close 2 count. Great nearfall. Once again King attempts the Royal Flush, but Kaz is close to the ropes so he holds on. Kaz slips off King's back and locks in the Crossface Chicken Wing. King quickly taps out. The match went 11 minutes.
Winner by submission: Frankie Kazarian
Analysis: ***1/2 A fine opening match, where the crafty veteran outsmarted the cocky heel and finally locked in the submission for the win. King was hell-bent on nailing the Royal Flush, but Kaz was able to find a way to avoid the maneuver each time.
They showed highlights from X-Division Champion Mike Bailey's title reign as well as some statistics on the history of the X-Division championship. They also showed the 'X-Factors' which were some comparative statistics between Kaz and Bailey, such as height, weight and number of days holding the title.
Analysis: AEW does rankings and shows win/loss records as the wrestlers enter for their matches and that places more importance on each match, so I liked that Impact have shown these statistics. It should be done more regularly as it makes it feel more like a fight than always showcasing the sports-entertainment element.
Hannifan and Rehwoldt hyped up the X-Division Championship match, as well as Mia Yim vs Mickie James. Tonight though, it's Yim vs Gisele Shaw, as well as Matt Taven vs Alex Shelley.
They showed a promo video for Eddie Edwards vs Josh Alexander, highlighting the feud between Alexander and all of Honor No More.
Analysis: Even though I have said previously that I would've preferred a different opponent for Alexander, this is probably the biggest match Impact could have with the current roster. I'm expecting a great match with lots of interference and I think Edwards has a real shot at becoming champion.
There was a highlights video and pre-taped promo from Mike Bailey, who spoke about his reign as X-Division Champion and addressed Frankie Kazarian in a confident way.
Analysis: This feud has only been set over the last fortnight, but it's been given plenty of TV time. Bailey doesn't get to speak much so it was good to hear from him hear, even if it was taped.
Mickie James entered for commentary for the next match. She couldn't fit her headset on with her cowboy hat, which was amusing.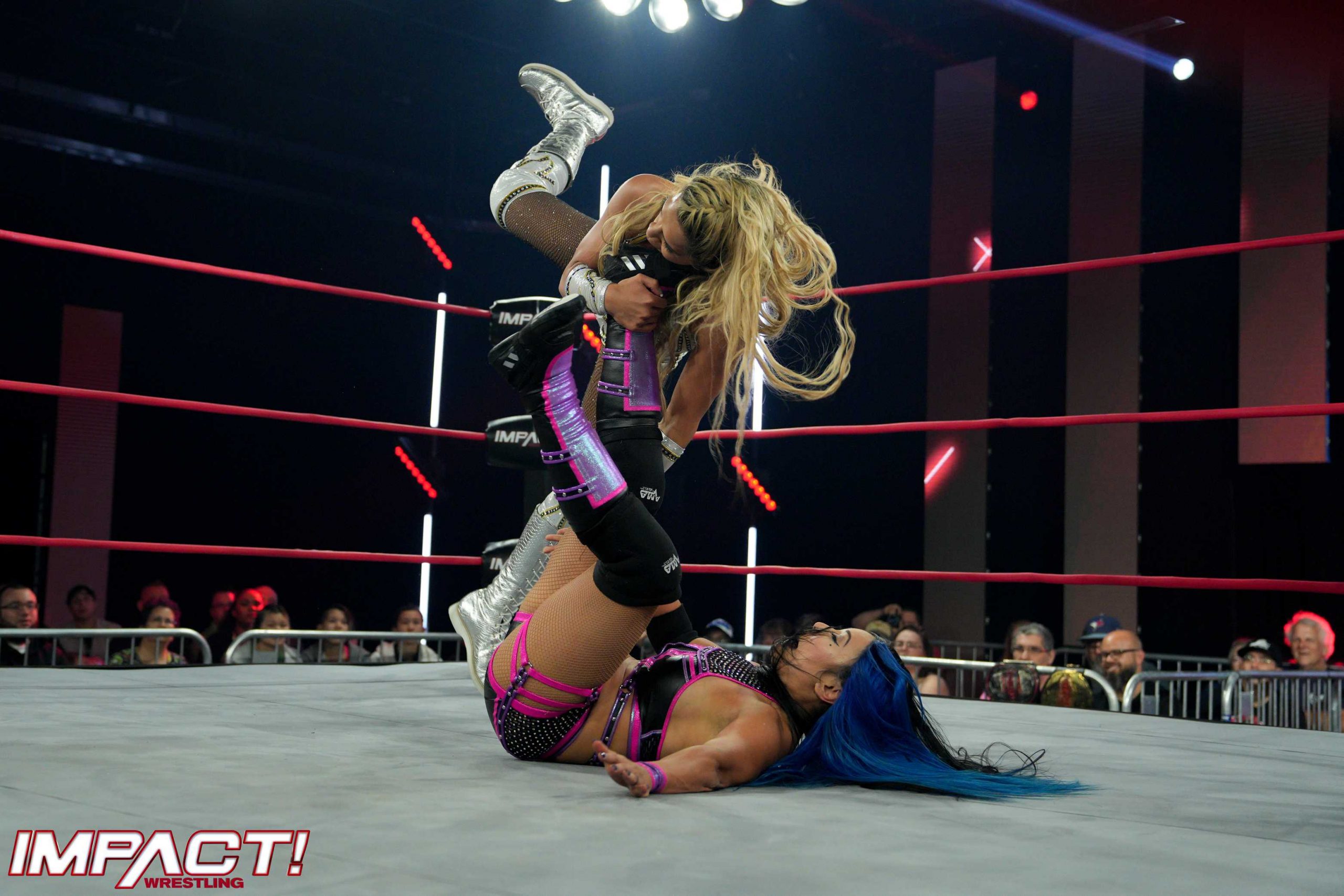 Match #2: Gisele Shaw vs Mia Yim
Shaw has improved a lot lately and Yim is consistently great so this should be good but the result should be obvious seeing which woman is on the PPV card. Shaw gets in Yim's face early so Yim tosses her around the ring and nails a kick in the corner. Yim runs the ropes and hits a running head scissors which sends Shaw to the outside. Shaw taunts James at the commentary table before getting back inside the ring. Yim rolls up Shaw for a couple of 2 counts. Yim tries for a guillotine and has Shaw grounded on the mat. Shaw lifts Yim up and slams her into the corner. Shaw sends Yim over the top to the apron and hangs Yim up on the ropes. Shaw hits the Tornillo on the outside as we go to a break.
(Commercial break)
Shaw is in control as we are back with the action. She whips Yim hard into the corner turnbuckle. Shaw hits a series of running elbows on Yim, followed by a suplex for a 2 count. Shaw misses a stomp and a kick, as Yim fights back with chops to Shaw in the corner. Shaw reverses an Irish Whip and nails a kick to the head and then the draping DDT to Yim who is caught up in the ropes. Yim is able to kick out after 2. They trade elbows in the ropes and both wrestlers go down after head-butting each other. Yim takes over again with forearms and a series of clotheslines. Yim dropkicks Shaw into the corner and nails the cannonball. Shaw grabs the rope as the referee is about to count 3. Yim goes for Eat Defeat but Shaw cleverly drags Yim by the arm and her throat bounces off the bottom rope. Shaw hits a Full Nelson backbreaker into a Flatliner for another 2 count. Shaw misses the running knee in the corner and Yim capitalises with Eat Defeat out of nowhere for the win after 7 minutes.
Winner by pinfall: Mia Yim
Analysis: *** A pretty even and enjoyable match here. Yim got the win, but Shaw put up a solid fight and Yim certainly didn't win in a dominant fashion. They're trying to build Shaw as a serious threat but she needs the wins to be presented as such.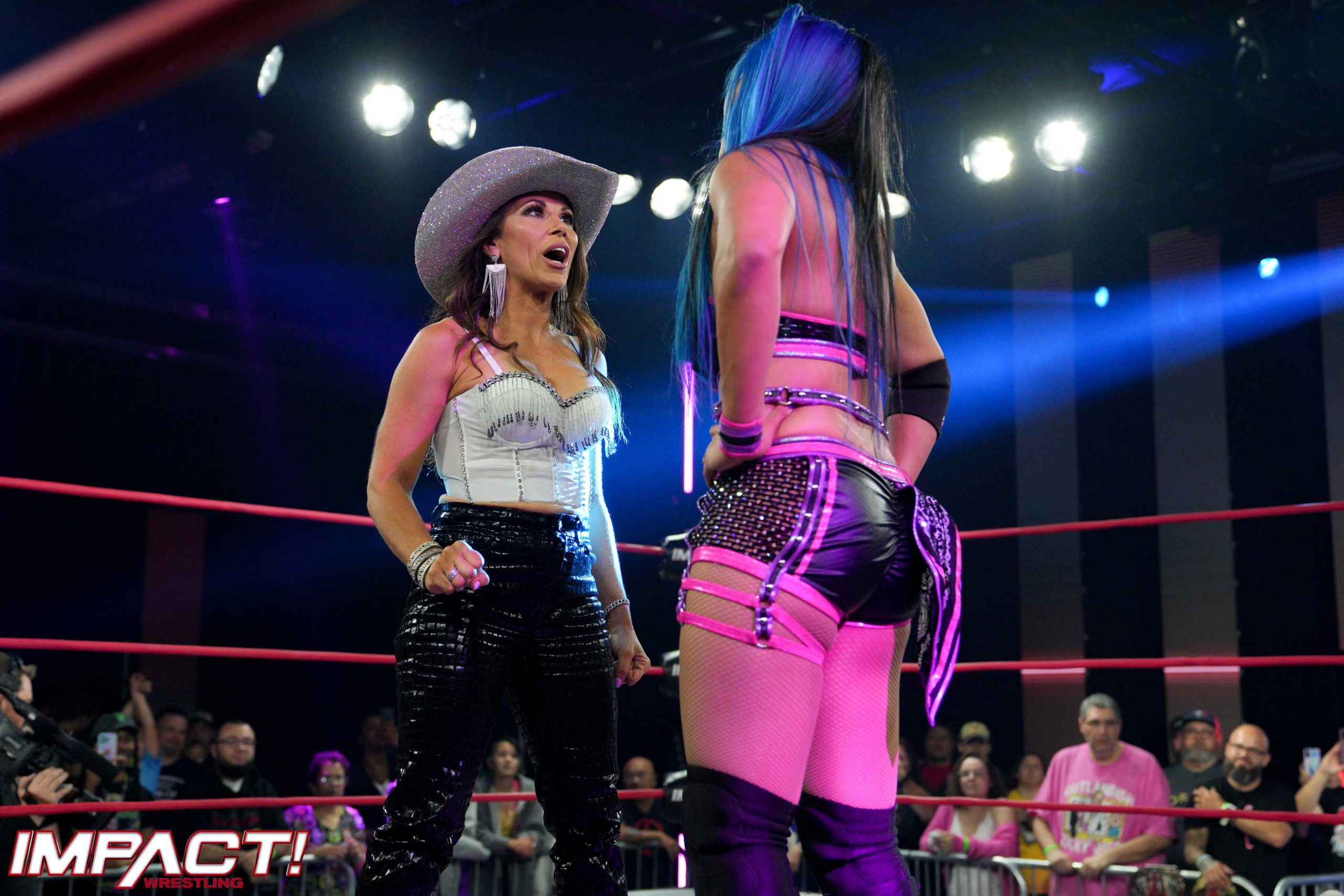 After the match, Mickie James congratulated Yim on the win.
They showed highlights from last year's Bound for Glory where Josh Alexander won the Impact World Championship against Christian Cage, and then Moose cashed in his Call Your Shot opportunity to beat Alexander straight away. Some of the wrestlers such as Sami Callihan and Johnny Swinger (ha) put over their chances in the Gauntlet Match. There are 20 wrestlers and it's a battle royal until the last two competitors when it then becomes a singles match. The winner gets a shot at any title, any time over the next year.
Analysis: I think it might be Sami Callihan winning this, but I wouldn't be surprised if they give Bobby Fish a run as a challenger. It will be interesting as to who they choose as the winner.
There was a video highlighting Killer Kelly at the Victory Road pre-show, where she choked out the referee with a chain in her match with Tasha Steelz. Mid-promo Steelz and Savannah Evans interrupted and attacked Kelly. Evans was choking out Kelly as Steelz said she would see her at the Call Your Shot Gauntlet.
Analysis: That was cool, as I thought it was a pre-taped vignette but it turned out to be 'live' as Evans and Steelz struck. It was disappointing that Steelz vs Kelly was moved to the pre-show from Victory Road and then even worse that it was a DQ ending. Hopefully they have another singles match soon as they had built that feud up well until Victory Road.
The Flashback Moment of the Week was from Bound for Glory 2003 where Raven debuted and took out Impact World Champion Jeff Jarrett. Vince Russo was even there!
Analysis: I do not miss the screaming of Mike Tenay and Don West on commentary.
Brian Myers was walking backstage when one of the crazy 'I am violence' yellow-hoodie characters was being escorted out by security. Myers bumped into Delirious who rambled on incoherently. He started mouthing off at a woman who he thought was Black Taurus' agent.
Analysis: Myers has an open challenge at Bound for Glory. Hopefully it's a surprise entrant, like Matt Cardona (even though they are buddies) who still hasn't returned to Impact even though he has wrestled for NWA lately.
There was a video package to hype the Knockouts' Championship feud between the undefeated Masha Slamovich and Jordynne Grace.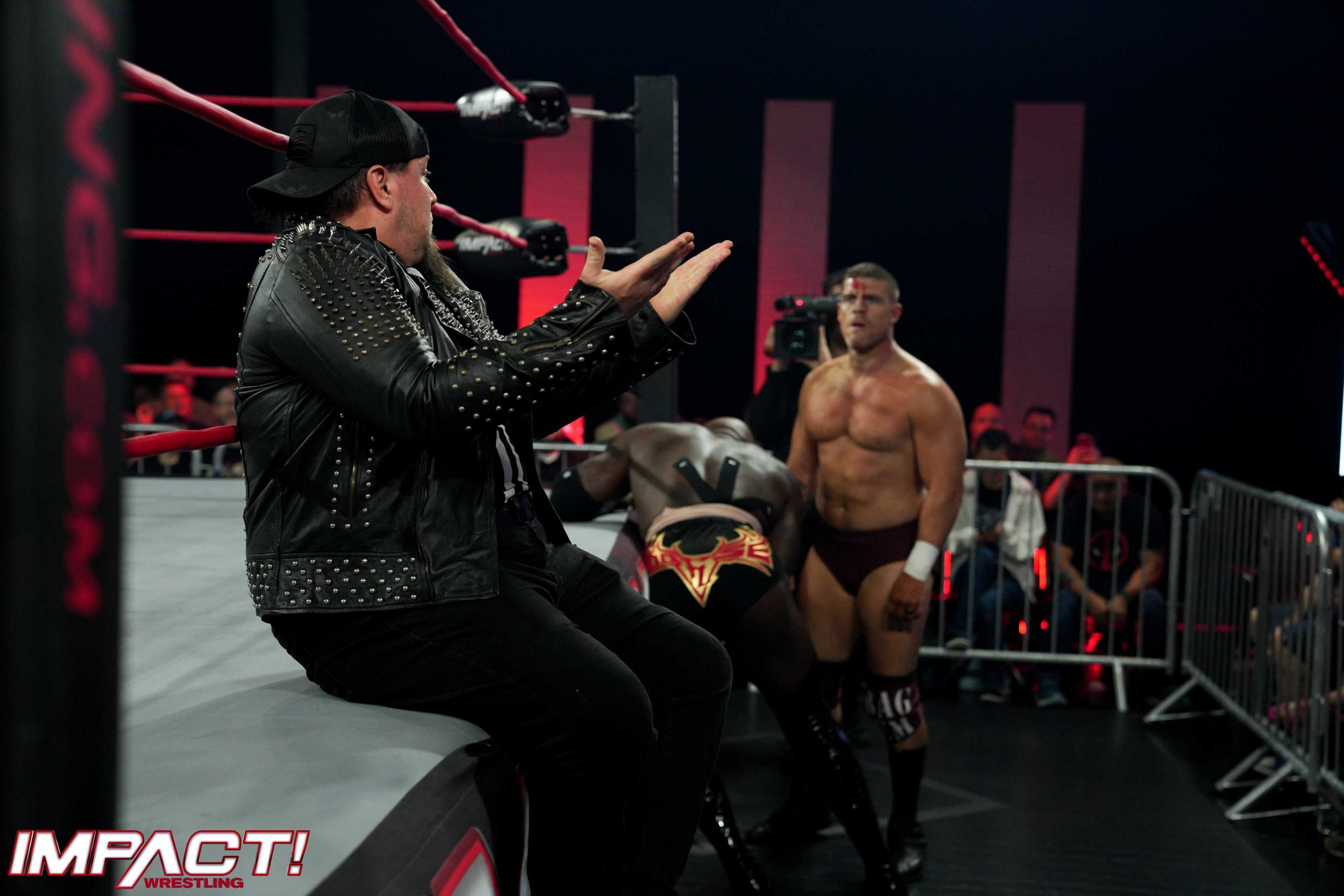 Match #3: Moose vs Steve Maclin with Sami Callihan as special guest referee
Callihan is out first in his referee's shirt, sporting an impressive black eye from the Barbed Wire Massacre a couple of weeks ago. Moose is next and Maclin, the winner of Barbed Wire Massacre, is the last to enter. It's a first-time match up here which could've been saved for a big main event but here we are. Maclin mounts Moose early and goes to work with right hands. Maclin backs Moose into the corner and unloads with right hands and kicks. Callihan starts to count for the corner break but he's enjoying Maclin beat Moose up so he turns his back. Moose takes advantage of the distraction and begins a series of chops on Maclin. Moose runs at Maclin who avoids a clothesline and Moose falls to the floor. Maclin is already busted open, still feeling the effects of Victory Road, and throws Moose head first into the steel post. Callihan begins the 10 count but gives up after 2. Callihan encourages Maclin to beat Moose down some more so Maclin suplexes Moose on the floor. They eventually get back into the ring and Moose whips Maclin hard, spine first into the turnbuckle. Moose targets the open wound of Maclin with right hands. Maclin hits a running back elbow but it doesn't really faze Moose who hits a big running elbow of his own and Maclin is taken off his feet. Moose rips at the forehead wound of Maclin. Moose traps Maclin in the corner and beats him down some more. Moose nails a big boot then slingshots Maclin into the bottom rope. Moose again starts ripping at the head wound of Maclin. Maclin targets the taped ribs of Moose and takes him down with a big clothesline. They exchange right hands and Maclin hangs Moose upside down in the ropes and nails him with a spear in the corner. Callihan takes forever to get to the mat and counts 1 very slowly. Maclin gets in Callihan's face. Moose hits a big headbutt on Maclin and Sky High off the top but Callihan refuses to count. Callihan tells Moose to hit him and see what happens. Moose lines up Maclin for the spear but misses and goes shoulder-first into the corner. Maclin tries a German suplex but Moose slips out of it and finally nails the spear. Callihan counts 2 and is about to count 3 when he nails Moose with a kick and the Cactus Driver 97. Maclin then gets one too. Callihan puts Maclin on top of Moose and counts the 3. Callihan raised Maclin's arm as the winner in comical fashion, as he was down in the mat after getting the Cactus Driver. The match lasted ten minutes.
Winner by pinfall: Steve Maclin
Analysis: ***1/2 That's a tough one to rate as it was more about the continuous storyline than the match, but the in-ring action was entertaining and I enjoyed Callihan's referee antics. He might get the call up to AEW (kidding!). Maclin can now brag about beating Moose and Callihan in the space of a few weeks.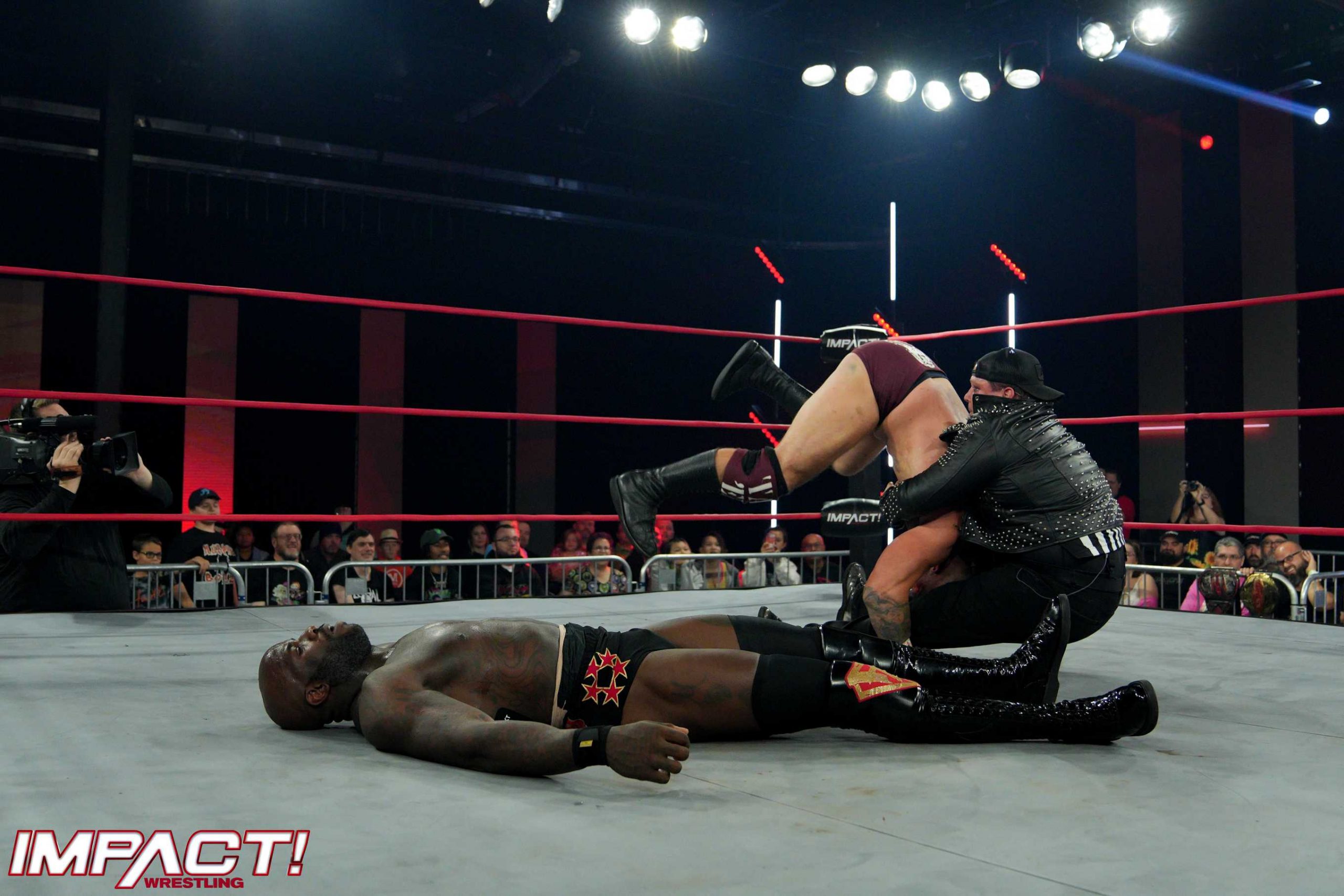 There were some Gut Check competitors discussing the final spot in the Gauntlet match. They were playing Rock-Paper-Scissors to see who would get the spot. One of them won and went off to demand a spot in the match from Scott D'Amore. He was about to go into the office when Joe Hendry walked out of the office, saying that he's got the last spot in the match. The ultra-catchy and annoying Joe Hendry song played and then some of the locker room and producers started dancing and singing the song.
Analysis: These skits have been so goofy over the last couple of weeks but I actually laugh during them. I'd put them in the 'so bad that they're good' category. Hendry will debut at Bound for Glory so that's a positive. I hope his song is his entrance music but I'm not sure how we can take him seriously after the last month of ridiculous promos.
Match #4: The Swingerellas w/ Johnny Swinger and Ziggy Dice vs Jessicka and Taya Valkyrie
If I wasn't reviewing this I would be skipping it, even with Taya in it. Jessicka starts off against 'Swingerella #1' and hits a big clothesline in the corner. Taya tags in and hits a double knee in the corner. Taya tags Jessicka back in but first hits a sliding German suplex as her opponent is sitting on the second rope. Jessicka hits the 'Sickishi Driver' (I'm not making that up) for the win and it didn't look good at all. The second Swingerella didn't even tag in.
Winners by pinfall: Jessicka and Taya Valkyrie
Analysis: * Thankfully that only went two minutes. Surely there's a better tag team to give Taya and Jessicka proper momentum before they face VXT on Friday night. This was bad.
Gia Miller interviewed VXT backstage. She asked if Green and Purrazzo were worried about their Tag Team Title defense at Bound for Glory. Green laughed and said they beat them so badly at Emergence, that Jessicka had to be repackaged. Purrazzo said that wasn't 'sick', she's just feeling ill. Green said that they will leave BFG as champions.
Analysis: I hope they retain although Purrazzo could certainly be doing something better than being in the tag team division.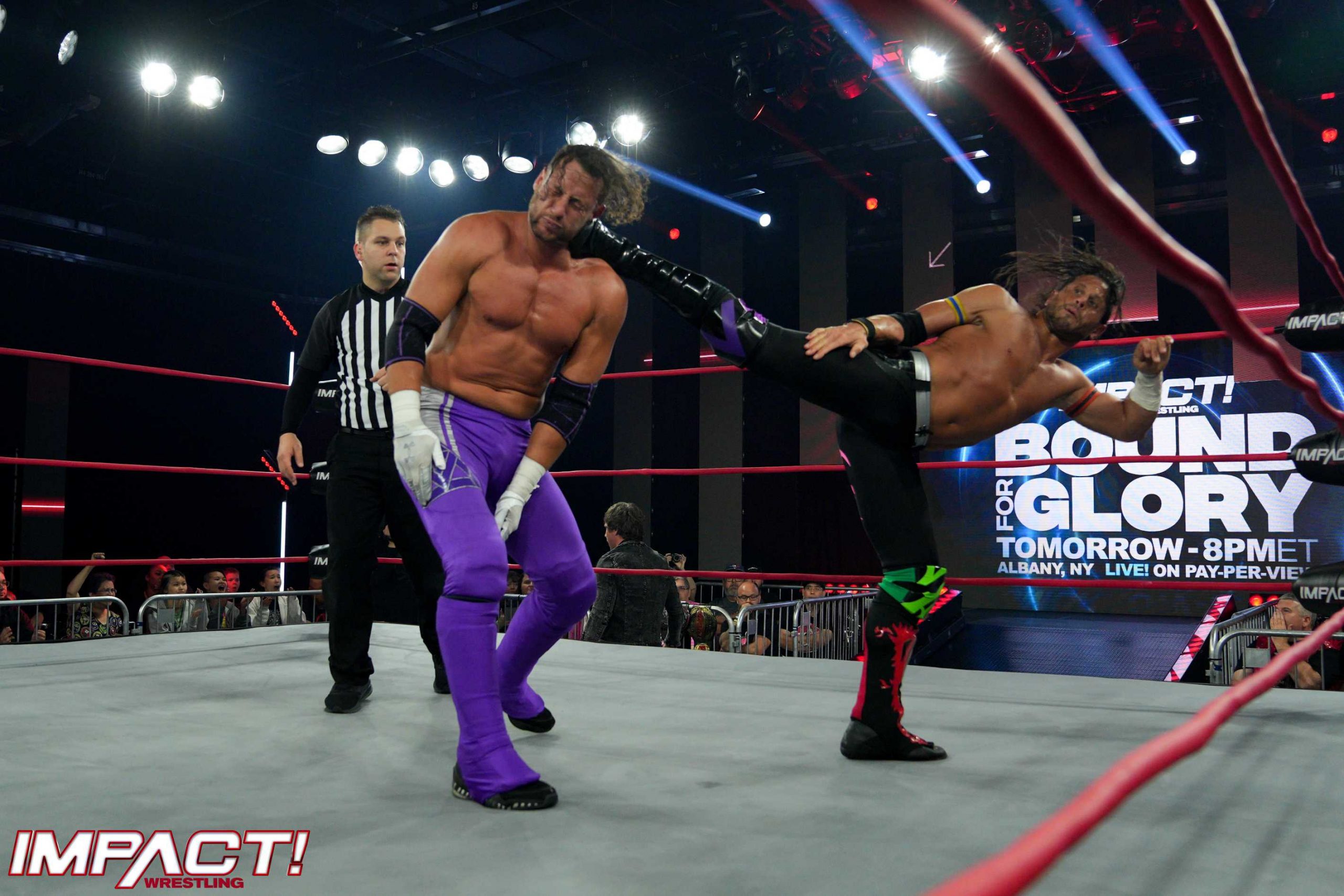 Match #5: Matt Taven w/ Mike Bennett and Maria Kanellis vs Alex Shelley w/ Chris Sabin
It's main event time (even though the Knockouts' Title contract signing aired last on the show) between half of the competitors in the Tag Team Championship match at Bound for Glory. Taven has a distinct height advantage in this match. He starts the match by backing Shelley into the corner with a series of right hands. Taven went for the Climax early but Shelley blocked it and held the arm. Taven retreated to the outside for a breather. Taven came back in but Shelley took him down with a shoulder block. Taven got control back with a dropkick. Shelley continued to target the left arm of Taven. He ran the ropes and Bennett tripped him up. Sabin returned the favour by tripping Taven. Shelley caught Taven up in the ropes but Maria distracted the referee. Taven went for a dropkick through the ropes but Shelley dodged and Taven took out Bennett. Back in the ring and Shelley took down Taven with a flying forearm. Shelley choked Taven out in the corner. Maria distracted the referee again so Taven raked the eyes of Shelley. Taven hit a series of backbreakers and got a 2 count.
(Commercial break)
Taven caught Shelley with another backbreaker as we returned from the break. Taven slapped on a headlock and then stretched Shelley out. Shelley got to his feet but Taven quickly regained the advantage with a side Russian Legsweep. Taven missed a springboard moonsault attempt. Shelley caught Taven with a knee to the ribs and flipped Taven over for a nearfall. Shelley tried for the Motor City Stretch but Taven fought out of it and got back to his feet. Shelley held onto the left arm and continued to hyper extend the elbow. Taven hit a big kick out of desperation and nailed the springboard moonsault for 2. Taven tried a springboard kick but Shelley ducked out of the way. Shelley hit a Flatliner into the middle turnbuckle. Bennett got up on the ring apron and grabbed onto Shelley. Sabin arrived and hit a superkick. Shelley hit Sliced Bread #2 on Taven but Maria put Taven's foot on the rope as the referee was about to count 3. The referee caught Maria but didn't send her to the back. Taven wanted the Climax again but Shelley shoved him to the ropes. Taven held on and performed a springboard kick to the face of Shelley. Taven went to the top for Aurora Borealis but Shelley got his knees up. Shelley covered only got a 2 count. Shelley punted Taven in the chest, then Maria climbed up on the ring apron for the distraction, allowing Bennett into the ring to attack Shelley. Sabin tried to help but Bennett sent him to the floor. Shelley threw Bennett back out of the ring so Taven rolled him up but only got 2. Taven hit a big knee to the face of Shelley for 2. Shelley countered the Climax and hit Shell Shocked for the win after 11 minutes.
Winner by pinfall: Alex Shelley
Analysis: ***3/4 That was a great back-and-forth match up, even with the outside shenanigans that we have come to expect from Honor No More. Shelley goes full throttle in every match and has partnered this with more submission moves lately. Taven received plenty of criticism for his title reign in ROH but I have found him to be a great performer in his Impact run so far. The gloves are goofy though. Despite the win, I think this is a classic 'Win on TV, lose on PPV' booking for Shelley and Sabin.
The commentators ran through the Bound for Glory lineup, which you can read below.
There were highlights from 'Outside the Ropes' where Tom Hannifan interviewed Josh Alexander, before the Impact World Title match at Bound for Glory. Both wrestlers were not on the show this week, which seems crazy before the biggest show of the year, but you can watch that segment here or below.
It ended in a confrontation between the two, but no physical altercation. Alisha and Eddie Edwards then argued, with Alisha telling her that Eddie ends 'this' or they're through.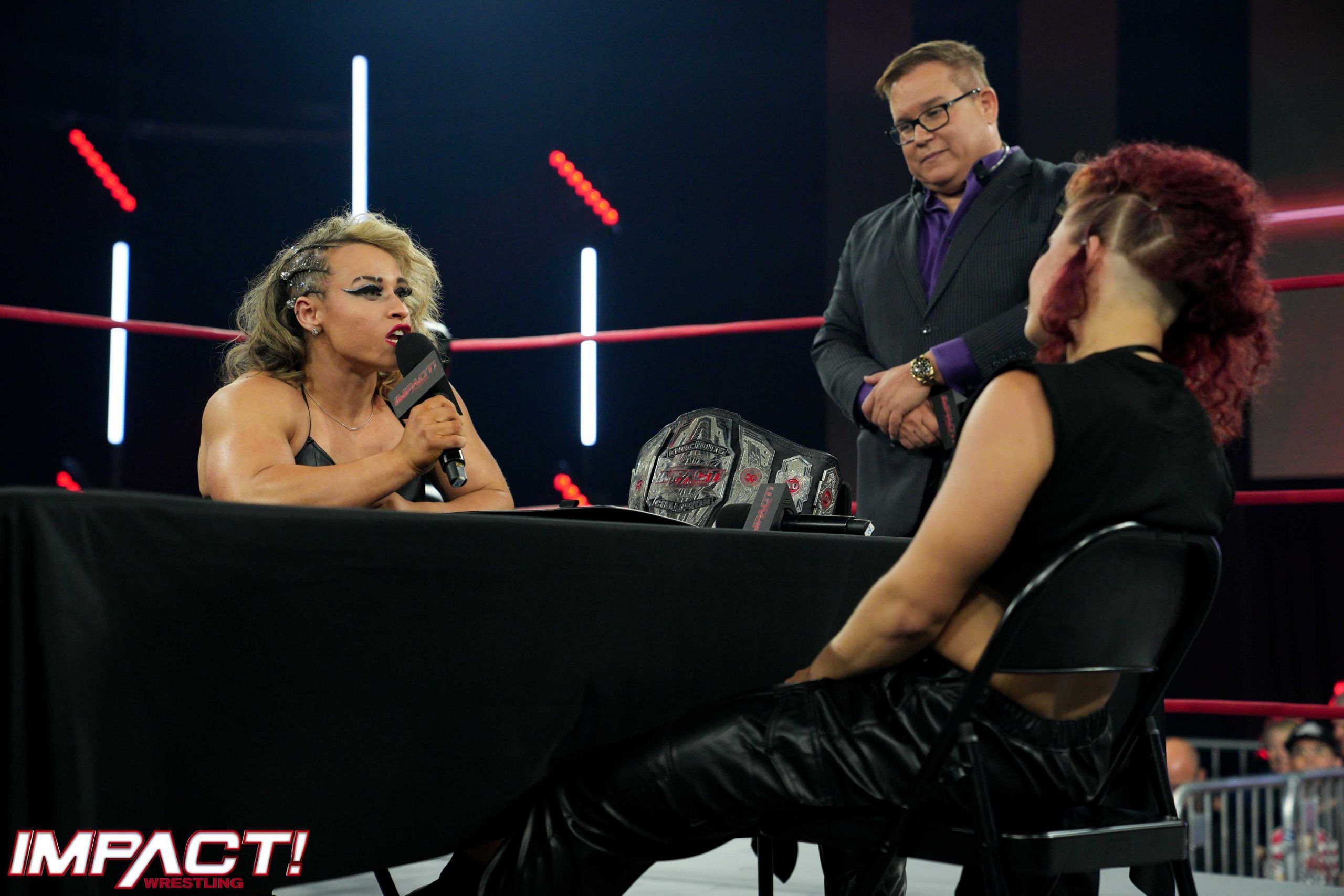 Impact Knockouts' Championship match contract signing segment
Scott D'Amore was in the ring with a table and 'contact' set up. D'Amore hyped up the importance of Friday's PPV. D'Amore introduced the undefeated Slamovich first. Jordynne Grace was out next with her title. Grace placed her title down on the table. D'Amore said that despite the Pick Your Poison matches, both ladies have come out the other side and are ready for this huge match. D'Amore stressed the importance of Masha putting her undefeated streak on the line. Slamovich took the mic and was about to speak but stopped and just simply signed the contract. Grace said she respected Masha. She said that it only makes sense that her undefeated streak led her to a title shot. Grace said she's nowhere near ready to give her title up. Grace signed the contract. D'Amore hoped that was the end of the segment but Masha picked up the mic and spoke in Russian. Grace didn't understand. Masha translated: "Masha's gonna kill you" and then dumped the table on Grace. Masha trapped Grace under the table and hammered away with right hands. She set up the table in the middle of the ring but Grace fought back with right hands and put Slamovich on the top rope. Grace went for a Muscle Buster through the table but Slamovich hit a back fist and the Snow Plow through the table. Masha held up the title as Impact ended.
Analysis: A simple, but effective, segment to hype the match. It ended with the challenger standing tall and I think that match could really go either way. Grace doesn't really need the title but I'm not sure Slamovich is ready to lead the division. She did show a bit more personality in this segment with her mannerisms. I'm really looking forward to that match on Friday night.
Final Rating: 8/10

This was a great show and was really effective in giving every match on the PPV some kind of exposure, before the event on Friday. I know they are taped shows, but it was quite odd to not have the World Champion or his challenger on the show except for an interview that was taped days ago. I find that quite bizarre. Anyhow, they have dedicated a lot of time on previous shows to that feud. Tonight's show had solid matches and I enjoyed Shelley vs Taven the most. They have had two weeks to build that feud as a first-time tag team match and it could steal the show. The Guns just don't do mediocre matches or feuds. Kenny King vs Kazarian was another really good match, as was Moose vs Steve Maclin although it was more about the angle than the match. The women's division got more air time tonight, not only in the form of Shaw vs Yim which was solid, but a quick tag team segment and of course the contract signing. The video packages tonight were outstanding and I thought they did a stellar job of making Bound for Glory seem like the biggest show of the year. The card is really solid, although I am disappointed that some of my favourites are lost in the Gauntlet and not in singles feuds. I am interested to see the Bound for Glory attendance. It looks like all the floor seats are gone on the Ticketmaster site, so that's good news. I have really enjoyed watching Impact again over the last 18 months and just want them to do well. There looked like there could've been literally 100 people at the taping tonight. I wish it was shot here in Australia as I'd go every week!
Here's the Bound for Glory lineup for the PPV on October 7th. I will do some form of review over the weekend and I will list my predictions here in bold:
* Impact World Championship: Josh Alexander (c) vs Eddie Edwards
* Impact Knockouts Championship: Jordynne Grace (c) vs Masha Slamovich
* X-Division Championship: Mike Bailey (c) vs Frankie Kazarian
* Impact Tag Team Championships: The Kingdom (c) vs the Motor City Machine Guns
* Impact Knockouts Tag Team Championships: VXT (c) vs Taya Valkyrie & Jessicka
* Mia Yim vs Mickie James
* Call Your Shot Gauntlet match (20 wrestlers- winner receives a championship match within 1 year, at a time of their choosing): So far named- Bobby Fish, Moose, Steve Maclin, Rich Swann, PCO, Heath, Bhupinder Gujjar, Gisele Shaw, Sami Callihan, Joe Hendry, Tasha Steelz, Killer Kelly, Savannah Evans, Eric Young, Johnny Swinger + 5 others
Pre Show:
* Impact Digital Media Championship Open Challenge (Myers will win because it's not on the main show)
Any feedback or comments are welcome. My email address is kristian.l.thompson@gmail.com in case anybody wants to get in touch with me and my Twitter handle is @thomok6 as well. Thanks for reading!