Impact Wrestling Review – September 29, 2022
This week's edition of Impact Wrestling continues the build to the Bound for Glory Pay-Per-View. The #1 contender for the Knockouts' Championship, Masha Slamovich, is in action in a Monster's Ball match against Jordynne Grace's hand-picked opponent, Allie Katch. Heath and Rich Swann look to redeem themselves in a tag team match against PCO and Vincent, after going down to Honor No More at Victory Road.
Last Friday at Victory Road #1 contender Eddie Edwards pinned Impact World Champion Josh Alexander in 6-man tag team action. Edwards has the momentum going into their Championship showdown in just 8 days time, but how will Alexander recover from his first pinfall loss in almost a year? Also on the Impact Plus special, Steve Maclin was victorious in a brutal Barbed Wire Massacre, overcoming Sami Callihan and Moose. Will this be the end of the rivalry between these 3, or will the violence continue to reign in the Impact Zone? Mike Bailey was able to overcome ROH veteran Delirious to retain his X-Division title. On the same night, Frankie Kazarian became number 1 contender and the two will face-off in what should be a fantastic encounter at Bound for Glory. Will the normally-casual Bailey be thrown by the returning Impact veteran, or will the champ continue to roll into Bound for Glory with the usual confidence?
Impact Wrestling 29/9/22 from Skyway Studios in Nashville, TN
The opening video focused on Honor No More's victory over Impact World Champion Josh Alexander, Rich Swann and Heath at Victory Road. They also showed highlights of Knockouts Champion Jordynne Grace overcoming Max the Impaler in a Pick-Your-Poison match, ahead of her championship defense against Masha Slamovich at Bound for Glory.
Tom Hannifan and Matt Rehwoldt welcomed us to the show and plugged the Bound for Glory PPV, which is live next Friday from Albany, NY.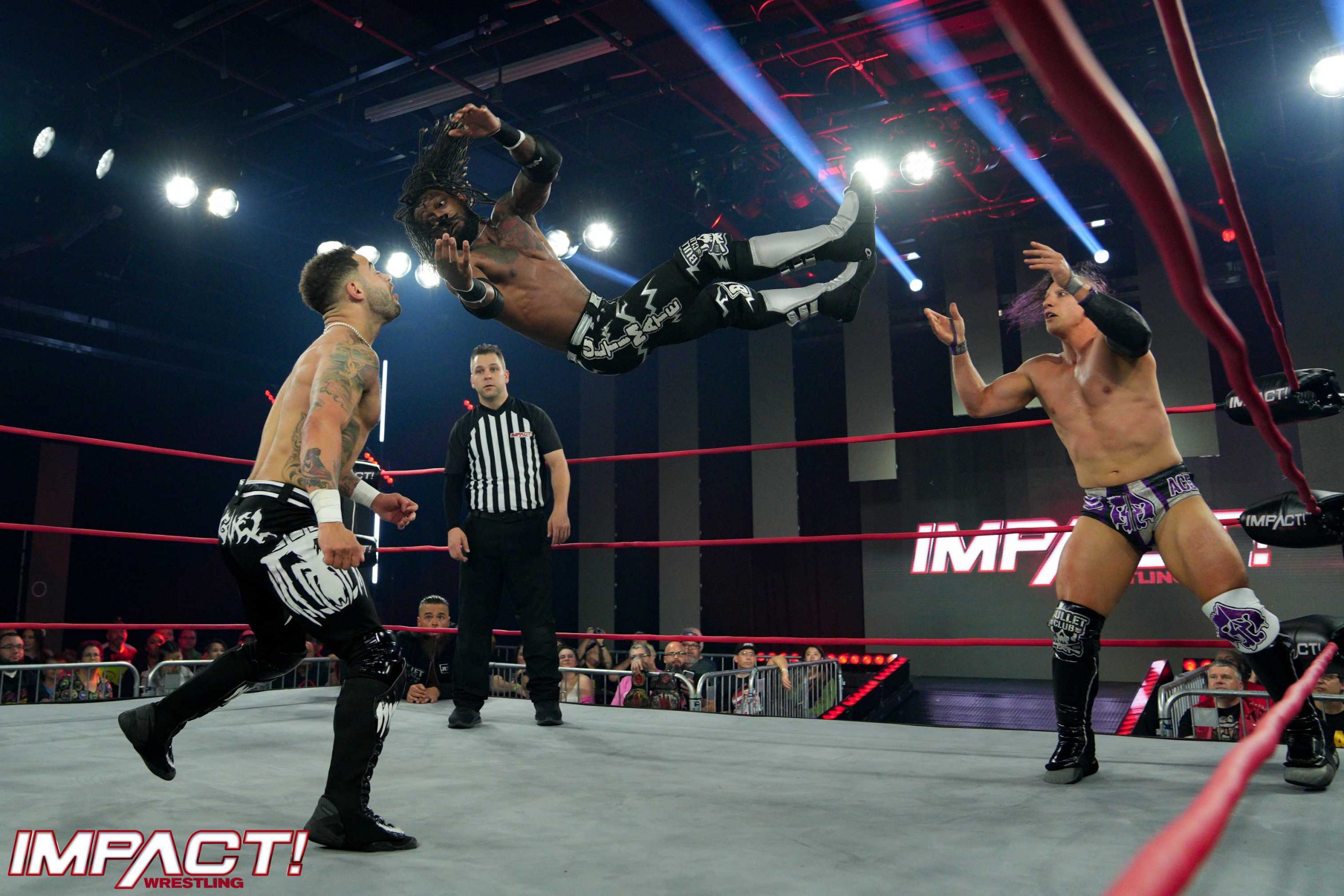 Match #1: Bullet Club (Ace Austin & Chris Bey) w/ Juice Robinson vs Laredo Kid & Trey Miguel
At the time of writing, none of these competitors are on the card for Bound for Glory, which is a shame but hopefully they make their way onto the show. Austin and Bey are accompanied by Robinson, who faced off with AEW World Champion Jon Moxley on Wednesday's Dynamite. Laredo Kid and Austin face-off to start the match and Kid tries to catch Austin off-guard and gets a 1 count with a roll up. Austin wants a 'too sweet' but Kid emphatically says no with a kick to the gut. Kid flies through the air and catches Austin with a crossbody. He sends Austin to the outside with a hurricanrana and goes to dive through the ropes but is stopped by Bey. Austin sneaks into the ring on the other side and nails Kid with a back suplex for a 2 count. Austin has Kid grounded with a headlock and Austin backs him into the corner to tag Bey. They double team Laredo Kid and Bey hits a double stomp for 2. Bey continues the punishment with a backbreaker. Bey tags Austin back in and he rakes the back of Laredo Kid and hits another backbreaker. There's another tag to Bey who tries an attack in the corner, but Kid is able to fight off with a hurricanrana and makes the tag to Miguel. Miguel connects with a series of kicks and hits a double stomp on Bey for a 2 count. Miguel slaps on an armbar and Bey tries to crawl to his corner but is able to reach the ropes. Miguel continues to work on the left arm of Bey in the ropes. He hits an atomic drop and rolls through with a bridging pin for a 2 count before tagging Kid back in. Bey fights off the double team attempt and tags Austin back in. Austin clotheslines Kid and then sends Miguel to the outside. Austin performs a springboard kick from the second rope and gets a 2 count on Kid. Austin tags Bey in again and wants the Art of Finesse on Kid but Miguel cuts him off with a dropkick. Austin intervenes but Miguel clotheslines him to the floor then Kid dives through the ropes to take Austin into the guard rail. Bey goes for a jumping DDT on Kid who holds onto him, whilst Miguel flies through the air and plants Bey with a springboard sunset powerbomb for a very close 2 count! Miguel is legal now and hoists Bey into the air. Kid is ready to perform a move from the top but Austin sends him crashing to the ringside area. Miguel tries to fight off Bullet Club in the ring but they overcome him as Bey hits the Art of Finesse and Austin connects with the Fold for the 3 count after 8 minutes.
Winners by pinfall: Bullet Club (Ace Austin & Chris Bey)
Analysis: *** A perfectly fine way to open the show, with the team that tags regularly getting the win. Both teams focused on opponents' body parts during the match, but that didn't feature in the last few minutes of the match so seemed a bit odd. Trey Miguel continues to lose most matches he is in. I wish he was booked better. Austin and Bey are both very talented wrestlers but are stuck tagging at present.
They showed highlights from last week's Impact where Brian Myers successfully defended his Impact Digital Media Championship in a very good ladder match against Bhupinder Gujjar. Gia Miller is interviewing Gujjar backstage, who obviously has a broken nose. Gujjar says he's not cleared at present but he will be for Bound for Glory where he is entering the Call Your Shot Gauntlet Match.
Analysis: That's an easy way to get 20 wrestlers on the show. The winner gets a shot at any title, any time he or she chooses. So far PCO and Gujjar have entered.
Miller is then joined by X-Division #1 contender Frankie Kazarian. Kazarian says he entered the Triple Threat Revolver at Victory Road to see if he could still hang with the current crop of X-Division stars. Kazarian says not only did he enter, but he won. Kazarian says he's not there to sit on the bench (AEW reference?) but he's in the game. He says he is a fan of Mike Bailey but at Bound for Glory he will take back the X-Division title.
Analysis: Good to see Frankie get some time on the mic. Kaz vs Bailey will be one of the best matches on the show.
Back at ringside and one of the yellow-hoodie wearing cult members of Violent by Design was trying to climb the guard rail as Matt Rehwoldt screamed for security. Rehwoldt and Hannifan sold the distress of the situation before previewing the Tag Team Championship match at Bound for Glory between the Kingdom and the Motor City Machine Guns.
Analysis: There have been some creepy promos with Eric Young, Deaner and these characters in yellow hoodies so the story continues with them trying to break into the arena.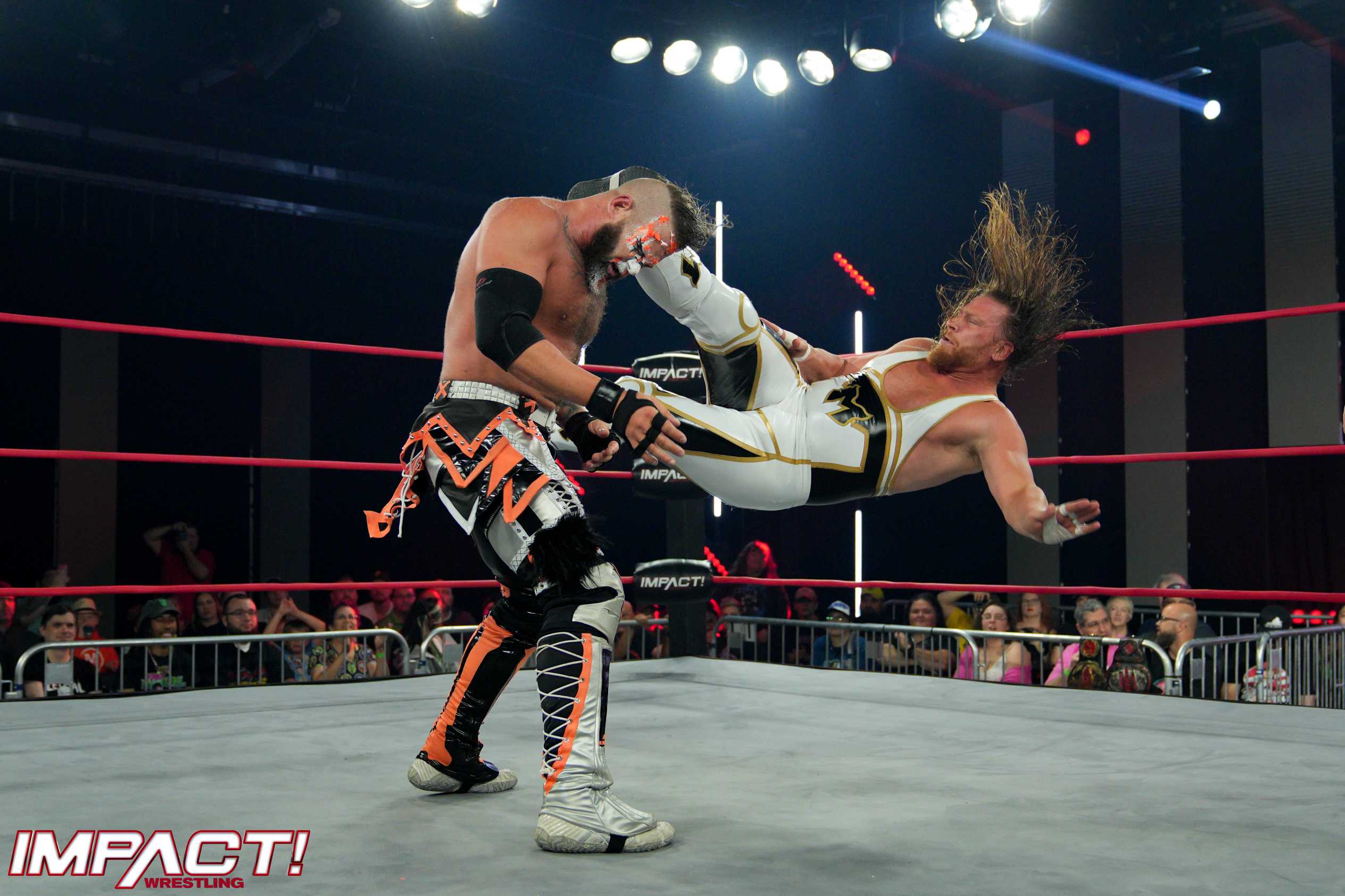 Match #2: Impact Digital Media Championship: Brian Myers (c) vs Crazzy Steve
It's been pleasing to see Myers featured more prominently lately as he is a solid wrestler and more than capable on the microphone. He plays the cowardly heel role pretty well. There was a female referee for this match, which is not unusual nowadays, however I have never seen her in Impact before. A quick bit of research tells me that she's Allison Leigh and is making her Impact debut in this match. Myers was complaining to Leigh beforehand about having to defend his title one week after being in a ladder match. Myers dominated early by stomping away on Steve. Myers had a headlock applied but Steve fought out with right-hand strikes. Myers scored with a drop toe hold as we went to a commercial break.
(Commercial break)
Back from the break and Steve has Myers in the corner with a running uppercut. Steve nails Myers with a cannonball in the same corner for a 2 count. Steve climbs to the top but Myers rolls away from the corner and catches him with a superkick as he's coming in. Myers hits the Implant DDT for a 2 count. Myers was frustrated that Steve kicked out. Myers ran at Steve in the corner but Steve stopped him and started biting Myers' forehead. Steve locked in his Upside Down Tarantula in the ropes. He climbed to the top rope but Myers held the referee in harm's way which allowed him to poke Steve in the eye. Myers hit the Roster Cut for the 3 count after 5 minutes.
Winner by pinfall AND STILL Impact Digital Media Champion: Brian Myers
Analysis: *** It was a short match but I was entertained throughout as it was a competitive match. Once again Myers had to rely on cheating to win which fits his character. Steve had some good moments and he doesn't get a lot of chances to have singles matches so it was good to see him put up a good challenge to Myers here.
Post-match Myers was on the mic and the fans were heckling loudly. Myers talked about elevating the championship in only three short months. Myers complained about the lack of competition and proposed an open challenge for Bound for Glory.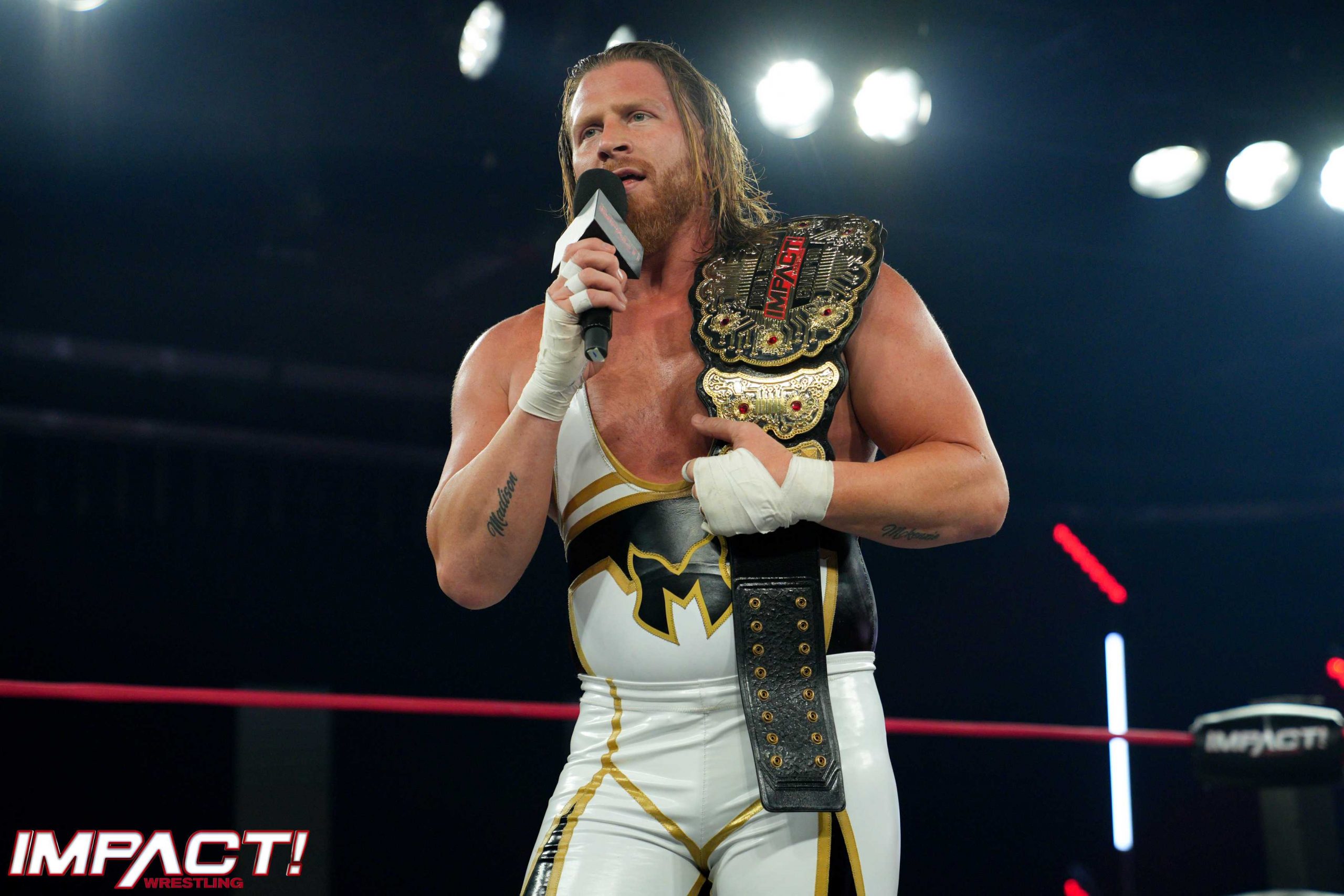 Analysis: Hopefully that leads to a surprise challenger. There's another match for the PPV.
There was a painful backstage segment with Johnny Swinger, Ziggy Dice and some others. This brings back memories of the AWFUL Wrestlehouse segments as well as the whodunit angle from 2020. I did not need a reminder of those.
There was another vignette for Joe Hendry- this time Joe takes a family's estate away whilst they all cheer him on as the theme music plays.
Analysis: These are some very odd segments to introduce a wrestler but they have me laughing, even in a partially cringe-worthy manner. I thought Hendry was supposed to debut tonight.
Rosemary is arguing with Father James Mitchell backstage. Rosemary wants Jessicka gone and Havok back. Jessicka and Taya Valkyrie overhear and Mitchell slips away. Jessicka is upset and says she's been trying to prove herself this whole time. Taya says Rosemary needs to get on the same page for Bound for Glory.
Analysis: This has been a very mediocre storyline and I hope they don't win the Tag Titles from VXT.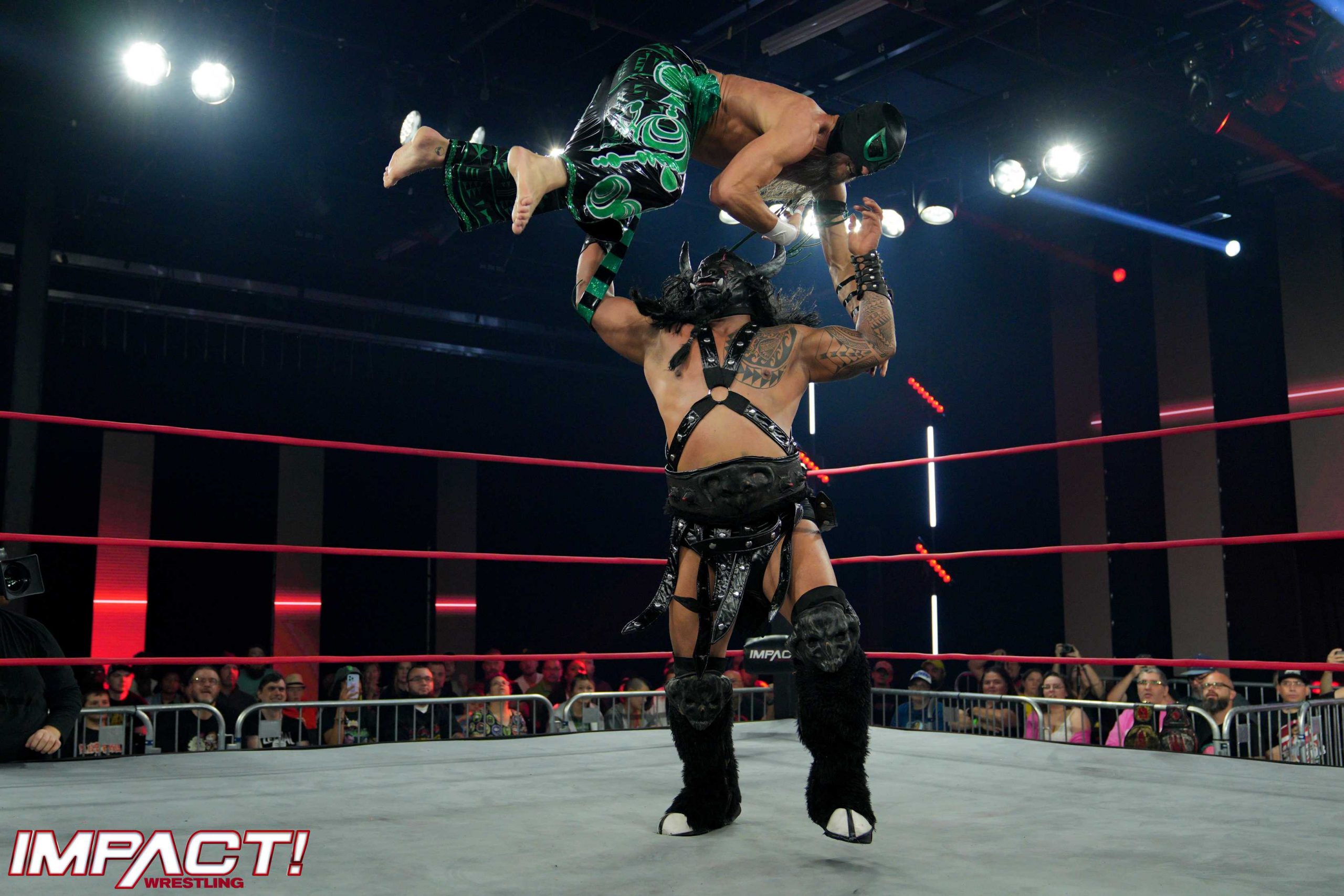 Match #3: Black Taurus vs Delirious
Both of these men are coming off losses in X-Division matches from Friday's Victory Road. I was very impressed with Delirious as he matched up well with Mike Bailey, whilst Taurus had a few rare sloppy moments when he was featured in the Triple Threat Revolver match up. They butt heads as the match kicks off and Delirious tosses Taurus into the turnbuckle pad. Taurus is not impressed with that and returns the favour. Delirious is not fazed and takes Taurus to every turnbuckle in the ring, bouncing his head off each one. Delirious tries a shoulder block but Taurus is too strong. Taurus takes down Delirious with one of his own. Delirious hits throat thrust but Taurus connects with a kick in the corner and a powerslam for the first 2 count of the match. They exchange forearms and Delirious confuses Taurus by running continuously off the ropes and connects with a clothesline. Delirious hits 10 running leg drops (brother) and Taurus rolls to the outside for a breather. Taurus flips back into the ring and catches Delirious with a tilt-a-whirl backbreaker. Delirious runs at Taurus but eats a pop-up Samoan Drop. Delirious fights back with a series of chops but Taurus rocks him with a huge headbutt. Taurus with Destination Hellhole for the win after 5 minutes.
Winner by pinfall: Black Taurus
Analysis: *** This was another really solid 5-minute match. Both men made the most of their time in the ring and it was a hard-hitting affair. Some of the spots were a little cheesy, but Delirious is a strange kind of character so they made sense here. Taurus needed the win to keep building momentum.
Impact's newest wrestler, Bobby Fish, was backstage with Gia Miller. Fish is here to pick a fight and he wants to fight Josh Alexander. Fish says the fastest way for this match to happen is for him to win the Call Your Shot Gauntlet in his hometown. Fish says he will await the winner.
Analysis: Good to hear that Fish will be straight into the action and debuting next Friday night.
Mia Yim is interviewed next by Miller, who is having a busy night. Miller asks if Yim thinks she will be the one to end Mickie James' career at Bound for Glory. Yim has fond memories of wrestling Mickie and they show an old clip of them wrestling from Maryland Championship Wrestling. Yim says she was intimidated back then, but not now. Gisele Shaw interrupts Yim. Shaw says what makes Yim think she can beat James, when Shaw couldn't. Yim says she needs a Bound for Glory warm up match and challenges Shaw next week.
Analysis: That's a fresh match up and will be a win for Yim before Bound for Glory the next night.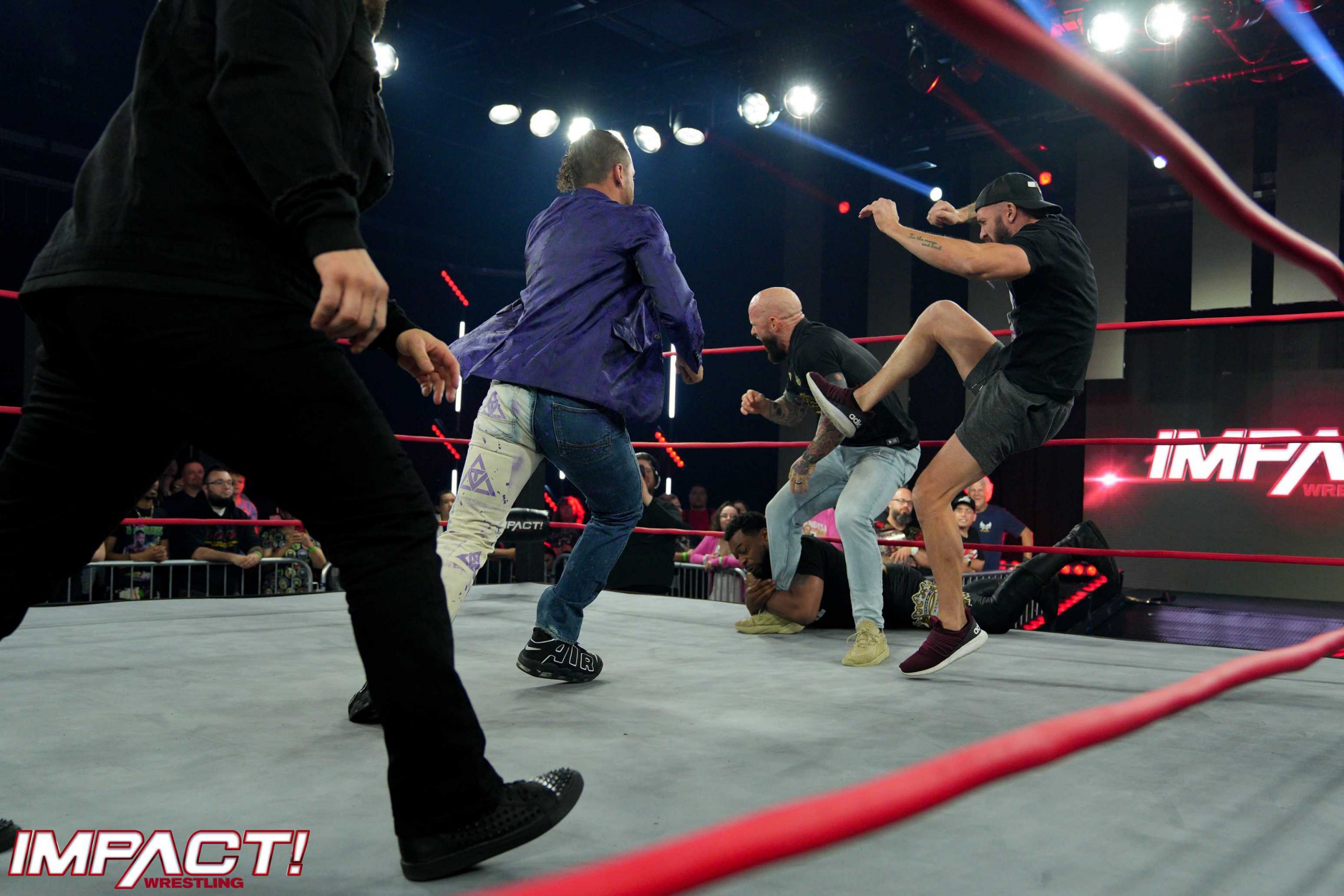 It's promo time for Honor No More as Eddie Edwards leads them to the ring. Hannifan hypes Bound for Glory as a huge night for the group with a World Championship match, a Tag Team Championship defence and PCO in the Gauntlet match. Edwards welcomes us to HNM's Victory Road celebration. Edwards puts over how successful they were last Friday night. He says that he proved on that night that he could beat Josh Alexander. Edwards says that despite that positive, there were some setbacks like PCO and Vincent losing to the Motor City Machine Guns. Edwards unloads on PCO and says that he's sick of his failures. The fans are chanting loudly for PCO. Vincent puts the bag over PCO's head and walks him up the ramp. Taven takes the mic now and removes the Impact Wrestling logo, saying that Impact have done nothing for Honor No More. Taven puts himself and Mike Bennett over as winners and Bennett states that Edwards' victory over Alexander was the first time he had been pinned since last year's Bound for Glory. Maria says on that night Moose pinned Alexander, but that was a beaten up Alexander who had already had a match. She says Edwards beat a fresh Alexander clean. Maria says that makes Edwards the better man then shows highlights of the match at Victory Road. Edwards takes the mic back now and says that he took a big risk by joining Honor No More but it will keep paying off when he becomes Impact World Champion at Bound for Glory. Here's Josh Alexander with the interruption. Alexander is sick of Edwards talking. He says that all of HNM is afraid. They're afraid of being passed over again. Alexander says that Edwards sees the title as job security, whereas to Alexander the championship is proof of who is the best wrestler on earth. Alexander said that Bound for Glory is not all about some imaginary war but a battle to see who is the best. Edwards says he's disappointed in Alexander and in 8 days he will regret not joining HNM because they're taking his championship with momentum and his friends at his side. Edwards says Alexander is all alone. Alexander says Edwards turned his back on the locker room, on the fans here at ringside and every Impact fan around the world. He says he doesn't have a problem with the numbers game because he will have the locker room and the fans on his side at Bound for Glory. Edwards goads Alexander into a fight and Alexander rushes to the ring, taking out King against the ring apron. He slams Bennett off the turnbuckle. Alexander steps into the ring but King holds his leg and now the beatdown begins. HNM stomp away at the World Champion but Rich Swann makes his way to the fight, as well as Heath. It's a wild brawl in the ring as PCO makes his way back to the ring with a big clothesline on Swann and Heath. The Motor City Machine Guns hit the ring to join the fight. Sabin and Shelley face off with Taven and Bennett. Heath and PCO fight on the outside and Sabin takes out Bennett and Vincent with a suicide dive. Alexander clotheslines King over the top rope. Edwards tries a sneak attack from behind but Alexander is ready. Alexander wants to fight but Edwards slides out of the ring as HNM back up the ramp.
Analysis: It was a long promo segment but it had a good pay off with the brawl. I thought they could've done the brawl after the tag team match, so it's placement seems a little off now but I guess it was a way to introduce the Guns into the rivalry as they haven't interacted with HNM as yet. Alexander had some good dialogue and Edwards continues to cut fine promos by himself. He's a good mouthpiece for the heel team although they share the role around as they're all comfortable enough on the mic.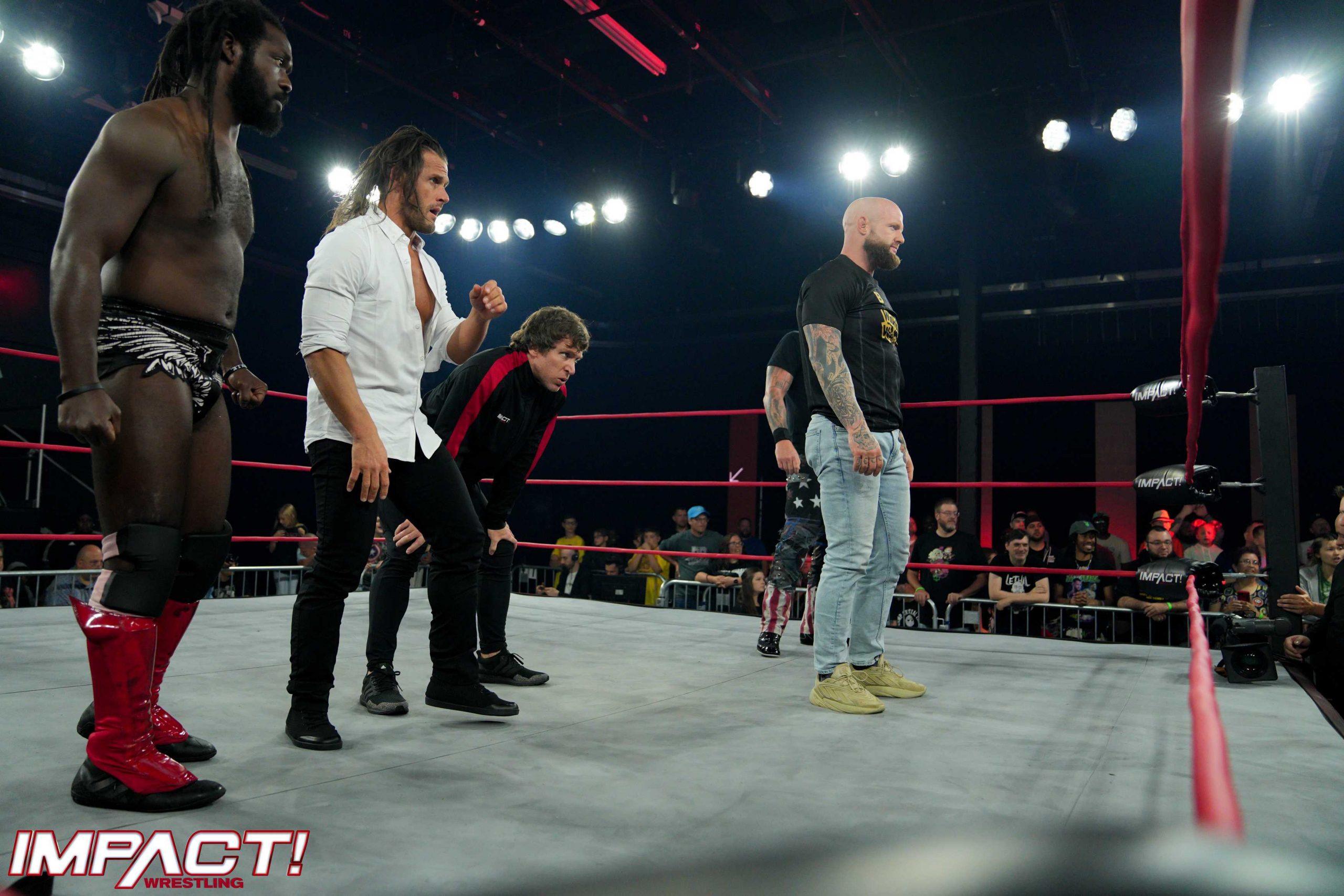 Match #4: Vincent & PCO vs Heath and Rich Swann
Swann and PCO are starting the match. They're in the action straight away as PCO hangs Swann up on the ropes and hits him with a draping DDT. PCO goes to the top and hits a legdrop on Swann's neck. Heath tries to get in but PCO makes the tag to Vincent. Vincent hits a Saito suplex for a 2 count. Vincent beats Swann down with forearms to the chin. Swann backs into the corner and goes after PCO. PCO drags him to the outside but Swann fights him off. Back in the ring and Swann takes Vincent down with a kick, then tags in Heath. Heath is on fire with clotheslines on Vincent, followed by a powerslam for 2. Heath goes for the Wake Up Call by PCO holds Vincent's arm and Heath crashing to the mat. PCO takes a cheap shot at Heath and Vincent runs the ropes but Heath connects with an Impaler DDT. PCO breaks the count and brawls with Heath. PCO clotheslines Heath to the outside. Swann steps back into the ring and nails Vincent with a spinning kick. Swann hits the Phoenix Splash on Vincent for the win after 4 minutes.
Winners by pinfall: Heath and Rich Swann
Analysis: *** Another perfectly acceptable short match that was full of action. It's understandable that the in-ring action is lessened tonight as they're trying to build the PPV matches up, but the short matches have still been of good quality. There's another PCO loss for Eddie Edwards to yell about, even thought it was Vincent being pinned.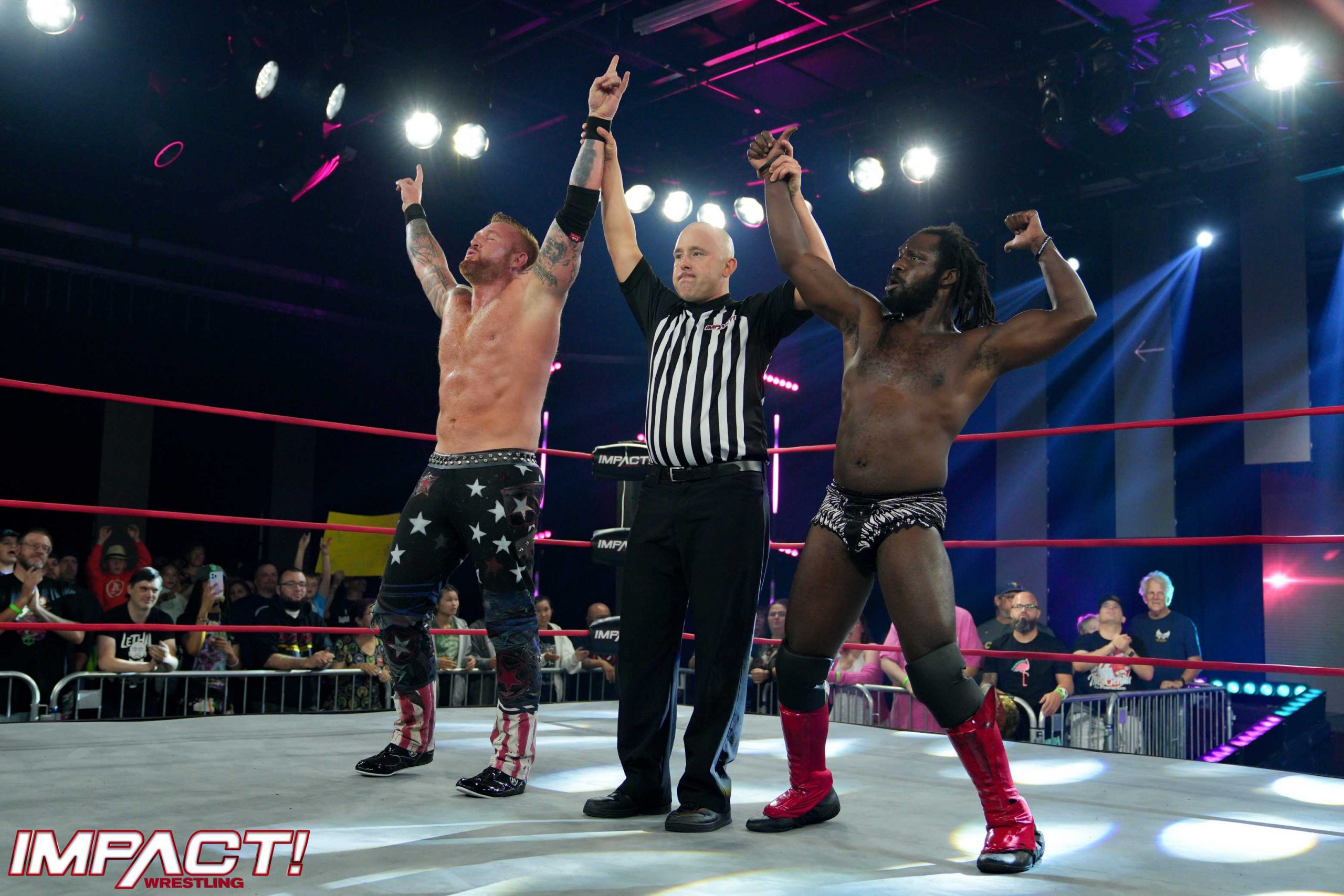 Moose is being interviewed by Gia Miller backstage and announces that he will be in the Call Your Shot Gauntlet at Bound for Glory. Steve Maclin confronts Moose and they brawl, with security stepping in.
Analysis: Moose won the match last year and cashed in on Josh Alexander on the same night. 12 months on and he's still not booked in a big match on the biggest show of the year. I'd bet on Maclin and Moose facing off in the Gauntlet.
Scott D'Amore is trying to make sure that Maclin and Moose are kept away from each other for the rest of the night when Sami Callihan walks in. Callihan says you would think that he, Moose and Maclin would've all gotten this out of their system at Victory Road but that's not the case. Callihan wants to go again but D'Amore says that he's not medically cleared. Next week it's Moose vs Maclin with Callihan as the special guest referee. Also next week it's Frankie Kazarian vs Kenny King, as well as Matt Taven vs Alex Shelley.
Analysis: Those are three big matches for next week. Hopefully Callihan gets onto the BFG card. Impact has a much deeper roster than this time last year and a lot of talent hasn't been signed to the show yet. This could be seen as a positive, however, because the competition for spots is strong.
The commentators run through the Bound for Glory line up as we prepare for our main event.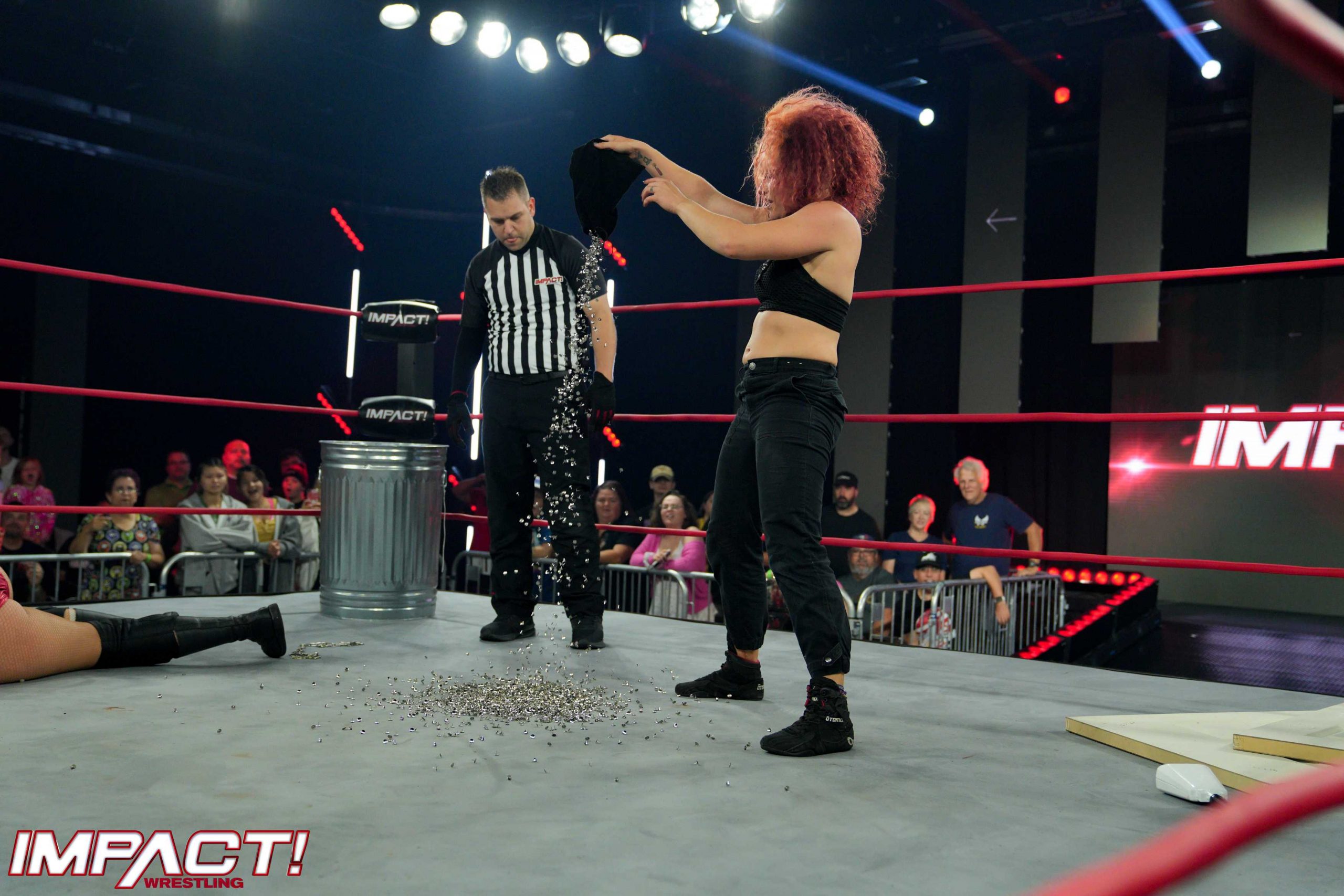 Match #5: Monster's Ball: Masha Slamovich vs Allie Katch
Allie Katch is Jordynne Grace's Pick Your Poison opponent for #1 contender Masha Slamovich. Slamovich is out first, followed by Katch, as we head to a commercial.
(Commercial break)
There are some trash cans in the ring and a door set up in the corner as the match begins. The women square off with trash can lids. Slamovich hits Katch over the head with one but Katch is unfazed and blocks a second shot. Katch connects with a few shots of the trash can lid to Slamovich. Katch misses a shot with a street sign and Slamovich connects with a German suplex. Slamovich hits Katch over the back with a chain and then begins choking her with it. Slamovich grates the chain over Katch's forehead and then smashes her with a street sign. Slamovich starts pushing the street sign into Katch's mouth. Slamovich starts head-butting Katch and then begins choking her on the mat. Slamovich gets a 2 count. Slamovich stands on Katch's hand and takes out a cowbell. Slamovich lines up Katch but she catches her in the face with the trash can lid. Katch tries for a Piledriver but Slamovich stomps on Katch's feet and hits an Air Raid Crash into the corner.
(Commercial break)
Slamovich is stomping away and choking Katch in the corner as we come back from the break. During the break, both women were busted open. Slamovich took the chain and started ramming it into the mouth of Katch. Slamovich tried to whip Katch into the door set up in the corner, but Katch stopped herself. Slamovich gave Katch a suplex and then went weapon-hunting under the ring. Slamovich brought a chair into the ring but Katch nailed Slamovich with right hands and she had the chain wrapped around her fist. Katch hoisted Slamovich up on her shoulders but Slamovich fought out and hit a reverse DDT for 2. Slamovich hit a suplex onto the steel chair. Slamovich licked the blood off her face and set up a chair in the middle of the ring. Slamovich hit a modified Death Valley Driver onto the steel chair which looked painful. Katch kicked out at 2. Slamovich started biting Katch and then climbed to the top rope but was too slow and Katch nailed her with the trash can lid. Katch hit a Superplex and Slamovich landed on the trash can lid. Katch held onto her grip and slammed Slamovich in the door in the corner, which was demolished. Slamovich kicked out just before 3. The fight then went to the ring apron. Katch was looking for a Piledriver but Slamovich fought off with a headbutt to the mid-section of Katch. Slamovich then hit a barrage of head-butts on Katch. Slamovich started biting Katch's hand and then hit a Russian Leg Sweep off the apron, through the table that was set up on the floor. Slamovich tossed Katch back inside the ring and grabbed a small black sack which was filled with thumb tacks. Slamovich grabbed a handful of thumb tacks and put them into her mouth. Katch hit a rising knee lift and nailed a Piledriver on the tacks but only for a 2 count. Katch grabbed a trash can and drilled Slamovich in the head. Katch nailed a headbutt but it didn't faze Slamovich who nailed the Snowplow onto the thumb tacks for the win after 15 minutes.
Winner by pinfall: Masha Slamovich
Analysis: ***1/2 That was an entertaining brawl, which was easily Masha's longest match in Impact. She has dominated the division but needed 15 minutes to put away a newcomer to Impact (if just for one night), which puts over Katch's effort as impressive. It was a hard-hitting fight that didn't rely overly on weapons but used them creatively and brutally in a few spots with the chain and soda cans. Bleeding in women's matches doesn't happen much nowadays (unless your initials are DMD) so it again highlights the brutality of the match. It was also 7 minutes longer than the next longest match so they had plenty of time to tell a good story and the crowd was really invested. Kudos to both ladies for their efforts.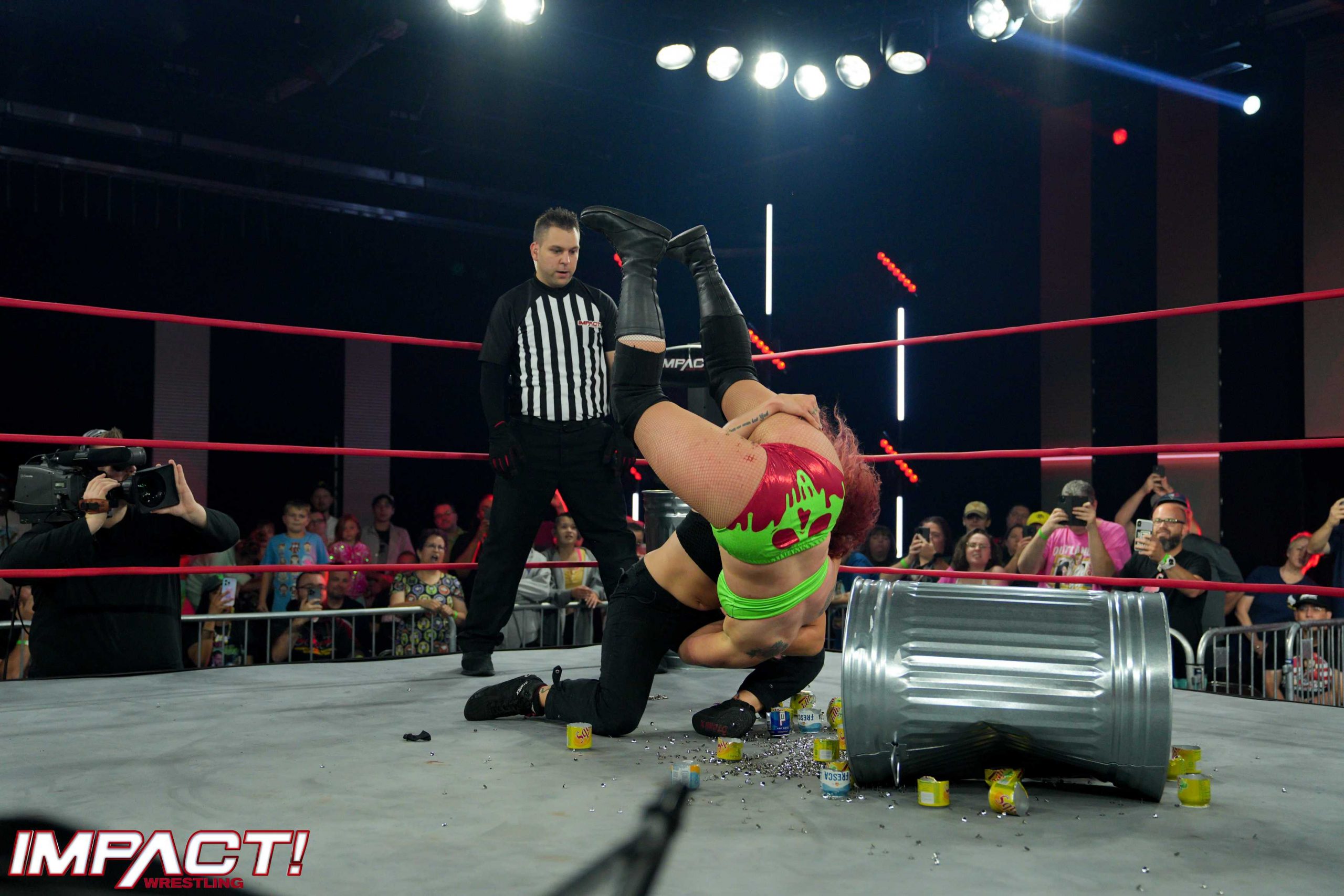 Slamovich celebrated the win as Impact went off the air.
Final Rating: 7/10

Most of my highest-rated Impact weekly shows have come off the back of solid nights of wrestling with longer matches. However, tonight I really enjoyed this show even though only one match went beyond the 10-minute mark. The three matches that got 4-5 minutes were full of action, and the opening tag between Bullet Club and Laredo Kid & Trey Miguel was also very solid. A lot of the show was dedicated to the Bound for Glory feuds, as well as setting up the Gauntlet match. There is one more episode of Impact before Bound for Glory.
Here's the Bound for Glory lineup for the PPV on Friday, October 7th:
* Impact World Championship: Josh Alexander (c) vs Eddie Edwards
* Impact Knockouts Championship: Jordynne Grace vs Masha Slamovich
* X-Division Championship: Mike Bailey (c) vs Frankie Kazarian
* Impact Tag Team Championships: The Kingdom (c) vs the Motor City Machine Guns
* Impact Digital Media Championship Open Challenge
* Impact Knockouts Tag Team Championships: VXT (c) vs Taya Valkyrie & Jessicka
* Mia Yim vs Mickie James
* Call Your Shot Gauntlet match (20 wrestlers- winner receives a championship match within 1 year, at a time of their choosing): So far named- Bobby Fish, Moose, Steve Maclin, Rich Swann, PCO, Heath, Bhupinder Gujjar, Gisele Shaw
Any feedback or comments are welcome. My email address is kristian.l.thompson@gmail.com in case anybody wants to get in touch with me and my Twitter handle is @thomok6 as well. Thanks for reading!