Impact Wrestling Review – October 20, 2022
This week's edition of Impact Wrestling featured the return to the ring of Bully Ray and a big World Tag Team Championship match.
Impact Wrestling 20/10/22 from Washington Avenue Armory in Albany, NY
The opening video featured highlights from last week's show where Josh Alexander called out Bully Ray, which led to a number of wrestlers stating their case for a World Title match. Eventually, we got Bobby Fish vs Alexander in an entertaining World Title match that saw the champ retain the gold. X-Division champion, Frankie Kazarian, then exercised his right to trade in the title for a shot at the Impact World Championship.
The show started off with Chris Bey and Juice Robinson discussing the Bullet Club's upcoming match and looking for Ace Austin. Bey went to the parking lot and Austin had been taken out. Tommy Dreamer arrived on the scene and Robinson and Bey questioned where Bully was. The regular opening video then played.
Analysis: That was a different way to open the show. The seeds of Bully Ray's past, where he used to do heelish things in the Aces & 8s group, continue to be planted in the minds of the audience. He says he wants to do things the right way but are we meant to trust him?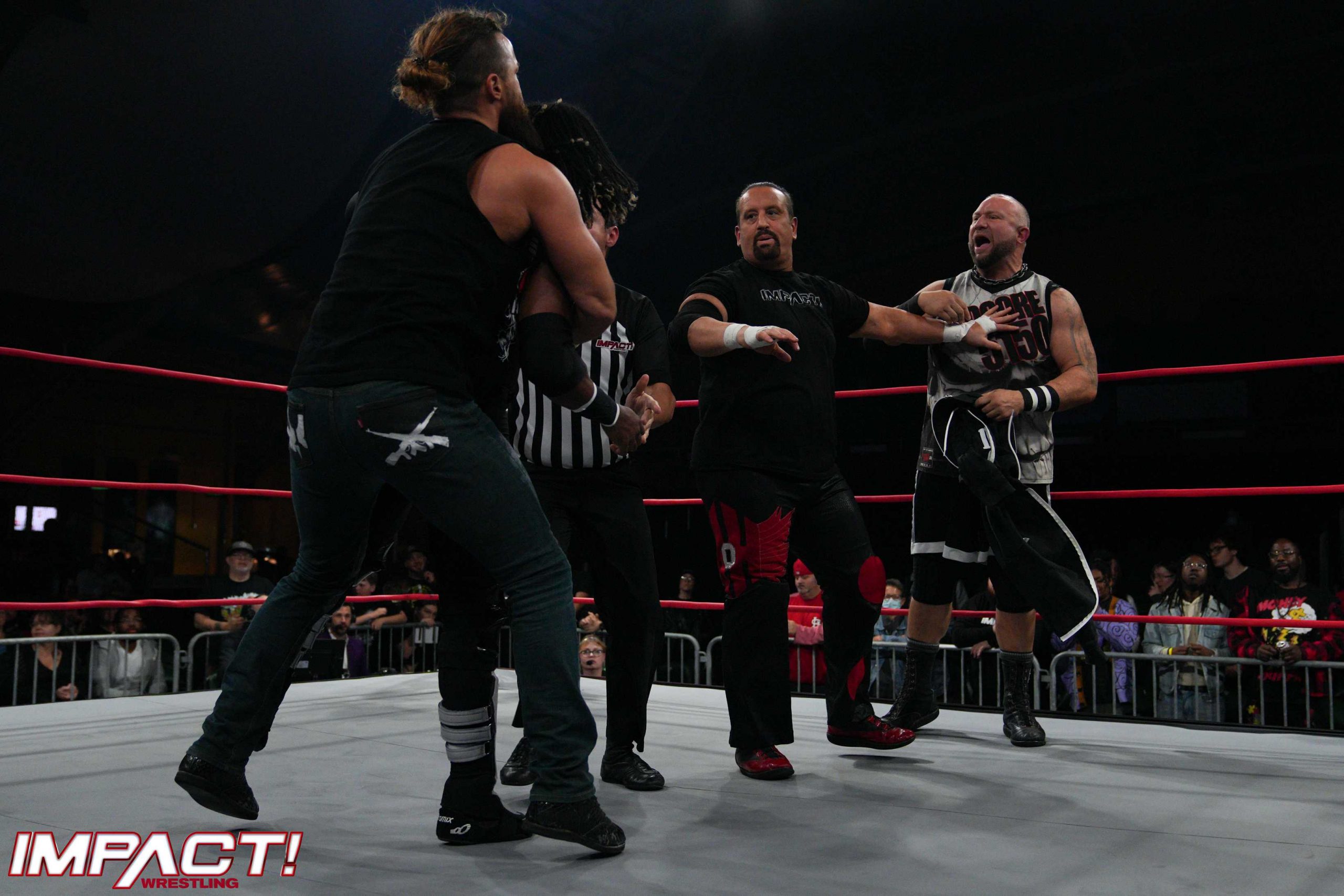 Match #1: Bully Ray & Tommy Dreamer vs Bullet Club (Chris Bey & Juice Robinson)
Robinson has now replaced Ace Austin, who is not fit to compete. Robinson and Bey get in Bully's face before the bell as their suspicions of Bully are running high. Dreamer and Bey will start things off in the ring. Dreamer targets the left arm early but Bey uses his athleticism to flip out of the hold. Bey takes down Dreamer with a drop toehold and a double stomp to the back. Bey tries a standing moonsault but Dreamer moves. Dreamer connects with a reverse suplex. Bey rolls to the corner and tags in Robinson who wants Bully to tag in. Dreamer grants his request and in comes Bully. Robinson is all over him with right hands and headbutts in the corner. Robinson continues to stomp away on Bully in the corner. He grabs Bully by the face and delivers a big knee to the ribs. Robinson whips Bully across the ring but Bully counters and delivers a big elbow, taking down Juice. Bully backs Robisnon into the corner and delivers a number of stiff chops. Bully and Bey almost come to blows on the ring apron. He tags in Dreamer and they take down Robinson with a double shoulder block. Dreamer is a bit distracted by the Bully and Bey drama, so that allows Robinson to quickly make the tag to Bey. Dreamer tries for a Death Valley Driver, but Bey slips off his shoulders and sends him into Robinson, who hits a knee, then Bey takes down Dreamer with a dropkick. The referee is dealing with Bully and Bey again, so Robinson takes advantage and slams Dreamer on the outside of the ring. Robinson tosses Dreamer back in the ring and Bey stomps away at Dreamer. Robinson tags back in and connects with a number of right hands to Dreamer. Robinson hits a running senton for the first 2 count of the match up. He tags Bey back in who slaps a sleeper hold on Dreamer. Dreamer fights to his feet but Bey whips him into the corner. Dreamer connects with a cutter and both men crawl to their respective corners to tag their partners. Bully takes down Robinson with a number of right hands, then hits Bey with a huge back body drop. Bully sends Robinson down to the mat with a sidewalk slam for a 2 count. Bey and Dreamer begin fighting in the ring and Dreamer clotheslines Bey to the outside. In the ring, Robinson connects with a spinebuster on Ray for a 2 count. Robinson heads to the top and leapfrogs Bully who runs at him in the corner. Robinson runs at Bully, who ducks and hits the Bully Bomb for the win after almost 7 minutes. After the match, Bully pleads with Bey to believe him that he had nothing to do with Ace Austin being attacked.
Winner by pinfall: Bully Ray & Tommy Dreamer
Analysis: *** That was a solid opening contest, where Dreamer spent most of the match as the face-in-peril, even though they're portraying his team as conveyors of heelish actions. In 2022, should the team with a combined age of 102 be winning these types of matches? Probably not, but it pays to have friends in high places. Bully's offense is still stiff-looking and believable, except for the Bully Bomb as a finisher which is questionable.
Heath and Rhino are backstage discussing their Tag Team Championship match. Heath reminds us that Honor No More took Rhino out and put him on the shelf. Rhino says he is going to take the Kingdom straight to hell with a gore.
Analysis: The whole Heath vs Honor No More angle has been written really well, even with Rhino out for so long. Heath as a vigilante has been a really fun angle to watch.
Bully Ray and Tommy Dreamer are backstage, and Dreamer needs Bully to look him in the eye and tell him that he didn't take out Ace Austin at the beginning of the show. Dreamer doesn't think Bully understand that he gets dragged into all this mess with Bully and his past. Moose interrupts and reminds Dreamer that once a scumbag, always a scumbag. Dreamer asks Moose how they know that it wasn't him that attacked Austin. Moose says if it was him, he'd probably deny it too and walked off.
Analysis: The mystery attacker angle is intriguing.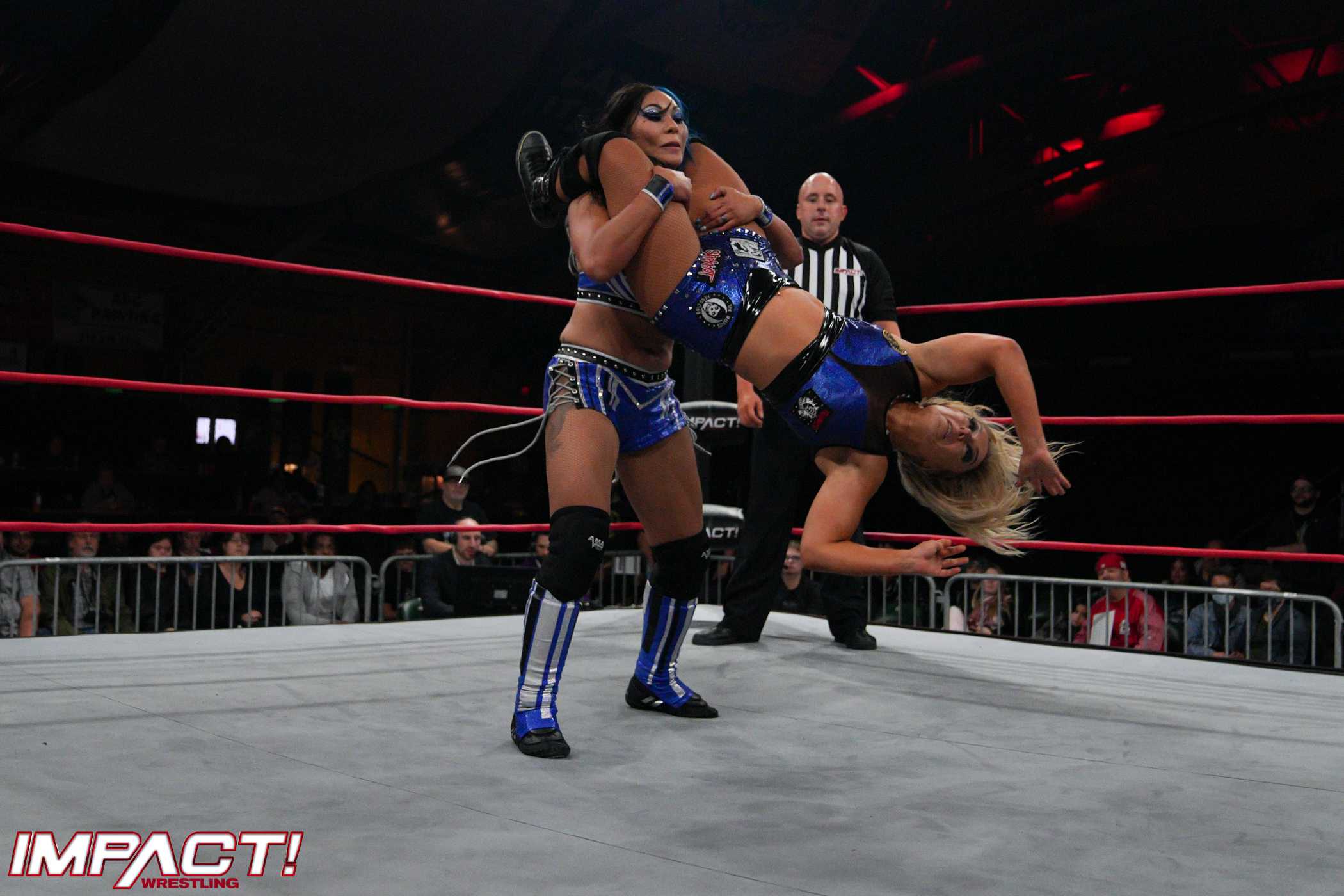 Match #2: Mia Yim vs Taylor Wilde
This is Wilde's first match back in Impact in about a year. She was at Bound for Glory in the Call Your Shot Gauntlet. Yim has been on a run of great matches as of late. They lock up and Yim backs Wilde into the corner. Wilde then takes her turn to take Yim into the corner. They exchange hip tosses and Yim tries a quick pinfall but only gets a 1, Wilde tries the same and then they attempt a dropkick at the same time and we have a stalemate. They lock up again and Wilde hip tosses Yim across the ring, and does so a second time. Wilde monkey flips Yim from the corner and then applies an armbar. Wilde is looking crisp on her offense in this first-time match up. Yim tries to roll to the ropes but Wilde keeps the hold locked in. Wilde whips Yim across the ring but Yim is able to target the knee and hits a dropkick to score a 2 count.
(Commercial)
Yim is in control as we come back from the ad break. She hits an impressive stalling suplex in the centre of the ring and covers for a 2 count. Yim takes down Wilde with a hard forearm and a clothesline for another 2 count. Yim hits a scoop slam and covers again for 2. Yim nails the gutwrench suplex for a nearfall and then mounts Wilde with right and left hands. Yim covers Wilde again but it's still not enough. Yim locks Wilde in a Bow and Arrow submission hold. Wilde flips out and lands on top of Yim for a 2 count. Yim is starting to get frustrated at this point and the ladies exchange hard forearms. Wilde blocks and hits a number of forearms, then whips Yim against the ropes and connects with a clothesline. Wilde with the hurricanrana and tries a modified torture rack, but Yim slips out the back and gets a nearfall. Wilde counters Eat Defeat and rolls through for a 2 count. Wilde hits a running headscissors and Yim flies into the corner. Wilde runs at the corner but Yim evades and then hits a big boot. Yim with a cannonball and stacks up Wilde for a 2 count. Wilde blocks Eat Defeat again and hits the Wilde Ride (German Suplex with a bridge) for the pinfall win after 10 minutes.
Winner by pinfall: Taylor Wilde
Analysis: ***1/2 That was really good, with lots of counters and nearfalls throughout the match. It was a very even match and could've gone either way. I thought they would continue to run with Yim's momentum, but Wilde was impressive in her return and obviously a win over Yim means she is going to be booked seriously going forward. Yim had a few little heelish traits throughout the match which I noticed.
Mickie James' music hits after the match and down she comes to ringside. Mickie says it's good to have Wilde back in Impact. Mickie says this run of hers is about facing those who she respects and is interrupted as Chelsea Green and Deonna Purrazzo hit the ring and attack both Wilde and James. Gisele Shaw is also joining the beatdown. Shaw pummels away at James, but here comes the Knockouts Champion, Jordynne Grace, to even the odds. Grace slaps Shaw hard and Purrazzo and Green leave the ring. Grace hits a combination of strikes on Shaw then a huge spinebuster. Grace tosses Shaw out of the ring and checks on Wilde and James.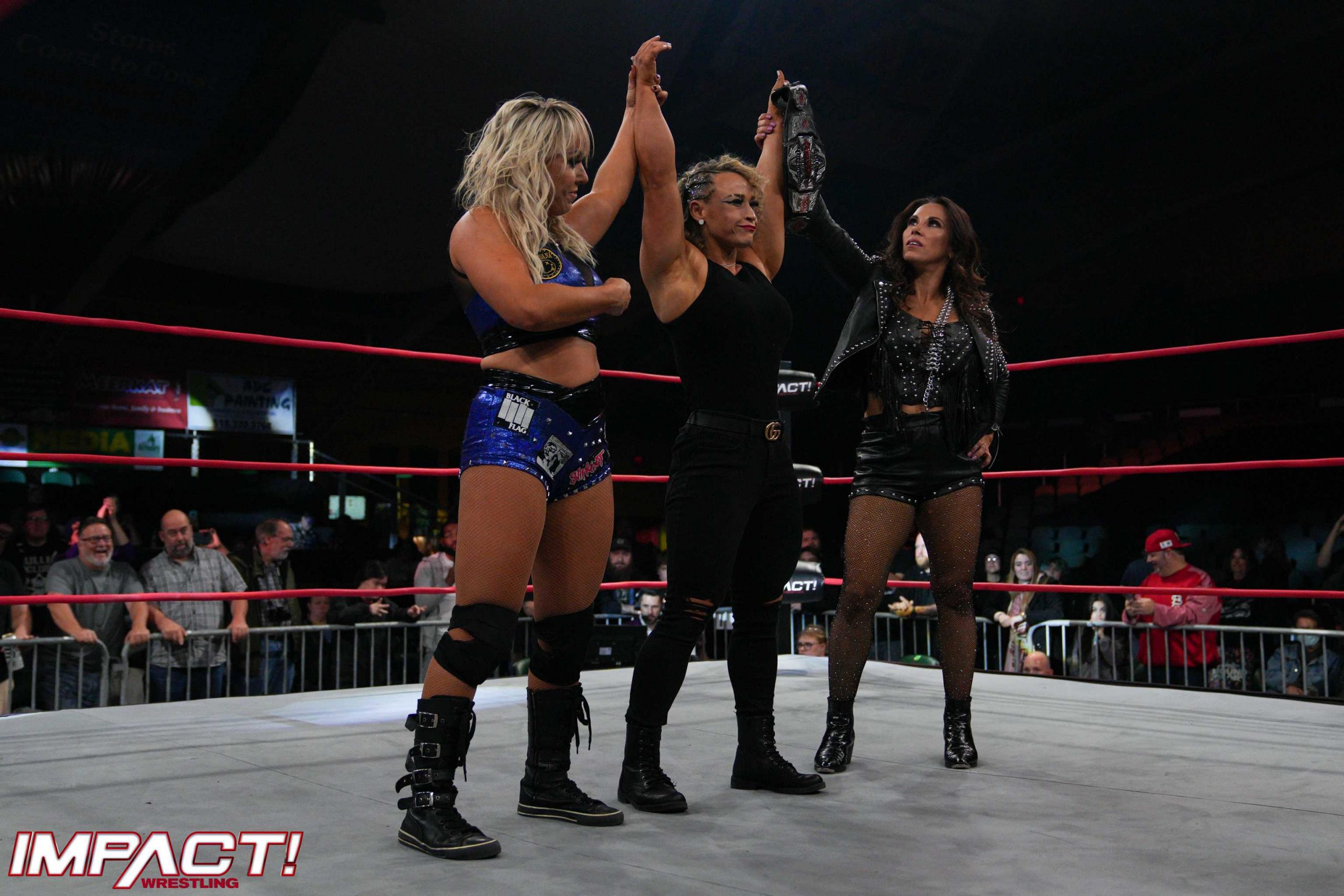 Analysis: It looks like we will be getting Wilde vs James and a 3-on-3 tag match in the future.
Backstage, the face women are walking together and Mickie James says she has friends too and challenges VXT and Shaw to a match next week.
Match #3: Jason Hotch vs Joe Hendry
This match is just worth it for the theme music. They show another ridiculous 'Say his name' vignette backstage which set the match up. The humour is so lame that it just works. The crowd is singing along to Hendry's theme which is fantastic, then commentator Aiden English encourages Tom Hannifan to join in, but that's not going to happen because Hannifan is no fun. Hendry gets in the ring and says when you're Joe Hendry, life is different. Hendry says he can command rooms of thousands of people with just his words. Hendry says he's also a great listener and it sounds like the fans believe in Joe Hendry. The fans start chanting "We believe" and this is actually getting over. The bell finally rings and the match begins. Hendry takes down Hotch with a stalling suplex, and at the same time he's singing his theme music as the crowd join in. Hendry tosses Hotch across the ring with a press slam. Hotch fights back with a snap mare and a kick to the back. Hotch says he doesn't believe in Joe Hendry and abuses the fans. Hotch turns back around and gets destroyed by Hendry with a chokeslam for the win in 2 minutes.
Winner by pinfall: Joe Hendry
Analysis: ** Sometimes, you just need a little bit of silliness in your wrestling and Hendry has this in spades. He's obviously not being booked as a serious wrestler yet, but it's very entertaining and he is getting the crowd involved.
The Flashback Moment of the Week is from 2013, where Chris Sabin challenged Bully Ray for the Impact World Championship at Destination X. Sabin almost looks exactly the same 9 years later. This was during the Aces & 8s vs Main Event Mafia angle and Sabin won the title. The crowd went berserk.
Analysis: I remember watching (TNA) Impact during this time and Bully Ray was a very entertaining heel champion. His crew, however, were pretty underwhelming apart from D'Von.
Scott D'Amore is in the ring and puts over the X-Division. He welcomes X-Division Champion, Frankie Kazarian, to the ring to make his 'Option C' announcement official. Kazarian comes to the ring in a suit. The two men shook hands and D'Amore said before we make this official, he wants Kazarian to make sure he understands what he is doing here. D'Amore says that if Kazarian hands in the X-Division title then he will receive an Impact World Championship match at Overdrive on November 18th. On that night, a tournament to crown a new X-Division Champion will culminate. Kaz says he's never been more certain about anything in his life and hands D'Amore the championship. D'Amore leaves the ring and gives Kaz some time to speak. Kaz recaps some of his career highlights, but said as soon as he won the X-Division title he started thinking about Option C. He talked about how wrestling gave him a family and a son, and how everything he has done in the ring has been for his family and the fans. Kaz realised that even though everyone is proud of him, he's not proud of himself. He says he's never won the big one and every day of his life, that eats away at him. Kaz lists peers and friends that have won the Impact World Championship and wants to add his name to that list. Steve Maclin appears from behind Kaz with a sneak attack. Maclin pounds away on Kaz in the corner and hangs him up in the Tree of Woe. Maclin hits a spear on Kaz who is upside down. Maclin ties Kaz's knees up in the ropes and is looking to cause some serious damage when Impact World Champion Josh Alexander runs down for the save. Maclin stares down Alexander as he backs up the ramp.
Analysis: That was a great promo from the heart from Kaz. He's not really doing anything in AEW so I'm happy to have him here in Impact as a reasonably big name with history in the company. The match with Alexander will deliver and we also found out that there will be a tournament to crown a new X-Division Champion. The sneak attack by Maclin made sense as he wanted to be next in line for a World Title match, but Alexander was challenged by Bobby Fish last week and now Kaz has the next shot.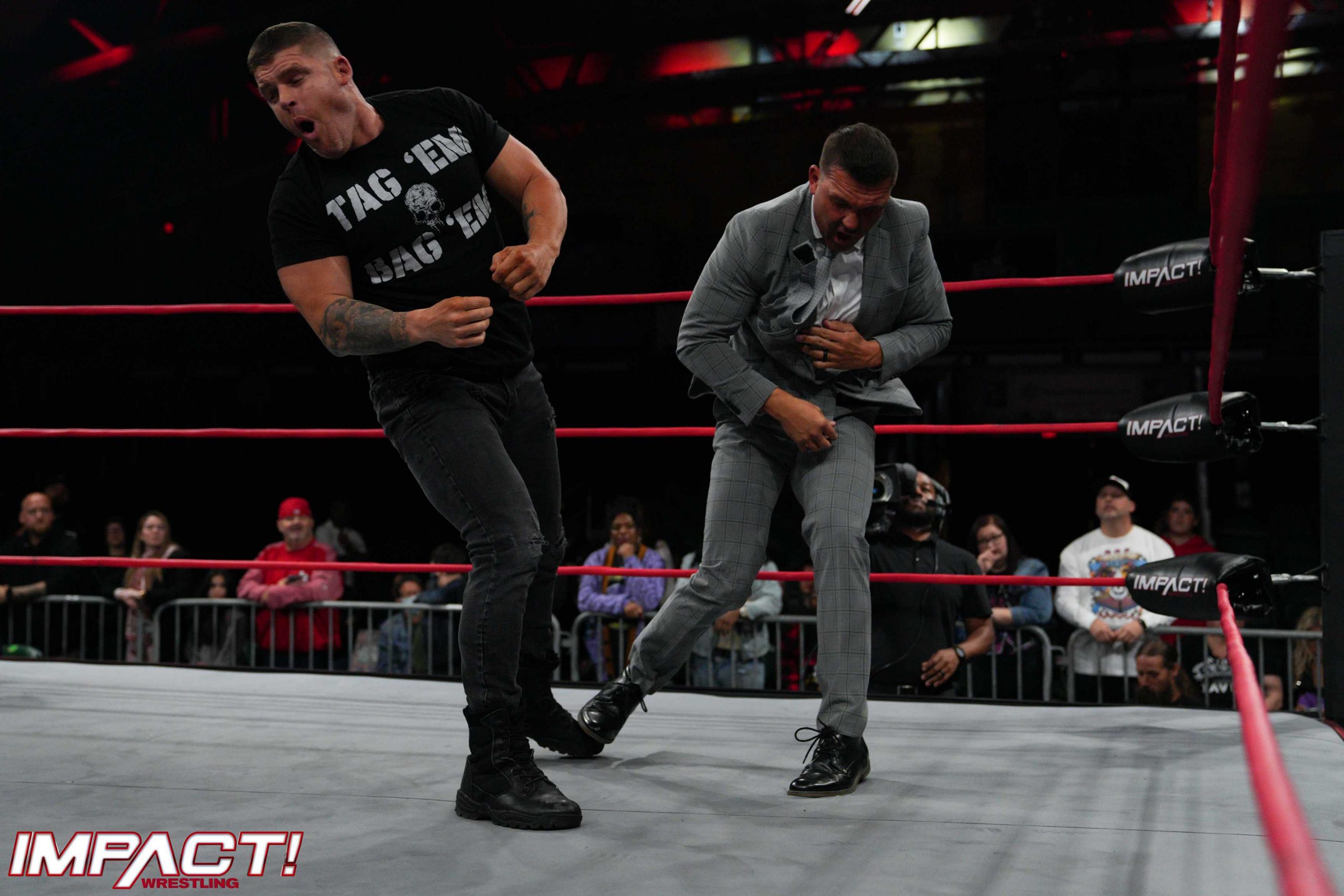 Eddie Edwards is back after a week off and is met by his wife and Honor No More in the carpark. Eddie says Alisha was right when she said either they end or Honor No More end. Eddie says you'll all find out what that means soon.
Analysis: I thought Alisha would turn heel and Eddie would win the World Title at Bound for Glory but I was wrong so we will see where this goes.
Kazarian and Alexander are backstage. Kaz said he is a multi-time Tag Team Champion and has plenty of people he trusts so if he was in trouble, someone would come down to help him. Kaz says he doesn't need Alexander saving him. Kaz says since they're helping each other out, he wants to offer some advice to Alexander- don't ever trust Bully Ray.
Analysis: Just a quick exchange between champion and challenger. Impact do these quick backstage segments well and maximise their TV time pretty well in general.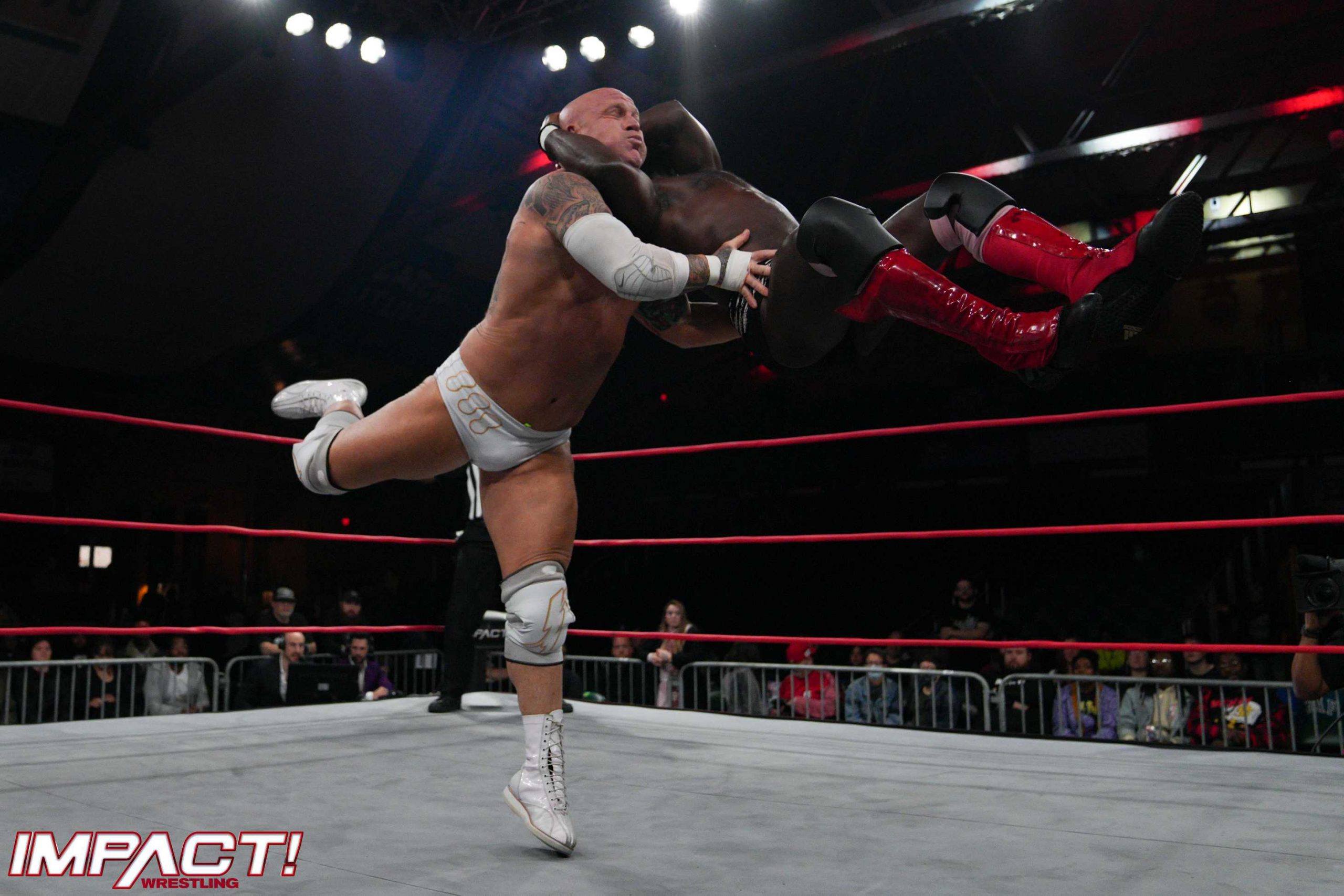 Match #4: Eric Young w/ Deaner vs Rich Swann
This is Young's first match back since VBD had a little bit of a revamp. Swann gets the early advantage with a dropkick but Young comes back with a big neckbreaker, then taunts the crowd. Young slams Swann into the turnbuckle pad, then connects with a big right hand. Young chokes Swann out in the corner with his boot. Young covers for a 2 count. He applies a chinlock to Swann in the centre of the ring. He turns it into a sleeper and Swann is grounded. Eventually, Swann rises to his feet and connects with a big kick to the head of Young for a close 2 count. Swann is psyching himself up but Young rakes his eyes and sets up for the Piledriver. Swann backdrops Young and hits a cutter. Deaner gets up the apron for the distraction and Swann tries to fight him off. Young goes for the Piledriver but Swann reverses it into a pin and the referee counts the 3. The match only went 4 minutes.
Winner by pinfall: Rich Swann
Analysis: ** Good to see Swann with a win, but a 4-minute match between these two is disappointing.
Post-match one of the VBD hoodie gang appears and holds Swann as Deaner delivers a big right hand. Deaner throws Swann back into the ring and VBD set up for a double-team Piledriver but the lights go out. The lights come on and Sami Callihan is in the ring with his baseball bat. Callihan chases Young and Deaner out of the ring.
Analysis: It makes Young and friends look weak to not only lose the match, then run away after failing to complete a post-match beatdown. At least it sets up a new feud.
There was a promo for the next PPV: Hard to Kill on January 13th.
The Major Players, Matt Cardona and Brian Myers, cut a promo backstage. Cardona starts off a little jealous about having to give up the Digital Media Championship to Myers but says there are more titles that they can collect together, including the Tag Team Championships.
Analysis: It's always good to add depth to the tag team division. Great to see Cardona back as he was on fire before his injury.
Tom Hannifan runs through next week's lineup:
* 6 Knockouts Tag Team match: VXT & Gisele Shaw vs Jordynne Grace, Mickie James & Taylor Wilde.
* Beginning of the X-Division tournament. The 8 competitors are Black Taurus, Laredo Kid, Yuya Uemura, PJ Black (Justin Gabriel in WWE), Alan Angels, Trey Miguel, Kenny King and Mike Bailey. Angels vs Miguel will be on next week. Taurus vs Laredo Kid will be on the YouTube show next week.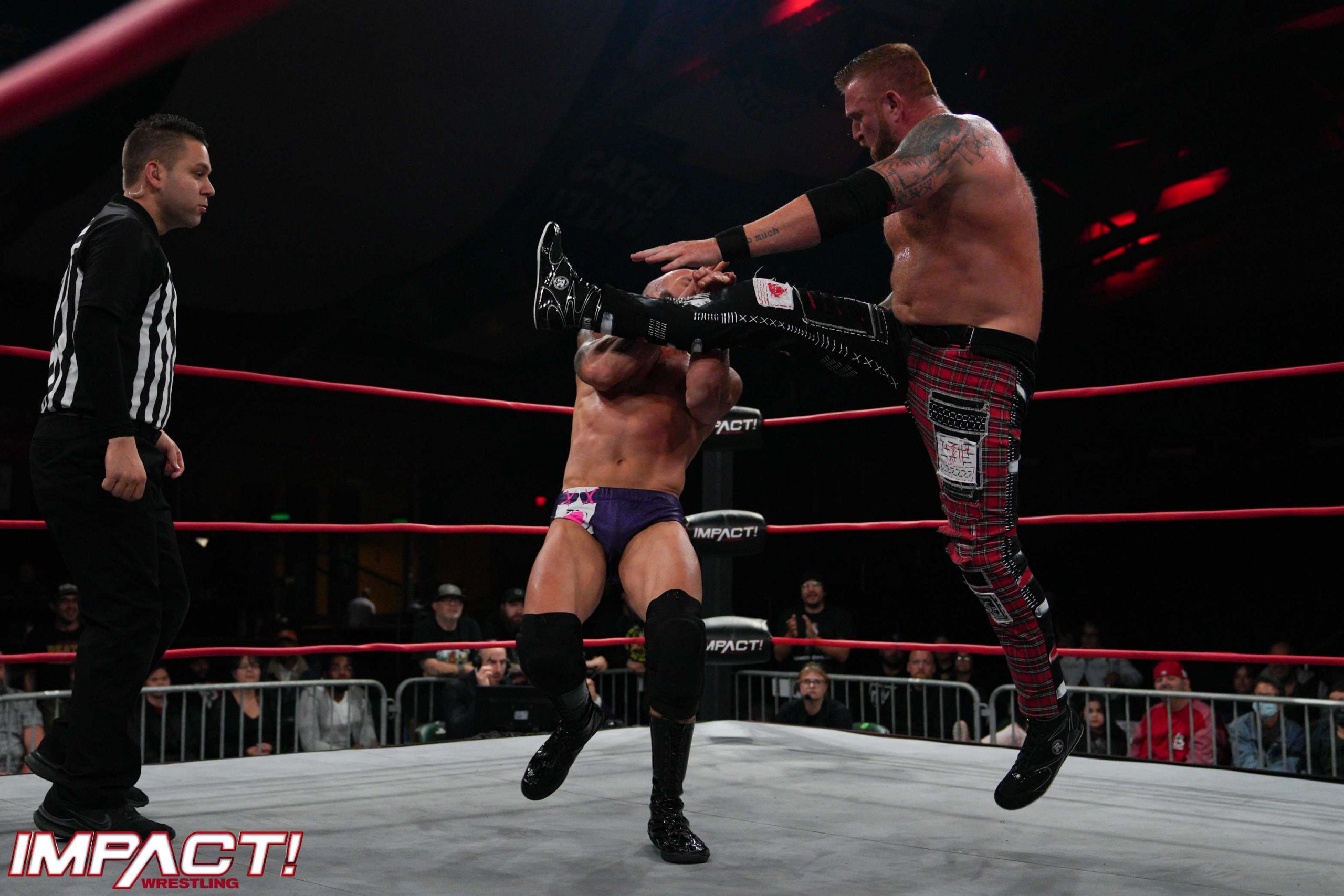 Match #5: Impact World Tag Team Championship: The Kingdom (Matt Taven & Mike Bennett) (c) w/ Maria vs Heath & Rhino
Rhino is starting off against Bennett and straight away Rhino sends him to the outside. Taven comes in and Rhino clotheslines him over the top rope. The Kingdom begin to retreat up the ramp with the titles, but Heath and Rhino aren't letting them escape. Rhino pounds away on Bennett and slams his head on the ring apron. He tosses Bennett back into the ring and hits a spear in the corner. Rhino tags Heath in and he begins dominating Bennett in the corner. Heath hits a running forearm in the corner then slams Bennett's head against the top turnbuckle. In comes Rhino again and the face team hit a double-team elbow on Bennett. Bennett cowers back to the corner, pleading for mercy, which gives Taven time to come in and hit a chop block on Rhino's surgically repaired left knee. Bennett stomps away at the knee of Rhino and tags in Taven. Taven continues to target the knee and Rhino tries to fight Bennett off the ring apron. Taven distracts the referee and Bennett gouges at the eyes of Rhino on the ring apron. Bennett tags back in and Maria gets a cheap shot on Rhino. Heath has had enough and tries to get involved but the referee cuts him off. Taven comes back in, and the Kingdom just clap loudly instead of tagging in, as the referee is dealing with Heath. Rhino hobbles around, trying to fight back, but Bennett kicks his knee out from under him then takes a cheap shot at Heath. Taven tags back in and chops away at Rhino who is stuck against the ring ropes. Bennett tags in and they hit Rhino with a double team clothesline for the first 2 count of the match. Rhino whips Bennett into the corner, but the Kingdom complete a blind tag, and Bennett nails a dropkick to Rhino's knee. Taven runs the ropes and drops the elbow down on Rhino's neck for 2.
(Commercial break)
Rhino is still in trouble as we come back to the action. Bennett gets another nearfall and tags Taven back in. Taven with a side Russian Legsweep on Rhino and attempts the springboard moonsault but Rhino is able to move. He finally tags Heath in and Bennett also gets the tag. Heath hits Bennett with a clothesline and a jumping kick, then back body drops Taven. Heath nails a powerslam on Bennett but Taven breaks up the pin. The Kingdom double team Heath and Taven connects with his springboard dropkick, which always looks impressive. Bennett gets a 2 count and then hits a huge elbow strike on Heath for another 2 count. They set up for another double team move but Heath backs Bennett into the corner so that he collides with Taven. Both Bennett and Heath have the same idea and clothesline each other. Vincent, PCO and Kenny King make their way to the ring but the referee tries to cut them off on the entrance ramp. Rhino was setting up for the Gore on Bennett but Maria grabs Rhino's leg to stop him. Rhino picks up Maria on the ring apron by the hair but Bennett hits him from behind. Maria takes out a bag of white powder and Bennett holds Rhino, but Rhino ducks and Maria sprays Bennett right in the eyes! Heath with the Wake Up Call on Bennett but Taven hits the spinning kick on Heath. Rhino lines up Taven for the Gore but Taven throws Maria in front of Rhino and Maria takes the Gore. Heath nails Taven with the Wake Up Call and Rhino and Heath win the titles! The match went 10 minutes.
Winner by pinfall AND NEW Tag Team Champions: Heath & Rhino
Analysis: ***1/2 The result was obvious, as the Kingdom were on AEW (only Rampage) last week and look to be done in Impact, but I still enjoyed the match and it was a feel-good moment for the face team. Rhino spent most of the match being dominated by the Kingdom, but after Heath got the tag back in then the pace of the match really picked up. The finishing sequence was fun and kudos to Maria for taking the Gore (not fully, as it was in the corner but it still looked good).
Eddie Edwards made his way to the ring looking dejected at what just happened. There was a shot of Maria who was down on the outside. I wonder if Bennett will get a replay of his tag partner throwing his wife into harm's way. Bennett leaves Maria on the floor and goes into the ring with Edwards! Edwards grabs a mic and reiterates that Alisha said that either Honor No More end or their marriage ends. Edwards says he is proud of what HNM achieved. The crowd is chanting "Hey, hey hey, goodbye". Edwards asks himself if HNM is worth saving. He looks around and sees nothing but failure. Edwards asks Taven and Bennett if they're loyal to HNM. He calls Kenny King a failure for not winning the X-Division title. Edwards calls Vincent a failure for not being able to control PCO. He says that PCO is nothing but a failure and says he is the reason that Edwards didn't beat Alexander at Bound for Glory. Edwards asks if PCO is loyal to Honor No More. Edwards is about to kick PCO out of the group but Vincent puts the black bag over PCO's head. Edwards says PCO isn't a monster, he's a bitch! PCO goes crazy and takes down Edwards. He throws King over the top rope then hits the popup powerbomb on Taven. PCO nails Bennett with a big kick. Vincent tries to calm him down but he grabs him by the throat. The Kingdom come back for the save but PCO clotheslines them both out of the ring. Vincent comes back in the ring and hits him in the back with a chair but it doesn't faze him, so he punches the chair in Vincent's face. PCO dives through the ropes and hits a cannonball on the Kingdom. PCO destroys Vincent with a chokeslam on the steel chair, destroying it. The crowd cheered him on as Impact ends.
Analysis: I'm not sure if that was a definitive ending for Honor No More, or just a PCO full face turn, but we at least know that Taven & Bennett won't be there going forward. Edwards didn't really get to address whether the group is staying together, even though he questioned their loyalty. The group would've had more credibility with Edwards as World Champion, but that's not the direction they went with. I'm interested to see where this goes, because without the Kingdom then Honor No More are lacking a bit of star power.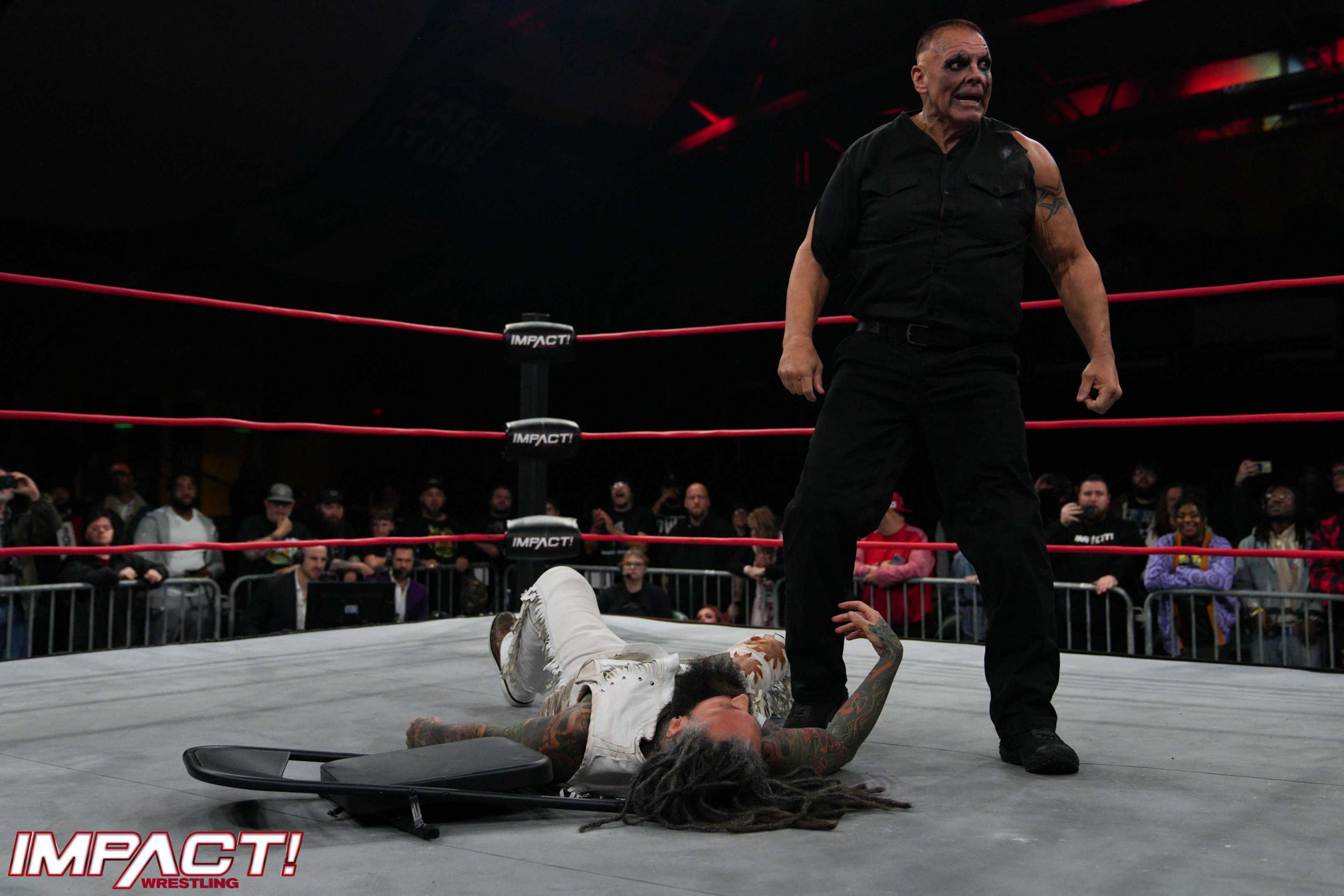 Final Rating: 6.5/10
It wasn't a classic wrestling show this week, but I thought it was a pretty solid episode and the action seemed to fly by. The main event was enjoyable and I'm glad to see Rhino and Heath getting a run with the titles. Hopefully they can have a championship celebration or something of the sorts next week, as the win was quickly interrupted by the Honor No More/PCO break up. I'm disappointed to see the end of Matt Taven and Mike Bennett in Impact. They had some great matches either as part of Honor No More in the multi-man matches or in their tag-team title defences. I don't think they'll feature much on AEW as they already have far too many wrestlers, even with 2 shows a week and 14 YouTube shows (kidding, and I like AEW Uncle Tony!). The rest of the show was fine but unspectacular. The storyline of whether or not Bully Ray is honest in turning the corner is an interesting storyline and it played out in the opening part of the show where Ace Austin was assaulted backstage. There was a little bit of development in the Knockouts division as Mickie James, Taylor Wilde and Jordynne Grace appear to have teamed up. Hopefully, this doesn't mean Mia Yim gets lost in the shuffle (although Mia appears to be done in Impact for now). Rich Swann and Eric Young had a short match that was used more to build the Young vs Sami Callihan feud. And we had the official announcement of Frankie Kazarian vs Josh Alexander for Overdrive next month. I'm looking forward to that already.
Any feedback or comments are welcome. My email address is kristian.l.thompson@gmail.com in case anybody wants to get in touch with me and my Twitter handle is @thomok6 as well. Thanks for reading!