Impact Wrestling Review – October 13, 2022
Impact this week was highlighted by the return of a number of major stars, as well as a World Championship match between Josh Alexander and Bobby Fish.
We are six days removed from the Bound for Glory PPV extravaganza, and all eyes will be on Impact this week as the fallout from the event takes centre stage. The Impact World Champion Josh Alexander will kick off the show in the ring. How will he respond to Bully Ray, who won the Call Your Shot Gauntlet match? And will Eddie Edwards still be lurking in the shadows after his loss at the PPV? Matt Cardona will make his return to the Impact Zone after his return at Bound for Glory. He will be looking to find the momentum he had before his untimely injury, as he faces Bhupinder Gujjar. And Killer Kelly and Tasha Steelz will finally face off, this time in a No-Disqualification match.
Last Friday at Bound for Glory, Josh Alexander retained his Impact World Championship in a bruising affair against Honor No More leader Eddie Edwards. Immediately after the match, Alexander was attacked by members of Honor No More until Call Your Shot winner Bully Ray made his way to the ring. Bully teased cashing in, but ended up having Alexander's back. There is intrigue around what Bully's deal in Impact will be moving forward and when he will face off with Alexander for the title. In the match of the night, Jordynne Grace retained her Knockouts' Championship, overcoming the previously undefeated Masha Slamovich. The Knockouts' roster is deep, so it will be interesting to see if Slamovich is hurt by this loss and heads to the back of the queue, or bounces back and wants another shot at Grace. In the other main matches, Frankie Kazarian overcame the fighting X-Division Champion Mike Bailey to win the gold, the Kingdom retained their Tag Team titles against the Motor City Machine Guns and Mickie James ensured her career continues by beating Mia Yim.
Impact Wrestling 13/10/22 from Washington Avenue Armory in Albany, NY
The opening video featured highlights from the main matches from Bound for Glory, as I covered above.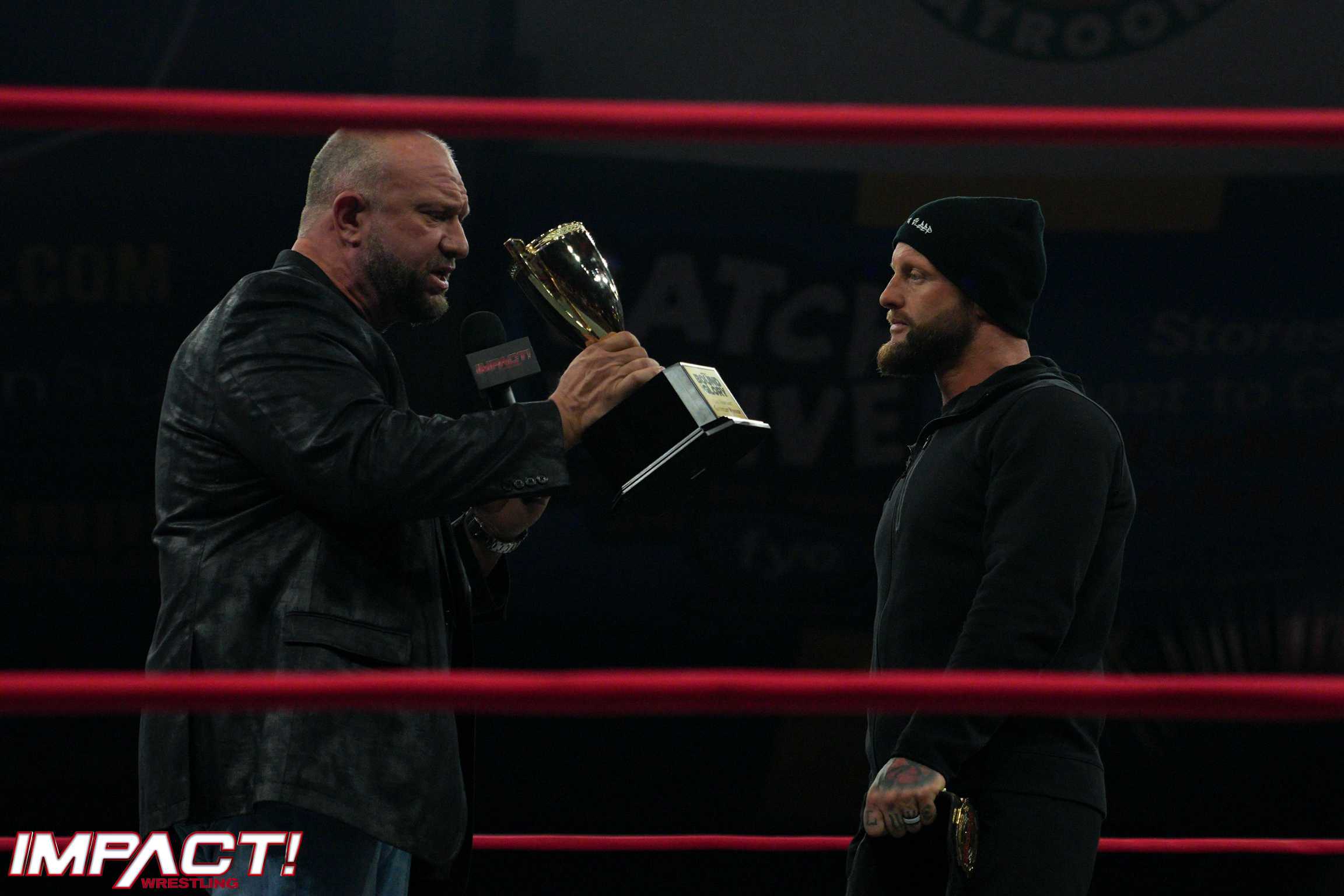 Tom Hannifan and Matt Rehwoldt welcomed us to the show as Impact World Champion, Josh Alexander, made his way to the ring for a promo. The fans chanted for Alexander who reciprocated their appreciation. Alexander said he went to war with Eddie Edwards at Bound for Glory, but now that war is over. Alexander said he's not perfect and last year at Bound for Glory he made a mistake, allowing Moose to take his title. Instead of waiting for his next challenger, Alexander is calling him out and here comes Bully Ray. Bully walked to the ring with purpose and stared down Alexander before entering the ring. Alexander welcomed Bully back to Impact Wrestling. Alexander says the Bully that he knows wouldn't hesitate to capitalise on an opportunity. He wants to know why Bully didn't call his shot when Alexander was beaten and bloodied after the match with Edwards. Bully said he had the opportunity and in the past he would've cut Alexander's throat but not this time. Bully ran through all the despicable acts that he has been a part of in his time during Impact. Bully said this time he wants to do the right thing. Alexander said he's been getting countless calls and messages telling him not to trust Bully. Bully doesn't want his legacy to be that of a backstabber. He says he's not going to cash his shot in when Alexander is down and out. Bully said Alexander will see him coming and that he will announce the match ahead of time.
Here comes Steve Maclin with the interruption. Maclin was the runner up in the Gauntlet match. Maclin says there isn't a thing Bully can do that would make him trust him. Maclin asks why Bully was even in the match. Maclin said Bully will do whatever it takes to get what he wants. He went on about his wins of late and asked what it will take for him to get a title shot but then Moose interrupted. Moose said Maclin should sit this one out and watch how world champions conduct their business. Moose addresses Bully and said he was surprised that he didn't call his shot at Bound for Glory. Moose calls Bully a scum bag, but that's okay because he has modeled his Impact career on his and he's also a scum bag. The fans chanted "scum bag" at Moose. Moose reminds Alexander that he beat him in 10 seconds at Bound for Glory last year and he will do it again if given the chance. Here's Bobby Fish now and he takes Moose's mic on his way to the ring. Fish addresses all the men, recapping all the promos so far, then turns his attention to Alexander and challenges him to a title match tonight. Alexander says there's been enough talking and accepts Fish's challenge. Bully leaves the ring as Fish and Alexander stare each other down.
Analysis: That was a 15-minute promo that really only achieved setting up Fish vs Alexander, and that was in the last 90 seconds or so of the promo. We will see if that match happens tonight. I'm not sure that Maclin or Moose needed to be involved but it reminds us that they are around the main event level. The interaction between Bully and Alexander was very good and I was pleased that Bully was present immediately after the PPV. The audience will still be thinking whether Bully will screw Alexander moving forward, so it's good that it's a slow burn angle.
There was a recap of the Before the Impact show on YouTube where the Motor City Machine Guns defeated Raj Singh and Shera, to rebound from their loss to the Kingdom at Bound for Glory. Shelley and Sabin were backstage with Gia Miller and told her that they're going to Scott D'Amore for another shot at the Tag Team Championships. Rhyno and Heath were exiting D'Amore's office and said they have a Tag Title shot next week. Rhyno said he's back for revenge and next week they become Tag Team Champions.
Analysis: That's a big match set for next week. I would say that the Kingdom will retain.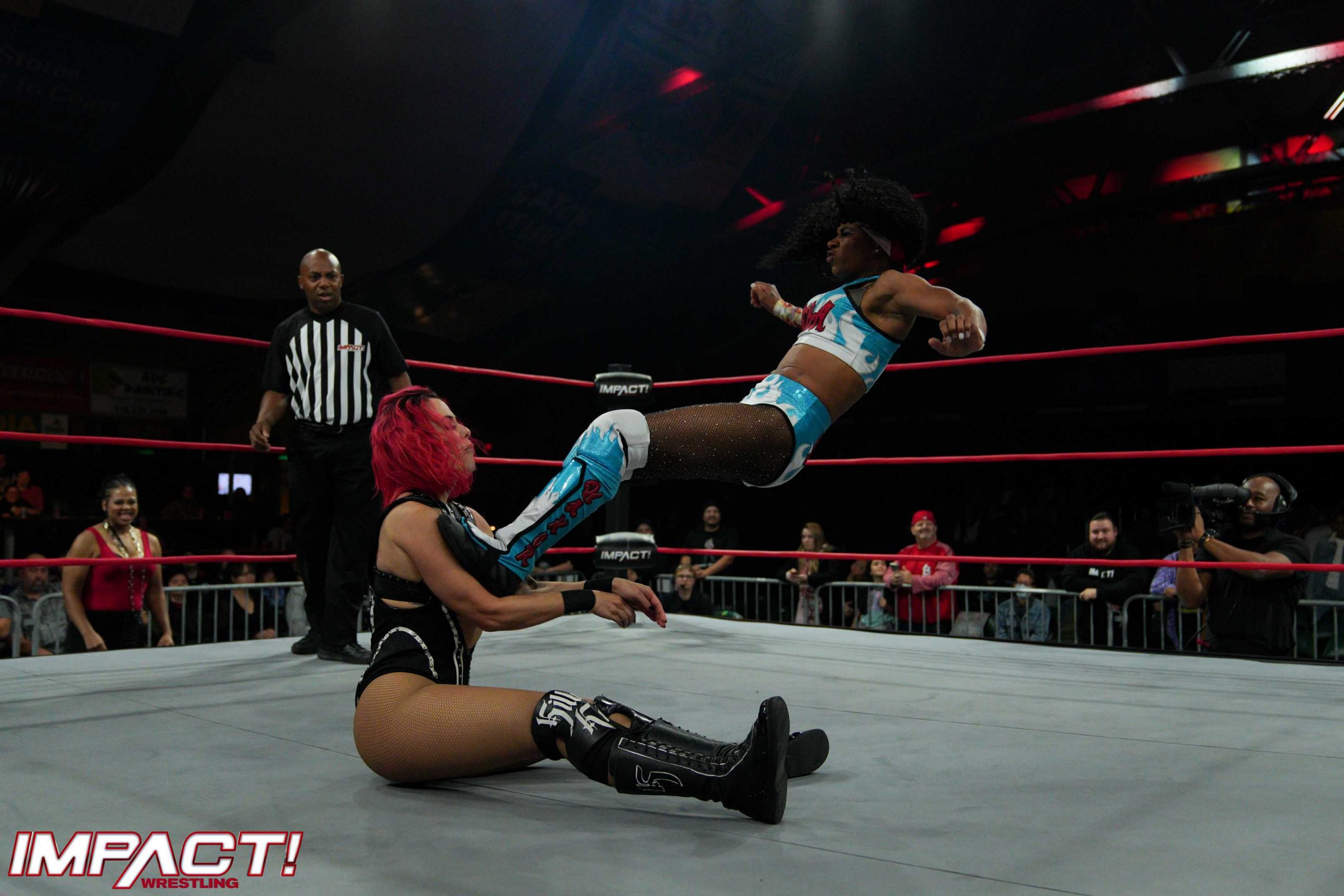 Match #1: No Disqualification Match: Tasha Steelz w/ Savannah Evans vs. Killer Kelly
These two have faced-off once but that match was on the pre-show for Victory Road and ended quickly with Kelly snapping and choking out the referee. The match begins as Evans pulls Kelly out of the ring as she is entering, allowing Steelz to take the early advantage. Steelz misses a running forearm in the corner so Kelly sends her face-first into the middle turnbuckle. Kelly goes for a running kick on the apron but Evans catches her leg, then puts her on her shoulders and drops her face-first onto the ring apron. Evans rolls Kelly into the ring and Steelz gets the first two count of the night. Steelz hits a rung dropkick and gets another 2 count. Evans slips Steelz a chain but Kelly trips her up before she can use it. Kelly tries to choke out Steelz, but Steelz rams Kelly into the turnbuckle and hits a pump kick for 2. Steelz tries a submission but Kelly uses her strength to put her over her shoulders and hits a weak-looking Alabama Slam for 2. Kelly goes under the ring and brings in a steel chair. Steelz blocks her with a kick and tries a bulldog off the ropes but Kelly fights her off. Kelly hits a number of clotheslines and a running knee for 2. Kelly wrenches at the left arm of Steelz, but Evans runs into the ring to break up the submission. Evans holds Kelly whilst Steelz gets the chair, but Kelly fights Evans off. Steelz and Kelly both grab hold of the chair and Kelly wrenches it free but connects with a shot to Evans! Steelz gets the chain and locks it around the face of Kelly. Kelly fights off and locks in the Killer Clutch using the chain and Steelz taps out quickly. The match lasted 6 minutes.
Winner by submission: Killer Kelly
Analysis: ** That was disappointing and quick. They have built this up really well and Kelly won pretty easily and made Steelz look weak in the process as Evans continually messed up trying to assist her. They didn't really use any weapons effectively either.
Ziggy Dice and Johnny Swinger are backstage, before Dirty Dango joins them. Dango disses their fashion choices. The crazy yellow hoodie wearing disciples of Eric Young appear and security are trying to restrain them when Sami Callihan runs in and starts beating them with his baseball bat. Callihan tells one of the hoodies to tell Eric Young that he's coming for him.
Analysis: That was a whole lot of random. Callihan vs Young looks to be on the cards. That will be good.
Scott D'Amore is with Josh Alexander and congratulates him on the win at Bound for Glory. D'Amore thinks maybe Alexander should heed Moose and Maclin's advice about Bully Ray. D'Amore warns Alexander to be careful and wishes him luck in his match with Fish.
Match #2: 6-way X-Division match: Black Taurus vs. Trey Miguel vs. Kenny King vs. Laredo Kid vs. Alex Zayne vs. Yuya Uemura
They love throwing together these multi-man X-Division matches and they are usually really fun. Taurus is the only one who gets some of his entrance televised; all the other competitors are already in the ring. Taurus starts the match by spearing Uemura through the ropes. It's King vs Zayne alone in the ring. King tries a cartwheel but Zayne grabs his arm to pull him to the mat. King bails to the outside and runs away from Zayne, who gets nailed with a huge spear by Taurus. King hits a superkick on Taurus then Laredo Kid punches King off the apron. Kid is backdropped over the ropes by Uemura and Miguel, then Uemura dives to the outside to take out the other 4 competitors. Zayne and Miguel do the same.
(Commercial break)
Kenny King is in control as we come back from the break. King dives from the top and hits a blockbuster on Zayne, as the other competitors are locked up in the move too. All 6 men are down at this point. Zayne and King go at it again and Uemura kicks Zayne to the outside. Taurus with a big headbutt to Yuya and then Kid takes him down with a enziguiri. Miguel hits a spinning kick on Kid but is taken out by Kenny King's spinebuster. King gets a 2 count but Laredo Kid breaks it up. Kid chops King into the corner and hits a running forearm and a Michinoku Driver for 2. Uemura hits a flying crossbody on King and an overhead belly-to-belly suplex on Kid. Taurus nails him with a sloppy popup Samoan Drop. Zayne runs at Taurus who has hopped up on the top turnbuckle and nails him with a reverse hurricanrana. Zayne hits a release German suplex on Kid who flips over and lands on Taurus! Now Miguel is back in the ring who hits a nasty-looking spinning neckbreaker for the win after 5 minutes.
Winner by pinfall: Trey Miguel
Analysis: *** I don't think they could've fit any more action into that five minutes if they tried. I was struggling to keep up. It was the usual chaotic X-Division match up that we have become accustomed to, with lots of big spots and aerial action. This could lead to a title match for Miguel against Kazarian.
Frankie Kazarian is walking in the parking lot with his championship on his shoulder when former champion Mike Bailey approaches him. Bailey thanks him for an amazing match (agreed) at Bound for Glory. Miguel interrupts and congratulates them both on the match. Miguel lets them know that he just won a 6-way match and that puts him in title contention. Kaz says we will have to wait and see what happens.
Analysis: Just a simple promo exchange that leaves us thinking about which way the title scene is heading.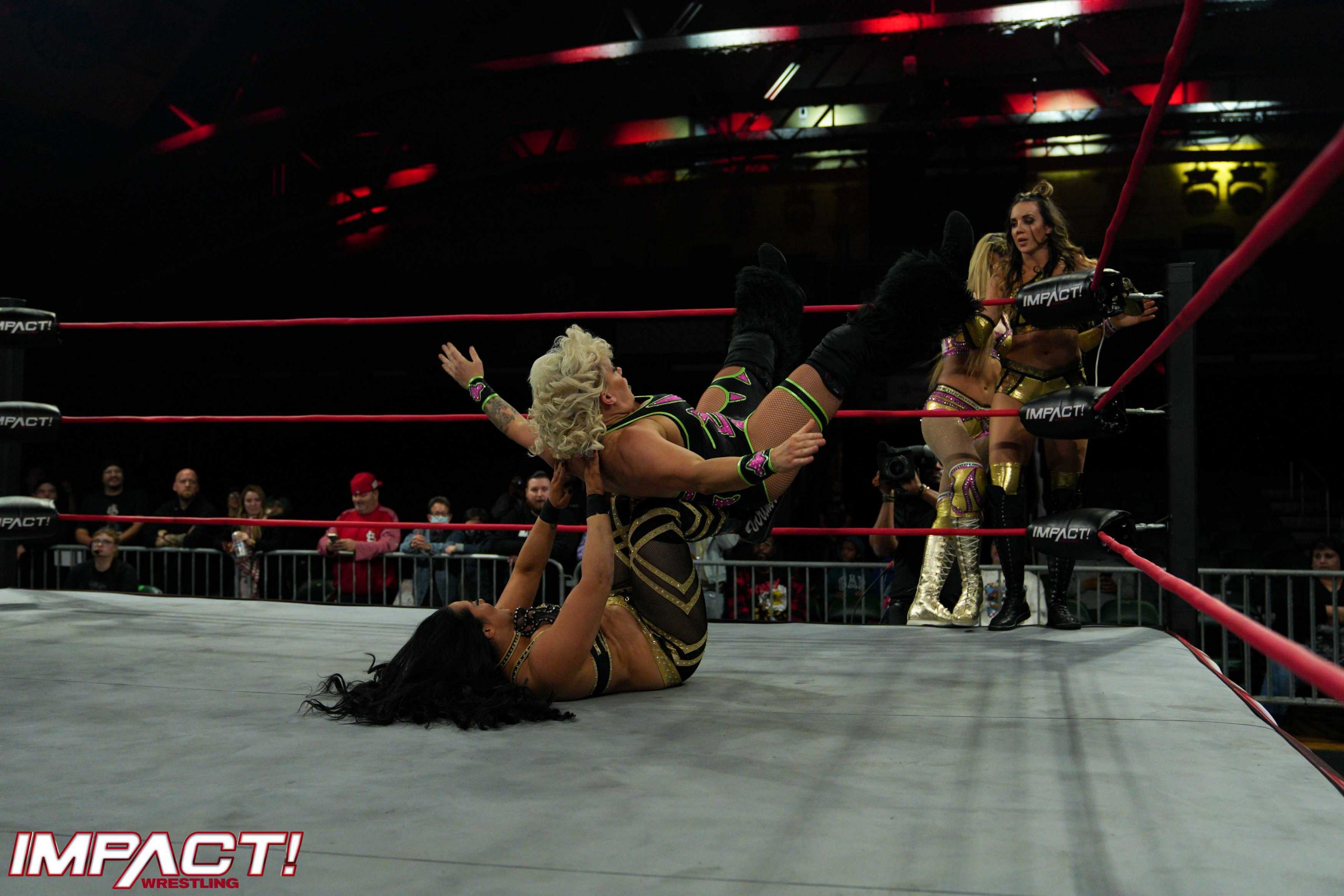 Match #3: VXT (Deonna Purrazzo and Chelsea Green) & Gisele Shaw vs. the Death Dollz (Taya Valkyrie, Rosemary and Jessicka)
Valkyrie and Jessicka won the Knockouts Tag Team Championships at Bound for Glory. It's Jessicka and Shaw starting the match and Jessicka takes control early. Shaw escapes a scoop slam and tags in Green. Green awkwardly misses a kick and falls into the corner. Valkyrie tags in and hits the running knees in the corner for a 2 count. Green fights back with a headbutt and tags in Purrazzo. Valkyrie overcomes them and hits a double clothesline, then tags in Rosemary who starts biting Purrazzo's face in the corner. Rosemary applies the Tarantula in the ropes. Valkyrie tags back in but Shaw distracts the referee so Purrazzo hits a backstabber on Valkyrie and tags in Green. Green stomps Valkyrie's face into the bottom turnbuckle and gets a 2 count. Shaw tags in and hits a suplex for 2. In comes Green again but both women go for a clothesline at the same time. Shaw and Rosemary tag in. Rosemary hits a Fallaway Slam for a close 2 count. They counter each other's suplex attempts and then Shaw hits a backbreaker/Flatliner combo. Shaw misses the running knee and Rosemary follows up with a spear. Green comes in for the save and then it breaks down in the ring. Jessicka and Taya take out VXT with forearms. Jessicka hits a running crossbody on Green but Purrazzo dumps her out. Rosemary with a spear on Purrazzo, but Shaw hits the running knee to the back of the head and gets the win after 5 minutes.
Winner by pinfall: VXT & Gisele Shaw
Analysis: **3/4 That was pretty action-filled and another decent 5-minute match where everyone got a chance to show their skills. There were a few timing issues early on but they bounced back. The win for the heels keeps the feud alive.
Tommy Dreamer and Bully Ray are backstage. Dreamer says he wishes that the world knew the real Bully Ray. Dreamer tells Bully that when he has something in his radar, he changes and does whatever it takes to achieve his goals. Dreamer asks Bully not to make him look like a fool. Bully understands that the world doesn't trust him, but he should be able to count on Dreamer. Bully says that he has told everyone to their faces that he will do this the right way. Dreamer says while they are both here they should team up one more time. Bully sounds happy to hear that.
Analysis: Just a continuation of the ongoing Bully saga. Dreamer gets too much TV time for an executive.
Bobby Fish is shown warming up for the main event.
There is a promotional video for the next PPV, Hard to Kill on January 13th.
We are an hour into the show and here's the first sign of Honor No More. Maria is addressing the troops but PCO keeps randomly interrupting with yelling. Edwards is noticeably absent. Taven complains about Rhyno and Heath receiving a title match next week. Bennett says this abuse towards Honor No More isn't going to end anytime soon. He wonders where Edwards is. PCO starts screaming for Eddie. Bennett says in the meantime, they have to carry Honor No More.
Analysis: The issue here is that Edwards has gone AWOL after losing to Alexander at BFG and Honor No More are vulnerable without him.
Match #4: Matt Cardona vs. Bhupinder Gujjar
It's a welcome return to Impact weekly for Matt Cardona who was having an incredible year until he got injured and had to give up the Digital Media Championship a few months back. He returned at Bound for Glory and featured in the Gauntlet match. Gujjar has been involved with Brian Myers over the last 2 months or so. Gujjar hits a big dropkick early and a splash in the corner. Gujjar flies from the outside but slips on the ropes and barely connects with an elbow drop. Cardona rolls to the outside and sends Gujjar into the ring apron. Cardona hits a neckbreaker on the floor then rolls into the ring so the referee can begin the count. Gujjar makes it back in by 8 but Cardona is all over him with right hands. Cardona hits another neckbreaker for a 2 count. Cardona misses a dropkick off the top rope. Gujjar takes over with right hands and a big clothesline. Gujjar hits a pump kick and a knee lift, then a Samoan Drop for a 2 count. Gujjar is looking for his Gargoyle Spear but Cardona's tag team partner, Brian Myers, makes his way to the ring for the distraction. Cardona dumps Gujjar off the top and nails him with Radio Silence for the win after 4 minutes.
Winner by pinfall: Matt Cardona
Analysis: **3/4 A quick, but competitive, match to remind the fans that Cardona and Myers are in a tag team. Gujjar got plenty of offense but Cardona will be pushed more going forward.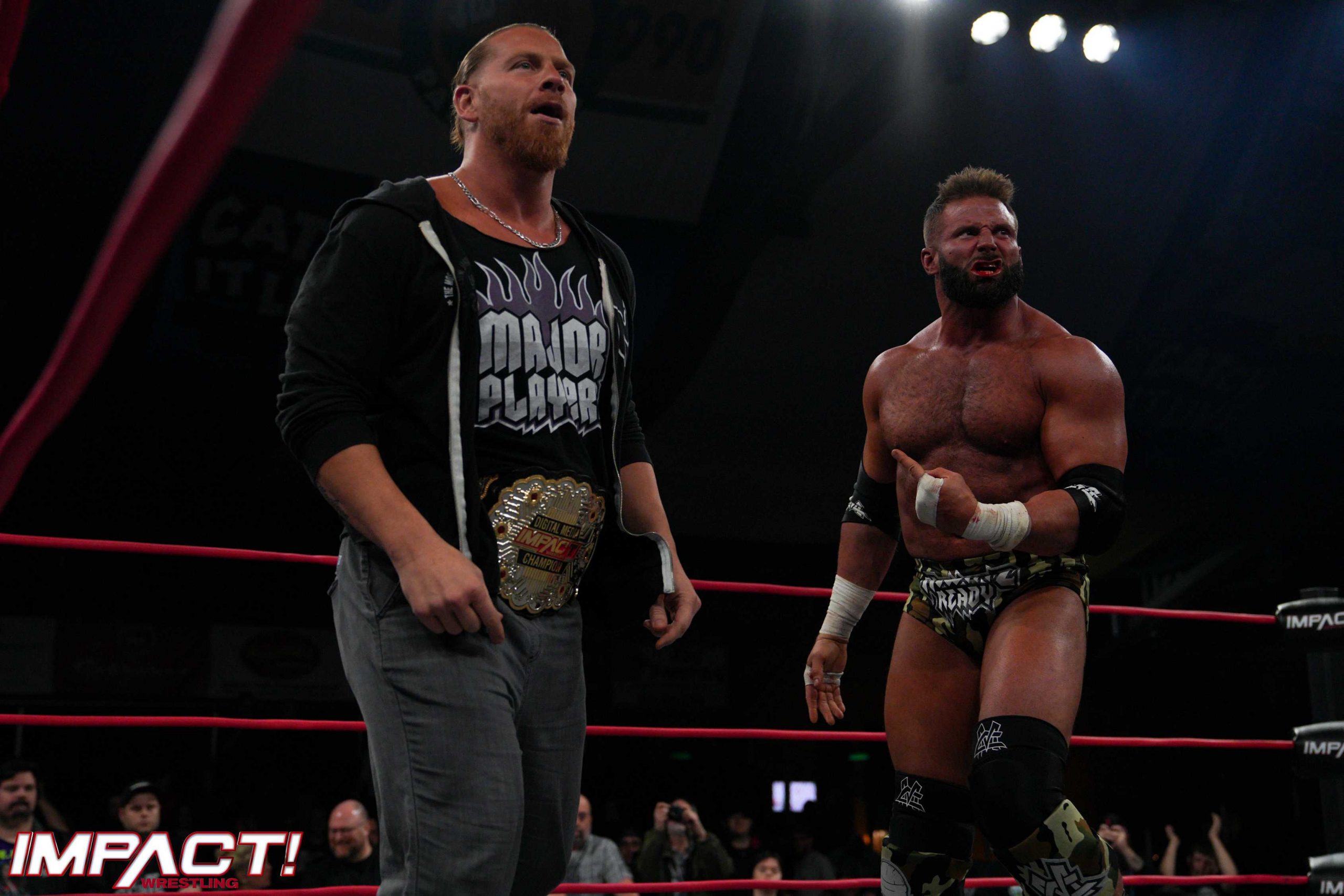 There was a video putting over Jordynne Grace's victory against Masha Slamovich at Bound for Glory.
Mickie James was interviewed backstage. James puts over Grace as a formidable Knockouts' Champion. James hopes she gets to face Grace at some point. She gives Yim credit for a tough match at Bound for Glory. Purrazzo, Green and Shaw come in to interrupt. Green and Purrazzo boast about beating James in the past. Green taunts James for taking time off after she beat her. Purrazzo insults James for making everything about her. Mickie challenges any of them to end her career. Purrazzo says they have a Tag Title match to prepare for at the moment but maybe later.
Analysis: Mickie and Purrazzo had some brutal matches last year so one more would be fine with me.
Ace Austin and Chris Bey do a quick promo challenging Tommy Dreamer and Bully Ray to a match next week. Eric Young vs Rich Swann, and the Kingdom vs Heath & Rhyno for the World Tag Team Championships are also set for next week.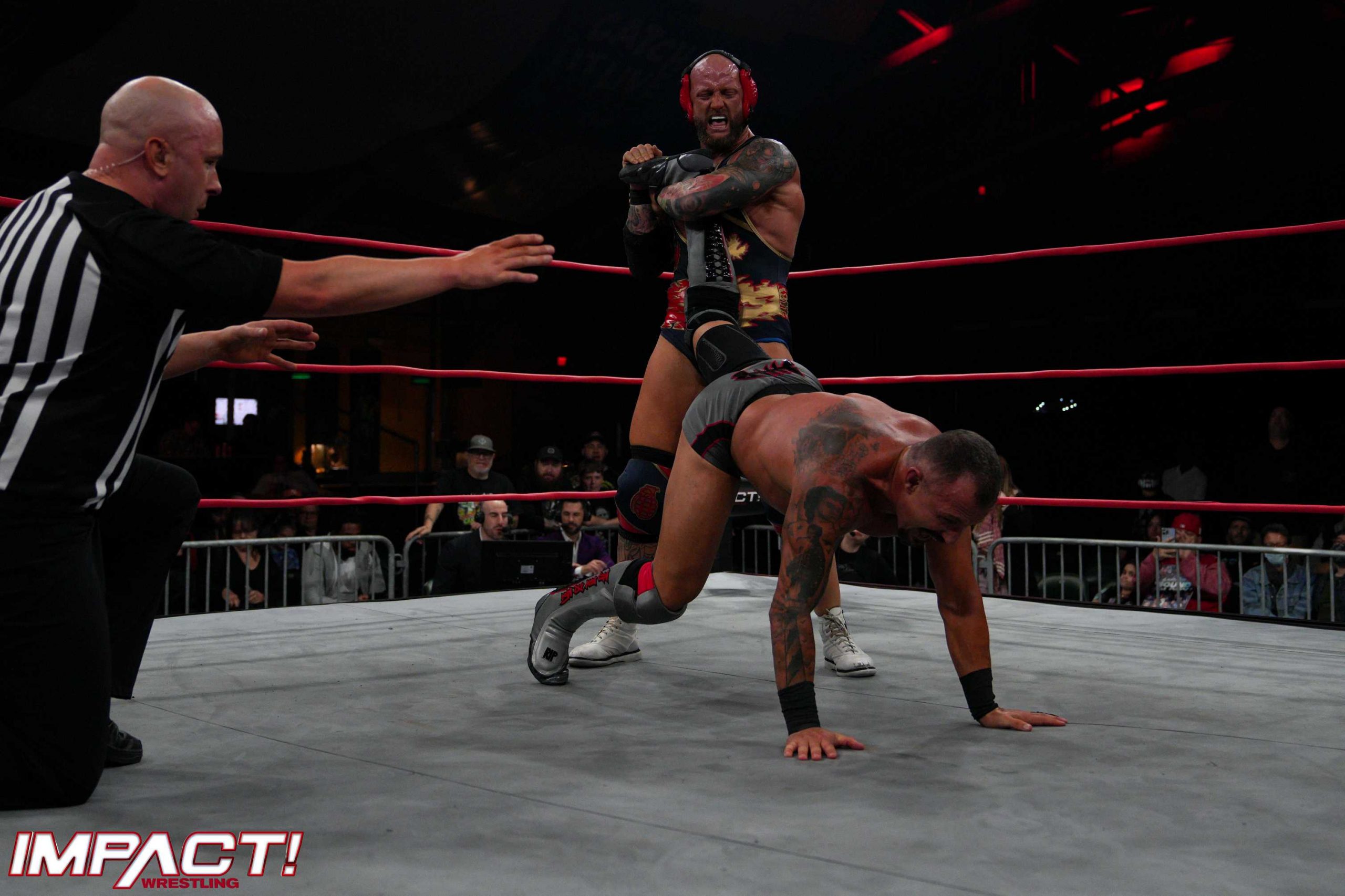 Match #5: Impact World Championship: Josh Alexander (c) vs. Bobby Fish
This is Fish's first singles match in Impact, and he is in his hometown, but I would be hugely surprised if he walks away with the gold tonight. It's obvious they're building to Bully vs Alexander. Nevertheless, it should be a great match and there's 15 minutes left in the show when the bell rings. They spend the first few minutes of the match trying to gain the upper hand through tie ups but this leads to a stalemate. The crowd is firmly behind Fish. Alexander grounds Fish with a headlock on the mat. Fish begins to work into the match with a series of knees to Alexander's mid-section. Alexander bounces off the ropes and hits a clothesline. Fish tries a sleeper but Alexander backs him into the corner and then hits a big clothesline for 2. Alexander avoids a German suplex and hits an overhead of his own. Fish rolls out of the way before Alexander can hit his diving crossbody outside the ring and Fish performs a Dragon Screw on the ramp.
(Commercial break)
The crowd is still chanting for Fish as we come back from the break, as he hits a springboard senton into the ring on Alexander. Fish hits a running crossbody to Alexander who is in a seated position. Alexander kicks out at 2. Fish traps Alexander in the corner and locks his left leg in a submission until the referee forces the break. Fish with a suplex for another 2 count. Fish continues the assault on Alexander with hard kicks in the corner. Fish goes for one too many and Alexander catches his leg and hits a clothesline. Alexander gets slowly to his feet and blocks Fish's right hand. He comes back with rights of his own and a big forearm that takes Fish to the mat. Alexander hits an overhead suplex as he tries to get feeling back into his left knee. He goes for the C4 Spike but Fish again targets the knee and nails a Saito suplex for a 2 count. Alexander locks in the German suplex grip and nails two of them but Fish holds the ropes, then hits a T-Bone suplex into the ropes for a close 2 count. Fish goes for a kick to the head but Alexander catches the ankle and locks in the anklelock. Fish cleverly flips through and sends Alexander to the outside. Alexander climbs to the top but Fish sweeps his legs out from underneath him. Fish is looking for a Superplex but Alexander shoves him to the mat. Alexander nails a moonsault but Fish kicks out at 2 and Alexander immediately locks in the anklelock. Fish rolls to his back and kicks at the left knee again. Fish locks in the Triangle Choke on Alexander but the champ lifts Fish up into a backbreaker. Alexander connects with the C4 Spike for the win after 13 minutes.
Winner by pinfallAND STILL Impact World Champion: Josh Alexander
Analysis: ***3/4 That was great, especially the last 3-4 minutes where the counter wrestling was creative and Fish really looked like he belonged. The start of the match was slow as they worked each other out, and it was a real showcase of technical wrestling towards the end. That C4 Spike is a brutal finishing move. I can't recall many singles matches Fish has been in, in NXT or AEW over the last few years, especially matches that went over 10 minutes. It was nice to see him in a prominent spot on the roster and I hope he is able to have some meaningful feuds if he is hanging around in Impact.
Alexander was celebrating when X-Division Champion Frankie Kazarian's music hit and he made his way to the ring. Kaz congratulated Alexander on the win tonight and at Bound for Glory. Kaz lets Alexander know that he is exercising option C, which means he will relinquish the X-Division title to receive a World Title match. Alexander and Kaz shake hands as Impact goes off the air.
Analysis: That was a fun way to end the show. I guess that means Kaz won't be hanging around in Impact for long, and I don't see him beating Alexander so it makes him ending Bailey's run a little pointless, but we will see where it goes and I won't judge it too harshly yet.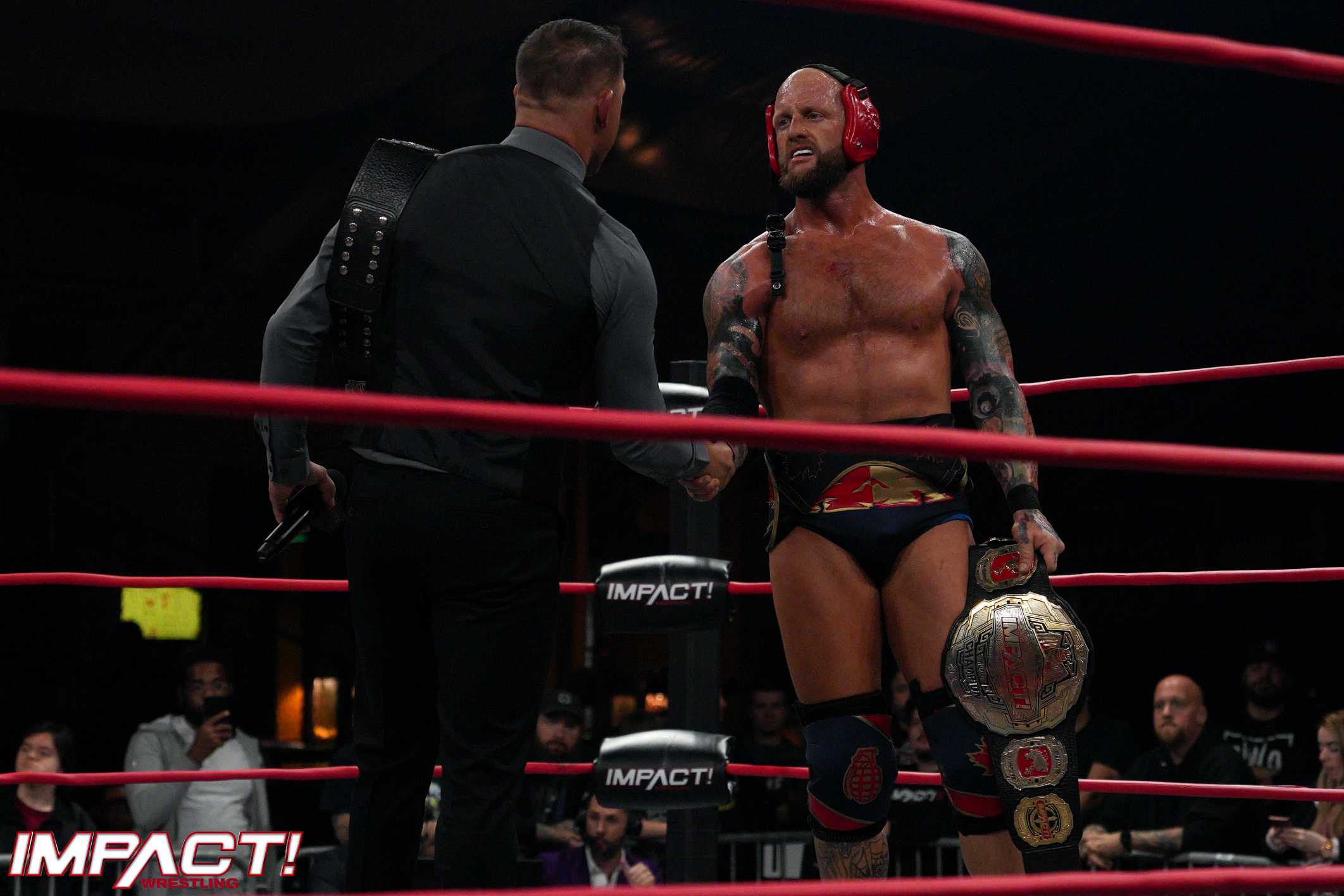 Final Rating: 6.5/10
It was a mixed bag on Impact Wrestling this week. There were a number of shorter matches, which were fine, and then the longer main event which was very good. I was disappointed in the Killer Kelly and Tasha Steelz match because it was so short and seemed like a letdown after all the build-up it has been given. There was some good storyline progression tonight and lots of intrigue surrounding the World Championship, firstly through Bully Ray but then at the end of the show where Frankie Kazarian announced that he will risk losing his X-Division title in order to challenge Alexander for the World title. That will be an exciting match down the line, but the winner seems obvious knowing that Bully vs Alexander is the likely feud. There was a lot of discussion about Bully Ray potentially turning on Alexander and cashing in, so that received a bit of air time. The main event scene is packed at the moment and it seems like Impact's momentum will continue through to the end of the year. There were plenty of talent not on the show, possibly given the first night of the tapings off after Bound for Glory. I am interested to see Jordynne Grace's next challenger. There are some decent matches set already for next week and I wish they advertised Fish vs Alexander ahead of time, especially as it was in Fish's hometown. They had a really solid main event match up, even if it was obvious that Fish had no chance of winning.
Any feedback or comments are welcome. My email address is kristian.l.thompson@gmail.com in case anybody wants to get in touch with me and my Twitter handle is @thomok6 as well. Thanks for reading!