Impact Wrestling Review – August 11, 2022
This week's edition of Impact Wrestling featured an action-packed lineup of five matches, including an X-Division Championship match featuring Mike Bailey defending against NJPW's Rocky Romero.
Also on the show, Alex Shelley and Josh Alexander met face-to-face to sign the contract for tomorrow night's World Championship match at Emergence. And after weeks of vignettes and her return a fortnight ago, Killer Kelly steps back into an Impact Wrestling ring.
Last week the rivalry between Honor No More and Bullet Club rose to new levels of violence as Doc Gallows and PCO squared off in a Street Fight. PCO was victorious in a brutal affair, even after Gallows was able to chokeslam him through the ring! Ahead of the factions' 10-man tag team match tomorrow at Emergence, Karl Anderson goes one-on-one with Kenny King tonight. Also on last week's show, after weeks of speculation, it was confirmed that Steve Maclin and Moose were working together to take out Sami Callihan. What condition will 'The Draw' be in, only 24 hours out from his clash with Maclin at Emergence? Hopefully we find that out tonight.
Impact Wrestling 11/8/22 from Old Forester's Paristown Hall in Louisville, Kentucky
The opening video focused on the feud between Bullet Club and Honor No More, as well as Eddie Edwards' trust issues with PCO. They showed highlights of PCO's win over Gallows from last week. We are straight into the first match as the show opens.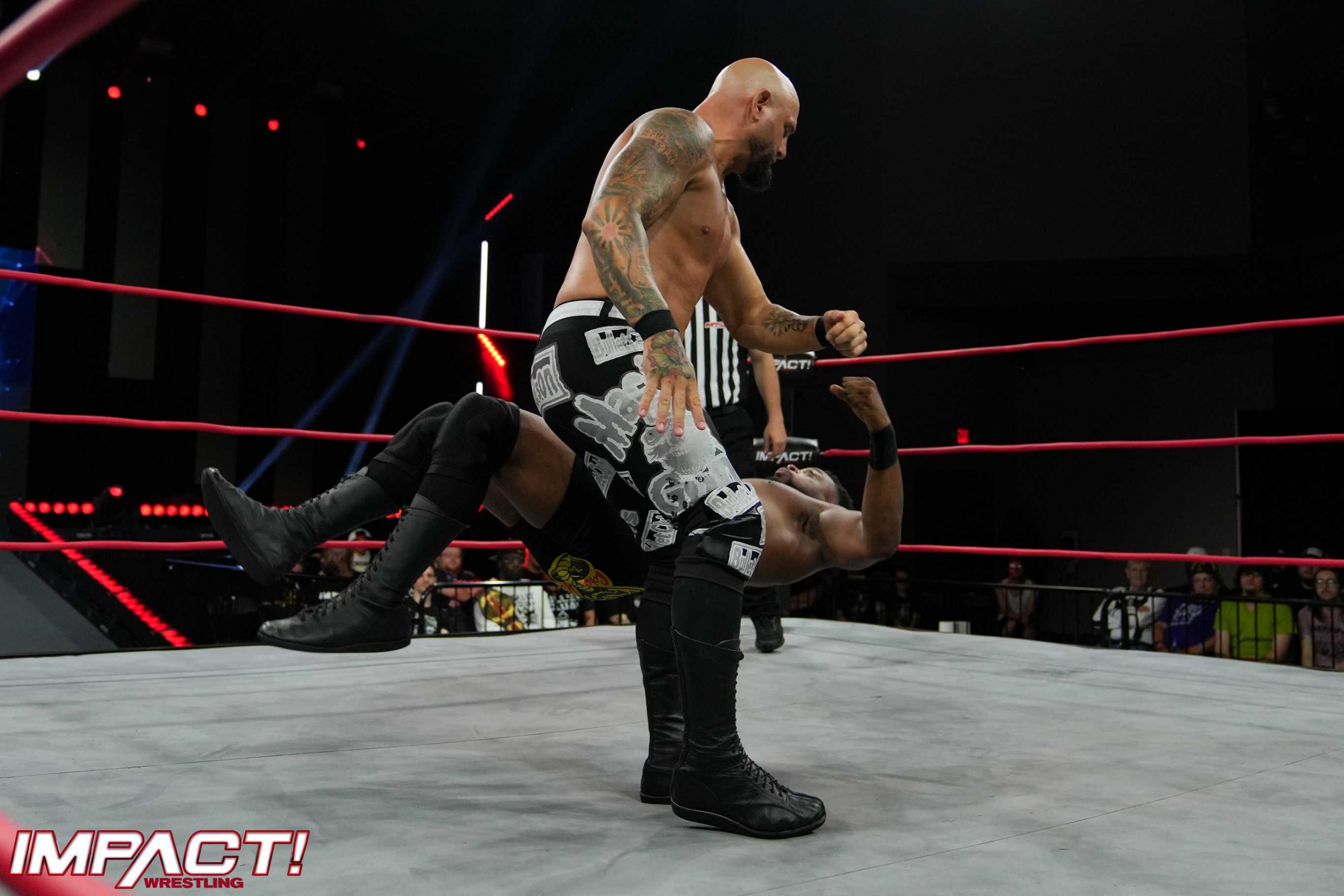 Match #1: Kenny King vs Karl Anderson
King's stablemates joined him for his entrance, but walked to the back straight after. Anderson came out alone. Both factions are barred from ringside. These two will be part of the 10-man tag team match tomorrow night where if HNM lose then they must disband, but if they win then they receive a Tag Team Championship match. King and Anderson lock up King gets the early advantage with a pair of hip tosses. Anderson takes down King with a shoulder block and hip toss of his own before getting a 1 count on a roll up. Anderson tries to fire up the crowd and nails King with a back elbow. King rolls to the apron but locks Anderson's leg up in the ropes and then returns to the ring and targets the knee with a chop block. King connects with a kick to the head for a 2 count. King attempts to lock in a stretch submission but Anderson fights out and they trade right hands until King again targets the left knee with a kick. Anderson hits a dragon screw to return the favour and starts to go on the offensive with a series of clotheslines. Anderson hits a scoop slam then a running senton, but again King attacks the left knee with a hard right hand. He runs into the corner but Anderson connects with an elbow, then a running dropkick for 2. King came back with a scorpion kick and an exploder suplex, before applying a leg lock on Anderson who was close enough to the ropes to break the hold after a short time. King had Anderson up on his shoulders for the Royal Flush but Anderson countered into a Gun Stun out of nowhere for the win after 7:50.
Winner by pinfall: Karl Anderson
Analysis: *** This was a slow-paced but solid opening match, that focused on King targeting the knee of Anderson who was able to fight back and really win the match out of nowhere with that creative counter to King's finishing move. It wasn't a long match as both men will be involved in a big match tomorrow night so they left some gas in the tank for then. I think if Kenny King was given a singles program and matches with 10-15 minutes on a regular basis, he would be one of Impact's top stars.
Post match, King nails Anderson in the knee with a steel chair as Anderson is walking up the ramp. King rolls Anderson back in the ring and goes to the knee again with the chair. King starts choking Anderson out with the chair, then positions Anderson's knee in the chair but Heath strikes again with the Wake Up Call from behind. Heath's music hits and he exits through the crowd, celebrating with high-fives all round!
Analysis: Another hit and run from Heath, who continues his revenge on Honor Not More.
Tom Hannifan and Matthew Rehwoldt run through some of the matches for tomorrow night's Emergence show.
There was a video recap from a few weeks ago when Alex Shelley beat his tag-team partner Chris Sabin to become number 1 contender to the Impact World Championship. There were some comments from Alexander and Shelley about the desire to be champion.
Analysis: I think Alexander and Shelley have the potential to have one of the matches of the year and they will be given plenty of time to do so. I'm glad Shelley has been given a main event match, even though it has been a long time coming, because he's not just limited to being a tag-team wrestler.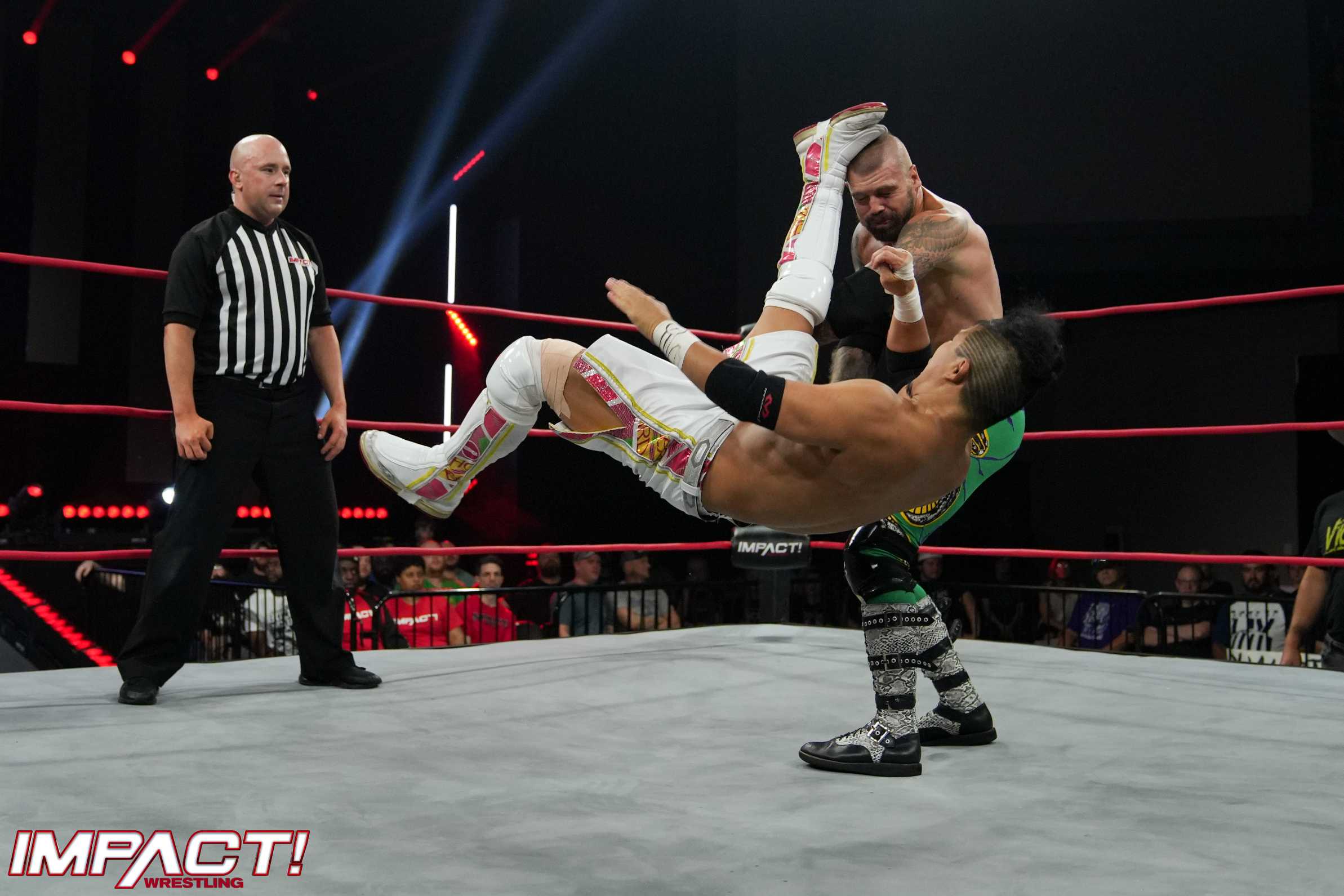 Match #2: Deaner w/ Joe Doering vs Kushida w/ Chris Sabin
We are straight into the next match and these two teams will meet in tag team action at Emergence. It looks like Kushida might be here on a (semi?) regular basis so that's only good news for Impact. Deaner rushes at Kushida, who avoids the attack and applies a side headlock early on. Kushida aggressively takes down Deaner with a series of hip tosses. He goes for a third one but Deaner counters and stomps away at Kushida. Kushida hits a pair of stiff forearms on Deaner. Deaner retreats to the ring apron and gets taken down by a handspring kick from Kushida. Kushida targets the left arm of Deaner who fights out and retreats around the ring. Kushida runs into Doering, which gives Deaner time to circle around and take out Kushida from behind. Deaner is biting Kushida as Impact goes to a break.
(Commercial)
Back from the commercial break and Deaner is control with a neckbreaker on Kushida for 2. Deaner was gouging the eyes of Kushida right in front of the referee. Kushida fought back with some chops but again Deaner targeted the eyes. Kushida continued to fight back and took down Deaner with a Pele kick. He hit an impress hip toss into a cartwheel kick for a 2 count. Kushida went for a handspring back elbow but Deaner had it scouted and nailed Kushida in the back with a forearm. He connected with a knee to the face and a clothesline for a 2 count. Deaner was too slow to climb the top rope so Kushida nailed him with an enziguiri. Kushida tried to apply the Hoverboard Lock on the top rope until Doering hopped up on the apron to distract him. Deaner tossed Kushida to the mat and missed a diving headbutt. Kushida hit a running punt on Deaner's injured left arm. Kushida hit a modified Nothern Lights Suplex with a bridge for the pinfall win at 6:30.
Winner by pinfall: Kushida
Analysis: *** That was full of action for just over six minutes of TV time. Kushida brings a ton of energy to the ring and he just doesn't stop moving so he is really fun to watch. It was a little odd that he targeted the left arm of Deaner but ended up winning with a suplex and pin, rather than a submission. Deaner continues to impress as the sneaky heel, but he rarely wins singles matches. These two teams will have a solid match tomorrow night I'm sure.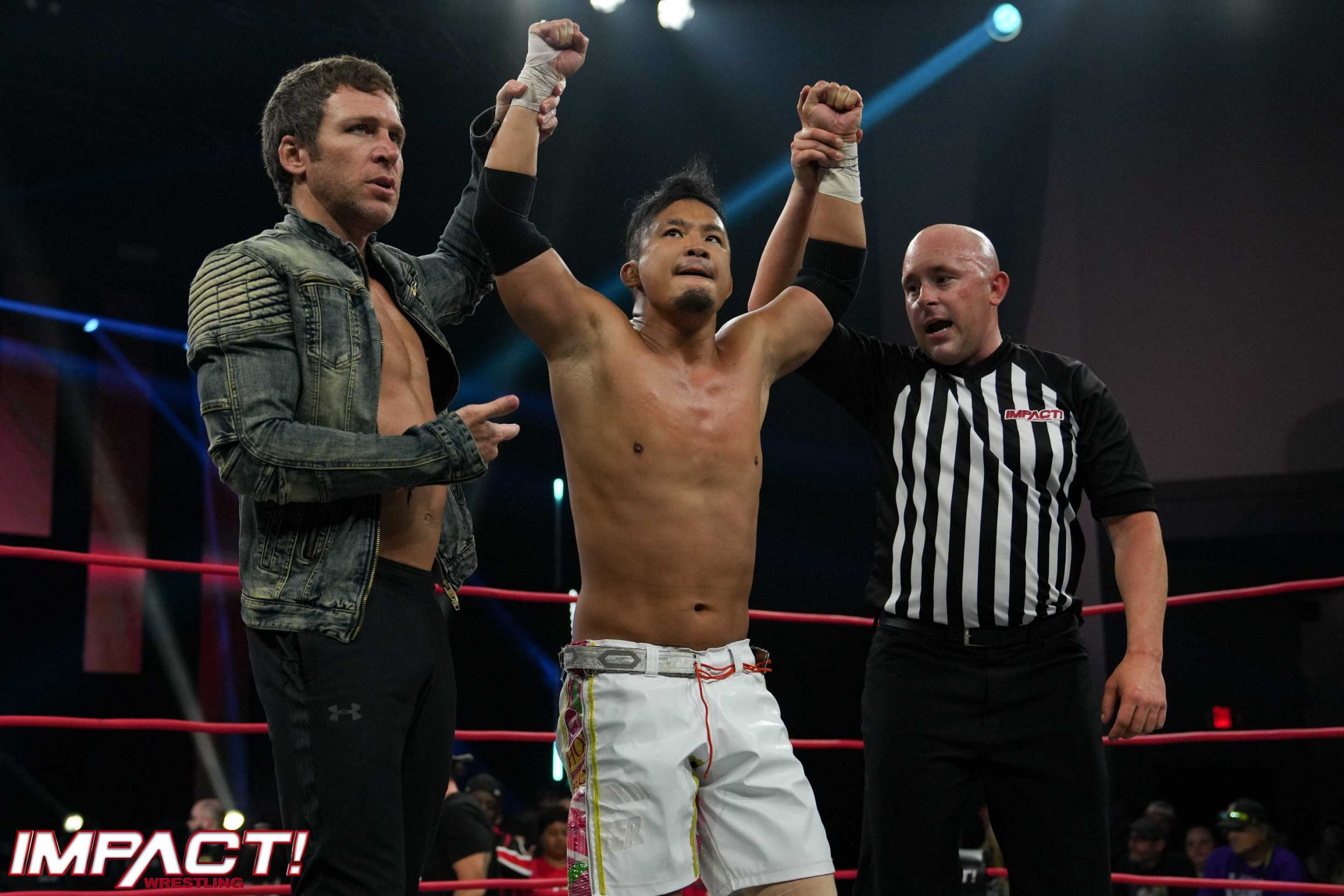 It was time for the Impact Flashback Moment of the Week which was from Genesis 2009, in a singles match between Sabin and Shelley, where Shelley won the match after channeling his inner Eddie Guerrero to win the X-Division Championship.
Analysis: At least it wasn't another Ric Flair video. Woo!
Backstage, Digital Media Champion Brian Myers was confronted by Bhupinder Gujjar. Myers tried to back out of the match again but finally agreed to a title match at Emergence.
Analysis: This has been coming for a while so it makes sense. Gujjar is undefeated but I think Myers will retain. He's a good fit for this title; in the ring and on the mic.
Eric Young confronted Deaner and Joe Doering backstage. He said it was time for the 'Designer' (him) to take control. I'm guessing that might mean he steps into the tag match at Emergence.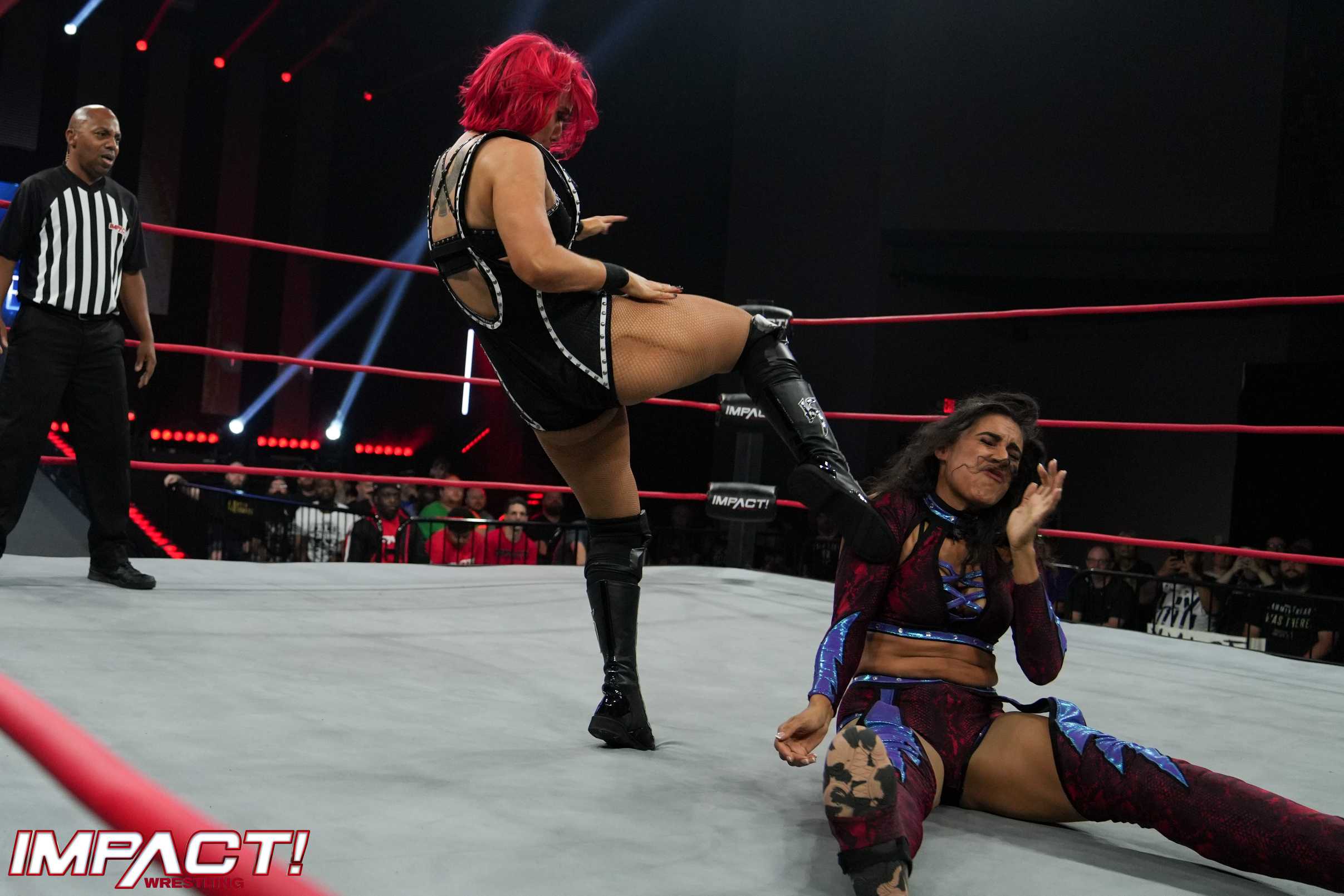 Match #3: Tiffany Nieves vs Killer Kelly
Nieves won an OVW showcase match a fortnight back. Her reward was to get squashed by Kelly tonight! Kelly entered with foreboding music and red lights. Let's hope she doesn't wrestler with them on, as the Fiend used to. Kelly was wrestling with a mouthguard in. Nieves started off with a slap to Kelly who laughs it off and hits a big kick to the face of Nieves. Kelly pounded away on Nieves with forearms in the corner then hit a big dropkick. Kelly measured Nieves and applied the Killer Clutch submission for the tap out win after 1:20.
Winner by submission: Killer Kelly
Analysis: * A simple match to put over Kelly who looked impressive on offense. She has a good ring presence and has been built up well over the last month. They now have her and Masha Slamovich as dominant female wrestlers who are establishing themselves in the Knockouts division.
There was another video package featuring the rivalry between Bullet Club and Honor No More. It will be a decent match but I hope it doesn't headline Emergence as I feel Alexander and Shelley deserve to. Backstage Eddie Edwards was giving a pep talk to his faction. He said that despite no one wanting them to be here, they are indeed still here in Impact Wrestling. Edwards praised PCO for stepping up last week. He was confident heading into the 10-man tag team match tomorrow night.
Analysis: A simple, fiery promo to rev up his team before tomorrow night's match.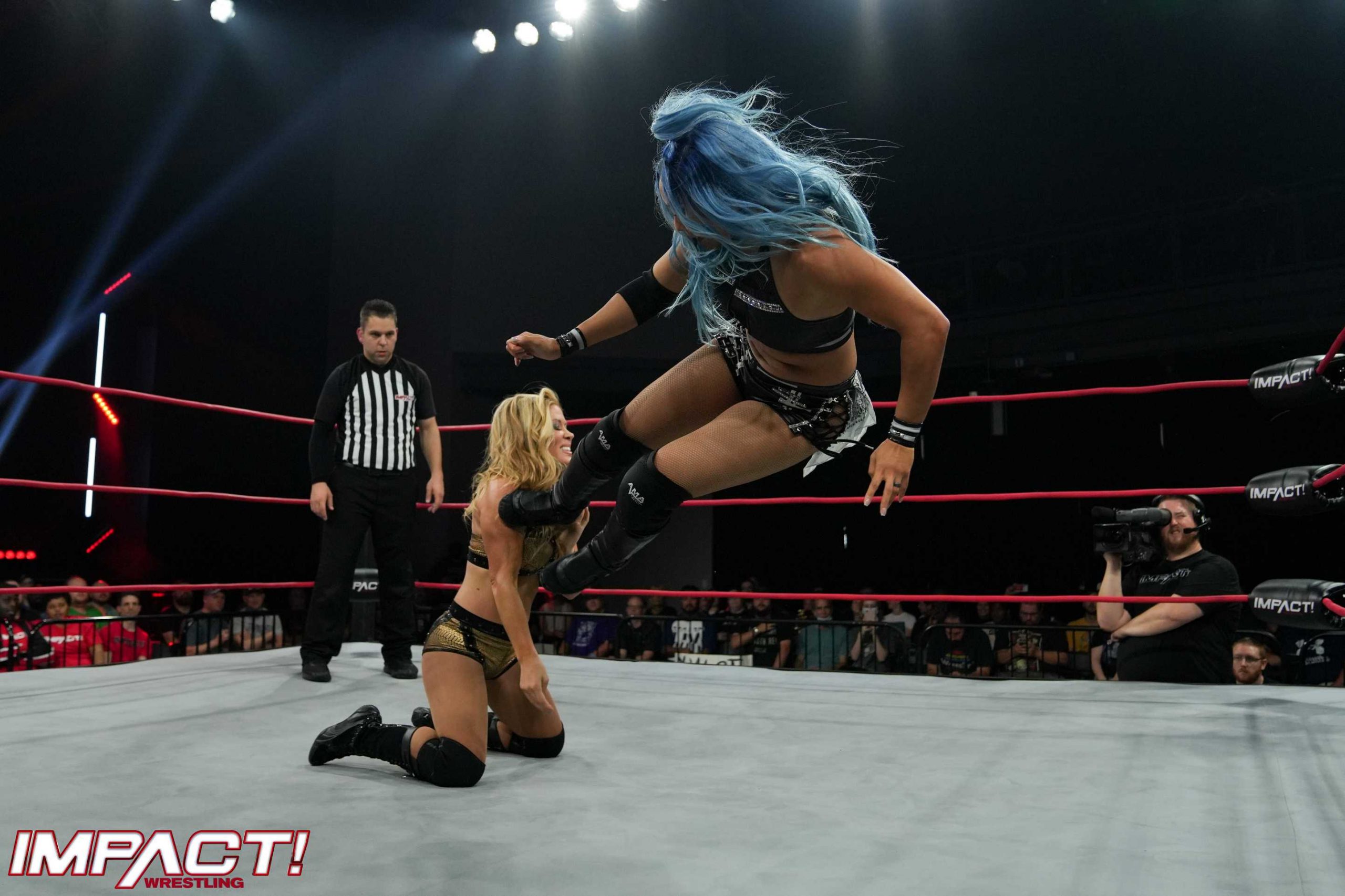 Match #4: Madison Rayne vs Mia Yim
Hopefully this is better than Rayne's AEW debut match which was not good. She entered first, followed by Yim to a good reaction as always. I'm glad she is getting a serious push here in Impact. They locked up with Yim overpowering Rayne early on. There was some counter wrestling with Rayne applying a leg scissors, which Yim athletically countered by standing on her head and reversing. They traded a series of near falls before Yim gained the upper hand with an arm drag. Yim targeted the right knee of Rayne then hit a dropkick. Rayne rolled out of the ring to get some distance so Yim followed her, but Rayne was able to slam her leg into the steel ring post. Rayne rolled back into the ring for a 2 count. Rayne was choking Yim against the middle rope then took Yim to the corner with a hard forearm, followed by a clothesline for 2. Rayne applied a side headlock and Yim wriggled free to the corner. Rayne missed a corner attack and Yim locked her up in the Tarantula. She missed a dropkick so Rayne connected with a Northern Lights Suplex for a 2 count. Rayne nailed Yim with a series of forearms before throwing her across the ring by her hair. Rayne locked her legs around the head of Yim and slammed her multiple times into the mat, then turned it into a pin attempt for a 2 count. Rayne went to the top for a Hurricanrana but Yim caught her and countered into a sitout powerbomb. Both ladies took their time to reach their feet. Yim hit a big dropkick in the corner followed by a cannonball but Rayne held the ropes just before the 3. Rayne ran at Yim and hit a Crucifix Bomb for a close 2 count. Rayne was setting up for a reverse DDT but Yim countered into a Pele kick and Eat Defeat for the pinfall win after 9:40.
Winner by pinfall: Mia Yim
Analysis: **1/2 It was an even match for the most part with Yim getting the upper hand at the end of the match. I would've cut off a few minutes and made it more decisive for Yim as she is in the title match tomorrow night. Some of the spots were a bit sloppy or very obvious, but they got through it okay. Rayne is better as a tag wrestler, in my view. After the match Yim was walking backstage when Knockouts Champion Jordynne Grace confronted her, checking on the condition she was in after that contest. Grace blamed Yim for losing 2 tag matches they had together. Yim reminded Grace that she had the shortest Knockouts Tag Team reign of all time and she should be used to short reigns.
Analysis: This feud needed a little more heat in terms of face-to-face interaction so this was necessary. It should be one of the better matches on tomorrow's lineup.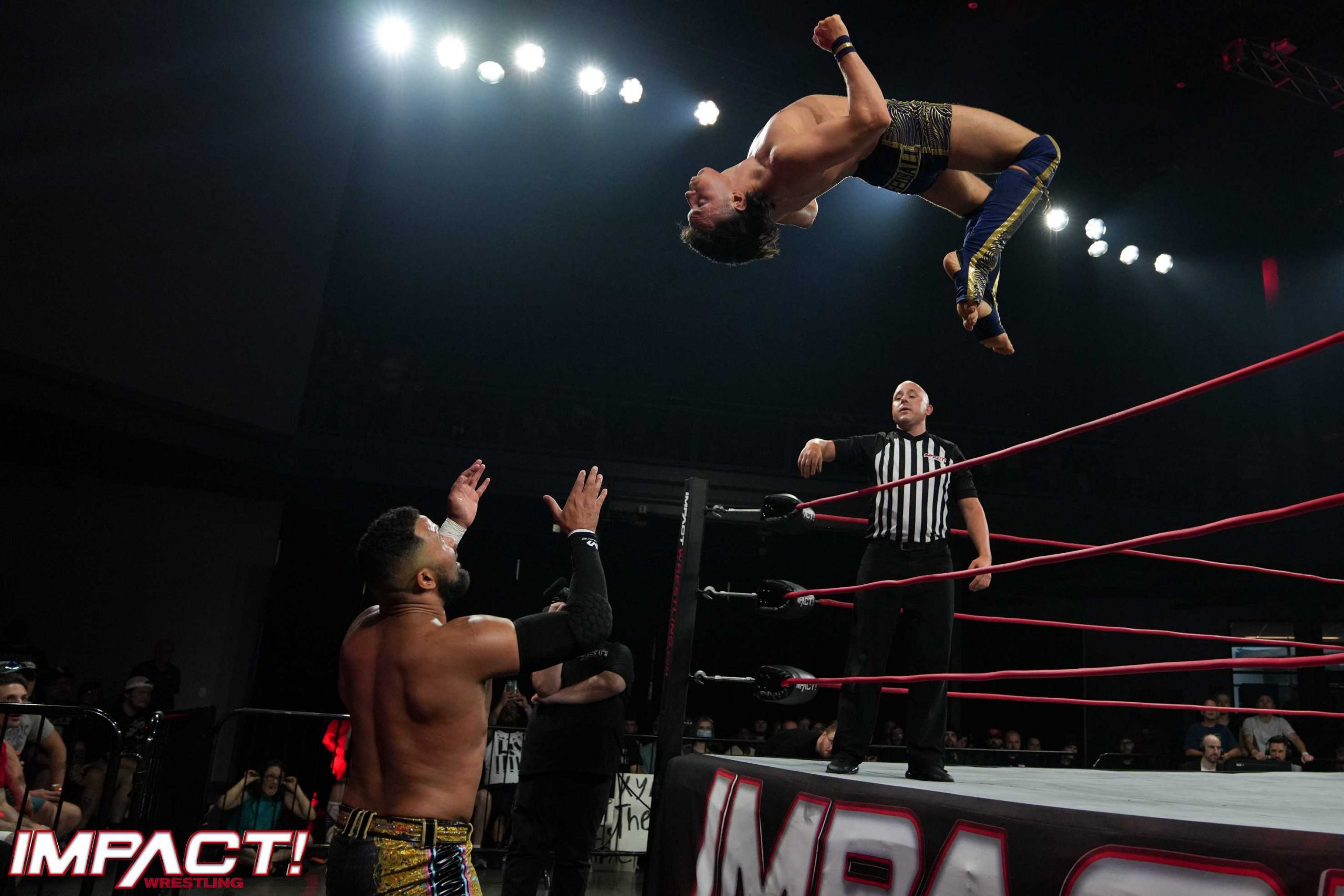 Match #5: X-Division Championship: Mike Bailey (c) vs Rocky Romero
Rocky is doing the rounds on the pro wrestling circuit it seems and the winner here faces former AEW wrestler Jack Evans at Emergence tomorrow. There's a handshake to start the match as they lock up. They exchange hip tosses before both going for dropkicks at the same time. Rocky rolls up Bailey for a quick 2 count early on. Bailey took control with a series of kicks to Romero's left leg and then a dropkick. Romero hit a Hurricanrana off the top but Bailey countered it into a flip of his own then Romero into the corner with a spinning kick.
(Commercial)
Back from the break and there was a chop-off in the centre of the ring. Romero sent Bailey to the outside. Bailey went for a big kick but Romero moved and Bailey connected with the ring post. Romero hit a running Hurricanrana on the outside then sent Bailey into the ring. Romero then hit a knee drop off the top rope onto Bailey's left arm, followed by a back elbow. Romero hit a series of running clotheslines in the corner then went for a back suplex but Bailey flipped over the back and hit his own running forearm. Both men were slow to their feet but Bailey recovered first and levelled Romero with a flurry of kicks and a twisting senton for a 2 count. Romero went back to the right leg and nailed Bailey with a kick to the left arm as he attempted a handspring elbow. Romero locked in the armbar on the mat but Bailey quickly rolled out and sent Romero into the ropes. Romero hit a spinning DDT off the middle rope for a 2 count. Bailey tried to mount a comeback with a series of kicks but Romero brushed them off and nailed a huge clothesline, sending Bailey inside out. Romero ran the ropes but Bailey nailed a superkick.
(Commercial)
The action returned with both men trading kicks in the centre of the ring. Romero sent Bailey to the outside with a clothesline over the top rope. He hit a running suicide dive to the outside. Romero posed for the camera so Bailey was able to hit a standing moonsault. The action returned to the ring where Romero cut off Bailey who climbed to the top rope. Romero hit a dropkick on Bailey who was tied up in the ropes, which led to a 2 count. Bailey hit a big left kick followed by a standing moonsault connecting with his knees to Romero's ribs. Bailey nailed a huge kick to the head of Romero for a close 2 count. He went for his running kick in the corner but Romero caught the leg. Romero went for another spinning DDT off the ropes but he held onto the arm, then rolled through to lock in the armbar. Bailey tried to get out and made Romero break the hold with a pinfall for 2. Romero hit a lifting knee and a running shiranui for a 2 count. Romero went for Sliced Bread but Bailey countered it into a pin for 2. Romero ran at Bailey in the corner but Bailey had his feet up. Romero avoided a top rope attack and hit a clothesline in the corner. He took too long to follow up and Bailey hit his running kick in the opposite corner. Bailey hit Ultima Weapon for the win after 12 minutes.
Winner by pinfall AND STILL X-Division Champion: Mike Bailey
Analysis: ***3/4 That was a really fun match to watch as it was so fast-paced at times, but they also had some focus on submission wrestling which was a little surprising. The match flow was a little hurt by having two commercials and I have no doubt that I would've rated it at or above 4 stars if one of those breaks was omitted. Two commercials in a 12-minute match is a bit much. Bailey winning was the right call as he's the full-time champion but Romero was a great fit for an opponent as the crafty veteran who went all out to try and capture the title.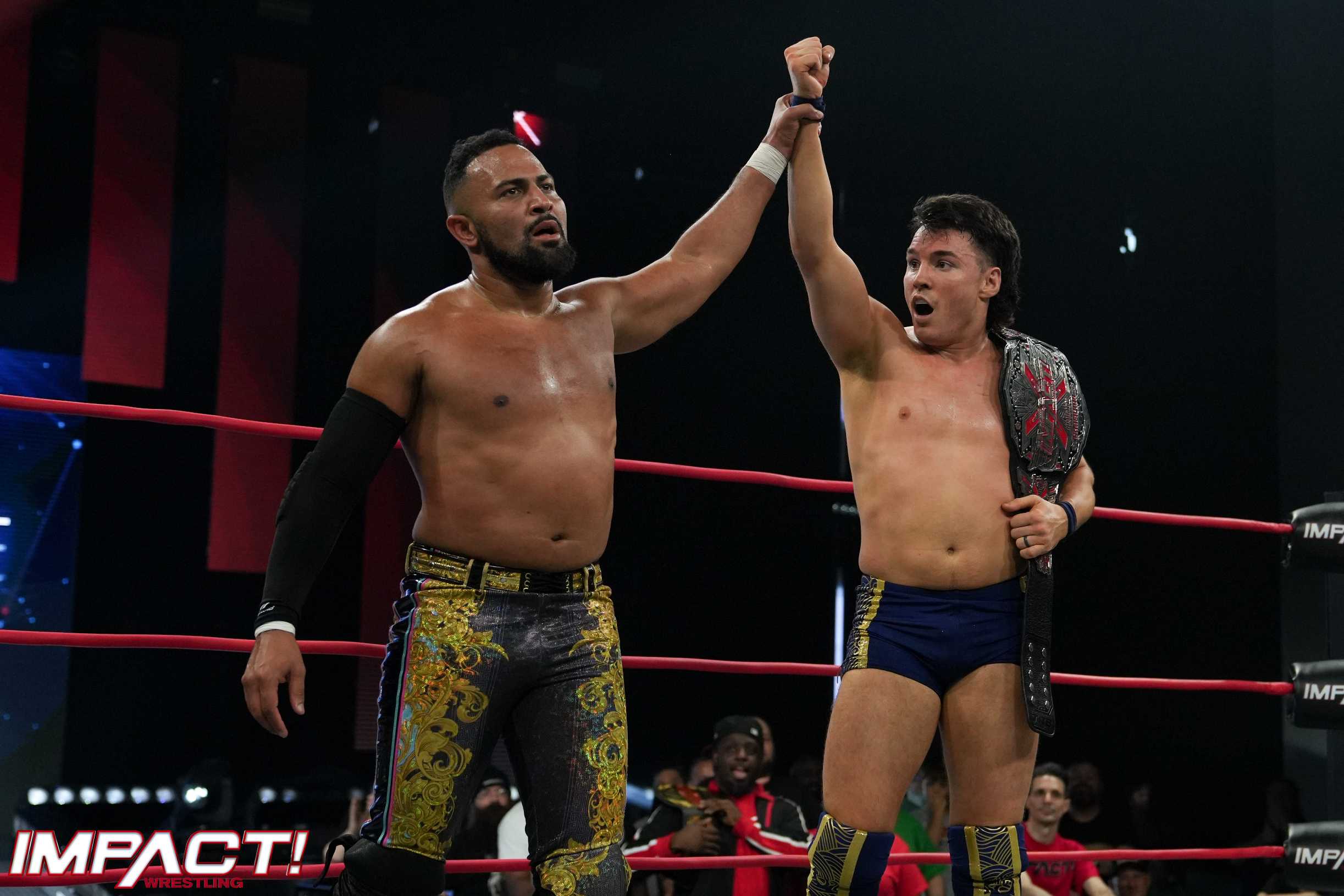 Bailey and Romero bumped fists as Bailey's music played following his victory.
The commentators ran through the pre-show matches featured on Emergence which will be the Knockouts Tag Title match and the Digital Media Title match.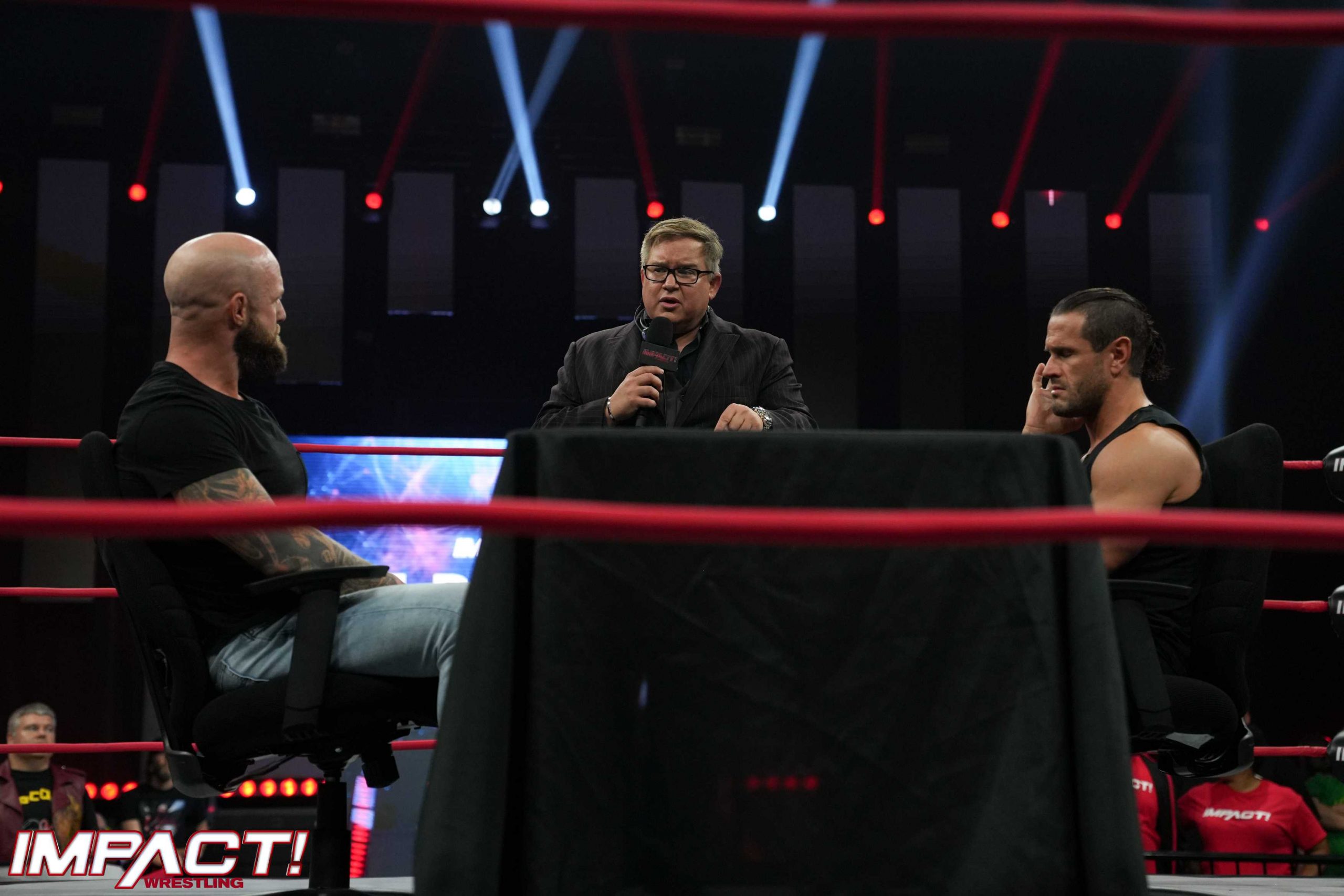 Contract Signing for the Impact World Championship
Scott D'Amore was in the ring ready to supervise the contract signing for the Impact World Championship at Emergence tomorrow. D'Amore listed Alex Shelley's credentials before Shelley made his way to the ring. Shelley sat down at the table as D'Amore ran through Josh Alexander's career highlights. Alexander made his way to the ring looking confident. He placed his championship in the middle of the table. D'Amore said he was excited to see two world-class competitors go at it when they're at the top of their game and billed it as a dream match. Alexander took the mic and said no one is more excited about this match than him. He said the first time he bought a ticket to a wrestling show, Shelley was on the card. Alexander put over Shelley as having a unique style and said that the day after that show, Alexander got into the ring for the very first time. Alexander said for 17 years he has wanted this match and it will be his honor to face Shelley tomorrow night, but also to beat him. Alexander signed the contract. Shelley took the mic and listed the similarities between the two competitors. He put over the Machine Guns as a better tag team that the North, but Alexander as a more successful singles wrestler. Shelley asks what sets Alexander apart from all the other Alex Shelley clones. Alexander said he was more of a Chris Sabin guy, "You know, the guy who won the big one." That got a good reaction from the crowd. Alexander asked how someone as good as Shelley not been able to win a World Title in a 20-year career. Alexander said it's not down to talent or self-sabotage, but Shelley is scared of responsibility. Alexander said Shelley hasn't been good enough to get the job done in the past and questioned if he could tomorrow night. Shelley said he's never had an Impact title match in his whole career. Shelley said with all of Alexander's injuries, that's not even the biggest hurdle in their match tomorrow. Shelley said tomorrow night it will be all mental and Alexander won't be able to beat his 'hero Alex Shelley' because Shelley will just see an Alex Shelley mark (another ooo from the crowd). Shelley signed the contract and ended the segment with "There's your Alex Shelley autograph, Josh". Shelley pointed to his watch and walked up the ramp as his music played and Impact ended.
Analysis: That was a very effective segment in setting some back story between the two. On paper, you know it's going to be a terrific match but you need some emotional connection to the match and they gave us that here. Face vs face promo dialogue isn't always the easiest to create, but they had some creative comebacks and I'm guessing it would've been Shelley's longest singles promo for many years. There were times when he went off track a little but he did what he need to do which was to come across as confident and believable in his first-ever Impact Championship match.
Final Rating: 7.25/10
A pretty good 'go-home' show for Impact this week. All of the major matches got some air-time in terms of in-ring matches or backstage segments. Rocky Romero and Mike Bailey gave us the best match of the evening, which could've been even better without those annoying ad breaks. Kushida again showed his quality as he had a solid match with Deaner. Mia Yim got some momentum towards her Knockouts Championship match by beating Madison Rayne in slightly underwhelming match. The contract signing segment at the end is usually saved for heel vs face dynamic feuds, but this was an effective segment as both combatants had interesting points and there was a bit of a backstory in there. In regards to the Emergence build-up, it was disappointing to not see Sami Callihan or Steve Maclin. That has been the match that has been the most poorly built on the whole card. No Moose in any capacity on the card hurts, too. It had the potential to be a contender for match of the night but the build has been lackluster, with both wrestlers only appearing on half of the Thursday night shows in the last month. I am also surprised that they moved the Knockouts Tag Team Championship match to the pre-show as that has been a feud that they featured prominently on the weekly show.
The Emergence card for tonight (Friday) looks like this: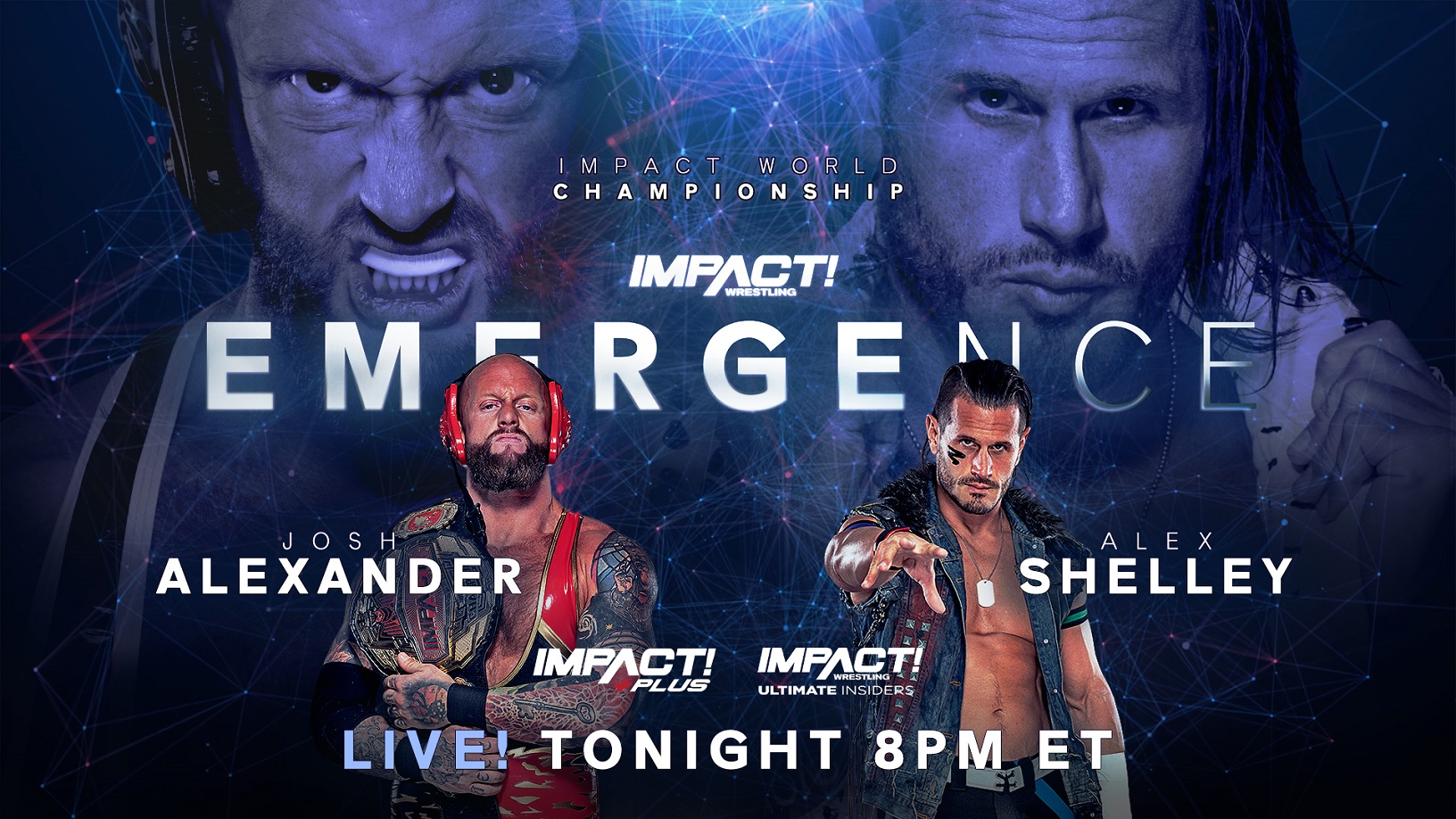 * Impact World Title Match: Alex Shelley vs. Josh Alexander (c)
* Impact Knockouts World Title Match: Mia Yim vs. Jordynne Grace (c)
* Impact X Division Title Match: Jack Evans vs. Mike Bailey (c)
* AAA Attraction Match: Bandido vs. Rey Horus
* The Bullet Club (Ace Austin, Hikuleo, Chris Bey, Impact World Tag Team Champions Doc Gallows and Karl Anderson) vs. Honor No More (Eddie Edwards, PCO, Vincent, Matt Taven, Mike Bennett)
If HNM loses, they must disband. If HNM wins, Taven and Bennett will receive a future shot at the Impact World Tag Team Titles.
* Sami Callihan vs. Steve Maclin
* Kushida and Chris Sabin vs. Joe Doering and Deaner (1 possibly replaced by Eric Young)
Pre-show on YouTube:
* Impact Knockouts World Tag Team Titles Match: Chelsea Green and Deonna Purrazzo vs. Taya Valkyrie and Rosemary (c)
* Impact Digital Media Championship: Bhupinder Gujjar vs Brian Myers (c)
I will be back to review that show sometime over the weekend. I won't be able to watch the show live here in Australia but I'll catch a replay and avoid spoilers as I am looking forward to a number of the bouts. What are you looking forward to most at Emergence?
Any feedback or comments are welcome. My email address is kristian.l.thompson@gmail.com in case anybody wants to get in touch with me and Twitter is @thomok6 as well. Thanks for reading!