Impact Wrestling Review – August 4, 2022
This week's edition of Impact Wrestling featured an action-packed lineup of six matches, headlined by Doc Gallows vs PCO in a Street Fight, as the war between the Bullet Club and Honor No More continues. The Motor City Machine Guns look to exact some revenge on Violent by Design, as the two teams face off in tag team action.
We should also get some storyline progression in the Sami Callihan/Moose/Steve Maclin feud, as Callihan faces Raj Singh.
Last week Kushida made his Impact Wrestling debut, facing Rich Swann in singles action. In a terrific, even encounter, Kushida came out on top. Scott D'Amore gave Honor No More an ultimatum- win at Emergence and you get a Tag Team Championship match. But lose and they must disband. These two factions have been at each other's throats for once and the stakes are set high for Emergence in what will be another chaotic 10-man tag team match. The card is shaping up nicely for Emergence, which is next Friday, and hopefully a few more quality matches are added this week.
Impact Wrestling 4/8/22 from Old Forester's Paristown Hall in Louisville, Kentucky
The opening video focused on Heath's sneak attacks on Honor No More over the last few weeks, as he exacted revenge on the group for taking out his tag partner Rhyno. Honor No More then took things into their own hands by taking Impact 'off the air' unless D'Amore gave them a tag title match. This led to him setting up Bullet Club vs HNM for Emergence with the stipulation that if HNM lose, then they must disband.
Tom Hannifan and Matt Rehwoldt welcomed us to the show and we are straight into our first match- a Knockouts contest.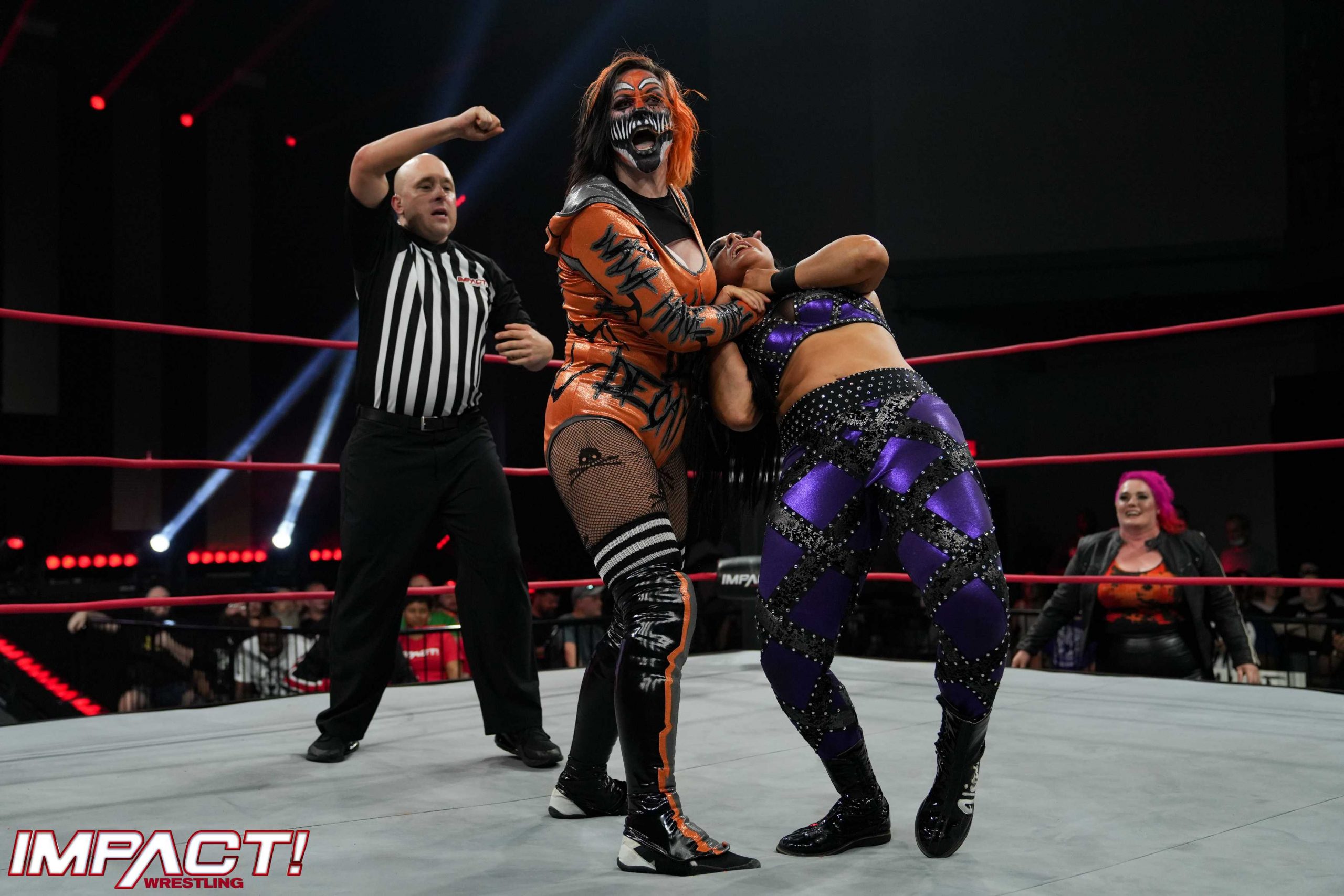 Match #1: Deonna Purrazzo vs Rosemary w/ Taya Valkyrie & Jessika
Deonna was out by herself whereas Rosemary came to the ring accompanied by her stable mates. Purrazzo and Chelsea Green (VXT) will challenge Valkyrie and Rosemary for the Knockouts Tag Team Championships next Friday at Emergence. Rosemary got in Purrazzo's face and won a test of strength as the match began. Rosemary sent Purrazzo into the corner then took her down with a Bulldog. Purrazzo began to target the left arm of Rosemary and connected with a clothesline for the first 2 count of the match. Purrazzo continued to stomp away at the left arm of Rosemary and slammed it hard against the mat for another 2 count. It was a methodical pace that Purrazzo was setting in this match. She missed an attack in the corner and Rosemary was able to choke her in the corner with her legs. Rosemary went to the top turnbuckle but Purrazzo quickly cut her off and tossed Rosemary to the mat. Purrazzo tried to lock in the Fujiwara Armbar but Rosemary wriggled free, got to her feet and nailed a Pump Kick. Rosemary began to get back into the match and hit a clothesline, then a Slingblade. She missed a corner clothesline but connected with a running forearm for 2. Rosemary kicked Purrazzo to the outside and talked trash to Jessika and Valkyrie. Jessica took offence to this and tried to get into the ring to confront Purrazzo but Rosemary hit Purrazzo with a Spear. Rosemary had the match won but the referee was busy with Jessica, so Purrazzo rolled Rosemary up for the 3 count after 7 minutes.
Winner by pinfall: Deonna Purrazzo
Analysis: ** ½ It was okay and they continue to build the story of this 'new Jessica' character but the match wasn't that interesting. Purrazzo is very skilled but, matched up with Rosemary who isn't at that level, the match was a bit stop and start and slow paced. It was more about the storyline than anything.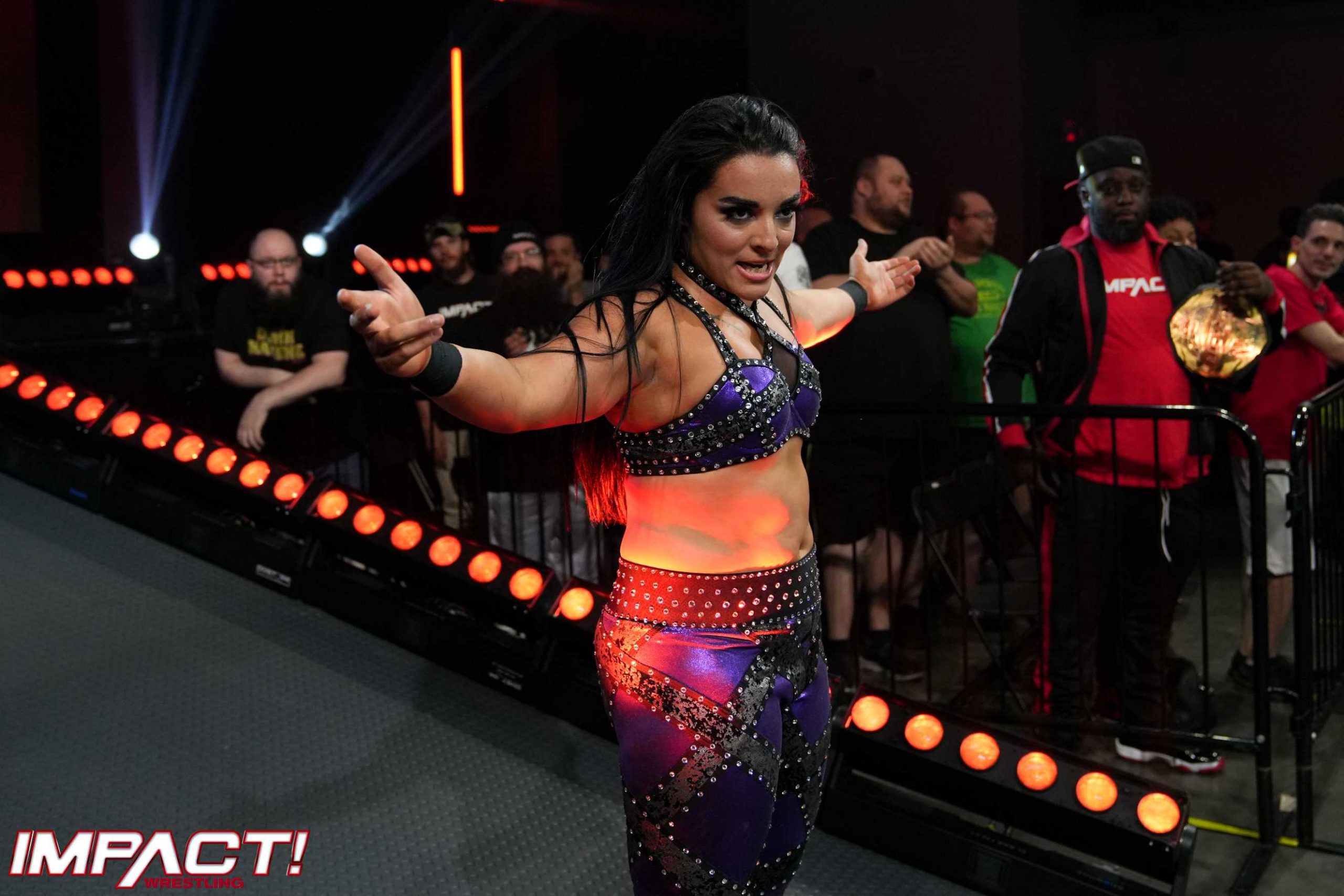 After the match, the victorious Purrazzo retreated up the ramp whilst the face team were disappointed in the ring. The commentators plugged the main event of Emergence: Josh Alexander vs Alex Shelley for the Impact World Championship, as well as tonight's tag team main event between the Motor City Machine Guns and Violent by Design.
Backstage, Honor No More are having one of their pep talks, led by Matt Taven. Taven said things are getting crazy with Heath and the Bullet Club running around taking out their members at will. Eddie Edwards said the 10-man tag match at Emergence was all about trust. As they have 6 members now, and only 5 can compete in the match, Edwards has to know that he can trust the other 4 who are in the ring with him. He says the one person he has questions about is PCO. Vincent steps in and defends PCO. Edwards says that PCO has to prove himself tonight in the Street Fight against Gallows.
Gia Miller is interviewing Gisele Shaw about her match tonight against Masha Slamovich. Miller says that there is no avoiding Masha tonight. Shaw takes offence to that and argues that she's just been scouting her opponent. She says the world will find out tonight if she's ready for Masha.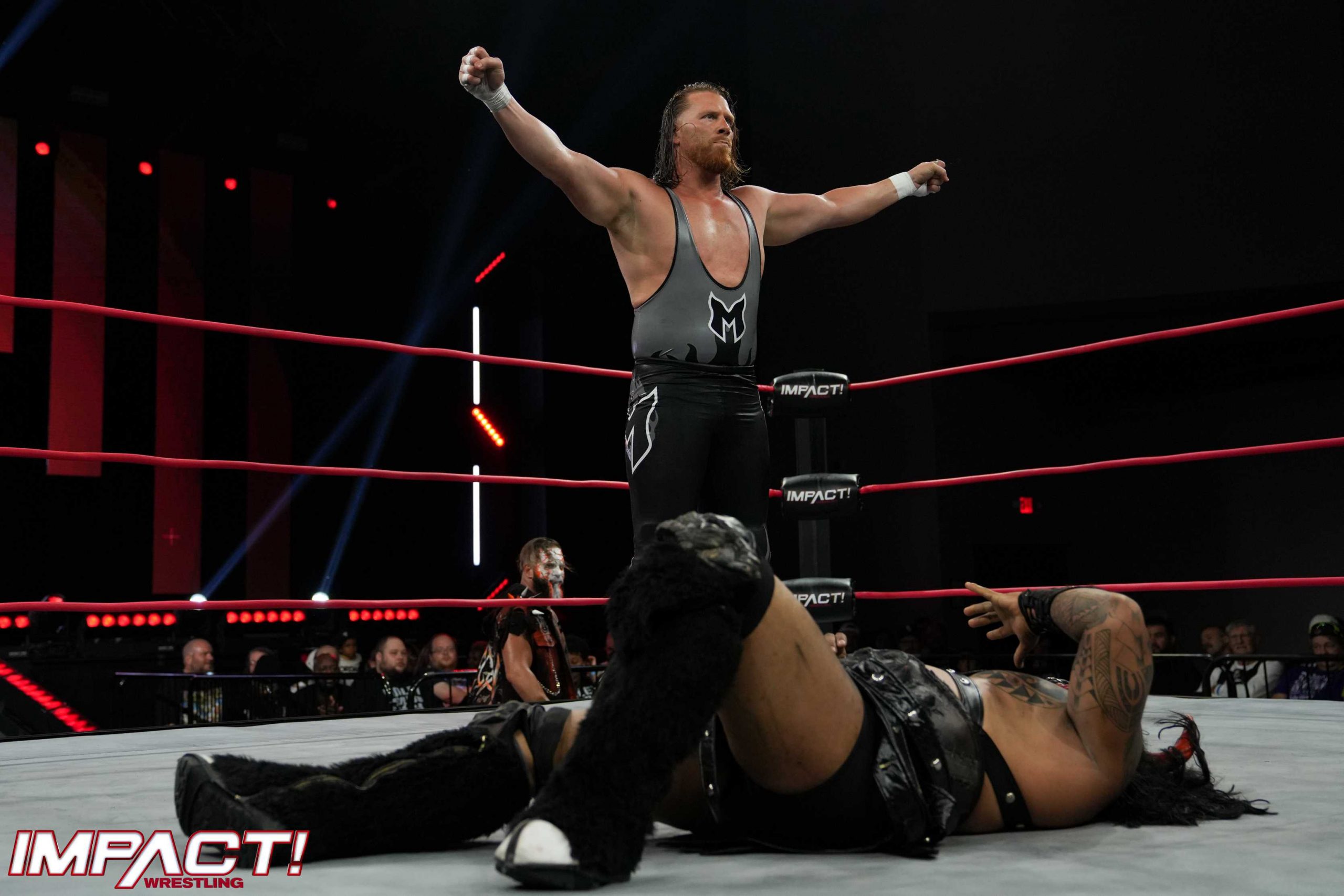 Match #2: Impact Digital Media Championship: Brian Myers (c) vs Black Taurus w/Crazzy Steve
This has all come about because Myers has been too scared to face Bhupinder Gujjar, so Taurus confronted him last week backstage when Myers said he would face anyone else but Gujjar. Myers does not defend this title on television often so this is a welcome addition. Myers backs away into the ropes as the match begins and refuses to face Taurus. They lock up and Taurus tosses Myers into the corner. Myers fakes a test of strength and gets a cheap kick in. Taurus runs the ropes and takes down Myers with a shoulder block. Myers bails to the outside and Crazzy Steve gets in his face. Myers hangs Taurus up on the ropes and then stomps away in the corner, followed by a Suplex for a 2 count. Myers throws Taurus into the corner and continues to stomp away. Taurus reverses an Irish Whip and takes down Myers with a shoulder block and a drop kick. He clotheslines Myers over the top rope, then runs the ropes and nails Myers with a Suicida over the top rope.
(Commercial)
Back from the break and Myers has Taurus in a sleeper. Taurus fights out of it and connects with a jawbreaker. He runs the ropes but Myers trips him up. Myers connects with a back suplex for 2. Myers is beginning to get frustrated at his inability to put Taurus away. Myers goes back to the sleeper but again Taurus fights to the corner. Myers runs at him, misses and Taurus hits a 619 in the corner. Taurus goes to the top and hits a missile drop kick for a 2 count. Myers fights back with an implant DDT (Edge-ecution) for a 2 count of his own. Myers is stalling in the corner and Taurus nails him with a spear for a close 2 count. Taurus lifts Myers up for a suplex but Myers pokes Taurus in the eyes through his mask, then rolls him up but Taurus' feet were clearing on the ropes and the referee still counts the 3 after 7:30.
Winner by pinfall AND STILL Impact Digital Media Champion: Brian Myers
Analysis: **1/2 Not a bad match, considering Myers spent half the match either stalling or cowering in the ropes. I think the ending was messed up because the commentators didn't acknowledge that Myers cheated. He rolled Taurus up far too close to the ropes and Taurus had two feet on the bottom rope as the pin was counted.
After the match, Bhupinder Gujjar ran out and threw Myers back into the ring. Crazzy Steve and Taurus hit Myers with strikes, then Gujjar took out Myers with a spear from the middle rope.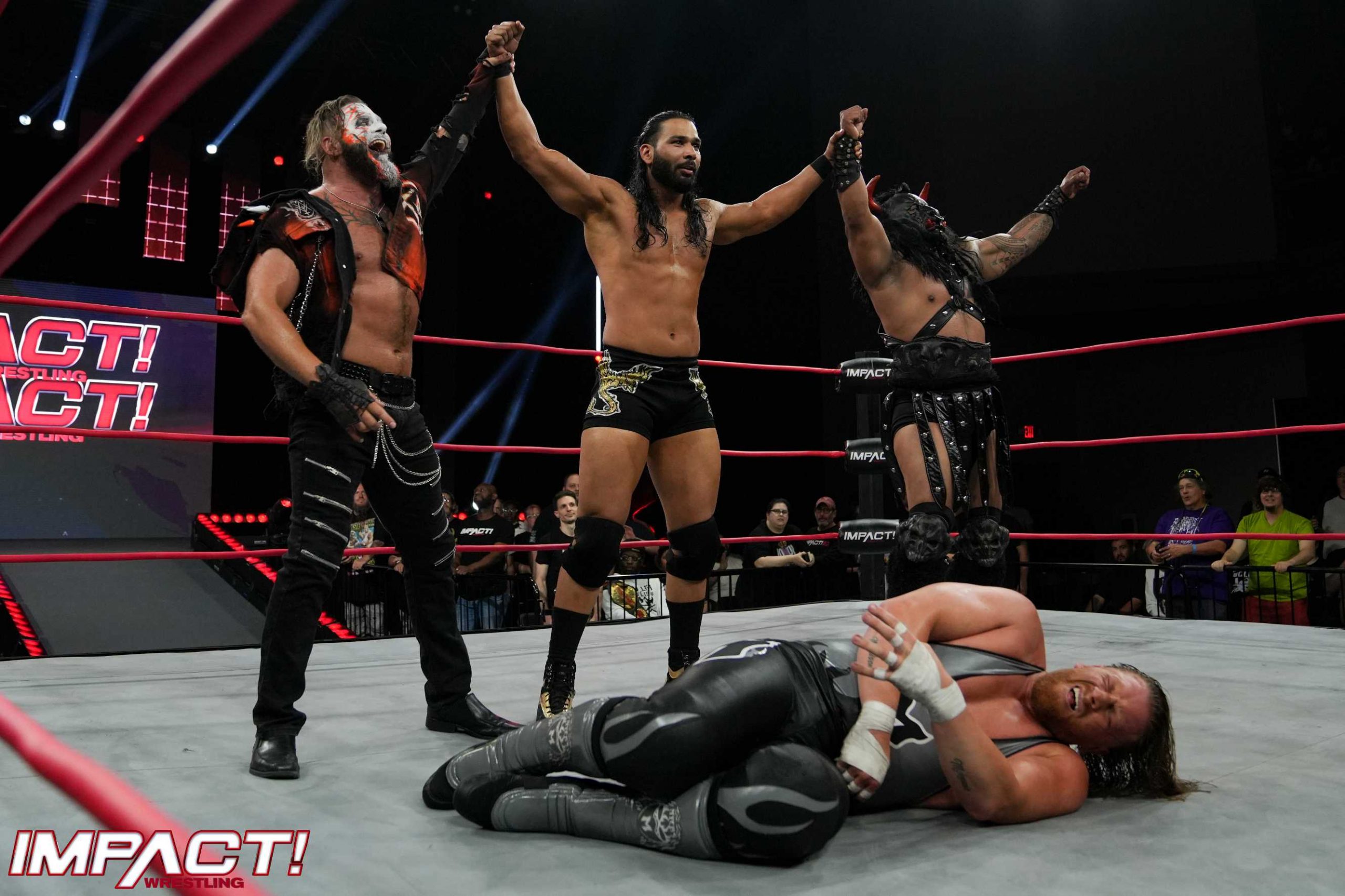 Analysis: Myers keeps dodging Gujjar, but he will eventually have to face him. Gujjar is undefeated here in Impact.
Backstage, Gia Miller is with Knockouts World Champion Jordynne Grace. They discuss Grace and Yim's tag team loss last week against VXT. Grace puts over Yim as a top competitor and whether they are allies or enemies, she will treat her exactly the same at Emergence.
Analysis: Impact does these short backstage segments well, whereas WWE and AEW do more of them in the ring which takes away from the time they could be spending having matches.
There was a video package of the match between Josh Alexander and MLW's Jacob Fatu from Ric Flair's Last Match, which was held on Sunday night. It was building to a decent match until Matt Cardona, Brian Myers and AEW's Mark Sterling attacked Fatu and Alexander. DDP then showed up and nailed Cardona with a Diamond Cutter to pop the crowd.
Analysis: Cardona tore his bicep in May and had to forfeit the NWA Championship but he looked on the road to recovery on Sunday. I enjoyed his latest run in Impact before the injury. It's been the best work of his career, in my opinion, and I look forward to his return.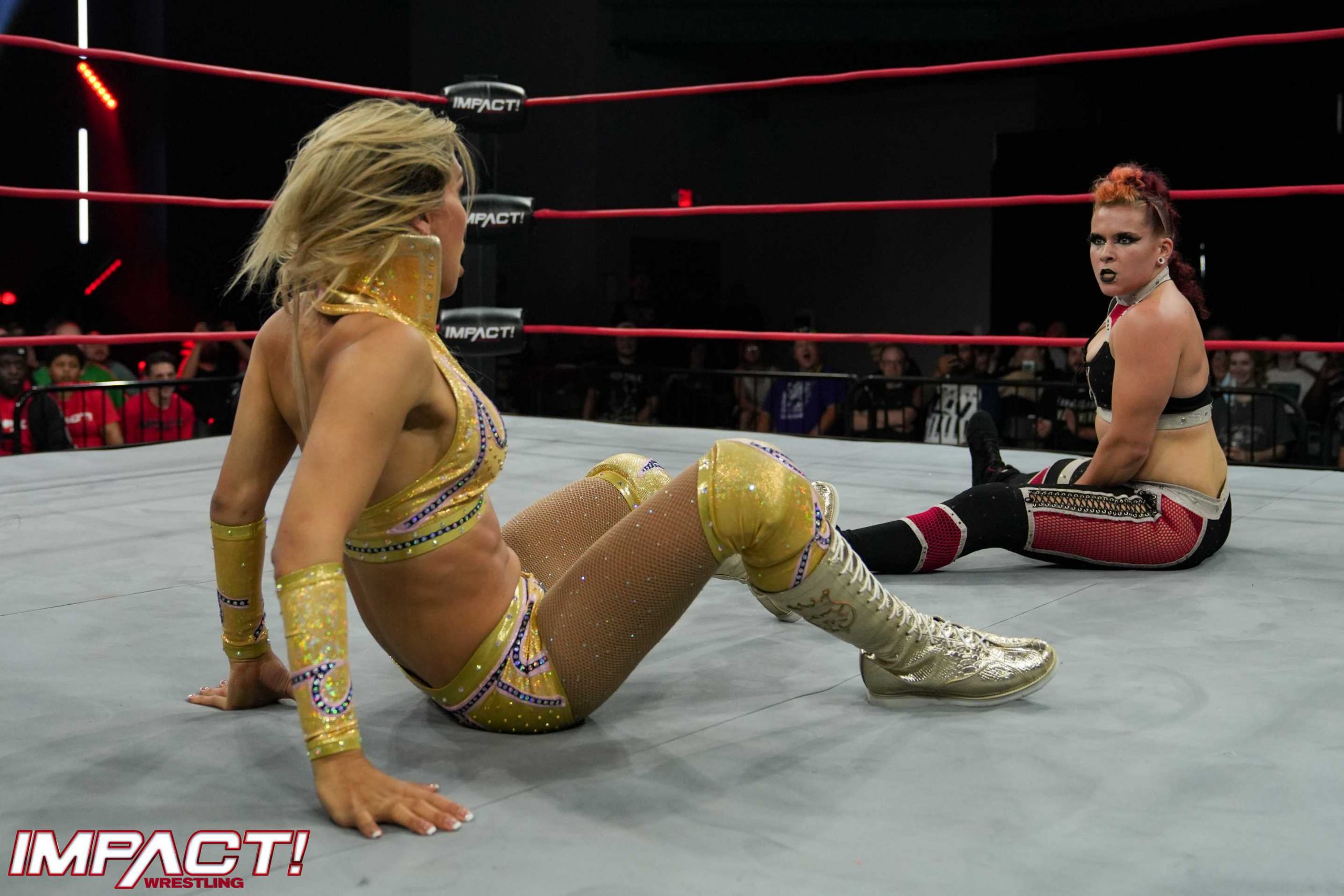 Match #3: Gisele Shaw vs Masha Slamovich
If the last 2 Masha's matches are anything to go by, then this will be short. Shaw backs into the ropes as the bell rings. Masha took Shaw down to the mat and pummelled her with forearms. She hit a spinning backfist to the head of Shaw. Slamovich missed a running kick and Shaw connected with a hard running knee for a 2 count. Slamovich laughed it off and began kicking Shaw hard in the ropes. Shaw missed a diving crossbody and Slamovich took advantage with a German suplex into a bridge for a very close 2 count. Slamovich pulled up Shaw by the hair and nailed her with a stiff forearm to the head. Slamovich hit the Snow Plow for the win after 2:30.
Winner by pinfall: Masha Slamovich
Analysis: **1/2 That was about as much action as you could put into a 2:30 match. Shaw put up a fight and got in some impressive offence, but Slamovich overpowered her to go 14-0.
There was an Impact Flashback Moment of the Week from April 2016 where Gail Kim faced off against Jade (Mia Yim) and Madison Rayne (now AEW-bound) in a triple threat match. Jade won the Knockouts title with the help of Maria Kanellis. I don't miss Mike Tenay on commentary!
Analysis: I was watching Impact on and off at this point, but Mia Yim was known as Jade and she was in a heel group known as the Doll House which was a creepy group of bullies led by Taryn Terrell, then later Awesome Kong.
Mia Yim (not Jade anymore!) was then interviewed by Gia Miller. She began to speak then Madison Rayne interrupted. Rayne complains about getting her nose broken, then beat up by Masha Slamovich and now having to watch the footage of her failing to win the Knockouts title in that Flashback footage. Yim tells Rayne that she will give her a chance to redeem herself now in a match but Rayne doesn't want any part of that. She begins to walk off, but Gail Kim shows up for her random 30-second appearance of the week. Gail makes Yim vs Rayne for next week.
Analysis: Another short segment to set up a match for next week. I like that in Impact they set things up and usually don't just have thrown-together matches with no meaning.
The face trio of Taya Valkyrie, Jessica and Rosemary are backstage arguing about not being able to use their numbers to their advantage tonight, as Rosemary lost to Deonna Purrazzo in singles action. Rosemary things that Jessica perhaps wasn't ready to come back to Impact Wrestling. Jessica assures them that she will be in their corner for the match at Emergence.
Analysis: I think this is setting up a heel turn for Jessica. Riveting.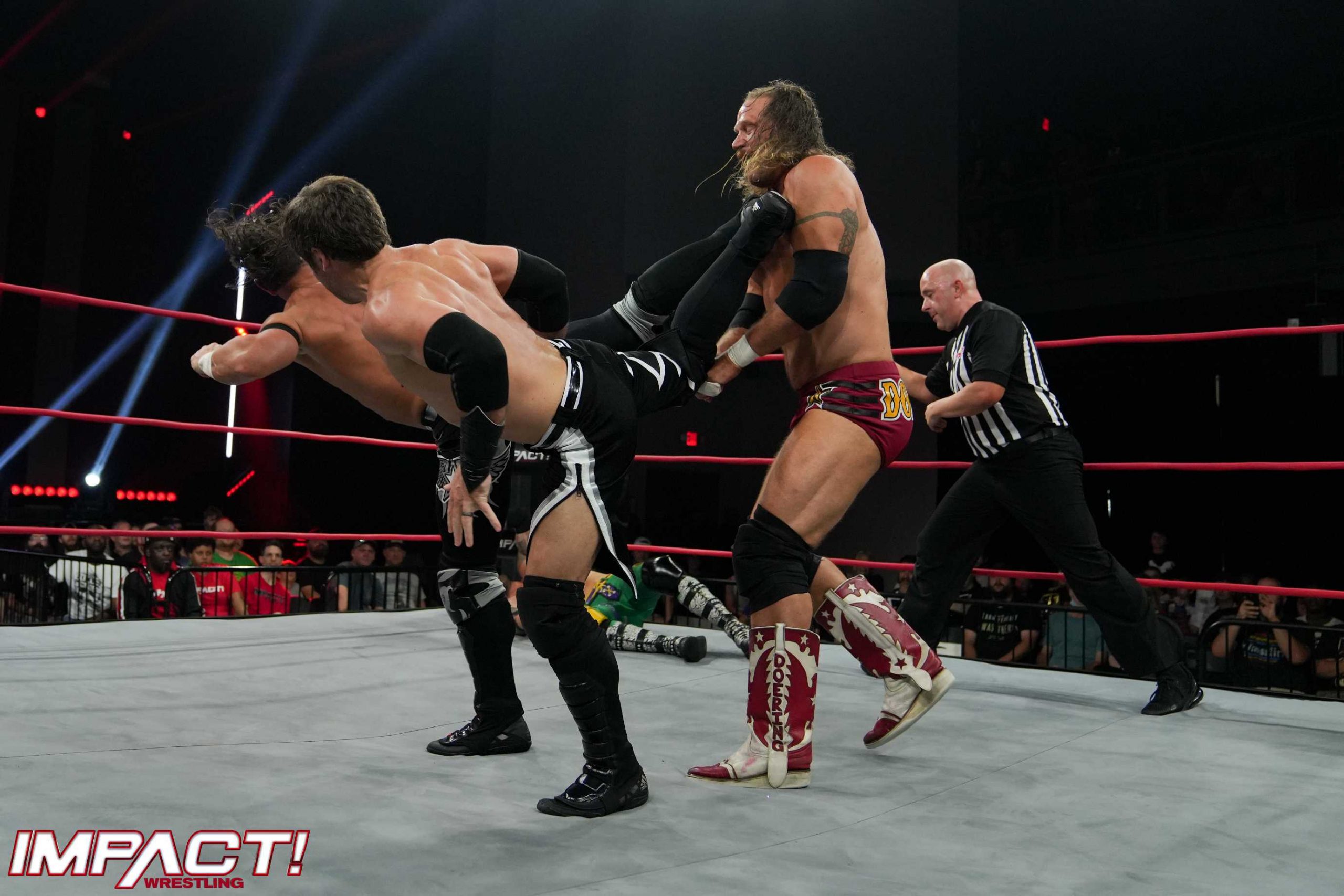 Match #4: Violent by Design vs the Motor City Machine Guns
It's Joe Doering and Deaner representing VBD with no sign of Eric Young. The Guns are out to a good reaction and it's Deaner starting off against Alex Shelley. Doering is straight in and attacks Shelley from behind to get the early advantage as the referee just watches. Sabin flies off the top and connects with a drop kick to Doering then Deaner comes back into the action but takes a cutter from Sabin. Shelley nails Deaner with a clothesline in the corner and Sabin climbs to the top rope and hits a drop kick. Shelley covers Deaner for a 2 count early on in the match. Shelley backs into the corner but Doering takes him out with a clothesline as Deaner has the referee distracted. Deaner hits a (very gentle) facebuster and clothesline combination on Shelley for a 2 count. Deaner tags in Doering and they both kick Shelley as he is hung up in the middle rope. Doering hits a scoop slam/elbow drop combination for a 2 count. Deaner tags back in and drop kicks Shelley in the corner, then hits a neckbreaker for a 2 count. Another quick tag into Doering who allows Deaner to hit a side Russian Legsweep, then Doering follows up with an elbow drop for a 2 count. There's yet another tag to Deaner who puts Shelley on the top ropes and nails him with a running knee in the ribs. Deaner climbs the turnbuckle but misses a diving headbutt. Shelley is selling his fatigue (which apparently makes him blind and look to the wrong corner for the tag) and in comes Sabin. Sabin takes down Deaner with a series of forearm shots. Sabin hits step-up Enziguiri then sets up Deaner for the Cradle Shock but Deaner wriggles free. The Guns double team Deaner and connect with a spinning neckbreaker but there's Doering to break up the pin. Doering and Shelley fight it out but Doering overpowers him with a shoulder block. The Guns hit a double team superkick on Doering but he shakes it off and wipes them out with a double clothesline. Doering set up Shelley for a powerbomb but Sabin made the save with an enziguiri. Doering stumbled through the ropes to the outside and Sabin took him out with a running Suicida. Back in the ring and Shelley took Deaner down with a clothesline. He attempted a Senton but Deaner put his knees up. Deaner went for the Deaner DDT but Shelley reversed it into a Crucifix pin and Sabin, who was actually the legal man, ran in and turned it into a sunset flip for the 3 count after 6 minutes.
Analysis: *** This was a hard-hitting, fast-paced match that I was hoping would get to 10-15 minutes instead of the 6 minutes we got. Both teams work well together and it made sense for the Guns to win, although it was odd booking having Shelley beat down for the majority of the match and then not score the pinfall. If you're building him up for a major match next week as a credible challenger to Josh Alexander, then he should be the one winning these matches and showcasing his skill-set.
Post-match, Doering attacked the Guns from behind. Deaner took out Shelley and Sabin with the flag until Kushida made the save. Kushida was on fire with a series of forearms to both Deaner and Doering. Kushida tried to lock in the Hoverboard Lock in the corner on Doering but Young ran in and nailed Kushida with the Piledriver.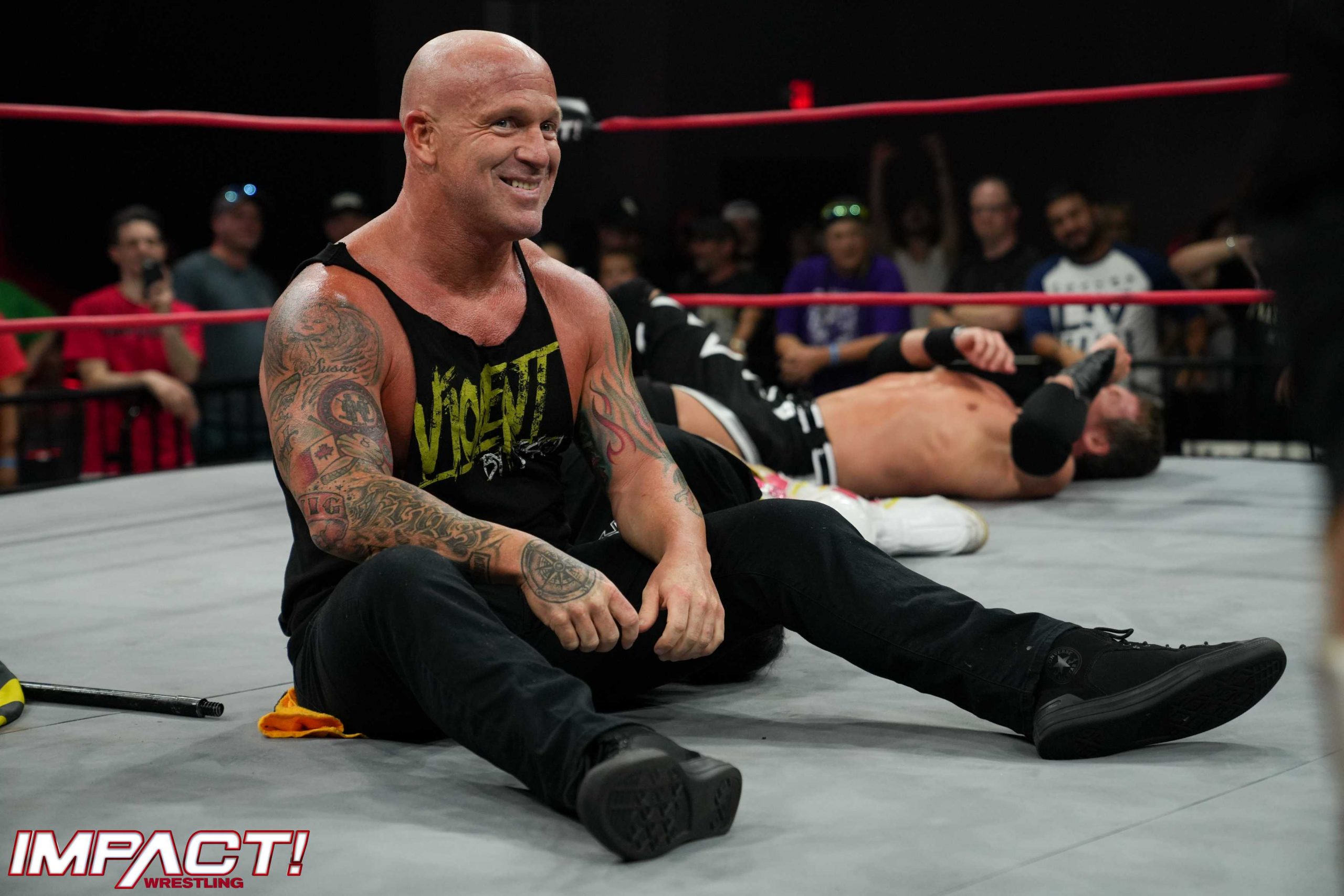 Analysis: A way to keep VBD strong with a post-match beatdown, but they haven't had many wins lately. The fans popped for Kushida so hopefully we get more of his matches soon.
Backstage Shelley, Sabin and Kushida were annoyed at what just went down. Sabin said that he and Kushida were free at Emergence, so how about Sabin and Kushida vs VBD? Josh Alexander turned up and told Shelley to stay focused on the World Championship match at Emergence. Alexander walked off and was met by Eddie Edwards. Edwards runs down Shelley as a contender that's not worthy. He sucks up to Alexander and basically invites him to join Honor No More.
Analysis: That will be a decent match for next Friday. Eddie Edwards giving something to Alexander to think about is intriguing but Alexander is much-needed as a face champion so I doubt that changes anytime soon.
Match #5: Raj Singh vs Sami Callihan
Raj Singh is out first as the loser of this upcoming match. Callihan offers the first shot of the match to Singh. They exchange right hands until Singh takes the advantage with a dropkick to the head of Callihan. Singh covers for a 1 count. Singh misses a splash in the corner and Callihan lights him up with chops and a running clothesline. Callihan hits the Cactus Driver 97 and then locks in the Crossface Chickenwing for the submission win after 2 minutes.
Winner by submission: Sami Callihan
Analysis: *1/2 A quick win to put over Callihan as a dangerous opponent. He rarely wins by submission so that might be a warning to Steve Maclin.
After the match, Callihan calls out Steve Maclin but Moose's music hits. In the fog you can clearly see that it's Steve Maclin and not Moose, then Moose tries to take out Callihan from behind with a spear but Sami is ready. He stomps away on Moose but Maclin makes the save. Moose goes for the Uranage but Callihan blocks it and throws him into Maclin who is in the corner. Callihan goes for the Cactus Driver 97 on Maclin but Maclin nails a low blow. Moose takes out Callihan with a spear as the boos ring out around the venue. Maclin nailed Callihan with the KIA and left Callihan laying in the ring.
Analysis: It looks like Maclin and Moose are working together after all. This physicality was much needed in this feud and this looks like a strong match to add to the Emergence card.
There was a short video to recap Killer Kelly's return last week where she destroyed two OVW talent after their match. The commentators announced some matches for next week: Mia Yim vs Madison Rayne, and Mike Bailey defending his X-Division Championship against Rocky Romero. Josh Alexander and Alex Shelley will also sign the contract ahead of their Championship match at Emergence. Sami Callihan vs Steve Maclin was added to the Emergence card, along with former-AEW talent Jack Evans challenging the winner of Bailey/Romero for the X-Division title.
Analysis: That's a good lineup for next week. I am enjoying these new additions/crossover talent being added to Impact and I hope we see this with more regularity, rather than just a match here and there.
Bullet Club are backstage ahead of Gallows' Street Fight against PCO. Gallows said he's going to send PCO straight to hell and then Bullet Club are going on to Emergence where they are going to be victorious again. Ace Austin said he was looking forward to when Honor No More are 'no more'.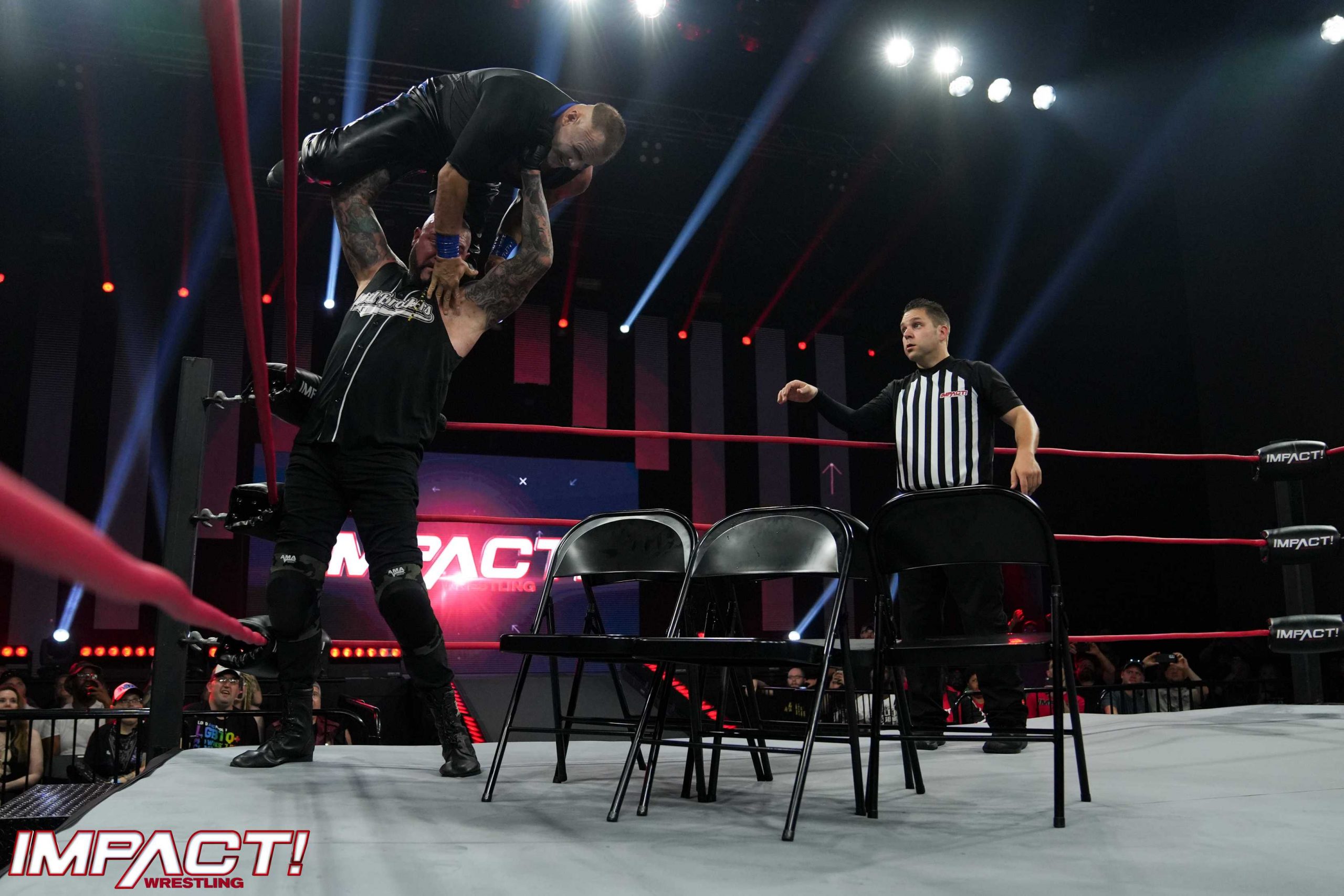 Match #6: 'Derby City' Street Fight: PCO vs Doc Gallows
PCO was out first alone, followed by Gallows who had Karl Anderson with him, but he left before the match began. It's time for a good ol' hoss fight! Gallows started off with a thumb to PCO's eye then sent him outside the ring with a clothesline. Gallows slammed PCO's head into the ramp. PCO fought back and whipped Gallows into the ring post then bounced his head off the steel steps. PCO suplexed Gallows on the ramp then set up two chairs outside the ring. PCO rolled Gallows back into the ring and got up on the ring apron. This gave Gallows time to run the ropes and kick PCO who went crashing through the chairs in the most predictable spot of this evening's action.
(Commercial)
Back from the break and PCO nailed Gallows in the head with a steel chair. There were about 8 chairs in the ring. PCO nailed Gallows again with the chair in the back of the head. Gallows fought back with chair shots to PCO's back. Gallows set up a bunch of chairs upside down so the legs were pointing up in the air. PCO with another shot to the head of Gallows with a chair. PCO set up some chairs in their regular position and laid Gallows on top then cracked the chair over his back. PCO climbed to the top but Gallows recovered and threw PCO down hard on top of all the chairs! Gallows went for the cover but PCO grabbed the bottom rope just before 3. The brawl went to the outside and Gallows set up a table. PCO grabbed Gallows and put him through the table with a chokeslam! PCO went over to the commentators table and grabbed a pair of scissors. He began to cut the ropes that hold the ring canvas in place. Gallows began to stir but PCO smashed him in the head with a trash can 7 times. PCO continued to cut the ring canvas ropes to expose the wood underneath. PCO began to remove the ring canvas and then the ring foam/padding. Some of the wood underneath was now exposed. Gallows came back into the ring and hit PCO in the head with a chain. He hit a sitout powerbomb on the exposed wood for a 2 count. PCO grabbed a drum set that was at ringside for some reason and smashed it over Gallows' head. PCO put Gallows back on the ring apron and nailed him with elbows to the throat. PCO climbed to the top turnbuckle and was looking for the PCOSault. Gallows got to his feet and grabbed PCO by the throat. Gallows choke slammed PCO and PCO went through the ring! Big spot! The referee started to count PCO down for some reason but he rose from out of the ring at 8. The two big men exchanged a flurry of right hands. PCO clotheslined Gallows and was trying to knock him into the hole in the ring. Gallows wouldn't go down so PCO nailed him with a reverse DDT on the exposed wood. PCO went outside the ring and grabbed a bag of something. He loaded his gloves up with a handful of thumbtacks. PCO dived off the top rope and nailed Gallows with a fistful of thumbtacks. Gallows fell into the hole in the ring and PCO stood on him to pick up the pinfall at the 12-minute mark.
Winner by pinfall: PCO
Analysis: ***1/2 That was silly and fun, but I felt it's what the show needed after a pretty average episode up until that point of the night. PCO is a madman so the structure and spots in the match fit his character, even though you don't see things like exposing the ring very often in Impact Wrestling. It furthers the personal rivalry between these factions. I haven't seen PCO wrestle before he arrived here in Impact, but at 54 years of age he still wrestles a crazy style and performed at least 4 really dangerous-looking (but safe) spots in this match. His last couple of matches probably earned a spot on Botchamania but you could tell here that he and Gallows had a good understanding of what was to come in the match. There were also lots of chair shots to the head which is very rare these days (AEW has brought it back a little, but certainly no head shots in WWE). It was a fun brawl and good entertainment, with PCO needing the win to prove to HNM that he can be trusted.
Post-match PCO celebrated as Impact went off air. That was it.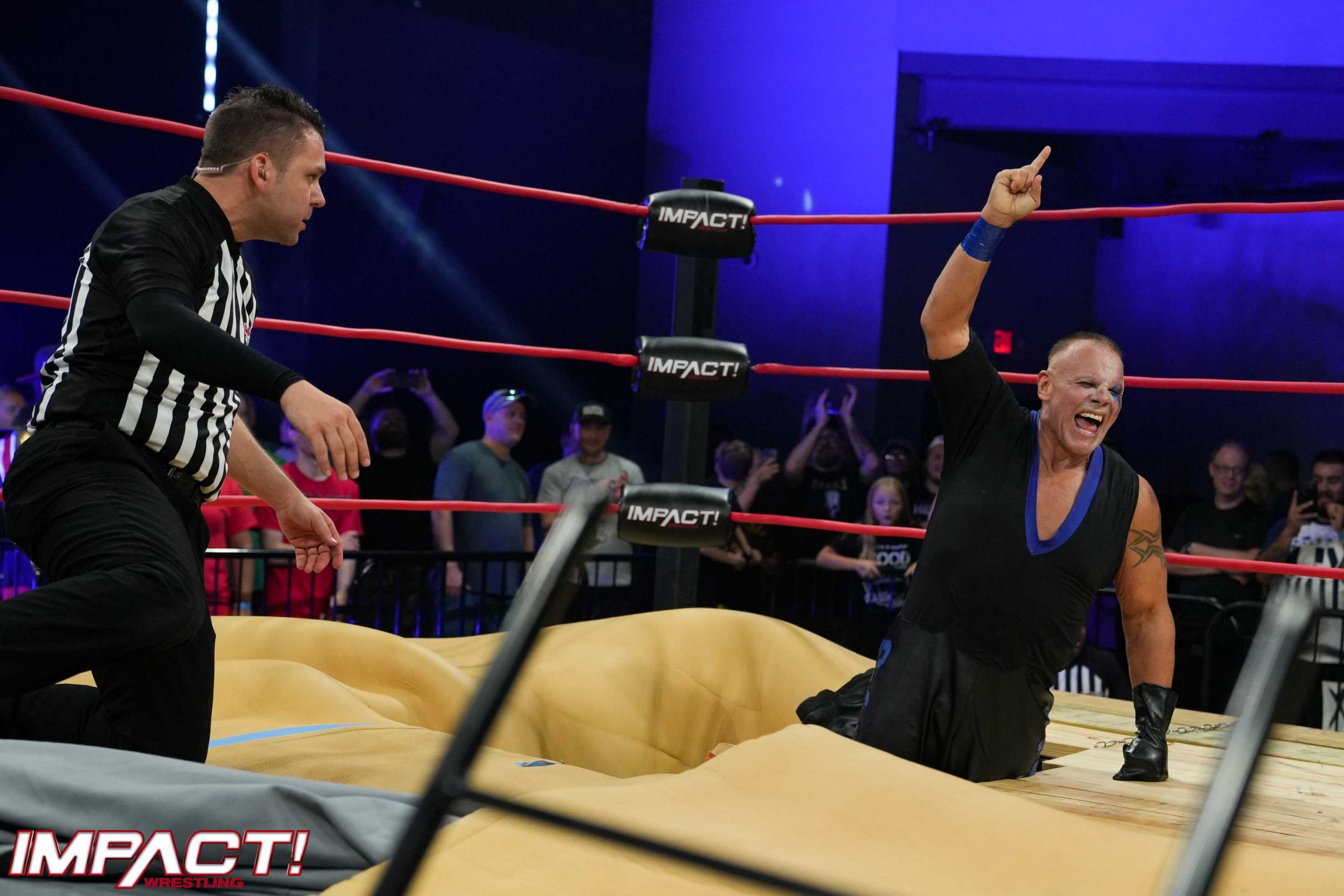 Final Rating: 5.5/10
It was a below-average episode of Impact until that crazy main event street fight. It's hard to rate the show highly when there was only one match that passed the 8-minute mark, even though the Guns vs VBD match was solid for six minutes. I was looking forward to the show when I saw that there would be six matches in the preview, however two were squashes and the opening women's match was pretty flat. I praise Impact for using their backstage segments effectively in order to capitalise on in-ring time, but they didn't nail it in the ring this week. Plus showcasing your two main champions for a total of two minutes of interview time on the show isn't going to give you the best show possible.
The Emergence card for next Friday looks like this:
* Impact World Title Match:Alex Shelley vs. Josh Alexander (c)
* Impact Knockouts World Title Match: Mia Yim vs. Jordynne Grace (c)
* Impact Knockouts World Tag Team Titles Match:Chelsea Green and Deonna Purrazzo vs. Taya Valkyrie and Rosemary (c)
* Impact X Division Title Match:Jack Evans vs. Mike Bailey (c) [or Rocky Romero]
* AAA Attraction Match: Bandido vs. Rey Horus
* The Bullet Club (Ace Austin, Hikuleo, Chris Bey, Impact World Tag Team Champions Doc Gallows and Karl Anderson) vs. Honor No More (Eddie Edwards, PCO, Vincent, Matt Taven, Mike Bennett)
If HNM loses, they must disband. If HNM wins, Taven and Bennett will receive a future shot at the Impact World Tag Team Titles.
* Sami Callihan vs. Steve Maclin
* Kushida and Chris Sabin vs. Joe Doering and Deaner
That's a solid lineup and will be finalized on next week's Impact broadcast.
Any feedback or comments are welcome. My email address is kristian.l.thompson@gmail.com in case anybody wants to get in touch with me and Twitter is @thomok6 as well. Thanks for reading!