Seth Rollins Suggests Opponent For Jamie Noble's Final Match
Seth Rollins has a good opponent in mind for Jamie Noble, who recently announced he intends to have his final WWE match very soon.
During the WWE career of Seth Rollins, which started ten years ago this month at Survivor Series 2012, Jamie Noble has played a key role behind the scenes as a longtime Producer in the company going back to 2009.
In addition to Rollins and Noble working together in WWE behind the scenes, they were also aligned on-screen during Seth's first major push as a singles wrestler in 2014. Rollins won the Money in the Bank briefcase that year, then he cashed in at WrestleMania 31 in 2015 to become the WWE Champion. During that run, Rollins had Noble and Joey Mercury at his side as J&J Security.
When Rollins was holding the Money in the Bank briefcase and the WWE Title, J&J Security was right by his side oftentimes to take a beating for Rollins or cause a distraction to help Rollins win a match.
This past weekend, Noble announced that he's taking off the WWE Producer suit for one night only as he competes in his final WWE match at the December 11th live event in Charleston, West Virginia, which is Noble's home state.
"It's Official!! On December 11 at the Charleston Civic Center, Charleston, WV. I will compete for possibly my last time in wrestling under the greatest company of all time WWE. It's been roughly 11 years since I was forced out of the ring. Now I'm going to have one more opportunity in front of my people my state my family! I promise you I will walk out a winner or I will go out on my shield giving the best performance I can give. all the support I can get will be so greatly appreciated to show that I can still go! Thank you all!! God bless you and God bless WV!!" #jamienoble #wwe #wwesd #wweuniverse #jamienoblecomeback #jamienobleslastmatch
On Instagram, the current WWE United States Champion Seth "Freakin" Rollins reacted to Noble's post with this:
"US Championship Open Challenge?"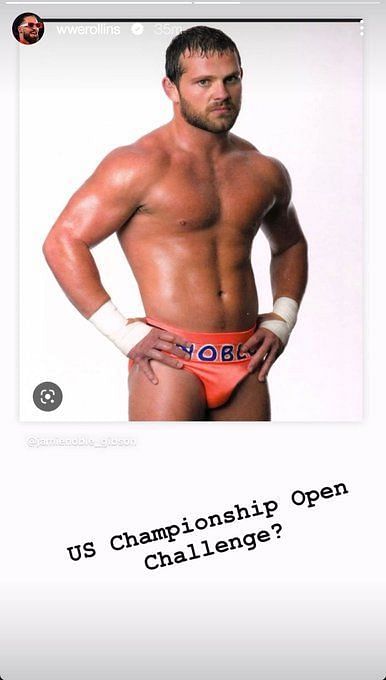 By replying with that message, Seth Rollins is clearly implying that he wants to face the former J&J Security member in his potential last WWE match. It might happen because as of yet, no opponent has been named for Noble's final WWE match.